These Caramel Apple Cheesecake Bars are amazingly flavorful with layers of graham cracker crust, creamy cheesecake, cinnamon apples, and crunchy streusel. Add a drizzle of your favorite caramel sauce, and you've got an irresistibly delicious dessert!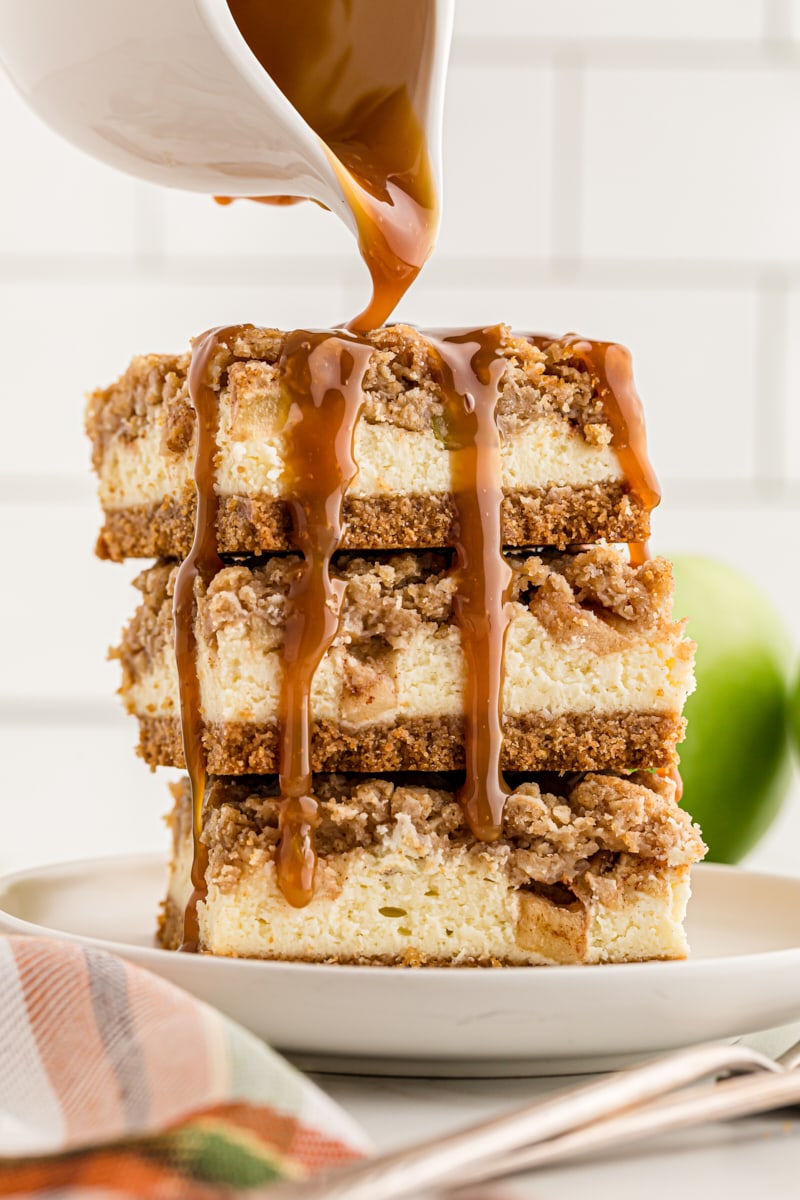 Caramel Apple Cheesecake Bars
When it comes to fall desserts, apples are front and center in my mind. Add some caramel, and there's no way I'm able to resist!
Here, that amazing fall flavor pairing makes its way into incredibly delicious cheesecake bars. We start with a big, sturdy graham cracker crust, followed by creamy cheesecake. That's topped with cinnamon-y apples and a streusel topping.
To take these cheesecake bars over the top, drizzle your favorite caramel sauce over them when you're ready to serve. Be prepared for lots of oohs and aahs when your guests dig their forks into this amazingly delicious dessert!
If you love all things caramel apple, make Apple Spice Cake with Caramel Glaze, Caramel Apple Mini Pies, and Caramel Apple Crumb Cake, too!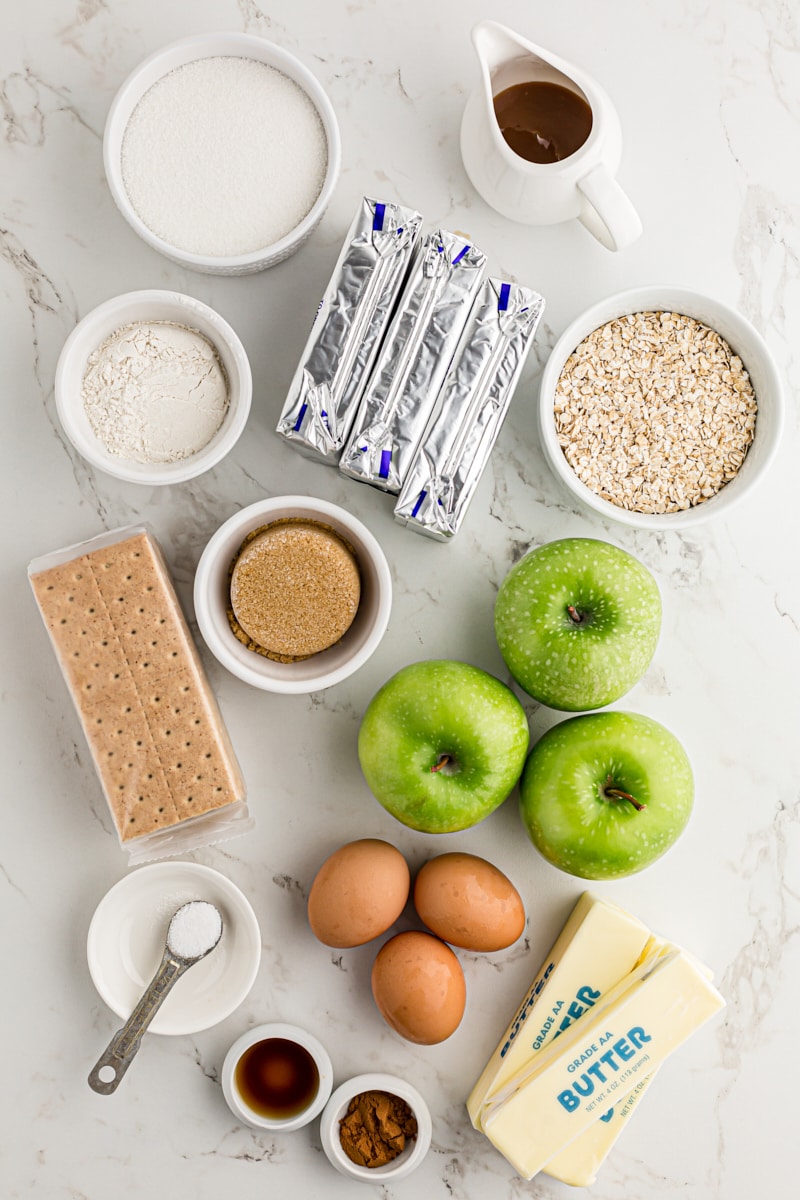 What You'll Need
See the recipe card at the bottom of this post for ingredient quantities and full instructions. Here is a list of the ingredients you'll need along with some helpful notes.
For the crust:
Graham crackers – You'll need 3 cups of graham cracker crumbs for the crust. That's about 2 sleeves of cookies.
Unsalted butter
All-purpose flour
Brown sugar – Light or dark brown sugar will work here, although the dark variety may add too much molasses flavor for your tastes.
For the apples:
Granny Smith apples – Dice these into small pieces.
Granulated sugar
Ground cinnamon – Make sure yours is still fresh by giving it a sniff. If it doesn't have a strong aroma, it's time to replace it.
For the streusel:
Brown sugar
Quick oats – The small size of quick-cooking oats works well for making the crumbs of the streusel.
All-purpose flour
Unsalted butter – Let the butter soften so that it will mix easily into the topping.
Ground cinnamon
Salt
For the filling:
Cream cheese – Bring the cream cheese to room temperature for easier mixing and a smooth filling. Full-fat cream cheese works best.
Granulated sugar
Eggs – Set these out along with the cream cheese, too.
Vanilla extract
For serving:
Caramel sauce – After making these cheesecake bars, give yourself a break and use your favorite store-bought caramel sauce. If you want to go the homemade route, try the easy one one from this Pecan Cake or this Apple Spice Cake.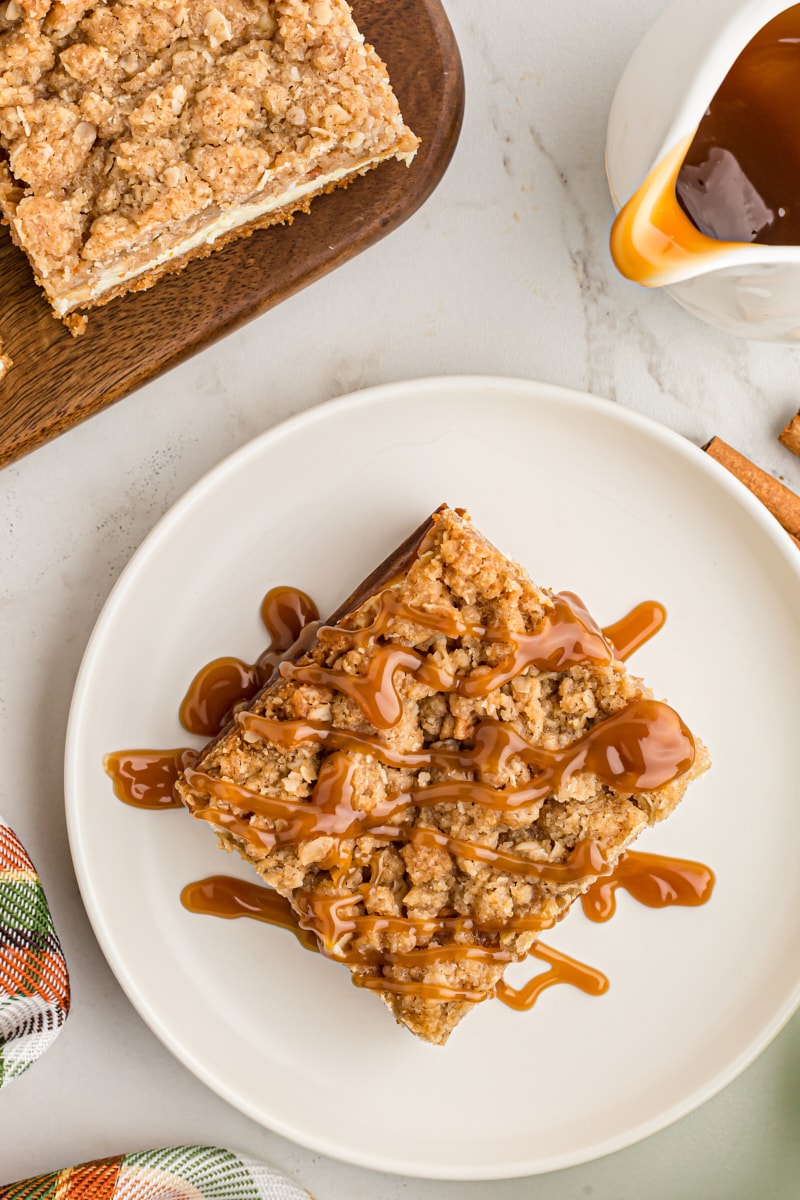 How to Make Caramel Apple Cheesecake Bars
You'll be making four different layers here, but don't let that dissuade you. Each component is quick and easy to make, and then you'll just layer everything and bake!
First, make the crust
Prepare for baking. Heat the oven to 350°F. Line a 9″ x 13″ x 2″ baking pan with parchment paper so that the paper overhangs on the two long sides. Lightly grease the paper and any exposed parts of the pan.
Crush the graham crackers. Place them in the bowl of a food processor, and process them until they are fine crumbs. Alternatively, you can crush the cookies by another method, such as placing them in a zip-top bag and using a rolling pin to crush.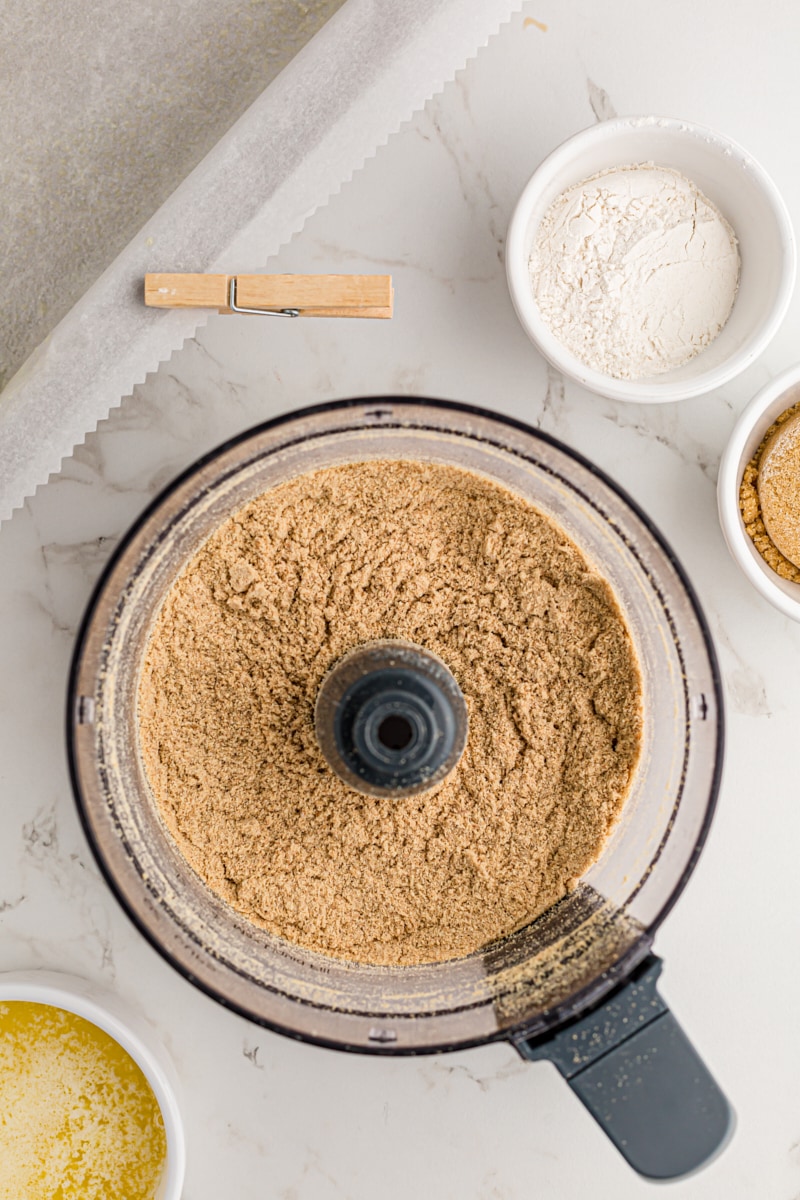 Make the crust mixture. Add the melted butter, flour, and sugar, and pulse until combined. If not using a food processor, stir together the ingredients until thoroughly combined and moistened.
Bake. Press the crust mixture into the bottom of the prepared pan. Bake for 10 minutes, or until lightly browned.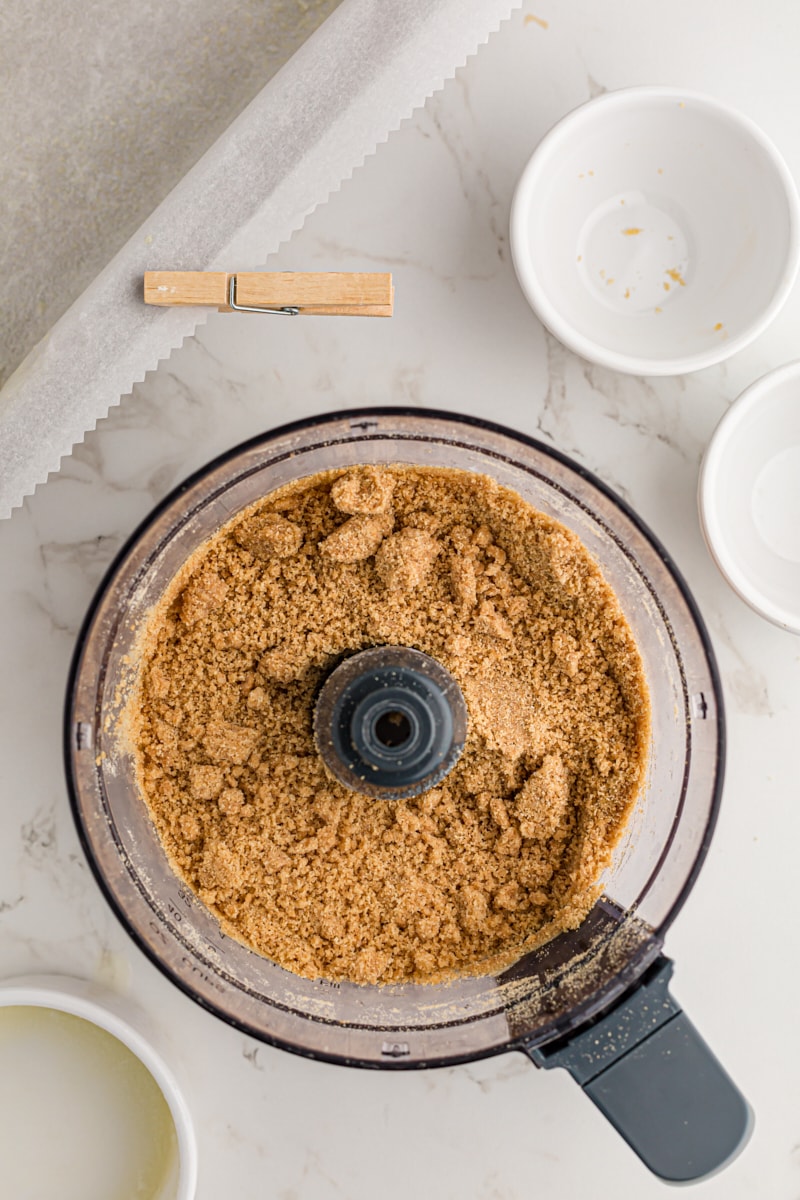 Next, make the apple and streusel layers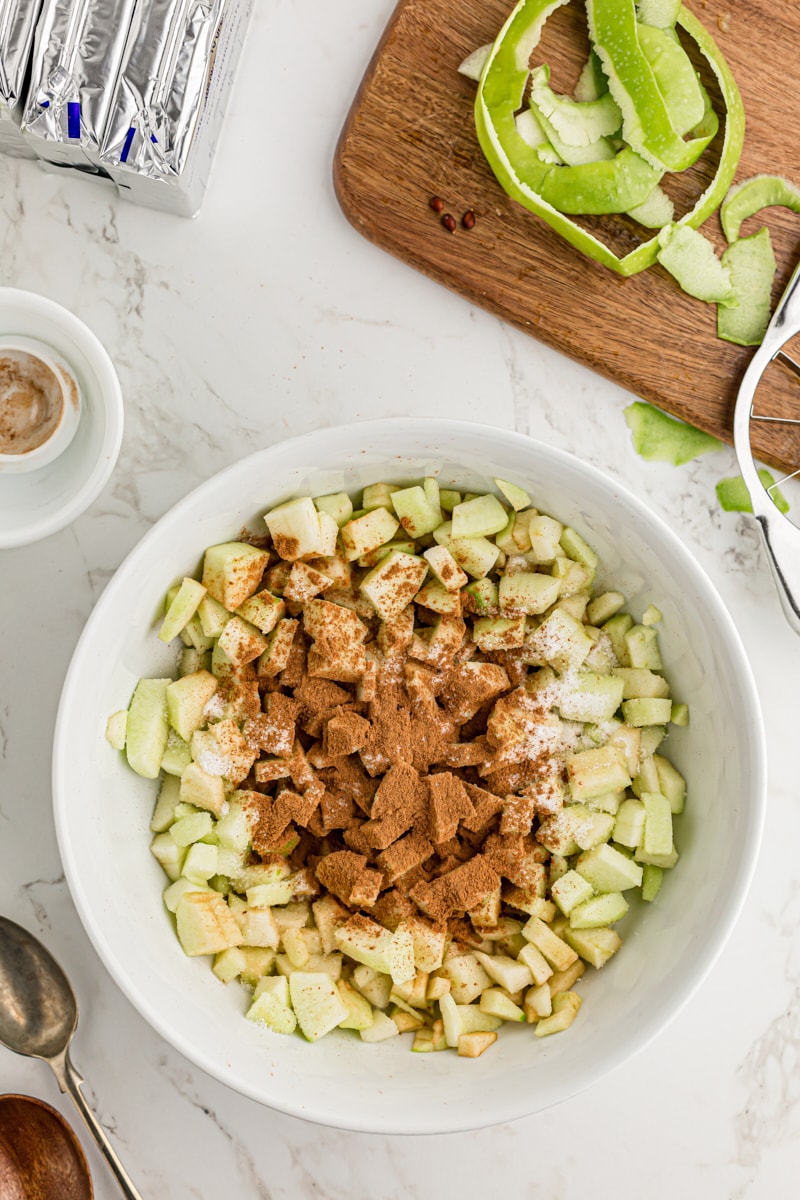 Combine the apple ingredients. Stir together the apples, sugar, and cinnamon.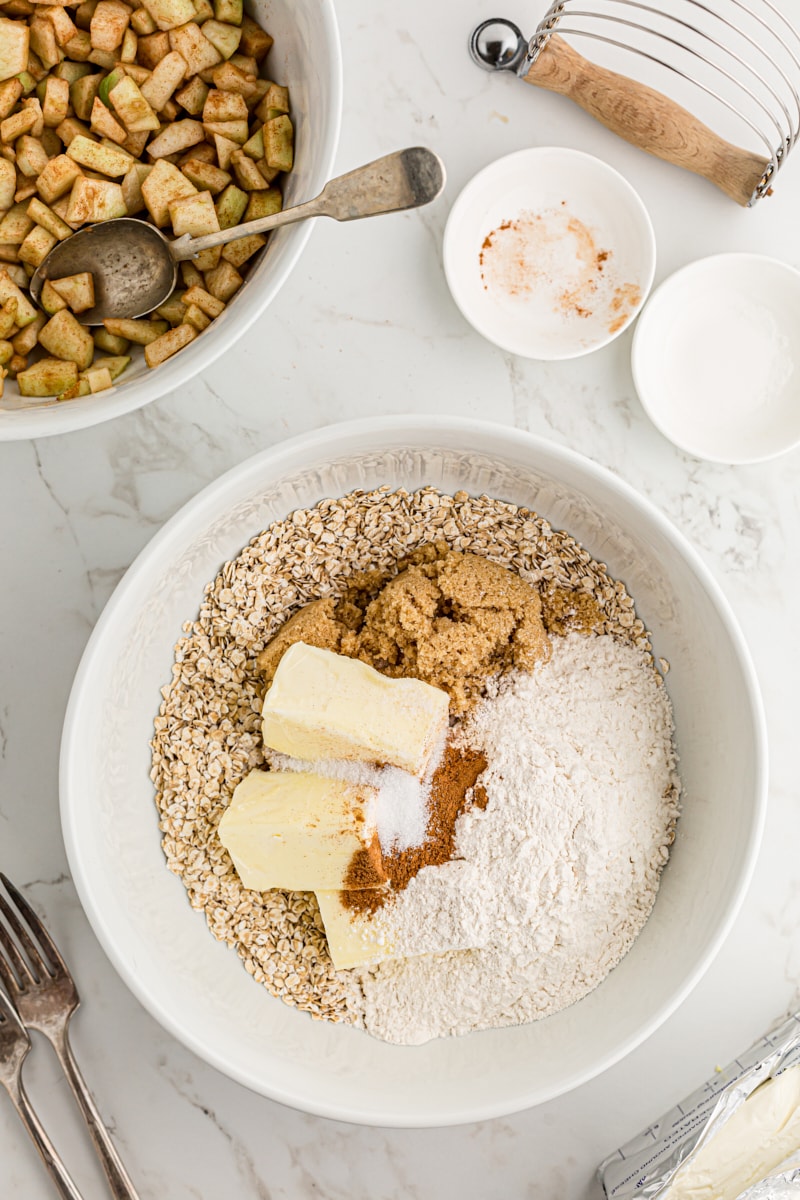 Mix the streusel ingredients. Place the brown sugar, oats, flour, butter, cinnamon, and salt in a separate bowl. Use a pastry blender, a fork, or your fingers to mix. It should be moist but crumbly.
Then, make the cheesecake filling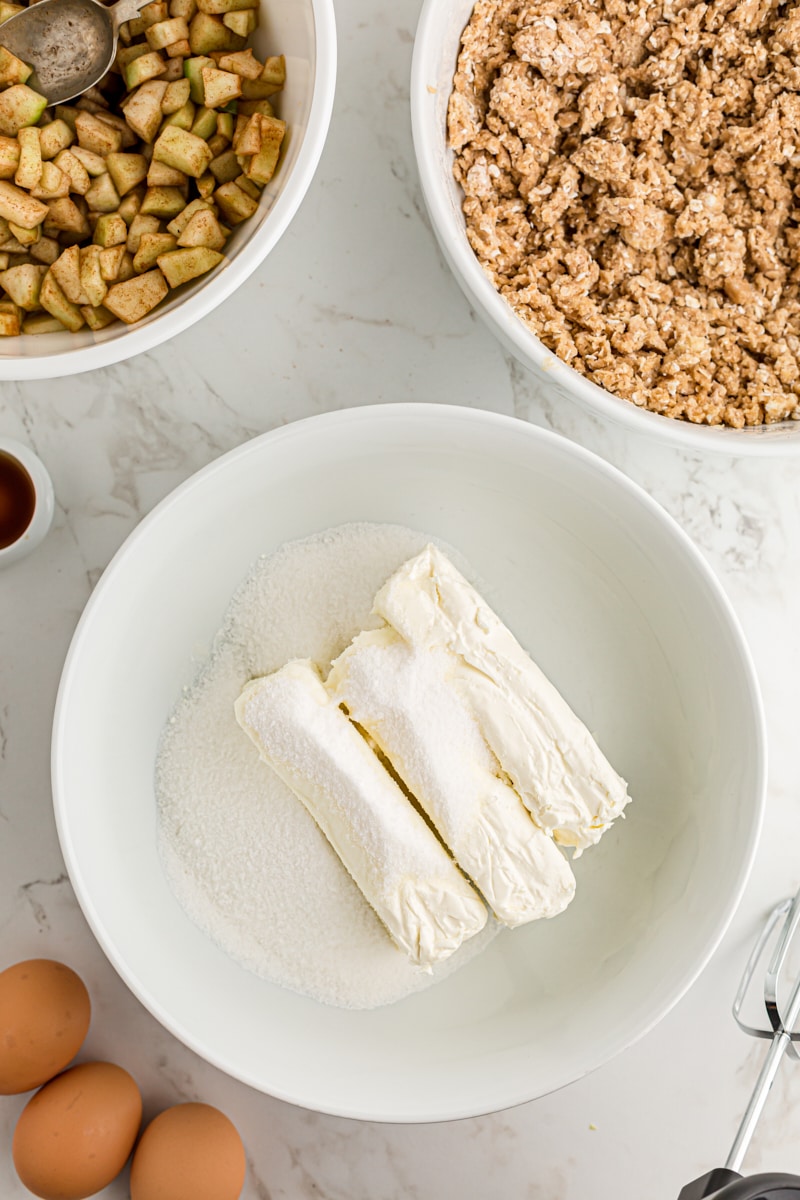 Mix the ingredients. Place the cream cheese and sugar in a large bowl, and mix with an electric hand mixer or stand mixer on medium speed until smooth. Add the eggs and vanilla, and mix until thoroughly combined.
Finally, assemble and bake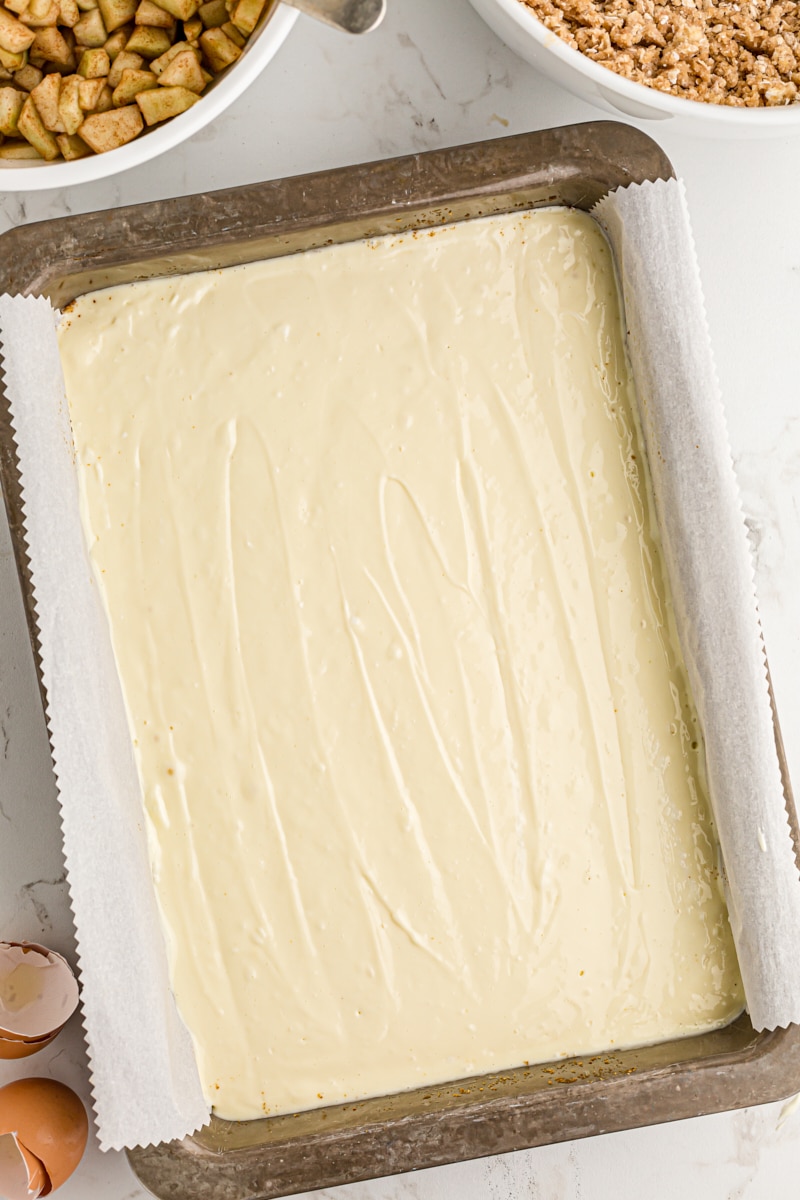 Add the cheesecake filling. Pour the cheesecake batter over the partially baked crust, and spread it evenly.
Top with apples. Scatter the cinnamon apples evenly over the filling.
Add the streusel. Sprinkle the streusel topping evenly over the apples.
Bake. Place the pan in the heated oven, and bake 55 to 60 minutes, or until the center is set but not completely firm.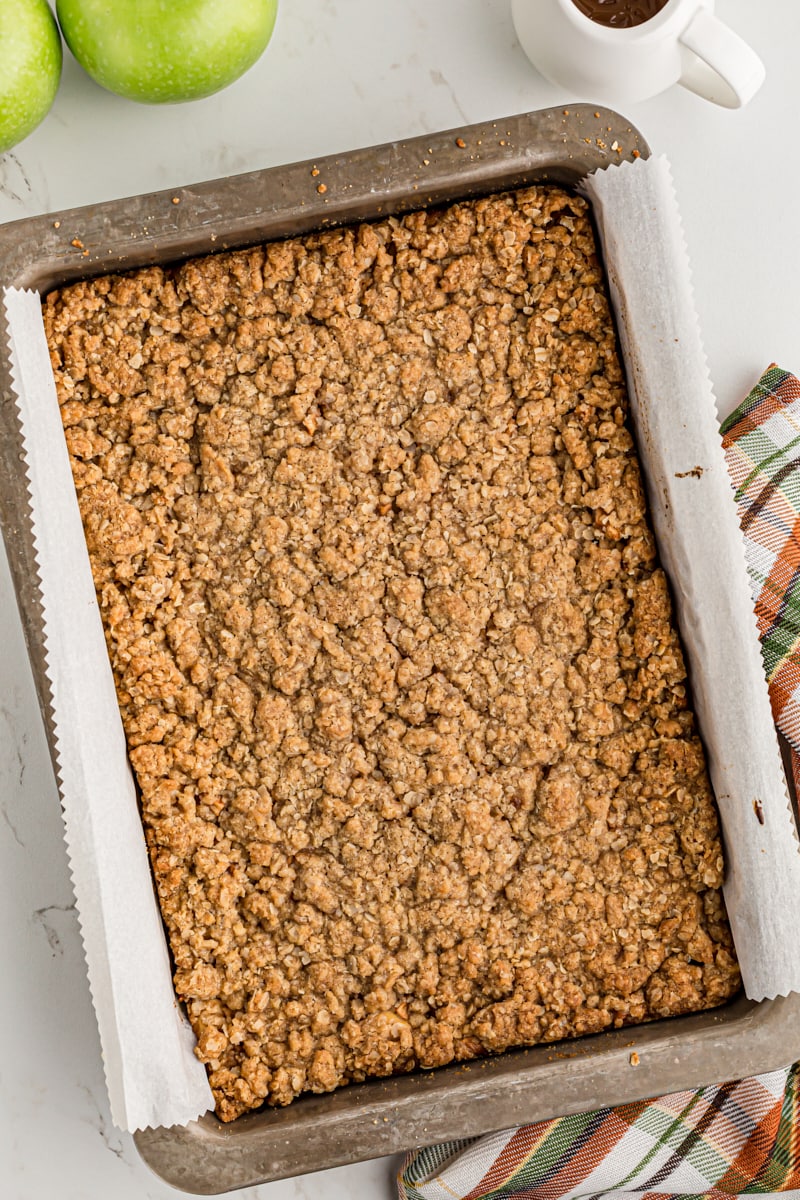 Cool. Place the pan on a wire rack, and cool to room temperature. Then, cover and refrigerate at least 2 hours before serving.
Serve. Use the overhanging parchment to lift the bars from the pan onto a cutting board. Cut into bars, and serve with store-bought or homemade caramel sauce.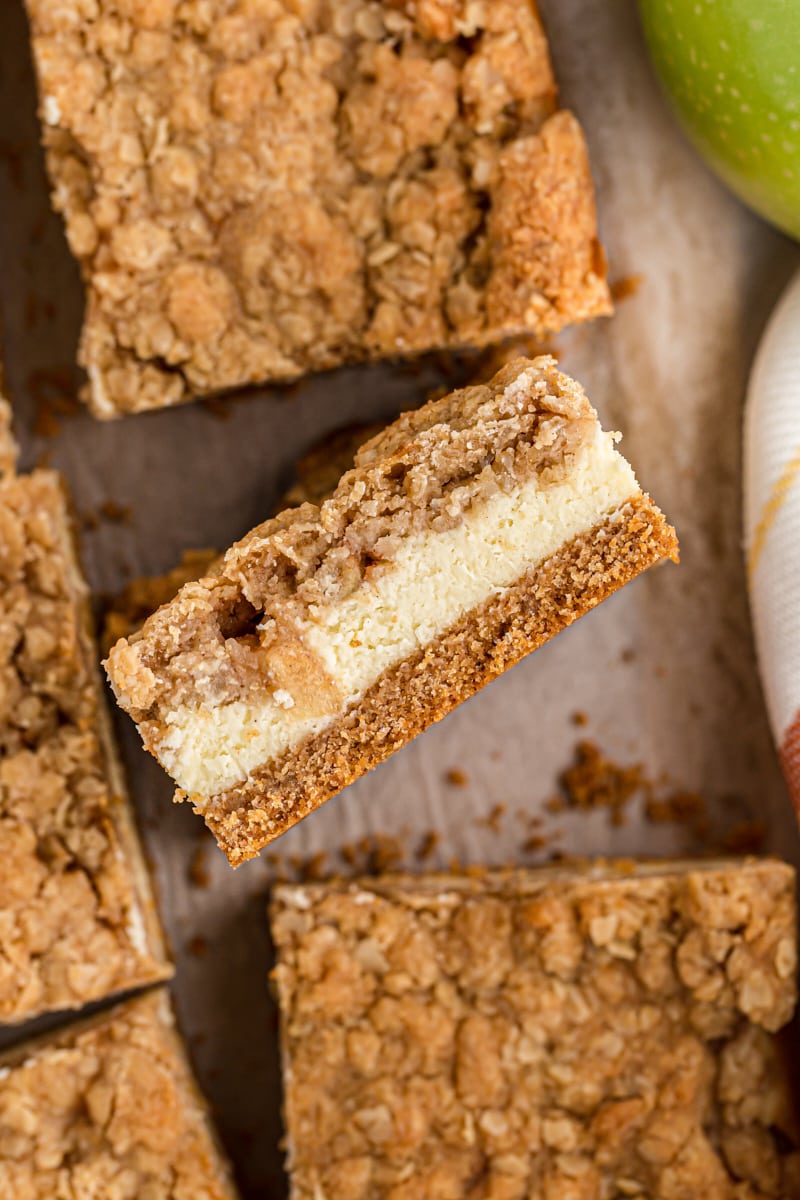 Ideas for Variations
Use a different type of apple. The tartness of Granny Smith apples pairs well with the sweet cheesecake and streusel, but you can use a sweeter variety like Honeycrisp or Gala apples. Or try a combination of apples! Learn more: The Best Apples for Baking
Change the crust. For something a little different, try making the crust with gingersnaps or vanilla wafers. Just keep the volume of cookie crumbs the same.
Take a shortcut. If you're in a hurry, you can use canned apple pie filling in place of the fresh apple mixture. It's not quite the same texture, but the flavor will be similar.
Scale down the recipe. You can half the recipe and make in an 8-inch square pan.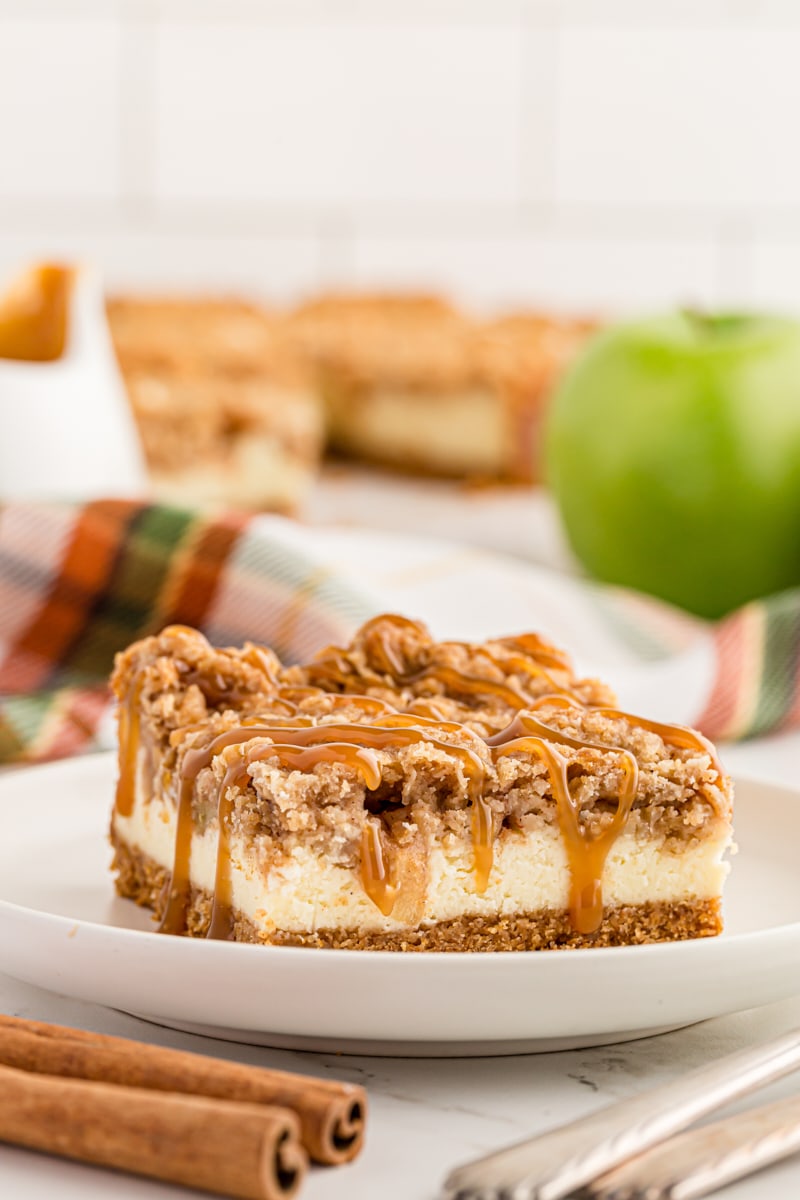 Tips for Success
I think you'll find these Caramel Apple Cheesecake Bars to be easy to make. Here are a few tips to help make sure yours turn out perfect!
Line the pan. It makes quick and easy work of removing the bars from the pan after they've chilled.
Use a pastry blender for the streusel. It makes mixing these types of toppings a breeze. It's one of my most-used tools, as it works well for so many crumb toppings and pastry doughs.
Use a sharp knife for slicing. To get perfect slices, make firm, confident cuts, and avoid using a sawing motion. Wipe off the knife between cuts.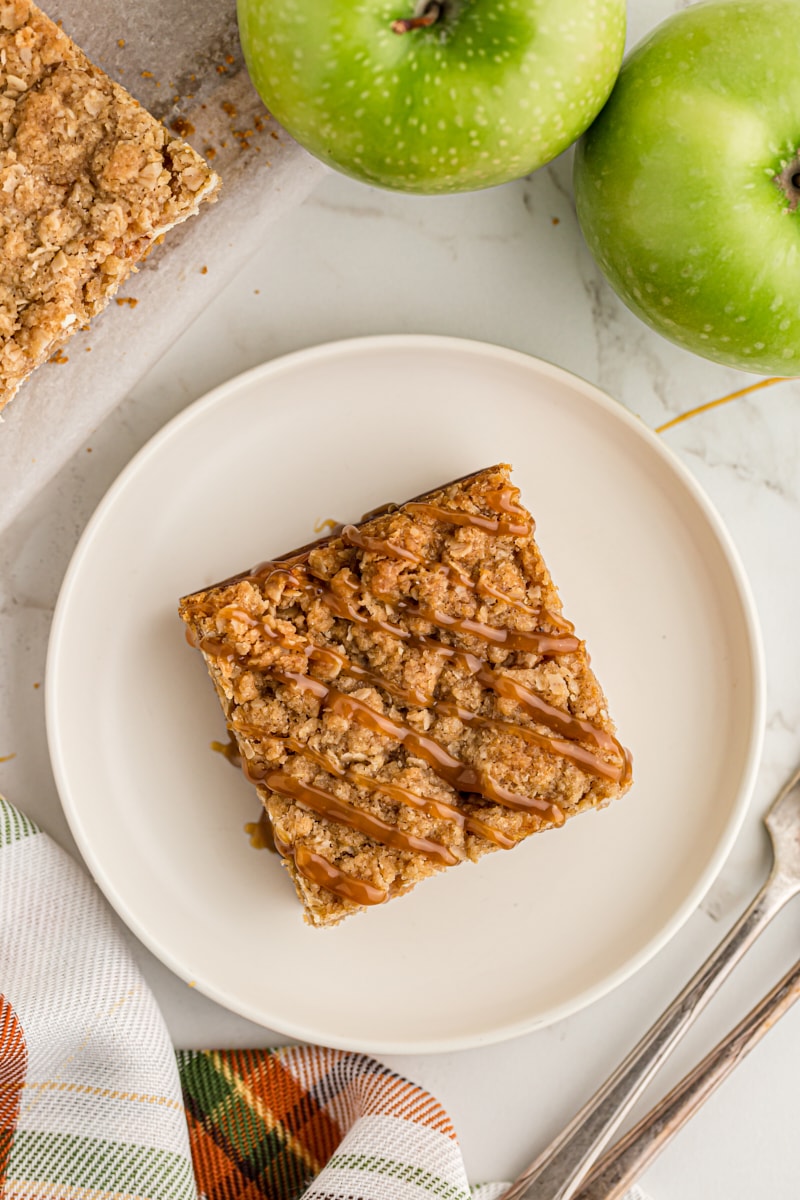 How to Store
Keep these Caramel Apple Cheesecake Bars in an airtight container in the refrigerator. They should keep up to 3 days.
Can These Cheesecake Bars Be Frozen?
Yes! Wrap the cheesecake bars tightly and thoroughly in plastic wrap, and then place inside an airtight, freezer-safe container or zip-top bag. Properly stored, they should keep up to 3 months in the freezer. Thaw overnight in the refrigerator, and add the caramel when serving.