These holiday cookie recipes are my favorites to make during the Christmas season. After all, Christmas cookies are one of the best things about this time of year!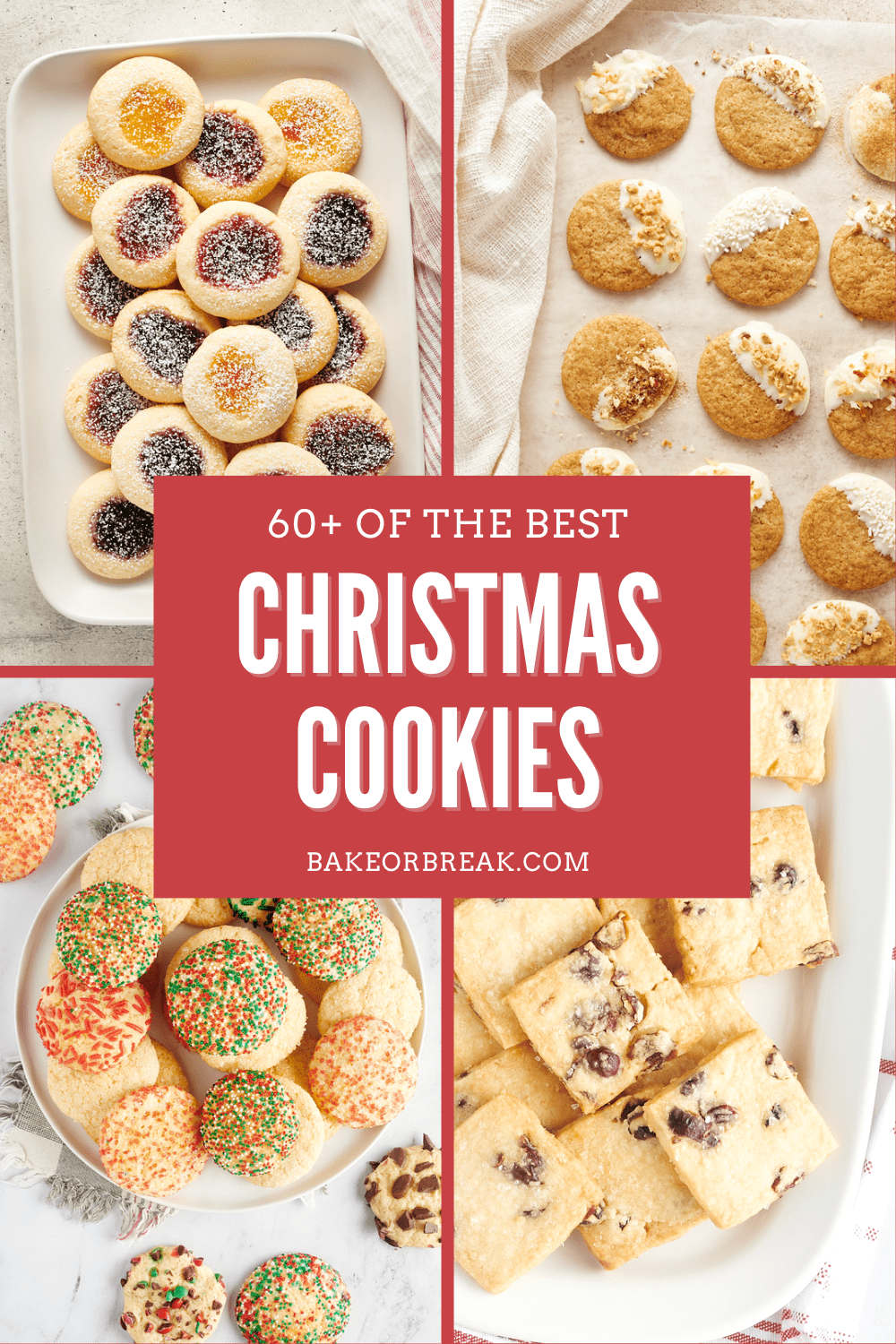 Christmas Cookies for Sharing
One of my favorite things about the holiday season is baking cookies. Well, more cookies than normal. This is the season for cookie swaps and homemade gifts and holiday parties. Cookies are definitely the right answer to so many things this time of year!
I've scoured the cookie recipes here on BoB and put together a collection of some of my favorite Christmas cookies to bake for filling those cookie trays and for giving the wonderful gift of homemade cookies.
Cookie Baking Tips
Every recipe is different, but there are some basic things to keep in mind when baking your Christmas cookies.
Read through the recipe. That may seem obvious, but it's easy to dive into a recipe without reading that one step that will bring your baking to a crashing halt because you weren't prepared.
Gather your ingredients before baking. This will make your baking more efficient, while also ensuring that you have everything you need before you get started.
Take stock of your pans. Think of your baking pans as another ingredient in the recipe. The kind you use makes a difference. I recommend using light-colored, non-shiny metal baking sheets. Learn more: How to Choose Baking Pans
Check your supplies. In addition to ingredients, check that you have all the tools and other supplies you'll need. Think parchment paper, cookie scoops, cookie cutters, etc. You can see my cookie baking essentials in my Amazon storefront (affiliate link).
Chill doughs when necessary. If a recipe has a chilling step, there's usually a very good reason for that. And if you're in heavy baking mode and your kitchen is warmer than usual, consider chilling your dough a bit longer.
Make substitutions with caution. Always keep in mind that any change you make to a recipe will have an effect.
Get ahead! Many cookie doughs and baked cookies will freeze well. Check the recipe you're using for guidelines on how to store your cookies. And see How to Freeze Cookie Dough for additional information.
Cookie Troubleshooting
If you're struggling with your cookies spreading, over-baking, sticking, or some other malady, I've got you covered with my Common Cookie Problems and How to Prevent Them. Even if you're an experienced baker, it's worth a quick read to help make sure your cookies are the best they can be this holiday season!
Packaging and Serving Tips
If you're sharing homemade cookies for Christmas, they'll be happily received most any way you wrap them. But if you're arranging a cookie tray for a party or putting together homemade gifts, I've got lots of helpful tips for you. See my tips for How to Make a Perfect Christmas Cookie Tray to get started. I've also put together some pretty packaging and serving ideas in my Amazon storefront. (affiliate link)
60+ Christmas Cookie Recipes
Get the Recipe:
Favorite Christmas Cookie Recipes
Get ready for holiday cookie time with these favorite cookie recipes! This collection of cookies includes traditional favorites along with some deliciously different options.
More Holiday Cookie Recipes
Of course, there are plenty more cookie recipes here on BoB. Be sure to see the Recipe Index for even more baking inspiration!
Do you have a favorite holiday cookie that you make year after year? I'd love to hear about it in the comments below!
Share this: