Crinkle cookies are always a hit, but sprinkle crinkle cookies are even better! They're colorful, soft, and sure to brighten your day.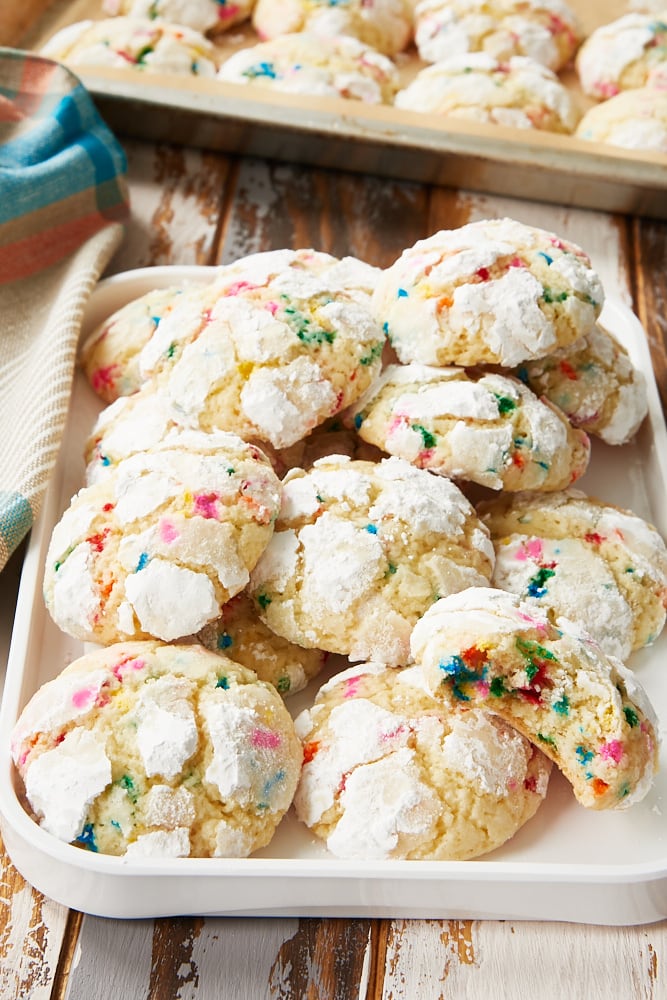 Easy Crinkle Cookies With Sprinkles
Crinkle cookies get their name from the signature cracks and crevices that form while they're baking. There are countless variations of crinkle cookies (Sweet and Salty Peanut Butter Crinkle Cookies and Hazelnut Crinkle Cookies are two of my personal favorites), but when it comes to color and fun, you can't beat these Sprinkle Crinkle Cookies. Even saying the name will put a smile on your face! They're like eating Funfetti cake but in cookie form!
My Sprinkle Crinkle Cookies begin with a simple vanilla dough made with basic baking ingredients, but they're made more fun and colorful with a heavy dose of sprinkles. They're soft on the inside, with a hint of chewiness on the outside. Use different colored sprinkles for different occasions—pink and red for Valentine's Day, red and green for Christmas, or rainbow for a birthday celebration.
Can't get enough sprinkles? Keep that colorful fun going with Mini Funfetti Cheesecakes, Frosted Sugar Cookie Bars, and Celebration No-Bake Cheesecakes.
What You'll Need
It's very possible that you have all of the ingredients for these cookies on hand already! Scroll down to the recipe card at the bottom of this post for ingredient quantities and full instructions.
All-purpose flour – Measure by weight for best results. Learn more: How to Measure Flour
Baking powder
Salt
Unsalted butter – Let the butter sit at room temperature for about half an hour before you start the recipe. Learn more: How to Soften Butter
Granulated sugar
Eggs – The eggs should be at room temperature so they'll mix more easily.
Vanilla extract
Multi-colored sprinkles
Confectioners' sugar – Sift the sugar first so it's not lumpy!
About the Sprinkles
I'm sure many of you, like me, have a stash of sprinkles among your baking supplies. I don't use them frequently, but there are times when a few sprinkles are just the thing a dessert needs to shine. Most sprinkles will bleed their colors at least a little bit in these cookies, and some brands are more prone to this than others. For these Sprinkle Crinkle Cookies, I didn't use anything fancy—just the basic rainbow sprinkles available from the supermarket. Learn more: Types of Sprinkles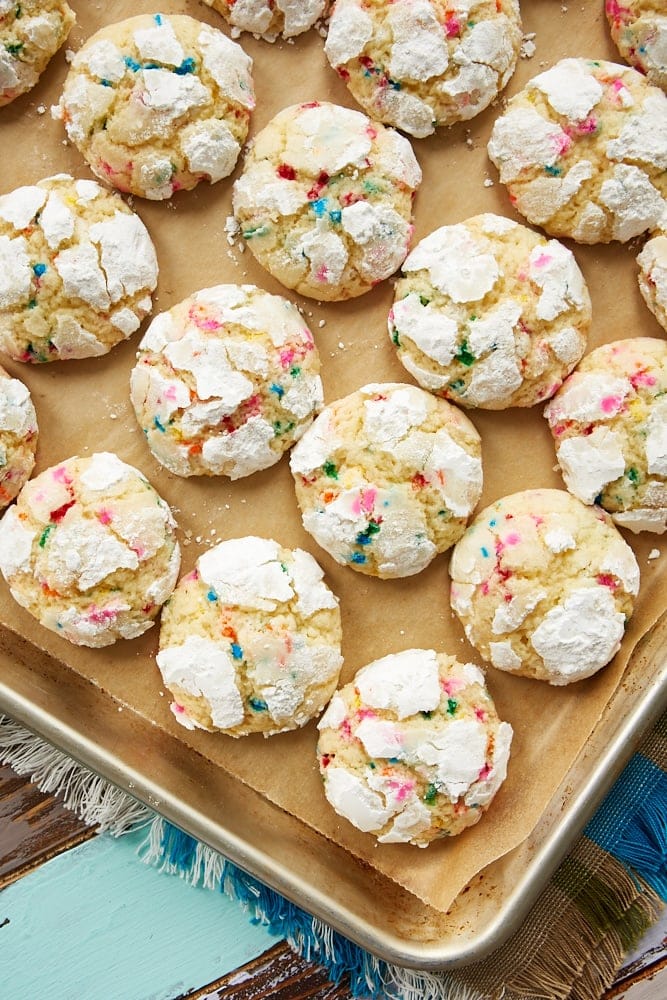 How to Make Sprinkle Crinkle Cookies
These cookies don't take much time to make, but when you're planning your baking, make sure you account for the 30 minutes of chilling time in the fridge!
Mix the dry ingredients. Whisk the flour, baking powder, and salt in a medium bowl.
Mix the wet ingredients. Use an electric mixer on medium speed to beat the butter and sugar together until they're light and fluffy. Beat in the eggs one at a time, followed by the vanilla.
Combine wet and dry ingredients. Reduce the mixer speed to low and slowly add the flour mixture, mixing just until combined. Fold in the sprinkles.
Chill. Place the bowl of dough in the refrigerator and chill for 30 minutes.
Prepare. Preheat your oven to 350°F and line baking sheets with silicone liners or parchment paper. Pour the confectioners' sugar into a small bowl.
Form the cookies. Scoop a tablespoonful of dough (I use a #50 scoop) and roll it into a ball. Coat the ball in confectioners' sugar, then repeat with the remaining dough. Place the cookies on the prepared pans, leaving about 2 inches between them.
Bake. Place one pan in the oven at a time and bake for 14 to 18 minutes, or until the edges are lightly browned.
Cool. Let the cookies cool on the pan for 5 minutes, then transfer them to a wire rack to finish cooling.
Tips for Success
Here are some tips for getting the best Sprinkle Crinkle Cookies!
Weigh the ingredients. This yields the best results whenever you're baking! If you don't have a kitchen scale, use the spoon-and-sweep method of measuring. Learn more: How to Measure Flour.
Use a high-quality vanilla. It's the primary flavor in this recipe, so you want it to shine.
Don't over-bake. When crinkle cookies are over-baked, they get tough. The edges should be lightly browned; it's okay if the centers don't seem baked yet, as the cookies will continue to bake from the residual heat of the pans even after they're removed from the oven.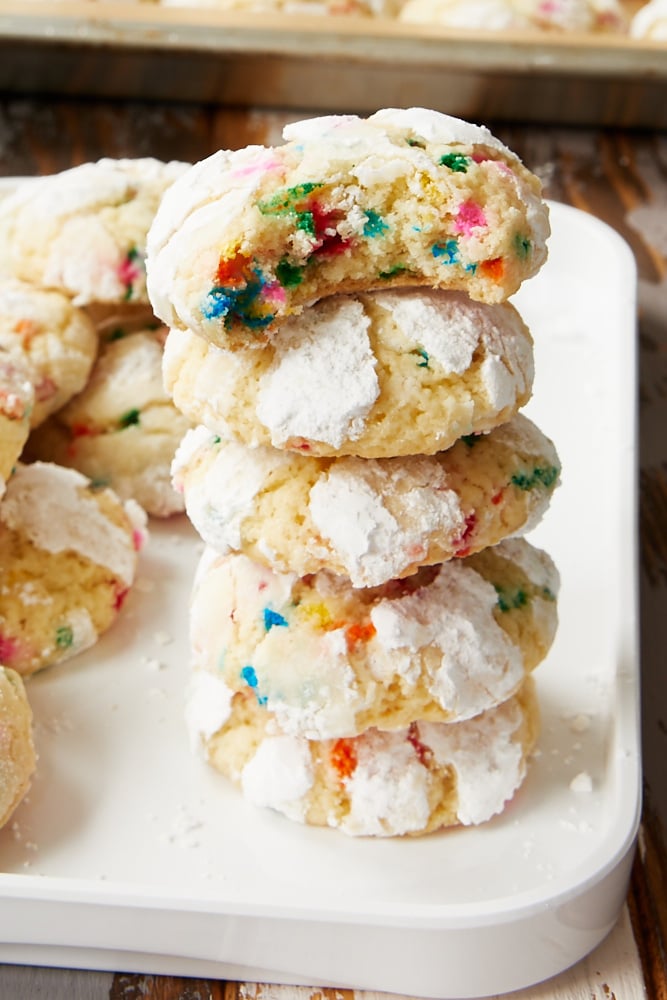 How to Store
Store these cookies in an airtight container on the countertop for up to a week.
Can These Be Frozen?
Yes, you can freeze Sprinkle Crinkle Cookies in an airtight container for up to 3 months. Let them thaw at room temperature before serving.
Find more cookie recipes in the Recipe Index.
Video Tutorial: Sprinkle Crinkle Cookies