Hazelnut Crinkle Cookies are a nutty twist on classic chocolate crinkle cookies. Made with rich chocolate-hazelnut spread and crunchy hazelnuts, these beautiful cookies are sure to be a favorite!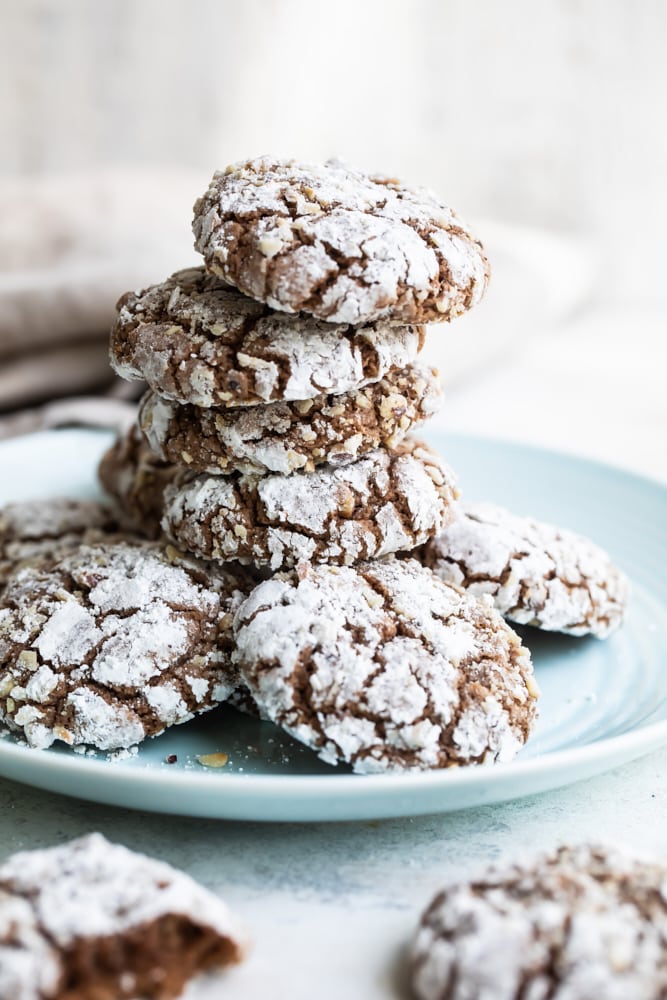 Fun fact: These Hazelnut Crinkle Cookies are the first thing I ever baked with Nutella. I wasn't sure what to expect with my first foray into that chocolate-hazelnut deliciousness, but I assure you it was love at first bite!
Chocolate Crinkle Cookies are a staple recipe in many baker's recipe box. This recipe adds a nutty twist with the addition of hazelnuts and your favorite chocolate-hazelnut spread. All of that chocolate and hazelnut flavor really comes through in these cookies. If you're a Nutella fan, these aren't to be missed!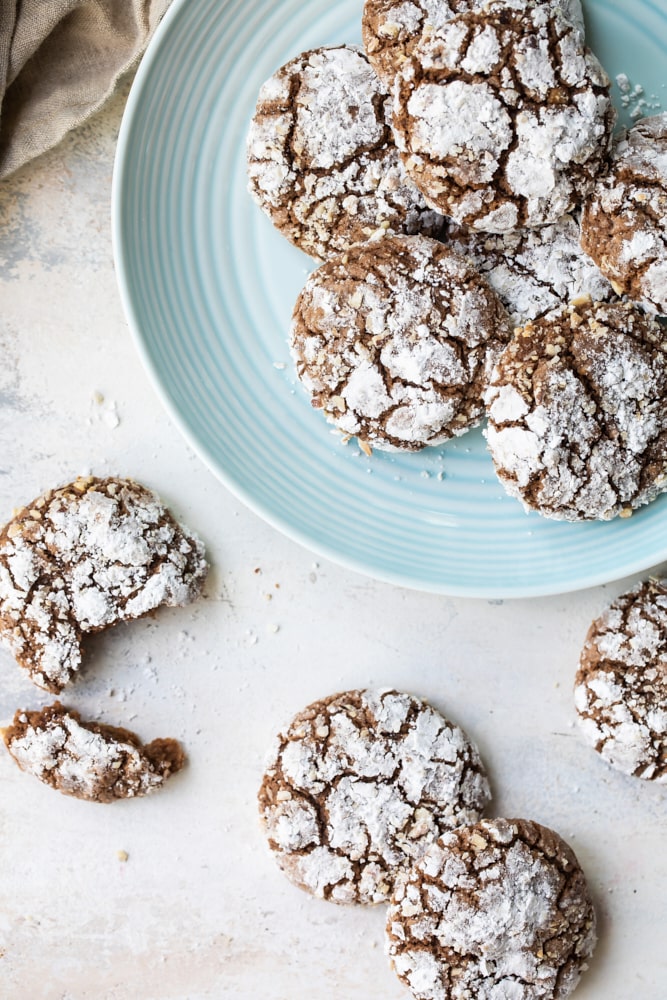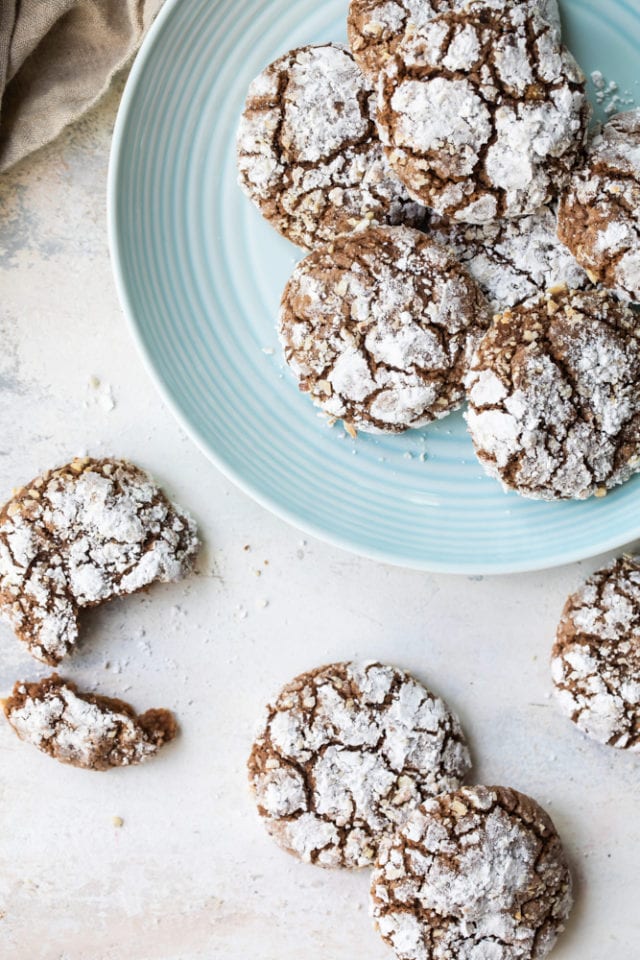 This recipe makes a big batch of cookies, so they're perfect for sharing. Why not make some goodie bags to deliver to your neighbors and friends? You'll get some new raving fans, I'm sure!
Years ago, I deemed these cookies as one of my all-time favorites. And that still holds today! For those of us who really adore all things chocolate and hazelnut, these cookies are easy to designate as a favorite.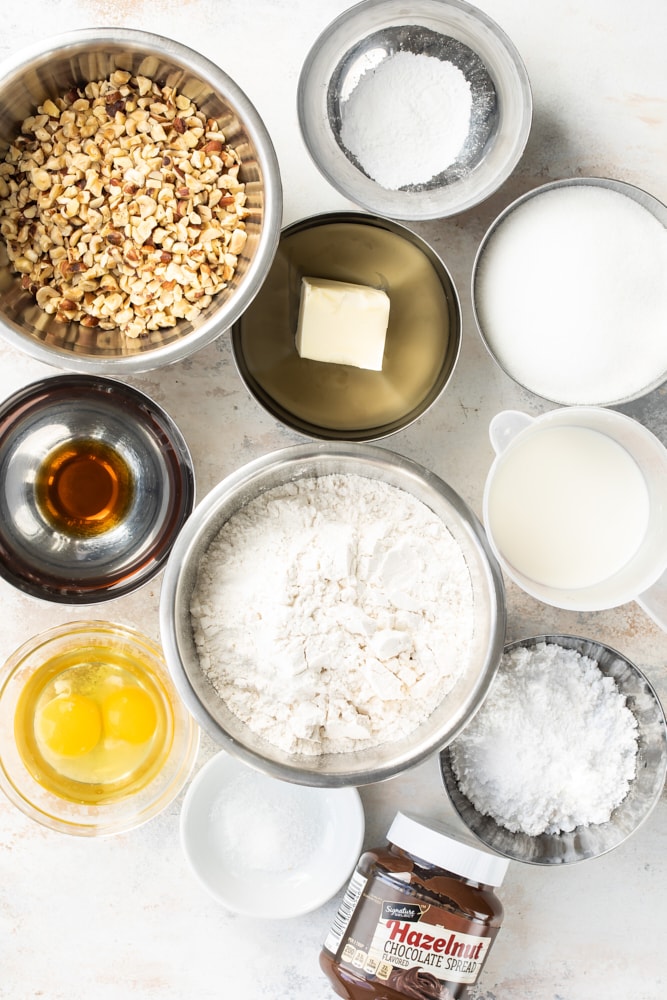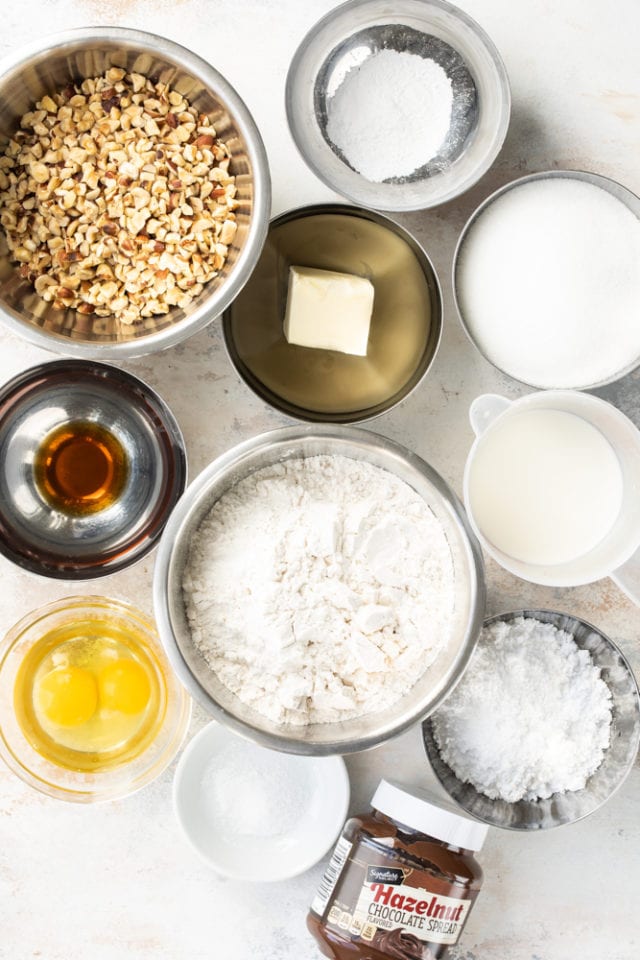 What You'll Need
Don't let the long-ish list of ingredients deter you from baking a batch of these wonderfully delicious cookies. They come together more quickly than you'd think. You'll need a few extra minutes to shape and roll them, but it will 100% be worth it!
All-purpose flour – Measure by weight if you can. Otherwise, spoon and sweep!
Baking powder
Salt
Chopped hazelnuts – You'll need hazelnuts for both the cookie dough and the coating. For a bolder flavor, toast the hazelnuts first.
Chocolate-hazelnut spread – The most common brand is Nutella, but there are many others. Look for this spread alongside other spreads like peanut butter.
Unsalted butter – Set out the butter about half an hour before baking to allow it to soften properly.
Granulated sugar
Eggs
Vanilla extract
Milk
Confectioners' sugar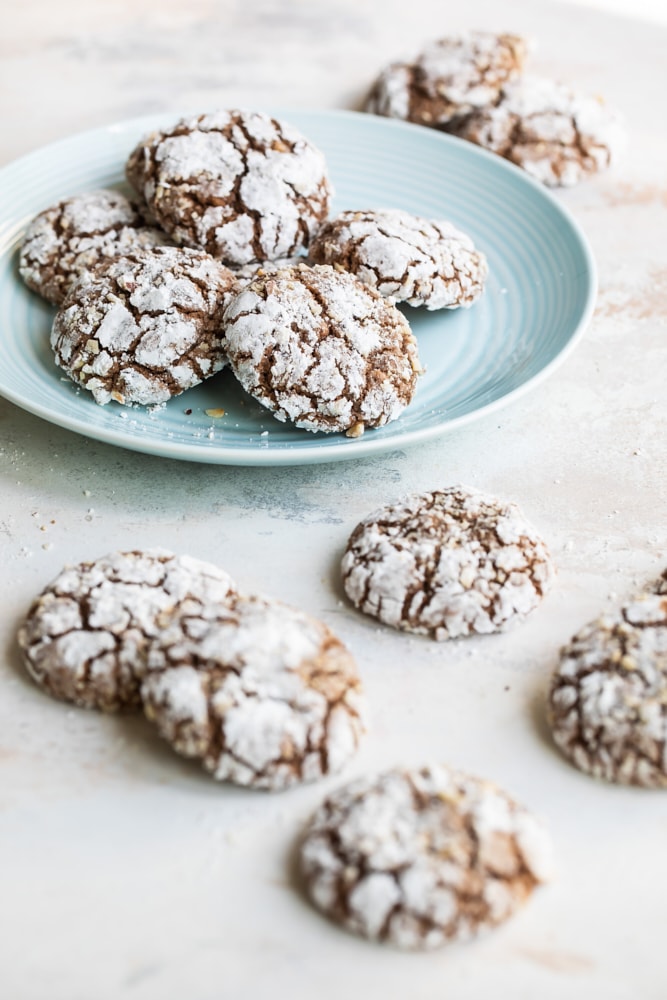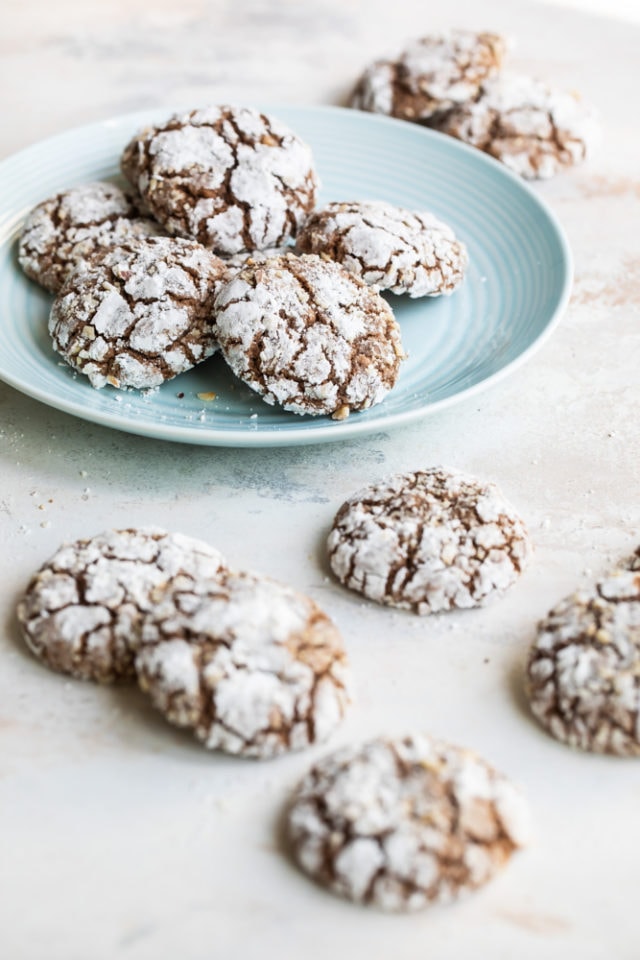 How to Make Hazelnut Crinkle Cookies
Prepare for baking. Heat the oven to 375°F. Line baking sheets with parchment paper or silicone liners.
Combine the dry ingredients. Whisk together the flour, baking powder, and salt.
Combine the wet ingredients. Use a hand or stand mixer to beat the chocolate-hazelnut spread and the butter until thoroughly combined. Next, gradually add the sugar, and mix well. Finally, add the eggs and vanilla, mixing until combined.
Add the dry ingredients to the wet ingredients. Add the flour mixture in three portions, alternating with two portions of milk. Don't over-mix; mix just until combined or a few streaks of flour remain.
Stir in the hazelnuts. Add the 1/2 cup of hazelnuts to the dough, and stir just until well-distributed.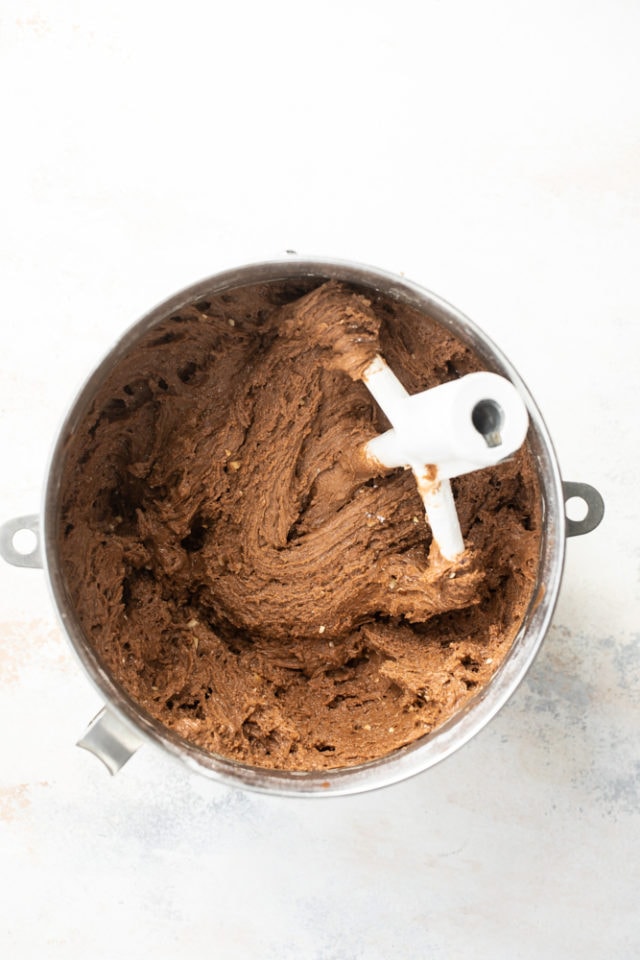 Portion the cookies. Form the dough into 1-inch balls, using a tablespoonful of dough at a time. If the dough isn't shaping well, cover and refrigerate for 15 to 30 minutes until it's more easily handled.
Coat the cookies. Place 2 cups of hazelnuts in a shallow bowl or plate. Place the confectioners' sugar on another shallow bowl or plate. Roll each ball of dough in the hazelnuts and then in the sugar. Place the cookies on the prepared pans, leaving about 2 inches between the cookies.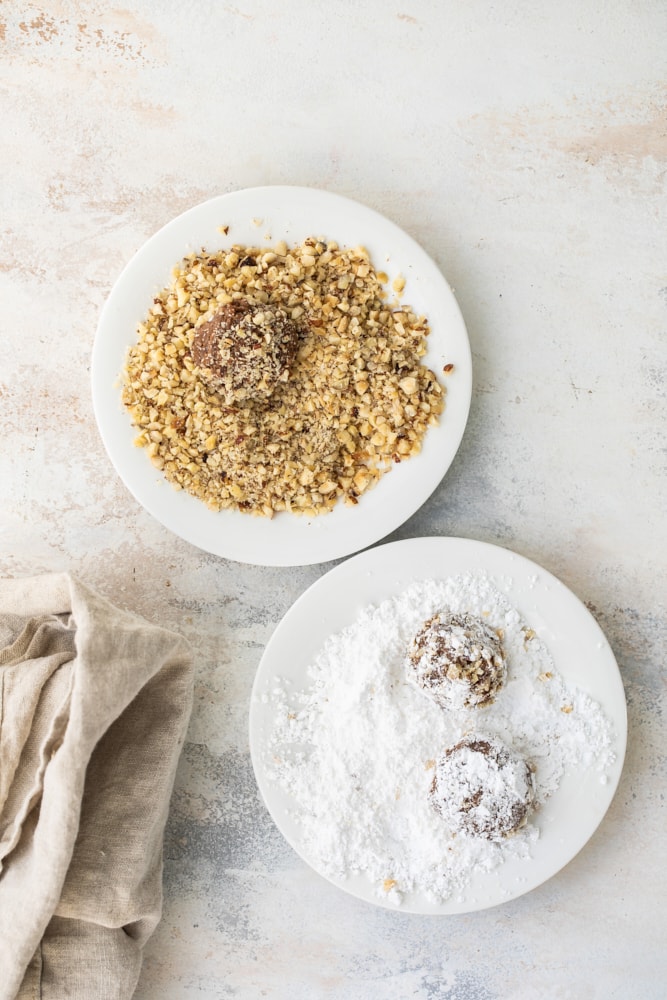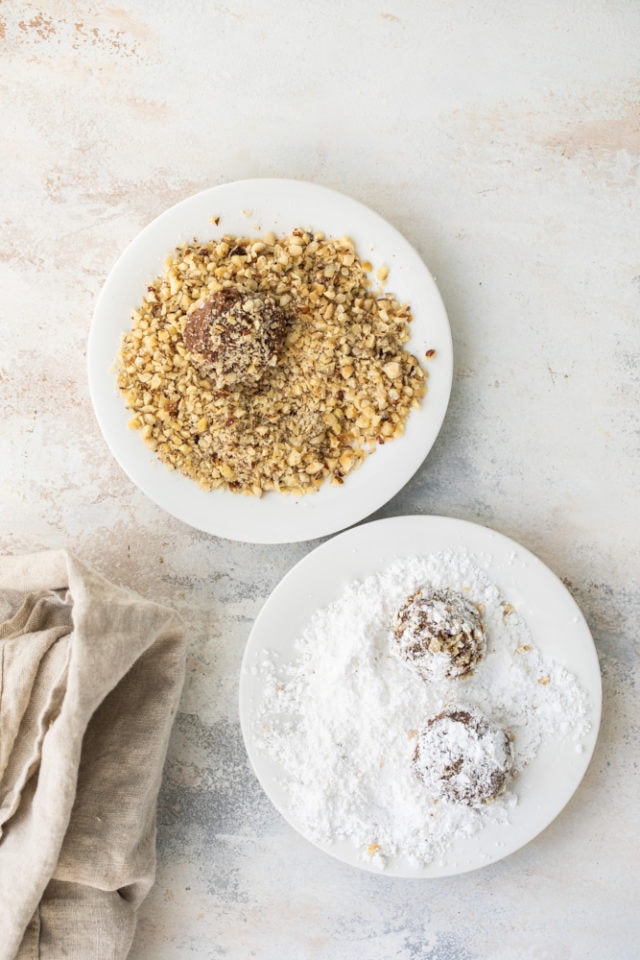 Bake. One pan at a time, bake the cookies for 8 to 10 minutes, or until the cookies are set.
Cool the cookies. Place the pans of cookies on wire racks to cool.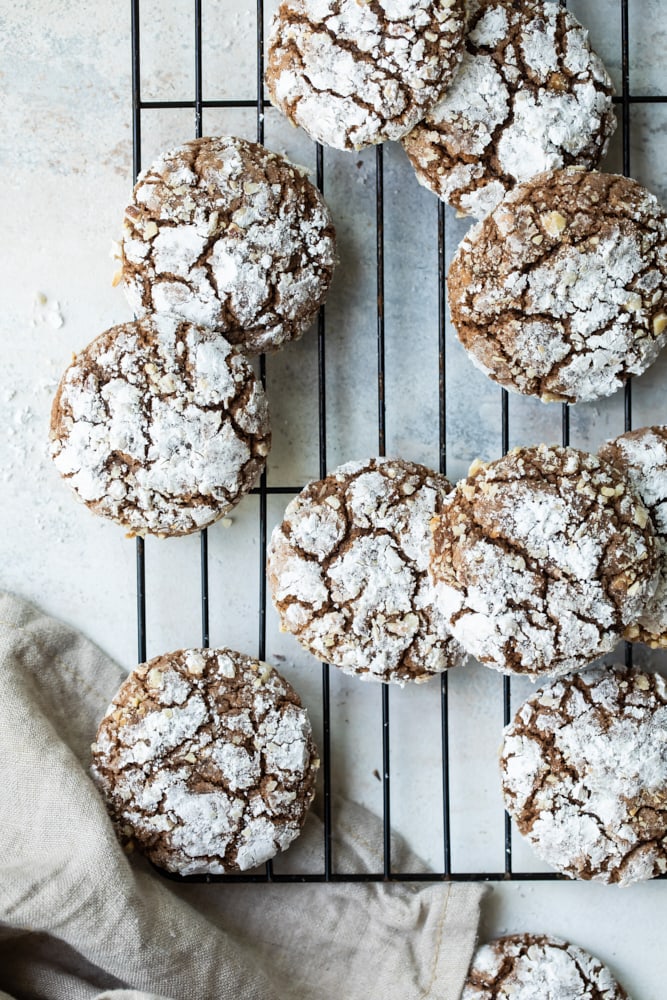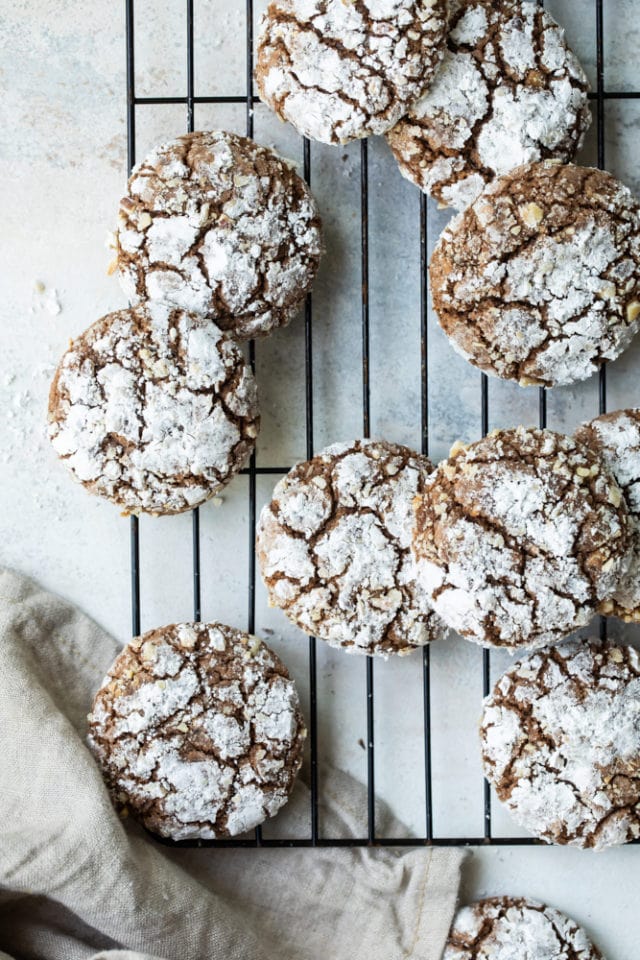 Tips for Success
Toast the hazelnuts. Toasting brings out the flavor of the nuts to make these cookies even better. Spread the nuts in a single layer in a lined, shallow pan. Bake at 350°F for 10-15 minutes, stirring occasionally.
Portion the dough consistently. I have the most success using a cookie scoop to portion the dough before rolling each portion into a ball. Sizing the cookies consistently not only looks nice, but it also helps ensure that the cookies bake evenly.
Refrigerate the dough if necessary. If your kitchen is warm or you feel the dough isn't quite sturdy enough to shape, then try chilling it briefly to make it easier to handle.
Organize assembly. Place the hazelnuts and the confectioners' sugar in shallow dishes next to your mixed dough and baking pans. That will allow you to work more efficiently to get the cookies shaped and in the oven.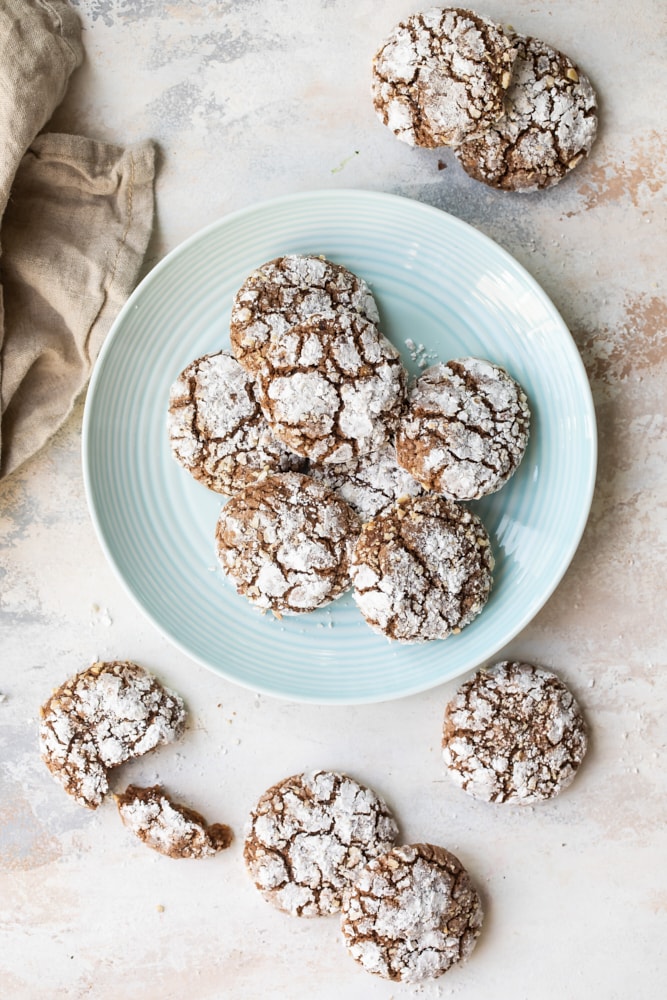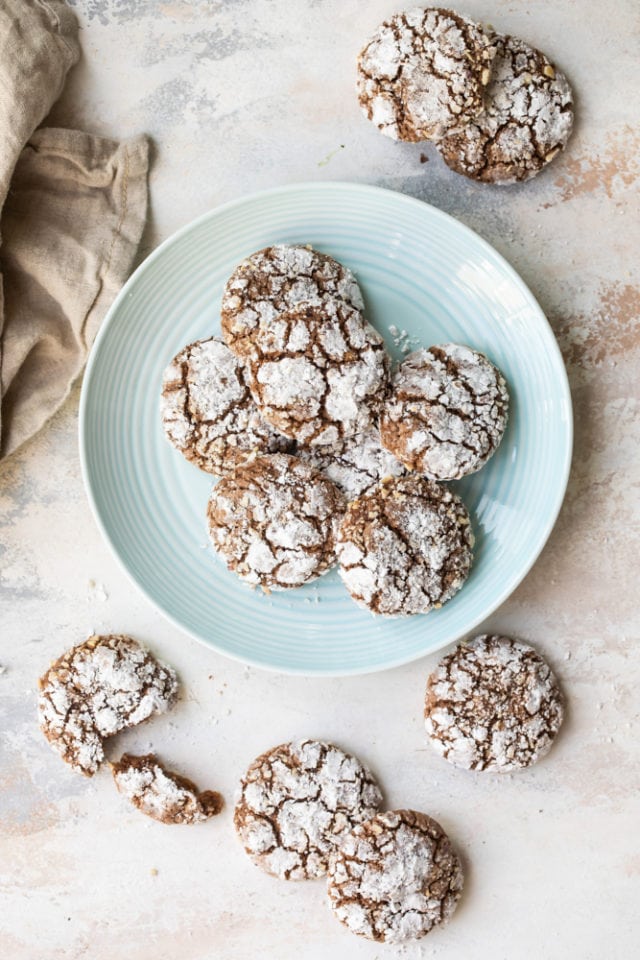 How to Store Hazelnut Crinkle Cookies
Place the cooled cookies in an airtight container and store at room temperature. They'll last about 4 or 5 days.
How to Freeze Hazelnut Crinkle Cookies
To freeze the baked cookies, place the cooled cookies between layers of waxed paper or parchment paper in an airtight, freezer-safe container. Thaw overnight in the refrigerator or for an hour or so at room temperature. They should keep up to 3 months. The coating may not hold up very well, but they'll still be delicious!
To freeze the unbaked cookies, follow the recipe through the portioning step. Place the cookies in a single layer on a baking sheet, and place in the freezer until frozen. That will take about 2 hours, but don't leave them for more than 6 hours to avoid freezer burn. Then place the frozen dough balls into a freezer-safe container or bag. When you're ready to bake the cookies, thaw them at room temperature for about 30 minutes. Coat the cookies and bake as directed. Properly stored, the cookie dough should keep in the freezer up to 3 months.
Find more cookie recipes in the Recipe Index.
More Crinkle Cookie Recipes