Triple Chocolate Chip Cookie Brittle is the crispy, crunchy cousin of classic chocolate chip cookies. What a great go-to recipe for sharing with your fellow cookie lovers!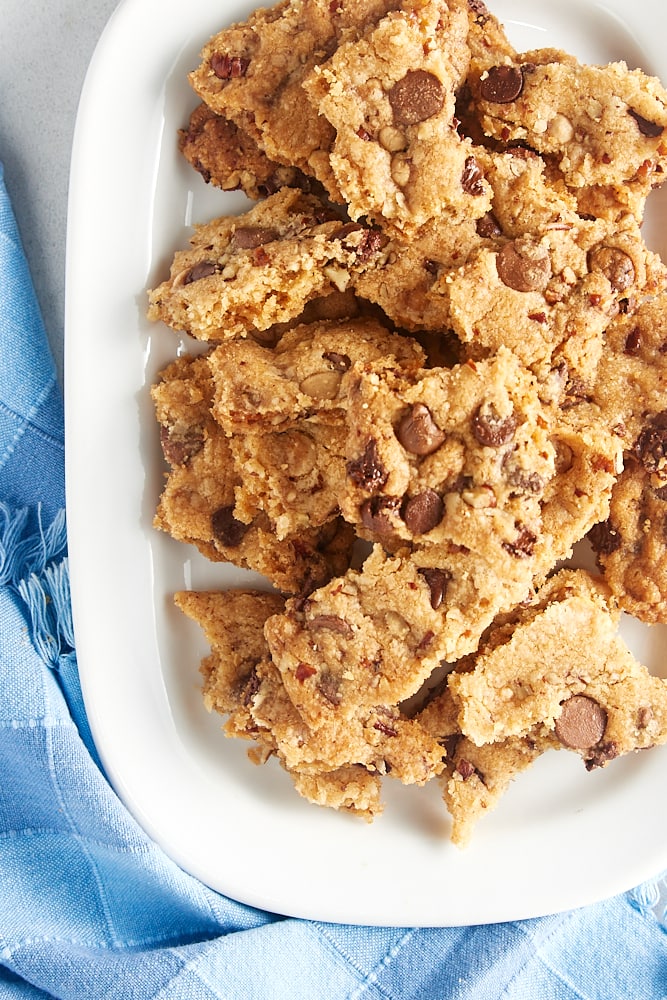 Triple Chocolate Chip Cookie Brittle
This Triple Chocolate Chip Cookie Brittle is as easy as it is irresistible. It mixes quickly and easily with just a mixing bowl and spoon. And the ingredients you need are probably just sitting there in your pantry begging to be transformed into these fantastic cookies.
There's no scooping here. Just shape the dough into a rectangle and bake. Then break it apart when it's cooled. And then take a bite and proceed to put all that on repeat. It's just that good!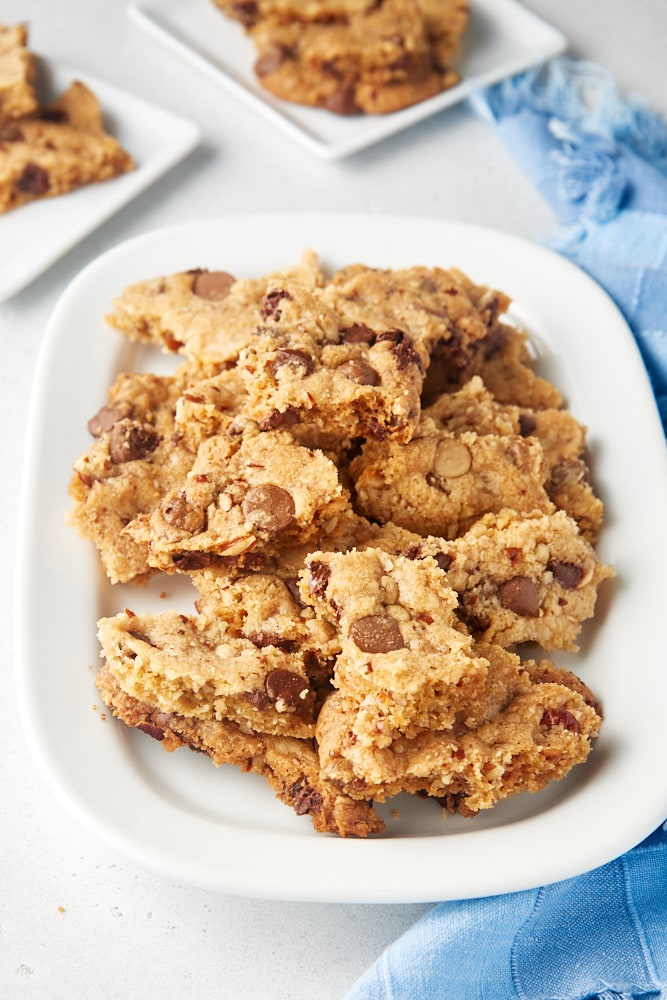 What Is Cookie Brittle?
Cookie brittle is a crispy, crunchy twist on traditional cookies. They get their texture from the melted butter (which helps make them dense) and the lack of eggs (which helps make them dense, crunchy, and crumbly).
While some of you may prefer crispy cookies, most chocolate chip cookies are softer and lighter versus these crispy and dense versions. As a big fan of soft, chewy cookies, I'm a bit amazed at how much I adore this polar opposite!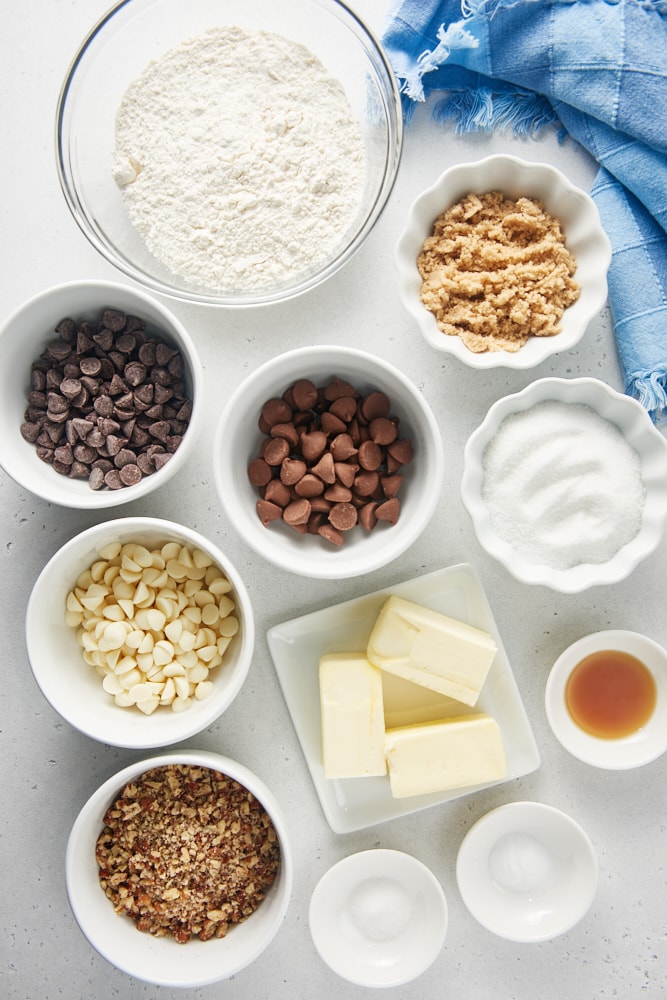 What You'll Need
This cookie brittle is made with basic baking ingredients, so you likely have everything you need to whip up a batch. Just grab your favorite chocolate chips!
All-purpose flour – If you don't measure by weight, be sure to use the spoon and sweep method to avoid over-measuring.
Baking soda – Some cookie brittle recipes don't contain any leavening, but I like to have a little bit to give them just a hint of rise.
Salt
Butter – Be sure to let the butter cool a bit after melting it. It should still be a bit warm to allow the sugar to melt a little when they're mixed together.
Granulated sugar
Brown sugar
Vanilla extract
Chocolate chips – I like to use a combination of semisweet, milk, and white chocolate chips, but any combination or just one type is good, too.
Nuts – Pecans, hazelnuts, walnuts… whatever you like. I usually toss in whatever I happen to have on-hand. If you don't like nuts, omit them or add more chocolate chips instead.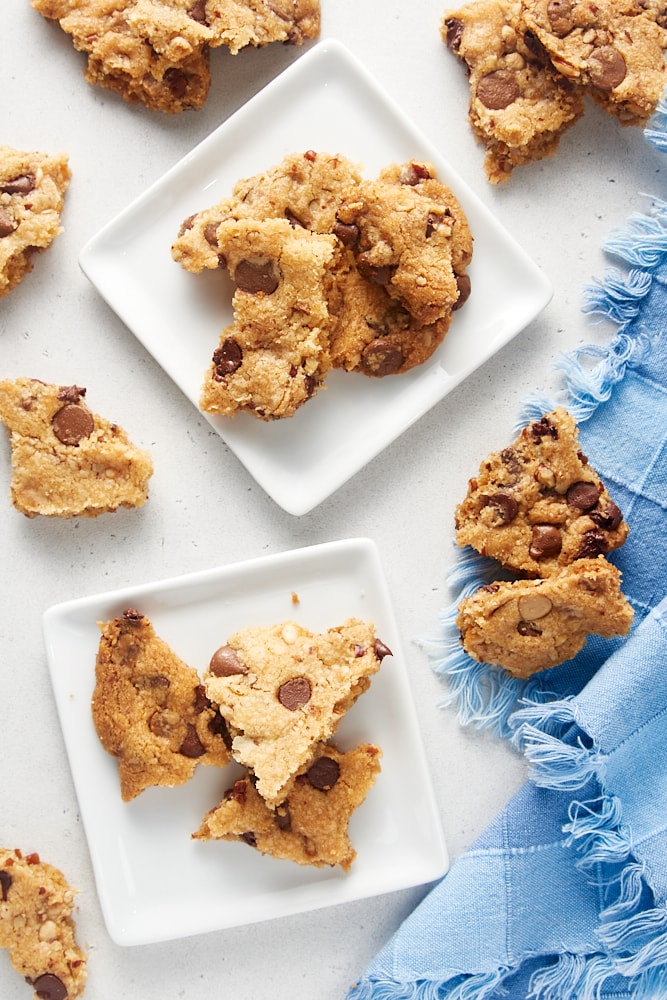 How to Make Cookie Brittle
These cookies come together quickly and easily. Just grab a mixing bowl, a mixing spoon, and a half sheet pan.
Prepare for baking. Heat the oven to 350°F. Line a half sheet pan with parchment paper or a silicone liner.
Combine the dry ingredients. Whisk together the flour, baking soda, and salt. Set aside.
Mix the wet ingredients. Combine the butter, sugar, brown sugar, and vanilla, mixing well.
Add the dry ingredients to the wet ingredients. Add the flour mixture to the butter mixture in 3 or 4 portions. Mix just until combined or a few streaks of flour remain.
Add the chocolate chips and nuts. Stir in the chocolate chips and nuts.
Shape the dough. Transfer the dough to the prepared pan. Press into a rectangle roughly 9″ x 13″ and 1/2-inch thick, leaving about a 1 & 1/2-inch border. If you decide to alter the amount of chocolate chips and nuts, keep in mind that you're also changing the volume of mixed dough. Prioritize the thickness over the length and width.
Bake. Bake 16 to 20 minutes. The top should be dark golden brown and feel firm.
Cool the cookies. Place the pan on a wire rack and allow to cool for 10 minutes. Next, transfer the cookies from the pan to a wire rack. If they should break apart, that's perfectly fine.
Break into pieces. After the cookies have cooled, break into pieces. If you aim for 4- or 5-inch pieces, you'll get about 36 cookies.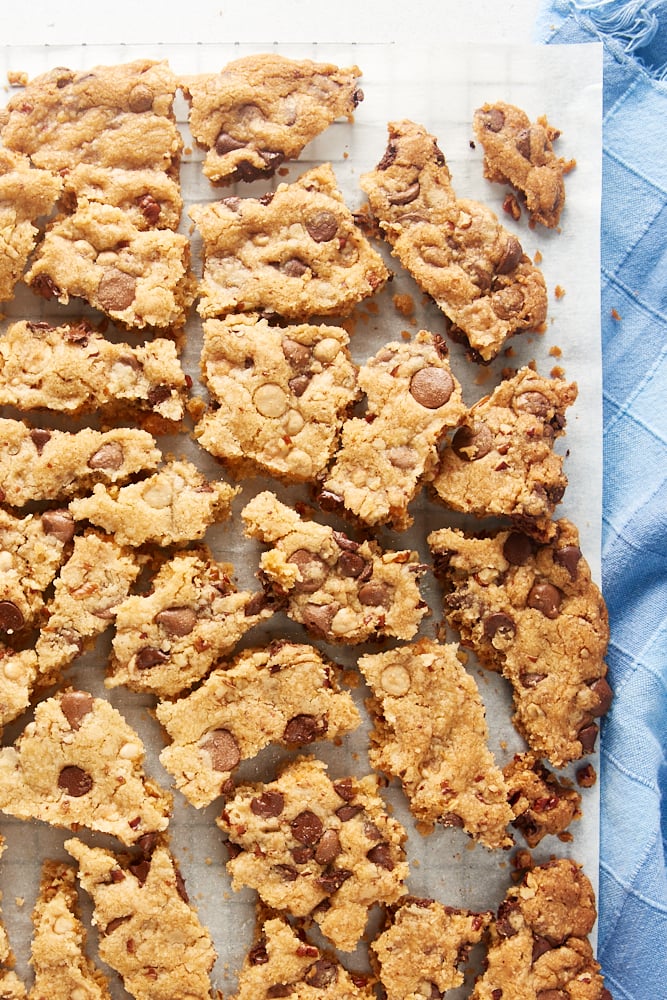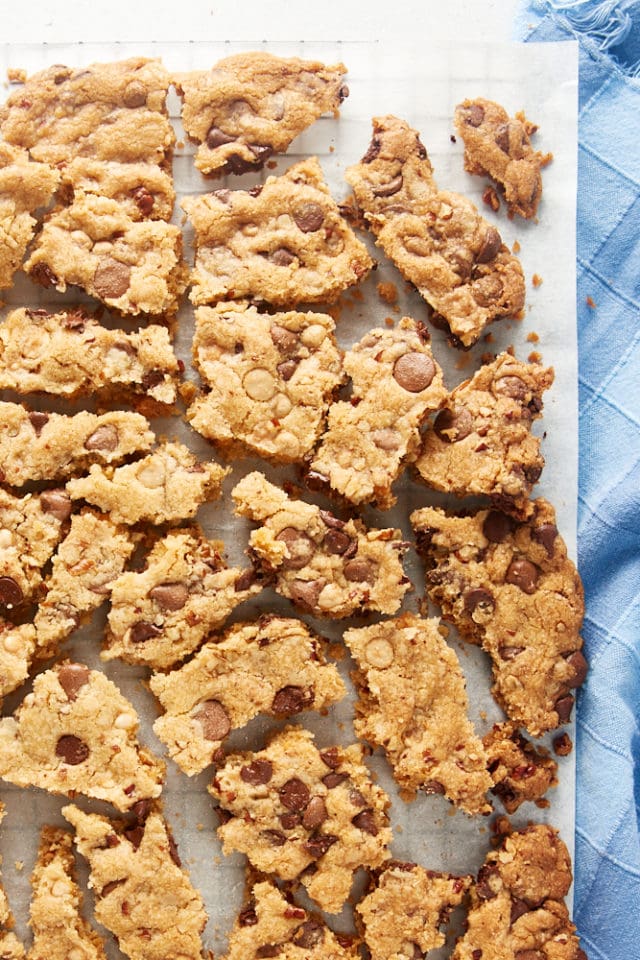 Tips for Success
Measure accurately. Use a kitchen scale to measure by weight if possible.
Use a ruler. I have long kept a ruler with my baking tools. It comes in handy here to make sure the size and thickness of the dough is just right. Getting the dough thin is important for getting that crispy texture.
Resist under-baking. Depending on your usual cookie preferences, you may be tempted (like me) to take these out of the oven when they're not quite ready. They should be dark golden brown on top. Getting them properly baked will help them break apart more easily and have their trademark crispy texture.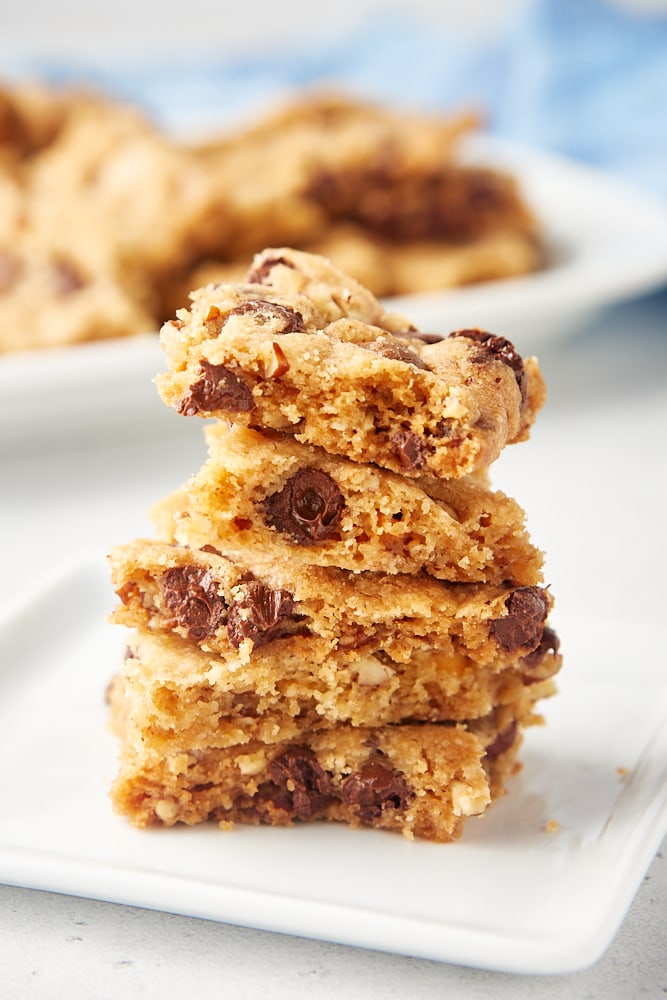 How to Store Cookie Brittle
Place the cooled cookie brittle in an airtight container and store at room temperature up to 5 days.
Can You Freeze Cookie Brittle?
Yes! Place the cooled cookie brittle in an airtight freezer bag or container for up to 2 months. When you're ready to serve it, thaw it on the countertop for a couple of hours.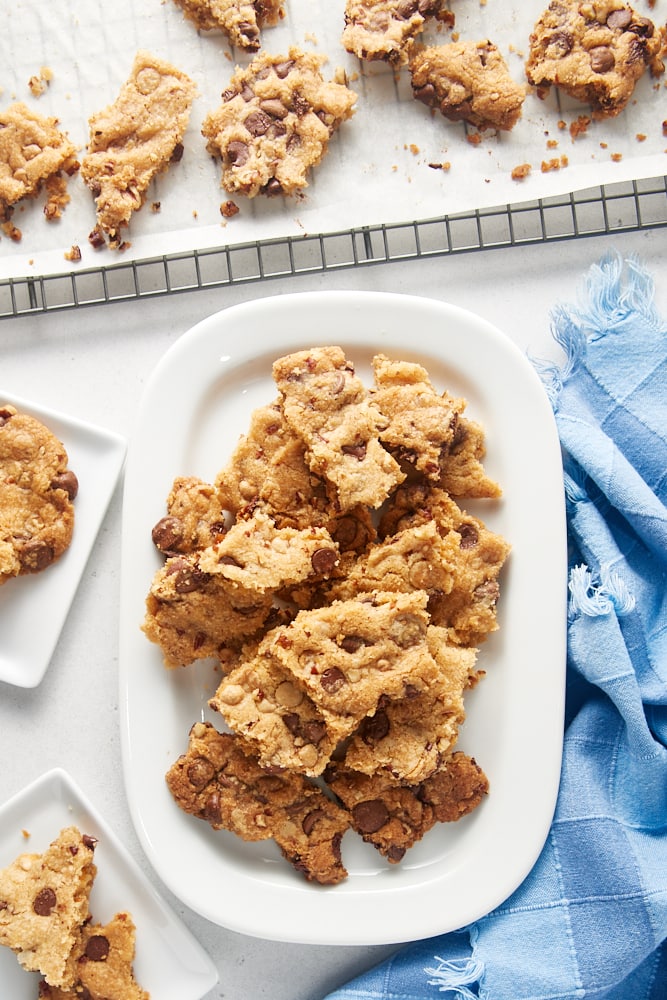 Video Tutorial: Triple Chocolate Chip Cookie Brittle
More Chocolate Chip Cookie Recipes