March 5, 2008
Triple Chocolate Pecan Cookies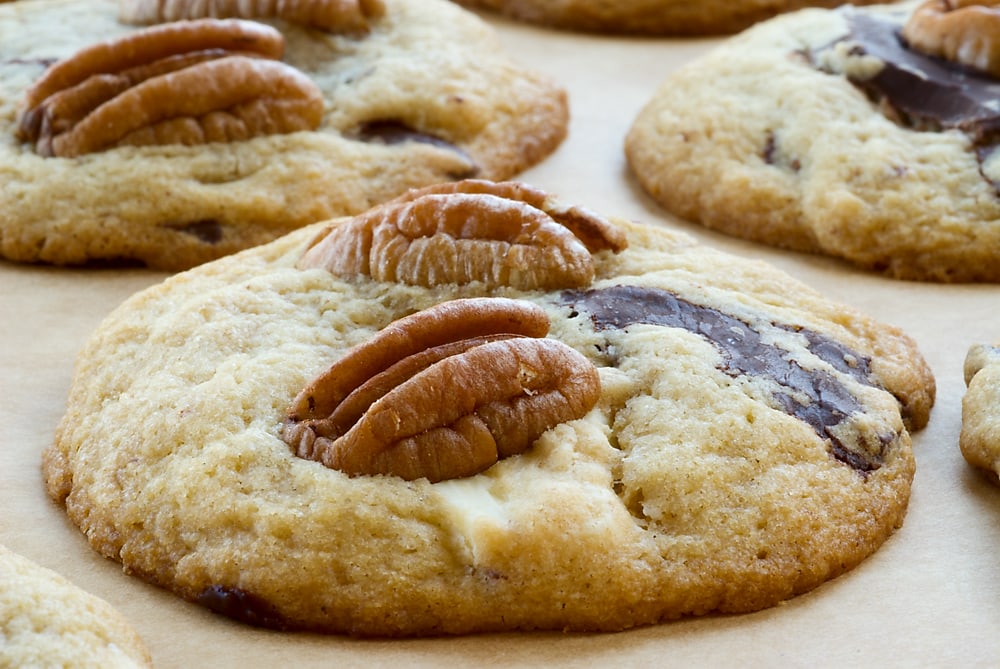 Triple Chocolate Pecan Cookies amp up traditional chocolate chip cookies with toasty pecans and three kinds of chocolate!
My cookbook buying habits have changed over the years. I used to want all of those comprehensive books, the ones that covered how to make everything from appetizers to dessert. Now, I seem to be drawn to the more specific ones. Of course, I buy general baking books, which I suppose are specific themselves. But, I like those books dedicated to something even more specific. I figure that if someone decides to narrow their topic that much, then they will probably know a lot about it.
Carole Walter has written several cookbooks on specific subjects. I have a few of hers, including Great Cookies, which is the source of the recipe for these Triple Chocolate Pecan Cookies. With all the tempting recipes, it was hard to pick just one. So, why this one? Look at that title. How could I not make these?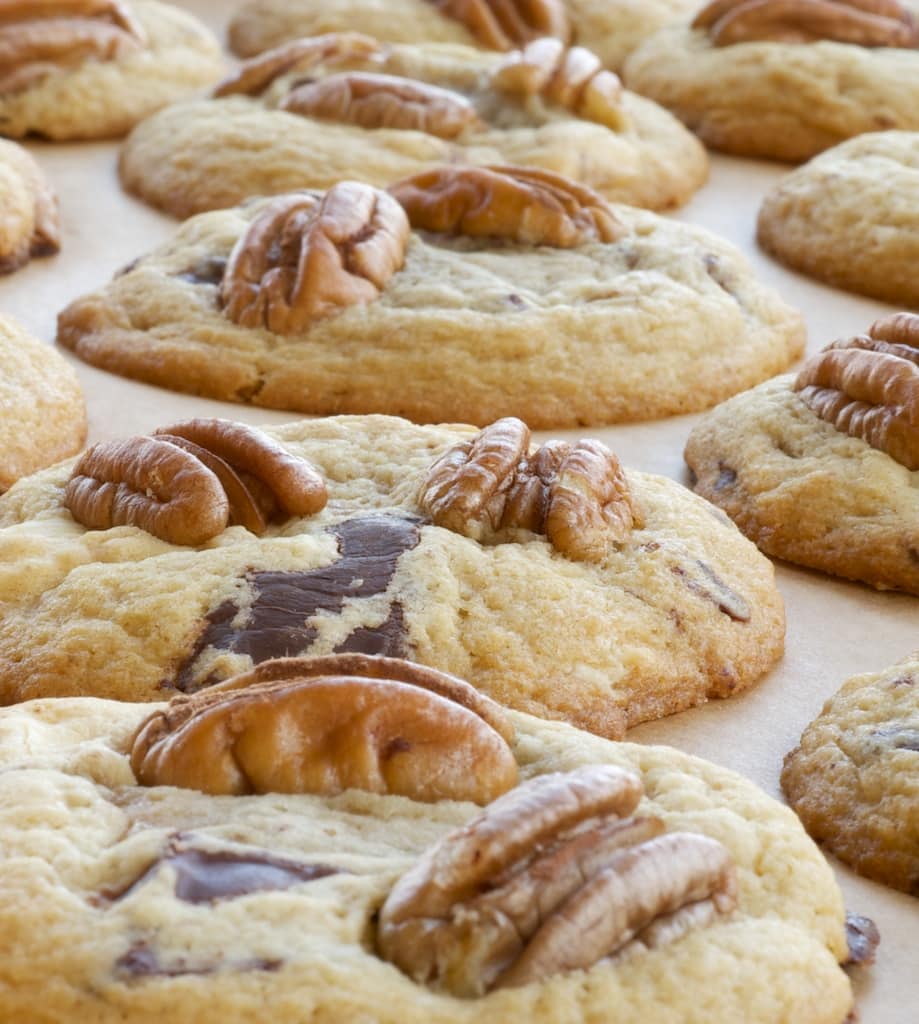 I am a big believer in good chocolate. These cookies are a great excuse to break out the good stuff. There is so much chocolate in these that you'll think that it will never mix into the batter. It's worth the effort, though, and actually the chocolate doesn't need to be completely covered with cookie dough.
Of course, if all that chocolate isn't enough, the pecans on top really push it over the top. Placing the pecans on the dough can be a bit tricky. There isn't much surface area, so just fit them on wherever and however you can. The cookies spread a good bit as they bake, and the pecans will move along with them.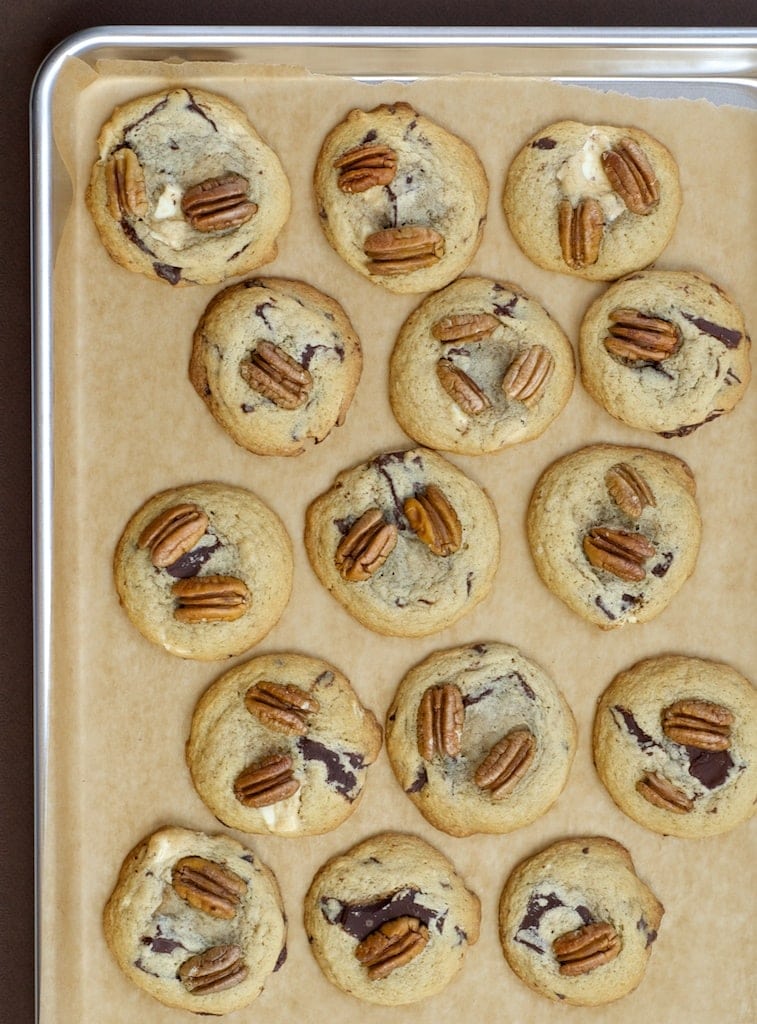 The result is a delicious batch of large, thin, chewy cookies overflowing with wonderful chocolate and crunchy pecans. I love their rustic, less polished look. While they may not be the prettiest cookies you'll ever make, they may be among the tastiest.
Find more cookie recipes in the Recipe Index.
More Chocolate Chip Cookies with Pecans
We are a participant in the Amazon Services LLC Associates Program, an affiliate advertising program designed to provide a means for us to earn fees by linking to Amazon.com and affiliated sites.
Triple Chocolate Pecan Cookies
Yield: about 48 cookies
Prep Time: 20 minutes
Cook Time: 10 minutes per pan
Chocolate chip cookies get a big flavor boost with three kinds of chocolate and pecans in these big, chewy Triple Chocolate Pecan Cookies!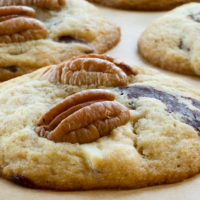 Ingredients:
2 & 2/3 cups all-purpose flour
1 teaspoon baking soda
1/2 teaspoon baking powder
3/4 teaspoon salt
1 cup unsalted butter, slightly firm
3/4 cup dark brown sugar, lightly packed
3/4 cup granulated sugar
2 large eggs
2 teaspoons vanilla extract
4 ounces semi-sweet chocolate*, roughly chopped
4 ounces bittersweet chocolate*, roughly chopped
4 ounces white chocolate*, roughly chopped
1 & 1/2 to 2 cups of toasted whole pecans
Directions:
Preheat oven to 375°F. Line baking sheets with parchment paper or silicone liners.
Mix together the flour, baking soda, baking powder, and salt. Set aside.
Beat the butter on medium-high speed until creamy, about 1 & 1/2 to 2 minutes. Add the dark brown sugar and beat for 2-3 minutes. Add the granulated sugar and beat for another 2-3 minutes. Add the eggs one at a time, mixing well after each. Add the vanilla and beat for about 30 seconds.
Gradually add the dry ingredients. Stir in chocolates.
Drop the dough by tablespoonfuls onto the prepared pans about 3 inches apart. Do not crowd the cookies because they will spread. Place two or three pecans on top of each mound of cookie dough.
Bake for 8-10 minutes, or until the tops are just set and the edges are lightly browned.
Cool the cookies for 4-5 minutes, then transfer to wire racks to cool completely.
Notes:
*Use any combination of chocolates you like. The original recipe lists white, semi-sweet, and milk chocolates.