White Chocolate Snickerdoodles take the classic cookies and dress them up with some white chocolate and your favorite toppings. Such pretty cookies!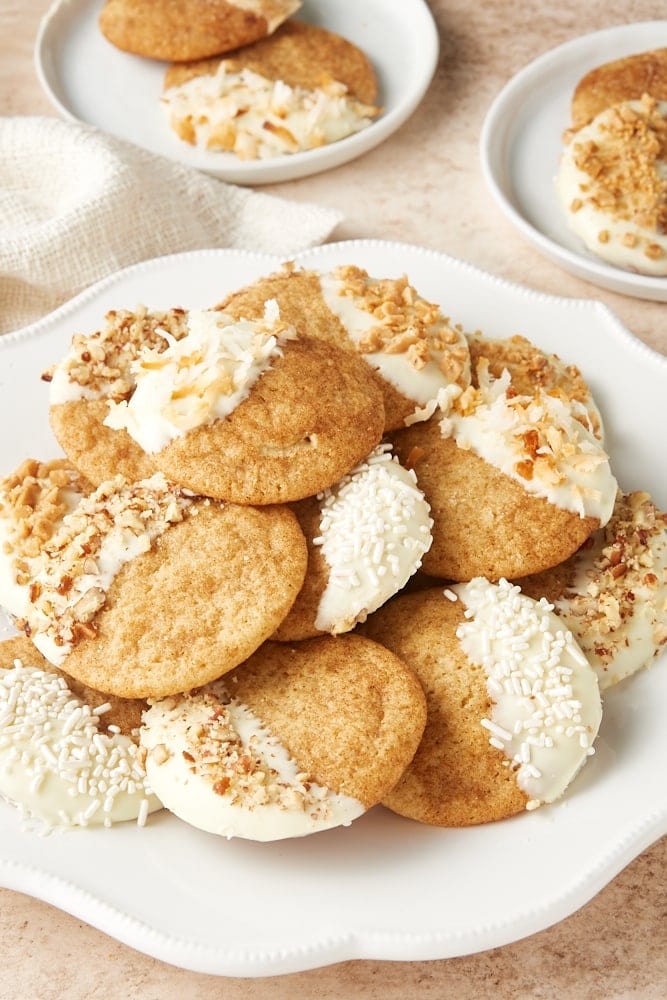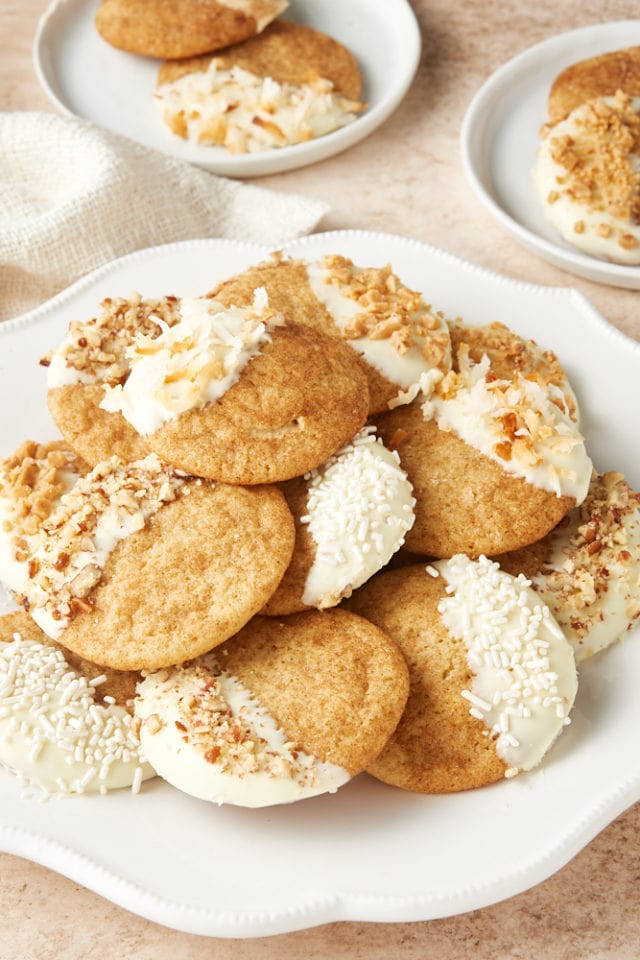 White Chocolate-Dipped Snickerdoodles
To make these beautiful White Chocolate Snickerdoodles, we start with a traditional Snickerdoodle cookie and then get all fancy with a little dip of white chocolate and various toppings. While the cookies themselves are perfectly delicious all on their own, adding that extra bit of flavor really makes them something special.
You can use different toppings for these cookies after they've been given their white chocolate treatment. Nuts, toasted coconut, sprinkles, toffee bits, or even just more cinnamon-sugar are all great additions. For a Christmas look, sprinkles are a great choice. I like the simplicity of the white ones you see here, but a more colorful choice would also be pretty.
These soft, sweet, cinnamon-y cookies are always such a hit. Their striking looks make them a great Christmas cookie, but I think you'll find they're welcomed year-round!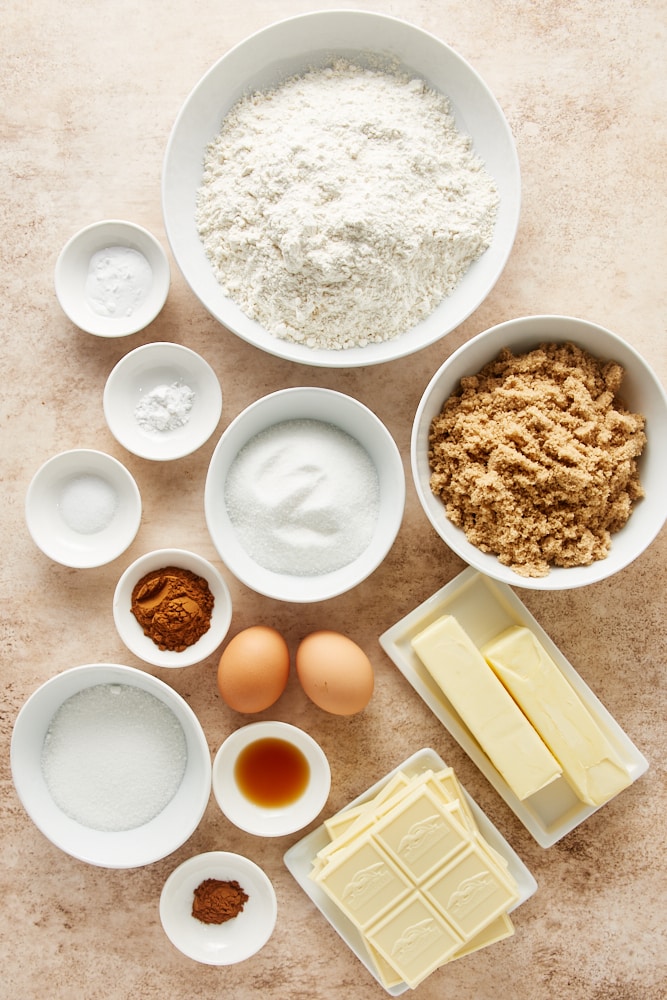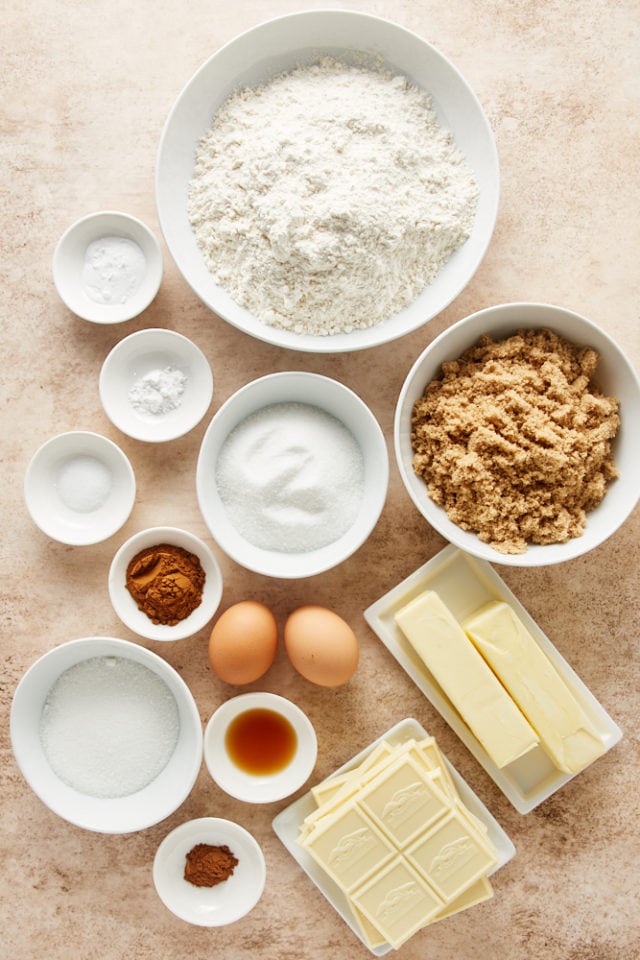 What You'll Need
See the recipe card at the bottom of this post for ingredient quantities and full instructions. Here are some notes about the ingredients needed to make these snickerdoodles.
All-purpose flour – If you have a kitchen scale, measure by weight. Otherwise, spoon and sweep.
Baking soda
Ground cinnamon – If yours has been in the cabinet for a while, it might be time for a fresh bottle, as it loses its flavor over time. You don't want to miss out on the cinnamon here!
Cream of tartar – This is what gives Snickerdoodles their tangy flavor. It also helps make them soft and chewy. I know there's not much here, but it is very important to the recipe.
Salt
Unsalted butter – See my tips for softening butter.
Granulated sugar
Brown sugar
Eggs – Set out the eggs when you start gathering ingredients. Cold eggs don't mix as well.
Vanilla extract
White chocolate – I prefer white chocolate for its flavor and texture, but you can use a white candy coating or white baking squares/chips.
Toppings – These are certainly optional, but they make for some pretty and tasty cookies. Use just one kind or several. In these photos, I used chopped nuts, sprinkles, toasted coconut, toffee bits, and cinnamon-sugar.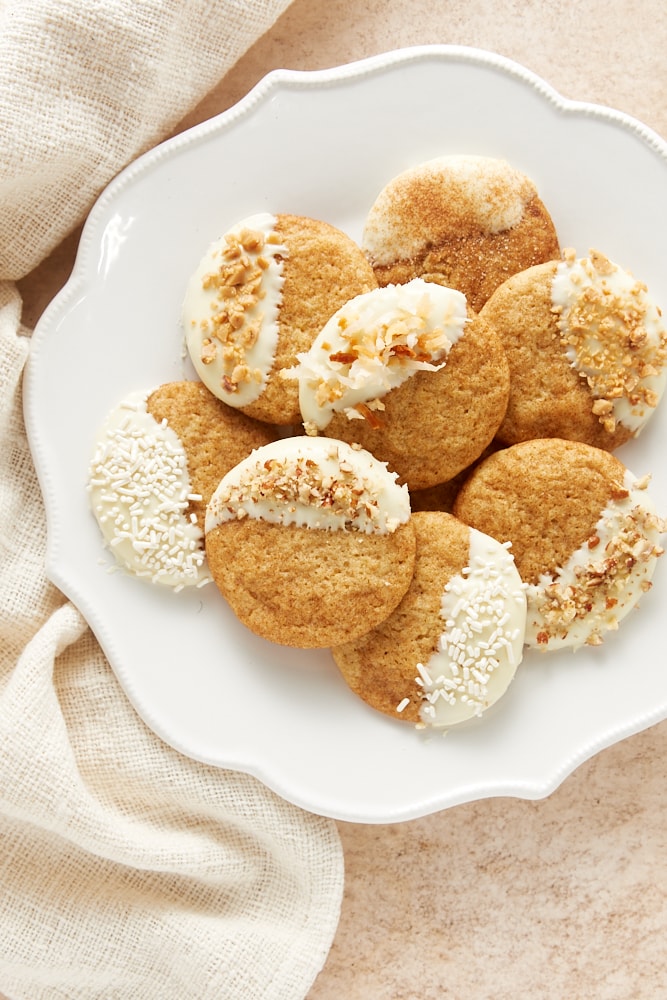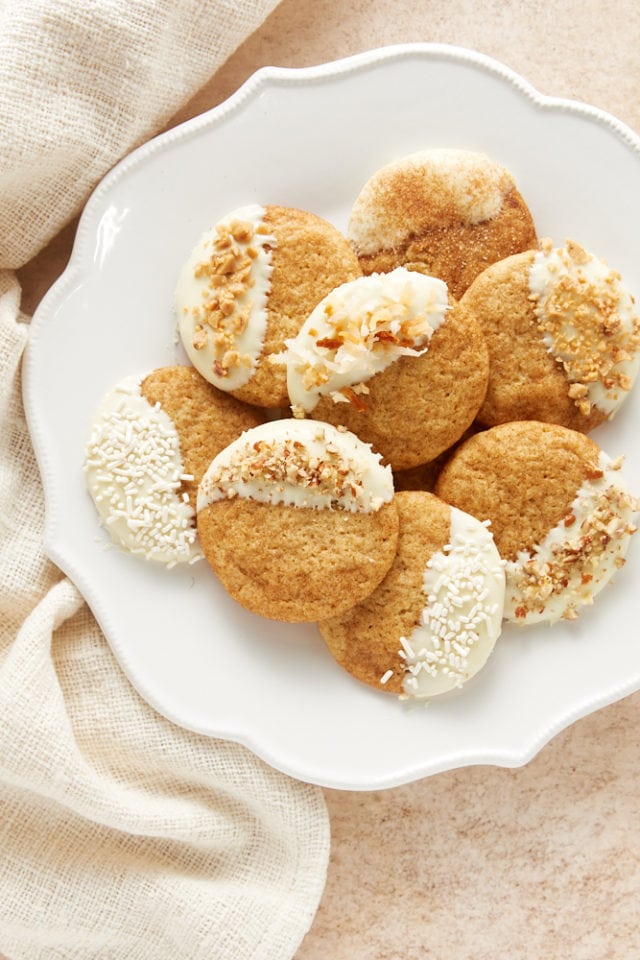 How to Make White Chocolate Snickerdoodles
Prepare for baking. Heat the oven to 350°F. Line baking sheets with parchment paper or silicone liners.
Make the cinnamon-sugar coating. Combine 1/4 cup granulated sugar and 1 tablespoon ground cinnamon in a shallow bowl.
Combine the dry ingredients. Whisk together the flour, baking soda, cream of tartar, cinnamon, and salt.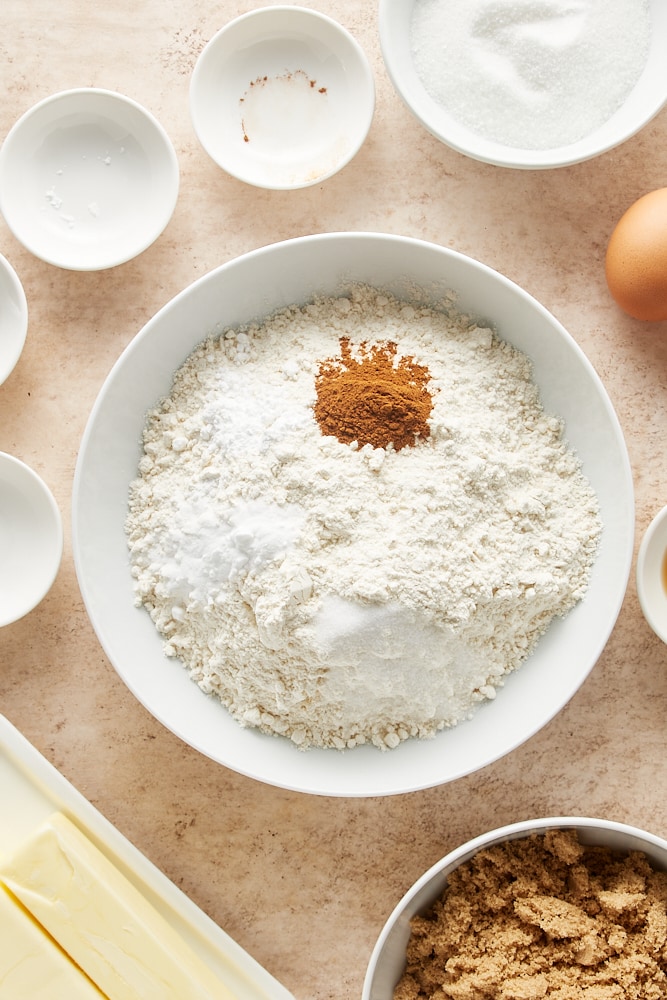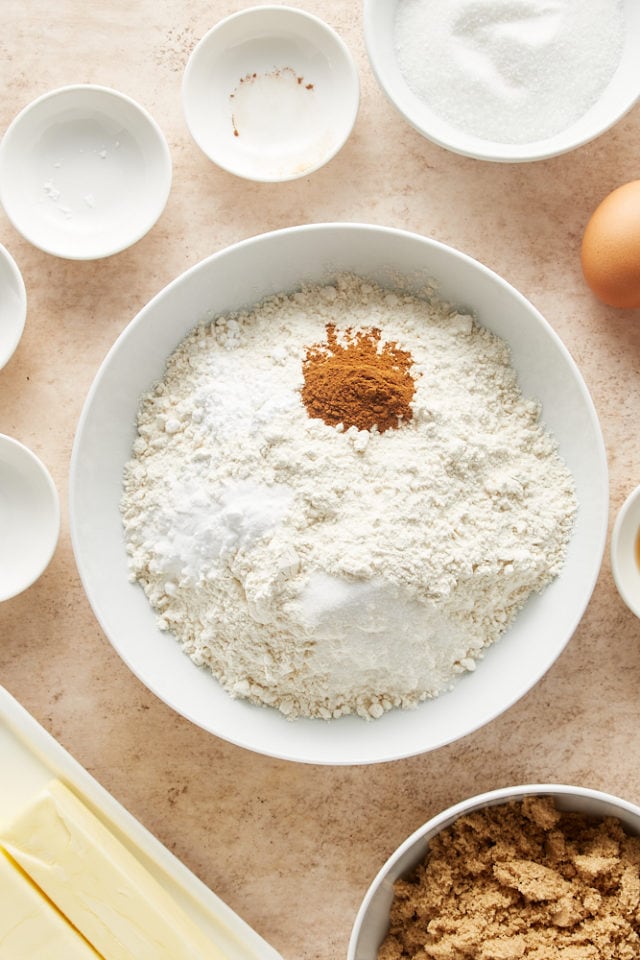 Combine the wet ingredients. Beat the butter, sugar, and brown sugar with an electric hand mixer or stand mixer on medium speed. Add the eggs, one at a time, and mix well after adding each. Mix in the vanilla.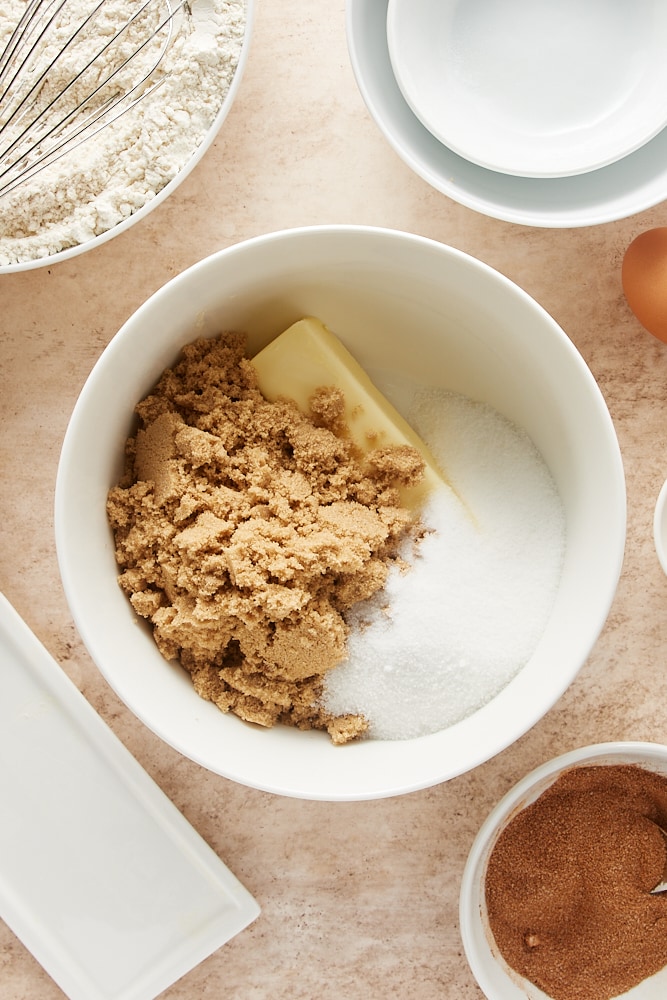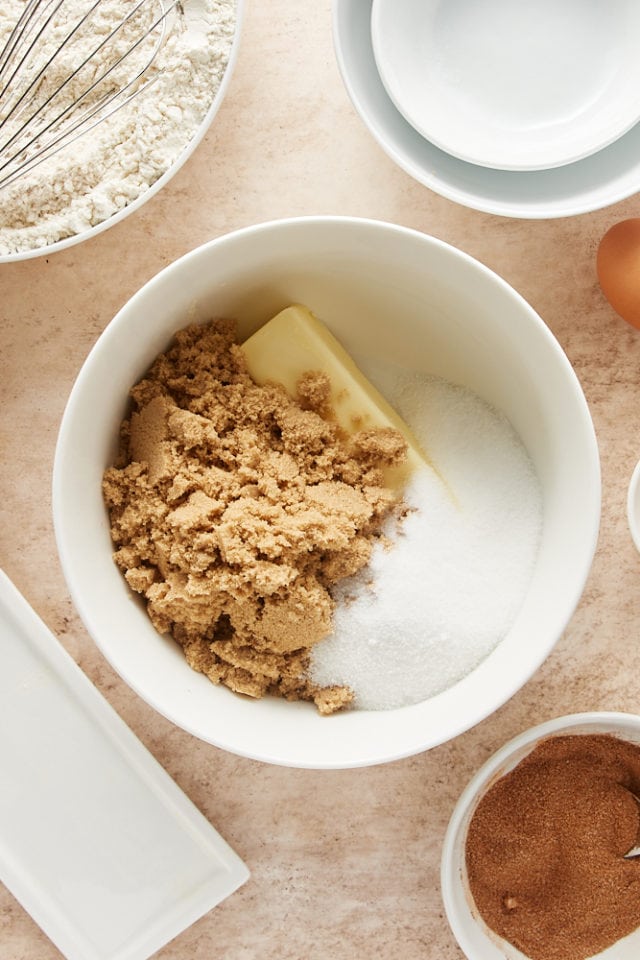 Add the dry ingredients to the wet ingredients. With the mixer on low speed, gradually add the flour mixture. Don't over-mix; mix just until combined.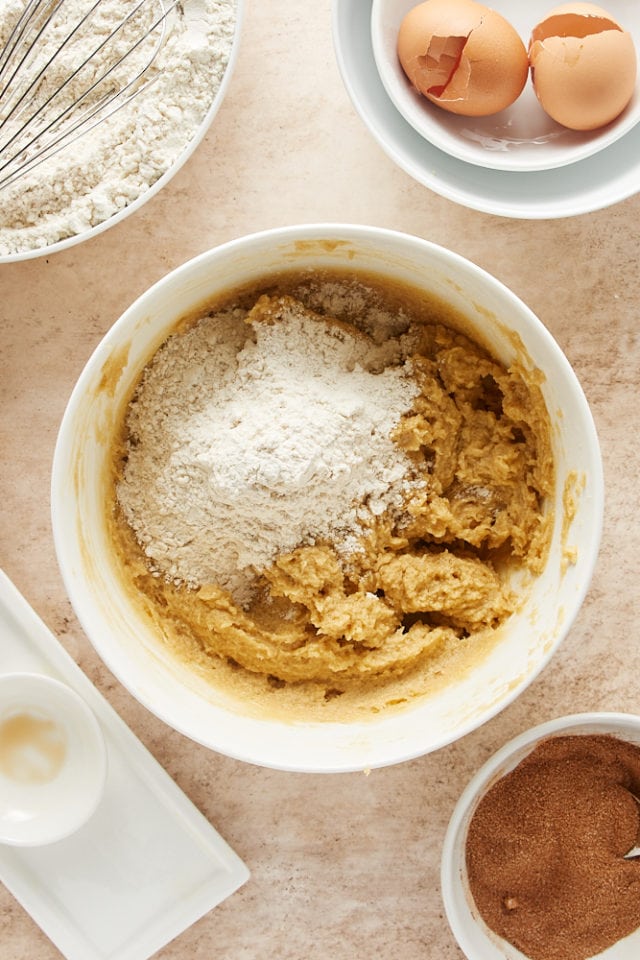 Portion and coat the cookies. Roll the cookie dough into balls, using a tablespoon of dough at a time. (I like to use a 1-tablespoon cookie scoop and then roll the dough between my palms.) Roll each ball of dough in cinnamon-sugar. Place the cookies on the prepared pans, leaving about 2 inches between them.
Bake. Bake 8 to 10 minutes, or until the cookies appear set and are lightly browned. I prefer to bake one pan at a time, but I recommend rotating the pans if you bake two at a time.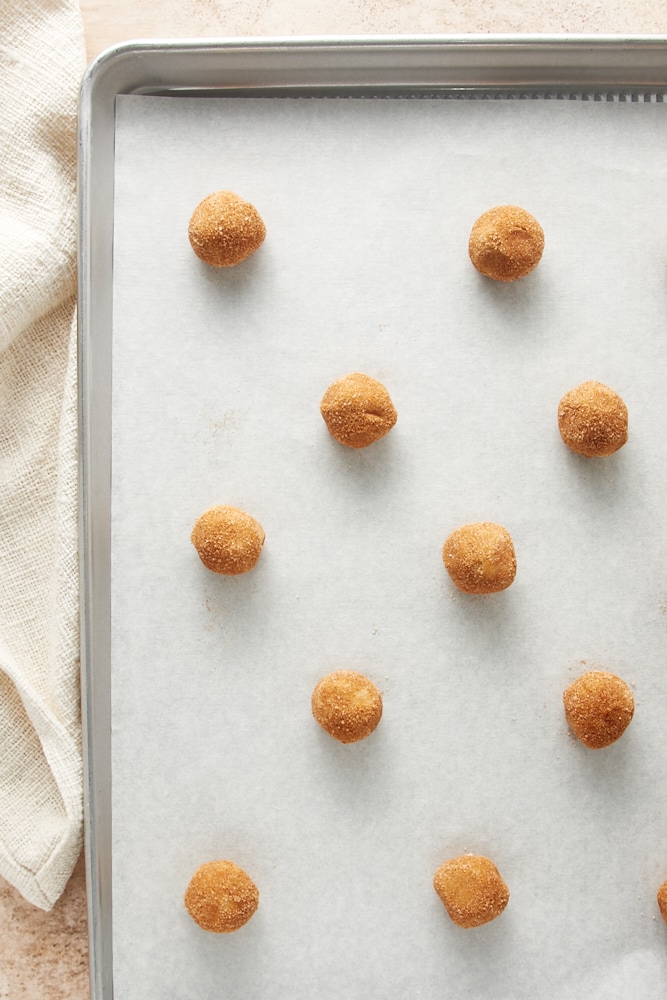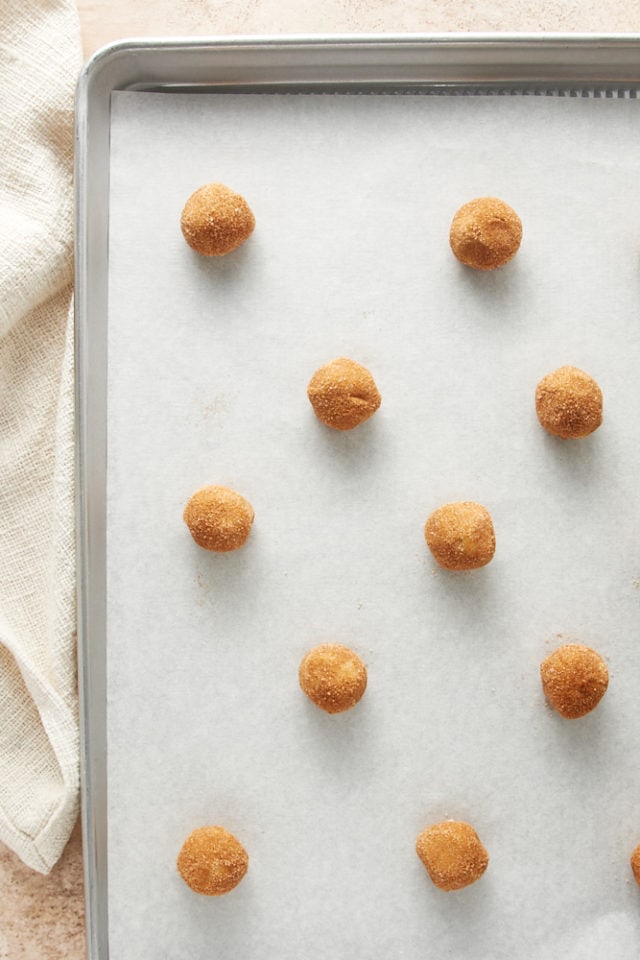 Cool the cookies. Place the pans on wire racks to let the cookies cool for about 10 minutes. Then transfer the cookies from the pans to a wire rack to cool completely.
Dip the cookies in chocolate. Melt the white chocolate and stir until smooth. (I prefer to melt it in the microwave at half-power in 30-second increments until it melts when stirred.) Dip each cooled cookie partially in the melted white chocolate. Add toppings if you like.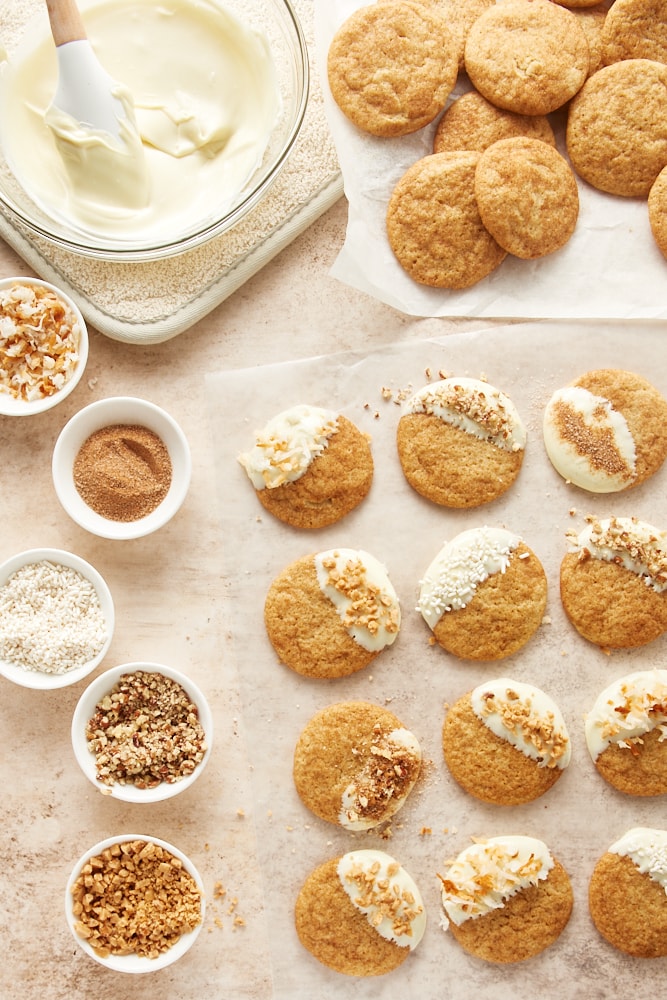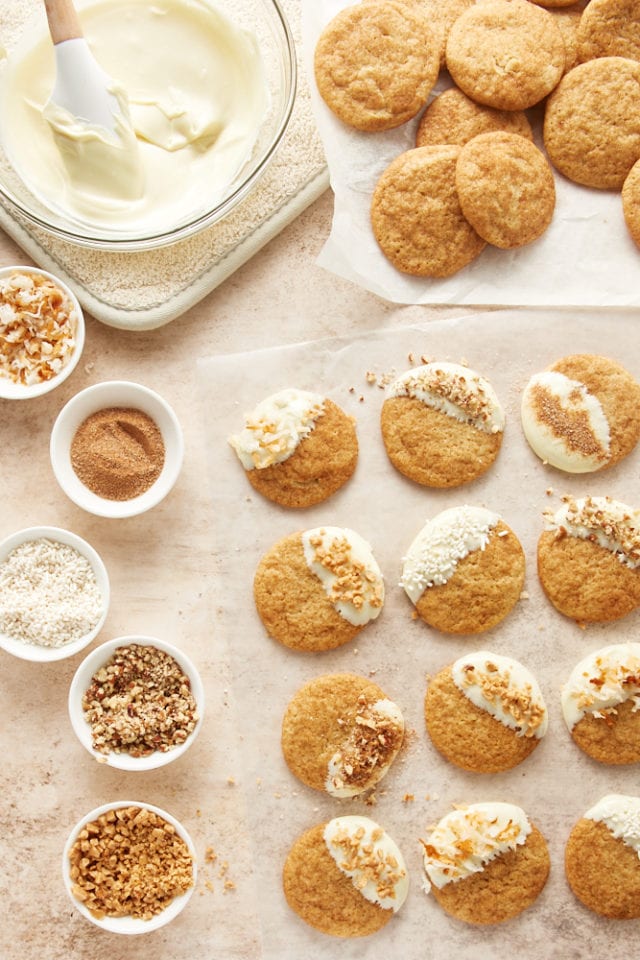 Tips for Success
Use a good quality cinnamon. After all, what are Snickerdoodles without cinnamon? Use your favorite kind and make sure it's fresh.
Chill the dough if needed. I haven't found that this dough needs chilling before baking, but consider chilling it if your kitchen is warm. Of course, you can also chill it for a couple of days before baking if time is an issue.
Use good quality white chocolate. If you've spent some time here at BoB, you know I have strong opinions about chocolate quality. It doesn't have to be expensive to be good. Choose one that tastes good to you and melts well.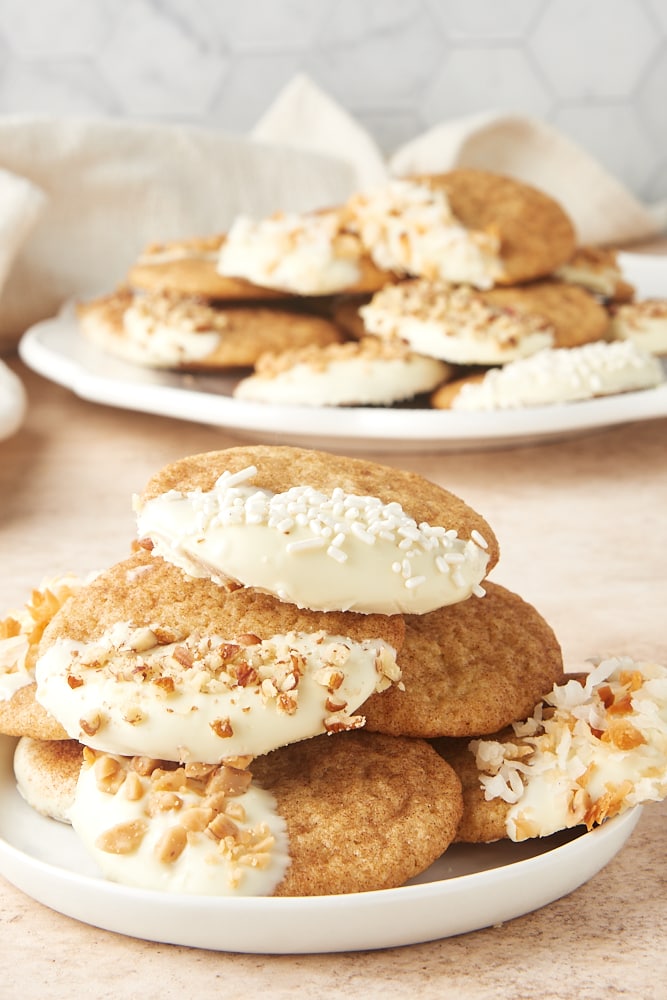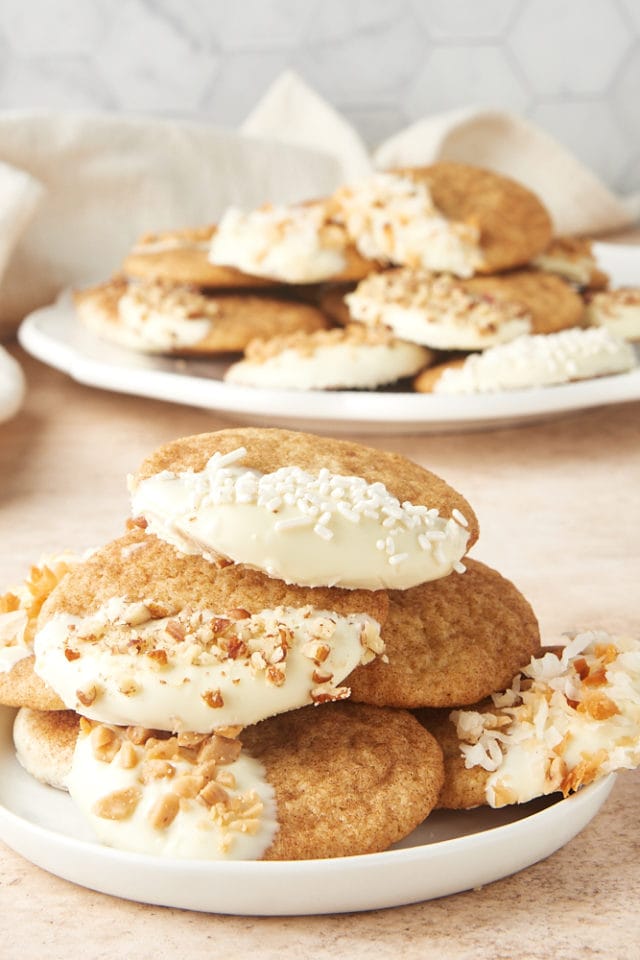 How to Store These Cookies
Place the cooled cookies in an airtight container. If they've already been dipped in white chocolate, place waxed paper between layers of the cookies. They should keep at room temperature up to 3 days. You can also refrigerate for slightly longer storage; just bring them to room temperature before serving.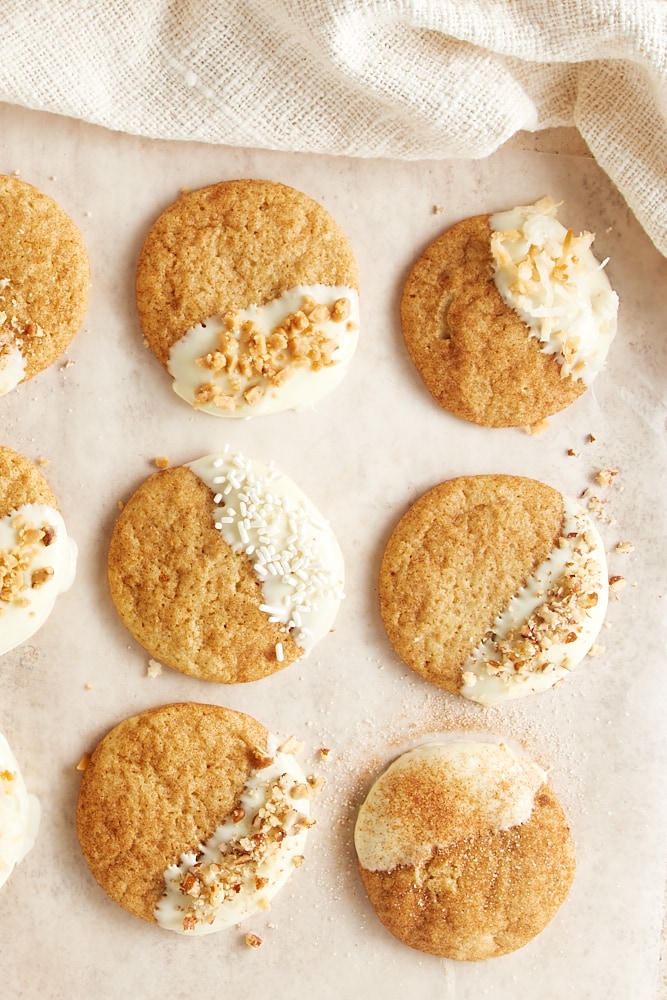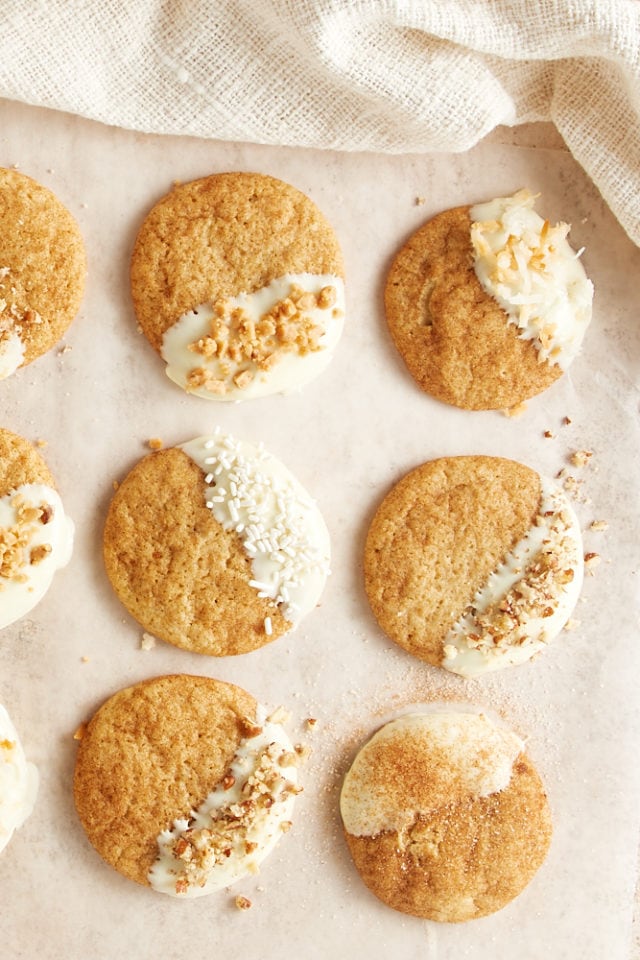 Can White Chocolate Snickerdoodles Be Frozen?
Yes! If you're freezing the baked cookies, they'll be best frozen without the white chocolate. You can freeze them that way, but the white chocolate may not look its best after thawing. Either way, make sure they're completely cooled before freezing. If you want to freeze them with the chocolate, layer them between sheets of waxed paper. Place the cookies in an airtight, freezer-safe container or bag. Thaw overnight in the refrigerator or for a couple of hours at room temperature.
To freeze the unbaked cookies, portion them as directed in the recipe and roll in cinnamon-sugar. Place the balls of dough on a rimmed baking sheet, and freeze until solid. Then transfer the cookie dough to an airtight, freezer-safe container or bag. When you're ready to bake them, you don't need to thaw them. Bake as directed, adding an extra minute or two to the baking time.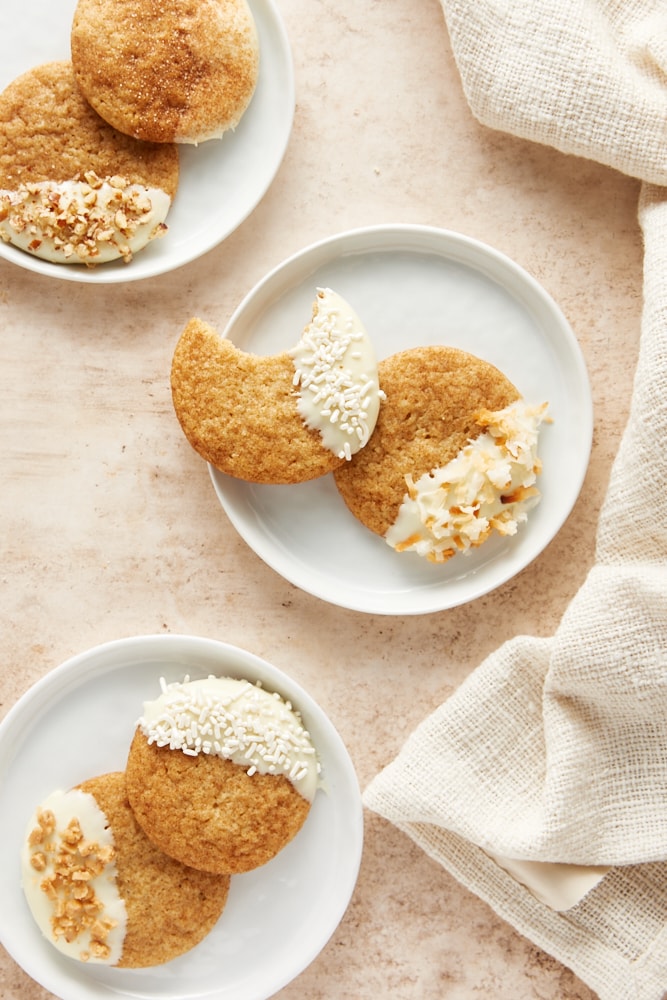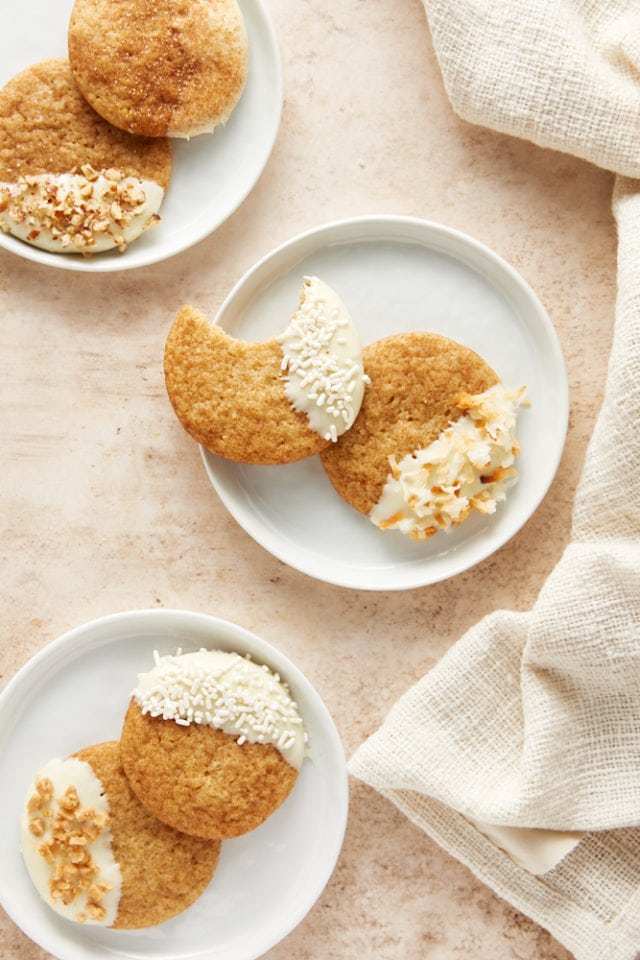 More Snickerdoodle Recipes
Video Tutorial: White Chocolate Snickerdoodles