Salted Double Chocolate Cookies pack a lot of chocolate flavor into a tiny cookie!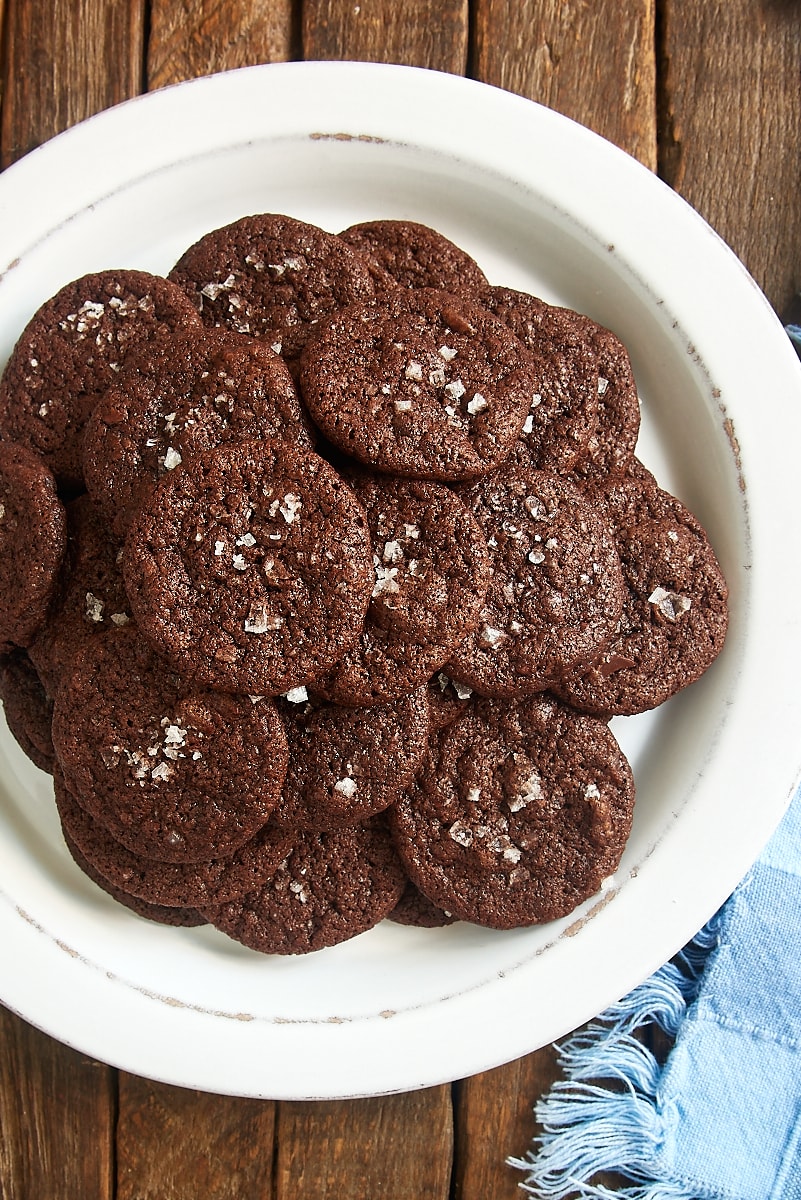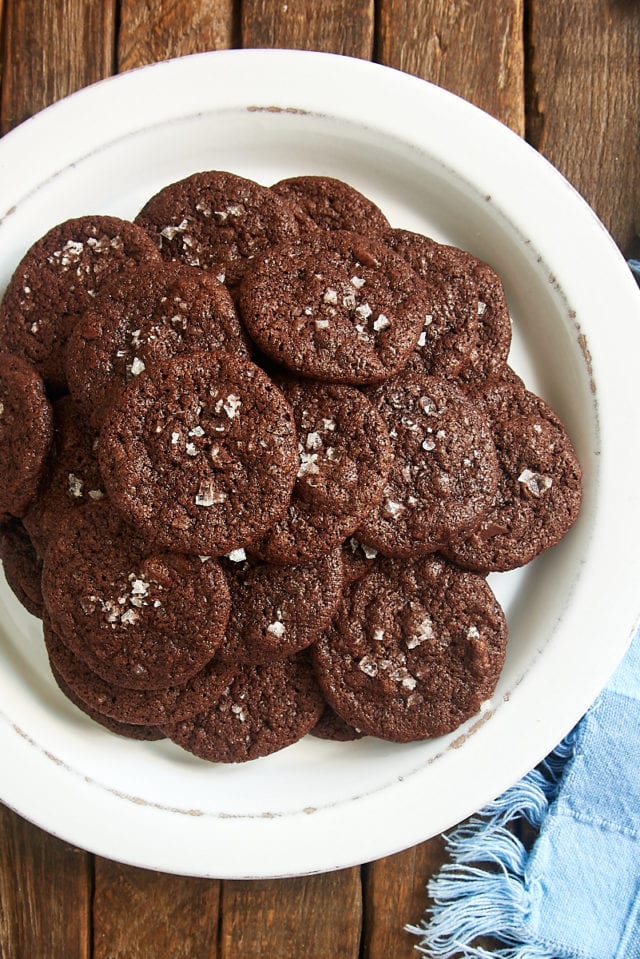 Salted Chocolate Cookies
Though these cookies are but little, they are fierce.
These tiny Salted Double Chocolate Cookies are packed with big, big flavor. That's mostly in part to a good sized dose of chocolate. Add to that a sprinkling of salt, and they quickly move up the Best Cookies Ever Chart.

These fantastic cookies feature not one but two kinds of chocolate. There's cocoa powder as well as some dark chocolate mixed into the dough. They're just ever so slightly crispy on the outside yet so soft and chewy on the inside. And the little bite of crunchy salt on top is pretty perfect. A chocolate lover's cookie, for sure!
Due to their small size, you'll also get a big batch of cookies from this recipe, making them perfect for sharing. They've got so much flavor that one or two of these petite treats is enough to satisfy a big chocolate craving.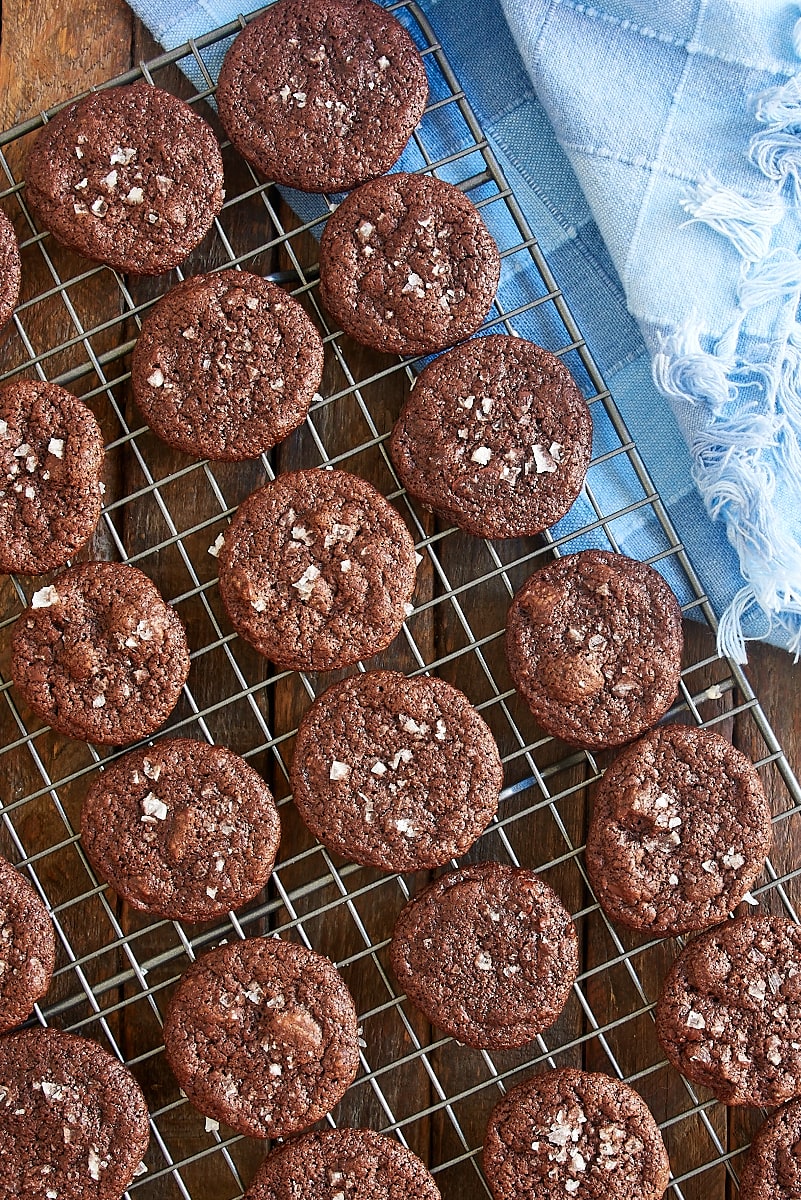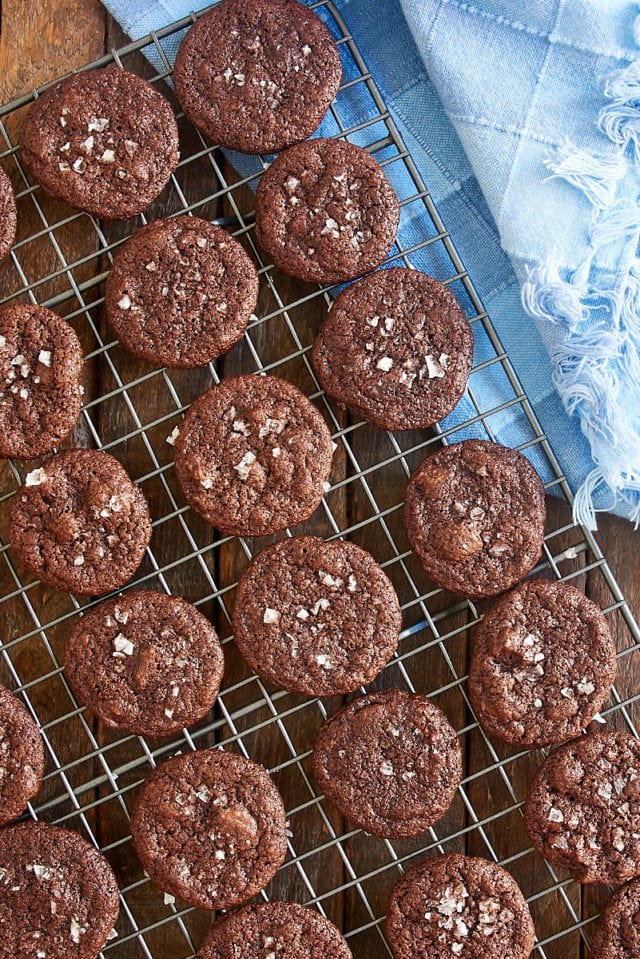 What You'll Need
The ingredient list for these cookies is mainly made of baking pantry staples. In addition, you'll need some good chocolate and some coarse salt. Be sure to see the recipe card below for all the specific measurements.
All-purpose flour – Measure accurately, either by weight or the spoon and sweep method.
Cocoa powder – Choose a good quality unsweetened cocoa powder.
Baking soda
Salt
Unsalted butter – Set out the butter about half an hour before baking to allow it to soften.
Granulated sugar
Light brown sugar – I prefer light brown sugar in these cookies. The bolder molasses flavor of dark brown sugar may seem a bit too strong.
Egg – Set out the egg along with the butter to allow it to come to room temperature.
Vanilla extract
Dark chocolate – Use a good quality semisweet or bittersweet chocolate. Be sure to chop the chocolate finely as these are small cookies that can't really handle a big piece of chocolate like a chocolate chip.
Coarse salt – I like sea salt on these cookies, but most any coarse salt will work.
How to Make Salted Double Chocolate Cookies
These cookie mix quickly and easily. If you've baked your fair share of cookies, you aren't likely to find any surprises here, making this a great recipe for bakers of all skill levels. Let's get baking!
Prepare for baking. Heat the oven to 350°F. Line baking sheets with parchment paper or silicone liners.
Combine the dry ingredients. Whisk together the flour, cocoa powder, baking soda, and salt.
Combine the wet ingredients. Beat the butter, sugar, and brown sugar with an electric mixer until the mixture is fluffy and lightened in color. Mix in the egg and vanilla.
Add the dry ingredients to the wet ingredients. With the mixer speed on low, gradually add the flour mixture. Mix just until combined or a few streaks of flour remain. Stir in the chopped chocolate.
Portion and shape the dough. Using about a teaspoonful of dough at a time, roll the dough into balls and place them on the prepared pans, leaving about 2 inches between cookies. Slightly flatten the top of each cookie. Sprinkle each cookie with coarse salt.
Bake. Place one pan at a time in the heated oven, and bake 7 to 9 minutes. When the cookies are done, the edges should be set but the centers should still be slightly soft.
Cool the cookies. Place the pan on a wire rack and allow the cookies to cool for about 5 minutes. Then transfer the cookies from the pan to a wire rack to cool completely.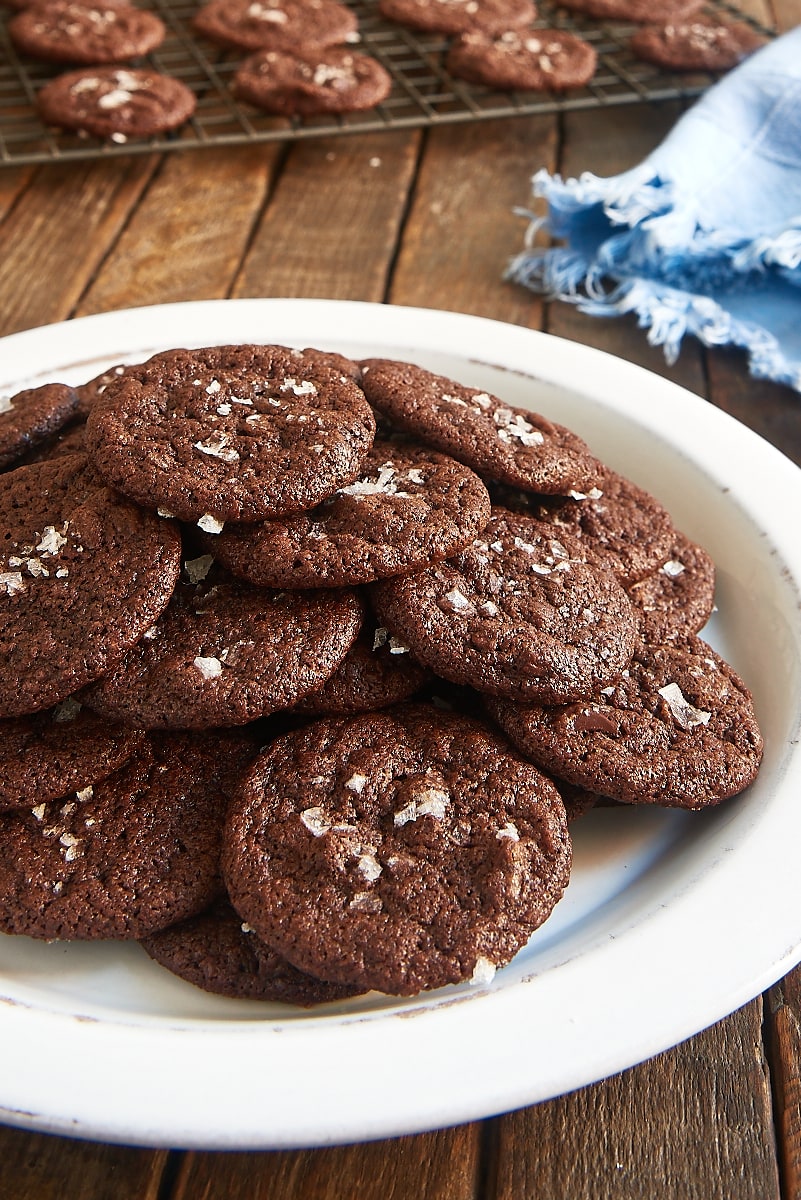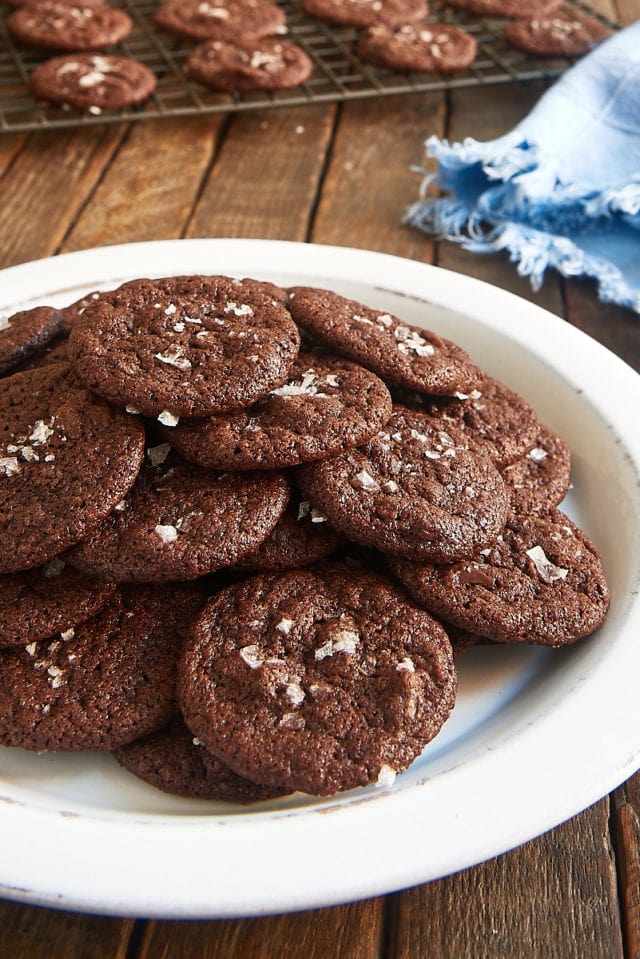 Tips for Success
Here are a few of my best tips for making these Salted Double Chocolate Cookies the best they can be!
Use good quality chocolate. Anytime chocolate is the star of the baking show, be sure to use good chocolate. It doesn't have to be expensive; just pick a cocoa powder and chocolate that you enjoy.
Chill the dough if necessary. This dough doesn't require refrigeration, but consider chilling it if your kitchen is especially warm.
Don't over-mix the dough. Too much mixing can lead to tough cookies. Mix only until the dough is combined. You can leave a few streaks of flour in it before stirring in the chocolate, as those will get incorporated along with the chocolate.
How to Store These Cookies
Place the completely cooled cookies in an airtight container. You may want to layer them between sheets of waxed paper to keep them looking their best. Store at room temperature up to 3 days.
How to Freeze These Cookies
Place the completely cooled cookies in an airtight, freezer-safe container. Layer them between sheets of waxed paper. Thaw overnight in the refrigerator or for about an hour at room temperature. Properly stored, the cookies should keep in the freezer up to 3 months.
You can also freeze the unbaked cookie dough. Portion the dough as directed and flatten each slightly. Next, place the balls of dough on a lined rimmed baking sheet and place the pan in the freezer until the dough is frozen solid (about 2-3 hours). Finally, transfer the balls to an airtight, freezer-safe container or bag. The cookie dough should keep up to 3 months if properly stored. When you're ready to bake, place the cookies on a baking sheet, sprinkle with salt, and bake as directed, adding an extra minute or two to the baking time.
More Chocolate Cookie Recipes