January 28, 2016
Salted Double Chocolate Cookies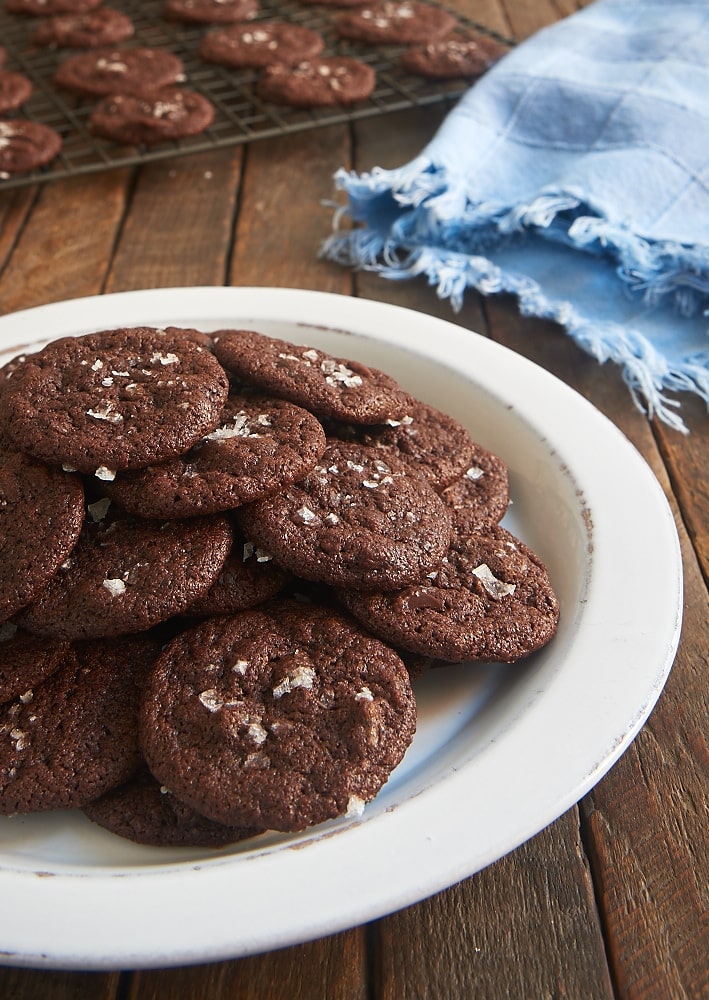 Though these cookies are but little, they are fierce.
These tiny cookies are packed with big, big flavor. That's mostly in part to a good sized dose of chocolate. Add to that a sprinkling of salt, and they quickly move up the Best Cookies Ever Chart.

These fantastic cookies feature not one but two kinds of chocolate. There's cocoa powder as well as some dark chocolate mixed into the dough. Be sure to chop the chocolate finely as these are small cookies that can't really handle a big piece of chocolate like a chocolate chip.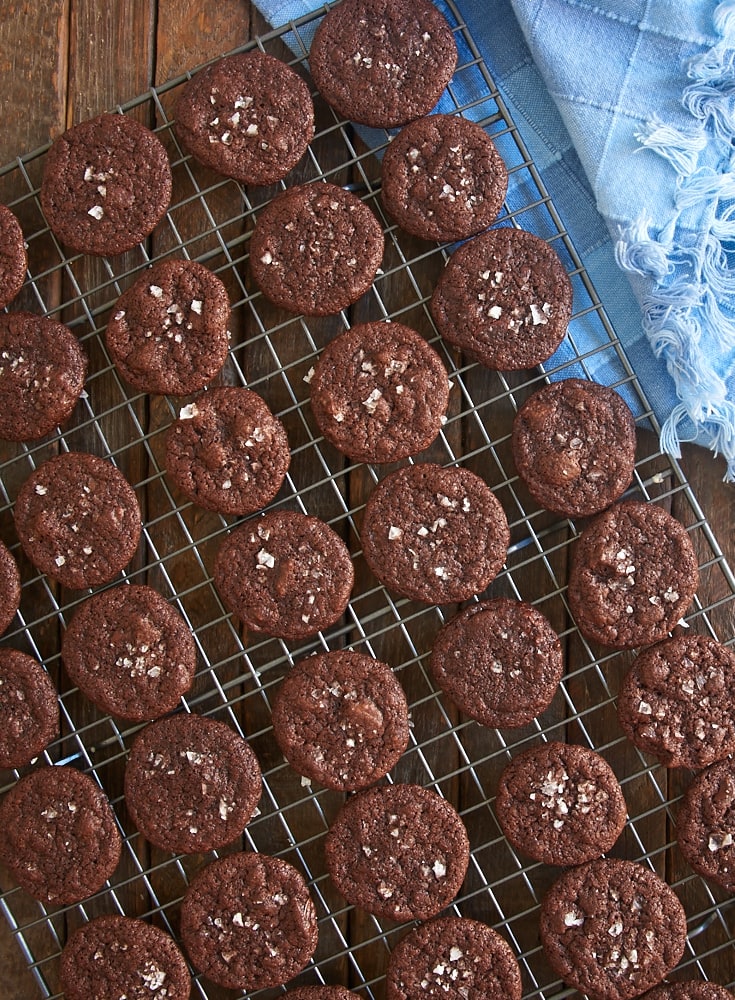 I love the texture of these little guys. They're just ever so slightly crispy on the outside yet so soft and chewy on the inside. And the little bite of crunchy salt on top is pretty perfect.
Due to their small size, you'll also get a big batch of cookies from this recipe, making them perfect for sharing. They've got so much flavor that one or two of these petite treats is enough to satisfy a big chocolate craving.
Salted Double Chocolate Cookies
Yield: about 60 cookies
Prep Time: 20 minutes
Cook Time: 9 minutes per pan
If you love chocolate and sweet and salty desserts, don't miss these Salted Double Chocolate Cookies!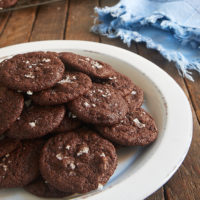 Ingredients:
1 cup all-purpose flour
1/4 cup + 2 tablespoons unsweetened cocoa powder
1/2 teaspoon baking soda
1/4 teaspoon salt
10 tablespoons unsalted butter, softened
1/2 cup granulated sugar
1/2 cup firmly packed light brown sugar
1 large egg
1/2 teaspoon vanilla extract
3 ounces semisweet or bittersweet chocolate, finely chopped
sea salt or other coarse salt
Directions:
Preheat oven to 350°F. Line baking sheets with parchment paper or silicone liners.
Whisk together the flour, cocoa powder, baking soda, and salt. Set aside.
Using an electric mixer on medium speed, beat the butter, sugar, and brown sugar until light and fluffy. Add the egg and vanilla, and mix well.
Reduce the mixer speed to low. Gradually add the flour mixture, mixing just until combined. Stir in the chocolate.
Scoop the dough by teaspoonfuls and roll each portion into a ball. Place 2 inches apart on prepared pans. Flatten the top of each cookie slightly. Sprinkle with sea salt.
Bake the cookies, one pan at a time, for 7 to 9 minutes, or until the edges are set but the centers are still soft. Cool on the pans for minutes. Then transfer the cookies to a wire rack to cool completely.