These Chocolate Shortbread Fingers might look simple, but they're rich, buttery, and chocolatey, with just a hint of cinnamon. Better still, they're also a cinch to make!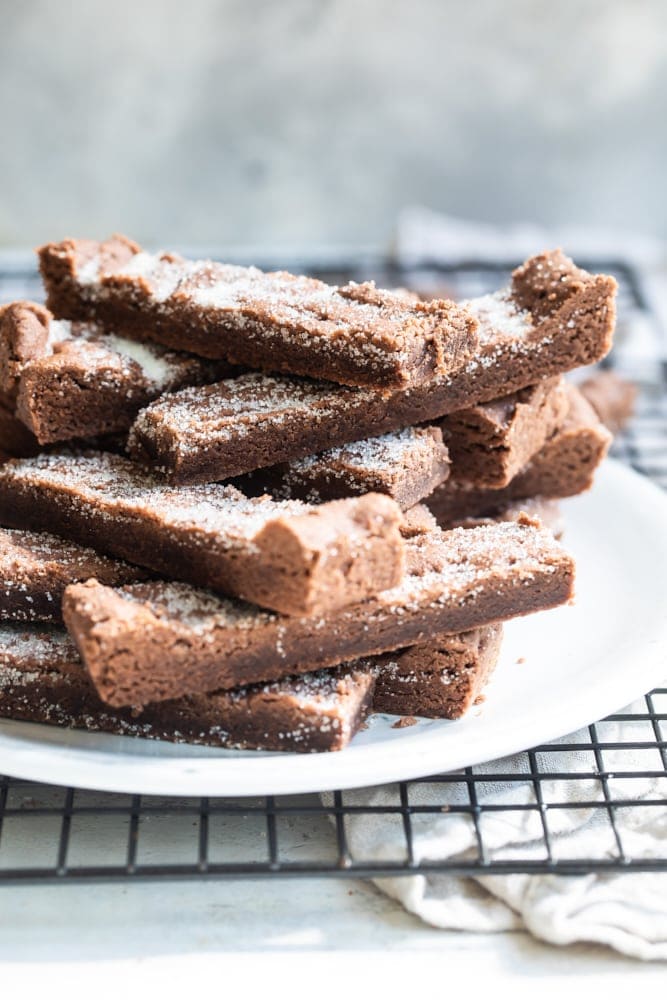 Easy Chocolate Shortbread Cookies
Shortbread is one of the simple pleasures of baking. Not only is the rich, buttery flavor irresistible, but shortbread recipes tend to use ingredients most bakers are likely to have in their kitchen already. Which means you can make shortbread anytime the craving hits!
These Chocolate Shortbread Fingers add cocoa powder to classic shortbread for a cookie chocolate lovers will appreciate. This recipe has been a favorite of mine for a long time and whenever I make it, the shortbread bars always disappear quickly!
While many shortbread recipes start with cold butter, this one calls for softened butter. This means you can mix the dough with an electric mixer rather than by hand, making it easier than a traditional shortbread.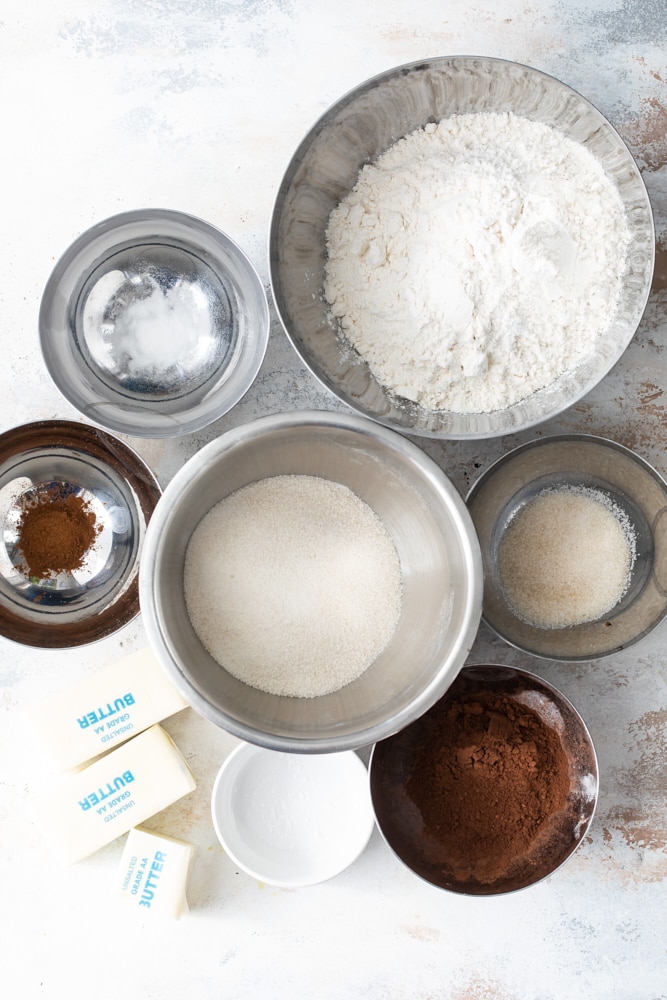 What You'll Need
As promised, these are all simple ingredients that you probably have on hand. Here's what you'll need:
Unsalted butter – Let the butter soften before you start the recipe by allowing it to sit at room temperature for about half an hour.
All-purpose flour – Measure by weight for best results. If you don't have a kitchen scale, then spoon and sweep.
Dutch-process cocoa powder – This has a milder, less acidic flavor than natural cocoa powder.
Ground cinnamon – You can omit the cinnamon if you prefer, but I love the way it complements the chocolate flavor of this shortbread.
Salt
Baking soda
Superfine sugar – Here's how to make superfine sugar.
Granulated sugar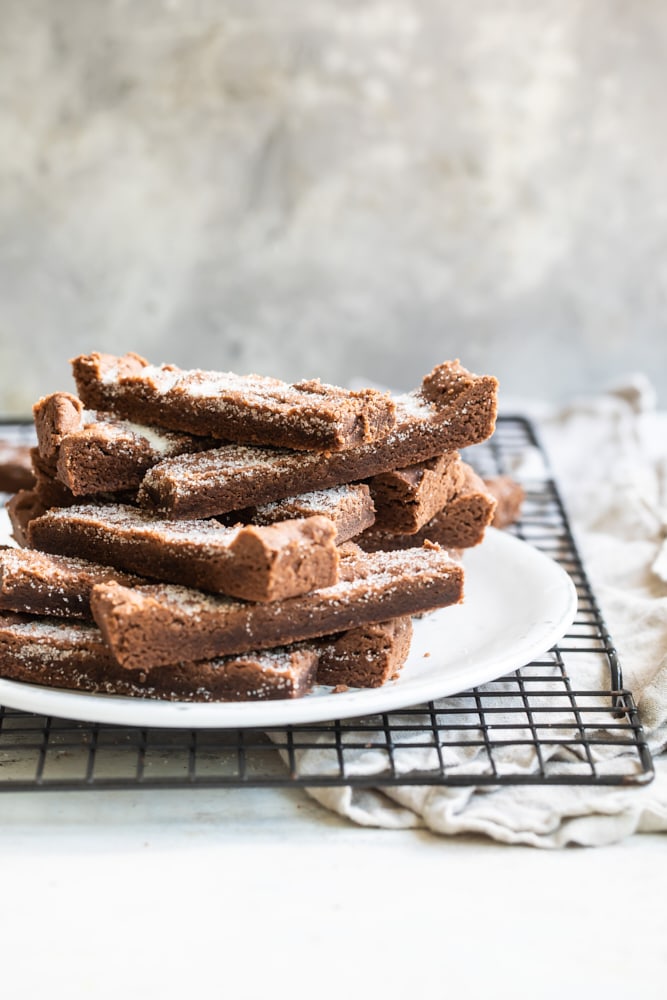 How to Make Chocolate Shortbread Fingers
Shortbread tends to be easy to make, and this recipe is no exception. Use high-quality ingredients and follow the recipe to the letter and you can't go wrong!
Prepare. Preheat your oven to 325ºF and line a 12×8-inch rimmed baking sheet with parchment paper, letting it hang over two opposite sides.
Mix dry ingredients. Whisk the flour, cocoa, cinnamon, salt, and baking soda in a mixing bowl.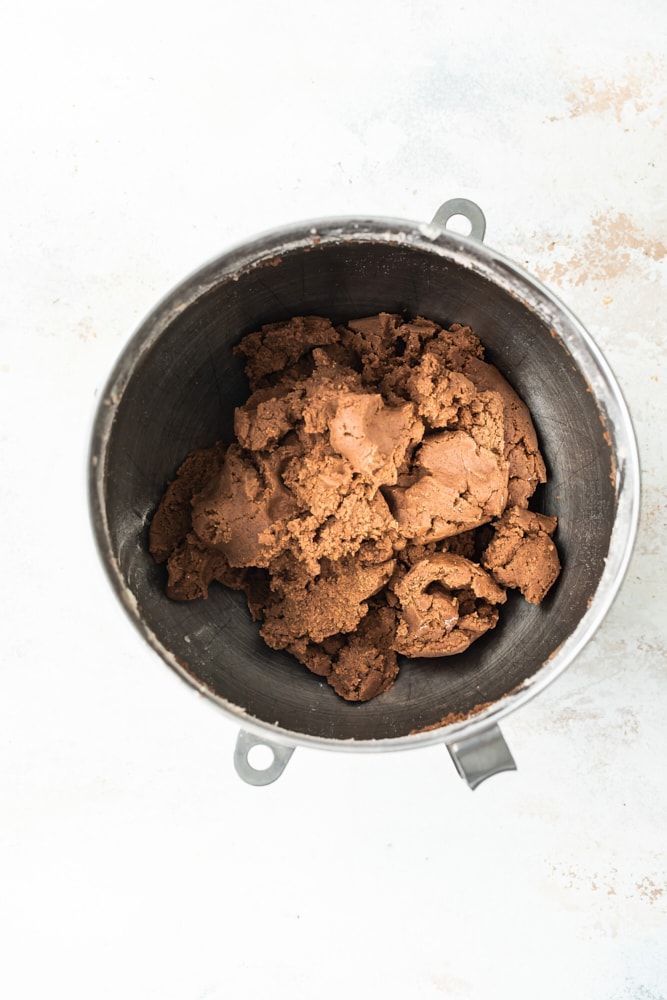 Finish the dough. Use an electric mixer on medium speed to beat the butter and sugar in a second mixing bowl, until the mixture is light and fluffy. Add the dry ingredients and mix until just combined.
Chill. Transfer the dough to the prepared pan and spread it evenly. Refrigerate for about 15 minutes, or until firm.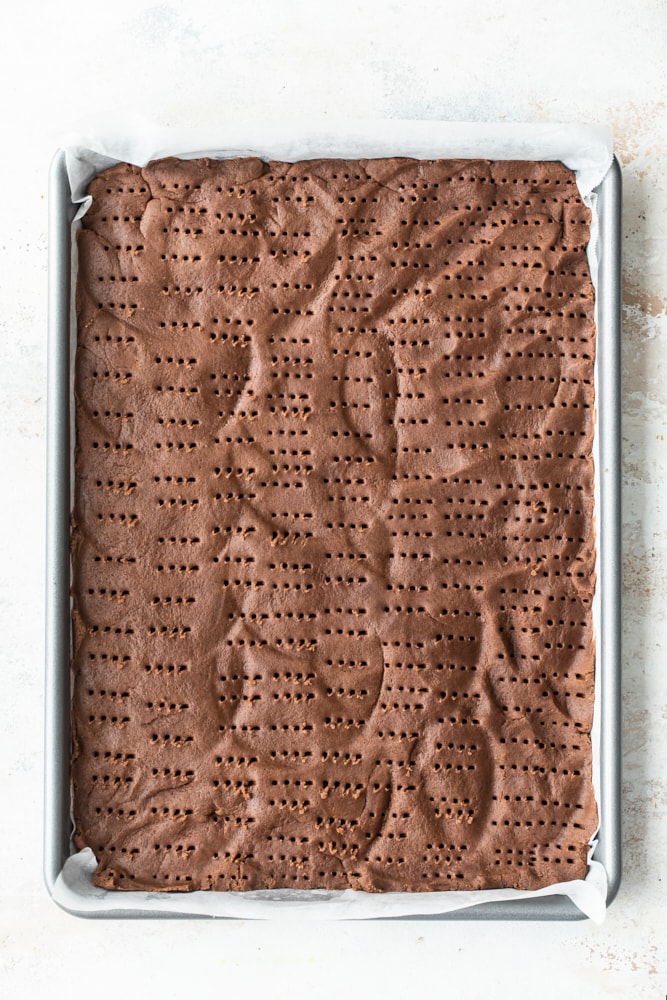 Bake. Prick the dough all over with a fork, then bake the shortbread for about 20 minutes, or until firm.
Cut and decorate. While the shortbread is still hot, cut it into 4×1-inch pieces using a pizza cutter or large knife. Sprinkle the tops of the shortbread fingers with granulated sugar, covering it completely. Cool in the pan, then serve or store.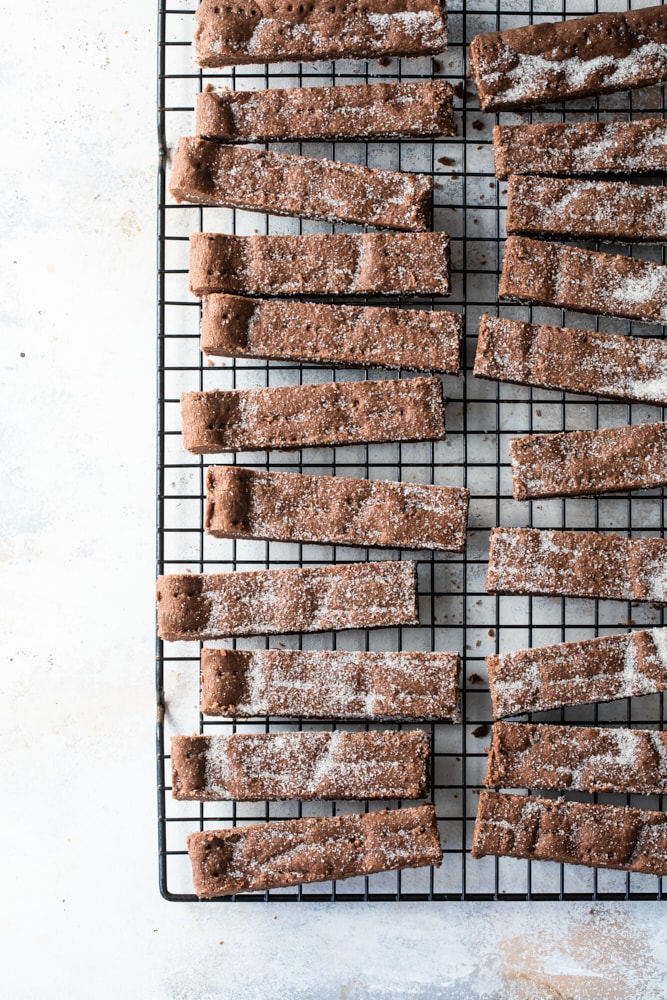 Tips for Success
These Chocolate Shortbread Fingers are fairly straightforward, but here are a few tips to make sure they turn out perfect.
Measure accurately. Use a kitchen scale to measure by weight, if possible. Otherwise, use the spoon-and-sweep method for best results.
About the pan size… Small jellyroll pans often measure 12″ x 8″, but a quarter sheet pan will work if that's what you have. The cookies will just be slightly longer and not quite as thick.
Don't skip the refrigerator time. Chilling the dough will help your shortbread achieve its best flavor and texture.
For clean slices, use a sharp knife, a pizza cutter, or a sharp bench scraper. If you use the parchment paper to lift the shortbread onto a cutting board, cutting them will be much easier.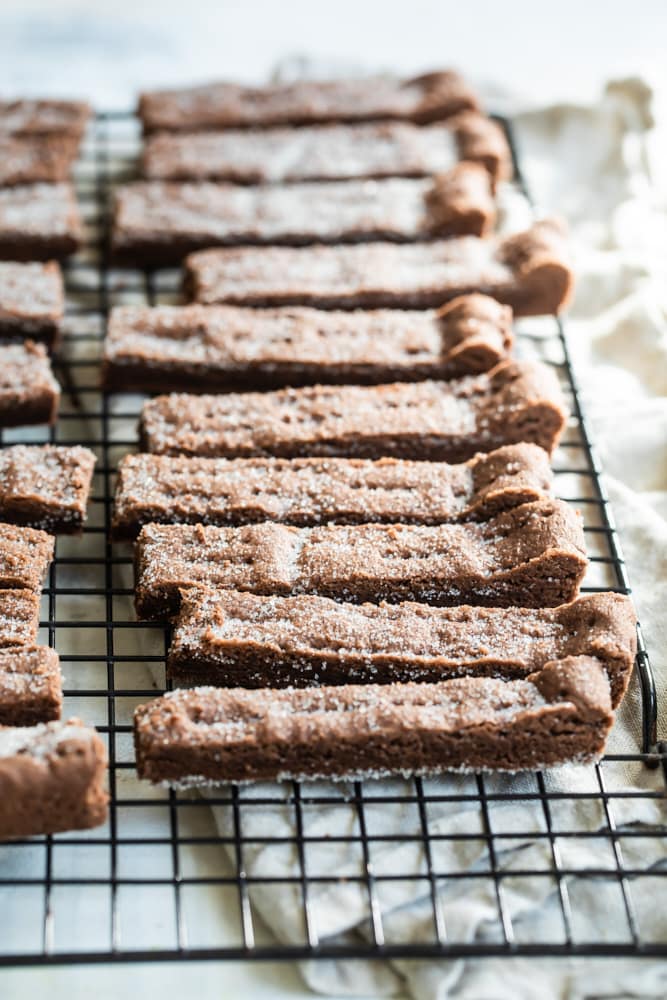 How to Store
Chocolate shortbread will last about 4 days when stored in an airtight container at room temperature. You can also store them in an airtight container in the fridge to extend their shelf life to a week.
Can This Recipe Be Frozen?
Yes, shortbread freezes beautifully! Place the shortbread fingers in a freezer bag or airtight container, separating layers with parchment paper if necessary. Freeze for up to 3 months; when you're ready to enjoy, let the shortbread thaw on the countertop at room temperature.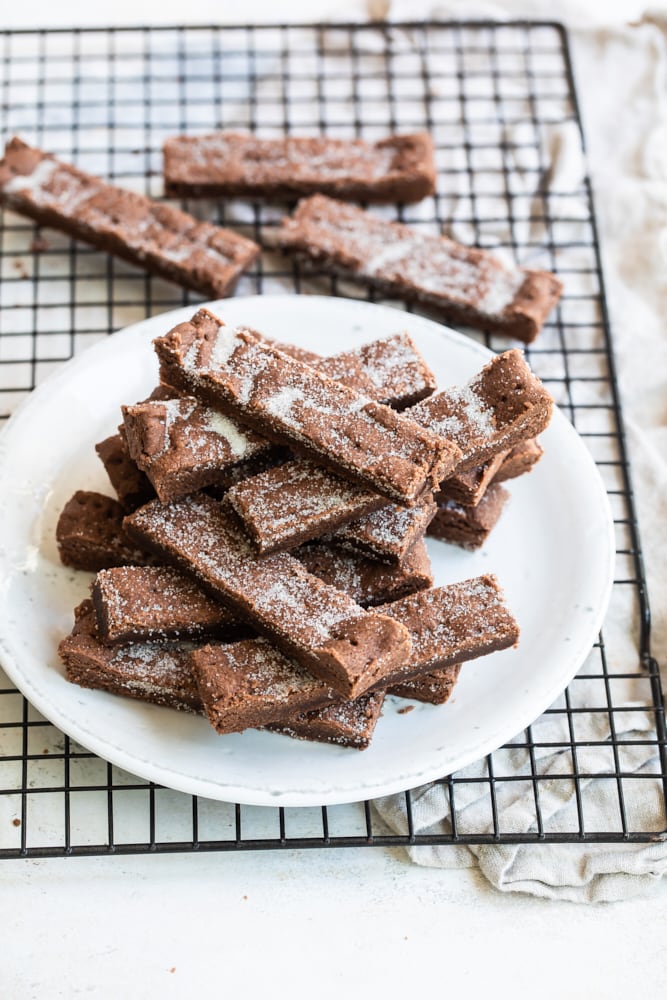 More Shortbread Recipes