Cranberry shortbread cookies are simply delicious cookies made with a short list of ingredients. They're a terrific addition to your holiday baking plans!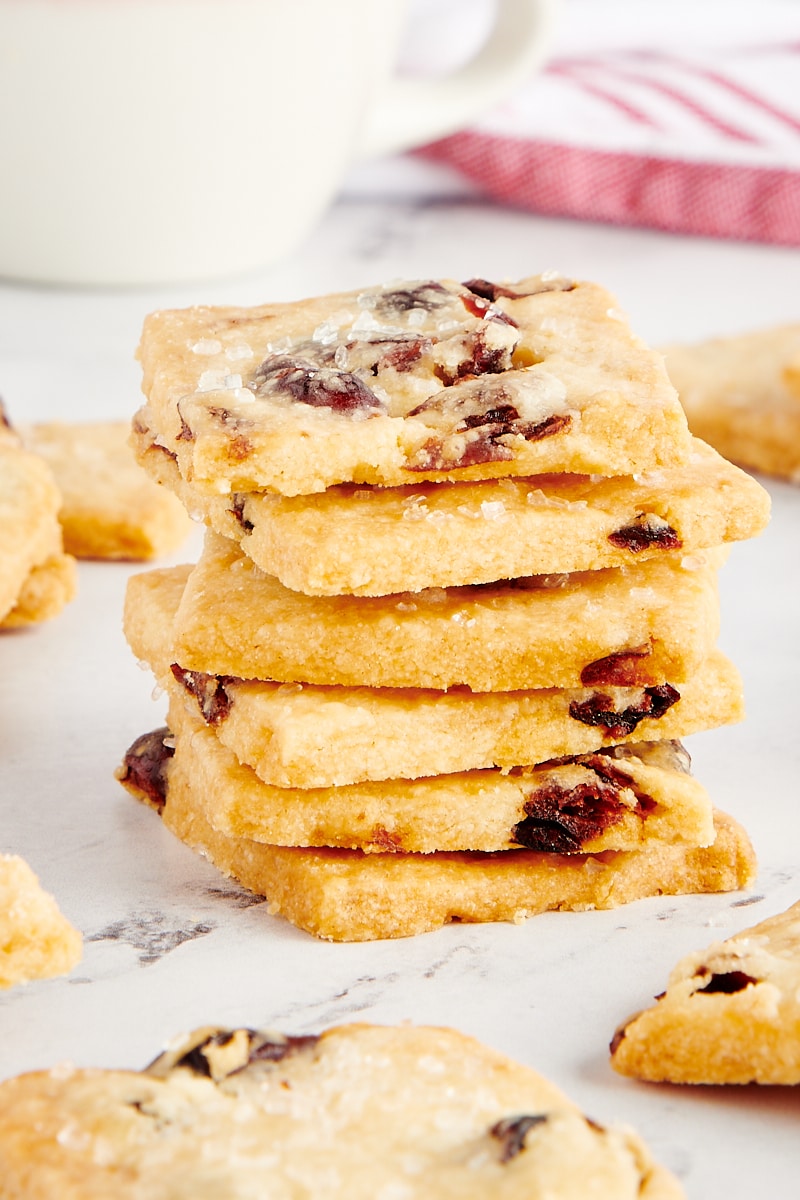 Easy Cranberry Shortbread Cookies
Shortbread cookies are one of the finest examples of just a few basic ingredients making something incredibly delicious. I admit that I have a bit of a shortbread weakness. In fact, it's one of my favorite things to bake. And to eat, too, for that matter.
These Cranberry Shortbread Cookies are one of my all-time favorites. I like that they aren't too sweet. The cranberries add a bit of sweetness as well as some tartness. These simple, buttery cookies are really just delightful!
Whip up a batch of these cookies for an everyday treat or an easy baking project. If you're working on your Christmas cookie trays, they're a great addition to offset some of the extra-sweet treats of the season.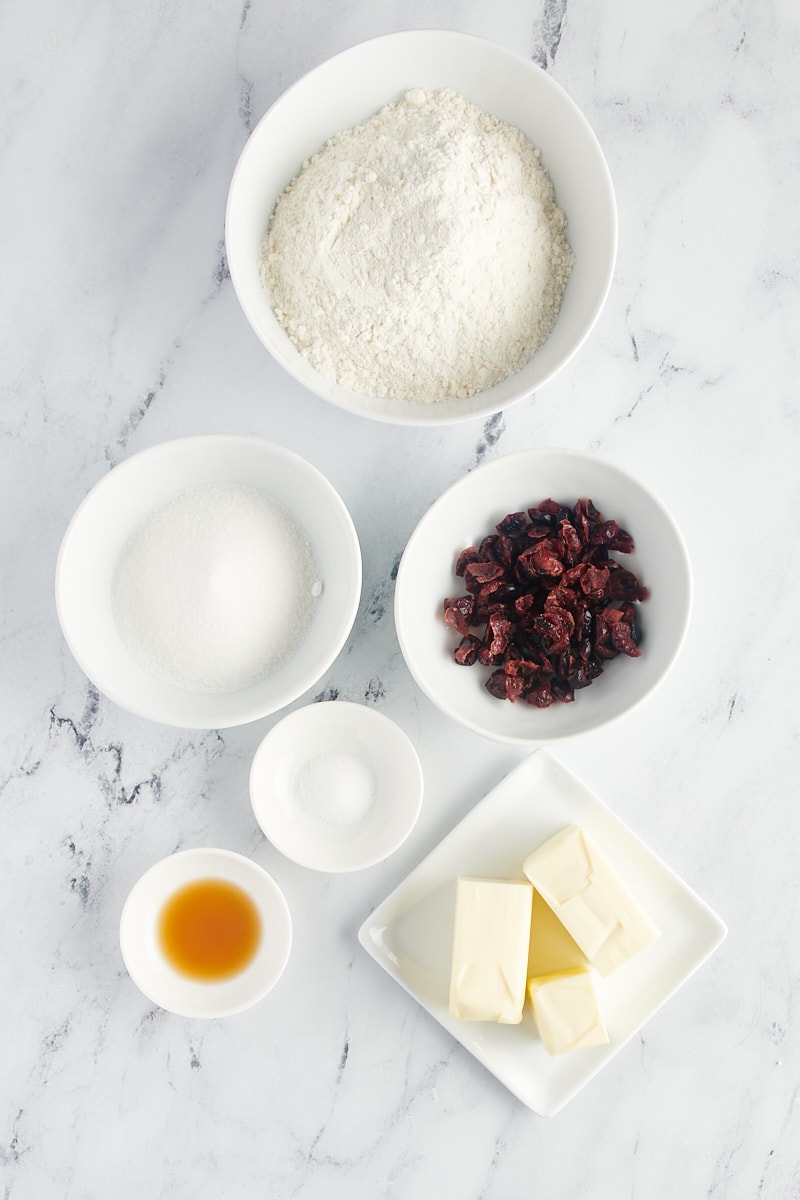 What You'll Need
If you have dried cranberries in your pantry, then you likely have everything you need to make these shortbread cookies! See the recipe card below for specific quantities and full instructions. Here are some notes about the ingredients you'll need.
All-purpose flour – Use a digital kitchen scale to measure by weight if possible. Otherwise, lightly spoon the flour into the measuring cup until it's over-filled, and then level the top with a straight edge like the back of a butter knife or a ruler.
Unsalted butter – Let the butter soften before mixing by allowing it to sit at room temperature. It should still be cool and not all the way to room temperature. Learn more: How to Soften Butter
Sugar
Salt
Vanilla extract – Try almond extract for a different flavor.
Dried cranberries
Sanding sugar – This is optional but adds a little sparkle and an extra bit of sweetness to the cookies.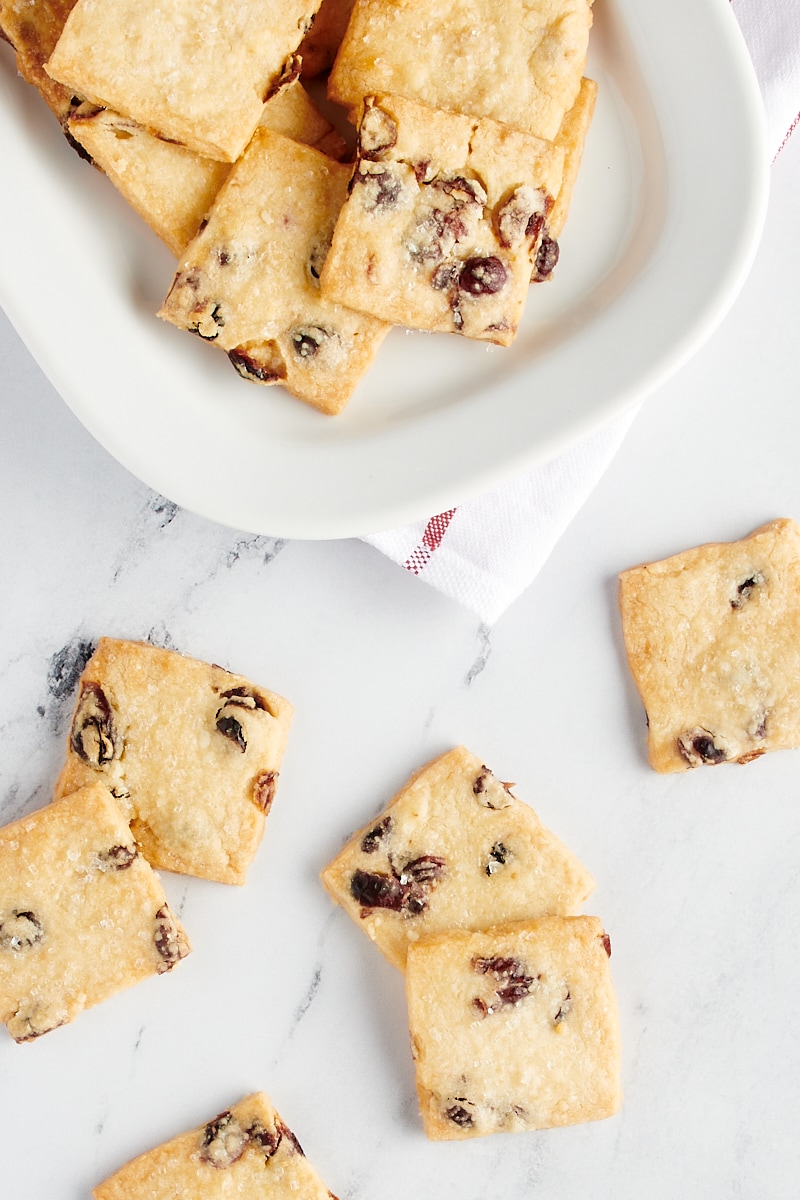 How to Make Cranberry Shortbread Cookies
These cookies mix quickly and easily, and just need a short chilling time before getting rolled, cut, and baked. Here's what you'll need to do.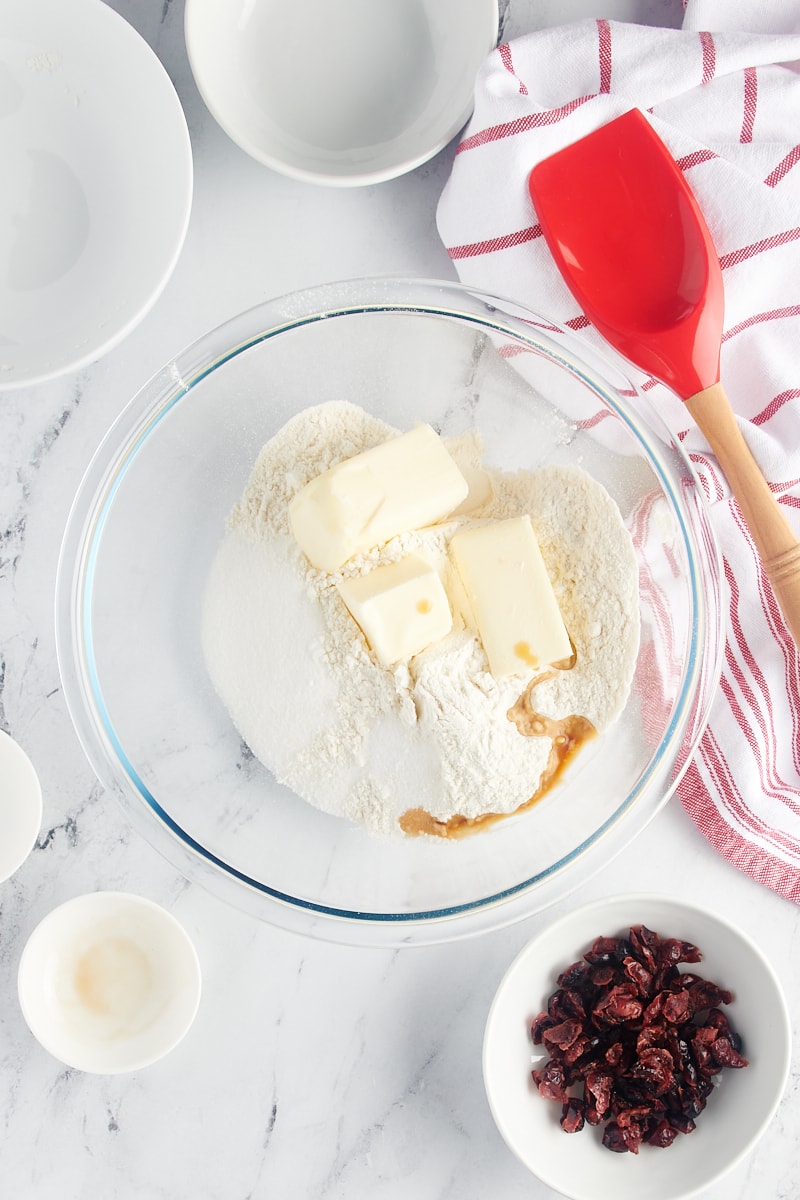 Begin mixing. Place the flour, butter, sugar, salt, and vanilla in a large mixing bowl. With an electric mixer on medium speed, beat these ingredients until combined. The dough will be crumbly but will hold together when pinched.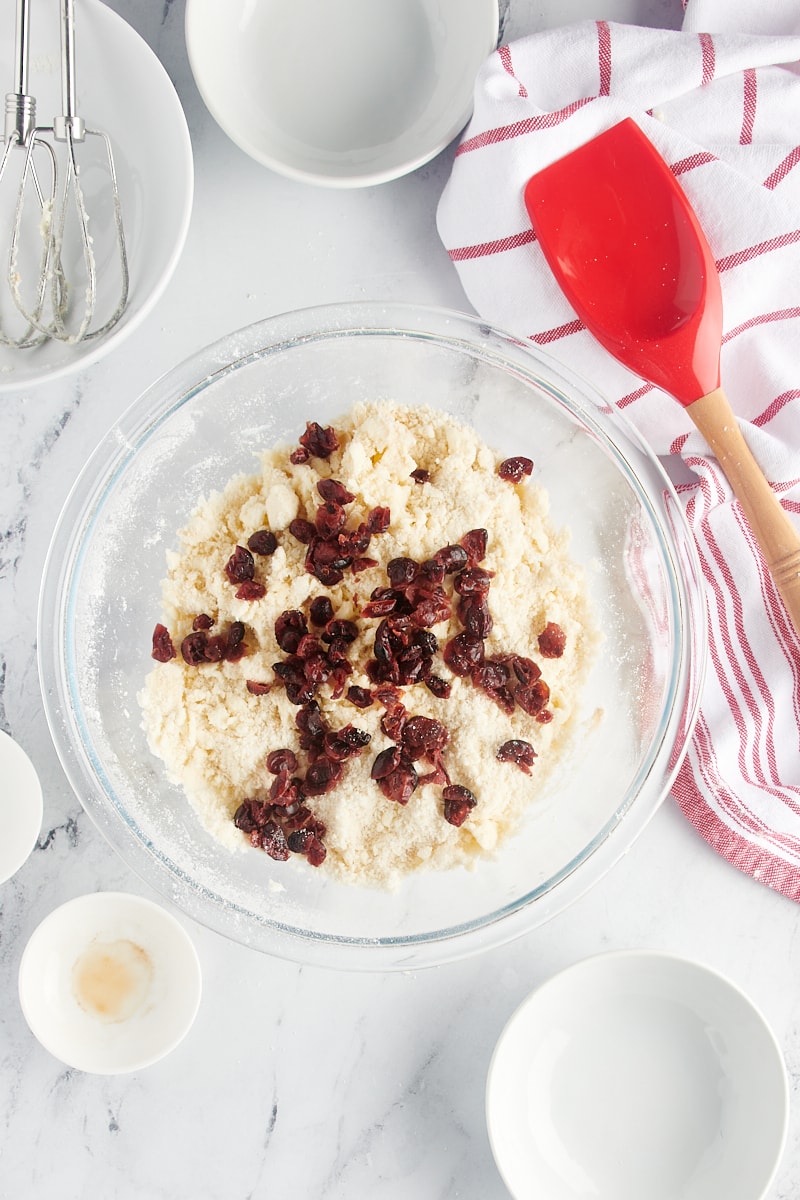 Add the cranberries. Stir the cranberries into the cookie dough.
Chill. Gather the dough mixture into a disc, wrap in plastic wrap, and refrigerate for 30 minutes. The dough should be cool and easy to handle. You may find you need a bit more time for chilling.
Prepare for baking. Heat the oven to 325°F. Line baking sheets with parchment paper or silicone liners.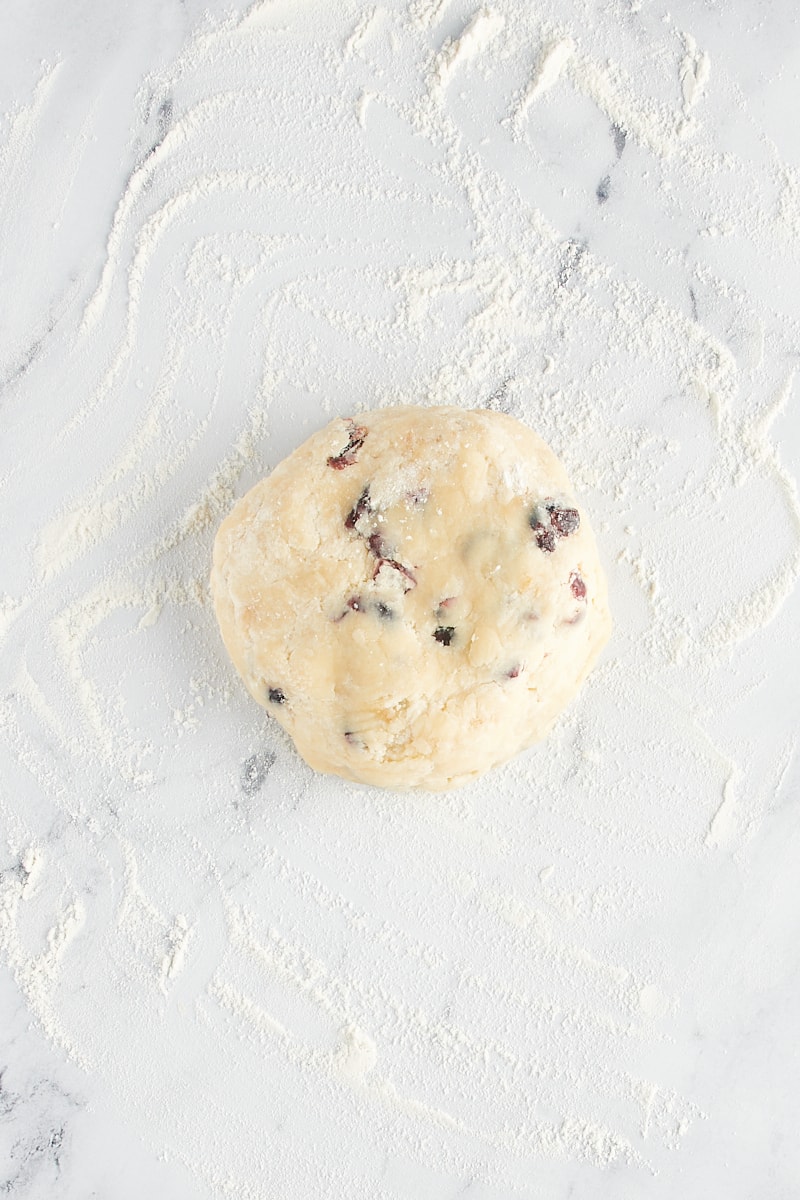 Roll and cut the dough. Remove the dough from the refrigerator and place on a lightly-floured surface. Use a floured rolling pin to roll the dough to a 10-inch square that's 1/4-inch thick. (It doesn't need to be perfect; just use this as a guideline.) Cut the dough into 2-inch squares. Carefully transfer the cut cookies to the prepared pans. If you want to top them with sanding sugar, do that now.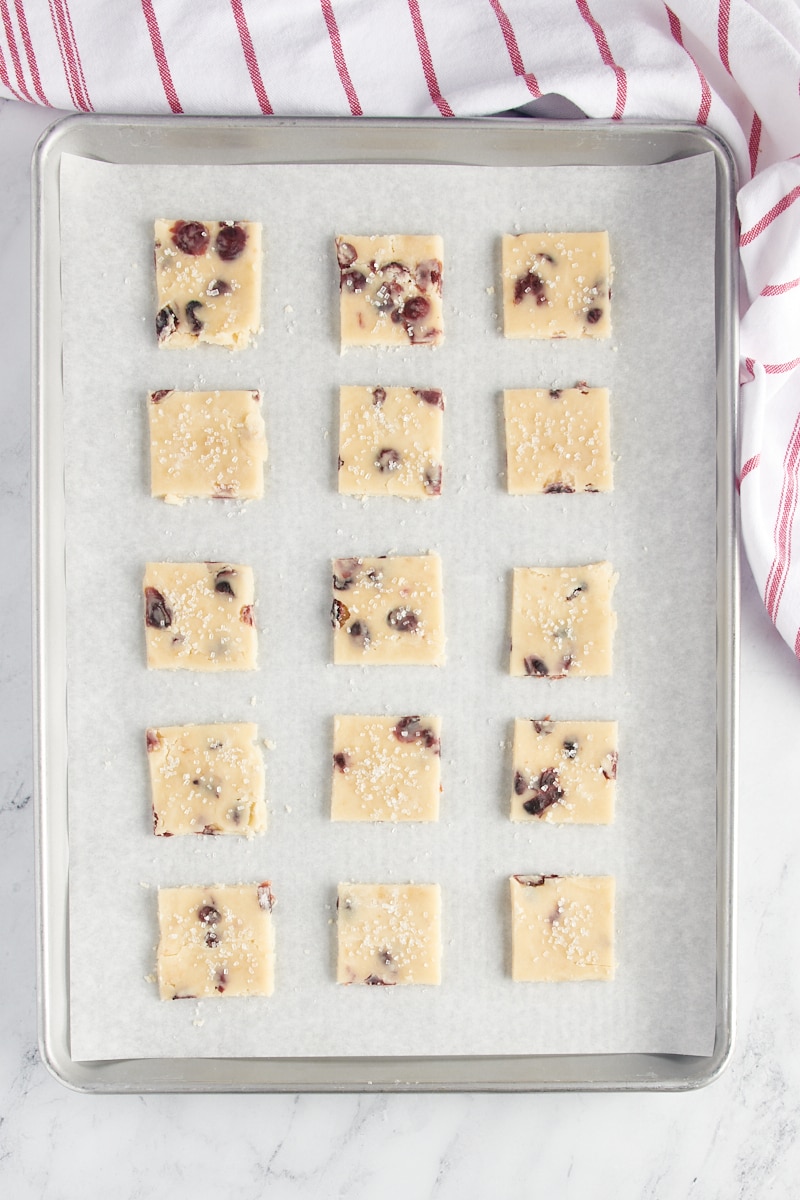 Bake. Place one pan at a time in the heated oven, and bake for 20 to 24 minutes. The cookies should be lightly browned. Repeat with the remaining cookie dough.
Cool. Place the pans on wire racks, and allow the cookies to cool for 5 minutes. Then transfer the cookies from the pan directly onto a wire rack to cool completely.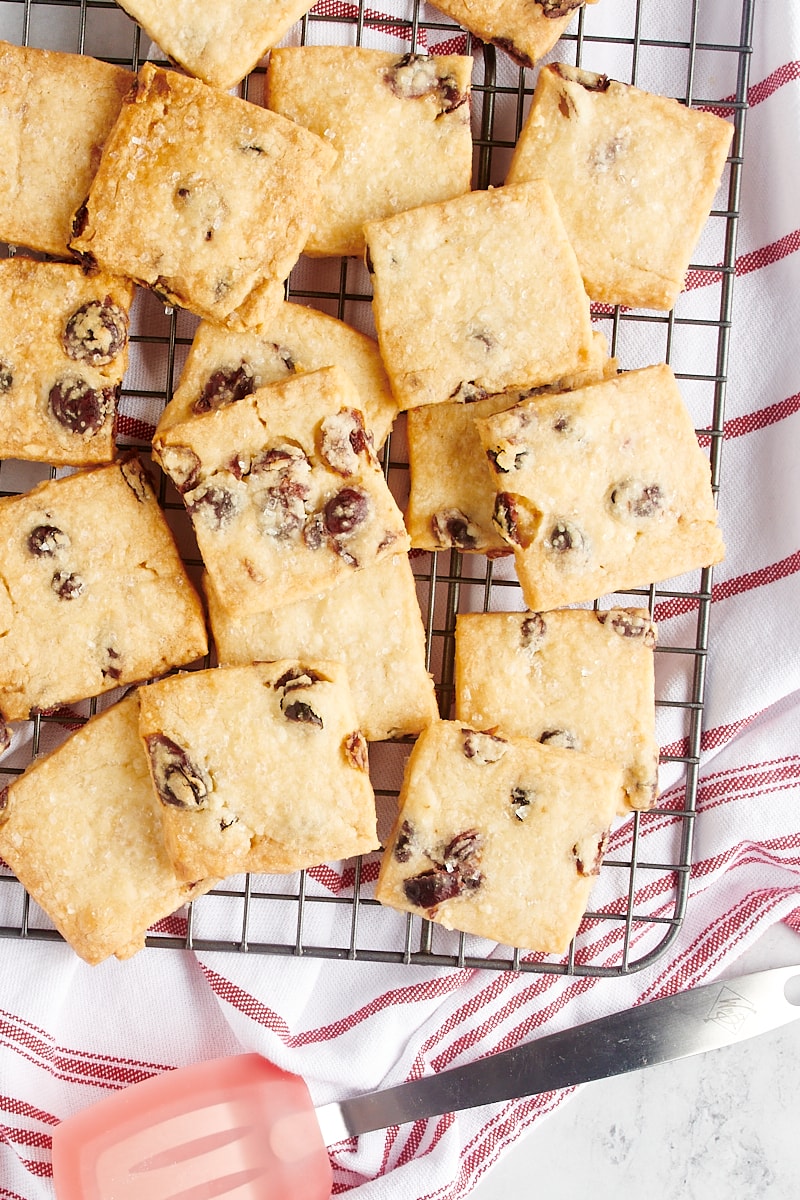 Tips for Success
These are my best tips for helping ensure your cranberry shortbread cookies are their very best!
Measure accurately. This is always important in baking, but errors in measuring really stand out when making shortbread. The usual culprit is too much flour, so take care to measure accurately. Learn more: How to Measure Flour
Chill the dough. Just a half hour in the refrigerator will help your shortbread cookies hold their shape. The dough should be chilled and easy to handle. All of our kitchens are different, so you may find that you need to give them up to an hour in the refrigerator. If your kitchen is especially warm, consider returning the rolled and cut cookies to the refrigerator for 10 or 15 minutes before baking.
Make clean, even cuts. To cut the dough into squares, use a sharp knife, a bench scraper, or a pizza rocker to make those slices. For precision, use a ruler to measure and mark where you need to make your cuts. Make confident cuts, and avoid using a sawing motion.
Don't over-bake. The cookies should be lightly browned at the end of the baking time. If they're left in the oven too long, they can become overly crispy.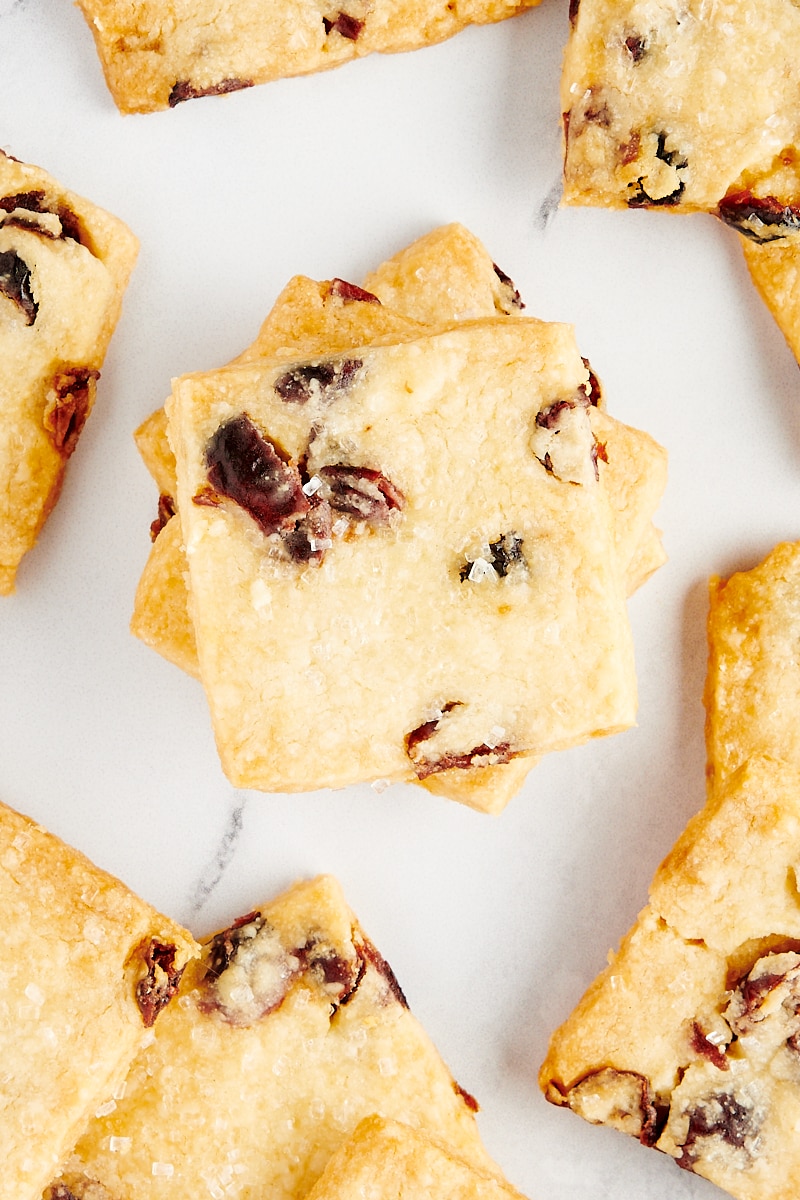 Substitutions & Recipe Variations
I tend to make these cranberry shortbread cookies just like the recipe, but there are some easy tweaks you can make if you want something a little different.
Use another dried fruit. Substitute your favorite dried fruit in place of the cranberries. There are lots of flavors to choose to keep these interesting all year!
Add orange zest. Cranberries and oranges go so well together. Try adding a couple of pinches of fresh orange zest when mixing the dough.
Dip in white chocolate. For a fancier look, dip the cooled cookies in melted white chocolate. You can even add finely chopped nuts, sprinkles, or a colored sanding sugar on the chocolate to take them up another notch.
Add a glaze. A simple sweet glaze like the one on top of these cinnamon bun scones is a good choice. Or use orange juice instead of milk for a bite of citrus.
Use a cookie cutter. If you prefer, you can use a cookie cutter to cut out the cookies instead of cutting them into squares. Go with stars or snowflakes for a holiday theme.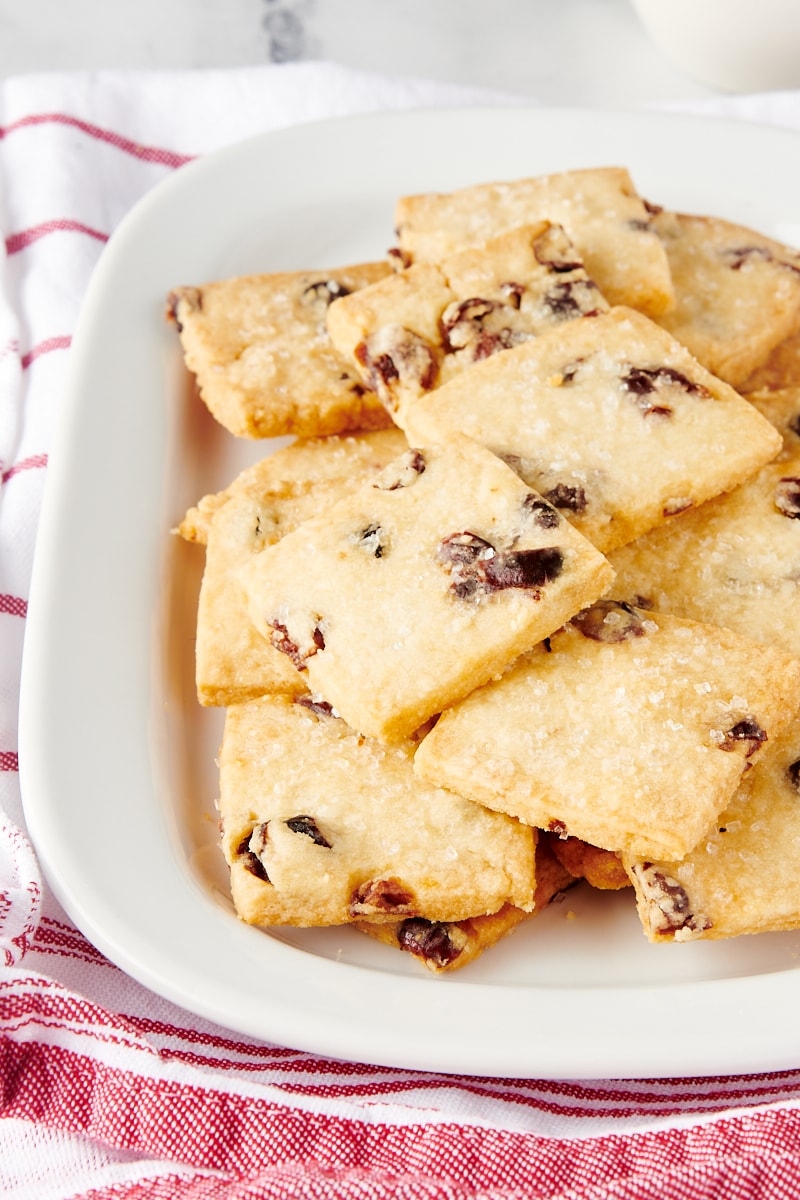 How to Store Shortbread Cookies
Place the cooled cookies in an airtight container, and store them at room temperature up to 4 days.
Can I Freeze These Cookies?
For longer storage, place the cookies in a freezer bag or container in a single layer or with parchment paper between layers of cookies. Properly stored, the cookies should keep in the freezer up to 3 months. Thaw for an hour or two at room temperature.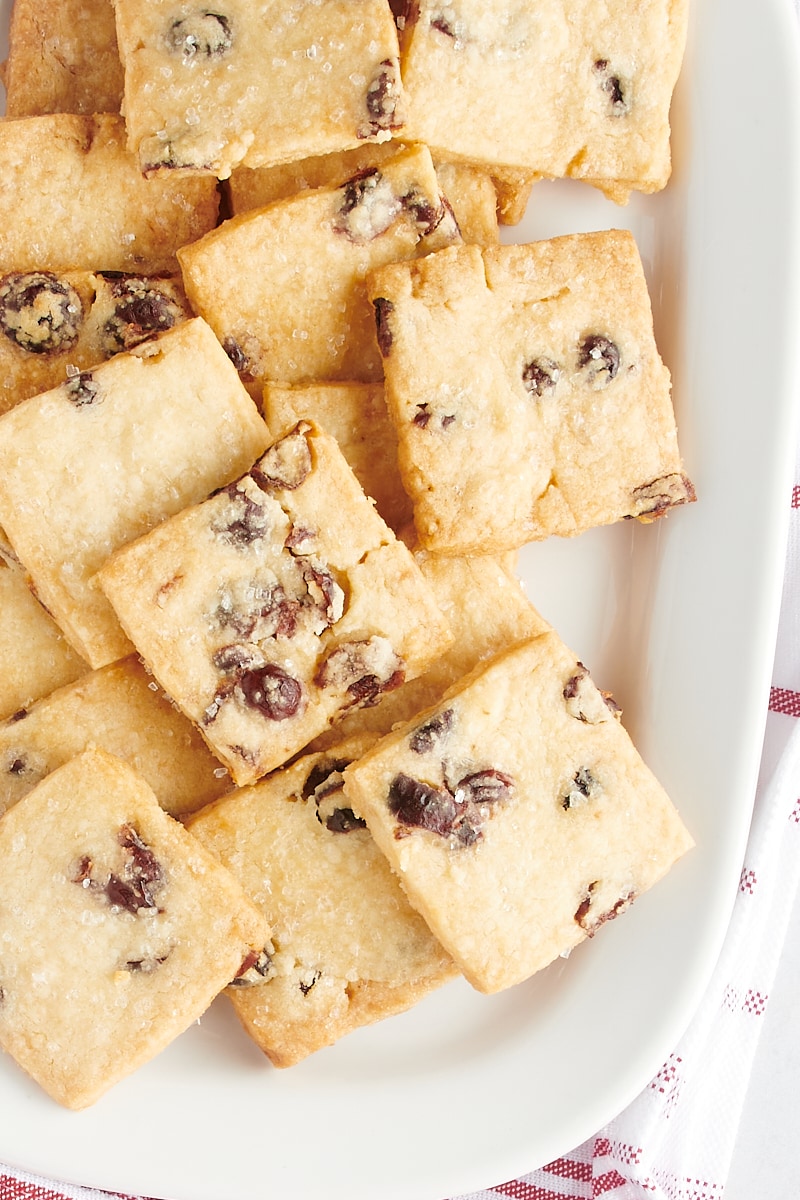 More Shortbread Cookie Recipes
Ready to make some more shortbread cookies? I strongly suggest trying these recipes!