These soft, buttery Shortbread Cookies are wonderfully easy to make with just THREE ingredients! You'll love the versatility of this recipe, too. You can make them as cutouts, drop cookies, or bars!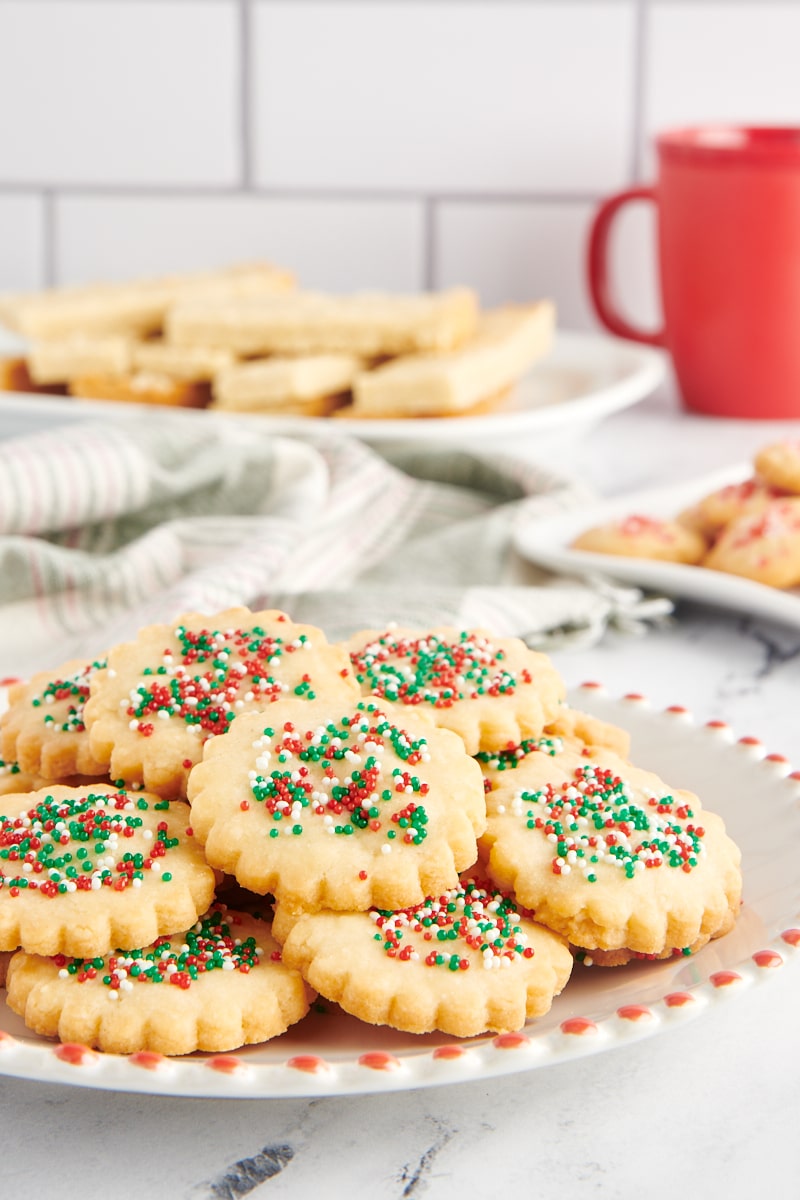 Easy Shortbread Cookies Three Different Ways!
There are many ways to make shortbread cookies "the right way." We bakers do tend to be an opinionated bunch, especially when it comes to classic recipes. You'll certainly find no shortage of shortbread cookie recipes out in the world, but this one is my go-to when I want a simple shortbread.
What I love about this shortbread cookie recipe is that it's just so simple and amazingly versatile. It mixes quickly and easily with only three ingredients to make soft, crumbly cookies with a buttery taste. You'll be amazed just how good these cookies can be with only those few basic items!
From there, you have options for how to shape and bake the dough. You can make cutout cookies, drop cookies, or bar cookies. Just that alone gives you some wonderful versatility. Besides that, you can also dress up these cookies in different ways to make them your own!
No matter how you bake them, these shortbread cookies are sure to be a favorite. Make them for a simple baking project on a lazy weekend, or whip up a batch to share during the holidays!
Can't get enough shortbread? Try Brown Sugar Shortbread, Cranberry Shortbread, and Chocolate Shortbread, too!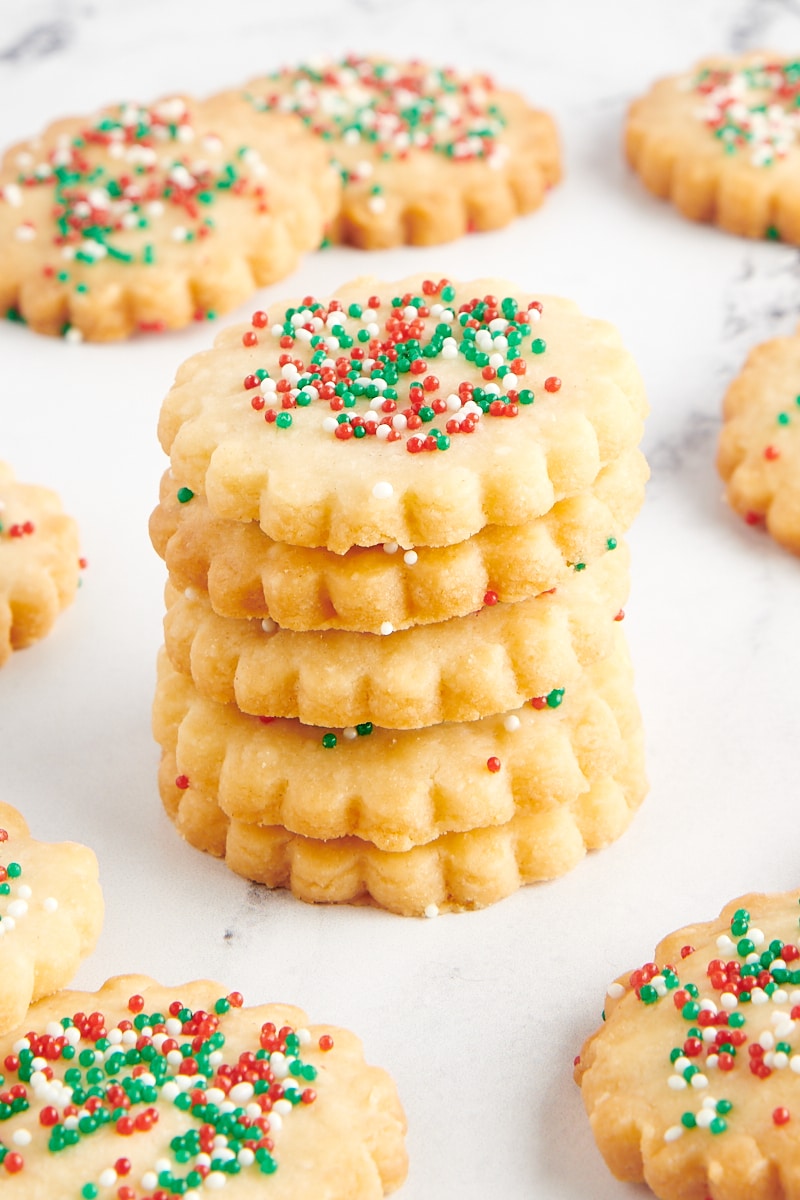 What is Shortbread?
Classic shortbread cookies are soft, crumbly, sweet cookies that originated in Scotland. This type of simple cookies has a buttery flavor that's been adored for centuries.
While shortbread is usually made with a ratio of 1 part sugar to 2 parts butter to 3 to 4 parts flour, you'll find that there are many variations that stray from that traditional ratio. Unlike many cookies, shortbread is made without a leavening agent like baking powder and baking soda.
Shortbread gets its name because of its texture. That soft, crumbly texture is referred to as being "short" versus "long" which means stretchy (like bread dough) in the baking world.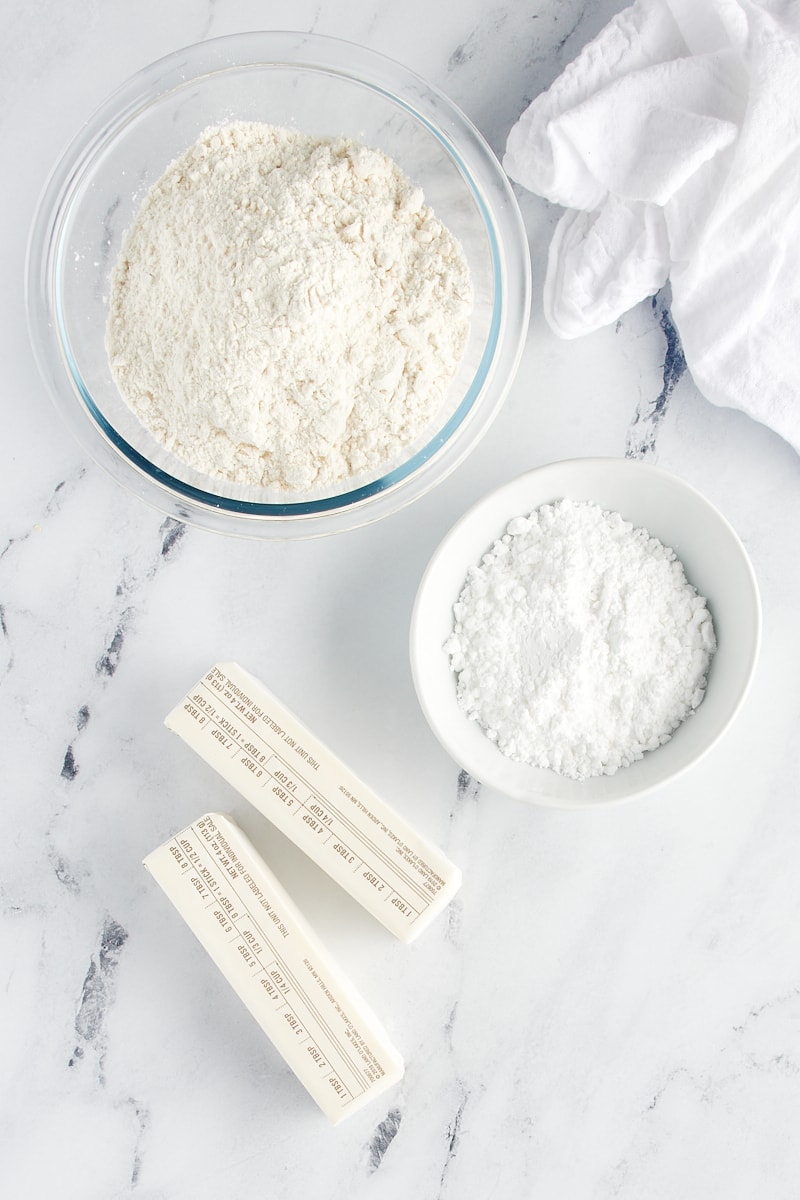 What You'll Need
As the name implies, this is a very short ingredient list. See the recipe card at the bottom of this post for ingredient quantities and full instructions. Here are a few notes about the ingredients you'll need.
Salted butter – Let the butter sit on the counter until it's softened. It should hold a thumbprint when pressed but still be cool. Learn more: How to Soften Butter
Confectioners' sugar – If yours is lumpy, sift it before mixing.
All-purpose flour – Measure by weight for best results. Otherwise, use the spoon and sweep method. Learn more: How to Measure Flour
Why Use Salted Butter?
If you're a regular BoB visitor, you know that I usually suggest baking with unsalted butter. These shortbread cookies are one of my few exceptions. With so few ingredients, I find that the flavor is better when using salted butter versus using unsalted butter and adding salt.
For those times you find yourself with only unsalted butter in your refrigerator, you can certainly use that and add 1/2 teaspoon of salt.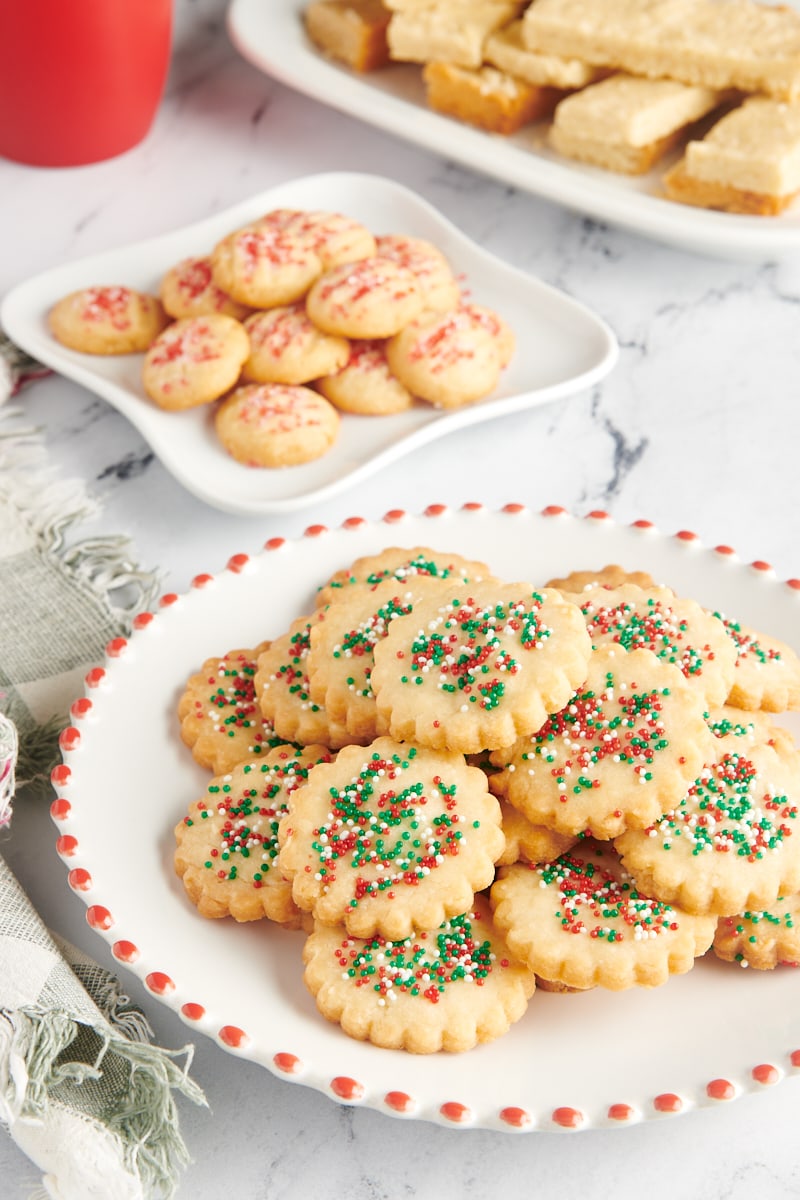 How to Make 3-Ingredient Shortbread Cookies
It's so easy to whip up a batch of these shortbread cookies! Here's how to make them as cutout cookies. See below this section for instructions for making them as drop cookies or bars.
Mix the butter and sugar. Place them in a large mixing bowl, and use an electric mixer on medium speed to beat until fluffy and lightened in color.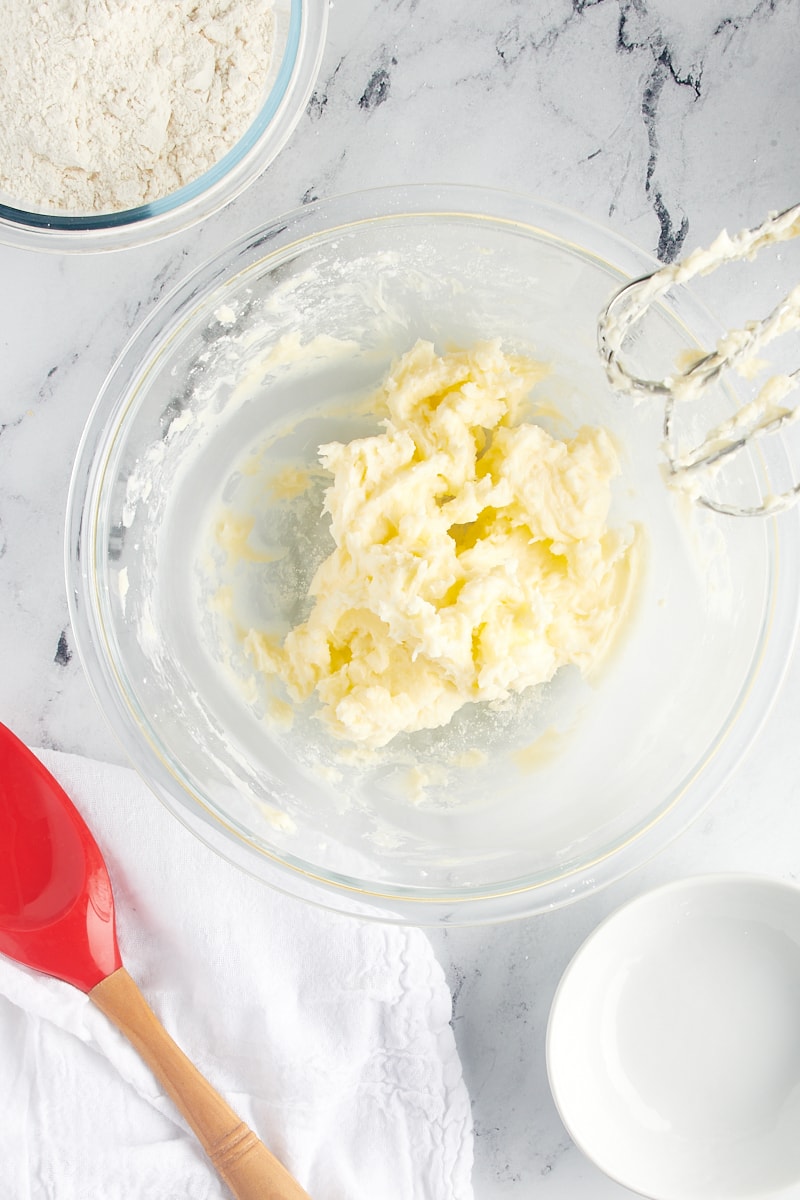 Add the flour. With the mixer on low speed, gradually add the flour. Don't over-mix; mix just until combined. The mixture won't be a completely cohesive dough at this point, and that's fine.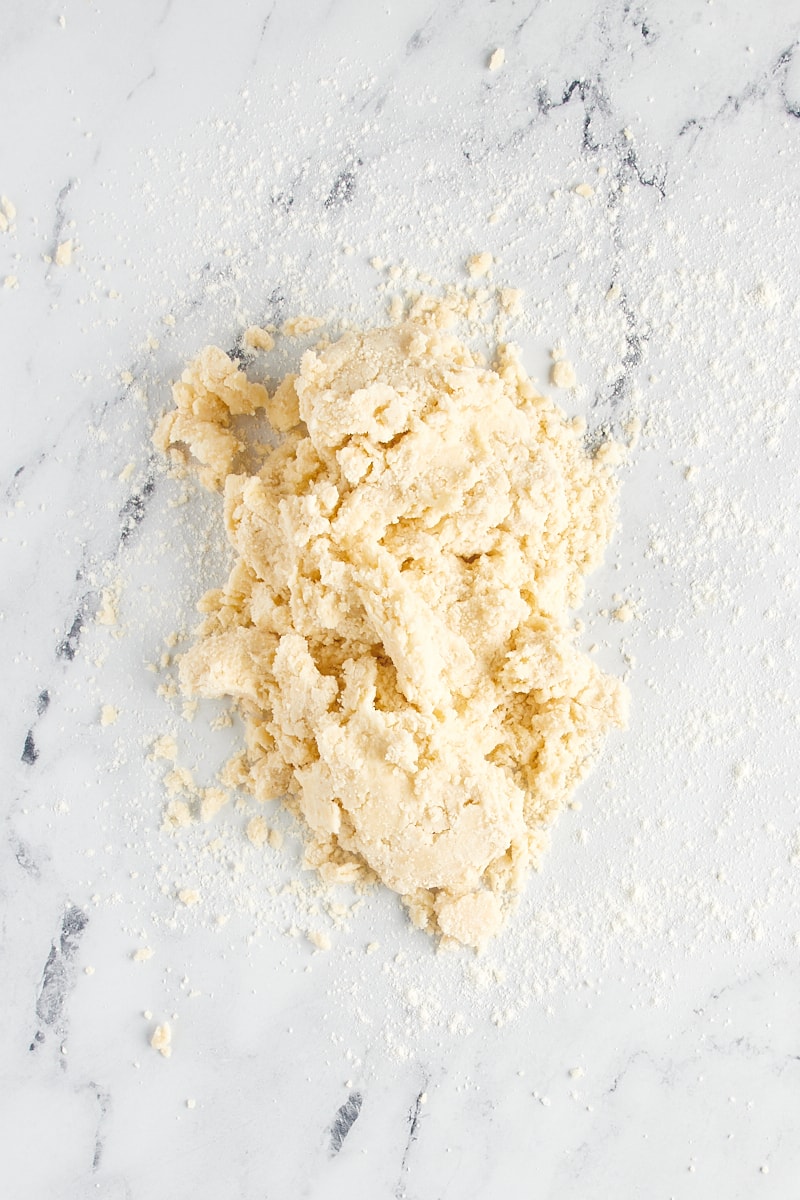 Finish mixing. Place the dough on a lightly floured surface, and use your hands to finish mixing the dough. Gather it together and form into a disc.
Chill. Wrap the dough in plastic wrap, and chill for an hour.
Prepare for baking. Heat the oven to 350°F. Line baking sheets with parchment paper or silicone liners.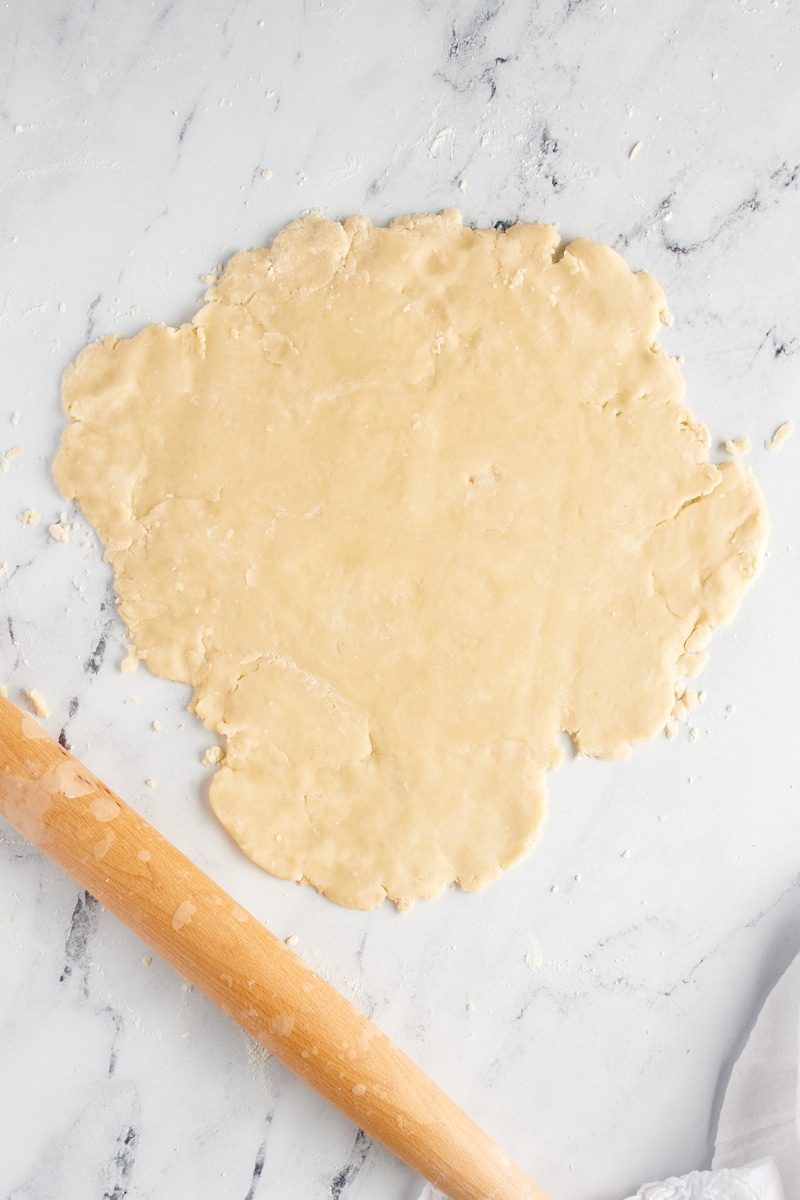 Roll and cut the cookies. Place the dough on a lightly floured surface, and use a rolling pin to roll it to 1/4-inch thickness. Use a 2-inch cookie cutter to cut out the cookies. Gather and re-roll the cookies once, and cut out the remaining cookies. Place the cookies on the prepared pans, leaving about 2 inches between cookies. If you want to add sprinkles to the tops, do that now.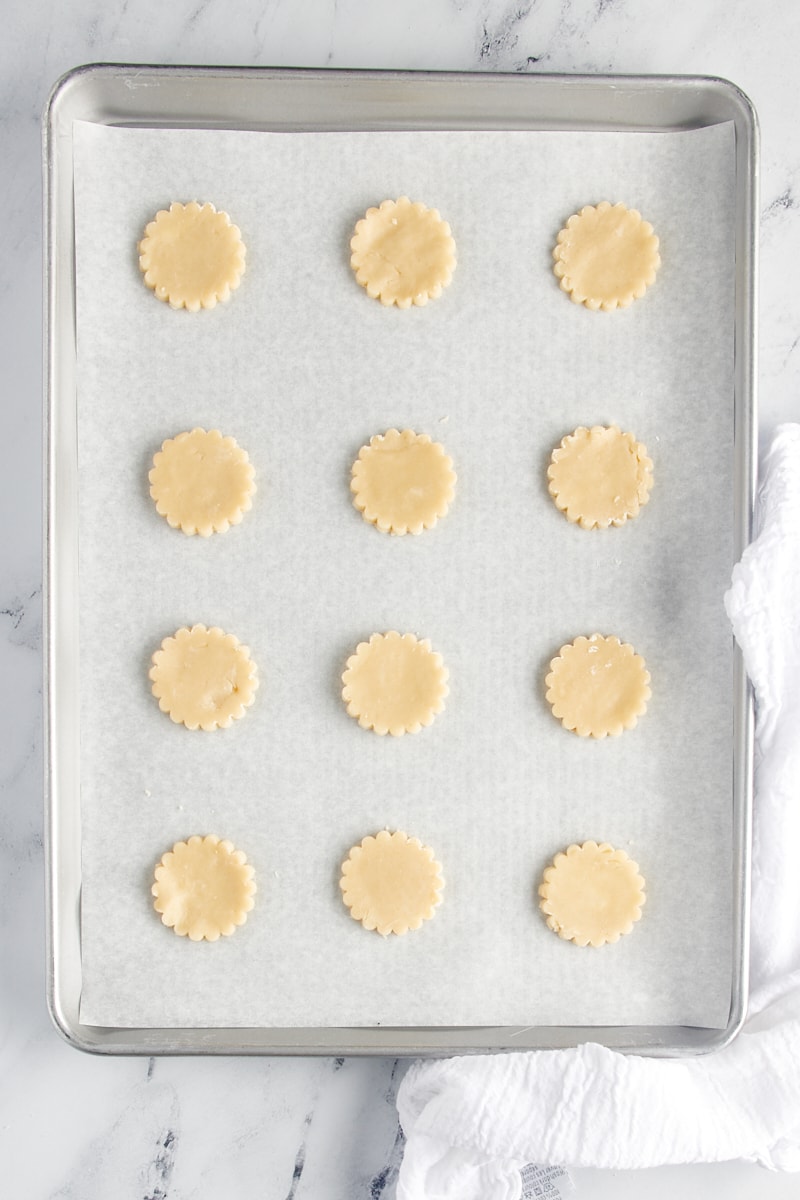 Bake. Place one pan of cookies in the heated oven, and bake 15 to 18 minutes. When the edges of the cookies have browned, they're ready to come out of the oven. Repeat with the remaining cookies, keeping the remaining dough refrigerated between baking batches.
Cool. Place the pan on a wire rack and allow the cookies to cool for 5 minutes. Then remove the cookies from the pan and place directly on a wire rack to cool completely.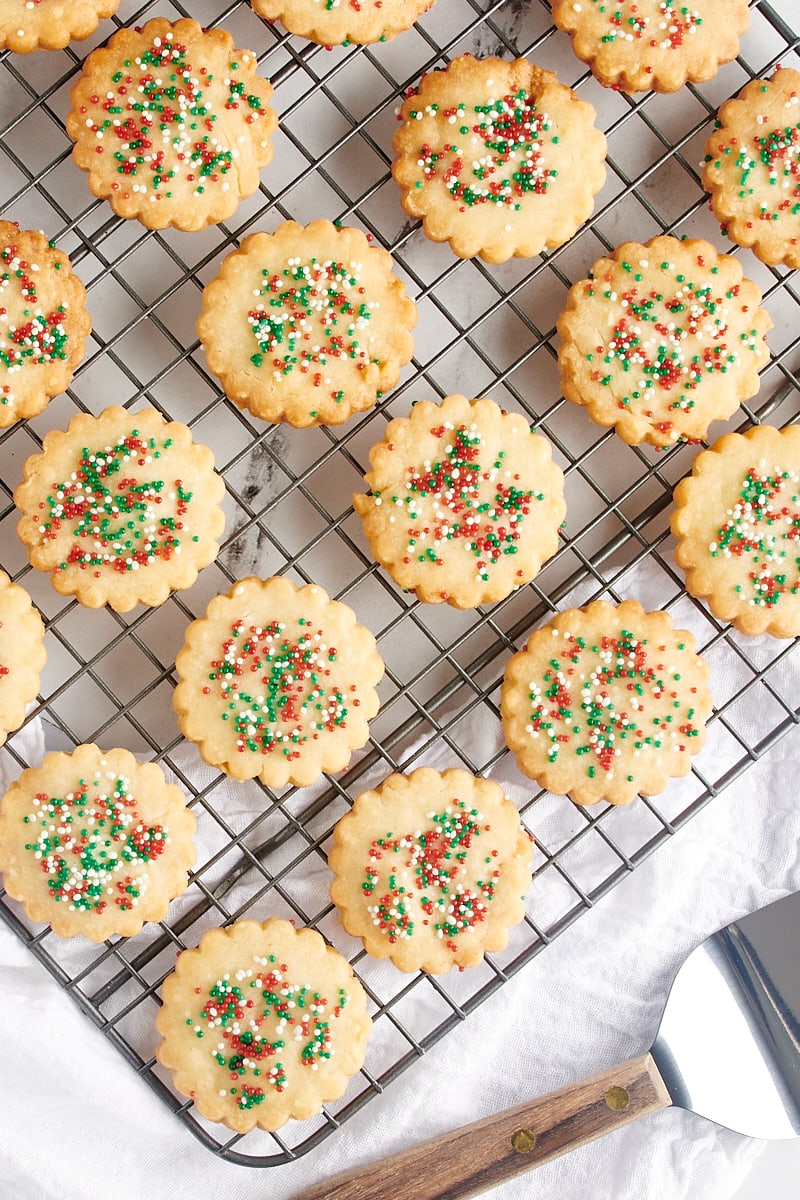 Variations
The cutout versions of these cookies are a favorite of mine, but you can also make them other ways, too. For a classic shortbread look, bake them as thick bars in a square pan. To skip the rolling and cutting steps, use a cookie scoop to make drop cookies. Here are the details:
Bar cookies
After mixing the dough, transfer it to a greased 9-inch square baking pan lined with parchment paper so that it overhangs by a couple of inches on two opposite sides. The bars are easier to cut when they're warm, and the lining makes it easy to remove the bars from the pan.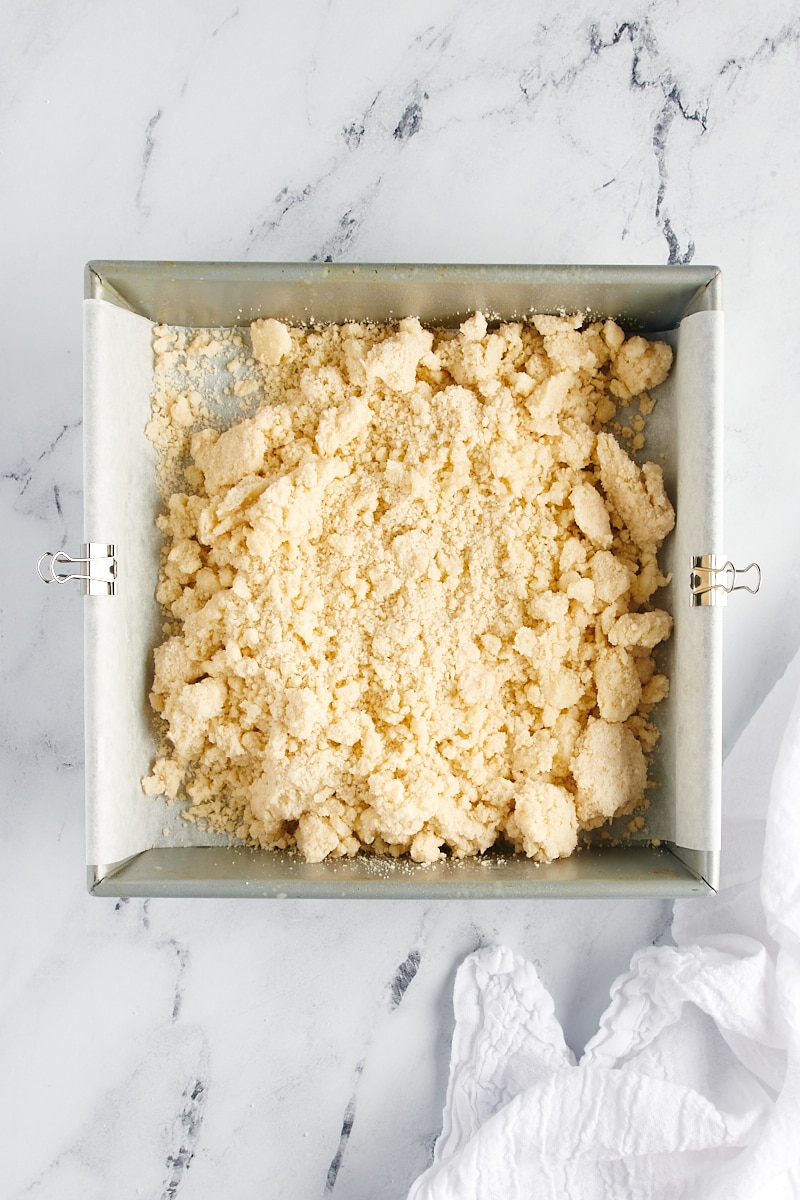 Press the dough firmly and evenly in the pan. Use a fork, toothpick, or another tool to poke small holes over the surface of the dough. Chill for 15 minutes.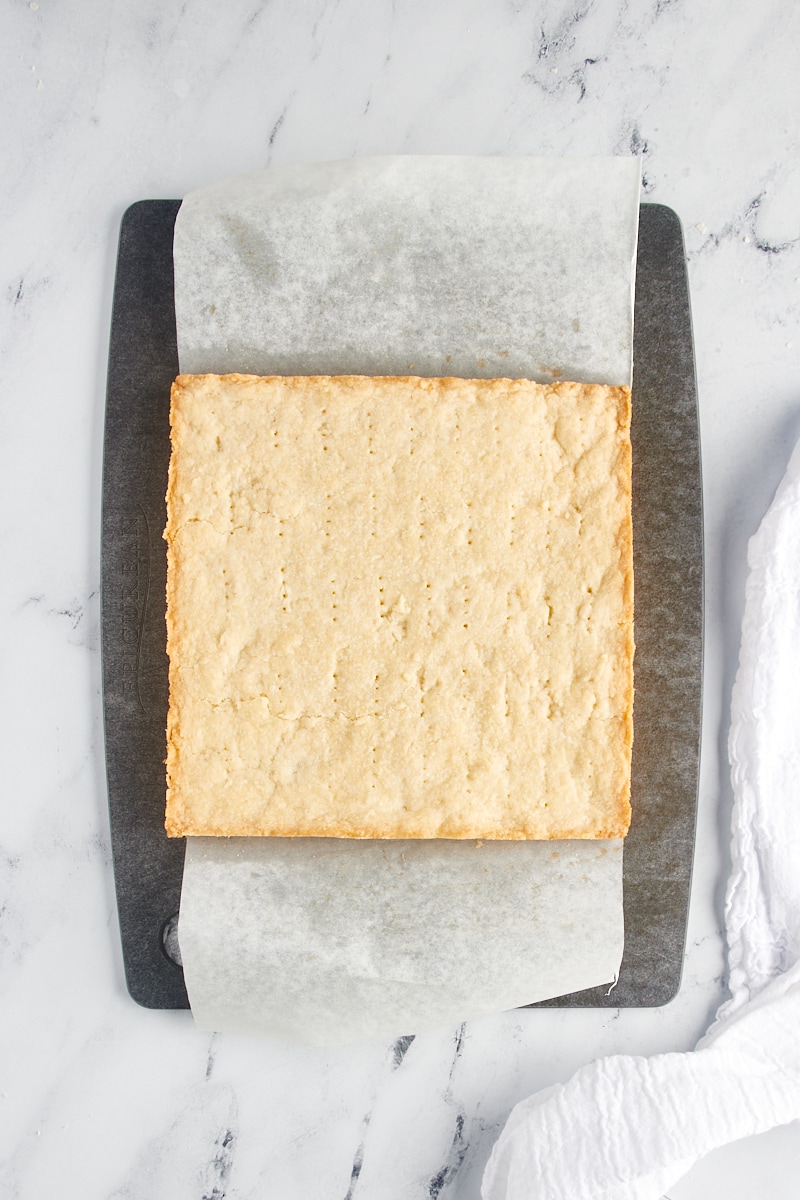 Bake at 325°F for 30 to 35 minutes, or until golden brown around the edges. Within a few minutes of removing the pan from the oven, carefully use the parchment paper to lift the bars out of the pan and place on a cutting board. Cut into rectangles or squares.
Drop cookies
Just like with the cutout cookies, gather the dough together on a lightly floured surface after mixing to form a cohesive dough. Wrap and chill for 1 hour.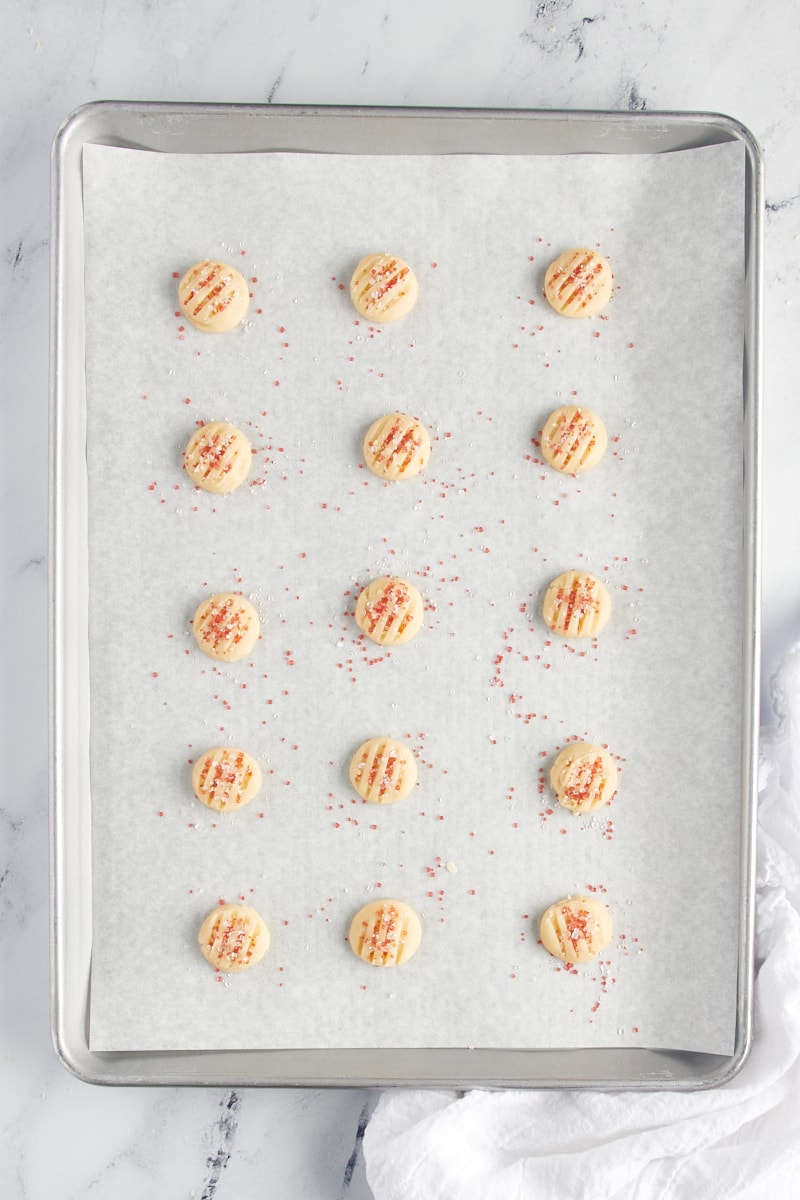 Use a small cookie scoop (I use a #100 or #110 scoop) to portion the cookies. Place them on a lined baking sheet, slightly flatten the tops (use a fork to make a simple design), and add sprinkles if you like. Chill the shaped cookies for 15 minutes.
Bake at 325°F for 15 to 18 minutes, or until lightly browned.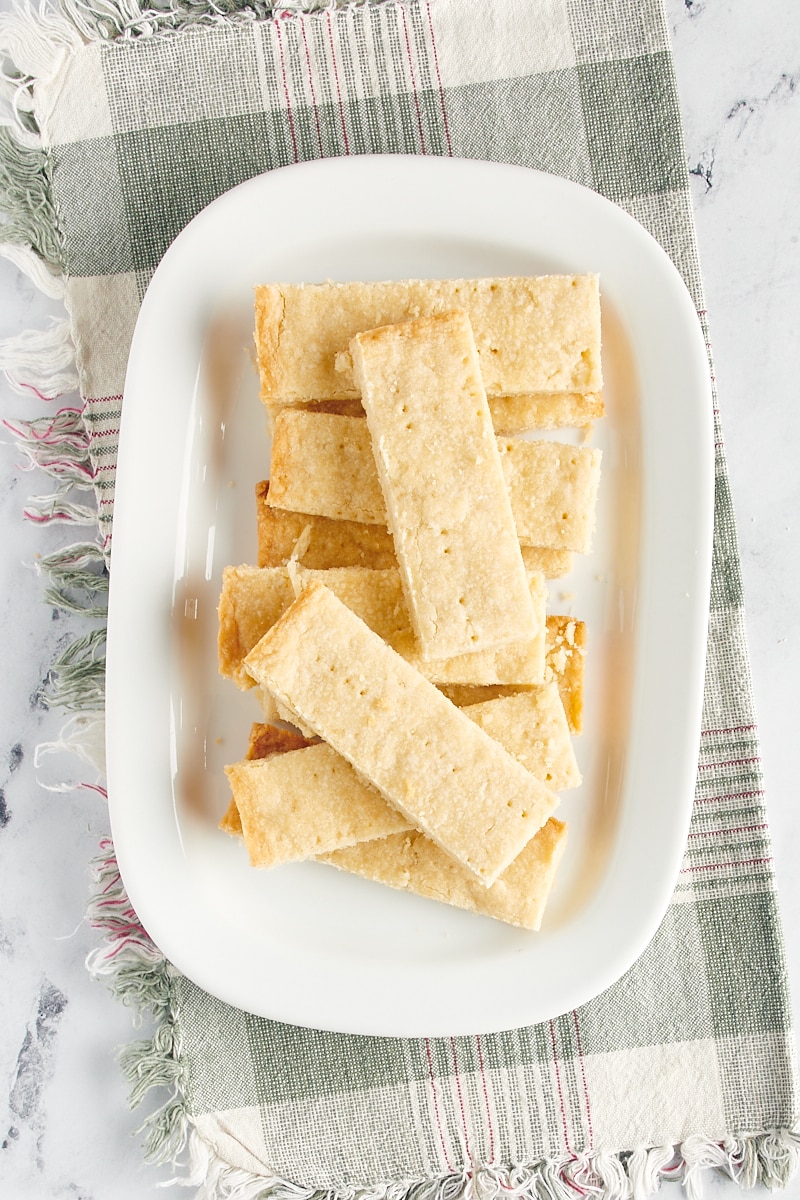 Topping Ideas
These simple shortbread cookies are plenty delicious just as they are, but here are some ideas for topping them.
Sprinkles! My favorite way to dress up these cookies is to add some fun sprinkles. They make lovely Christmas cookies with red, green, and white sprinkles! Nonpareils work well and won't melt or bleed their color into the cookies as they bake.
Chocolate – Melt semisweet chocolate and dip the baked and cooled cookies halfway. Take it up another notch and add sprinkles, chopped nuts, or toasted coconut on top of the chocolate. Set the cookies on waxed paper and allow the chocolate to set.
Coarse sugar – A simple sanding sugar is a great topping for these shortbread. Add a pinch or two before baking. Use white or go with colored sugars for a festive look.
Jam – Spread a little of your favorite jam or preserves on top of half of the baked and cooled cookies, and then top with another cookie to make sandwich cookies.
Peanut butter – Spread on top of the baked and cooled cookies, and sprinkle chopped peanuts or chopped chocolate on top. Or make sandwich cookies.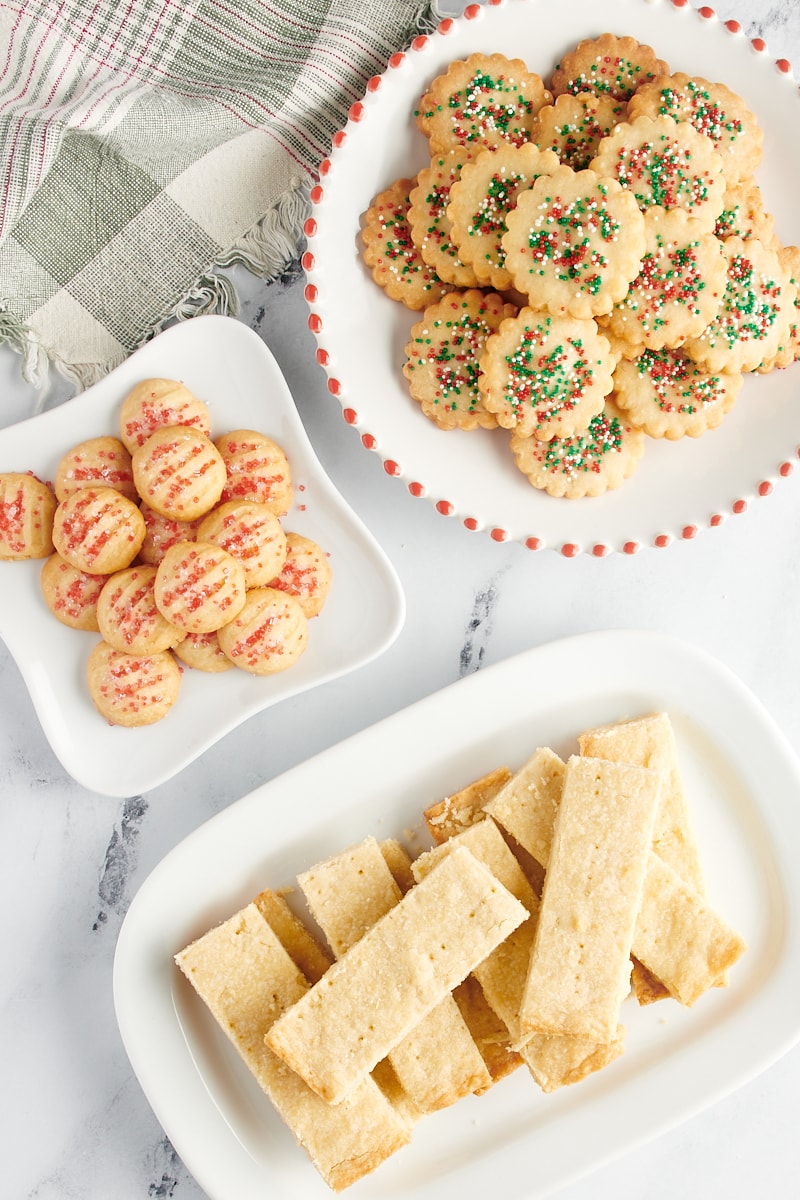 Tips for Success
You'll love how easy it is to whip up a batch of these cookies! Here are some tips to help make yours turn out perfectly!
Measure accurately. With just three ingredients, any inaccuracy in measurements will be problematic. If you have a digital kitchen scale, this is the time to use it.
Mixing the dough. The #1 question I get about shortbread is about the consistency of the dough. Once mixed, the dough will be quite loose, but it will absolutely come together if you work the dough and press it together. If it's not coming together after several minutes of mixing, that's likely because of inaccurate measurements. You can sprinkle a small amount of water over the dough and work it into it, but be careful because that can have an adverse effect on the texture.
Don't skip the chilling time. After mixing, the dough needs that refrigerator time to help produce its signature texture and to minimize spreading. After shaping the dough, it's a good idea to chill the dough again before baking, especially if your kitchen is warm.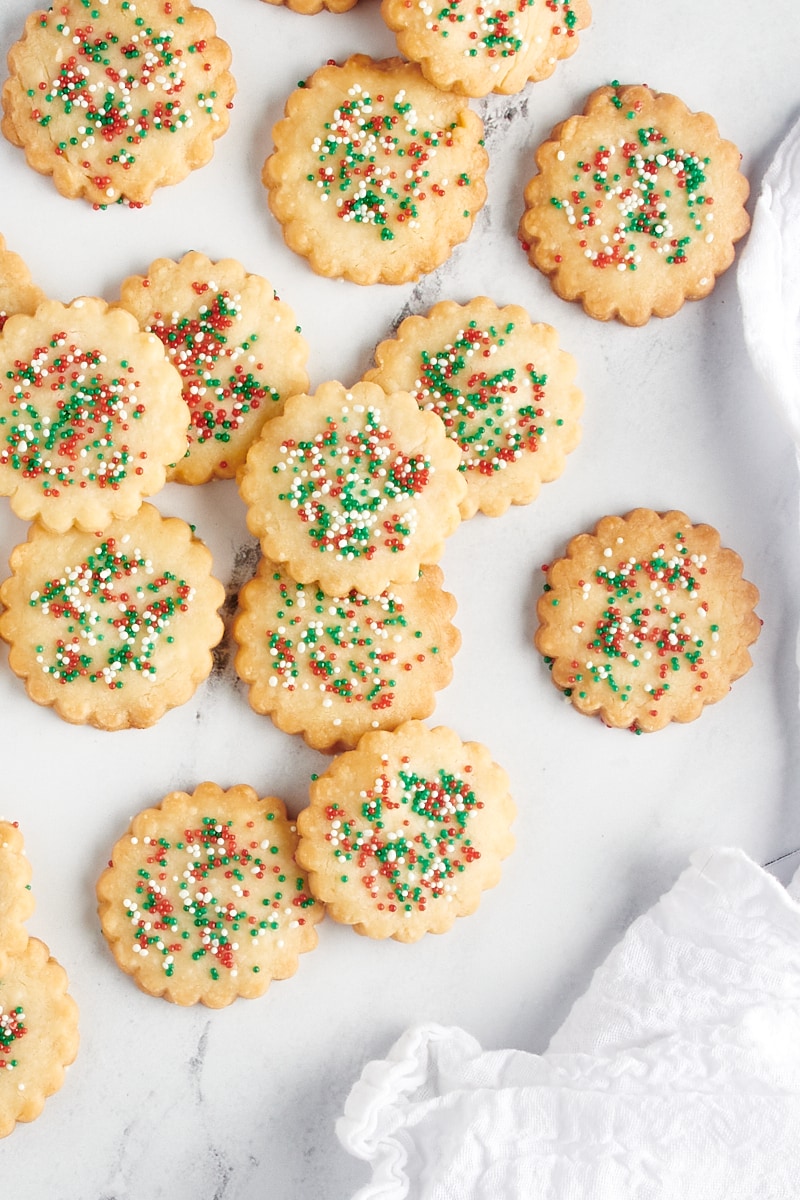 How to Store
Once cooled, the cookies can be stored in an airtight container up to a week. Their ability to stay fresh so long makes them great for gifting and for enjoying over several days.
How to Freeze
Place the cooled shortbread cookies in an airtight, freezer-safe container. Place waxed paper or parchment paper between layers. Properly stored, the cookies should keep in the freezer up to 3 months. Thaw for an hour or so at room temperature.
You can also freeze the unbaked dough. I like to chill and shape the dough first. Then, place the shaped cookies on a rimmed baking sheet, and freeze until solid (about 2 to 3 hours). Finally, transfer the cookie dough to a freezer-safe container, placing waxed paper or parchment paper between layers. When you're ready to bake, follow the recipe's directions, adding another minute or two to the baking time.