October 10, 2016
Cookie Butter Snickerdoodles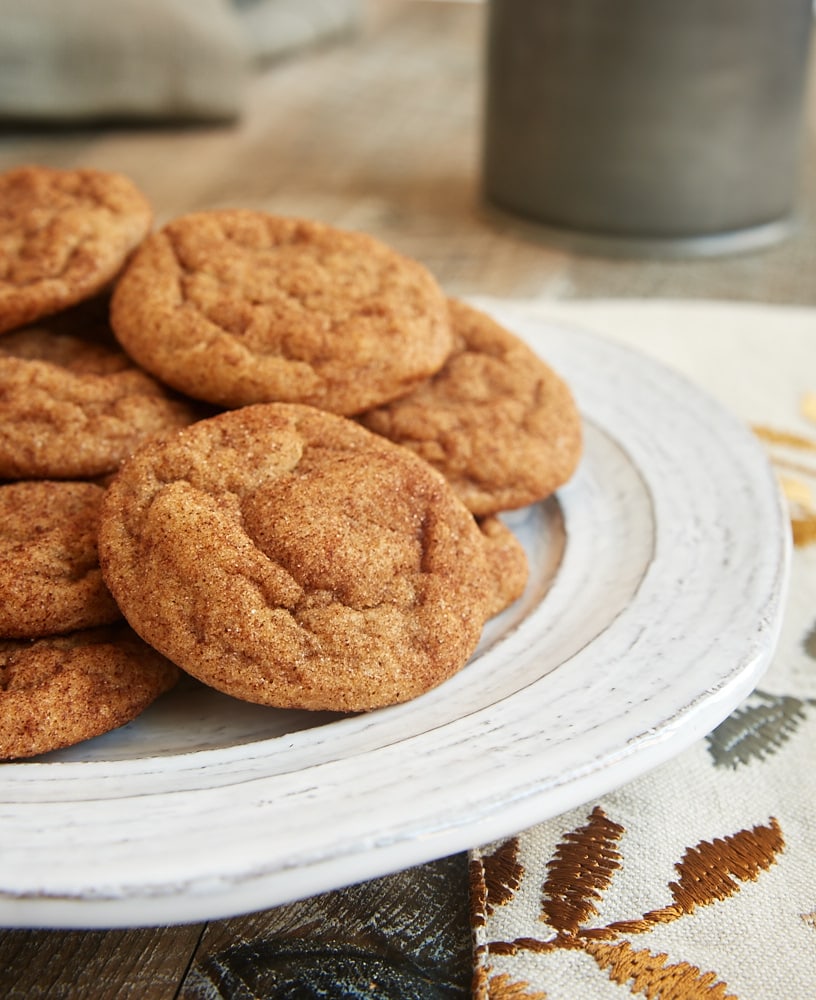 If you're a fan of cinnamon treats, then I probably don't need to extol the deliciousness of Snickerdoodles. I'm a bit of a late joiner in the cinnamon fan club. But now it seems that the more I have it, the more I love it.
Traditional Snickerdoodles are always a crowd-pleaser. But you know I can't resist tinkering with a classic. When I started to think how I could give them even more spice, I immediately thought of cookie butter and its wonderful spice flavor.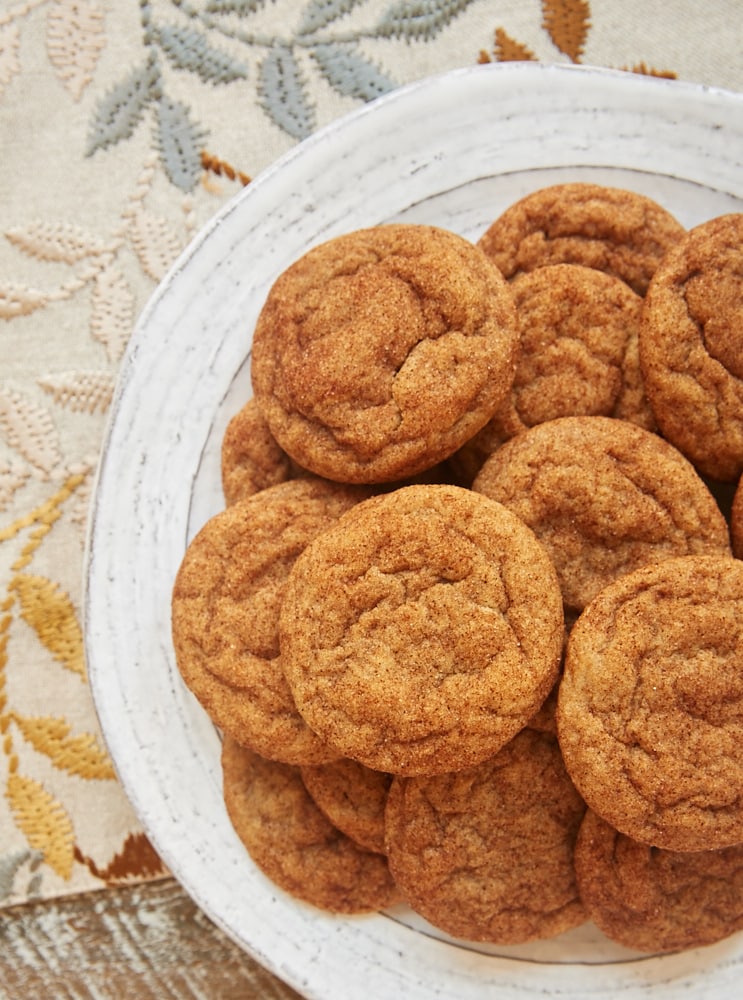 For those of you not familiar with cookie butter, it's a spread made from a sweet, spiced Belgian cookies called Speculaas. If you've ever had Biscoff cookies on a flight, then you are familiar with the flavor. In fact, Biscoff is one of the brands of cookie butter available. There are several other brands available as well. Just look for them with the other spreads like peanut butter and Nutella.
Adding cookie butter to these cookies adds even bigger spice flavor. It's a bit like two cookies in one – the sweet cinnamon Snickerdoodles plus spiced Speculaas. It's such a perfect combination of flavors!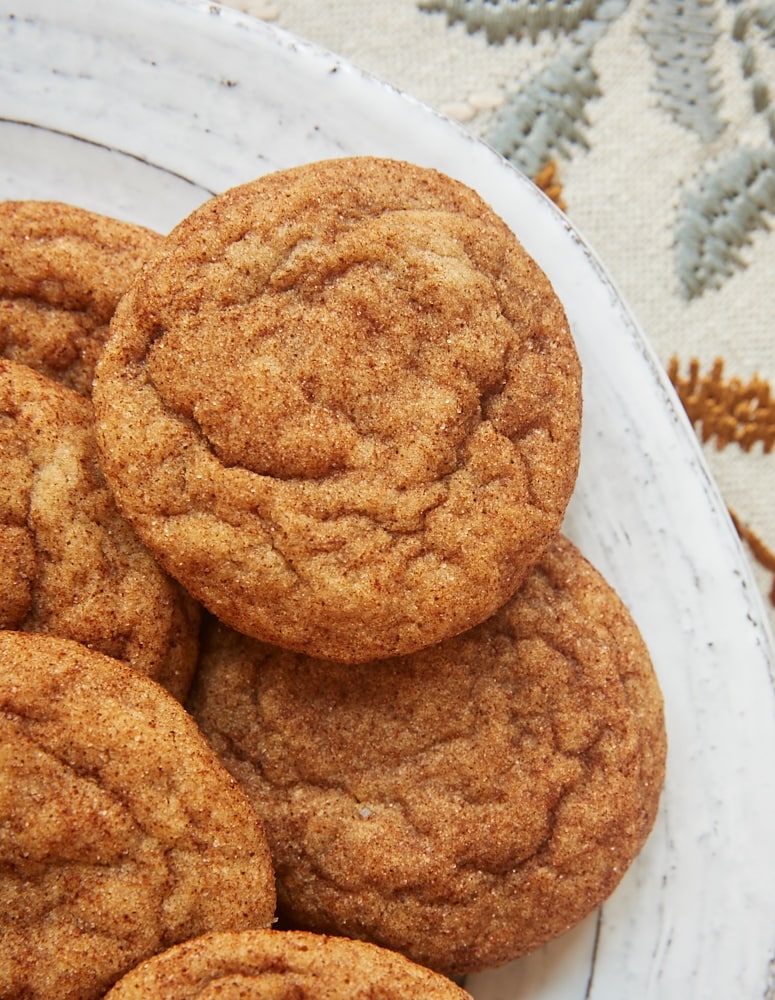 One of the best things about these cookies is their soft texture. There's not even a crispy outside here. No, just super soft cookie all the way through. Be sure not to over-bake these to maintain that softness. They bake fairly quickly, so just look for a light browning and a nice puff to the top of the cookie. That puffiness will subside some as they cool, but you'll still be left with amazingly soft, sweet, cinnamon cookies.
I shared these with my usual taste testers, and they went crazy for them. I've already been asked to make another batch! These cookies are definitely worth repeating, and I'm sure they'll become a regular in my cookie baking rotation.
Find more cookie recipes in the Recipe Index.
Cookie Butter Snickerdoodles
Yield: 48 cookies
Prep Time: 25 minutes
Cook Time: 10 minutes per pan
Sweet, spiced cookie butter adds such fantastic flavor to Cookie Butter Snickerdoodles.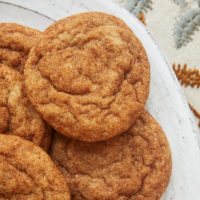 Ingredients:
3 cups all-purpose flour
1 teaspoon baking soda
1/2 teaspoon cream of tartar
1/2 teaspoon ground cinnamon
1/2 teaspoon salt
3/4 cup unsalted butter, softened
3/4 cup firmly packed light brown sugar
1/2 cup granulated sugar
1/2 cup cookie butter*
2 large eggs
1 teaspoon vanilla extract
cinnamon-sugar**
Directions:
Preheat oven to 350°F. Line baking sheets with parchment paper or silicone liners.
Whisk together the flour, baking soda, cream of tartar, cinnamon, and salt. Set aside.
Using an electric mixer on medium speed, beat the butter, brown sugar, sugar, and cookie butter until thoroughly combined. Add the eggs, one at a time, mixing well after each addition. Mix in the vanilla.
Reduce mixer speed to low. Gradually add the flour mixture, mixing just until combined.
Using a tablespoon of dough at a time, roll the dough into balls.*** Then roll each ball in the cinnamon-sugar to coat. Place 2 inches apart on the prepared pans.
Bake 8 to 10 minutes or until lightly browned. Cool on the pans for 5 minutes. Then transfer the cookies to wire racks to cool completely.
Notes:
*Cookie butter can usually be found with other spreads like peanut butter. There are several brands available, including Biscoff, Roland, and Trader Joe's.
**You can use a store-bought cinnamon-sugar, but it's very simple to make your own. Combine 1/4 cup granulated sugar and 1 tablespoon of ground cinnamon.
***I use a 1-tablespoon cookie scoop to portion the dough and then roll the dough between my palms to create a ball shape.
This post contains affiliate links. If you make a purchase through one of the links, I'll receive a
small commission at no additional cost to you.