Are you giving homemade cookies for holiday gifts? Or are you planning to serve a big cookie tray at your holiday party? Here are my tips for making beautiful and delicious Christmas cookie trays for serving and gifting!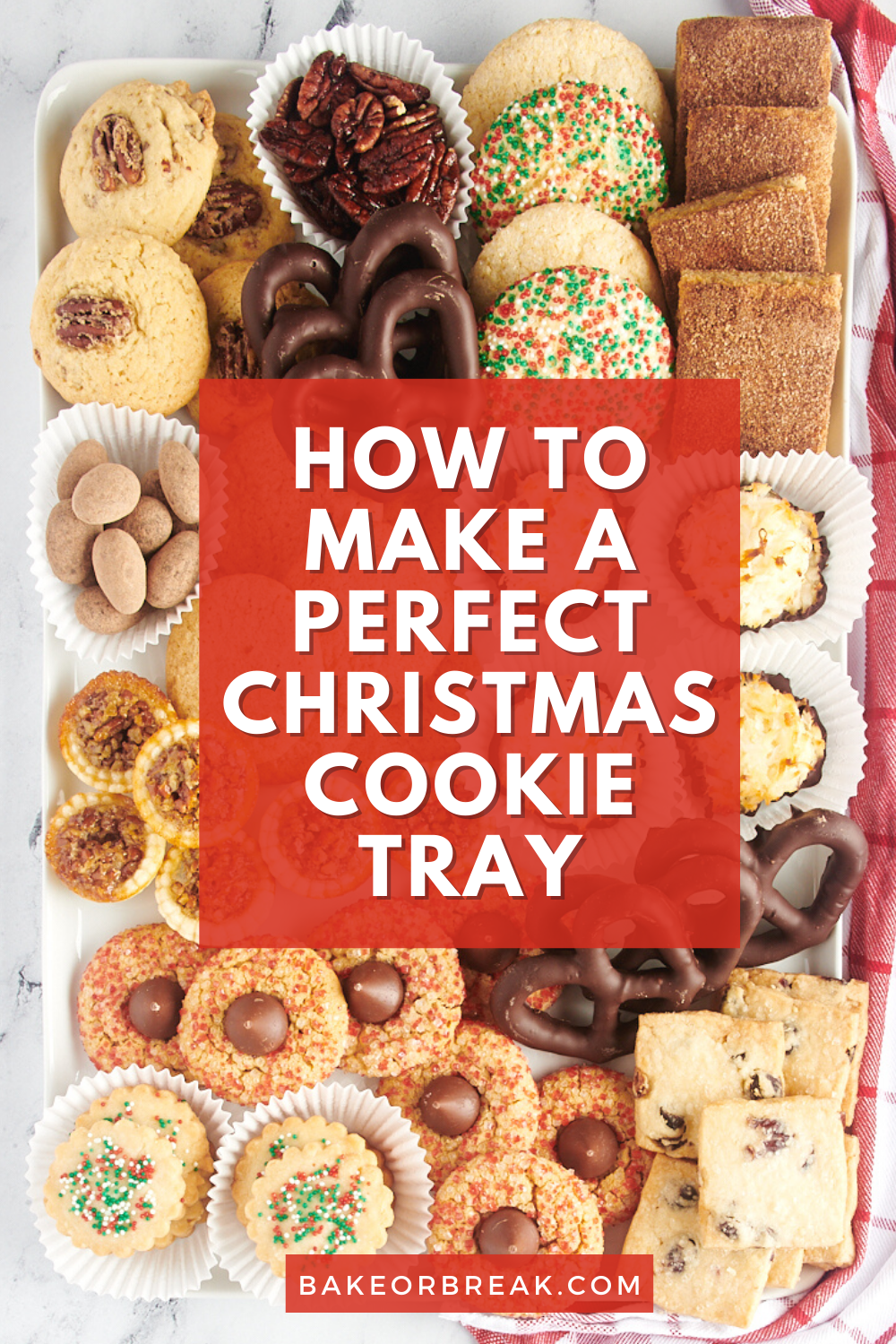 How to Make a Christmas Cookie Platter
One of the most beloved Christmas traditions is baking cookies! There's just something so festive and cozy about homemade cookies, and the best part is sharing them with family and friends.
Whether you're arranging homemade cookies on a big platter for guests or packaging cookies to give as gifts, I've got some tips to help you put everything together!
Packaging Ideas
Have fun finding ways to serve and package your Christmas cookies! Check your local dollar store for some fun options that won't break the bank. Craft stores are a good source of packaging, too. Check Container Store, Home Goods, and big box stores, too.
Wrap up your cookies and add some pretty ribbon. For a little something extra, include some seasonal napkins for your recipients to use while enjoying your cookies!
You can find some of my favorite packaging for homemade treats in my Amazon storefront. I've found some adorable boxes, tins, ribbons, and more for making beautiful packages!
Small plates or trays – Arrange cookies on a pretty Christmas-themed plate or tray, and it becomes part of your gift! If you want to go the paper plate route, be sure they're sturdy so they'll hold up to being piled with cookies. Wrap the plate well in plastic wrap or cellophane, and add some festive ribbon.
Cookie tin – Metal cookie tins are a great way to package cookies! Line them with pretty food-safe paper, and then fill with cookies. And they're reusable, too!
Bakery boxes – These thin cardboard boxes are usually sold in multiples, making them great for packing and gifting lots of cookies. You can get plain ones that you can decorate yourself, or look for boxes with a holiday design.
Gift bags – Wrap each type of cookie in plastic wrap or cellophane, tie with festive ribbon, and place inside a holiday gift bag.
Wooden craft box – If you're crafty, you can turn these simple boxes into a beautiful cookie box. Use food-safe materials to finish and paint, stencil, or otherwise decorate the outside. Line with food-safe wax paper or parchment paper.
Sturdy box – A thick cardboard box works, too. Sturdy gift boxes are a good choice. Be sure to line with food-safe wax paper or parchment paper. Plain ones can be dressed up with ribbon and other holiday decor. Add dividers if you like, or just fill it up!
Cookie jar – Wrapped cookies inside a pretty cookie jar make a lovely gift!
Coffee mugs – If you're keeping things small, then some wrapped cookies inside coffee mugs make very sweet gifts.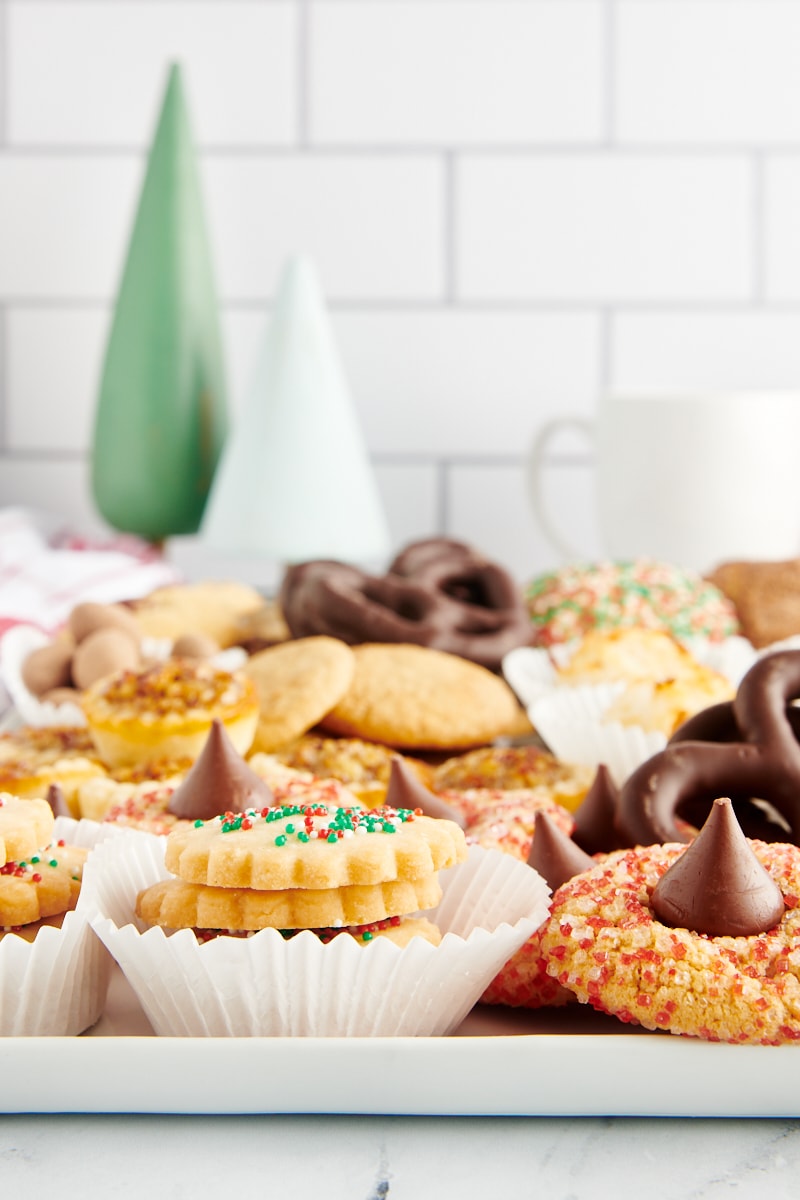 Tips for Making a Christmas Cookie Tray
Baking and gifting homemade cookies for Christmas is so much fun, but it's also a lot of work. Here are some tips for making your cookie baking efficient and stress-free!
Make a plan
Before you preheat the oven, take the time to plan the cookies you want to bake. Make a list and then hone it down to be both manageable and delicious! Look for any ways to make your time and ingredients efficient. After you've got your final list made, then gather the recipes, and make a list of the ingredients you'll need. Don't forget to check that you also have all the tools you'll need like cookie scoops, cookie cutters, and parchment paper.
Just as important, plan when you'll do your baking in relation to when you'll be sharing your cookies. You may want to block a full day to dedicate to baking or spread it out over a longer period of time.
Make in advance
Many cookie doughs and cookies can be made in advance. Some doughs will keep for a few days in the refrigerator, while others lend themselves well to being frozen. (See How to Freeze Cookie Dough)
Many baked cookies can be frozen as well. Check your recipes for tips for freezing the finished cookies or the unbaked dough.
Include a variety of flavors
Make sure there are different flavors so there's something for everyone. I usually make sure there's at least some chocolate and a simple sugar cookie. After that, you can add peanut butter, citrus, spices, mint, fruits, or any other flavors you like!
Include a variety of shapes
For visual appeal, go with different shaped cookies. There are the usual round cookies, but don't forget about bars, cutouts, and shaped cookies, too. For bars, try M&M Sugar Cookie Bars, Toffee Squares, and Loaded Chocolate Chip Cookie Bars. Cutout cookies like Cranberry Shortbread, Zimtsterne, and Linzer Cookies are perfect for the holidays. Danish Butter Cookies, Rugelach, and Palmiers are some of my favorite shaped cookie options for holiday baking.
Include favorites, but…
Classic crowd-pleasers like chocolate chip cookies and snickerdoodles are always great, but consider including some special cookies that you wouldn't normally make throughout the year. Cranberry Pistachio Cookies, Spiced Snowdrop Cookies, and Hazelnut Crescent Cookies are a few of the cookies that I usually make just at Christmastime.
Think beyond cookies
Brownies, bars, mini pies, bark, sweet snack mixes, candies, fudge, and candied nuts are all great additions to your Christmas cookie trays! Try M&M Brownie Bites, Mini Pecan Pies, Vunderbars, Butter Pecan Turtle Bars, and Glazed Pecans.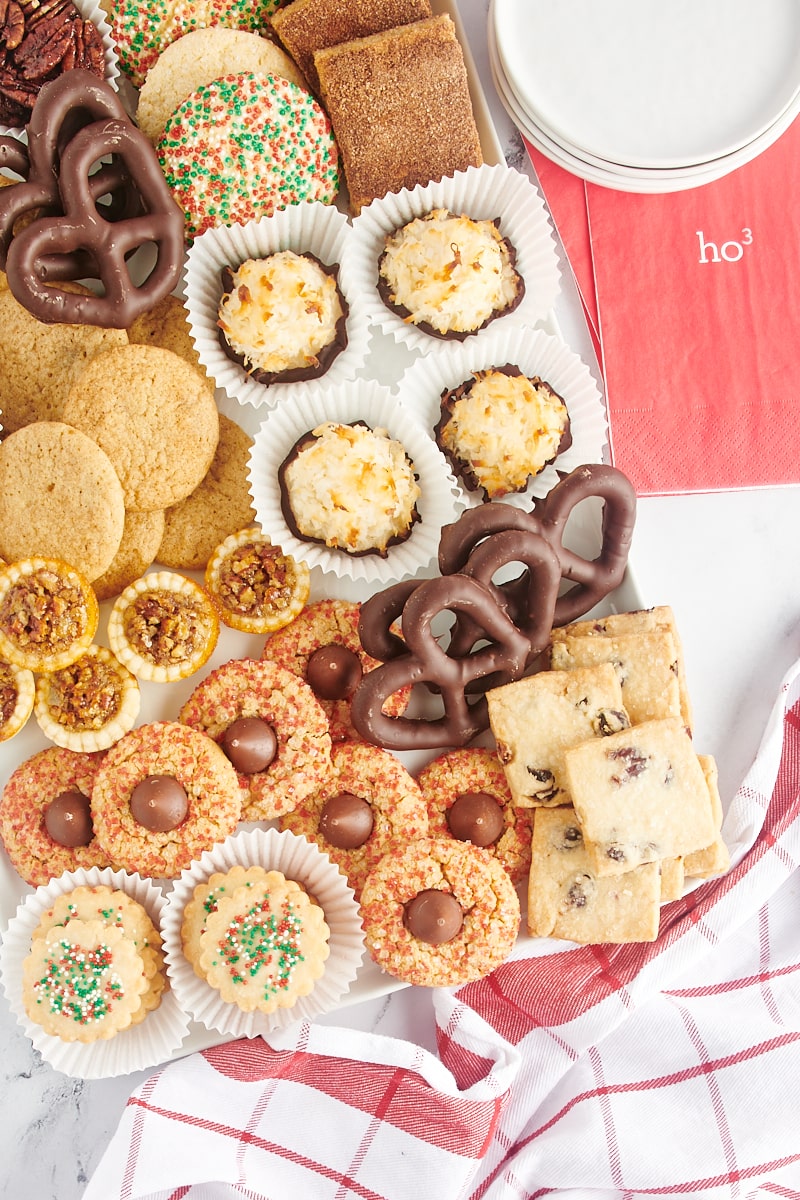 Fill in the gaps
It can be a bit daunting to try to make enough cookies to fill multiple gifts or an extra large cookie tray. Add some simple store-bought treats to fill out your offerings. Some of my favorites are chocolate-covered pretzels, candied nuts, cocoa almonds, fancy caramels, and chocolate-covered graham crackers.
Be thoughtful
This covers a lot of ground, but there are some things to consider before serving or gifting your cookies. For gifting, think about storage and don't include cookies with different storage requirements. Generally, I recommend sharing cookies that can all be stored at room temperature. If you do share something that should be refrigerated, be sure to let the recipient know.
If you're aware of food allergies or medical conditions that restrict some foods, be very sure that what you're sharing is appropriate. Check first if you're not completely sure.
Also consider how many people you're serving and who those people are. Giving cookies to a family of six is different than gifting for an empty-nest couple.
Think about aesthetics
As a general rule, I recommend going with smaller cookies versus giant ones. Extra big cookies certainly have their place, but providing several smaller cookies instead of a couple of large cookies will work better in most circumstances.
Also, you may be able to identify each type of cookie immediately, but your recipients likely won't. Try to make them easily identifiable or include a list of the cookies.
Use extra separation when needed
Messier cookies like ones coated in confectioners' sugar or dipped in chocolate will benefit from being separated from the other cookies. Simply placing them in a muffin liner is often sufficient.
That's also useful for preventing flavors from encroaching on each other. You don't want your peanut butter cookies to taste like those peppermint cookies next to them.
Include a list
I mentioned this above, but including a list of the cookies you're sharing is a great idea. It will not only provide an easy reference for the kinds of cookies, but it can also include any other information that you feel is useful. A simple list will often suffice, but be more descriptive when necessary.
A simple handwritten list is all you need, especially if you have pretty handwriting. Draw a few Christmas doodles to add some holiday flair. For something a little fancier, use a free service like Canva or PicMonkey to make a pretty list you can print. Search for "Christmas menu" or "Christmas cookies" for some templates or make your own!
I'm certainly not a graphic designer, but here's one I made based on an existing template at Canva. If you'd like to use this template, you can click here to get started. Just edit to add your cookie list!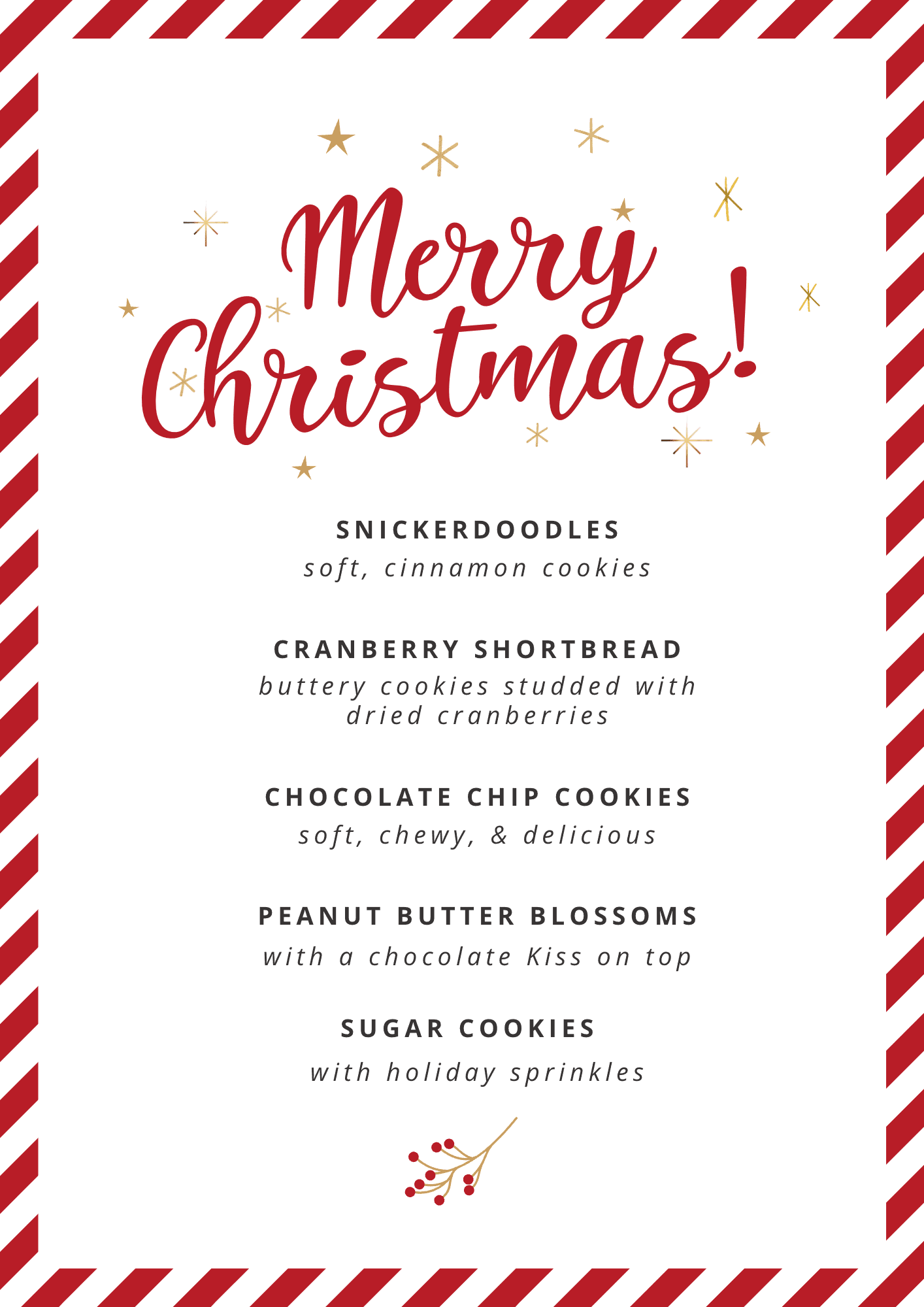 Assemble just before sharing
If possible, put together your Christmas cookie tray or gifts just before you'll share them. That will keep the cookies as fresh as possible.
For a cookie tray you're setting out for a party, have your cookies ready in their containers so you can just grab them and arrange them on the tray. Keep any remaining cookies in the kitchen so you can refill as needed.
For making cookie trays for gifting, set up an assembly line to put things together quickly and efficiently.
How Many Cookies Should I Put on a Cookie Tray?
When you're planning your Christmas cookie trays, how many different kinds of cookies you make is up to you. If you want to make half a dozen different kinds, that's great. If you want to make a single kind to package for gifts, that's perfectly fine, too.
In most cases, you'll want to make a variety. I recommend aiming for 3 or 4 varieties at a minimum, but don't go overboard. Too much variety can be overwhelming for you as the baker as well as the recipient.
Determining how many cookies of each kind you should include can be affected by a few things. First of all, if you're making three kinds of cookies, then you'll need more of each per tray than if you made six kinds. Secondly, the size of the cookies matters, too, as smaller cookies won't take up as much space as larger ones.
Also consider the relative popularity of the cookies. If you have a go-to cookie that your family and friends devour every year, you may want to include a few more of those.
As for how many total cookies to include, that is relative to how many people will be eating the cookies. If you're hosting a holiday party and serving a cookie tray with a good amount of variety, count on 3 or 4 cookies per guest. For gifting, scale the total number based on the size of the household.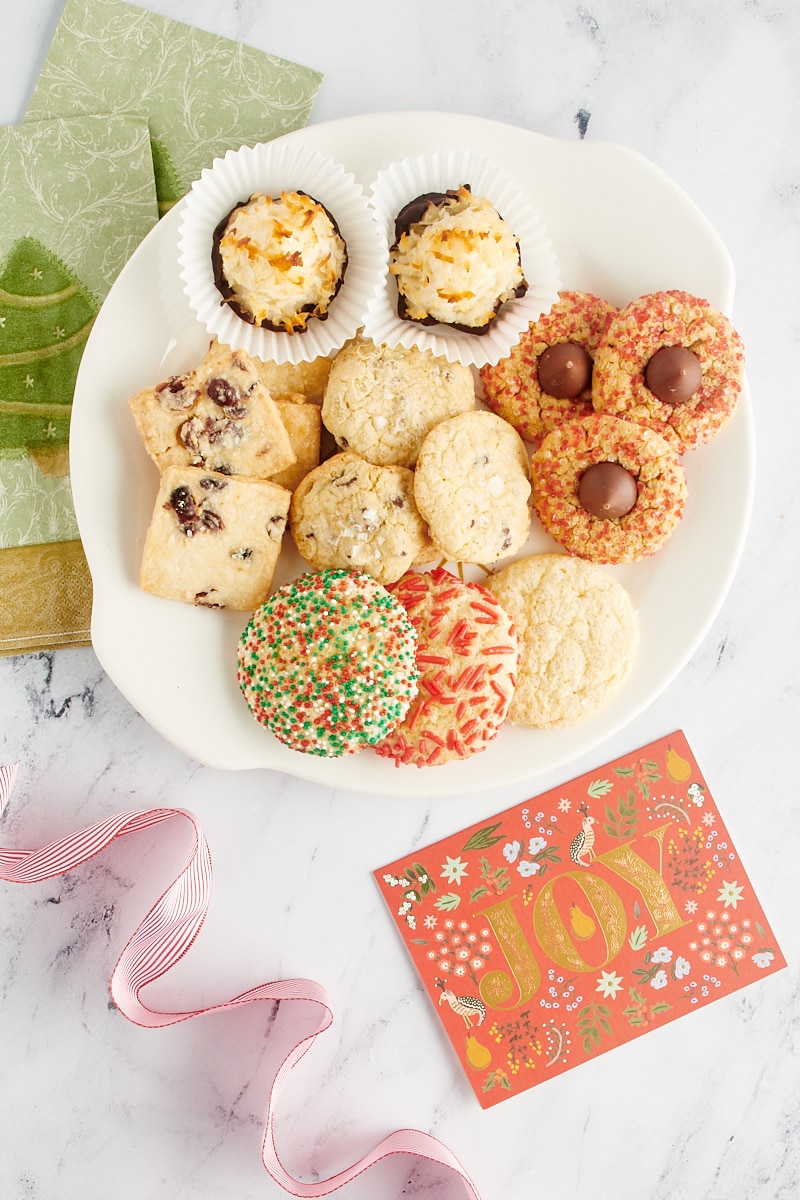 How to Arrange Christmas Cookies on a Tray
The secret to arranging cookies is that there really is no secret. Any way you want to arrange them will work and will be welcomed. Here are some general tips I keep in mind when making cookie trays.
Cover as much space as you can. If you don't have quite enough cookies, fill in any gaps with small treats. (See my ideas above for what to use to fill in those gaps.)
Avoid flat displays. Stagger like cookies so that they overlap. Stack some partially on top of others. They'll create a nice texture and show off your pretty cookies!
Separate strong flavors. To keep stronger flavors from attaching to other cookies, use something to separate them. Simple muffin liners are an easy solution.
Add visual variation. Stack some cookies, layer others, and place some in cupcake liners.
Start in a corner or the center. This may not work for everyone, but it works well for me. For square or rectangular trays, I start in a corner and work my way around until it's filled. For a round tray, start in the center and then work out from there.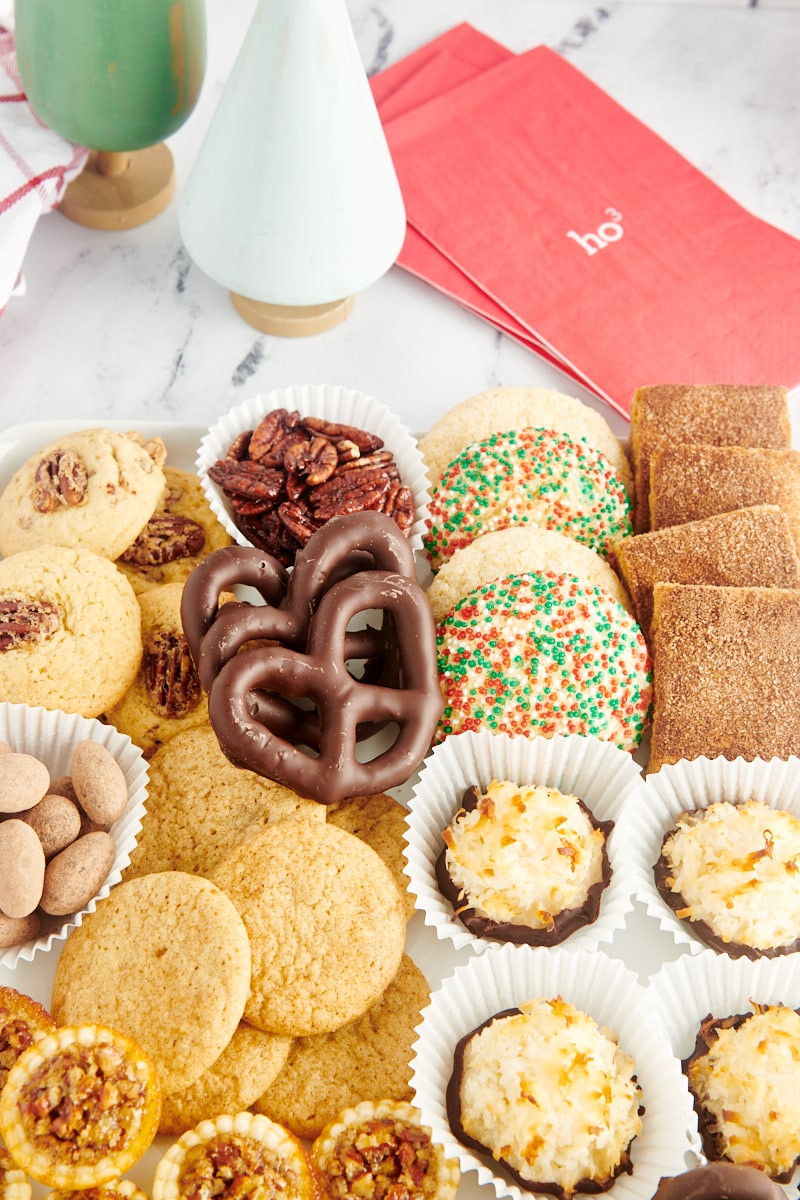 What Cookies Should I Include?
That's up to you! As I said above, aim for some variety with a good mixture of classics and special treats. Try to make easily distinguishable cookies so that it's clear what's what. A mixture of flavors and shapes is ideal.
You can tweak and refine your list until it's perfect, or you can go with tried and true favorites. There's no wrong answer here!
I've got a big collection of favorite cookies to make for Christmas. You'll find all kinds of great cookies there to inspire your cookie baking!
Here are the cookies pictured on these Christmas cookie trays: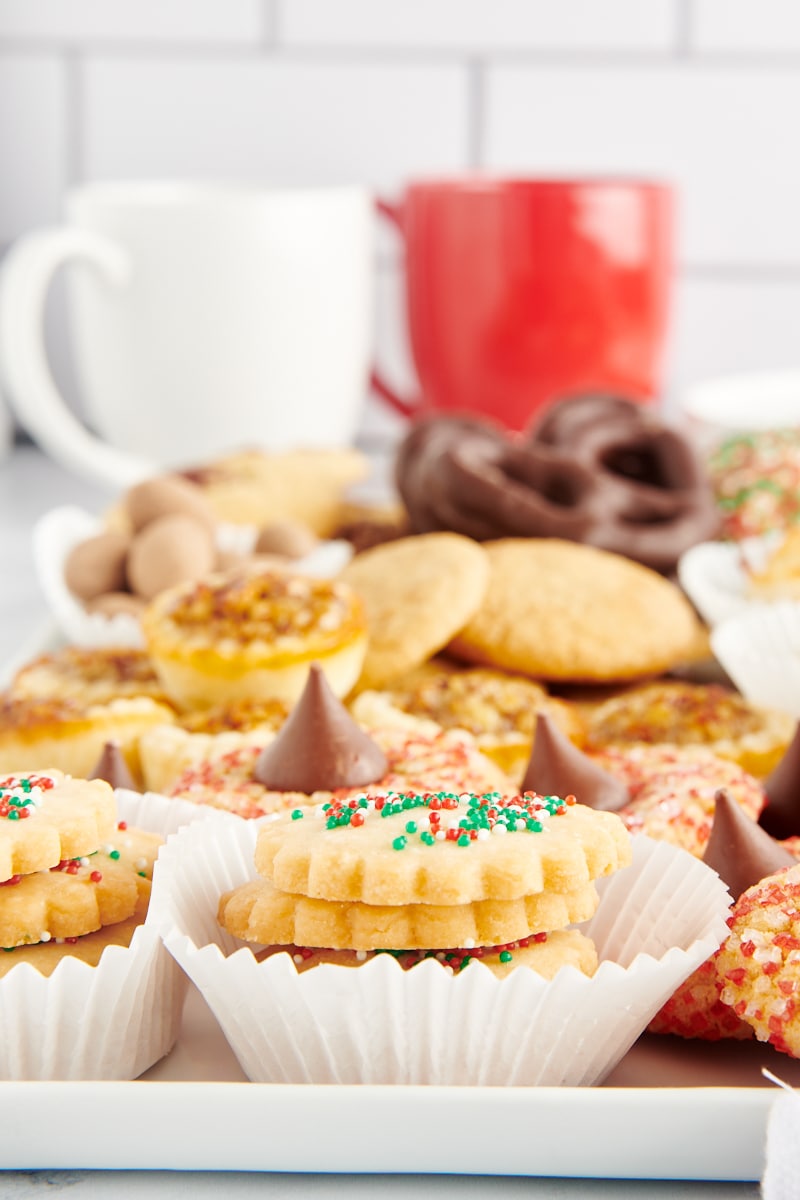 Bake or Break is a participant in the Amazon Services LLC Associates Program, an affiliate advertising program designed to provide a means for us to earn fees by linking to Amazon.com and affiliated sites.