These soft Christmas M&M Cookies are a perfect addition to your holiday baking! Loaded with candies in holiday colors, these festive cookies are sure to be a hit!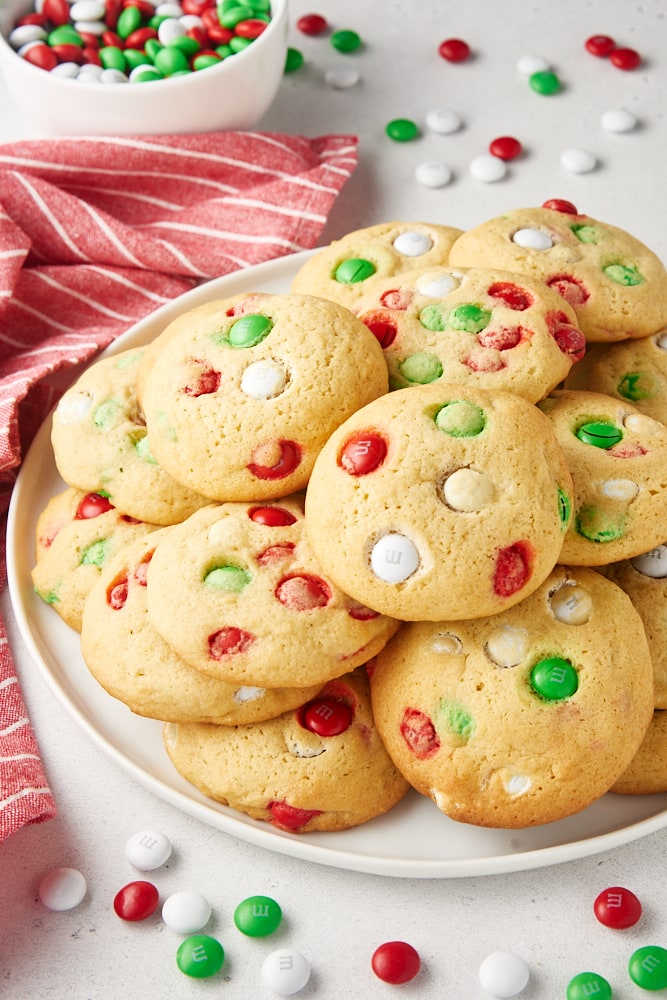 Soft Christmas M&M Cookies
How much more festive can Christmas cookies get, speckled with red, green, and white? That's what I thought, too, when I first made this recipe. These simple, soft cookies are sure to light up the faces of everyone you share them with during the holidays!

These Christmas M&M Cookies have a wonderful cake-like texture to contrast with that bit of crunch from the candies. The brown sugar makes them soft, and the vanilla gives them a lovely flavor to complement the M&Ms. (If you're looking for a thinner, chewier version, try these Big Chewy M&M Cookies.)
Best of all, you'll find that they're very quick and easy to make with basic baking ingredients. Just grab some colorful candies and get baking!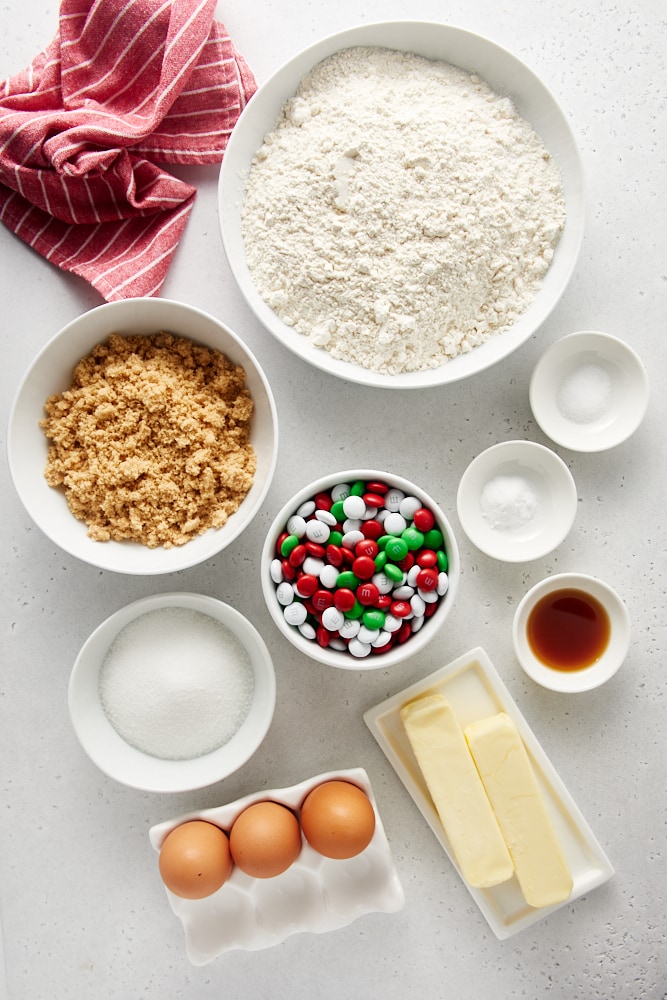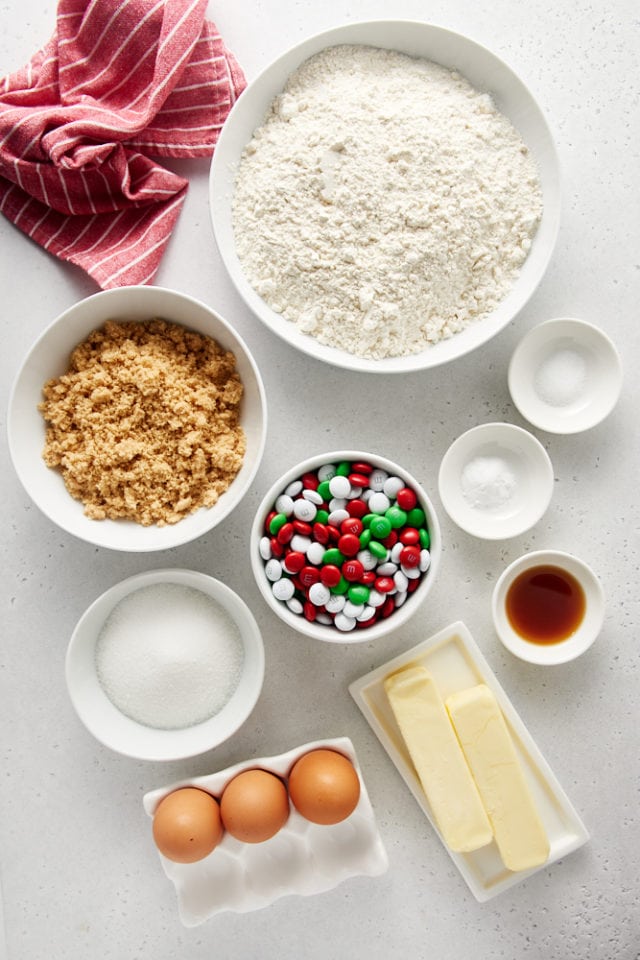 What You'll Need
Just the basics here! The addition of colorful candies is all you need to turn simple vanilla cookies into a holiday favorite!
Unsalted butter – Set out the butter about half an hour before baking to allow it to soften properly. (Learn more: How to Soften Butter)
Brown sugar – I recommend light brown sugar, as dark might overwhelm the simple flavor of the cookies. If the brown sugar in your pantry has hardened, see How to Soften Brown Sugar for some easy ways to fix it.
Granulated sugar
Baking soda
Salt
Eggs – Set these out when you set out the butter so that they'll be at room temperature for easier mixing.
Vanilla extract – Other than the candies, this is the primary flavor here, so use a good one!
All-purpose flour – As always, measure by weight for best results. If you don't have a kitchen scale, then spoon and sweep.
M&Ms – I use red, green, and white M&Ms for a Christmas look, but you can easily change the colors for any occasion.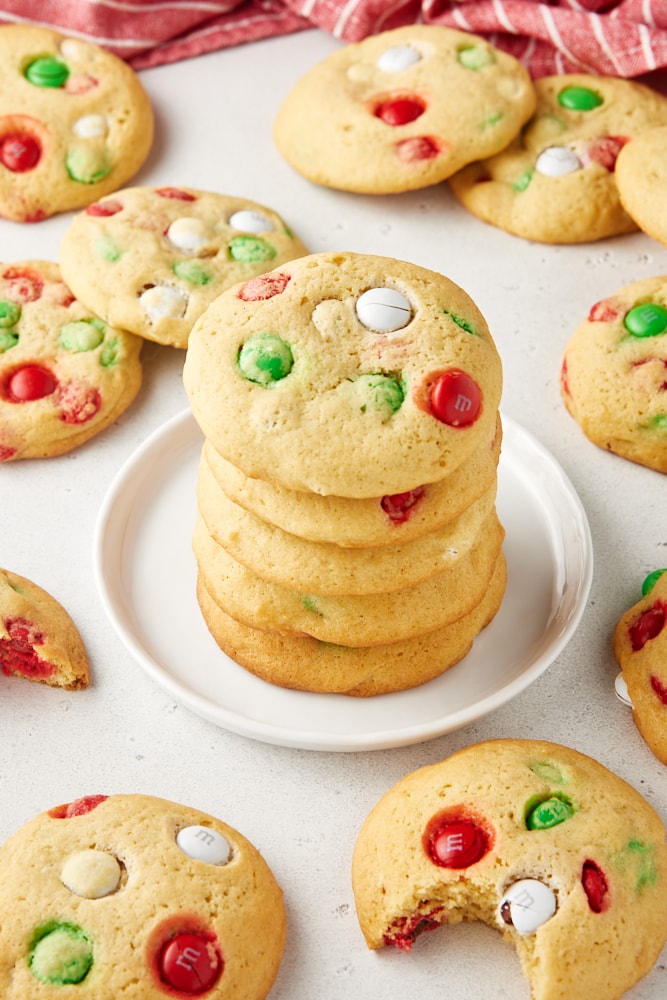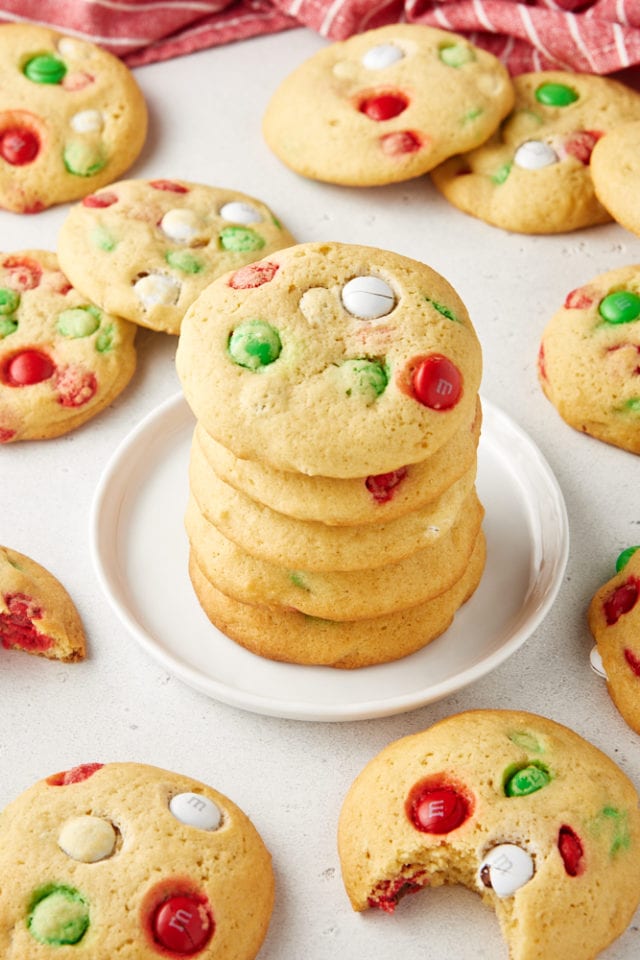 How to Make Christmas M&M Cookies
This is one of those magical recipes that you can have mixed and in the oven in short order! Perfect for the busy holiday season!
Prepare for baking. Heat the oven to 375°F. Line baking sheets with parchment paper or silicone liners.
Combine the dry ingredients. Whisk together the flour, baking soda, and salt.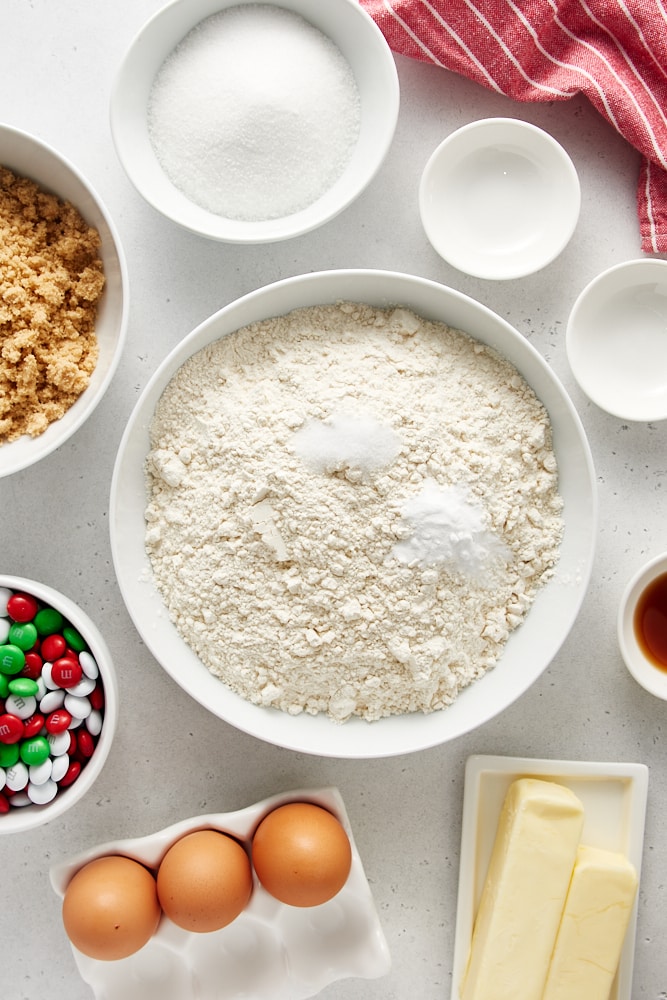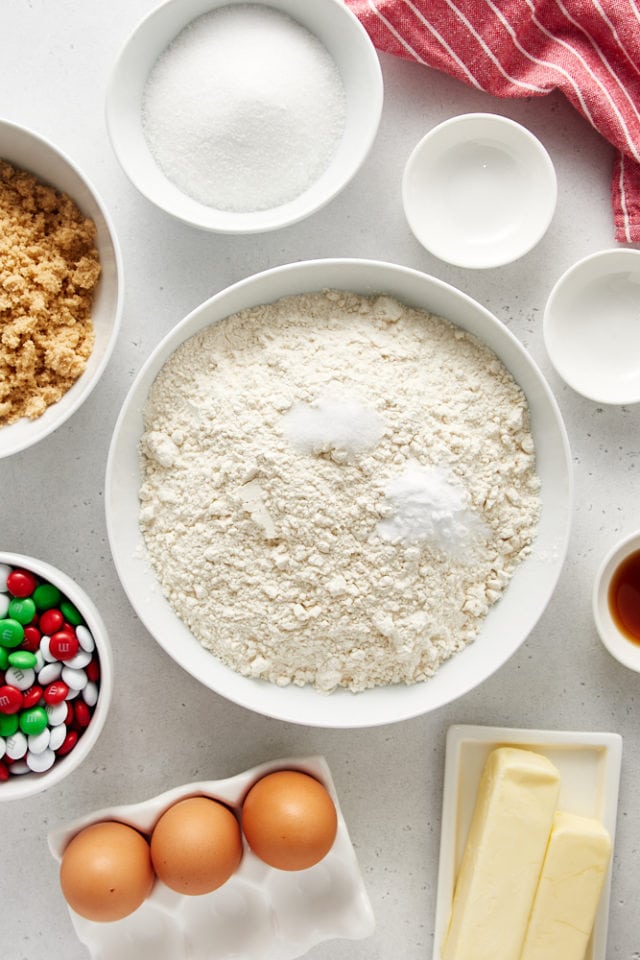 Combine the wet ingredients. With an electric hand mixer or stand mixer, beat the butter until smooth. Add the brown sugar and the granulated sugar, and mix until the mixture is lightened and fluffy. Add the eggs, one at a time, and mix well after adding each. Mix in the vanilla.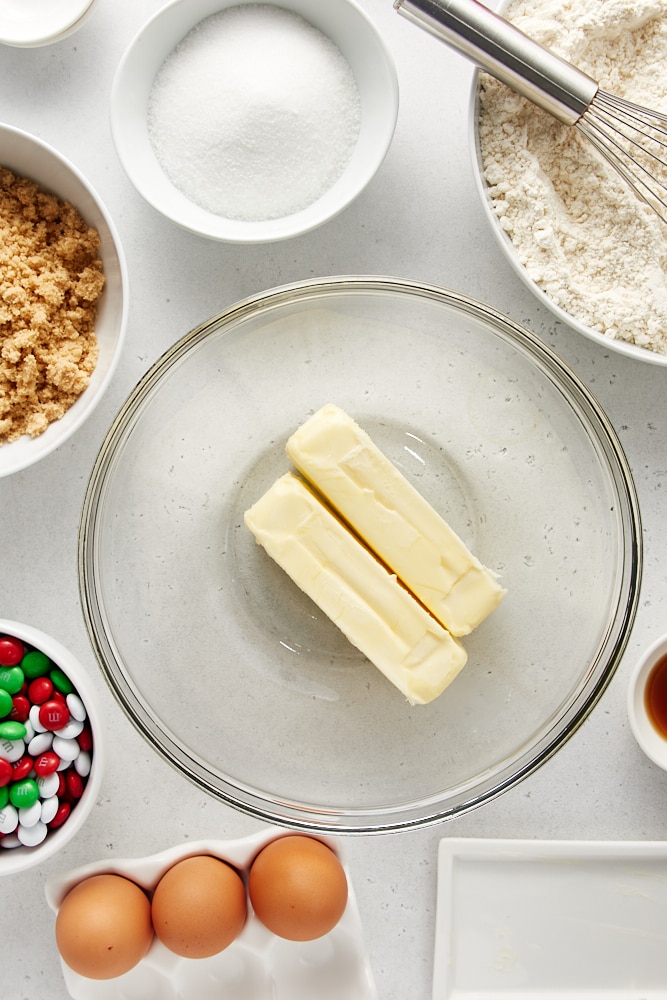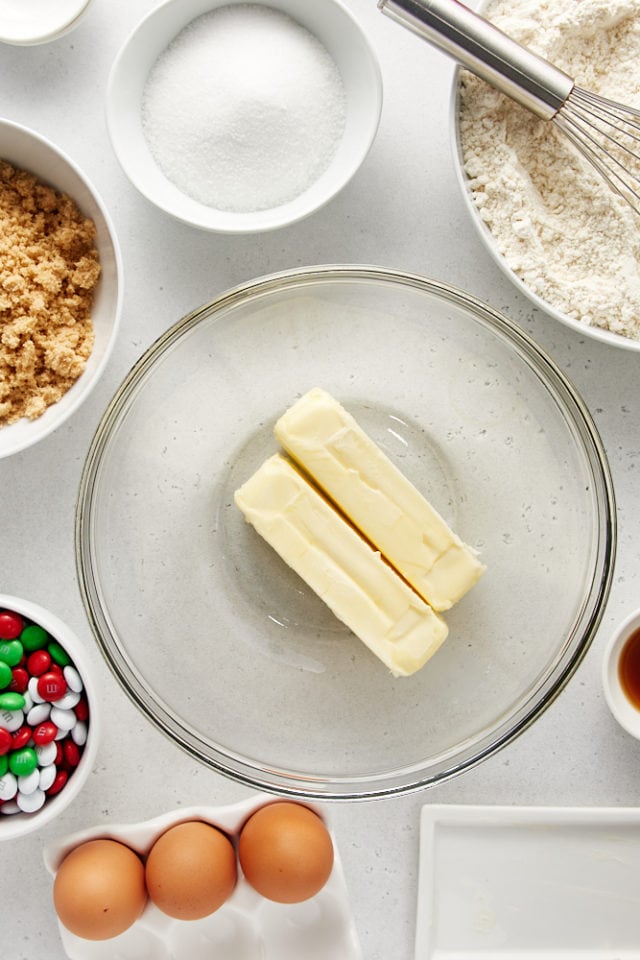 Add the dry ingredients to the wet ingredients. With the mixer speed on low, gradually add the flour mixture. Don't over-mix; mix just until combined or a few streaks of flour remain.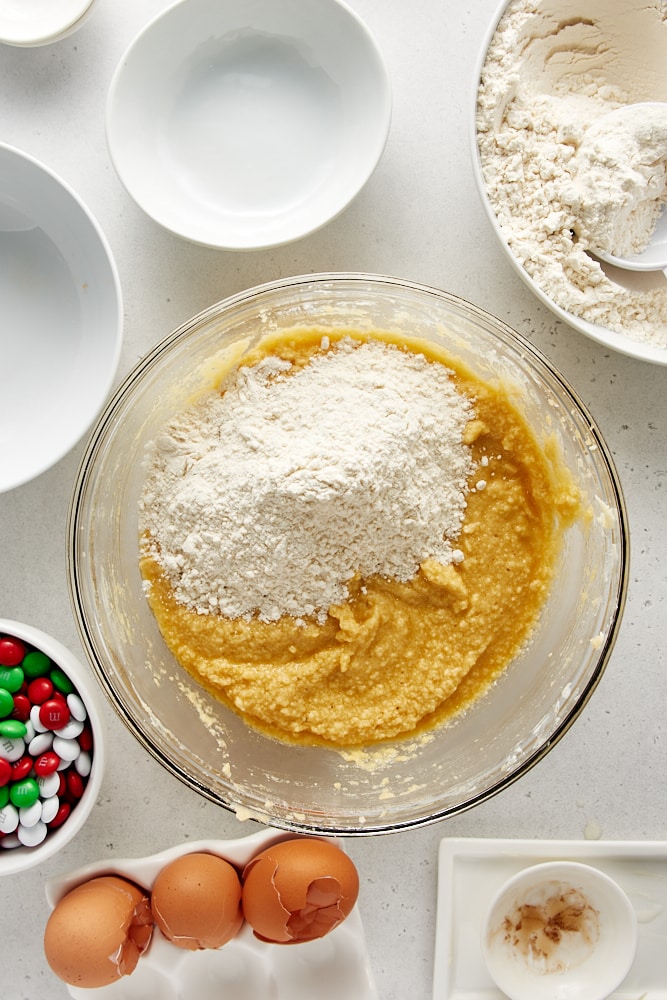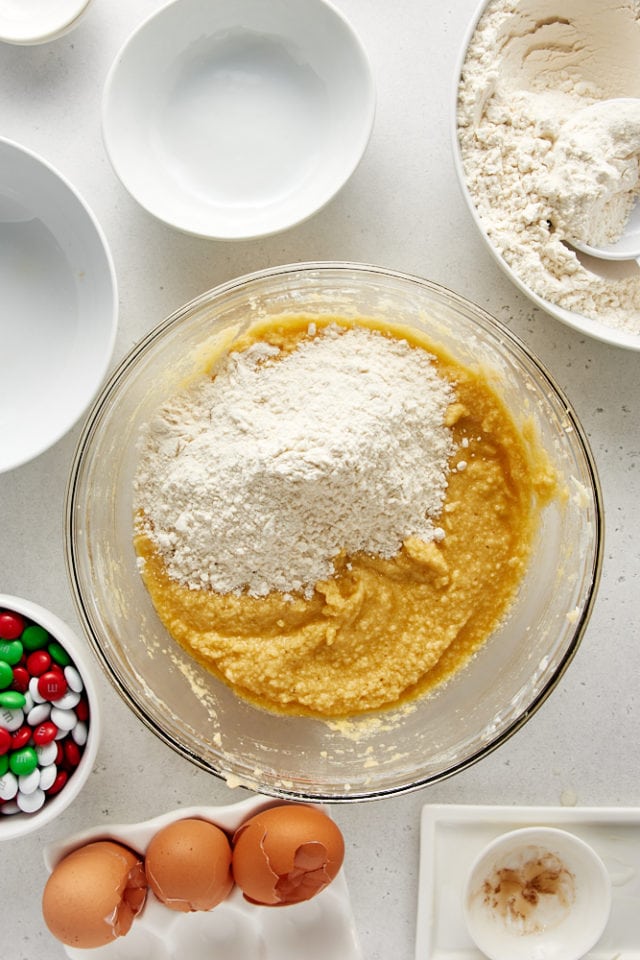 Add the M&Ms. Gently stir in the candies until they're well-distributed. If you like, save a handful of candies to press gently on top of the portioned dough for more visual appeal.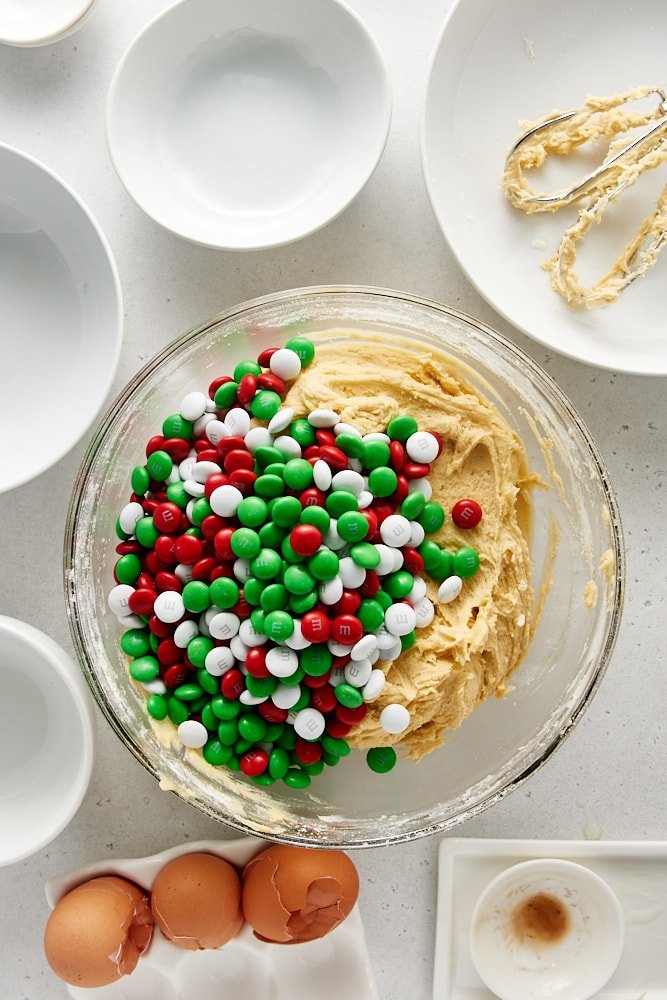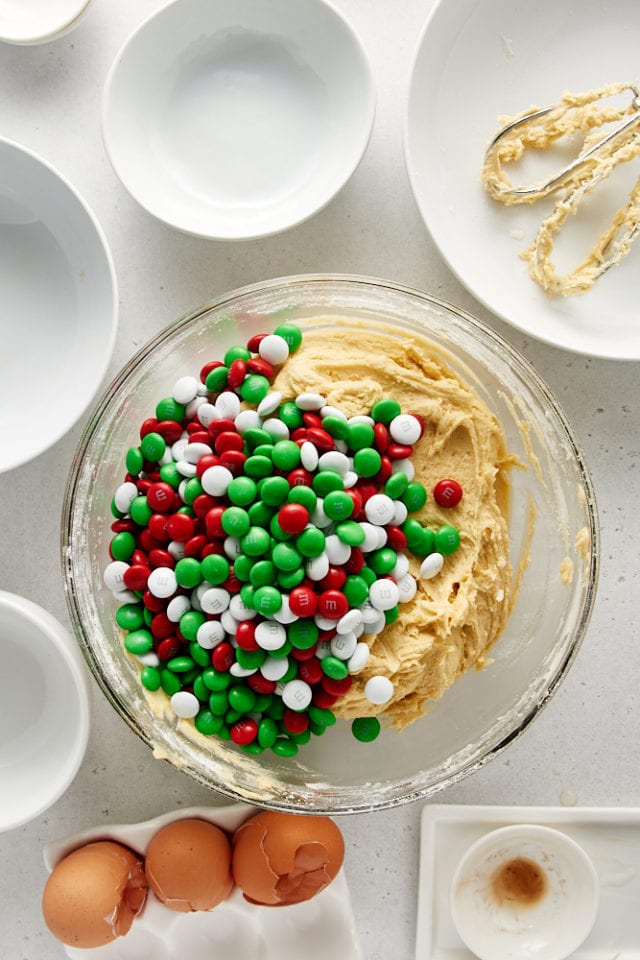 Portion the dough. Drop the dough by 3-tablespoon portions onto the prepared pans, leaving about 3 inches between them. I recommend using a cookie scoop for faster, more accurate portioning.
Bake. One pan at a time, bake the cookies 10 to 12 minutes or until the edges are browned and the cookies are golden.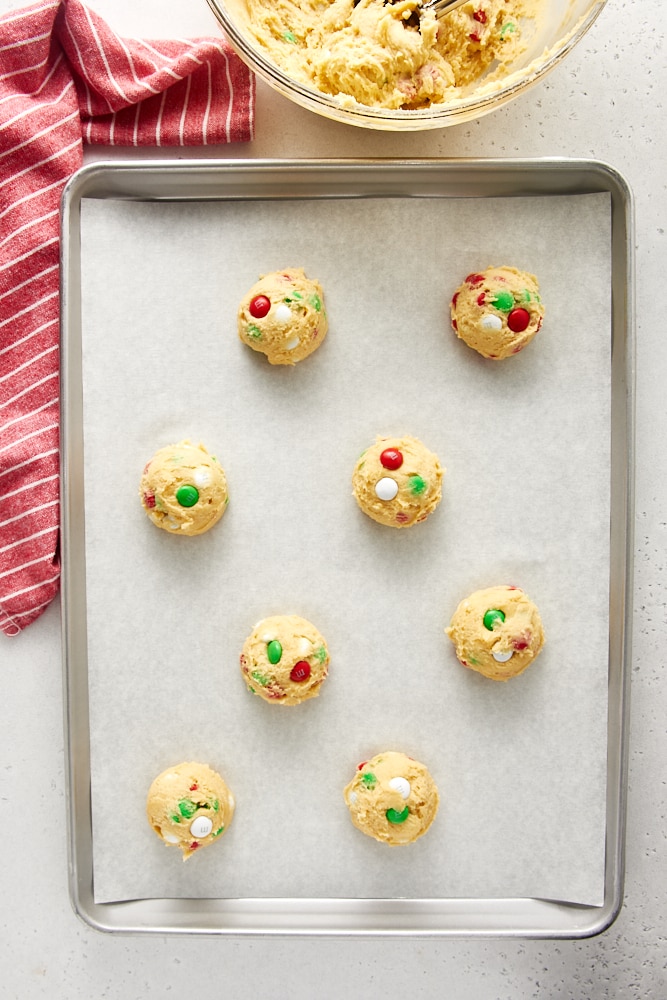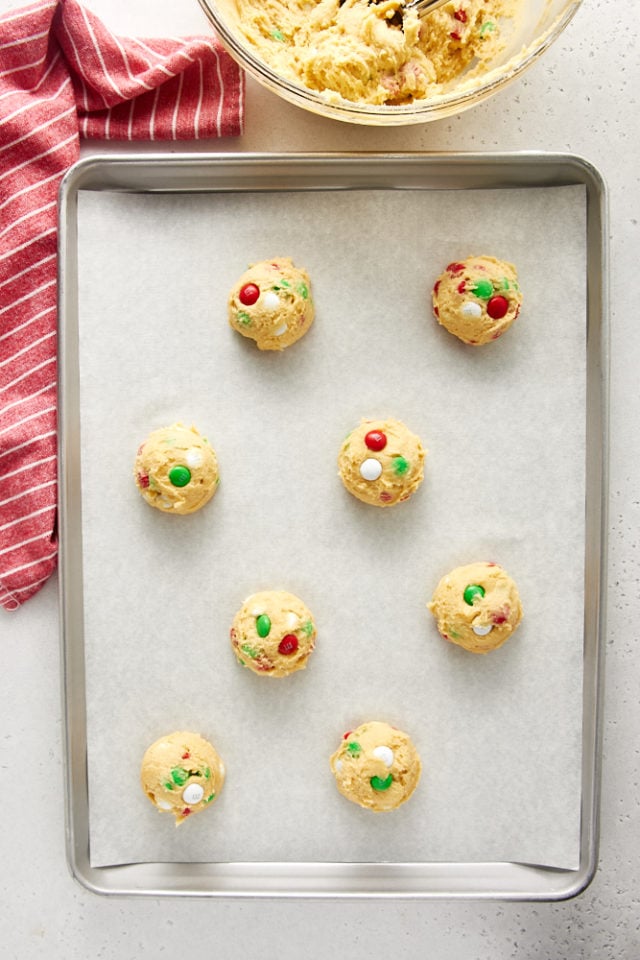 Cool the cookies. Place the pans on wire racks and allow to cool for 5 minutes. Then transfer the cookies from the pan to a wire rack to cool completely.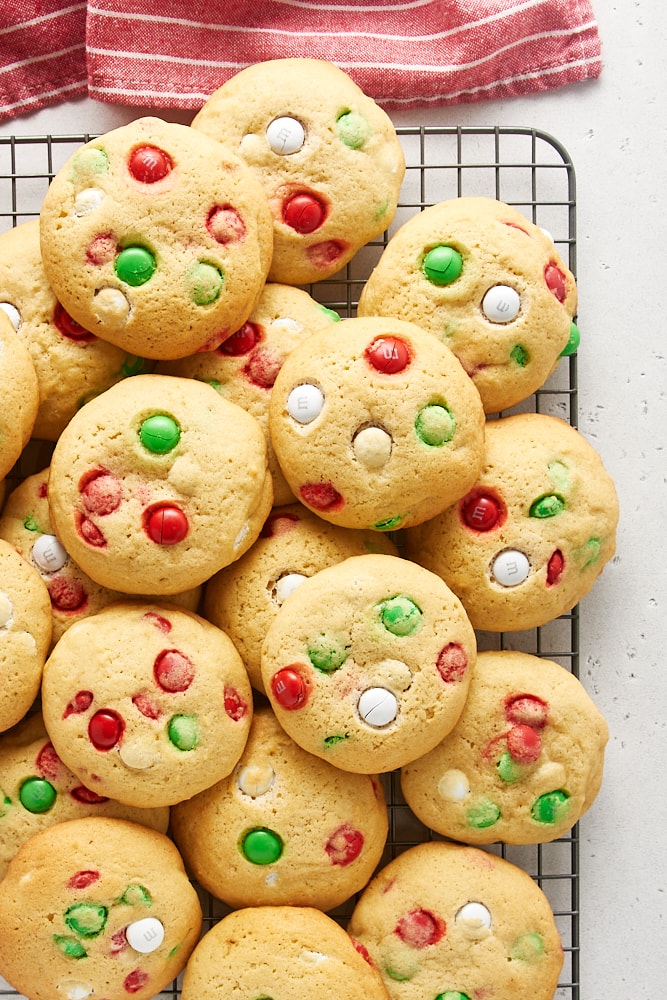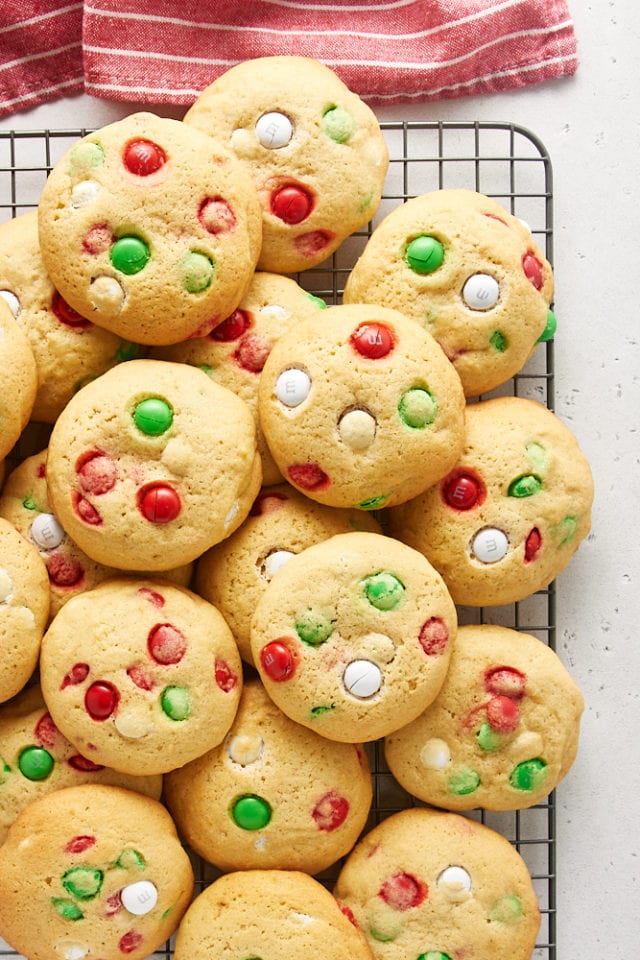 Tips for Success
Use light-colored baking sheets. Dark pans will usually over-bake the bottoms of the cookies.
Don't over-mix the dough. Too much mixing means tough cookies.
Make them your own! Change the colors of the candies to suit different occasions. Or add some chocolate chips or nuts in place of some of the candies.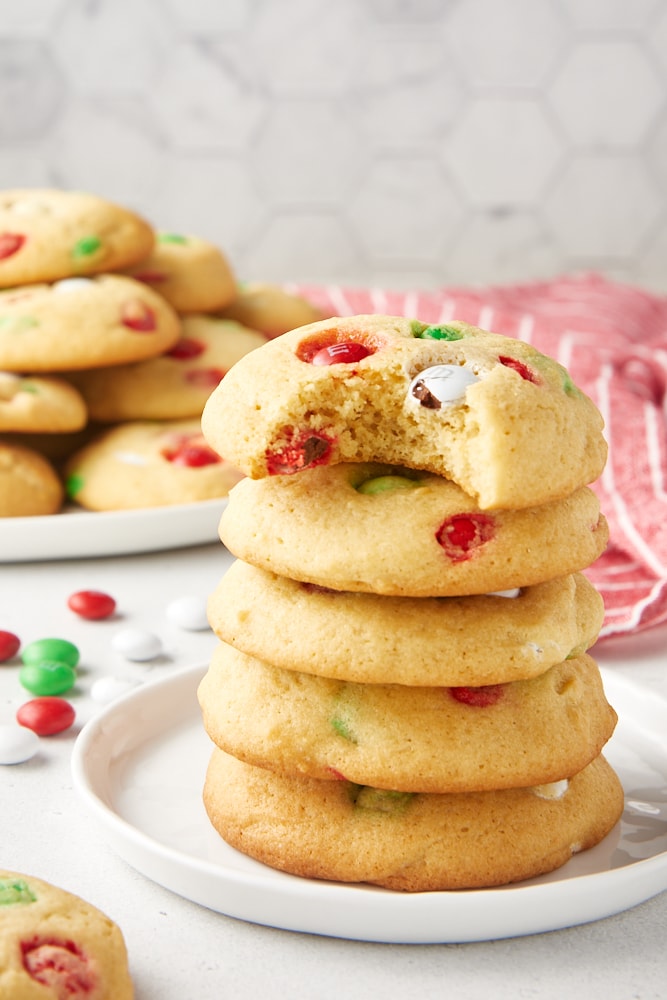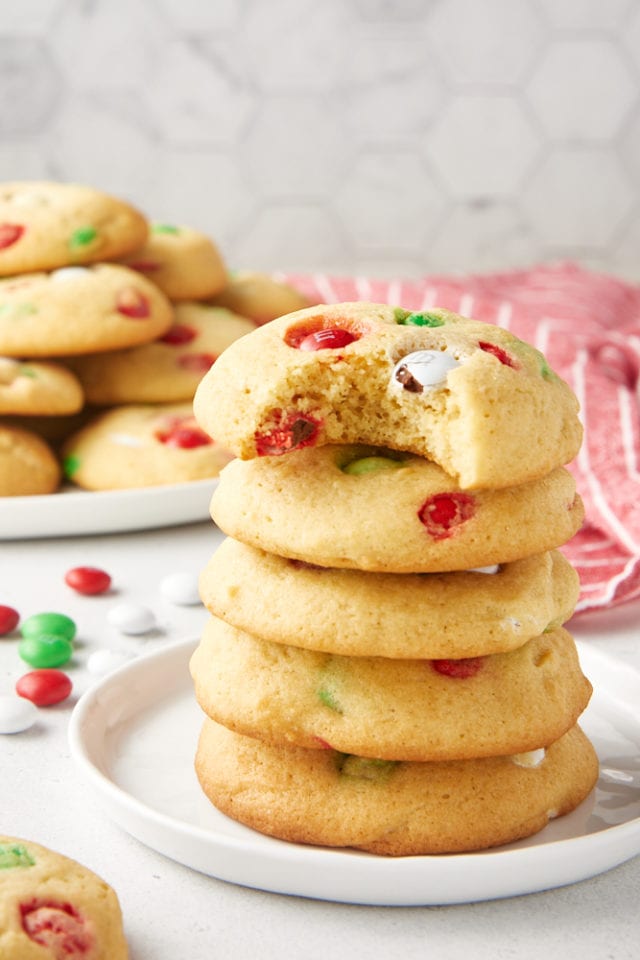 How to Store These Cookies
After the cookies have cooled completely, place them in an airtight container. To keep them looking their best, layer them between sheets of waxed paper or parchment paper. They should keep at room temperature up to 3 days.
Can These Cookies Be Frozen?
Sure! To freeze the baked cookies, place them between layers of waxed paper and put them in an airtight, freezer-safe container. Thaw overnight in the refrigerator or for an hour or so at room temperature.
To freeze the unbaked cookies, place the portioned cookies on a baking sheet and freeze until solid (an hour or two). Then transfer the frozen balls of dough to an airtight, freezer-safe container or bag. When you're ready to bake, just add an extra minute or two to the baking time.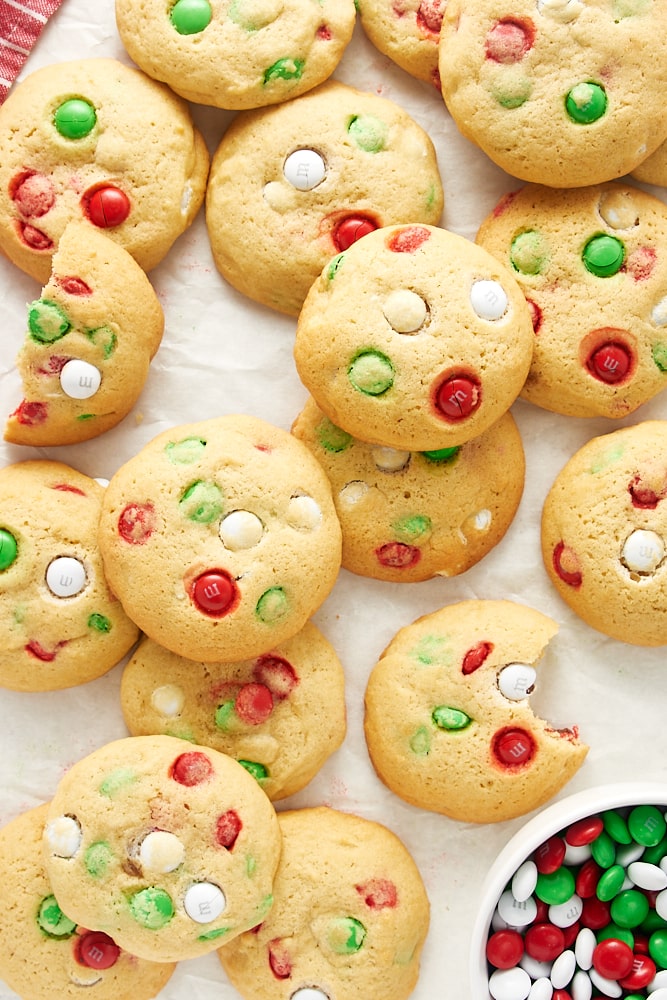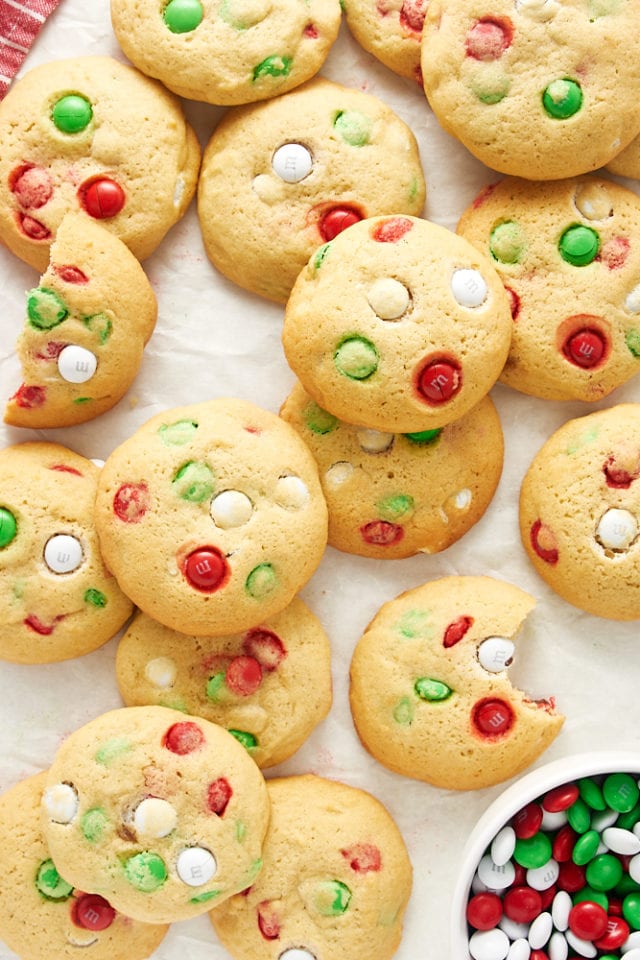 Updated December 2021