These quick and easy Coconut Macaroons are wonderfully delicious! You'll love their simplicity and adore the flavor of this simple homemade macaroons recipe.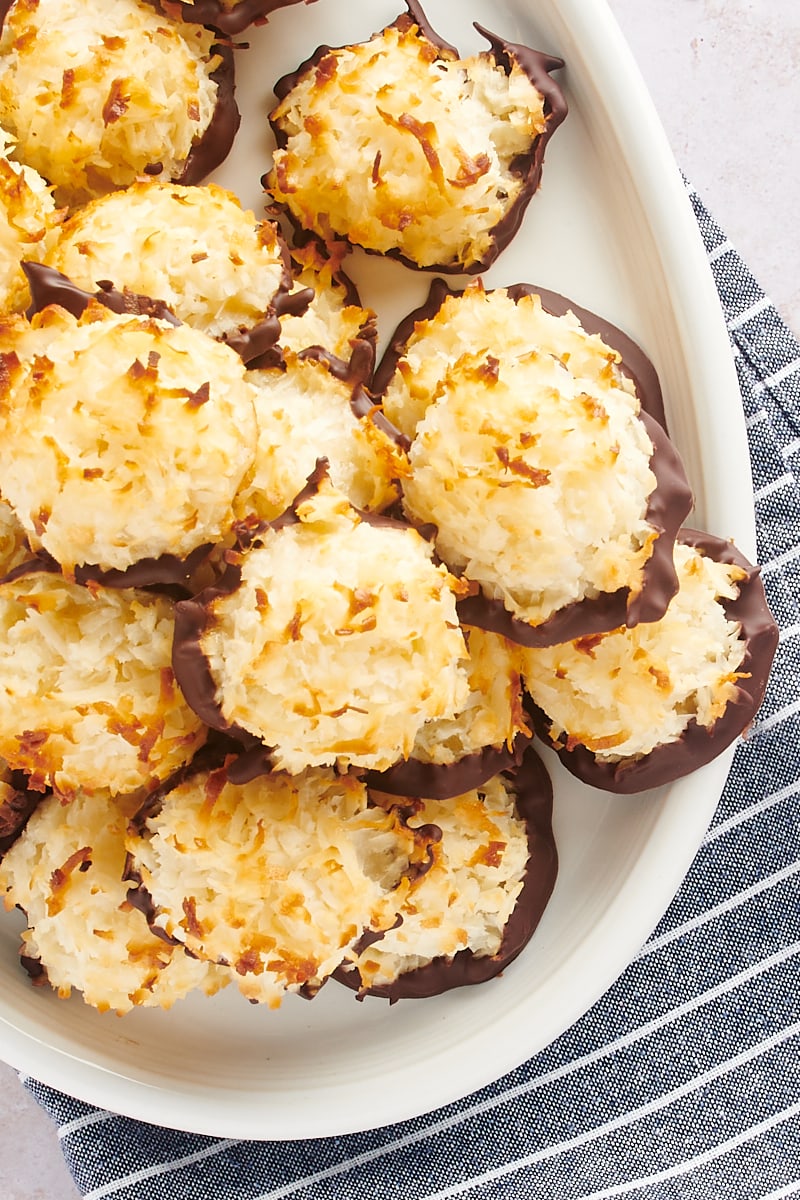 Homemade Coconut Macaroons
I'm so, so excited to share this recipe with you. I love coconut treats, and I can safely tell you that these are the very best coconut macaroons I've ever had. They're sweet and chewy and so flavorful. Seriously, these are incredibly good.
These macaroons are just delightful as they are, but I can't resist adding some chocolate. Simply dipping the cookies in a little melted chocolate really takes them up a few notches. You can't go wrong either way!
Why You'll Love this Recipe
An easy, one-bowl dessert. One of the best parts about this recipe? You don't have to whip the egg whites! I've seen (and made) so many recipes that include a step to whip the egg whites before mixing them into the batter. But I'm here to tell you that it's not necessary here and that they can simply be whisked together with the other wet ingredients. That makes this recipe a one-bowl wonder!
Fluffy and perfectly sweet. Another key to this coconut macaroon recipe is the amount of sweetened condensed milk. In the past, I've gone the customary route of a bag of coconut and a can of milk, but the end result was usually a bit too gooey for me. Here, we're using less condensed milk for a fluffier texture and a less sweet flavor.
Love coconut desserts? Try No-Bake Coconut Cheesecake, Macaroon Tart, and Coconut Cake, too!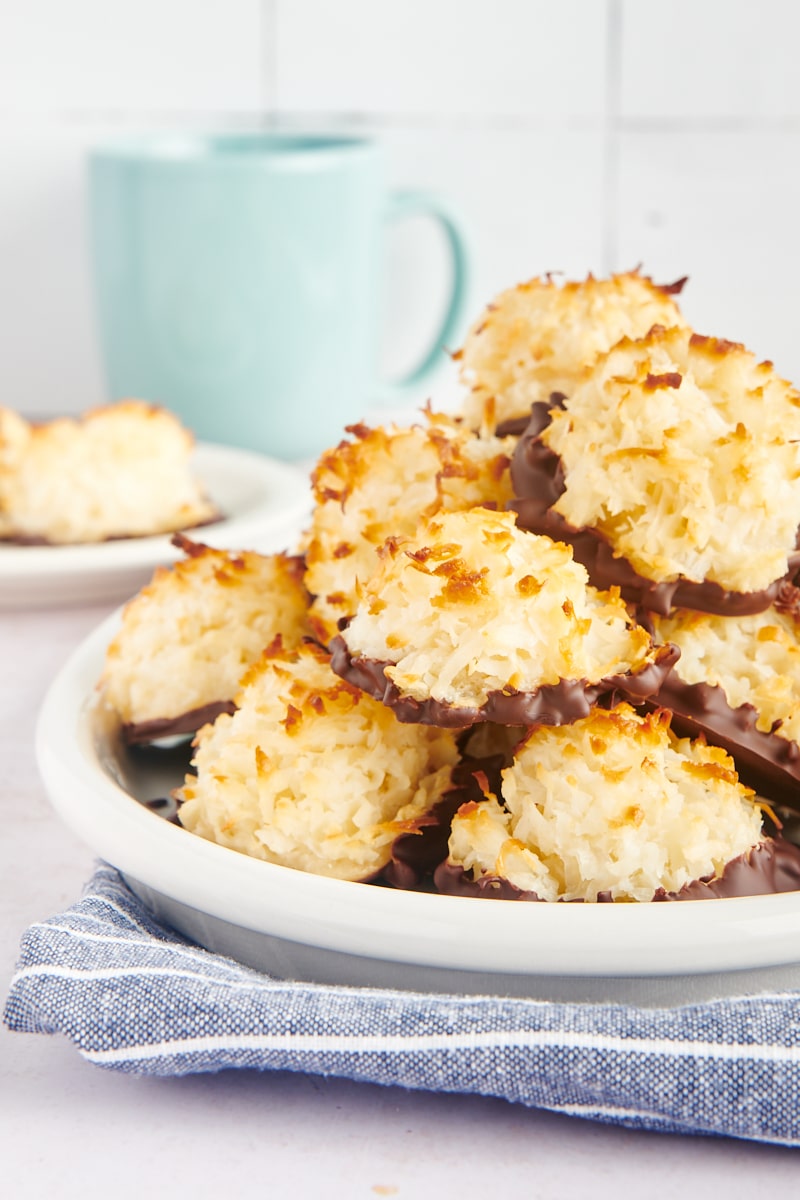 What's the Difference Between a Macaroon and a Macaron?
Macaroons and macarons have some similarities. Both are made with egg whites for a meringue-like cookie that's naturally gluten-free. Macarons (mack-uh-ROHNS) are made with ground almonds to make cookies in various flavors. The cookies are light and airy with an outer crunch and are sandwiched around a buttercream filling. Macaroons (mack-uh-ROONS) like these are mounded cookies made with coconut. They're denser and chewier than their single-O counterparts. They're also far easier to make!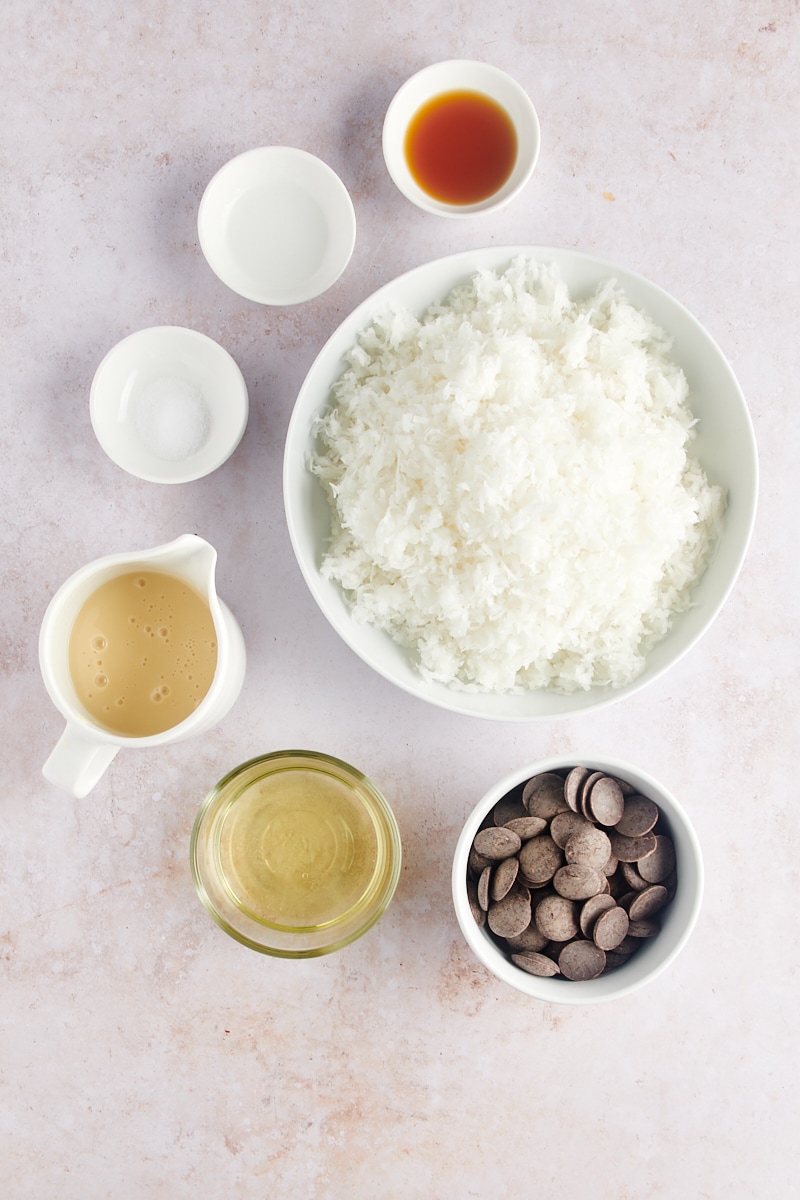 What You'll Need
You'll love this short list of simple ingredients! See the recipe card below for quantities and full instructions. Here are some notes about the ingredients you'll need to make Coconut Macaroons.
Sweetened condensed milk – This works perfectly here to add sweetness and to hold everything together. Look for cans of it on the baking aisle. Don't confuse this with evaporated milk, which is unsweetened and much thinner.
Egg whites – Eggs separate more easily when they're cold, but they'll mix better at room temperature. If you have the time, separate them first and let the whites sit at room temperature for a bit before mixing. I recommend baking with large eggs.
Vanilla extract
Almond extract – You can use all vanilla extract, but the bit of almond flavor works so well here.
Salt
Coconut – You'll need an entire 14-ounce package of sweetened shredded coconut (like Angel Flake).
Semisweet chocolate – This is optional for dipping or drizzling the cookies. I recommend using a good quality chocolate for melting. Chocolate discs or bar chocolate usually works well. Many brands of chocolate chips are designed to hold their shape through baking, so they don't melt very well.
Should I toast the coconut for macaroons?
I find that people usually have pretty strong opinions about whether or not coconut should be toasted for making macaroons. Personally, I don't toast the coconut first. The coconut will get nicely toasted while the cookies bake, and that's enough for me.
If you want more toasted flavor, then you can certainly toast the coconut beforehand. I recommend going for a light toasting because of the extra browning that will happen as the macaroons bake.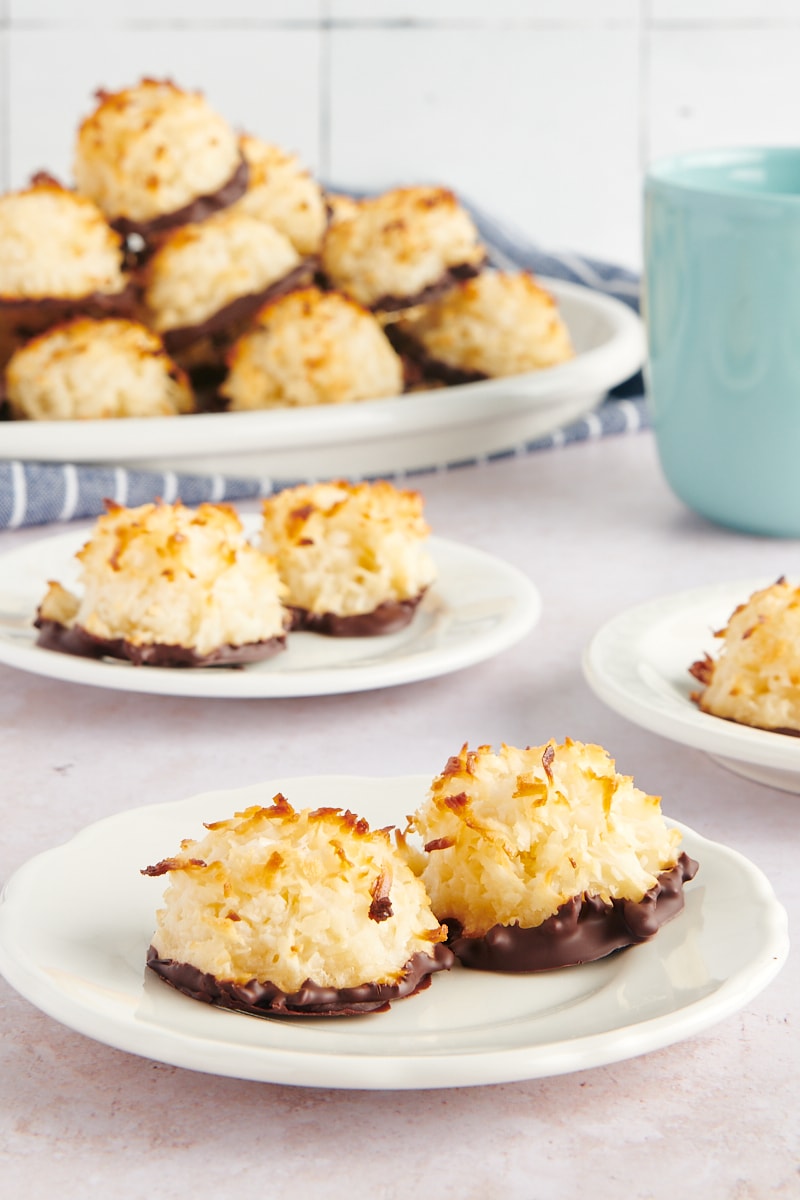 How to Make Coconut Macaroons
You'll just need one bowl for mixing these quick and easy macaroons! No electric mixer needed; just grab a whisk and a spoon.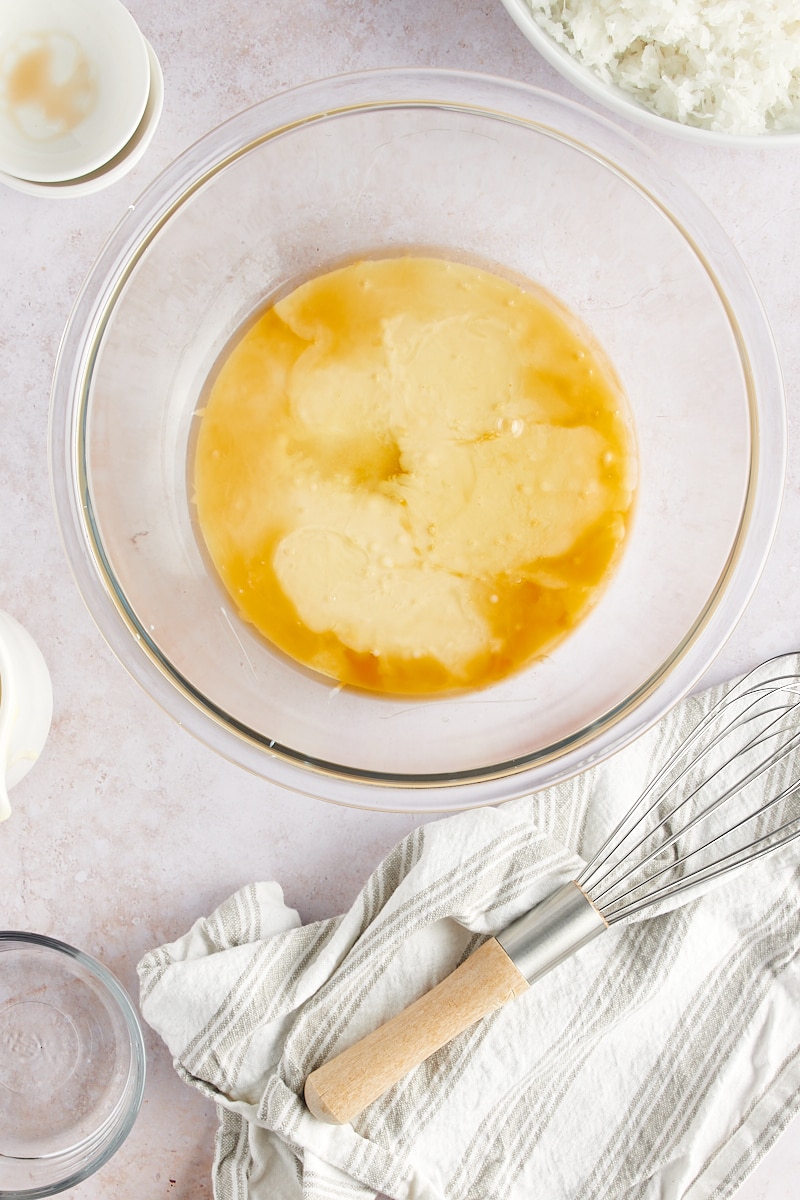 Begin mixing. Whisk together the condensed milk, egg white, vanilla extract, almond extract, and salt in a large mixing bowl until well-blended and a little frothy.
Add the coconut. Fold the coconut into the milk mixture.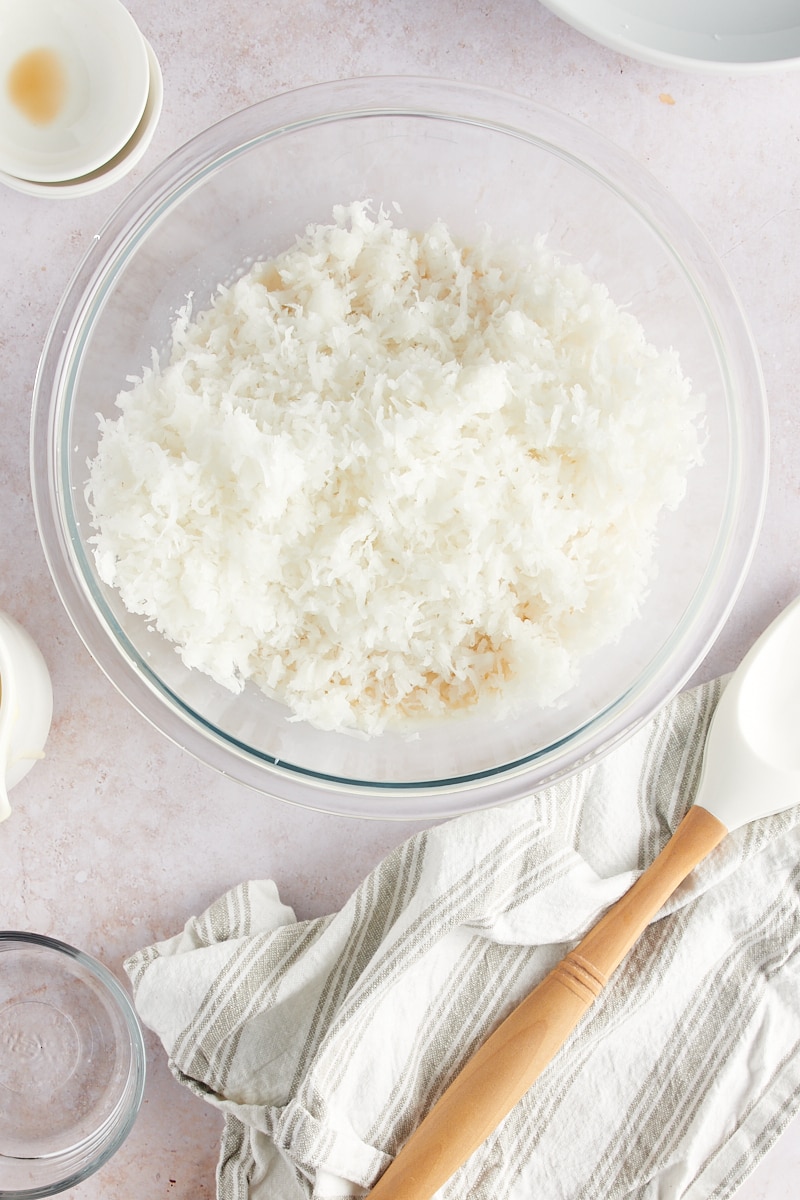 Portion. Using 2 tablespoons of the coconut mixture at a time, scoop the cookie and place on baking sheets lined with parchment paper. (I use a #30 scoop.) Leave about 2 inches between the cookies.
Chill. Place the pans in the refrigerator, and chill for 30 minutes.
Prepare for baking. Heat the oven to 350°F.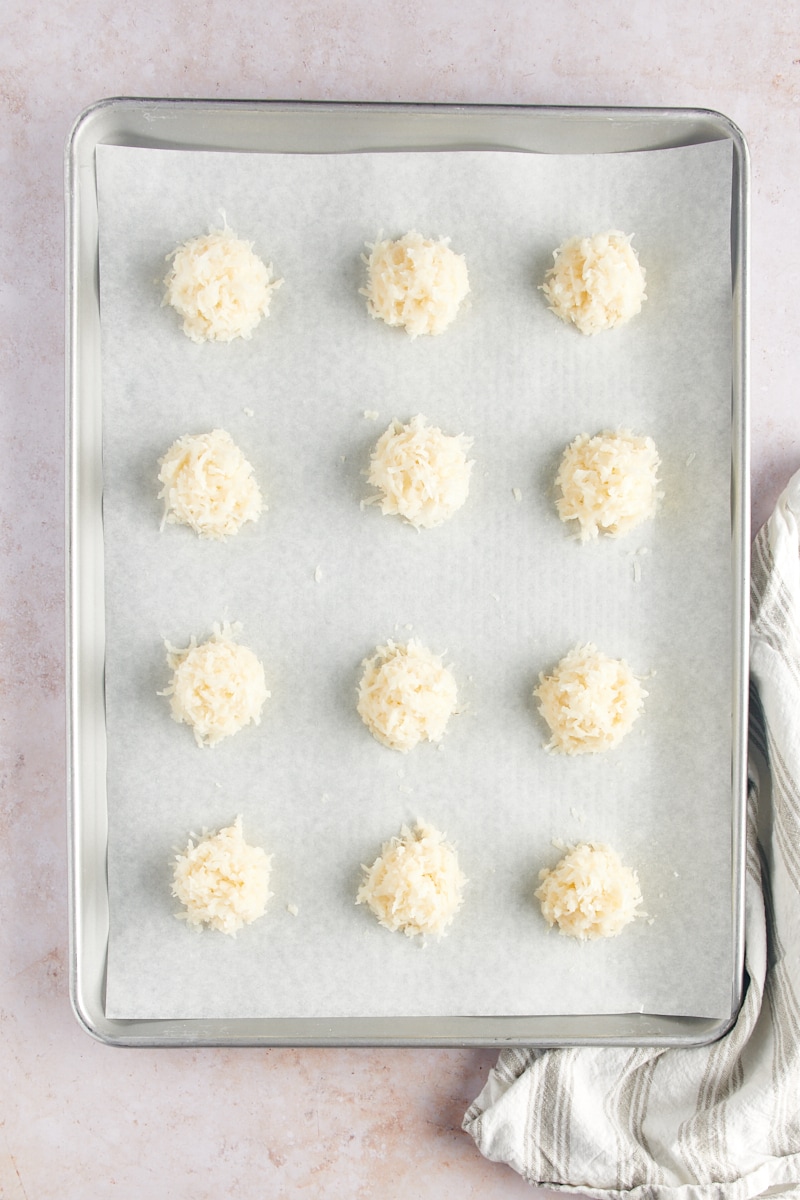 Bake. Place one pan of macaroons in the oven, and bake for 16 to 18 minutes. The cookies should appear set and the coconut will be golden brown and toasted. Repeat with the remaining cookies.
Cool. Place the pan on a wire rack, and allow the cookies to cool completely.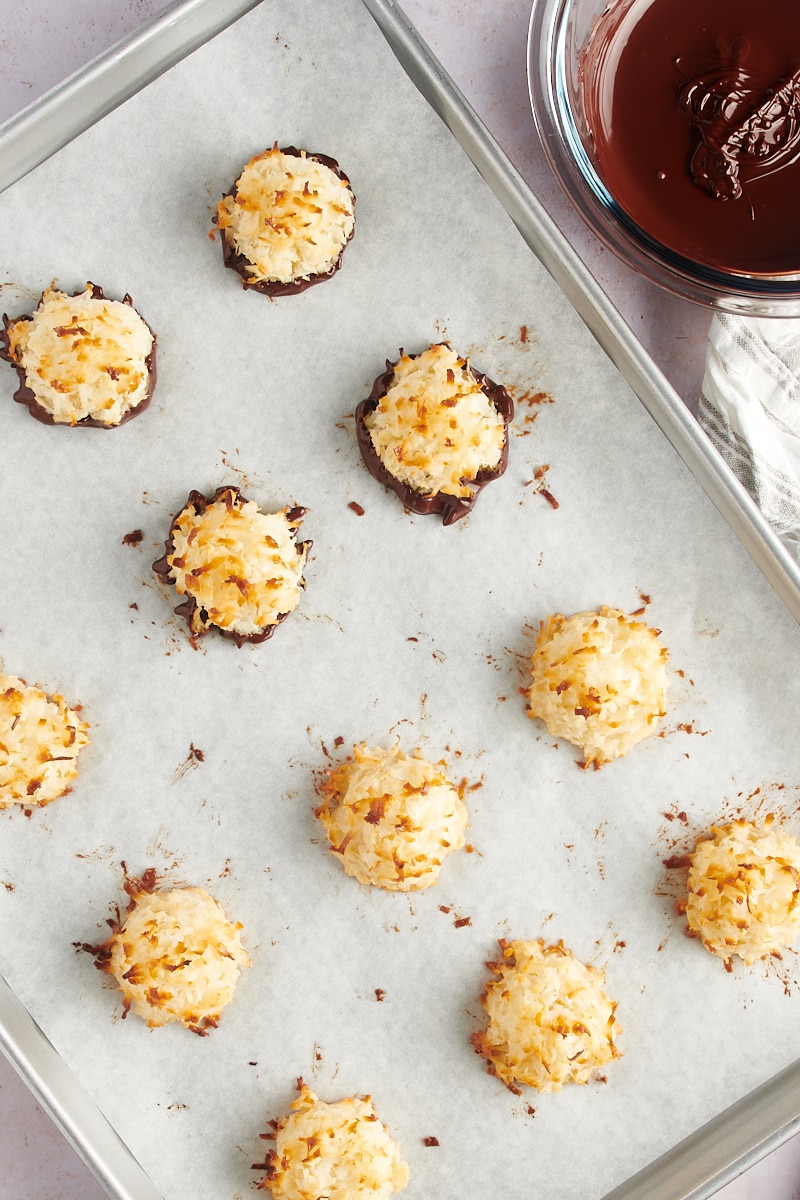 Dip the macaroons in chocolate. Melt the chocolate in a double boiler or in the microwave at half power in 30-second intervals. Dip the bottoms of the macaroons in the melted chocolate and place back on the parchment lining or on a fresh sheet of parchment. You can instead (or additionally) drizzle the tops of the cookies with melted chocolate.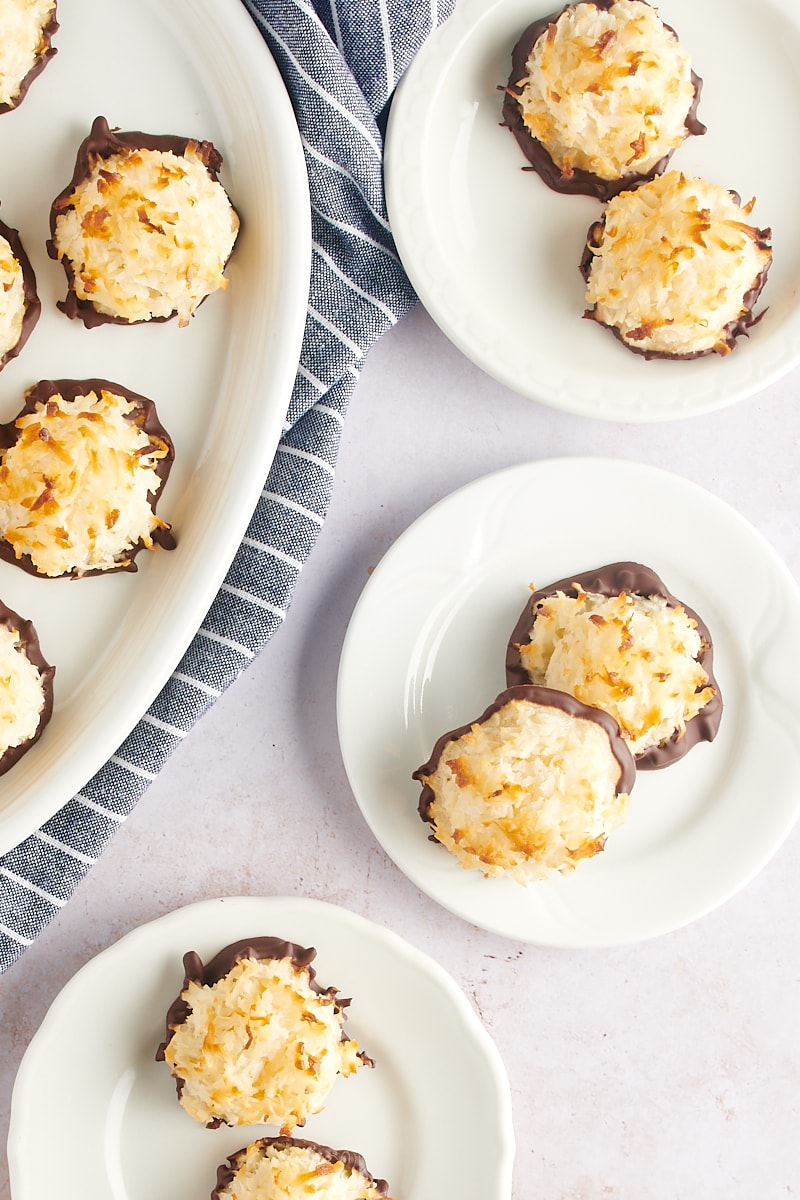 Variation Ideas
Here are some ideas for some simple twists on this coconut macaroon recipe:
Nuts – Add a handful of finely chopped nuts along with the coconut. I recommend pecans or almonds. The latter will be a hit with fans of Almond Joy candy bars!
Chocolate chips – For more chocolate flavor, add a handful of mini chocolate chips or chopped chocolate to the batter when you add the coconut.
Dried fruit – Try adding your favorite dried fruit, like cranberries or cherries.
Caramel – Instead of chocolate, drizzle the tops with your favorite thick caramel sauce.
Unsweetened coconut – If you find these a bit too sweet, substitute some of the coconut with unsweetened coconut.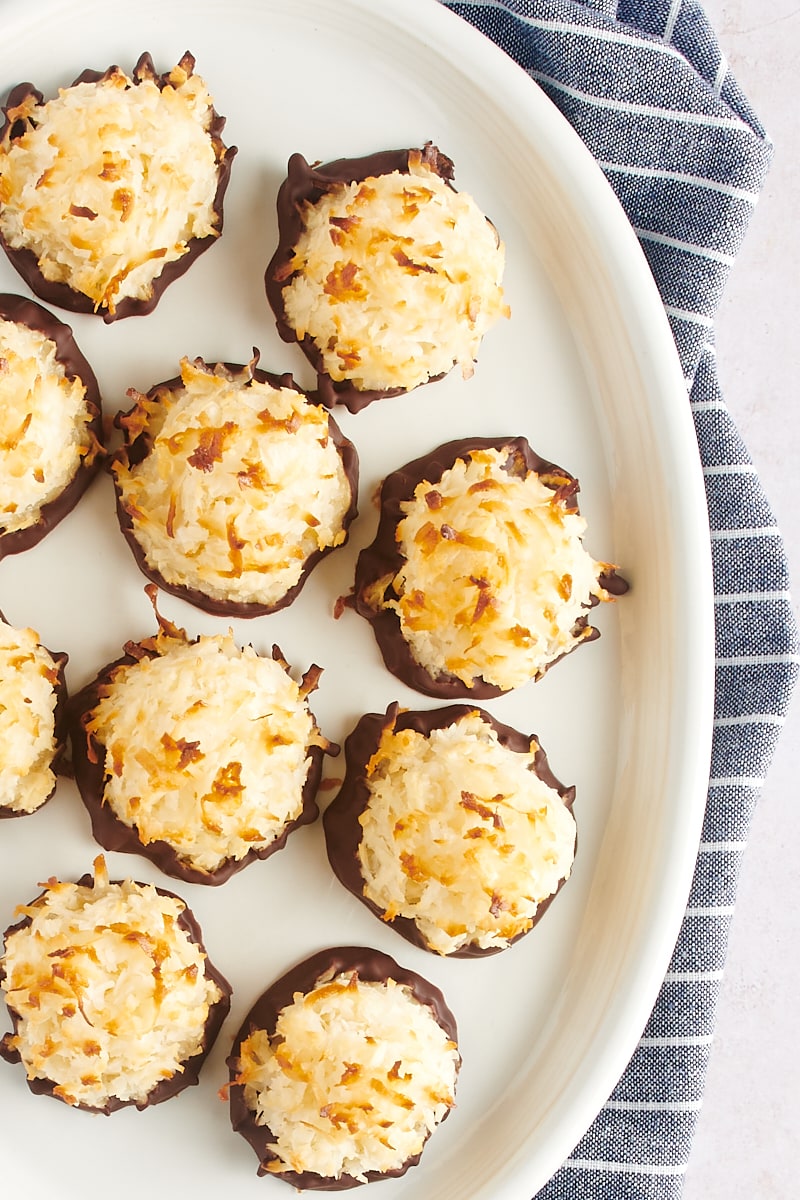 Tips for the Best Coconut Macaroons
I think you'll find these coconut macaroons so very easy to make! Here are some tips to help ensure success.
Use a cookie scoop. It's the quickest, easiest way to portion the gooey batter. A #30 scoop works well for these.
Shape the cookies. Take a minute to neaten the scooped batter. I simply use a couple of spoons to smooth and tidy their appearance after scooping them to make pretty round domes. This isn't necessary, but it will help your macaroons look their best.
Chill before baking. Just 30 minutes in the refrigerator will help your macaroons hold their shape.
Don't over-bake. The cookies can become dry if left too long in the oven.
About that leftover condensed milk… You can cover and store the remainder in the refrigerator for about two weeks. Add it to your favorite coffee or tea as a sweetener.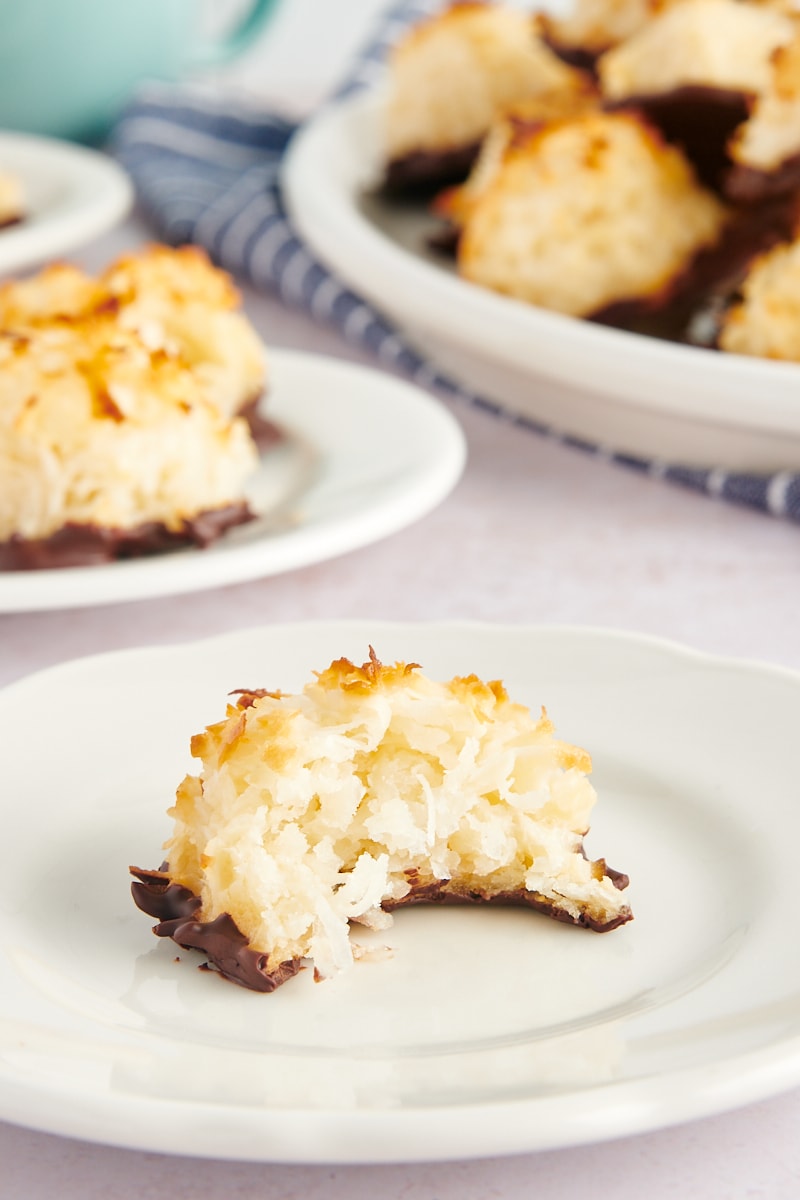 How to Store
After the macaroons have cooled and the chocolate has set, store them in an airtight container at room temperature up to a week. You can extend that up to two weeks by storing them in the refrigerator. Place a sheet of waxed paper between layers to help keep them looking their best.
How to Freeze
Place the macaroons in a freezer-safe container or bag. If you're storing them in layers, place a sheet of waxed paper between those layers. Properly stored, they should keep in the freezer up to 3 months. The chocolate may not look its best after freezing, but the taste shouldn't be affected. You can also wait to add the chocolate after thawing the macaroons. Thaw overnight in the refrigerator or for an hour or so at room temperature.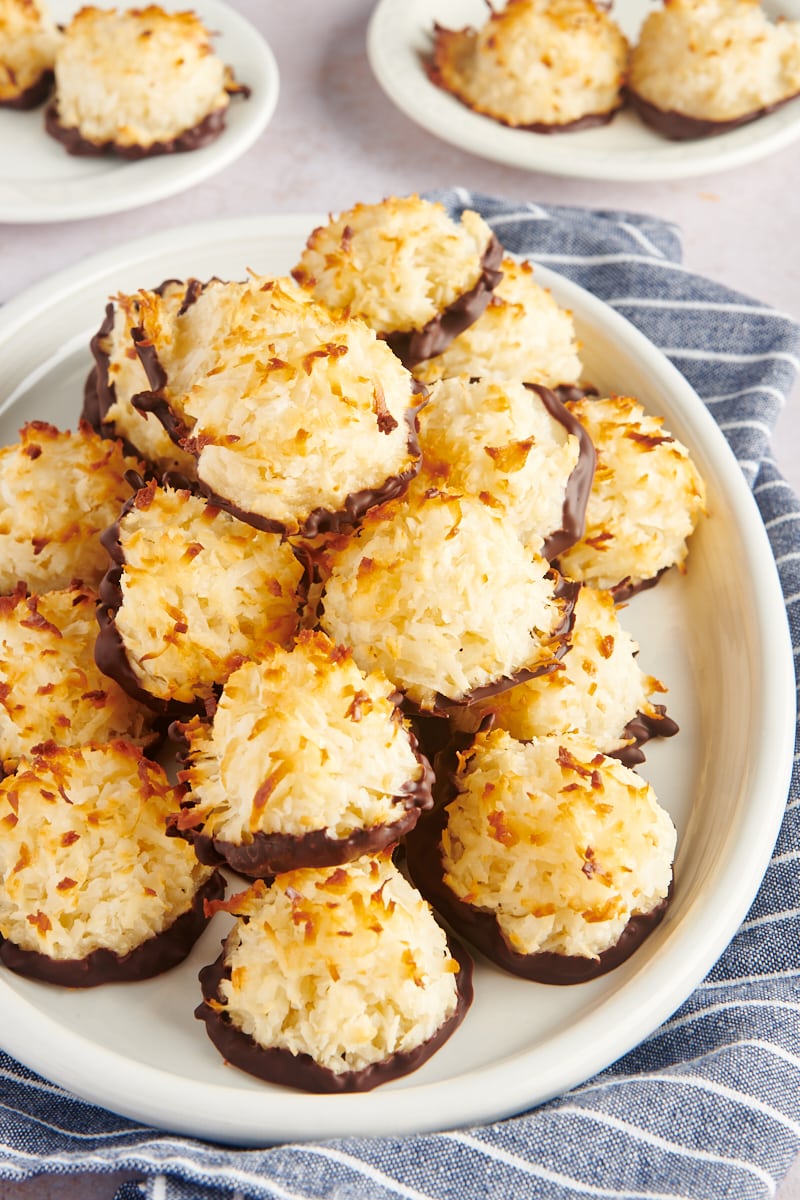 Video Tutorial: Coconut Macaroons