December 13, 2007
Rugelach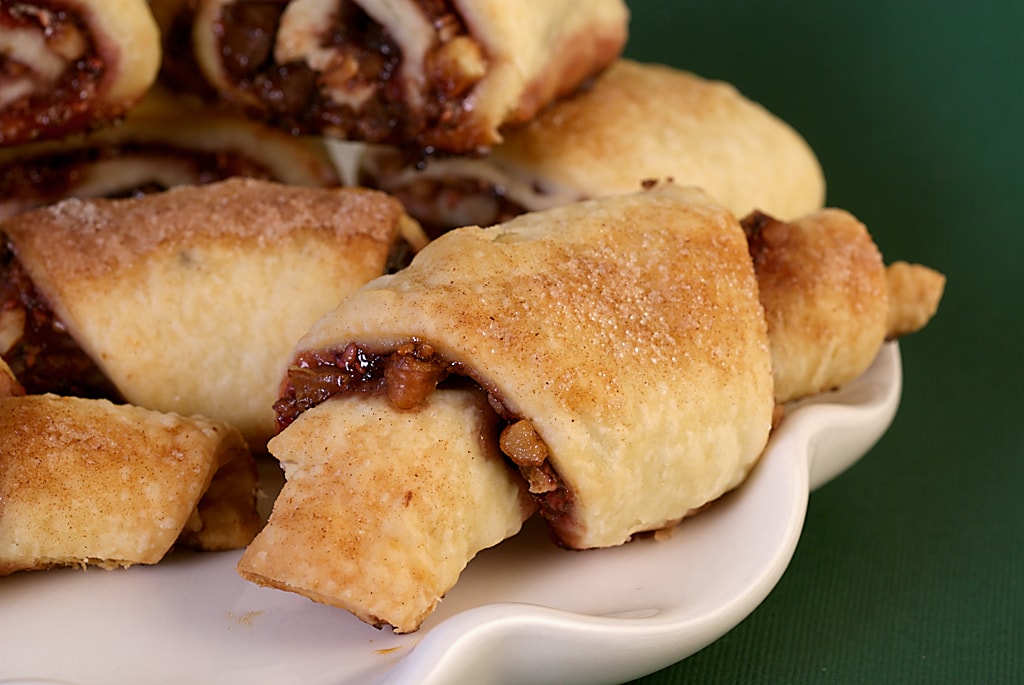 I've been trying to branch out a bit in my baking this holiday season. Granted, I will probably always be drawn to what I deem traditional, but making new things is certainly admirable. This was my first foray into making rugelach. It seems these cookies have evolved and adapted through the years, so this version may be nothing like the traditional version. However, they are quite tasty, and that's the point of baking, right?

I would say this recipe is involved, yet not complicated. There are many components, including working with and rolling out dough. While that element is way down on my list of desired baking activities, this is a simple dough that didn't present many complications. Keep in mind that putting the dough in the refrigerator or even briefly in the freezer can make your life much simpler.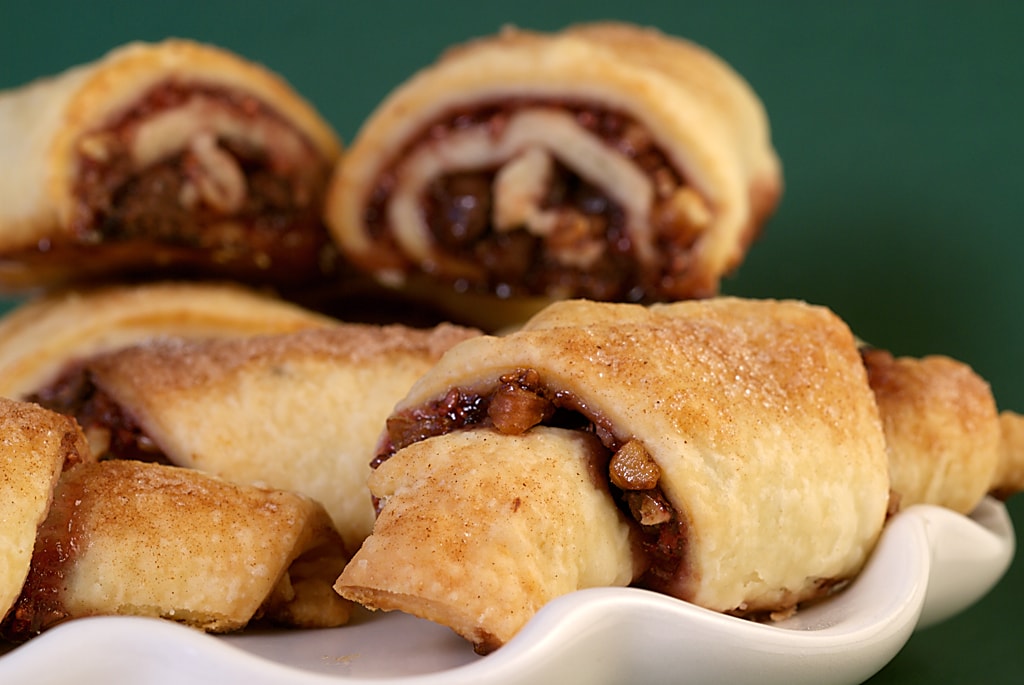 These cookies have a bit of everything in them. Pastry, fruit preserves, cinnamon, chocolate (or raisins if you want), and nuts. The combination of flavors might seem overwhelming on paper, but they all compliment each other in the final product.
Rugelach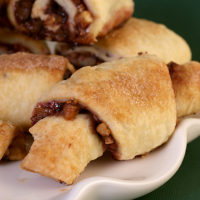 Ingredients:
1 cup unsalted butter, softened
6 ounces cream cheese, softened
2 & 1/4 cups all-purpose flour
1/3 cup granulated sugar
1 teaspoon ground cinnamon
3/4 cup raspberry or apricot preserves
3/4 cup raisins or chocolate chips
1/3 cup ground pecans
Directions:
Beat together butter and cream cheese until blended. Add flour all at once. Beat just until dough comes together. Divide dough into thirds. For rectangular rugelach, flatten each third into a 6″x 4″ rectangle. For crescent rugelach, flatten into a 6-inch circle. Wrap in plastic and refrigerate for an hour.
Preheat oven to 350°.
Whisk together sugar and cinnamon, and set aside.
Flour work surface and the top of one portion of dough.
For rectangular rugelach: Roll dough into 16″x 10″ rectangle 1/8-inch thick. Brush off excess flour. Spread 1/4 cup preserves on the dough, leaving a 1/4-inch border. Along the long edge of the preserves, place a line of chocolate chips or raisins. Sprinkle rem rest of the dough with about 2 teaspoons of the cinnamon-sugar mixture and about 2 & 1/2 tablespoons of ground nuts. Starting at the chocolate chip/raisin end, roll up the dough, gently tucking and tightening as you go. Turn the seam side facing down. Cut into 1 & 1/2-inch slices. Repeat with remaining dough.
For crescent rugelach: Roll each portion of dough into a 14-inch circle 1/8-inch thick. Spread 1/4 cup of preserves on each portion, leaving a 1/4-inch border. Sprinkle entire surface with 1/4 cup chocolate chips/raisins, cinnamon sugar, and 2 & 1/2 tablespoons nuts. Cut the circle like a pizza, making either 8 or 16 triangles. Roll up dough, starting from the wide end. Tuck the point underneath. Repeat with remaining dough.
Place on lined baking sheets. Sprinkle each cookie with about 1/8 teaspoon of cinnamon sugar. Bake about 25 minutes. The bottoms should be light golden and the tops blond. Cool on baking sheets on a rack until cookies firm slightly. Transfer to wire racks to cool completely.
Notes:
Yields about 30 rectangular cookies, or 24 large crescent cookies, or 48 small crescent cookies.