Rugelach is a delectable cookie formed by rolling buttery dough around a rich filling made with fruit preserves, pecans, cinnamon-sugar, and chocolate. This step-by-step rugelach recipe will show you how to make them from scratch.
The Best Homemade Rugelach Recipe
Today we are going to learn how to make rugelach 100% from scratch! These delightful treats are crescent-shaped pastries. Often they are referred to as cookies, but they are actually bite-sized triangles pastries made of buttery dough wrapped around a sweet filling.
If you've never made rugelach before, the recipe is involved, but it's not hard – in fact, rolling up all the cookies is pretty satisfying! The dough itself is simple and easier to work with than pastry dough, so you don't have much to worry about on that front. Once the dough is done, it's just a matter of rolling and baking!
What is Rugelach?
Rugelach (pronounced rug-a-lah) originated in the Jewish communities of Poland. In Yiddish, the name means "little twists." They are beloved treats in many Jewish communities and have also become popular all over the world. This means there are now a lot of different versions!
Traditional rugelach filling is usually composed of raisins and walnuts mixed with sugar and spices. Nowadays some are made with nuts, some with fruit filling, and some with chocolate. Likewise, some are shaped like crescents, while others are rectangles. But no matter how you make them, they are delicious.
What does rugelach taste like?
This rugelach recipe starts with a buttery dough that's a little bit like a mash-up between pastry crust and cookie dough, and they're rolled up with a sweet filling. The combination of cinnamon, fruit preserves, and chocolate (or raisins, if you prefer) might seem like a lot on paper, but they all complement each other in the final product.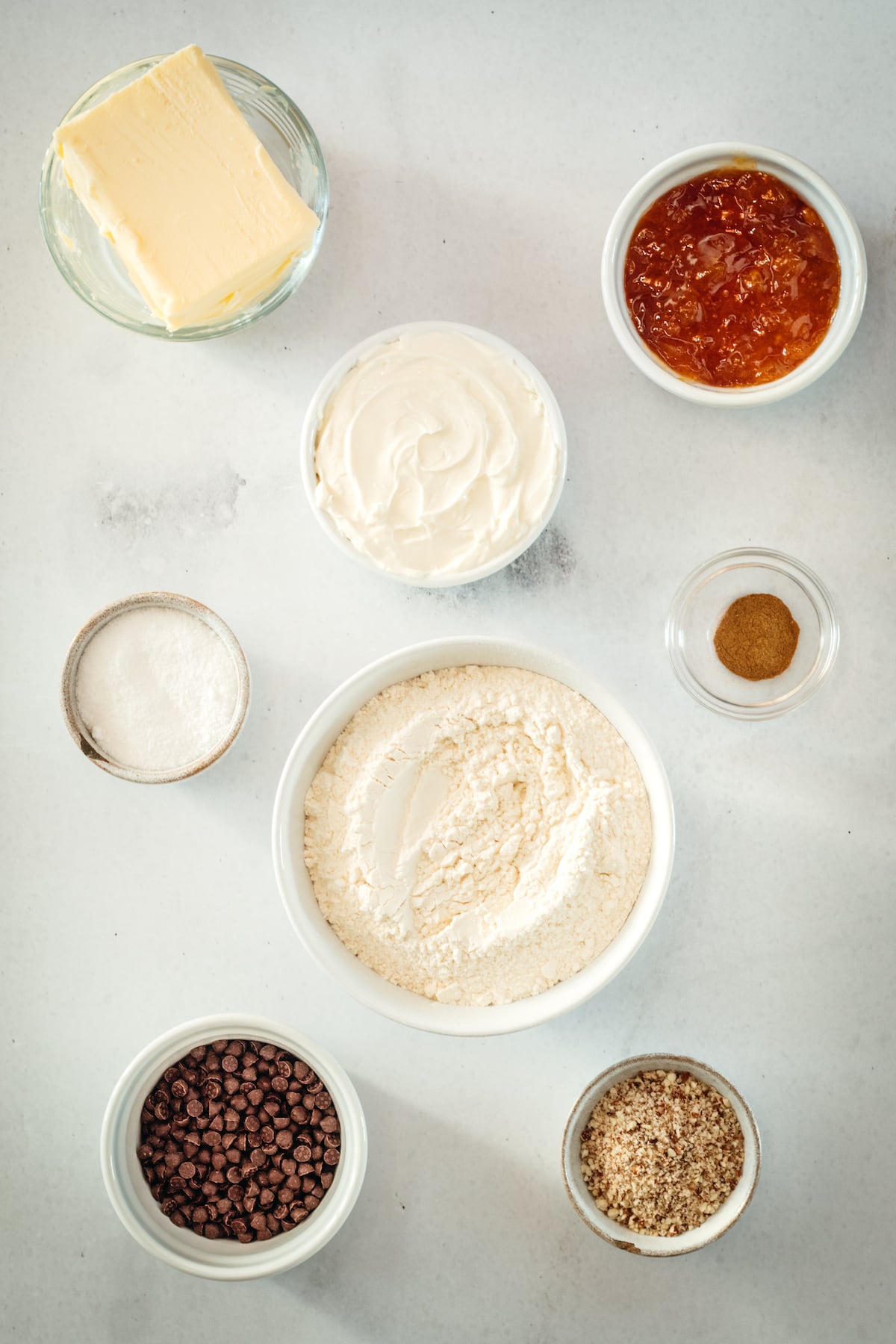 What You'll Need
For as elaborate as rugelach looks, the ingredient list is surprisingly short! Here's a quick look at what you'll need. Be sure to scroll down to the recipe card for specific amounts.
Unsalted butter – Both the butter and the cream cheese need to be softened, so let them sit on the countertop a bit before you start working on the recipe.

Cream cheese

All-purpose flour

Granulated sugar

Ground cinnamon

Raspberry or apricot preserves – Apricot has a hint of bitter flavor which is a nice balance to the sugar and chocolate, while raspberry delivers more sweetness.
Chocolate chips – You can substitute raisins if you like.
P

ecans

– Or use any other nut you like or have on hand.
How to Make Rugelach
Below, I share the basic instructions for rugelach, then two different methods for rolling it up. You can choose one or the other or make them both ways, which looks pretty on a cookie platter.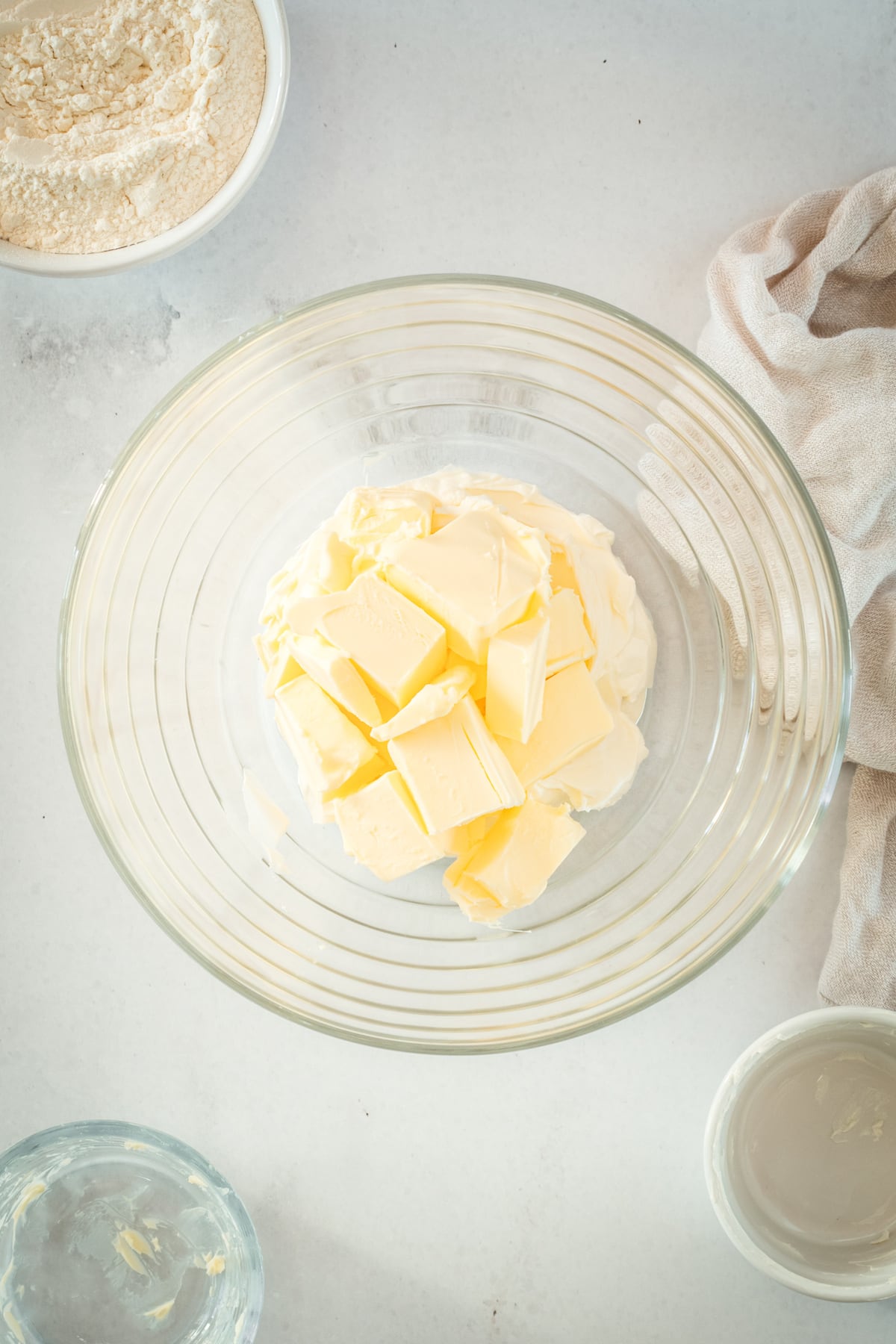 Cream the butter and cream cheese. Place the butter and cream cheese in a large mixing bowl. Use an electric mixer on medium speed to beat them until blended and smooth.
Finish the dough. Add the flour to the mixing bowl—no need to be gingerly about it, just dump it all in at once! Beat until the dough comes together.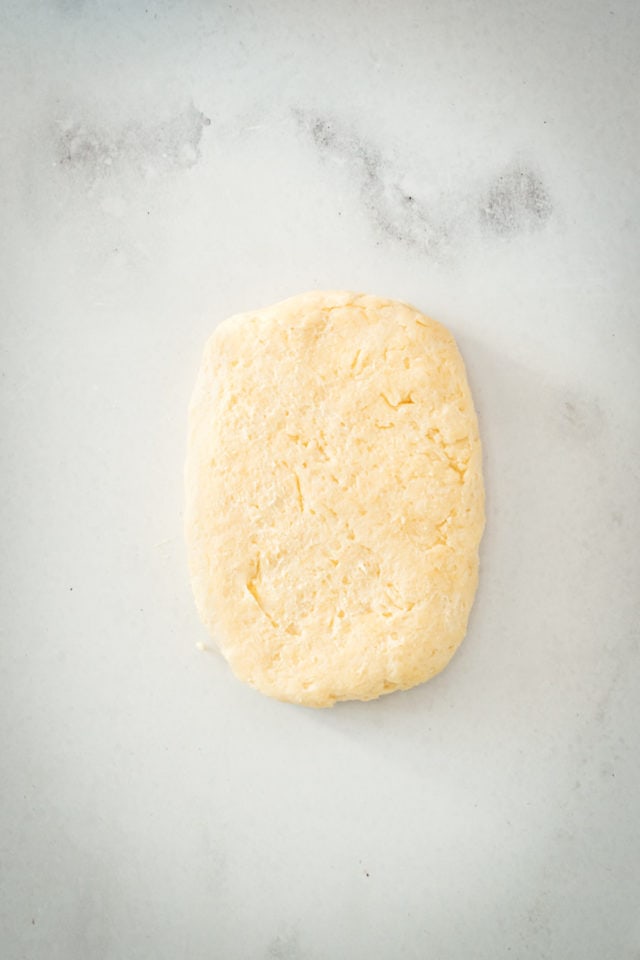 Prep and chill the dough. Divide the dough into three equal balls. For rectangular rugelach, flatten each third into a 6×4-inch rectangle. For crescent rugelach, flatten into a 6-inch circle. Wrap the dough pieces in plastic and chill in the refrigerator for an hour.
Get ready for baking. Preheat your oven to 350°F and line two baking sheets with parchment paper or silicone liners. Lightly flour your work surface.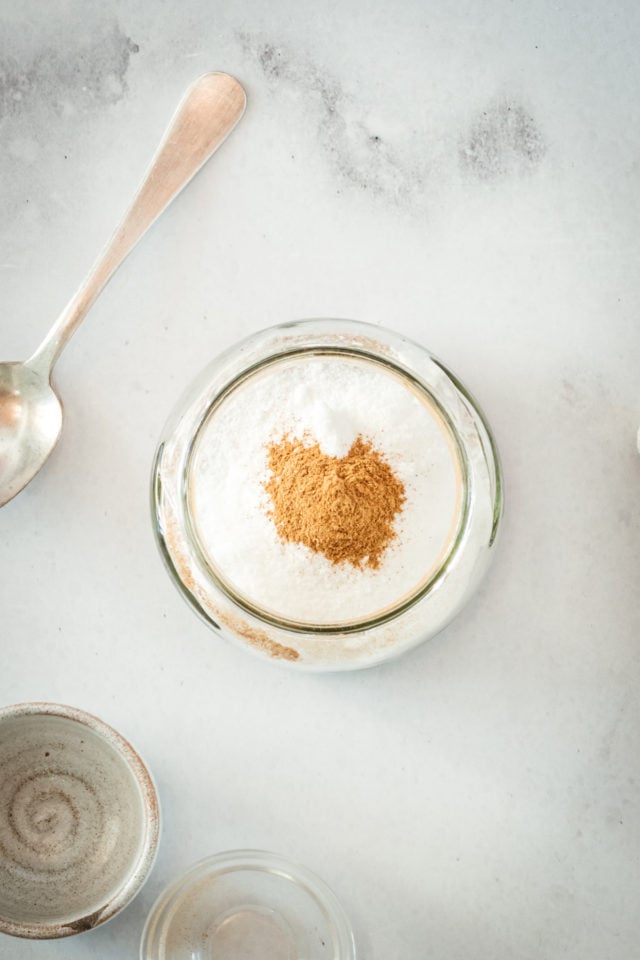 Make the cinnamon sugar. Whisk together the sugar and cinnamon in a small bowl, then set aside.
What Shape Are Rugelach?
Rugelach are usually shaped like small crescent rolls, but they can also be made in rectangular shapes. Below I'll show you step-by-step how to make rugelach both ways. Make them both, or choose one and go with it, whatever you prefer.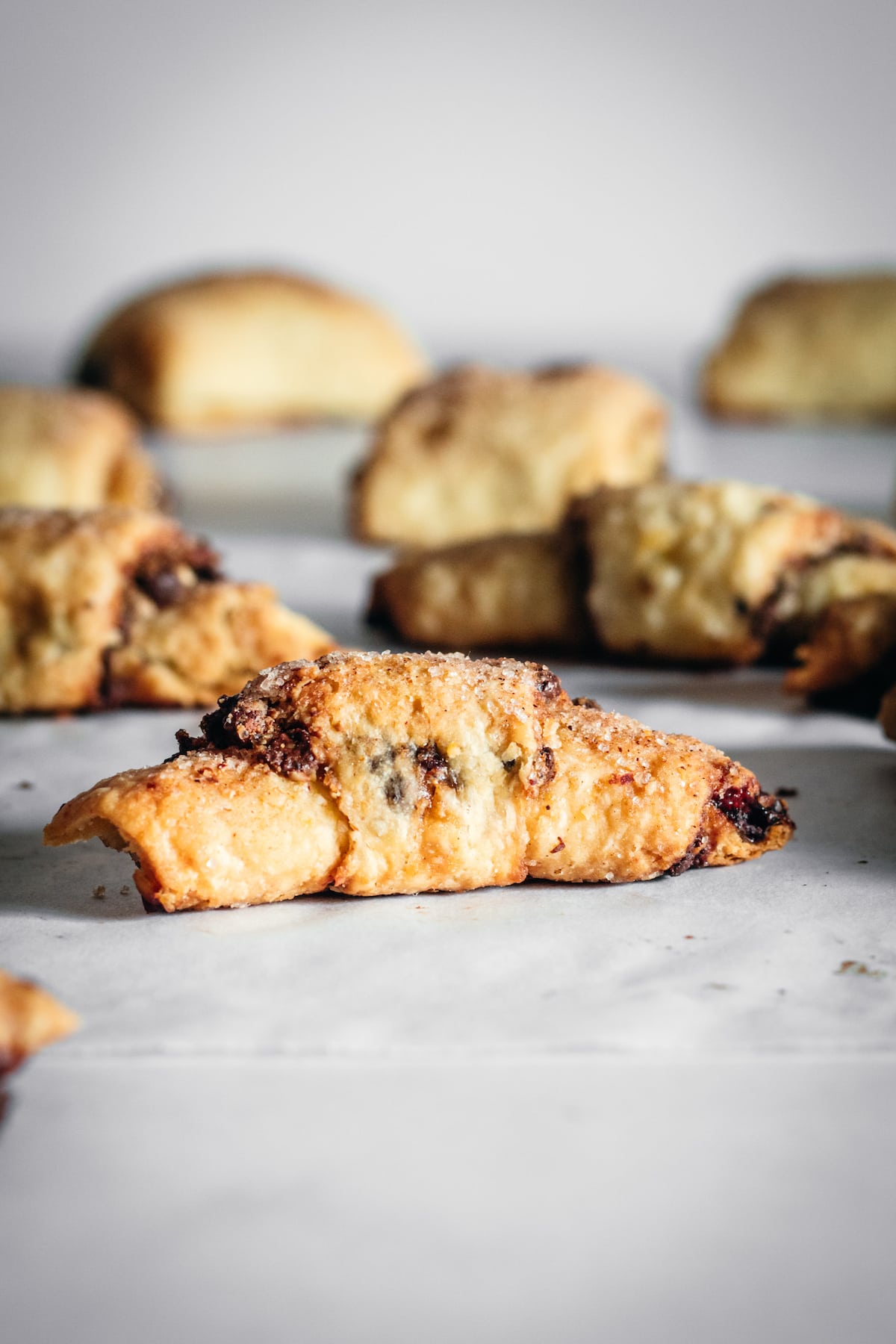 How to Make
Crescent Rugelach
Want to make rugelach in the traditional crescent shape? Here's how to do it: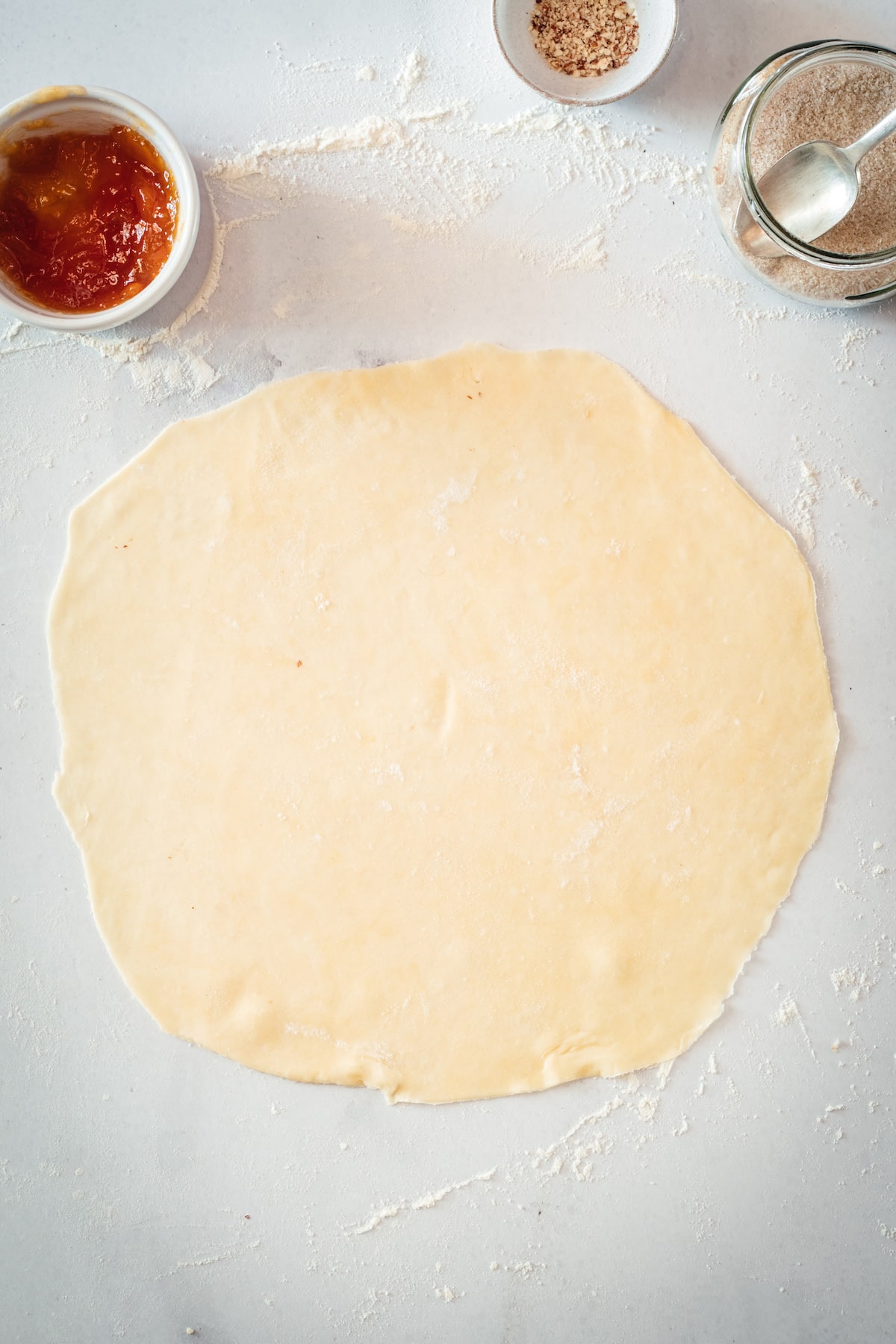 Roll each portion of dough into a 14-inch circle about 1/8-inch thick.
Add filling. Spread 1/4 cup of the preserves on the rolled-out dough, leaving a 1/4-inch border. Sprinkle the entire surface with 1/4 cup of chocolate chips (or raisins), cinnamon sugar, and 2 1/2 tablespoons nuts.
Cut the circle into triangles like a pizza. Making either 8 or 16 slices, depending on the size of cookie you'd like. Roll up the dough starting from the wide end, then tuck the point underneath. Repeat with the remaining dough.
Bake. Place the rugelach on the prepared pans and sprinkle each with about 1/8 teaspoon of cinnamon sugar. Bake for 25 to 30 minutes, or until the bottoms are golden. Cool on the baking sheets on a wire rack until the cookies firm up a bit, then transfer them back to the wire racks to finish cooling.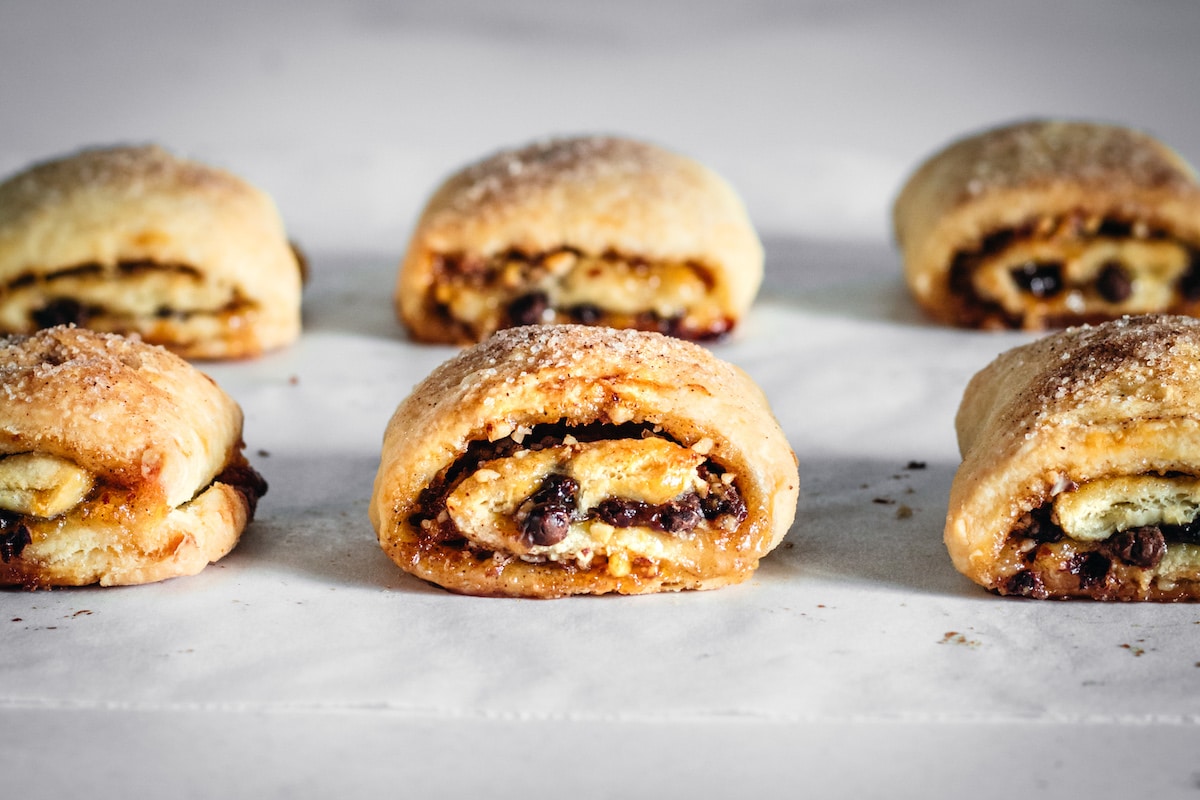 How to Make Rectangular Rugelach
Another way to shape rugelach is into rectangles. Here's how to make that shape. The process is similar to rolling out and filling cinnamon buns.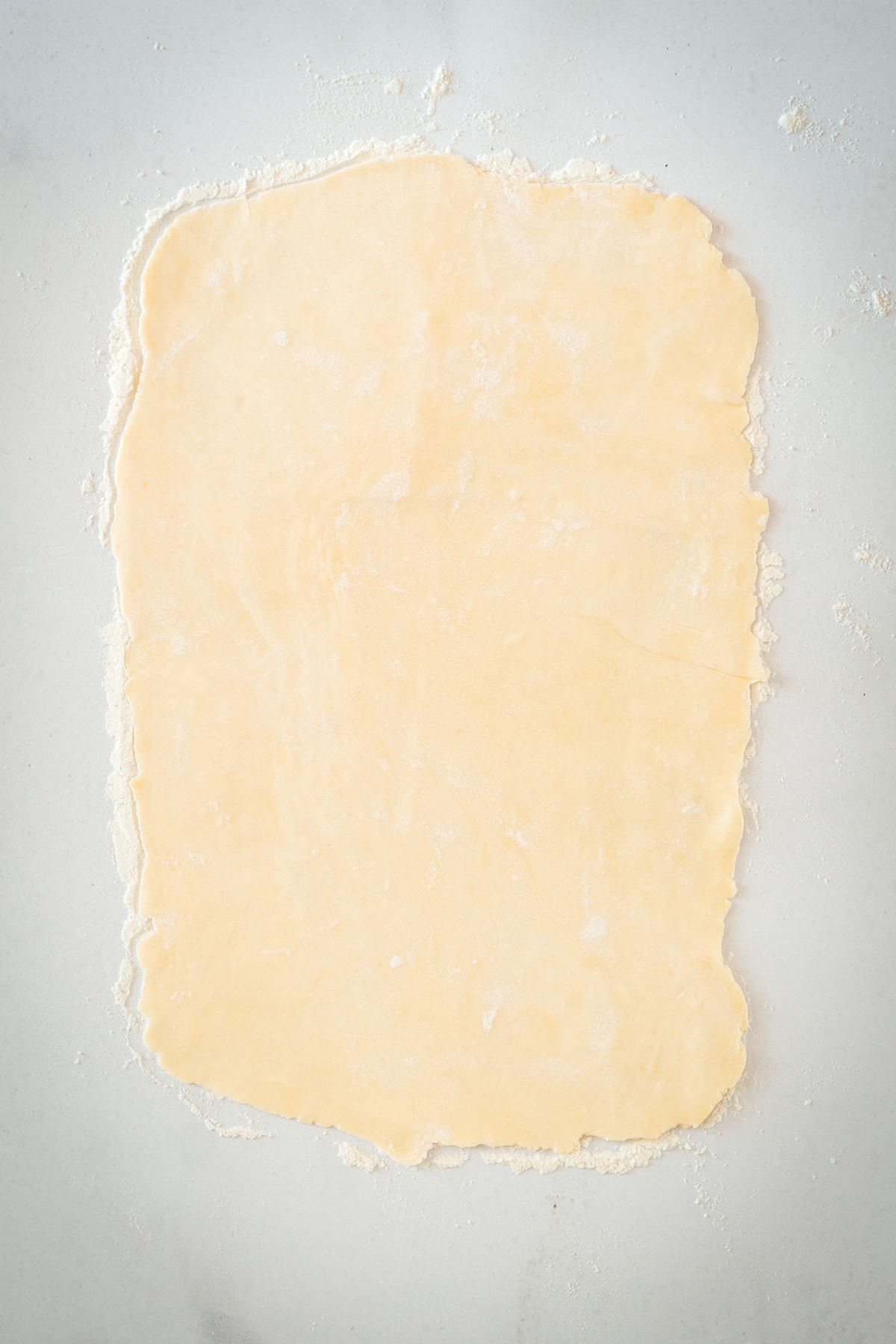 Roll each portion of dough into a 16×10-inch rectangle, about 1/8-inch thick. Dust off any excess flour.
Add filling. Spread 1/4 cup of preserves onto the dough, leaving a 1/4-inch border on all sides. On the long edge of the preserves, make a line of chocolate chips or raisins. Sprinkle the rest of the dough with about 2 teaspoons of the cinnamon sugar and about 2 1/2 tablespoons of the nuts.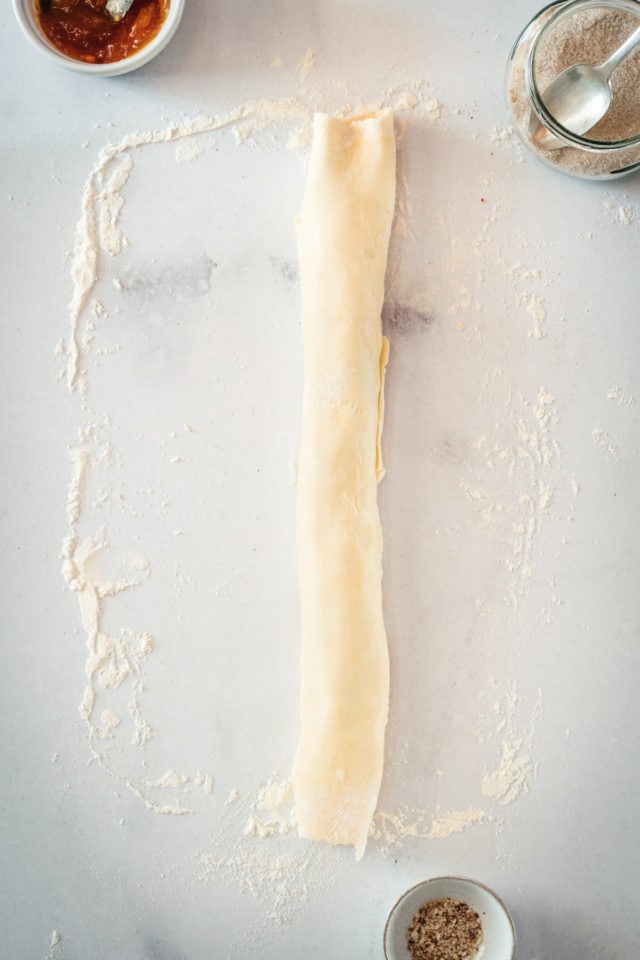 Shape. Starting at the chocolate chip (or raisin) end, roll up the dough, tucking and tightening gently as you go. Turn the seam side facing down, then cut the log into 1 1/2-inch slices. Repeat with the remaining dough.
Bake. Place the rugelach on the prepared pans and sprinkle each with about 1/8 teaspoon of cinnamon sugar. Bake for 25 to 30 minutes, or until the bottoms are golden. Cool on the baking sheets on a wire rack until the cookies firm up a bit, then transfer them back to the wire racks to finish cooling.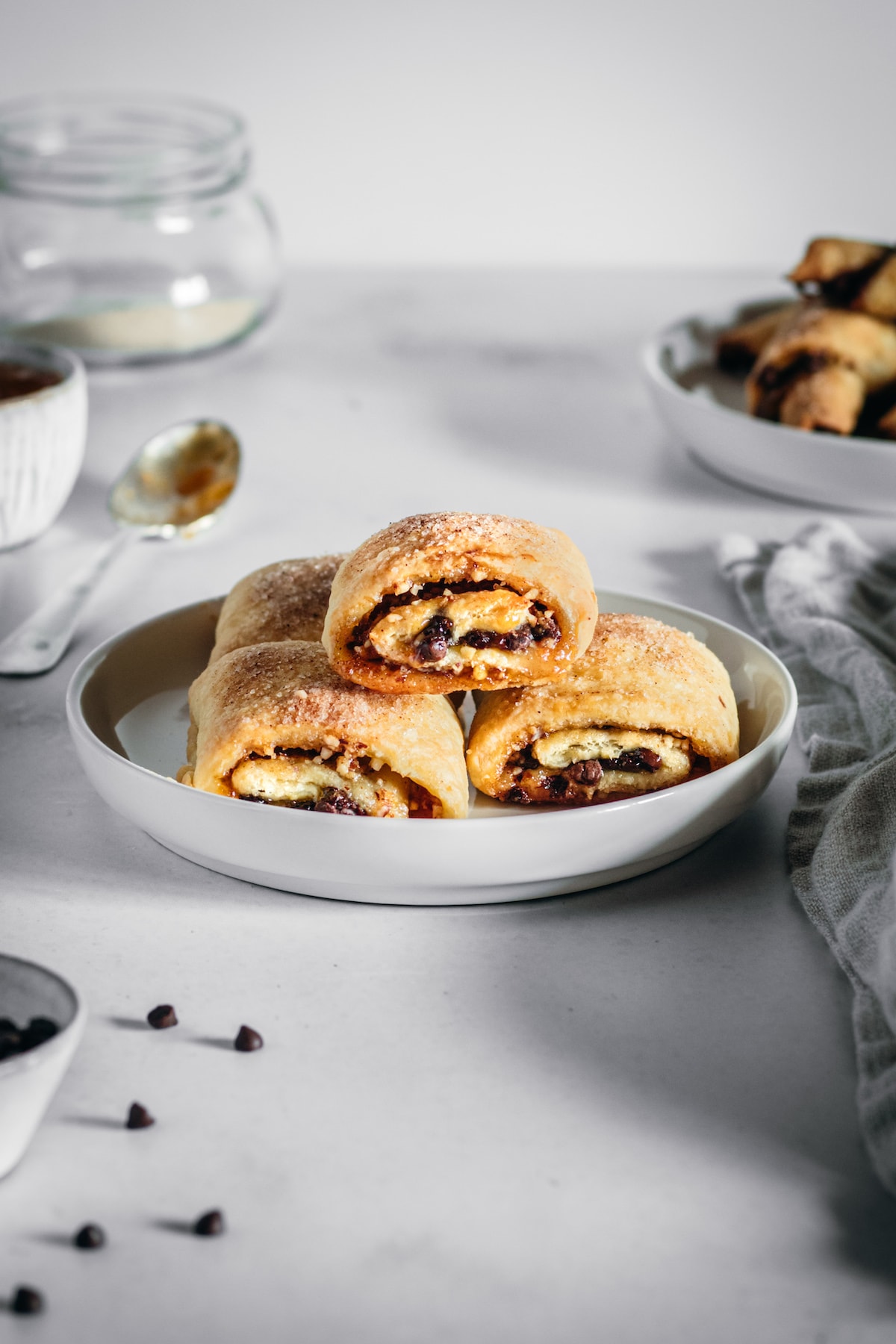 Tips for the Best Rugelach
Here are a few tips to help you make the perfect homemade rugelach:
Working with the dough. The dough is easier to work with when chilled, so I recommend taking one portion out of the refrigerator at a time. Once you've finished with one, take the next portion out, and so on.
Cutting the dough. You can use a pizza cutter to cut the dough into rectangles or triangles. If you have a pizza rocker, that works even better!
Rolling rugelach. Whether you make crescent shapes or rectangles, it's important to roll up the cookies tightly. This keeps the filling in place and ensures a nice shape.
How to Store Homemade Rugelach
Counter: Let the rugelach cool completely, then store it in an airtight container on the counter for up to 4 days.
Fridge: If you want to extend the shelf life of your pastries, place the airtight container in the fridge and your rugelach will keep for up to 1 week.
Can This Recipe Be Frozen?
Yes, you can definitely freeze rugelach. There are three ways to do this:
Freeze the dough: First, you could make the dough and freeze it, then let it thaw in the fridge and assemble the cookies.
Freeze assembled but unbaked pastries. You can also assemble the pastries and then freeze them unbaked. Let them thaw in the fridge, then bake them according to the recipe instructions.
Baked rugelach: Finally, you can freeze baked rugelach in an airtight container for up to 2 months.