These jam-filled Cream Cheese Thumbprint Cookies are simple, not too sweet cookies filled with jam. Use a variety of fruit jams or go with a favorite!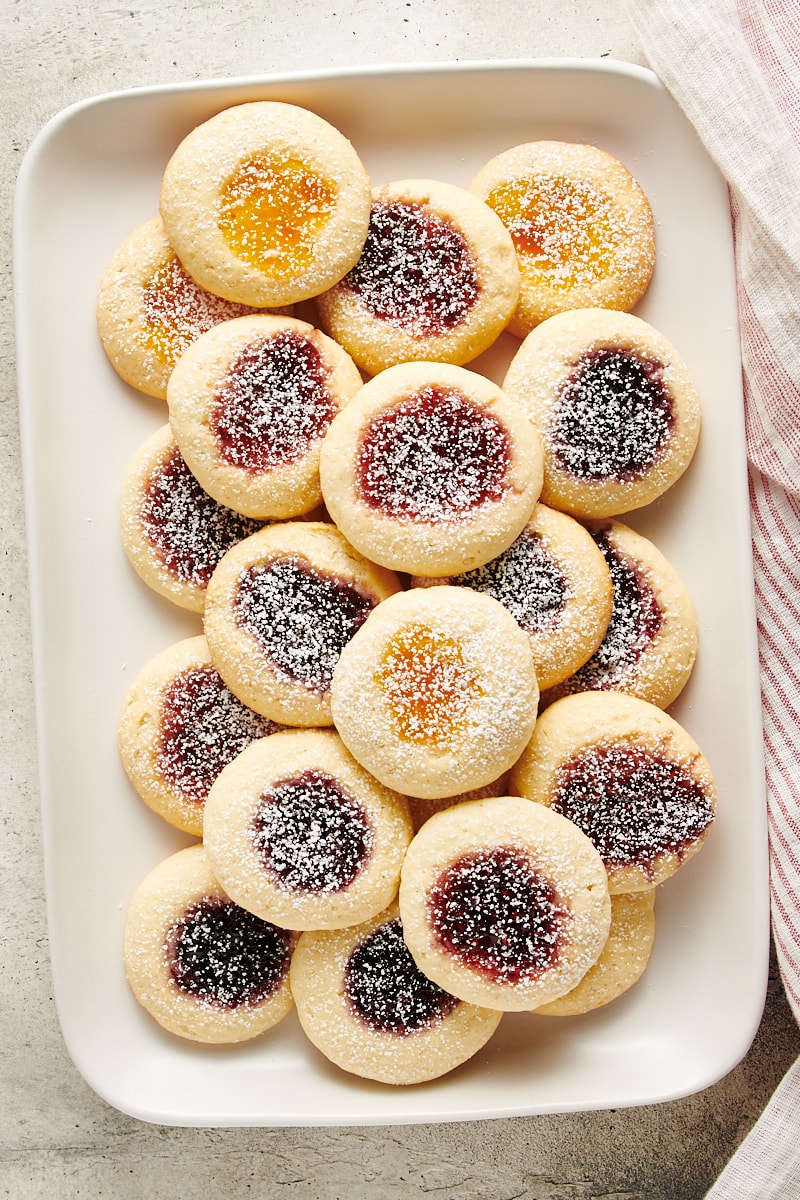 Jam-Filled Cream Cheese Thumbprint Cookies
Thumbprint cookies certainly aren't a new sensation, but they've stood the test of time for very good reason. There's something so irresistible about these simple cookies and their fruit filling. They're perfect year-round, but I especially love them in the spring and at holiday time.
Unlike many thumbprint cookie recipes, this one isn't made with a shortbread cookie. Instead, we start with a soft, not too sweet sugar cookie. It's made with cream cheese for flavor and also for an unbelievably soft texture. That basic sugar cookie dough is one of my favorites, and you can also see it in action in my recipe for Soft Christmas Sprinkle Sugar Cookies.
When I make these cookies, I love to use different jams for a variety of flavors and for their visual appeal. My favorite flavors to use are raspberry, blueberry, strawberry, and apricot. You can, of course, just stick with your favorite variety if you like. Thick preserves work well, too.
You can leave these cookies just as they are, or dust them with confectioners' sugar for a little extra sweetness and a pretty look. And if you can bear to wait, they're even better the day after baking!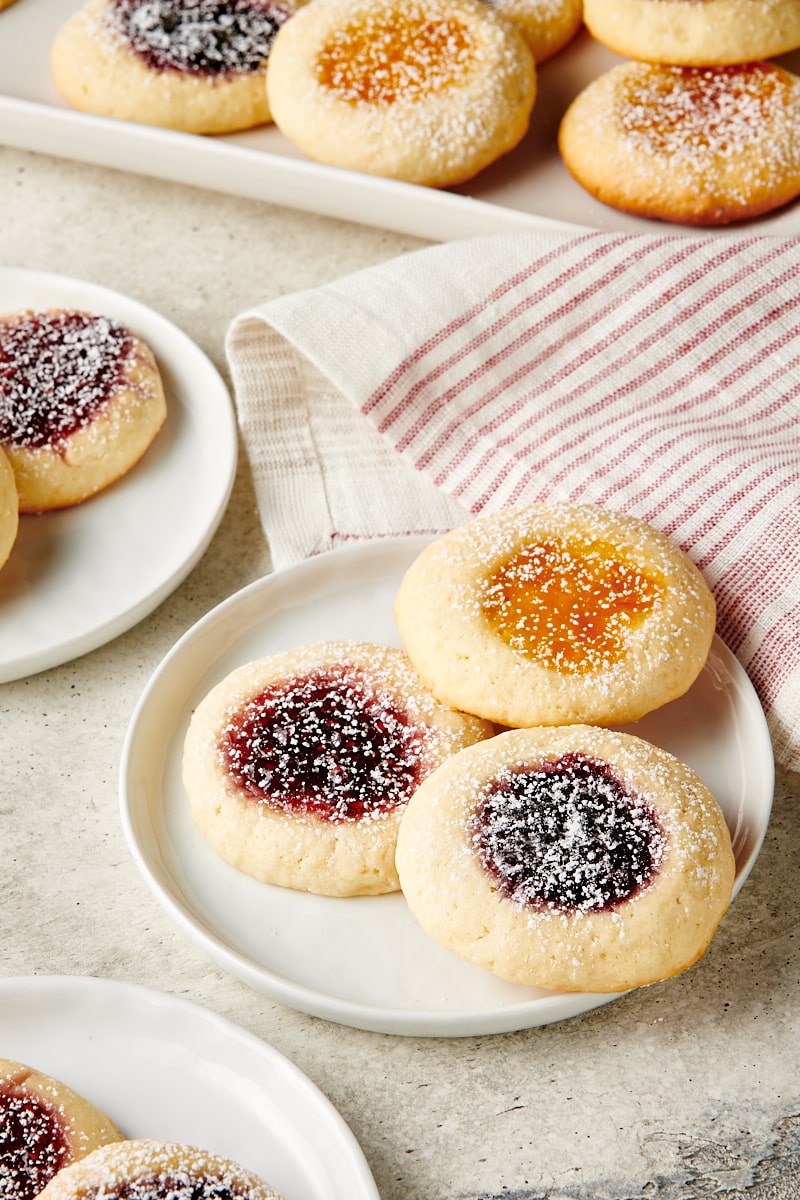 Why Are They Called Thumbprint Cookies?
These classic cookies get their name because of that indentation in the center. It can literally be made with your thumb, although you can also use a measuring spoon or another tool to make that shape.
Classic jam thumbprint cookies are also known as hallongrotta, which is a Swedish word that means "raspberry cave." You may also see them called bird's nest cookies, jam drops, or Polish tea cakes.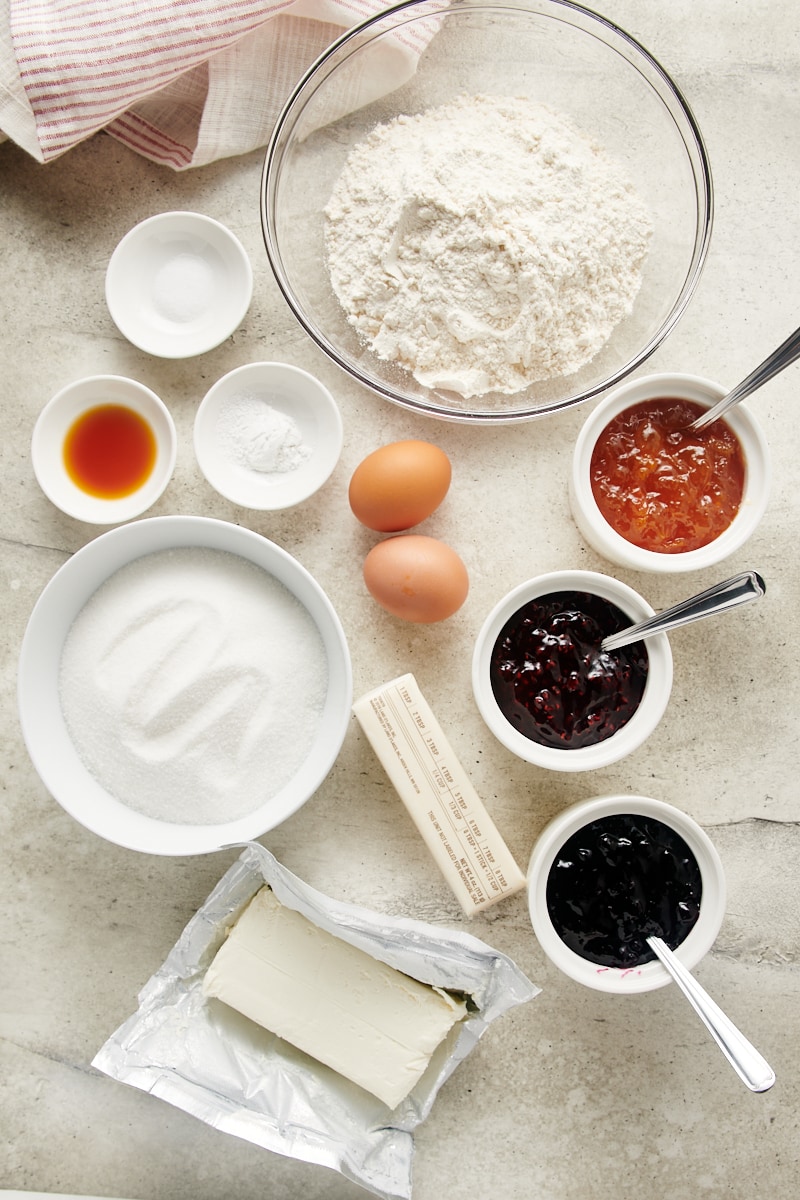 What You'll Need
This short ingredient list is made up of fairly basic baking ingredients. (I know I always have cream cheese in my refrigerator!) If you've also got a stash of jam in your refrigerator, you're ready to go!
All-purpose flour – Make sure it's measured accurately, either by weight or by spooning and sweeping with a knife. Read more: How to Measure Flour
Baking powder
Salt
Unsalted butter – Allow to soften before mixing. Learn more: How to Soften Butter
Cream cheese – I recommend full-fat cream cheese. Bring it to room temperature for best results.
Granulated sugar
Eggs – Also bring these to room temperature. I recommend baking with large eggs.
Vanilla extract – Almond extract is really good here, too.
Jams or preserves – Use your favorite kind or a variety!
Confectioners' sugar – If you like, sprinkle some sugar onto the cookies before serving.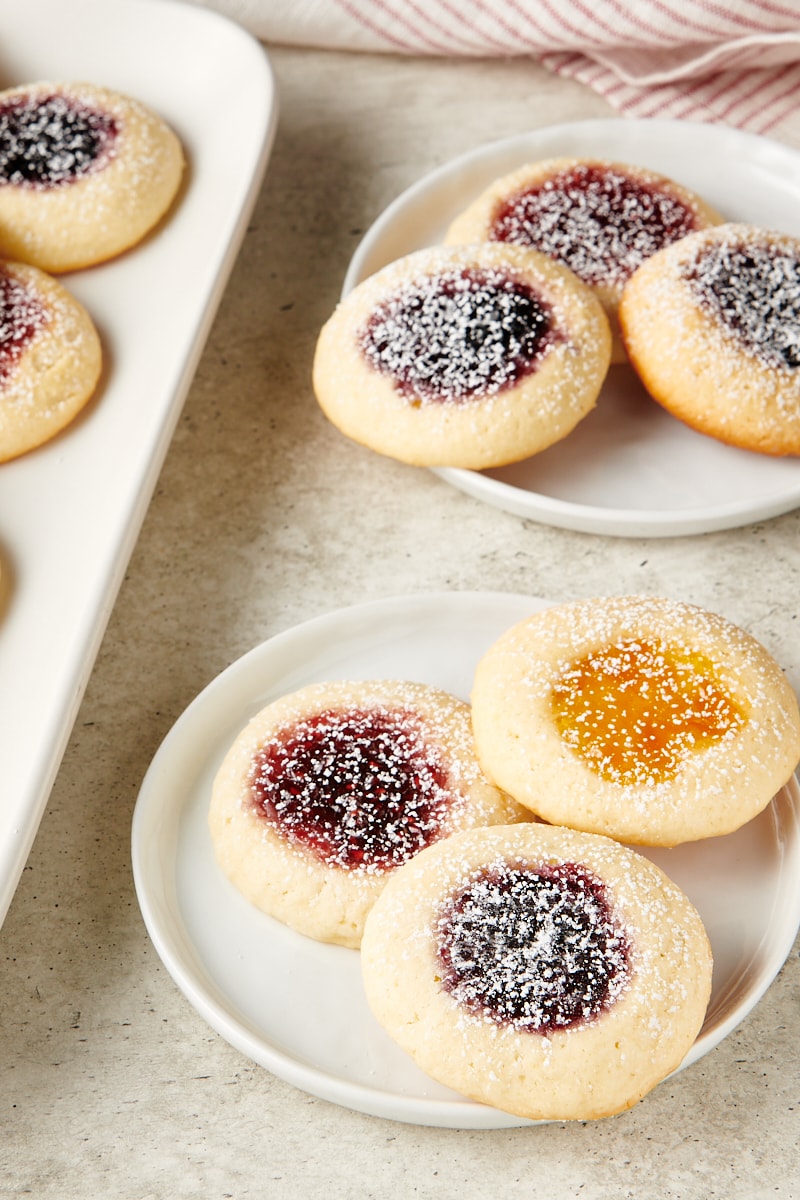 How to Make Cream Cheese Thumbprint Cookies
Ready to make a batch of these pretty, flavorful cookies? Let's go!
Combine the dry ingredients. Whisk together the flour, baking powder, and salt in a medium bowl.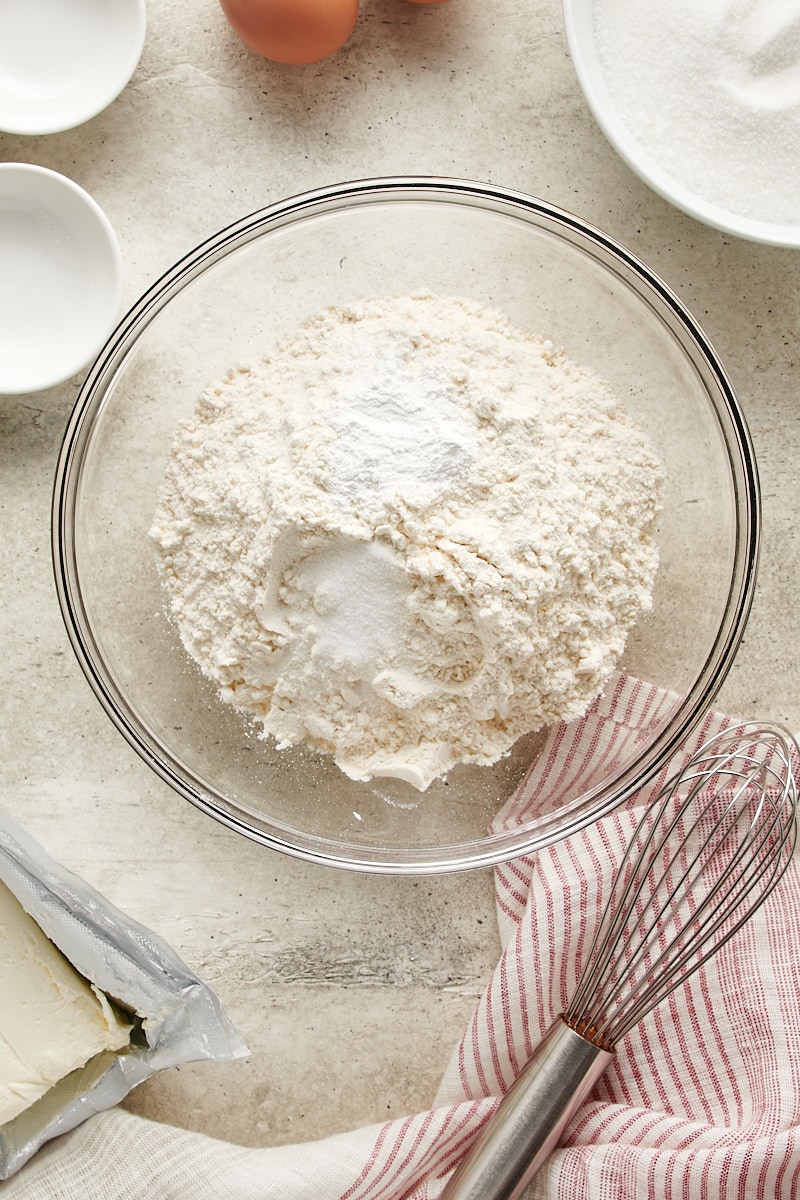 Combine the wet ingredients. Use an electric hand mixer or stand mixer on medium speed to beat the butter, cream cheese, and sugar until fluffy and lightened in color. Mix the eggs into the dough one at a time, and then mix in the vanilla.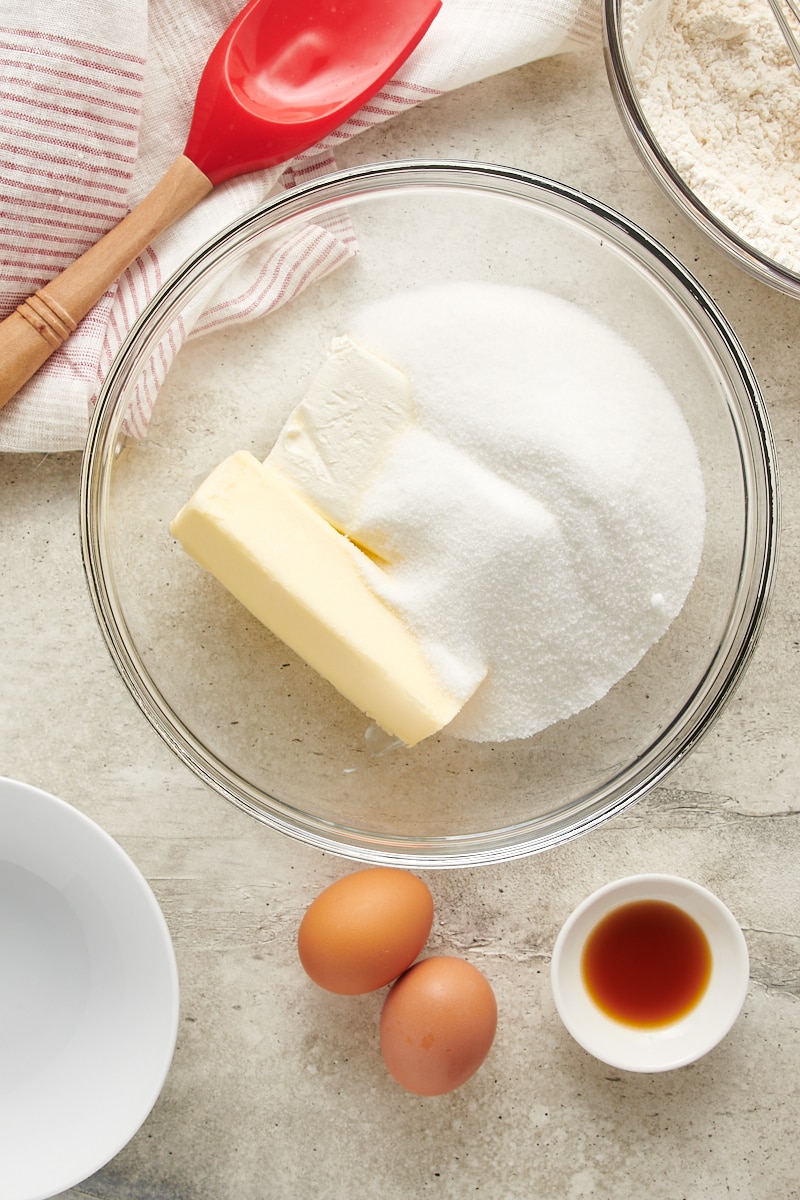 Add the dry ingredients to the wet ingredients. With the mixer on low speed, gradually add the flour mixture. Mix just until combined.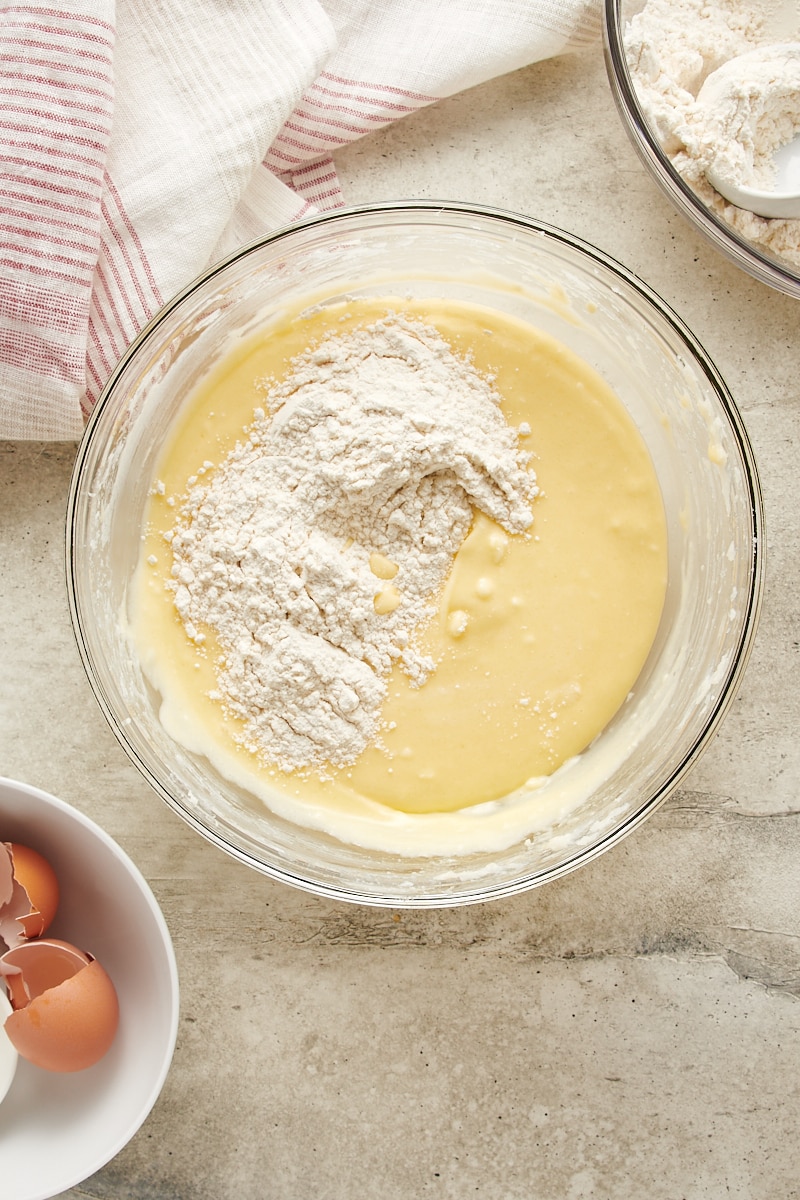 Chill the dough. Cover and chill the dough for at least an hour up to overnight. For longer chill times, you may need to let the dough sit at room temperature for 5-10 minutes so it will scoop more easily.
Prepare for baking. Heat the oven to 350°F. Line baking sheets with parchment paper or silicone liners.
Portion, shape, and fill. Using about 1 & 1/2 tablespoons of dough (I use a #40 scoop.), roll into balls and place about 2 inches apart on the prepared pans. Make an indentation in the middle of each cookie. (See my note below for tips on making the indentations..) Fill each cookie with about 1/2 teaspoon jam. If your kitchen is warm or your hands are warm while shaping the cookies, place the pans of cookies in the refrigerator for 15 to 20 minutes before baking.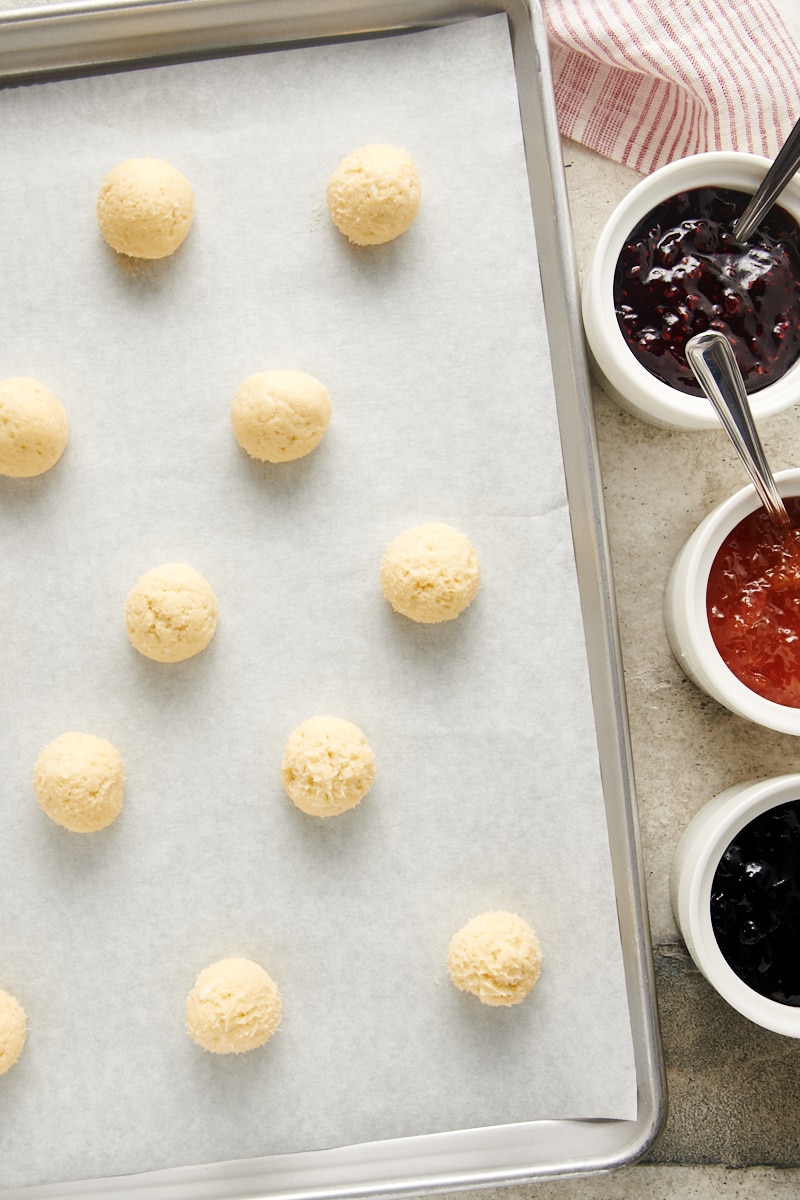 Bake. Place one pan at a time in the heated oven, and bake 12 to 15 minutes or until the edges are lightly browned.
Cool. Place the pans on a wire rack and allow the cookies to cool about 5 minutes. Then transfer the cookies from the pan to a wire rack to cool completely.
Garnish. If you like, dust the cookies with confectioners' sugar before serving.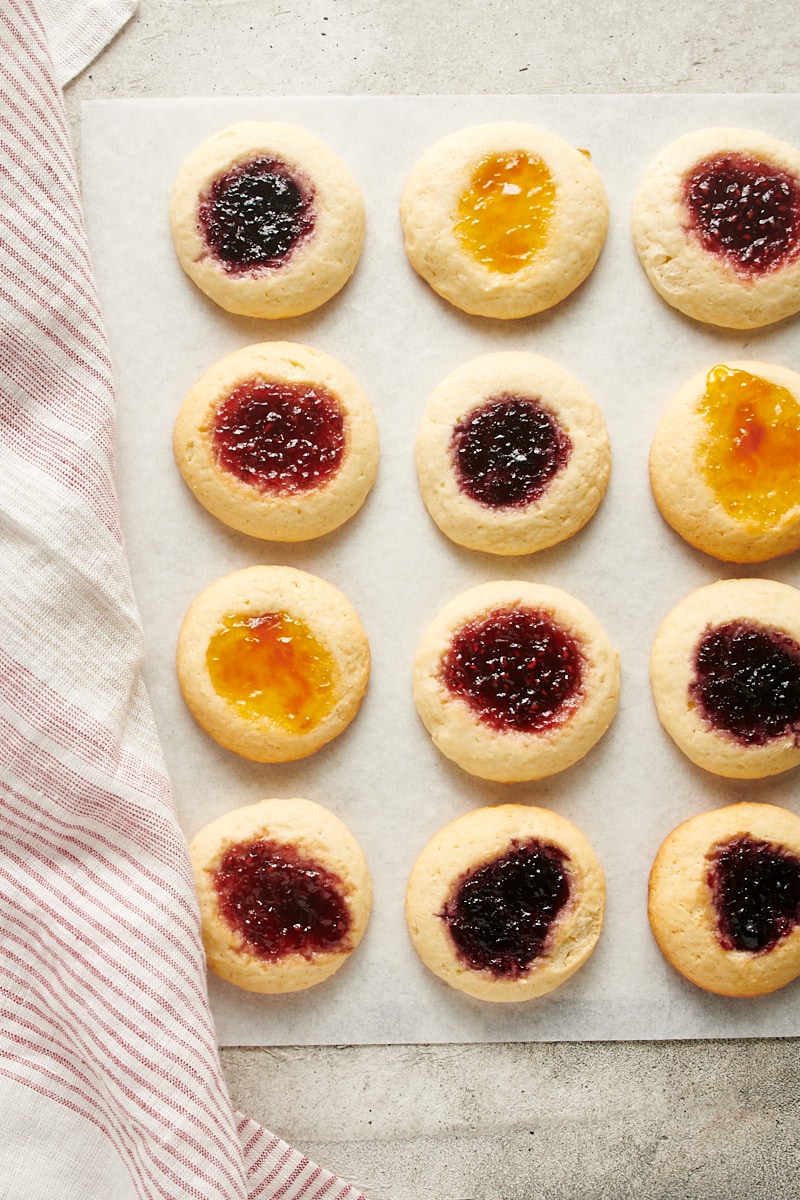 Making the Thumbprints
You can literally use your thumb to make the indention in these cookies. It's right in their name, after all! Keep a little bit of flour nearby to keep sticking to a minimum. When I use my thumb to make the indention, I like to make a partial indentation and then rotate ninety degrees and finish so the finished indentation is fairly round.
Alternatively, you can use a small measuring spoon. Pick one that's circular with a nice rounded bottom. Simply press it down into the center of the portioned cookie dough to make a small indentation.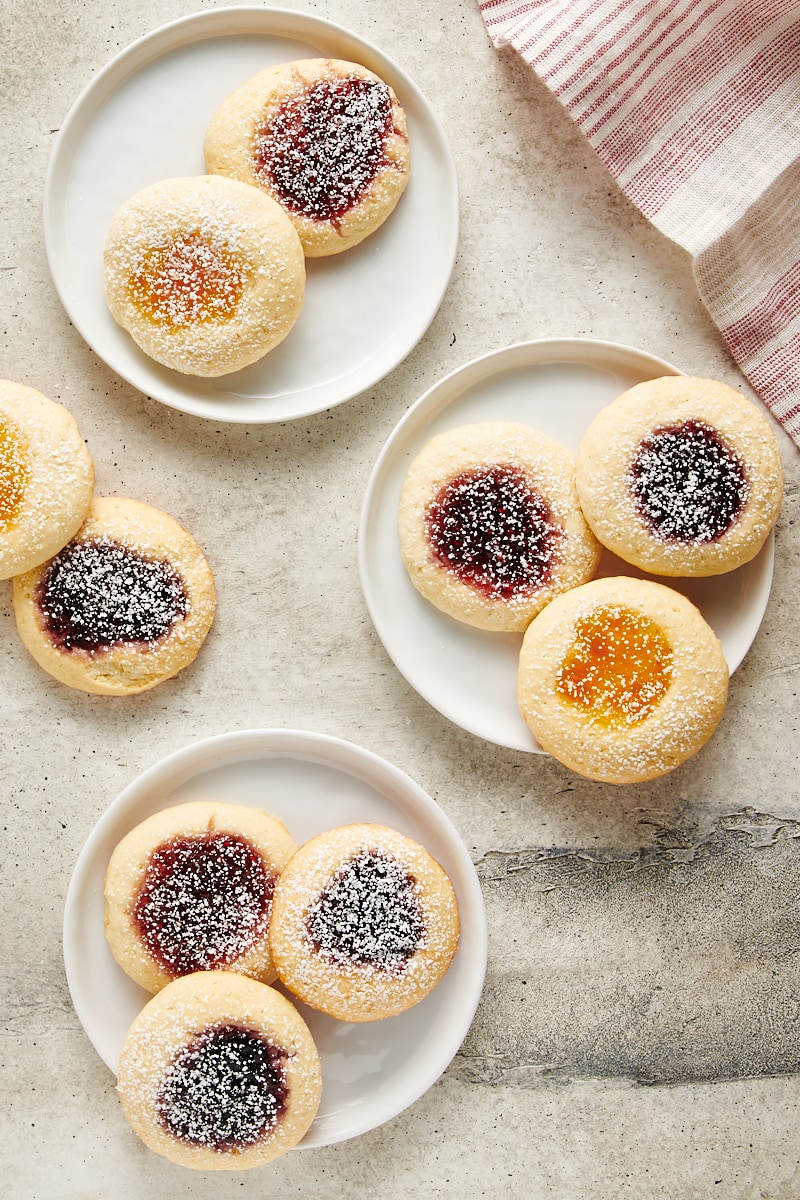 Tips for Success
Chill the dough. It will handle better after chilling. Chilled dough will also be less prone to spreading too much while baking. If your kitchen is warm or your hands are warm while shaping the dough, I also recommend chilling the shaped and filled cookies briefly before baking. Fifteen minutes or so will usually suffice.
Scoop and roll. For the prettiest cookies that are evenly baked, use a scoop to portion the dough and then roll each portion between your palms to make a smooth, round ball of dough. Sprinkle a little flour on your hands if the dough is too sticky.
Use good quality jams or preserves. Choose thick varieties and avoid thin, runny ones. If it's especially thick, give it a good stir to loosen it a bit before adding to the cookies.
Don't overfill the cookies. If you add too much jam, it will overflow and not stay neatly in the center. Honestly, I don't mind a little of that, but be mindful of filling them just full for a neater look.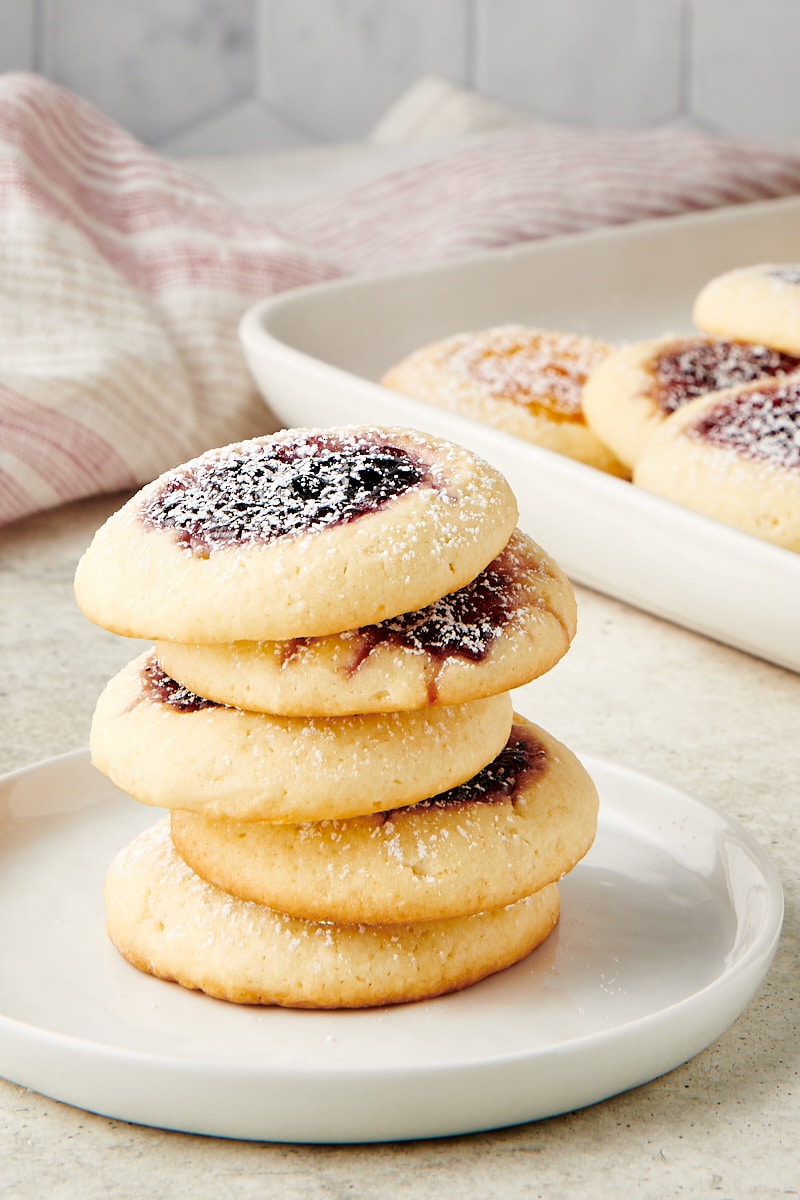 How to Store Cream Cheese Thumbprint Cookies
After the cookies have cooled completely, place them in an airtight container. If you need to layer them, place wax paper between the layers to keep them looking their best. They should keep up to a week.
If you dust them with confectioners' sugar, keep in mind that the cookies will absorb that sugar over time. For best results, wait to add that as a finishing touch before serving.
Can These Cookies Be Frozen?
You can freeze the baked cookies by placing the cooled cookies between layers of waxed paper or parchment paper in an airtight, freezer-safe container. They can be thawed overnight in the refrigerator or for an hour or two at room temperature. If you plan to dust them with confectioners' sugar, do so after they've thawed.
You can also freeze the unbaked cookies. Portion and shape them as directed, but don't add the filling. Place the cookies on a lined rimmed baking sheet and freeze until solid (about 2 hours). Then transfer to a freezer-safe bag or container. When you're ready to bake, place them on a baking sheet and fill with jam. Then bake them as directed, adding a minute or two to the baking time.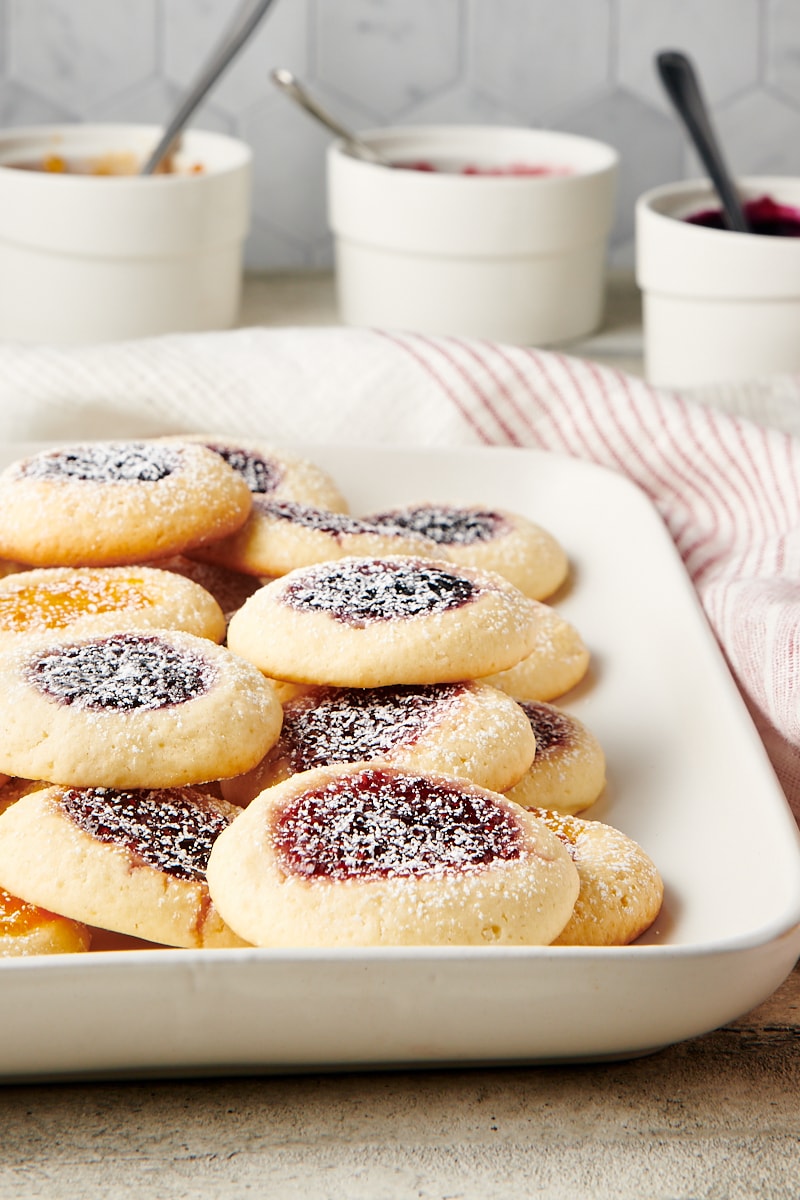 Video Tutorial: Cream Cheese Thumbprint Cookies
More Thumbprint Cookie Recipes