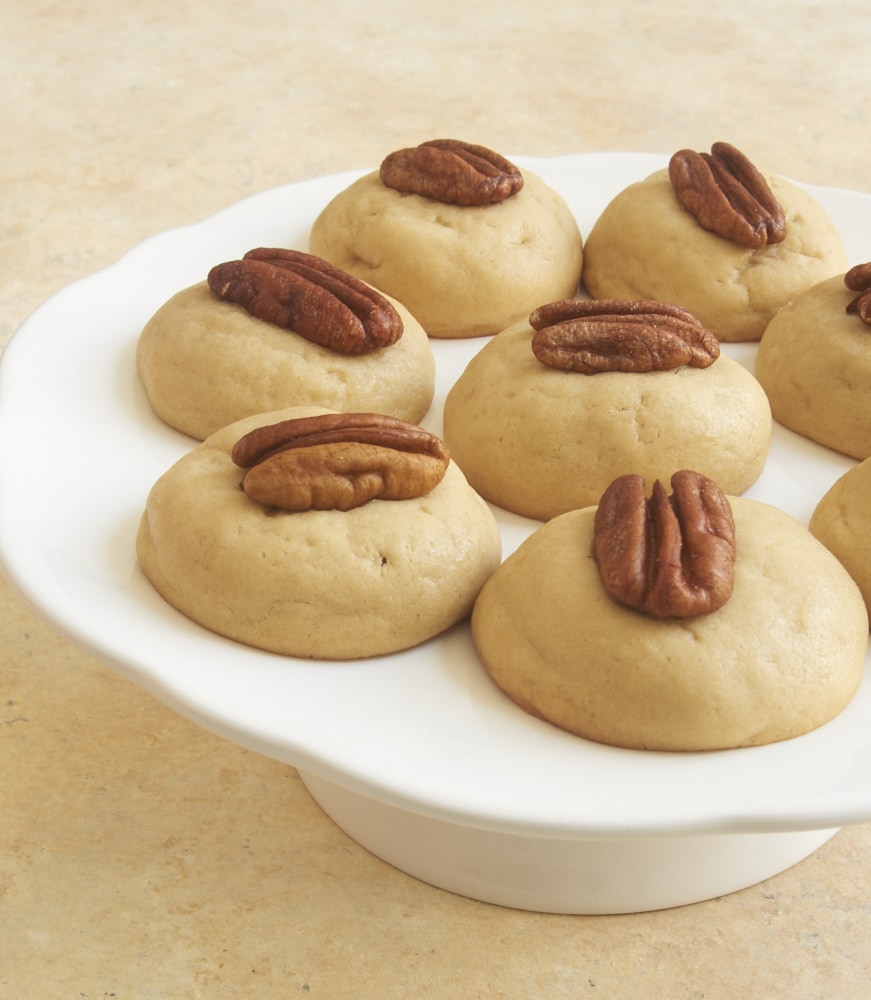 Pound cake is one of the baking world's finest examples of "less is more." You just need a short list of ingredients to get a sweet, dense, buttery dessert. That's my kind of baking!
A while back I found a recipe for Pound Cake Cookies in Taste of the South magazine and bookmarked it very quickly. Cookies that taste like pound cake? Oh, yeah. I was less than quick about getting around to baking them, though. (Is procrastibaking a word? It should be.)
But now that I have finally made them, I can happily tell you that these cookies are so very, very good. They have a lovely sweetness that's not overwhelming. They're a little crispy on the outside, yet soft and cake-like in the center. They live up to their namesake in both flavor and texture!


I followed the original recipe closely and also followed its lead by topping each cookie with a pecan half before baking. That simple addition is just perfect in my book. If you aren't a nut fan, just omit them and enjoy your cookies with no accoutrements.
One bit of warning before you start baking…. I found that these cookies don't get noticeably browned around the edges as they baked. I followed the recipe's baking times and found that the higher time estimate in their range worked perfectly for me.
In addition to their great taste, these cookies are also really quite lovely in appearance. They'd make wonderful gifts or a tasty addition to a cookie tray. As an added bonus, they stayed fresh-tasting for several days, too. We were still enjoying these about a week after I baked them!
Yield: about 24 cookies
Prep Time: 20 minutes
Cook Time: 14 minutes per pan
Pound Cake Cookies take the flavors and textures we love in pound cake and transform them into cookie form!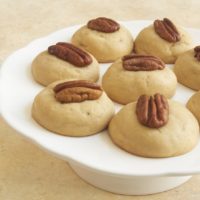 2 cups all-purpose flour
1/2 teaspoon salt
1/2 cup unsalted butter, softened
4 ounces cream cheese, softened
1 cup firmly packed light brown sugar
1 large egg
1 & 1/2 teaspoons vanilla extract
about 24 pecan halves
Directions:
Whisk together the flour and salt. Set aside.
Using an electric mixer on medium speed, beat the butter, cream cheese, and brown sugar until light and fluffy. Add the egg and mix just until combined. Mix in the vanilla.
Reduce the mixer speed to low. Gradually add the flour mixture, mixing just until combined.
Cover the dough and refrigerate at least 2 hours or overnight.
Preheat oven to 350°F. Line baking sheets with parchment paper or silicone liners.
Roll the dough into 1-inch balls. Place about 2 inches apart on the prepared pans. Press a pecan half into the top of each dough ball.
Bake 12 to 14 minutes, or until the edges are golden brown. Cool on the pans for 5 minutes. Then transfer the cookies to a wire rack to cool completely.