December 5, 2016
Cinnamon Pecan Puffs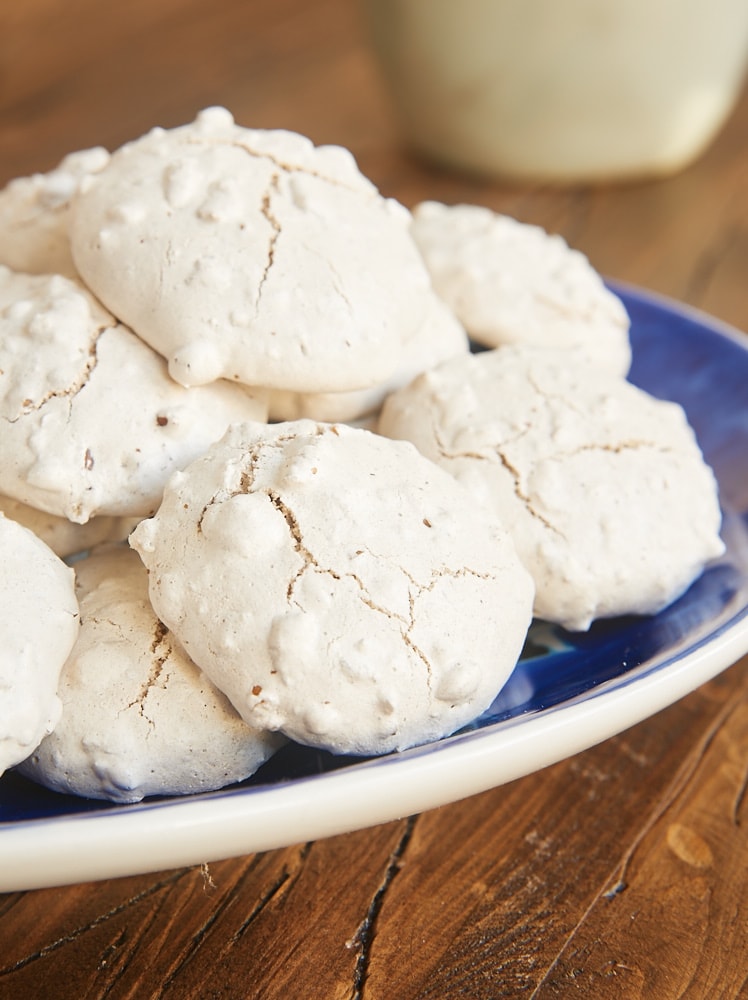 Recently, I got a bit nostalgic for some cookies that my mother and I used to bake during the holidays. I fondly recalled a very simple cookie that was crisp on the outside and chewy on the inside. And I remembered lots and lots of pecans. I scoured through her old recipes and finally came across her handwritten recipe for Pecan Puffs.
These little cookies are essentially meringue cookies, but with a whole bunch of brown sugar instead of the traditional white sugar. And, as you've already guessed from the recipe title, there are plenty of pecans, too.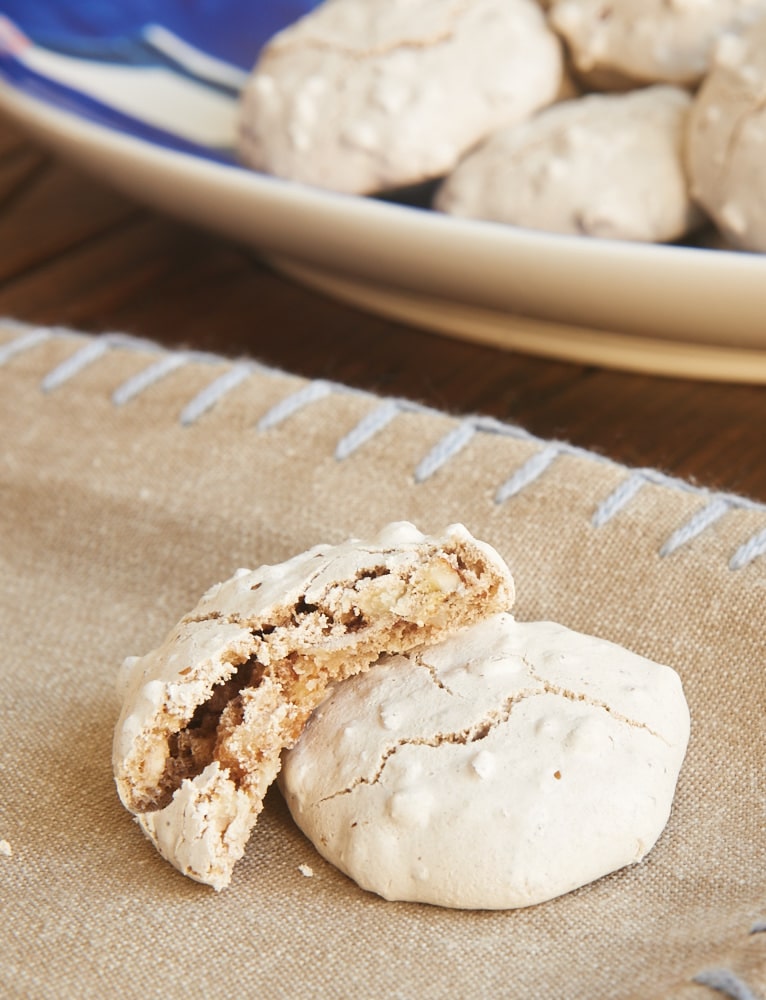 These cookies are wonderfully soft and chewy. They're a little crisp on the outside, but the inside is light and airy. The pecans add a nice crunch to go along with the chewiness of the cookies. The texture of these cookies is really a nice change from the usual cookie fare.
As much as I'm a fan of cookie scoops, I don't use one for portioning these cookies. I prefer to use two small spoons – one to scoop and the other to transfer the batter to the pan. A scoop will serve you well, but nostalgia for baking with my mother makes me go the other route. You an also opt to use a piping bag if you prefer.
The beauty of these cookies is their simplicity. You're likely to have everything you need in your kitchen to make them at any time. My mother's version was made simply with egg whites, brown sugar, vanilla, and pecans. I couldn't resist adding some cinnamon and a bit of salt for a little extra flavor.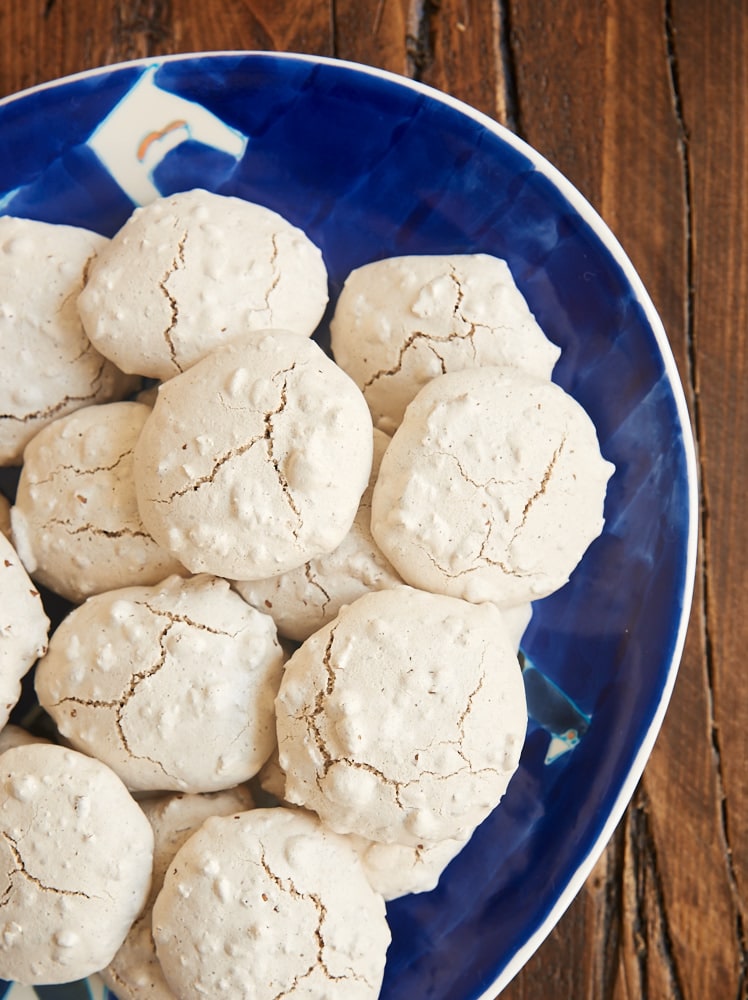 My one bit of warning to you is that it can be difficult to tell when these cookies are done. If they are under-baked, they'll stick to the pan lining and pretty much fall apart. The color doesn't change that much, but there are a couple of things you can look for to gauge doneness. First of all, the cookies should appear dry on the top. Next, if you lightly tap the top of the cookies, they shouldn't give at all. And if you're still not sure, you can carefully use something like a small spatula to try to lift one of the cookies off the lining. If it releases easily and doesn't stick, then they're done.
While I love these cookies any time of year, I usually associate them with the holiday season. They're a great contrast to all of the other usual holiday cookies. If you're baking a few varieties to package as gifts or for a cookie tray, then these are a great choice to go along with the more traditional choices.
Find more cookie recipes in the Recipe Index.
This post contains affiliate links. If you make a purchase through one of the links, I'll receive a
small commission at no additional cost to you.
Cinnamon Pecan Puffs
Yield: about 50 cookies
Prep Time: 15 minutes
Cook Time: 40 minutes per pan
Cinnamon Pecan Puffs are soft, chewy, nutty cookies made with a short list of ingredients. A long-time favorite!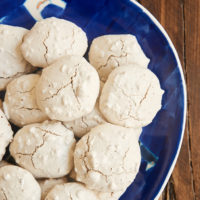 Ingredients:
2 large egg whites, at room temperature
1 teaspoon vanilla extract
1 cup firmly packed light brown sugar
1 teaspoon ground cinnamon
1/4 teaspoon salt
2 cups finely chopped pecans
Directions:
Preheat oven to 250°F. Line baking sheets with parchment paper or silicone liners.
Using an electric mixer with a whisk attachment, whip the egg whites and vanilla on medium-high speed until soft peaks begin to form.
Combine the brown sugar, cinnamon, and salt. While continuing to mix the egg whites, gradually add the sugar mixture (about 1-2 teaspoons at a time).
Continue mixing until the mixture is smooth and stiff peaks form. This will take several minutes.
Gently fold in the pecans.
Using about 2 teaspoons of the mixture at a time, drop the cookies onto the prepared pans, leaving about 2 inches between the cookies. Alternately, you can use a piping bag with a wide tip for more uniform cookies.
Bake 35 to 40 minutes, or until the tops appear dry and do not give when tapped. You can also carefully use a small spatula or a knife to slide underneath the cookies to check that they will release easily from the lining.
Cool the cookies on the pan for 10 to 15 minutes. Then gently remove the cookies from the pans and allow to cool completely. Store in an airtight container.