Skip the rolling and cutting with these easy Drop Sugar Cookies! Keep them simple with a coating of sugar or add a variety of toppings for a little baking fun!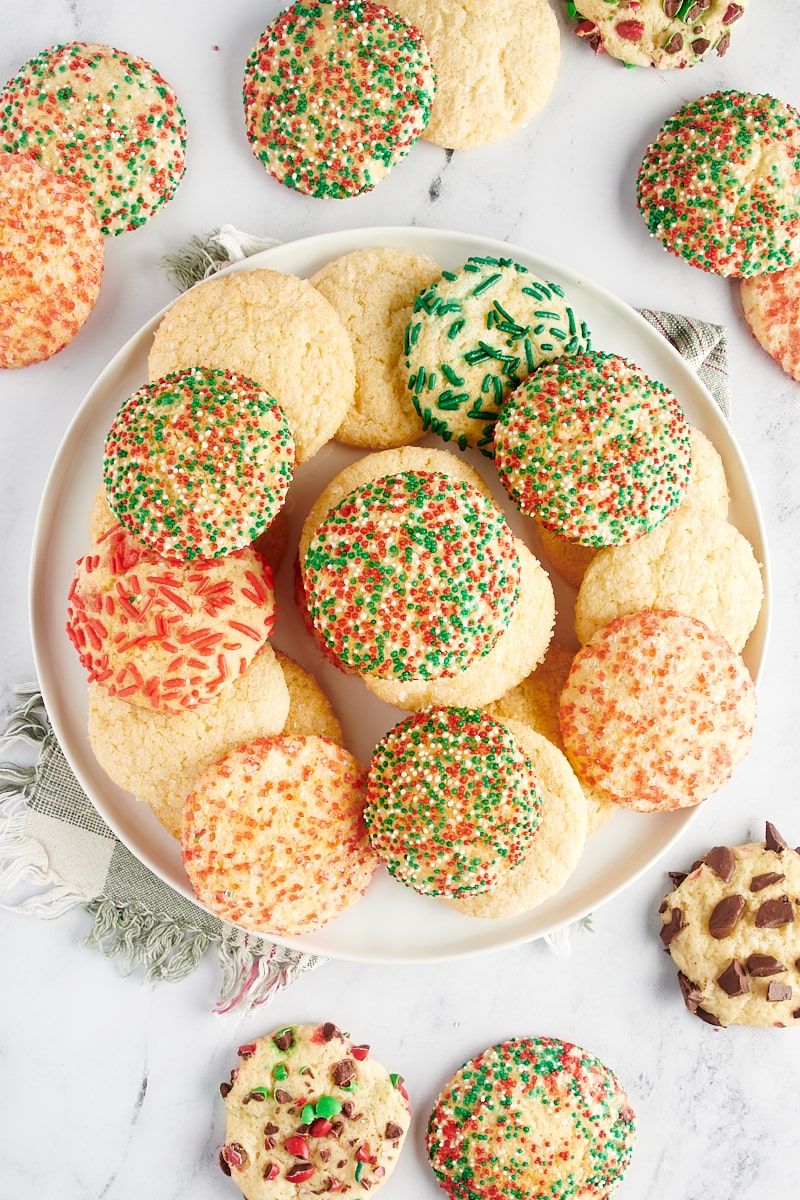 Easy No-Roll Sugar Cookies
I'm a no-fuss kind of baker. I love to bake from scratch, but I prefer simple recipes. Simplifying sugar cookies is a no-brainer for me. Let's skip rolling and cutting and detailed decorating in favor of scooping and dressing them up in fun ways!
This sugar cookie recipe is great for bakers of all skill levels. If you're just starting your baking journey, then they're a great place to start. And if you've been baking for years, you'll appreciate how easy they are to make and how versatile they are!
In their simplest form, these cookies are simply scooped and placed on the baking sheet. For the holiday season, I can't resist adding some toppings to make them fun and festive. They look so pretty on a cookie tray!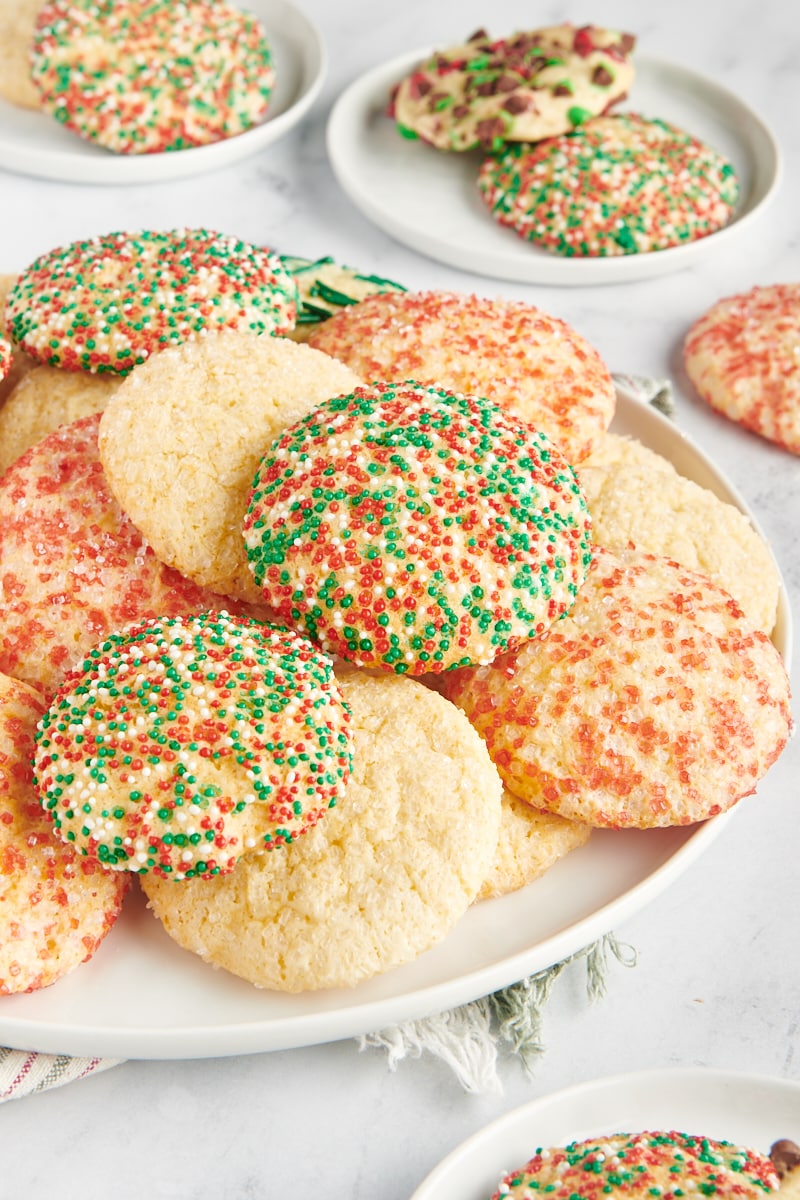 What is a Drop Cookie?
A drop cookie is one that is portioned by scooping and placing the dough onto a baking sheet. That's usually done with a cookie scoop or a spoon. The dough is dropped onto the pan, hence the name. These types of cookies are generally easy to make and don't require the extra steps of rolled or cut cookies.
Some of the most popular cookies are drop cookies. Traditional chocolate chip cookies, peanut butter cookies, and oatmeal cookies are all made this way. If you're in a serious cookie-baking mood, check out all of my drop cookie recipes!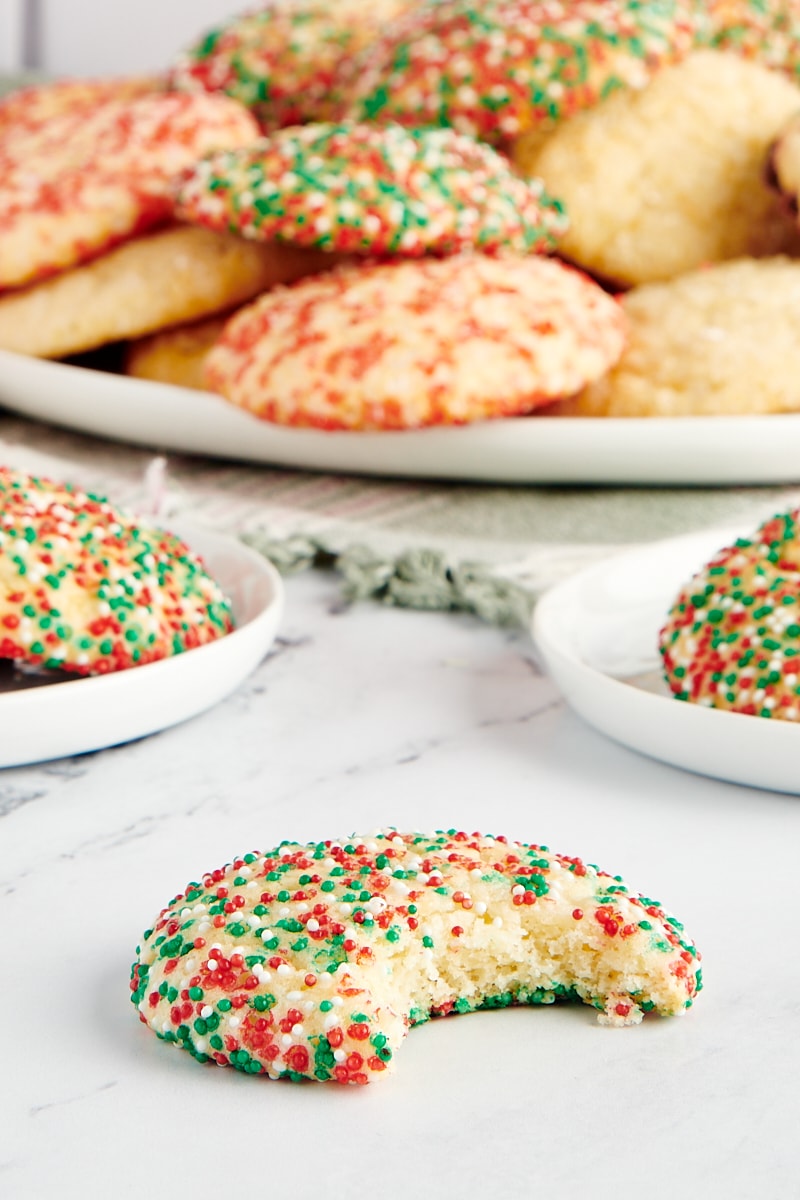 What You'll Need
You'll just need the basics to make these sugar cookies. Scroll down to the recipe card at the bottom of this post for ingredient quantities and full instructions. Here are some notes about the ingredients you'll need.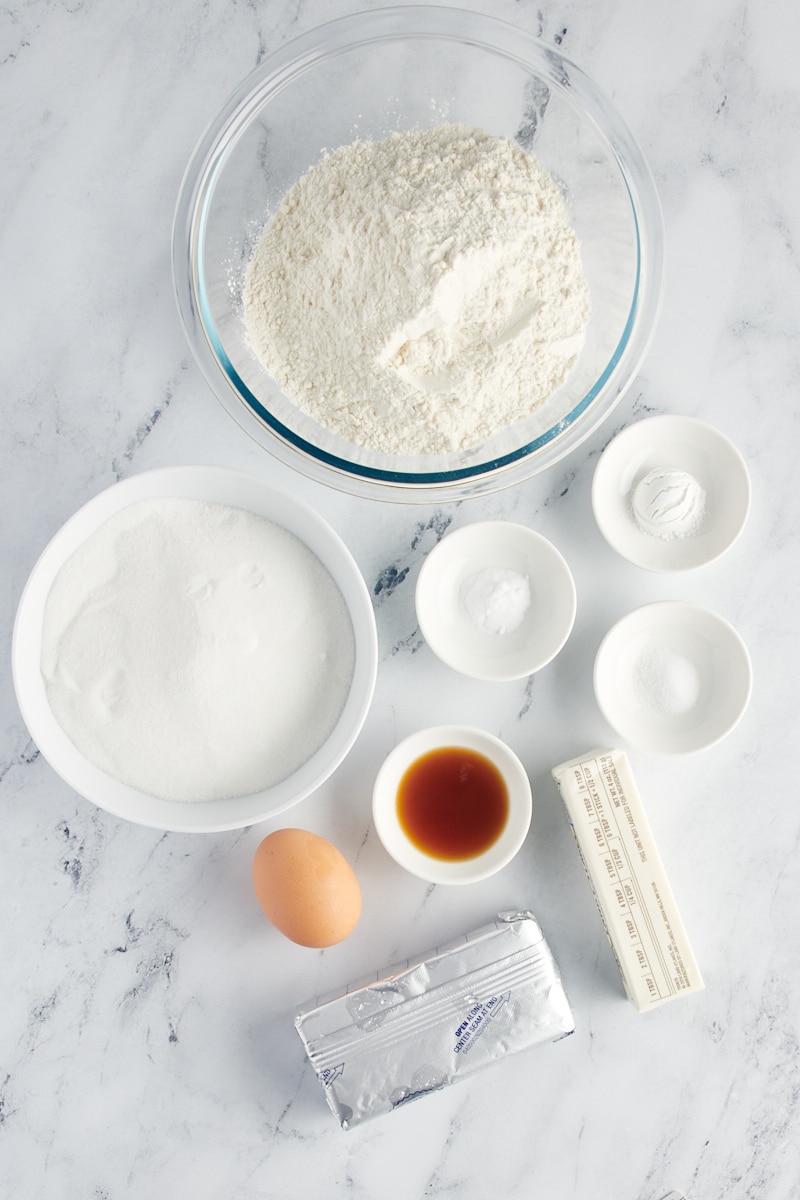 Topping Ideas
You can, of course, make these drop sugar cookies in their unadorned form by simply scooping the dough and placing it directly on the baking sheet. You'll be perfectly happy and content with a super simple sugar cookie.
But if you've got a hankering to add a little something, try some of these tasty toppings. At a minimum, I like to roll them in sanding sugar or even just granulated sugar for a little extra sparkle and sweetness. Roll the cookie dough balls in your preferred topping, and bake as directed in the recipe.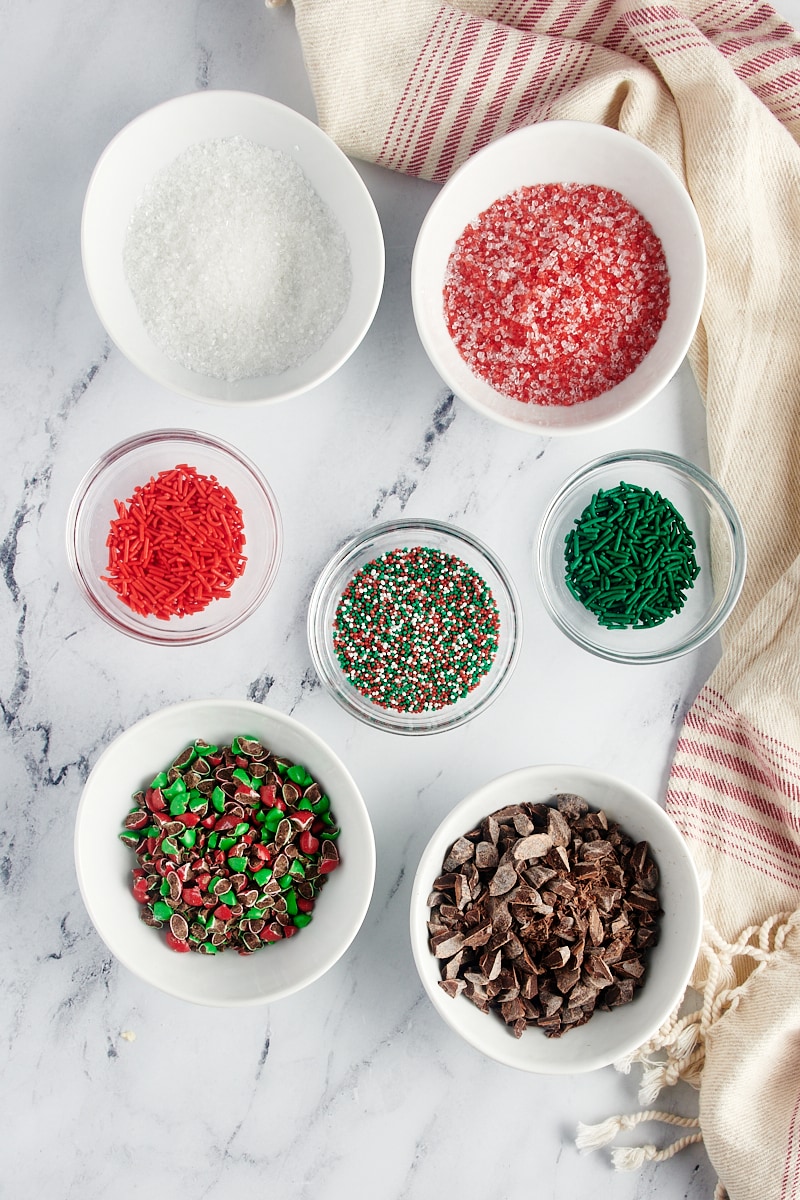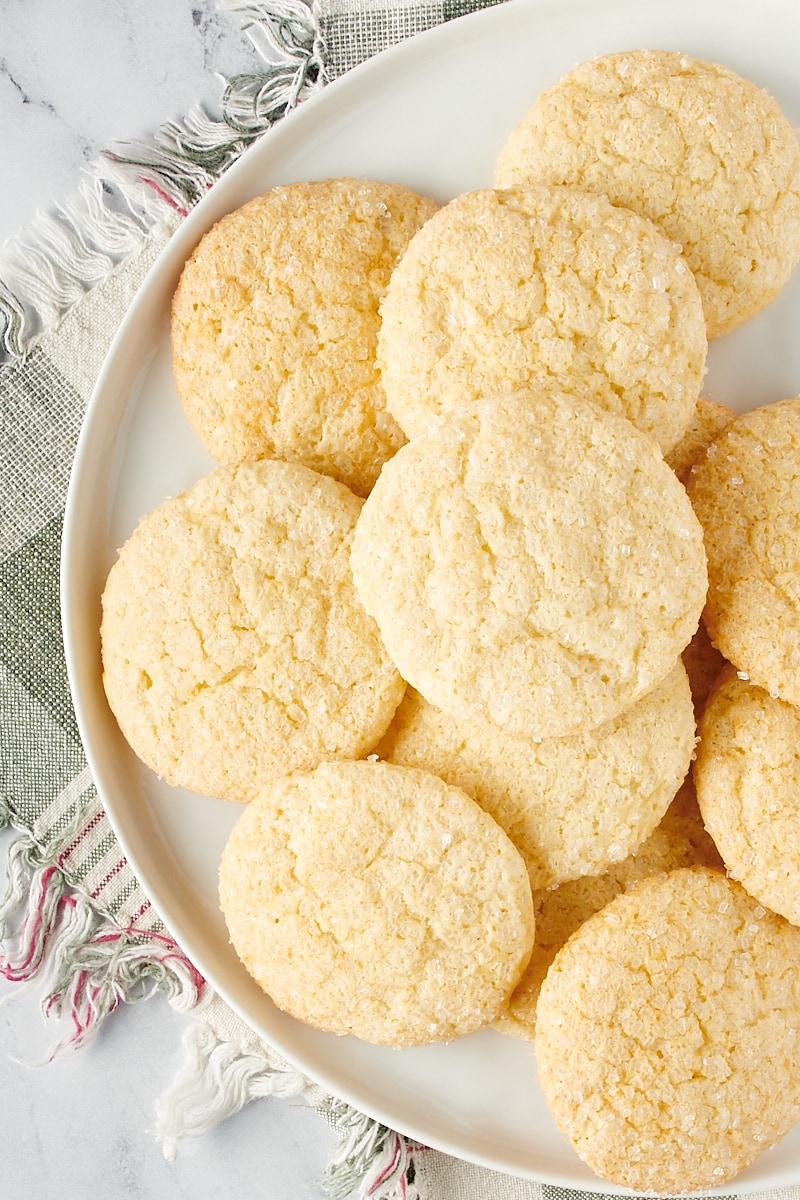 How to Make Drop Sugar Cookies
You'll love how simple it is to make these sugar cookies. Leave your rolling pin in the drawer; just grab your cookie scoop for portioning! Remember to account for the chilling time when you're planning to bake.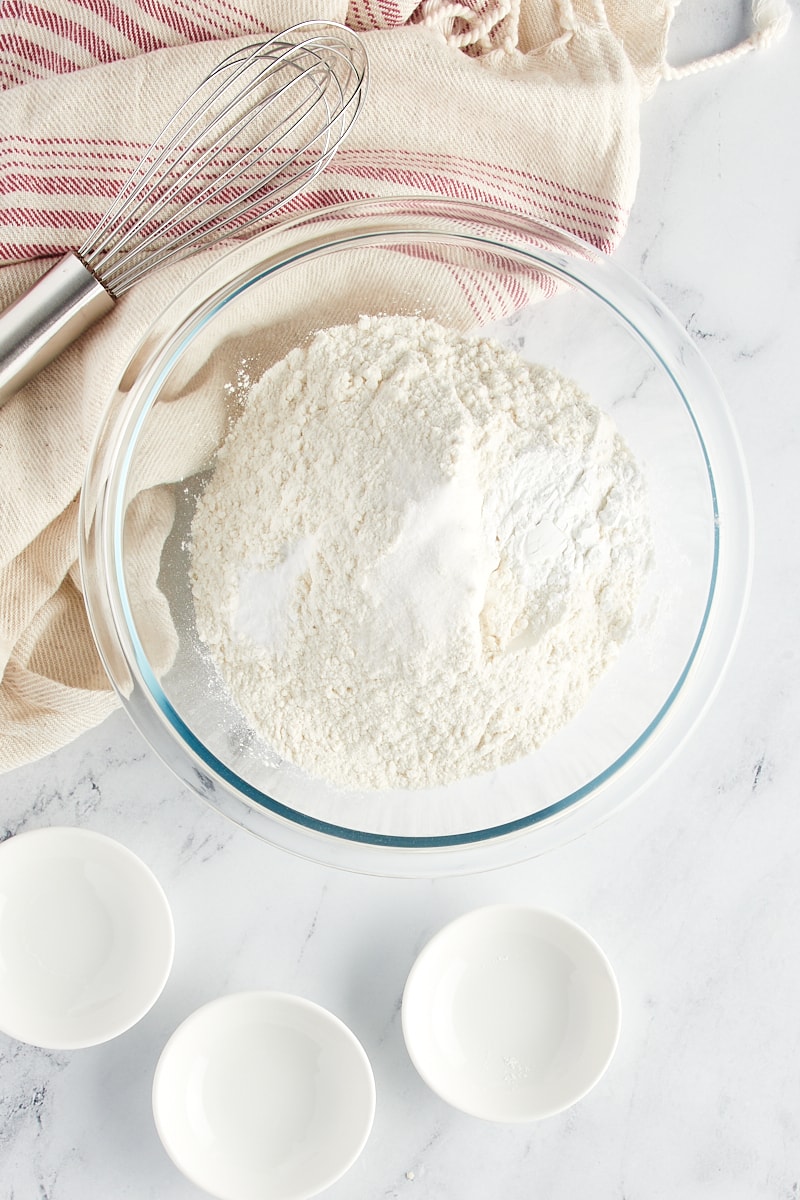 Combine the dry ingredients. Whisk together the flour, baking powder, baking soda, and salt.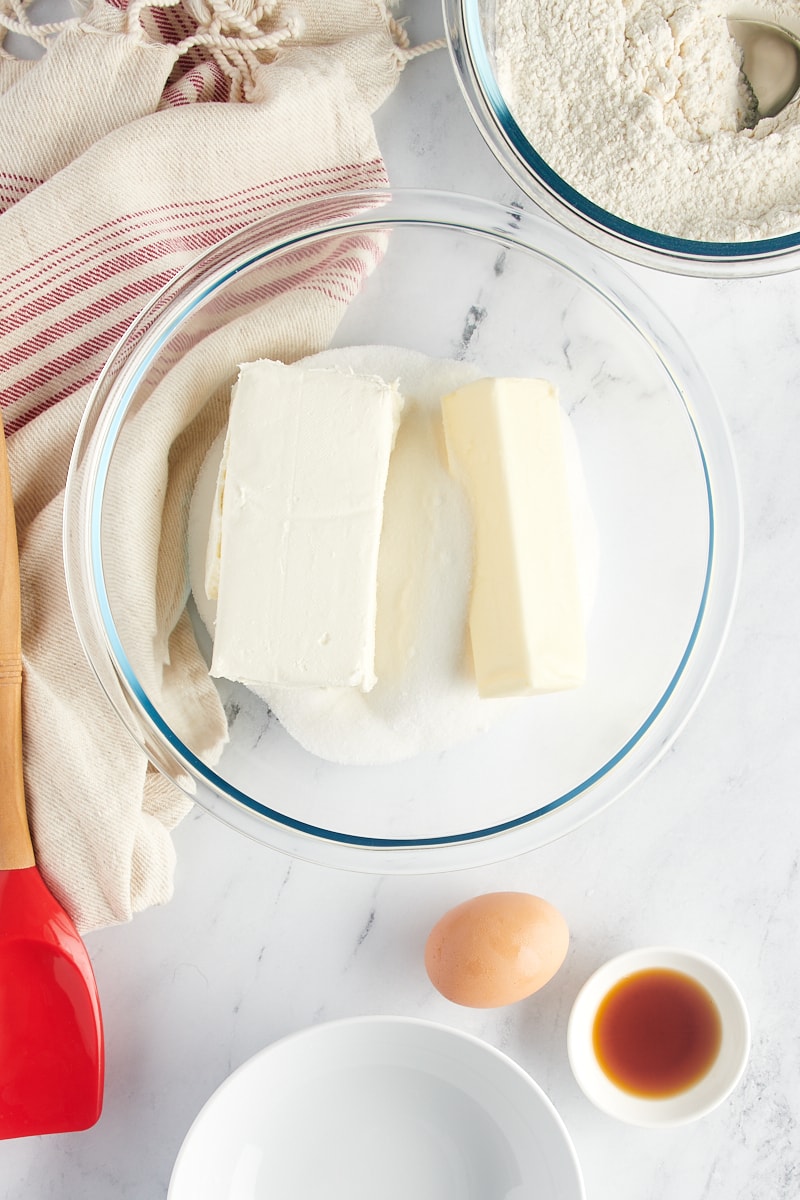 Combine the wet ingredients. Place the butter, cream cheese, and sugar in a large mixing bowl. With an electric mixer on medium speed, beat these ingredients until they're fluffy and lightened in color. Add the egg and vanilla, and mix well.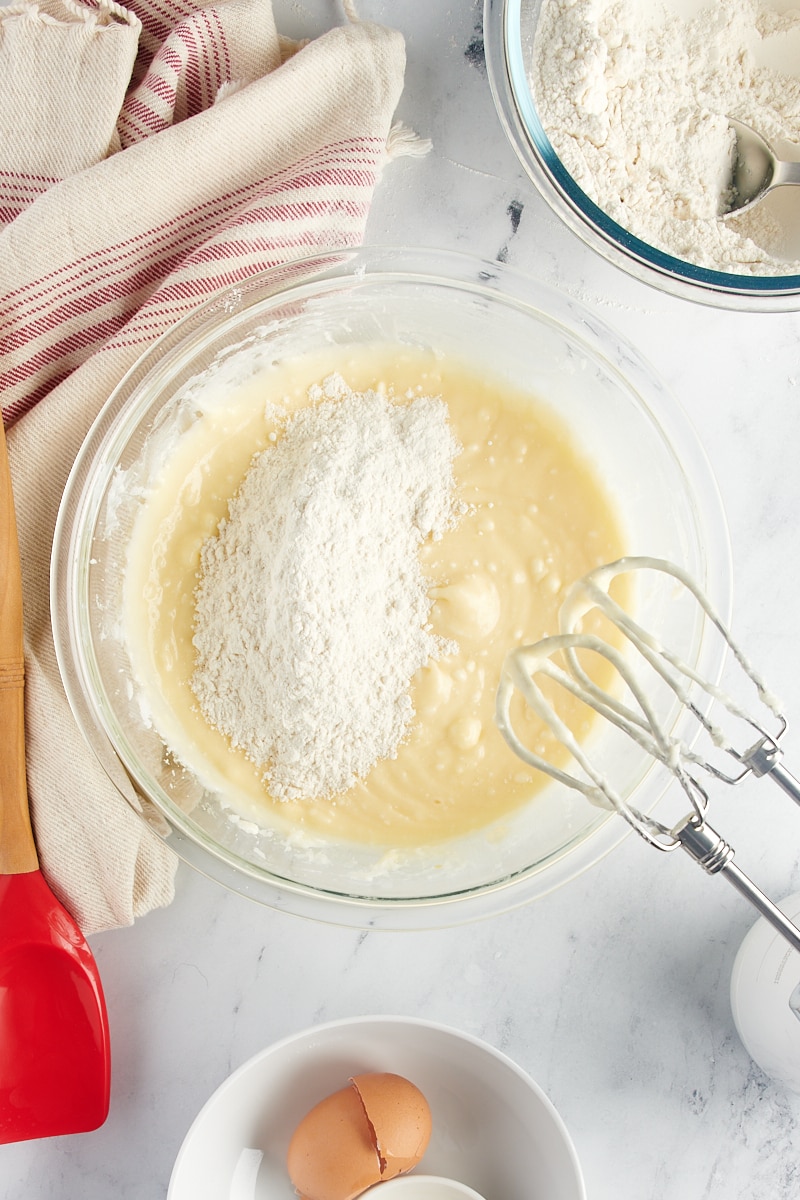 Add the dry ingredients to the wet ingredients. With the mixer on medium speed, gradually add the flour mixture. Don't over-mix; mix just until combined.
Chill. Cover the dough and refrigerate. Let it chill for an hour up to overnight.
Prepare for baking. Heat the oven to 350°F. Line baking sheets with parchment paper or silicone liners.
Portion. Using 2 tablespoons of dough at a time (I use a #30 scoop), roll the dough into balls.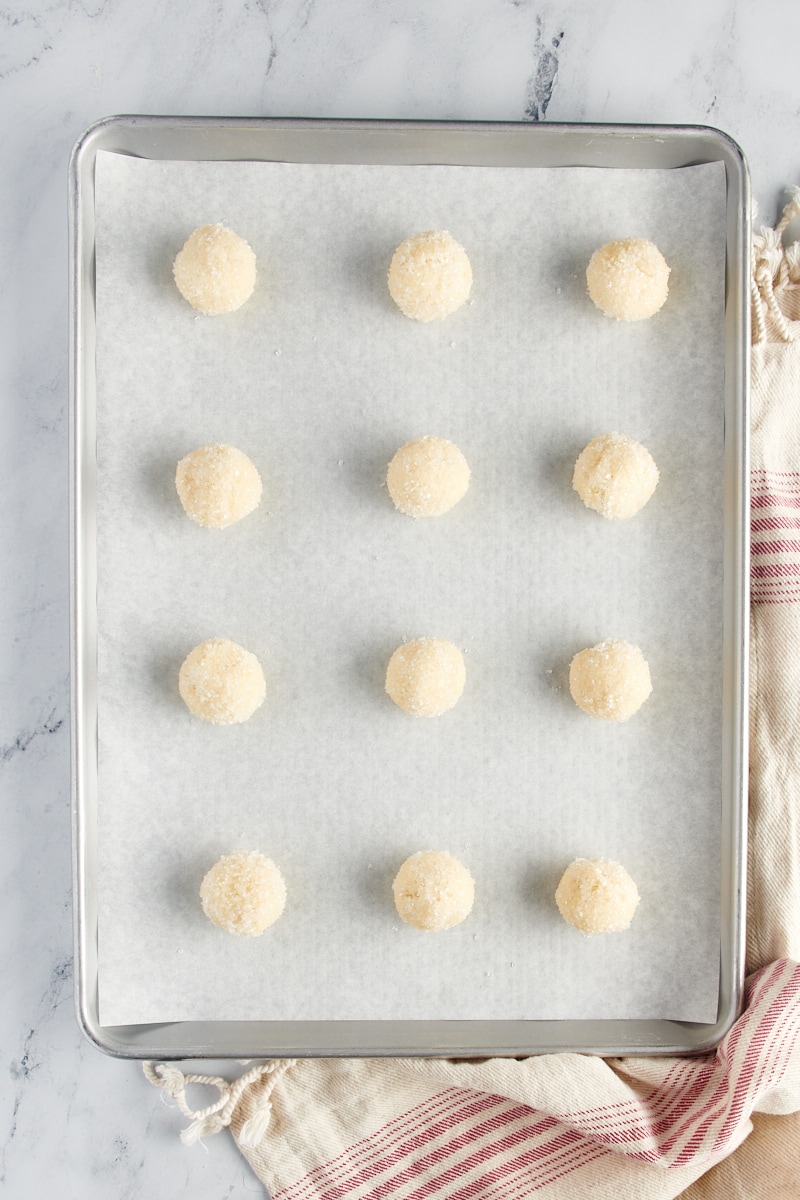 Add any toppings. If you want to add toppings, roll the dough balls in the toppings to coat thoroughly. Place the cookies on the prepared pans, leaving about 2 inches between cookies.
Bake. Place one pan in the oven, and place the remaining cookie dough back in the refrigerator. Bake for 14 to 16 minutes, or until the cookies are browned around the edges and set in the center. Repeat with the remaining dough.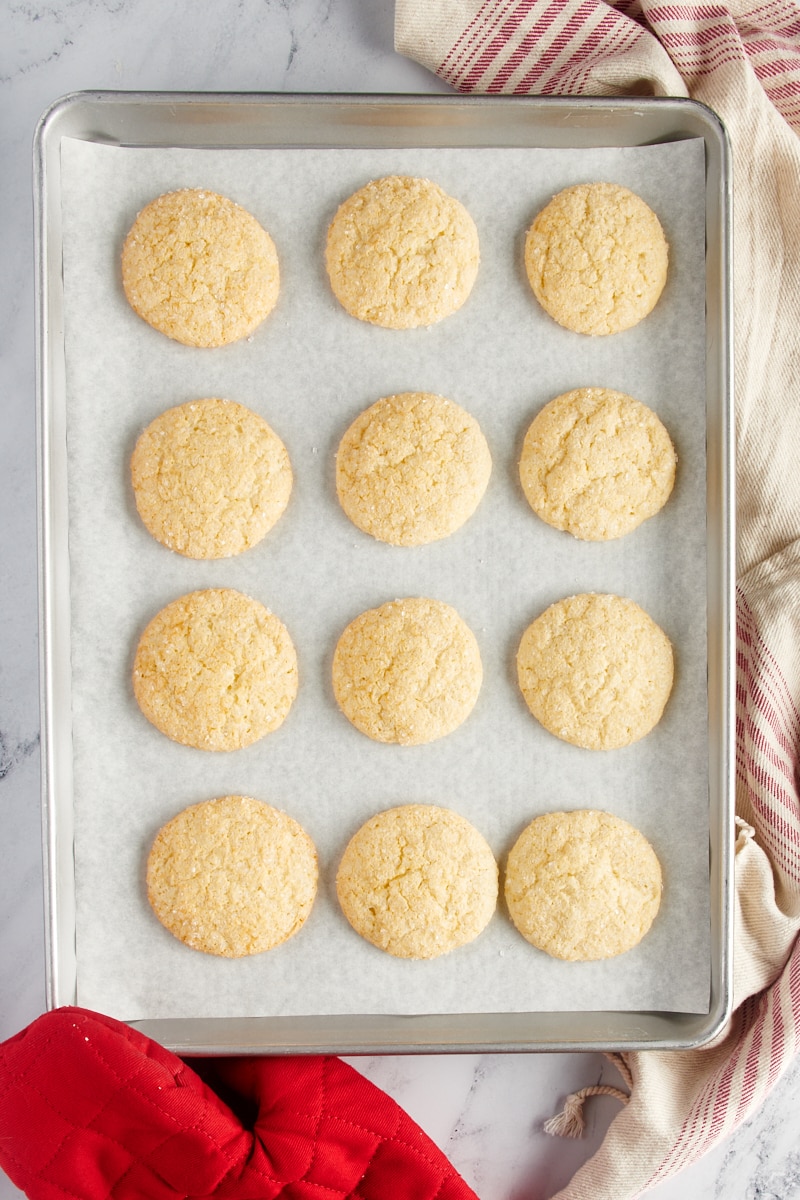 Cool. Place the pans on wire racks, and allow the cookies to cool for 5 minutes. Then transfer the cookies from the pans directly onto a wire rack to cool completely.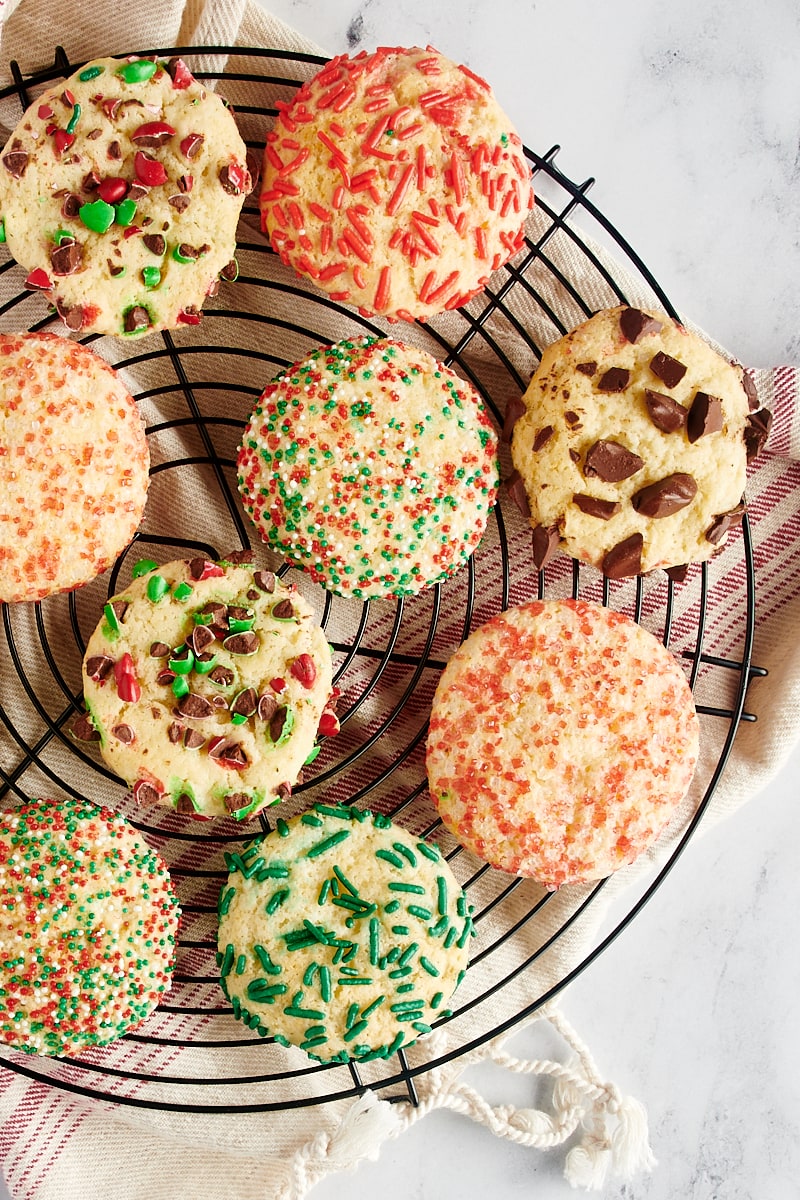 Tips for Success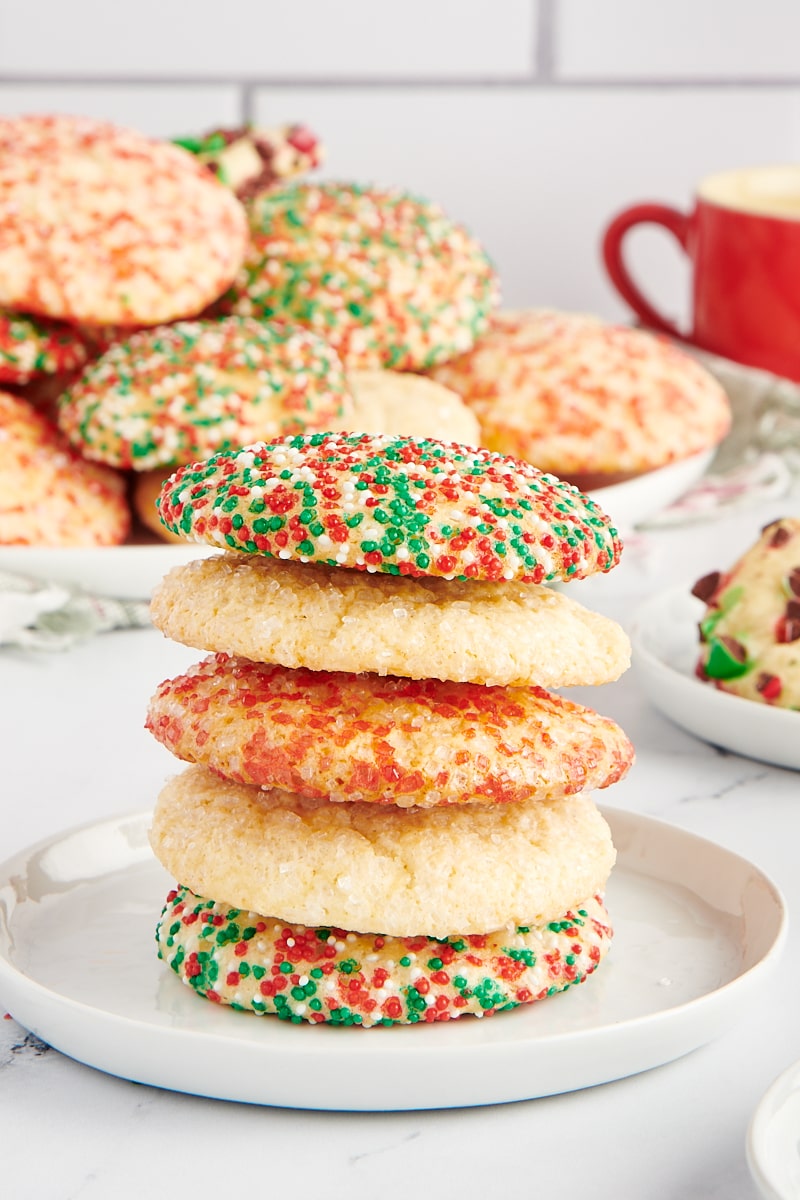 How to Store
After the cookies have cooled completely, place them in an airtight container. Decorated cookies will likely benefit from a sheet of parchment paper between layers of cookies. Store at room temperature up to 3 days.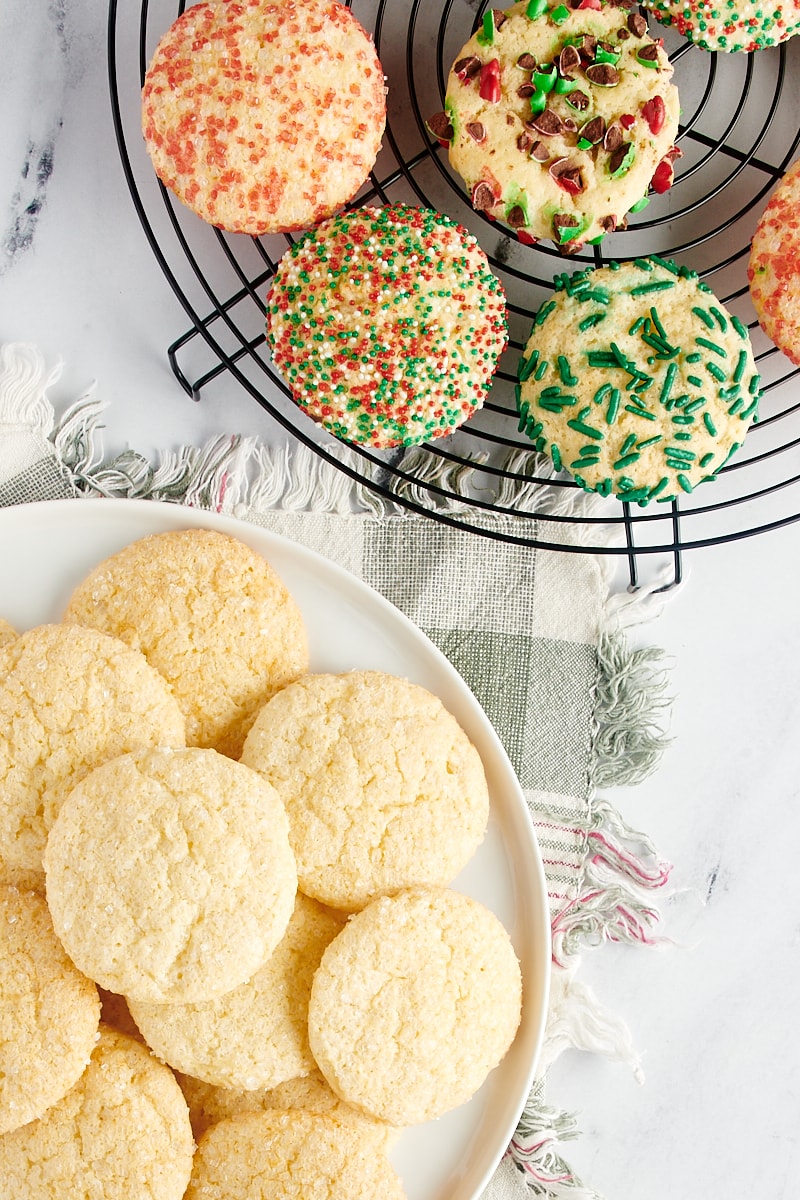 How to Freeze Drop Sugar Cookies
Place the cooled cookies in a freezer-safe container or bag, layering between sheets of parchment paper. Properly stored, the cookies should keep in the freezer up to 3 months. Thaw in a single layer for an hour or so at room temperature.
You can also freeze the unbaked cookie dough. After portioning and shaping the cookies, place them on a rimmed baking sheet, and then place them in the freezer until they're frozen solid (about 3 to 4 hours). Place the frozen dough balls in a freezer bag or container. When you're ready to bake, simply add another minute or two to the baking time.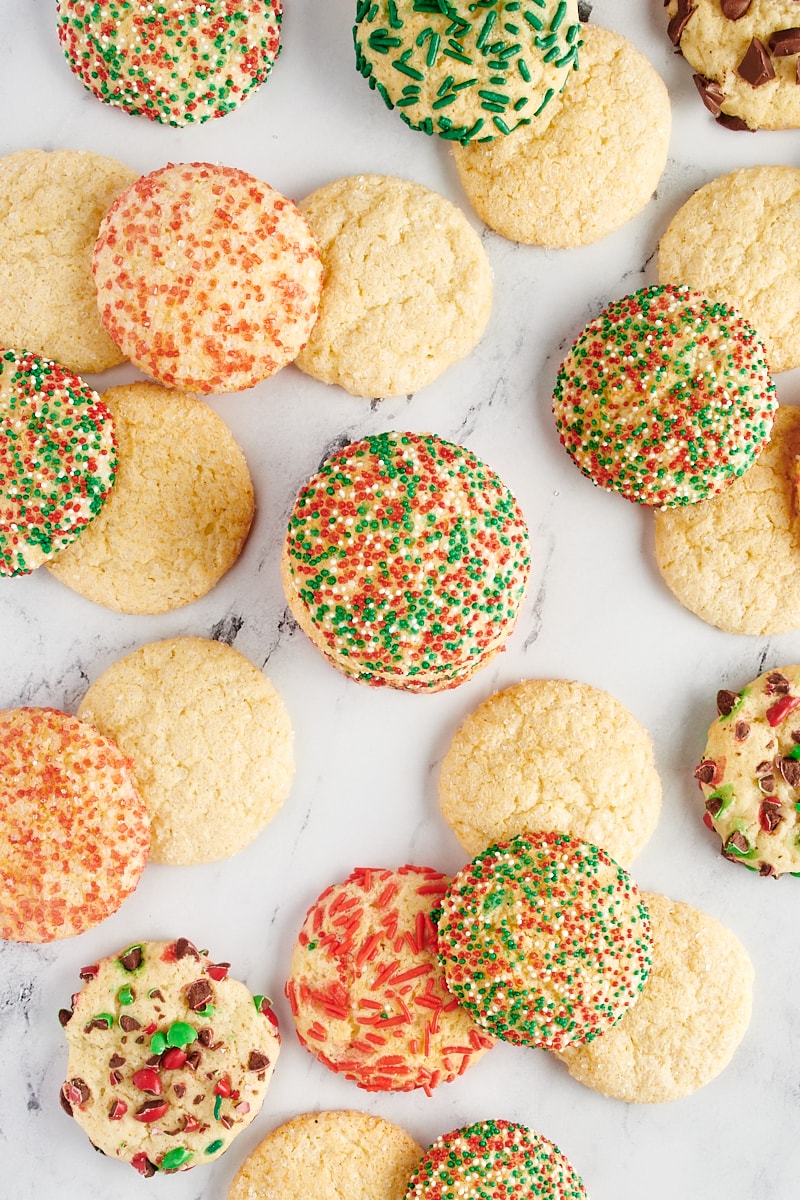 More Sugar Cookie Recipes