Freezing cookie dough is the very best way to have freshly baked cookies whenever you have a craving. Just follow these tips to keep your freezer stocked with plenty of cookie dough!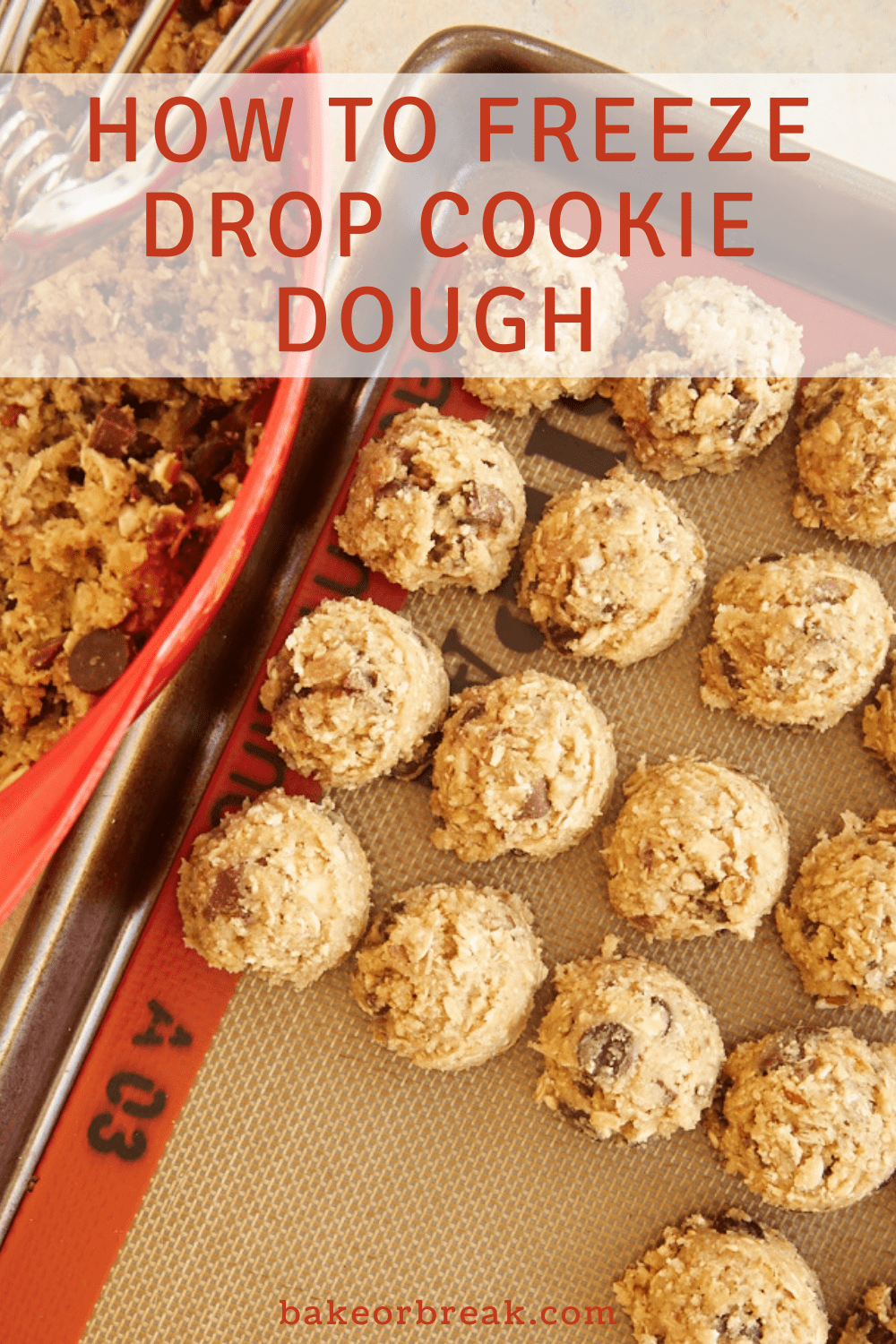 One of my favorite things to bake is cookies. I love making all kinds of cookies to share and to enjoy for ourselves. What's better than a freshly baked cookie? Not much, I tell you.
And I'm here to tell you how to get even more of that freshly baked deliciousness. The secret is freezing cookie dough!
Granted, there are plenty other reasons to freeze cookie dough besides treating yourself to freshly baked cookies with very little effort. Maybe you're gearing up for putting together a bunch of homemade treats for gifts. Perhaps you like the idea of having some emergency dessert on-hand for unexpected guests. If you have a friend who loves homemade cookies, gift them a bag full of cookie dough so they can have freshly baked cookies whenever they like. Whatever the reason, having homemade cookie dough in your freezer ready to bake is a really great thing you can do for your future self.

What types of cookie doughs freeze best?
Before we get too far, the first thing we should cover is what kinds of cookie doughs lend themselves well to freezing. The answer is that most cookie doughs, especially those with plenty of butter and fat, will freeze. Some just perform better than others.
Drop cookies, which are those that are scooped and dropped onto a baking pan, are generally considered the best candidates for freezing. They're likely the simplest overall from freezing to baking. We're talking chocolate chip cookies, peanut butter cookies, and oatmeal cookies. My favorite cookies to freeze are my Favorite Chocolate Chip Cookies, which you can see here in these photos.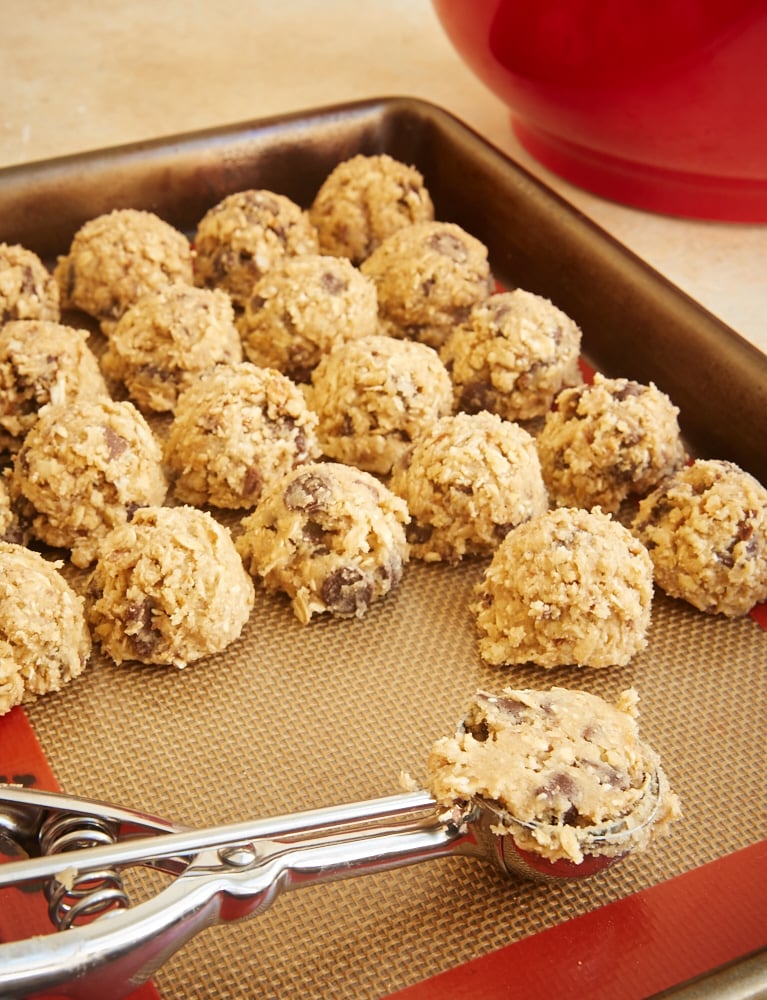 Most cookies fall into the drop cookies category, so learning how to freeze that type of dough will easily keep your freezer stocked with plenty of dough just waiting to be turned into freshly baked cookies!
So, let's get down to dough freezing business. If you're a cookie baker, you'll likely already have all the things you need in your kitchen to get started.
How to Freeze Drop Cookie Dough
Make your cookie dough as directed in the recipe up to the portioning. If you need to chill the dough before scooping, then do that as directed.
Line a baking sheet with parchment paper or a silicone liner. This is really optional, but I prefer to line my pan so that the dough doesn't stick and I don't have much clean-up afterwards.

The size of the baking pan you'll need depends on how much dough you're freezing and how big your freezer is. I prefer to use a quarter sheet pan for a couple of reasons. First of all, it fits well in my freezer. And secondly, it usually provides more than enough room for the amount of dough I'm freezing. The cookie dough you see in these photos was scooped with a 1-tablespoon scoop. I can easily fit 35 unflattened cookies of that size on my quarter sheet pan.

Portion the dough. As always, I prefer using a cookie scoop for consistent sizing. Place the dough balls on the baking pan. If the recipe directs you to flatten the cookies, you can do that before freezing. As you're placing the dough on the pans, just be sure to leave enough space between them for flattening. The portioned dough can be placed very close together, but they shouldn't touch each other.
Place the pan in the freezer, making sure the pan sits flat.
Freeze the cookie dough for about 6 hours. They should be nicely frozen after that time. Much longer, and they can get freezer burn.
Transfer the cookie dough to freezer bags or containers. With the dough frozen, they can all go into the bag or container together without any separation.
Use a permanent marker to label the bag or container with the name of the cookie, the date frozen, and baking instructions.
When you're ready to bake, place as many cookies as you like on a lined baking sheet. There's no need to thaw the dough. The cookies can be taken straight from the freezer, placed on a baking sheet, and put in the oven. Bake as directed, adding 2 or 3 minutes to the normally suggested baking time.

Do I need to thaw frozen cookie dough before baking?

You don't necessarily need to thaw cookie dough before baking it. I almost always bake the cookies straight from the freezer.

As you might guess, baking cookie dough straight from the freezer usually takes a big longer. As a general rule, they'll need 2 or 3 extra minutes in the oven.

Alternately, you can thaw the cookies on your countertop for about 15 minutes or in your refrigerator overnight. If you go one of those latter routes, the cookies shouldn't need any extra baking time.

When do I do any extra steps like adding sanding sugar or coarse salt?

If your cookie recipe calls for any kind of extra treatment before baking, then that needs to be done when you're ready to bake them. That means a sprinkling of salt, or even a roll in sugar like crinkle cookies or cinnamon-sugar like snickerdoodles.

For those types of cookies, I recommend letting them thaw for 10 or 15 minutes before adding that sprinkling of salt or rolling the dough in sugar. Those few minutes of thawing will help the salt or sugar stick to the dough better. Keep in mind that thawed cookie dough likely won't need the extra baking time that frozen dough requires.

Can I freeze thumbprint cookies?

Absolutely! Thumbprint cookies will either have their indentions made either before or after baking. If that occurs before baking, you can do that before they're frozen so that they're ready to go when you're ready to bake them.

Most of these types of cookies are filled after they're baked, so you can add that step after baking. If your thumbprint cookies should happen to bake the filling along with the cookies, that filling will likely need to skip the freezer and be made when you're ready to bake for the best results.

Can I freeze frosting for cookies?

If you're frosting cookies or making a frosting-filled sandwich cookie, you'll likely be far more pleased with the results if you make the frosting fresh when you bake the cookies.

Of course, that depends on the type of frosting. Buttercreams freeze fairly well for several weeks. Just defrost overnight in the refrigerator and then bring to room temperature on your kitchen counter before using.

What kinds of cookies don't freeze well?

It's also important to know what kinds of cookie doughs aren't good candidates for freezing. As a general rule, if the dough is delicate, thin, or cake-like, it's likely that it won't freeze well. Cookies like meringues and macarons are not great candidates for freezing.

How long can I store frozen cookie dough?

Most cookie doughs will last for about 3 months in the freezer. If the recipe you're using states otherwise, then follow their guidelines. Don't forget to write the date the dough was made on your freezer bags!

With a freezer stocked with cookie dough, you can have freshly baked cookies whenever the craving strikes. Keep a few different kinds in there and make a little cookie buffet! You'll certainly thank your past self for their efforts.

Bake or Break is a participant in the Amazon Services LLC Associates Program, an affiliate advertising program designed to provide a means for us to earn fees by linking to Amazon.com and affiliated sites.