March 16, 2017
Irish Cream Brownie Cookies
Irish Cream Brownie Cookies are wonderfully rich and fudgy. They're a little bit cookie, a little bit brownie, and completely delicious. A real chocolate lovers' cookie!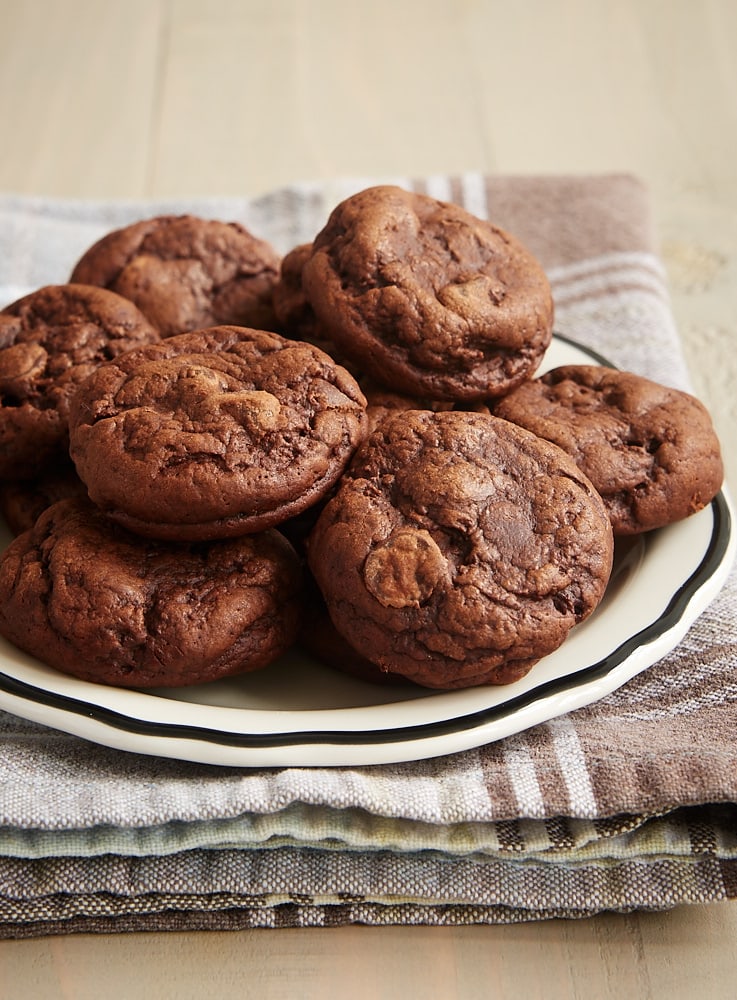 Do you love cookies? Do you love brownies? How about chocolate? If you answered a resounding, enthusiastic "YES!" to all of those questions, then please allow me the pleasure of introducing you to this rich, fudgy Irish Cream Brownie Cookies recipe.
These little guys are every bit as much brownies as they are cookies. You get the dense, fudgy texture of brownies but in a chewy, compact cookie. And there's SO much chocolate going on here. Along with all of that, there's a good dose of Irish cream. You won't believe how much flavor is packed in a two-bite cookie!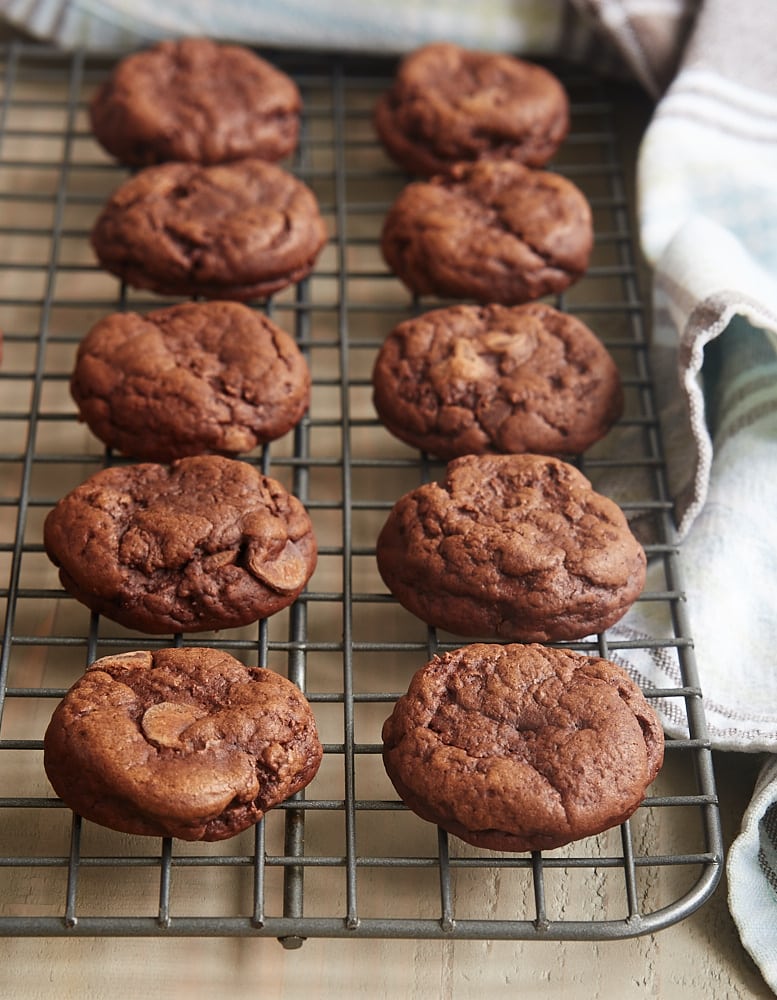 Irish cream is such a perfect companion for chocolate. It's made from whiskey, but I don't know that I taste it. I do taste all that cream, coffee, and more that make it enhance all of that dark chocolate.
To make these cookies, I recommend that you scoop and then roll and flatten the dough. I've tried just scooping and also scooping and flattening, but the scoop – roll – flatten method yielded the best looking cookies in my opinion. I like to use a cookie scoop for consistent portioning. Then, just roll the dough between your palms, place it on the baking sheet, and flatten just a bit.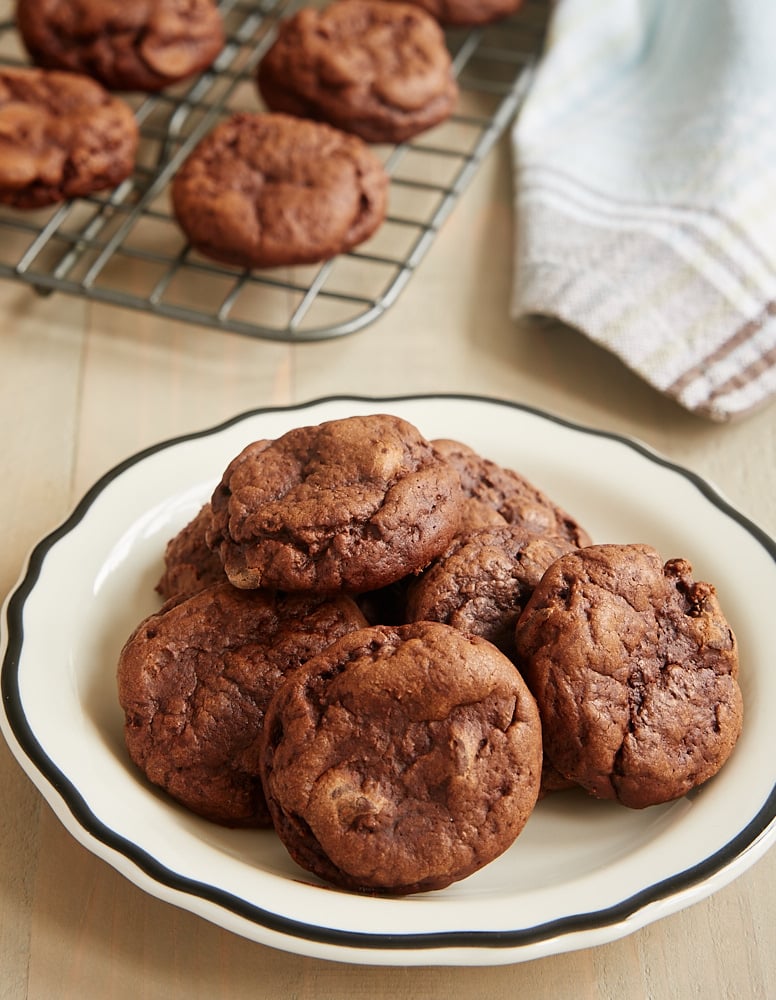 This recipe is a twist on another recipe that I shared on BoB long ago. If you love sweet and salty desserts, be sure to check out Salted Chocolate Truffle Cookies.
I don't think I can adequately express how very good these cookies are. The dark chocolate and the Irish cream provide so very much flavor. Plus, they're so soft yet fudgy at the same time. If you can have the patience to wait, I think they're even better the next day!
Find more cookie recipes in the Recipe Index.
More Brownie Cookie Recipes
We are a participant in the Amazon Services LLC Associates Program, an affiliate advertising program designed to provide a means for us to earn fees by linking to Amazon.com and affiliated sites.
Irish Cream Brownie Cookies
Yield: about 3 dozen cookies
Prep Time: 20 minutes
Cook Time: 10 minutes per pan
There is SO much rich, fudgy flavor in these little Irish Cream Brownie Cookies! If you love chocolate, then these are sure to please.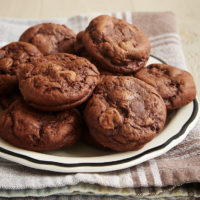 Ingredients:
1 & 1/2 cups (9 ounces/255g)) bittersweet chocolate (about 70% cacao), roughly chopped
2 tablespoons unsalted butter
1/4 cup plus 1 tablespoon (37g) all-purpose flour
1/4 teaspoon baking powder
1/4 teaspoon salt
1/2 cup (100g) firmly packed brown sugar
2 large eggs
3 tablespoons Irish cream liqueur
1/4 teaspoon vanilla extract
1/4 cup (42g) semisweet chocolate chips
Directions:
Place the chopped chocolate and butter in a microwave-safe bowl. Heat in the microwave at half-power in 30-second increments until the butter has melted and the chocolate melts when stirred. Stir until smooth. Set aside to cool slightly.
Whisk together the flour, baking powder, and salt. Set aside.
Using an electric mixer on medium speed, beat the brown sugar and eggs until thoroughly combined. Gradually add the chocolate mixture, and mix well. Mix in the Irish cream and vanilla.
Reduce mixer speed to low. Gradually add the flour mixture, and mix just until combined. Stir in the chocolate chips.
Refrigerate the dough for 15 minutes to allow it to firm up a bit.
Preheat oven to 350°F. Line baking sheets with parchment paper or silicone liners.
Using a tablespoonful of dough at a time, roll the dough into balls and place on the prepared pans. Flatten the top of each cookie slightly.
Bake 8 to 10 minutes or until the edges appear done but the centers are still soft.
Cool on the pans for 10 minutes. Then transfer the cookies to a wire rack to cool completely.