Irish Cream Brownie Cookies are wonderfully rich and fudgy. They're a little bit cookie, a little bit brownie, and completely delicious. A real chocolate lovers' cookie!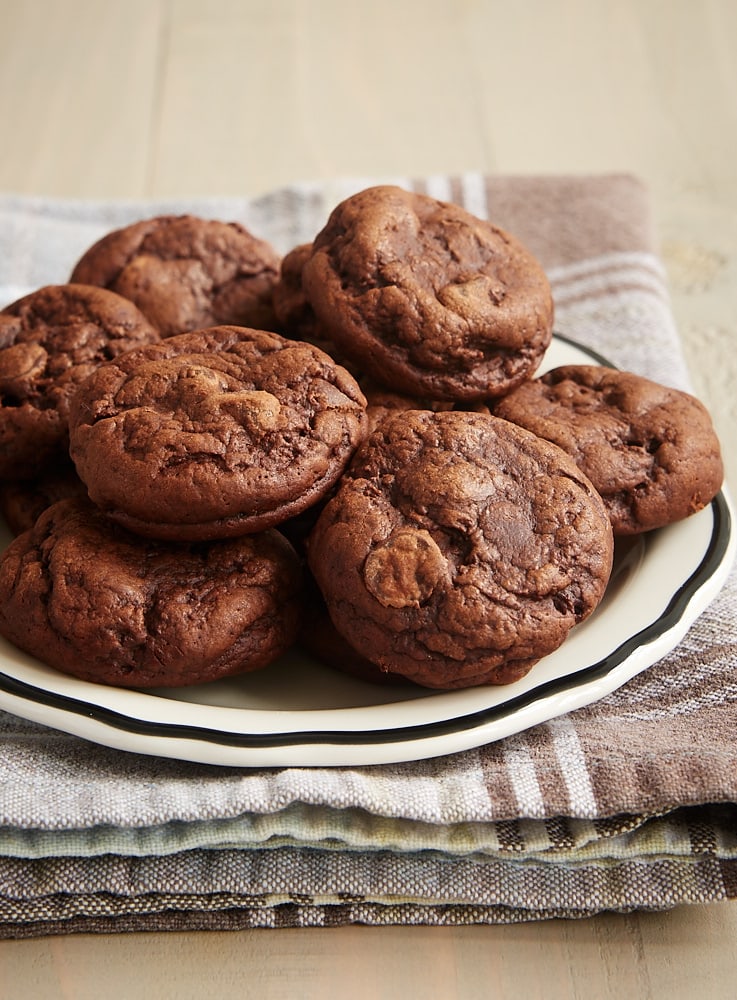 Irish Cream Brownie Cookies
Do you love cookies? Do you love brownies? How about chocolate? If you answered a resounding, enthusiastic "YES!" to all of those questions, then please allow me the pleasure of introducing you to this rich, fudgy Irish Cream Brownie Cookies recipe.
These little guys are every bit as much brownies as they are cookies. You get the dense, fudgy texture of brownies but in a chewy, compact cookie. And there's SO much chocolate going on here. Along with all of that, there's a good dose of Irish cream. You won't believe how much flavor is packed in a two-bite cookie!
Irish cream is such a perfect companion for chocolate. It's made from whiskey, but I don't know that I taste it. I do taste all that cream, coffee, and more that make it enhance all of that dark chocolate.
This recipe is a twist on another recipe that I shared on BoB long ago. If you love sweet and salty desserts, be sure to check out Salted Chocolate Truffle Cookies.
I don't think I can adequately express how very good these cookies are. The dark chocolate and the Irish cream provide so very much flavor. Plus, they're so soft yet fudgy at the same time. If you can have the patience to wait, I think they're even better the next day!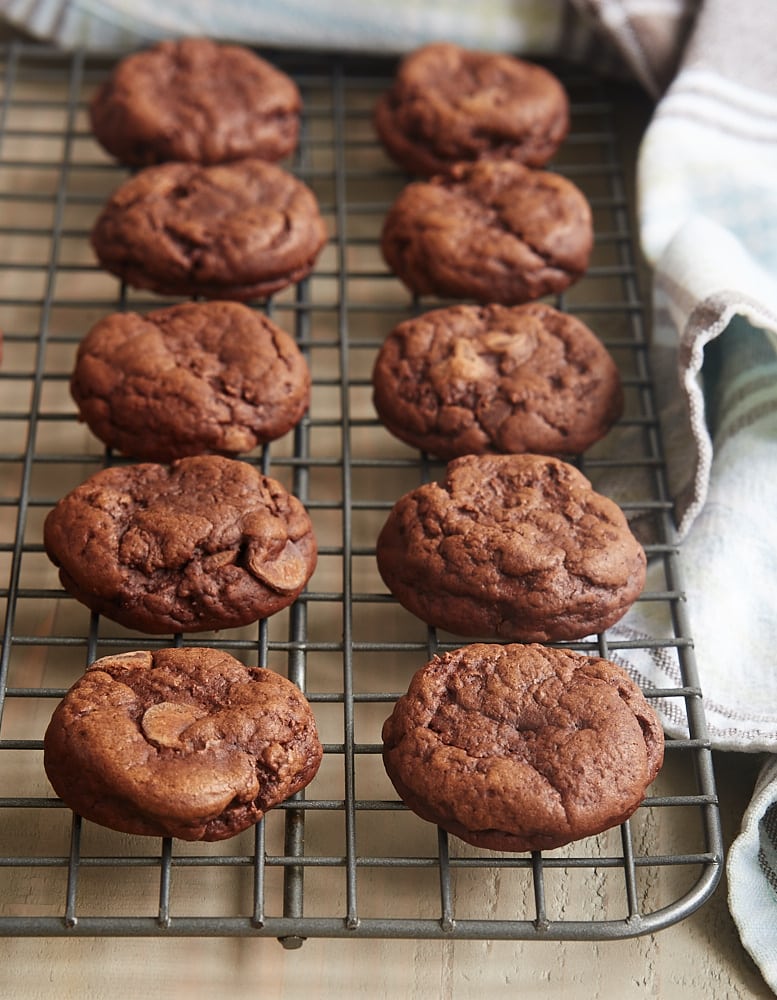 What You'll Need
Just the basics plus good chocolate and Irish cream!
Bittersweet chocolate – I like to use chocolate with about 70% cacao for these cookies. Roughly chop the chocolate so it will melt more easily.
Unsalted butter
All-purpose flour – These fudgy brownie-cookie hybrids don't need much flour, but it's still important to measure it accurately.
Baking powder
Salt
Brown sugar – I like light brown sugar in these cookies, but you can use dark if you want more of the molasses flavor. Make sure it's firmly packed; better yet, measure by weight.
Eggs – Set these out before you begin baking so they can come to room temperature.
Irish cream liqueur – There are several brands available so just use your favorite.
Vanilla extract
Chocolate chips
How to Make Irish Cream Brownie Cookies
These cookies are simple and quick to make. Be sure to factor the brief chilling time into your baking plans.
Melt the chocolate and butter. Place the bittersweet chocolate and butter in a microwave-safe bowl. Heat it in the microwave at half-power for 30 seconds at a time until the butter melts and the chocolate melts when stirred. Stir the mixture until it's smooth, and then set aside to cool slightly.
Mix the dry ingredients. Whisk together the flour, baking powder, and salt.
Mix the wet ingredients. With an electric mixer on medium speed, beat the brown sugar and the eggs until they're thoroughly combined. Gradually mix in the cooled chocolate mixture, and mix well. Then mix in the Irish cream and vanilla.
Add the dry ingredients to the wet ingredients. With the mixer on low speed, gradually add the flour mixture. Don't over-mix; stop mixing when everything is just combined or a few streaks of flour remain.
Add the chocolate chips. Stir the chocolate chips into the dough.
Chill the dough. Cover and refrigerate the dough for about 15 minutes so that it's easier to handle.
Prepare for baking. Heat the oven to 350°F. Line baking sheets with parchment paper or silicone liners.
Portion the dough. Use a tablespoonful of dough at a time to roll the dough into balls. Place on the prepared pans, leaving about 2 inches between each cookie. Flatten the top of each cookie slightly. (See my note in the tips section below for more details on shaping these cookies.)
Bake. Place one pan at a time in the oven, and bake 8 to 10 minutes. The edges of the cookies should appear done, but the centers should be soft.
Cool. Place the pans on a wire rack and allow the cookies to cool for 10 minutes. Then transfer the cookies from the pans to a wire rack to cool completely.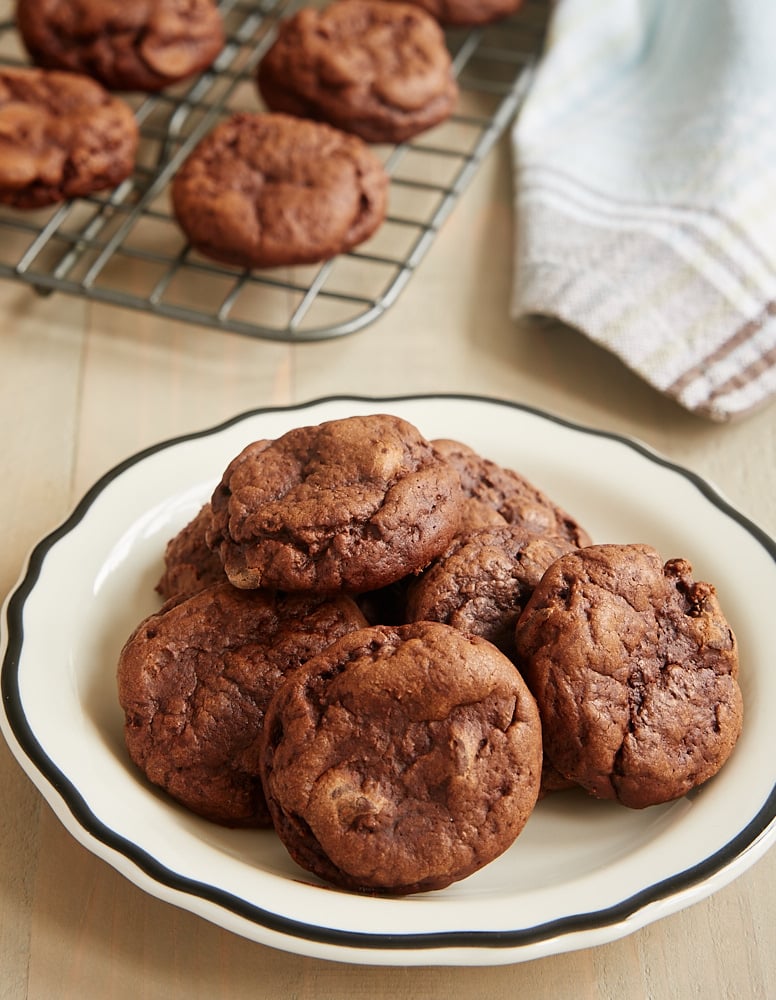 Tips for Success
You'll find that these Irish Cream Cookies mix quickly and easily, but here are some tips to help yours be their best!
Use good quality chocolate. Choose one that has a flavor you enjoy. It doesn't have to be expensive to be good. I most often use Guittard and Ghirardelli.
Chill the dough. The chilling time for these cookies is important for easier handling of the dough. You don't need to factor a long chill time into your plans; just 15 minutes or so will do.
Scoop, roll, and flatten. I recommend that you scoop and then roll and flatten the dough. I've tried just scooping and also scooping and flattening, but the scoop – roll – flatten method yielded the best looking cookies in my opinion. I like to use a cookie scoop for consistent portioning. Then, just roll the dough between your palms, place it on the baking sheet, and flatten just a bit.
Don't like Irish cream? Try another liqueur! For a non-alcoholic alternative, use an equal amount of strong brewed coffee.
How to Store
Once cooled, store the cookies in an airtight container at room temperature. They should keep for up to 4 days.
You can extend that by a few days by placing the container in the refrigerator. Bring the cookies to room temperature or warm briefly in the microwave before serving.
Can Brownie Cookies Be Frozen?
You can certainly freeze these cookies. Once cooled, place them in a freezer-safe container. For best results, place them in single layers with a sheet of waxed paper or parchment paper between layers. Properly stored, the cookies should keep in the freezer up to 2 months. Thaw overnight in the refrigerator or for an hour or two at room temperature.
Because of the consistency of this dough, I don't recommend freezing the unbaked cookie dough.
More Brownie Cookie Recipes