Raspberry Sugar Cookies are a fruity and fun twist on traditional sugar cookies. They're so pretty and tasty!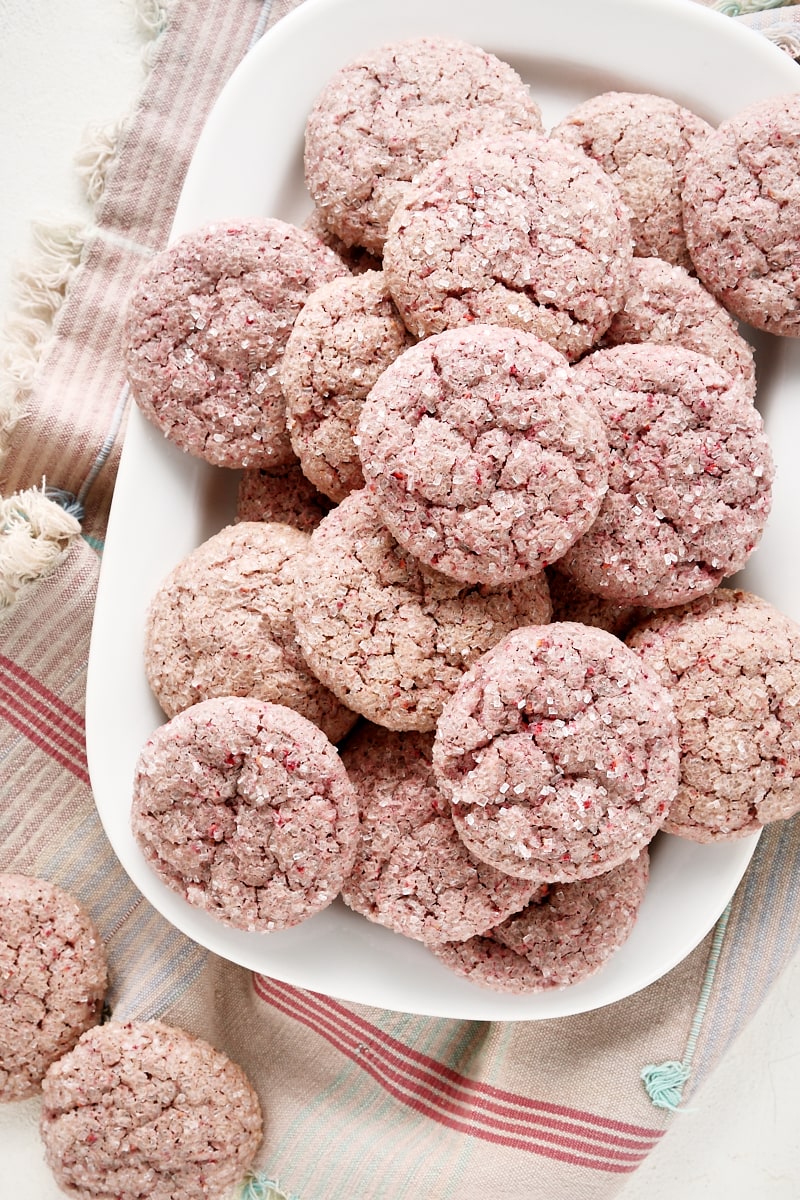 Raspberry Sugar Cookies
These may very well be the happiest, prettiest sugar cookies you'll ever make. Their pretty pastel color certainly gives the a different look from more traditional sugar cookies.
That color of these Raspberry Sugar Cookies is thanks to freeze-dried raspberries. Freeze-dried fruits are great for baking because you can get all that great flavor without adding the moisture found in fresh berries. With these cookies, the berries are finely ground so they're distributed throughout the cookies, giving them their signature color.
Of course, all those raspberries add plenty of flavor here, too. These sweet, fruity cookies are wonderfully delicious. If you like, you can easily substitute a different freeze-dried fruit to change the flavor. There are so many possibilities!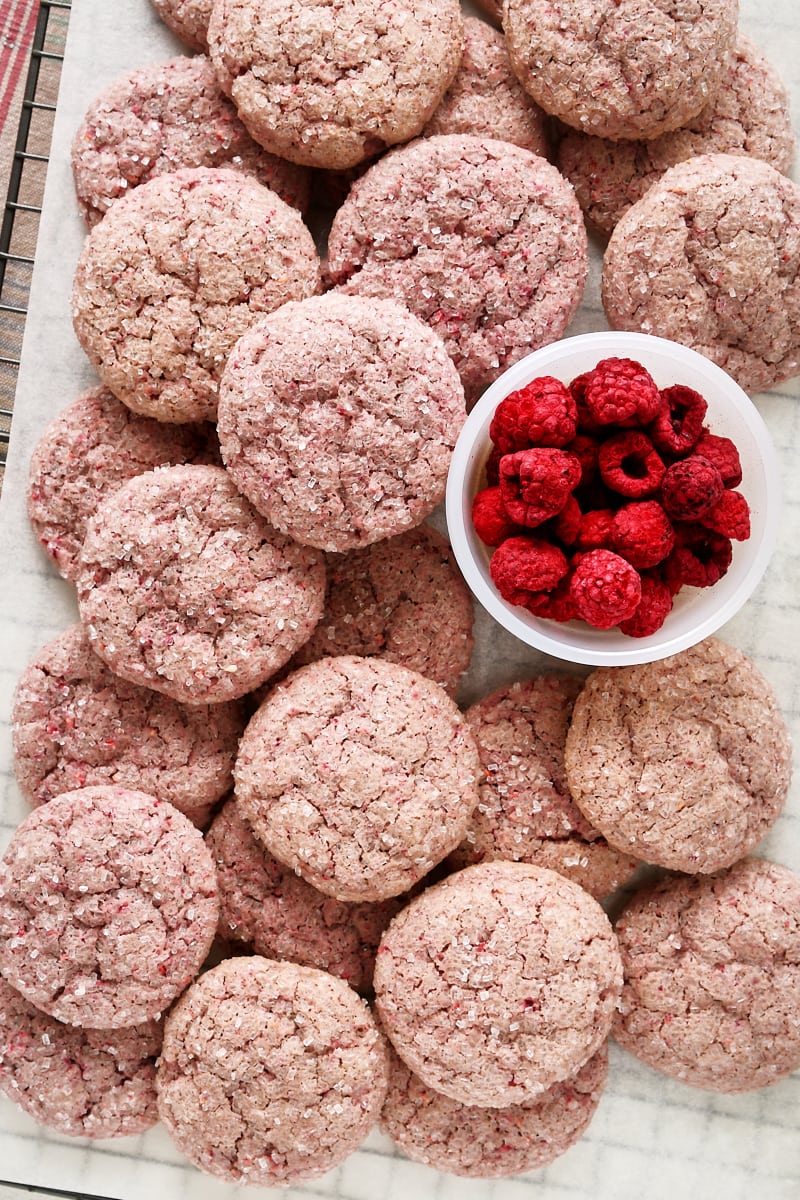 This recipe is a variation of my favorite sugar cookie recipe, which adds cream cheese to the batter to make them super soft and flavorful. (For some other variations, see my Sugar and Spice Cookies and Lemon Coconut Sugar Cookies.) There's no rolling here; just scoop the dough and roll into balls for baking. For these cookies, I recommend rolling the dough in sanding sugar for some sparkle and a little extra bite of sweetness.
I think these Raspberry Sugar Cookies are a pretty great baking project any time of year, but their color makes them a perfect choice for Valentine's Day and Easter.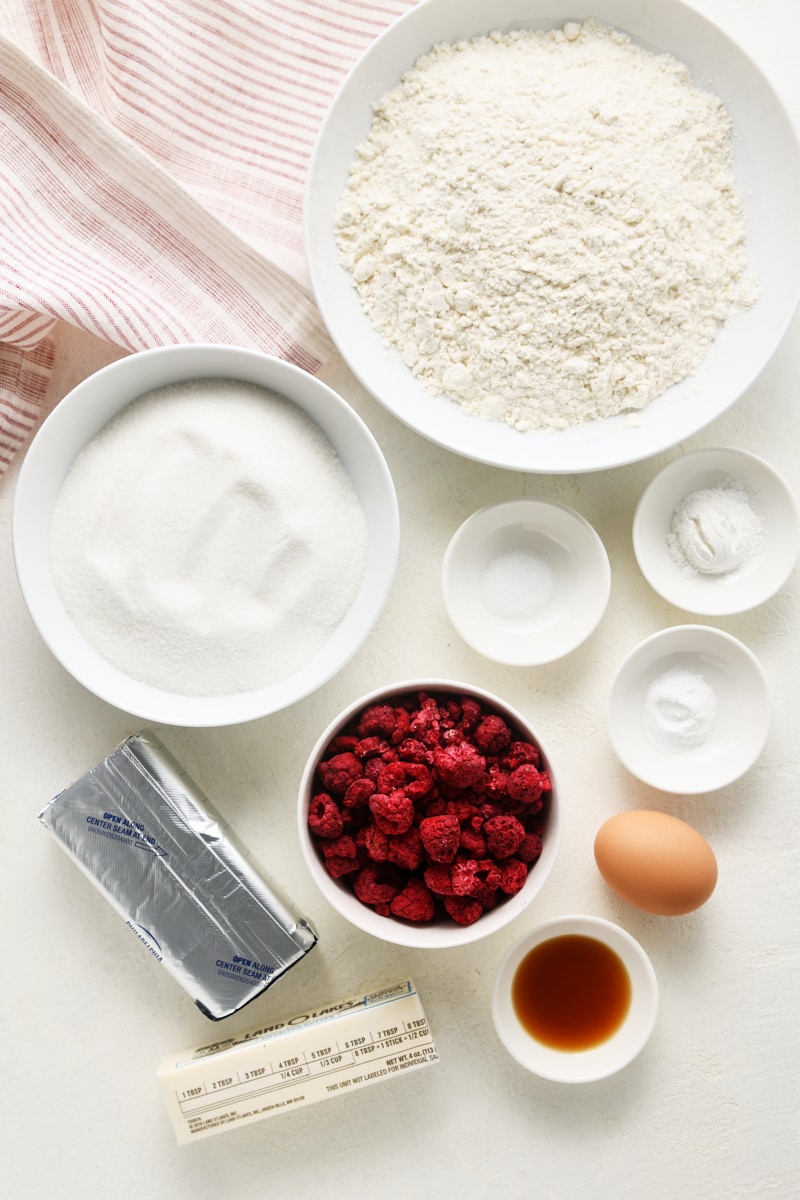 What You'll Need
Other than the raspberries, the ingredients list for these Raspberry Sugar Cookies is made of common baking ingredients. Look for freeze-dried fruits alongside the dried fruits or fresh fruits.
All-purpose flour – Measure by weight for the best results. If you don't have a kitchen scale, be sure to spoon and sweep.
Baking powder
Baking soda
Salt
Unsalted butter – Set out the butter about half an hour before baking to allow it to soften.
Cream cheese – Full-fat cream cheese works best. Be sure to let it come to room temperature so it will mix more smoothly.
Granulated sugar
Freeze-dried raspberries – You'll need to grind these finely. (I like to use a mini food processor.) Sift the ground raspberries through a fine-mesh sieve if you want to remove the seeds.
Egg – Set out the egg, too, so it can come to room temperature.
Vanilla extract
Sanding sugar – This is optional, but it makes the cookies sparkly and adds a little extra sweetness. Regular granulated sugar will work, too, but won't have quite the same look.
Other Topping Ideas
I like the simplicity of rolling these cookies in sugar, but there are other ways to dress them up as well!
Sprinkles!
Drizzle the cooled cookies with a simple confectioners' sugar glaze (like the one on these Spiced Oatmeal Cookies).
Dip half of each cookie in melted white chocolate or dark chocolate.
How to Make Raspberry Sugar Cookies
These cookies mix quickly and easily, but don't forget to factor the chilling time into your baking plans!
Mix the dry ingredients. Whisk together the flour, baking powder, baking soda, and salt.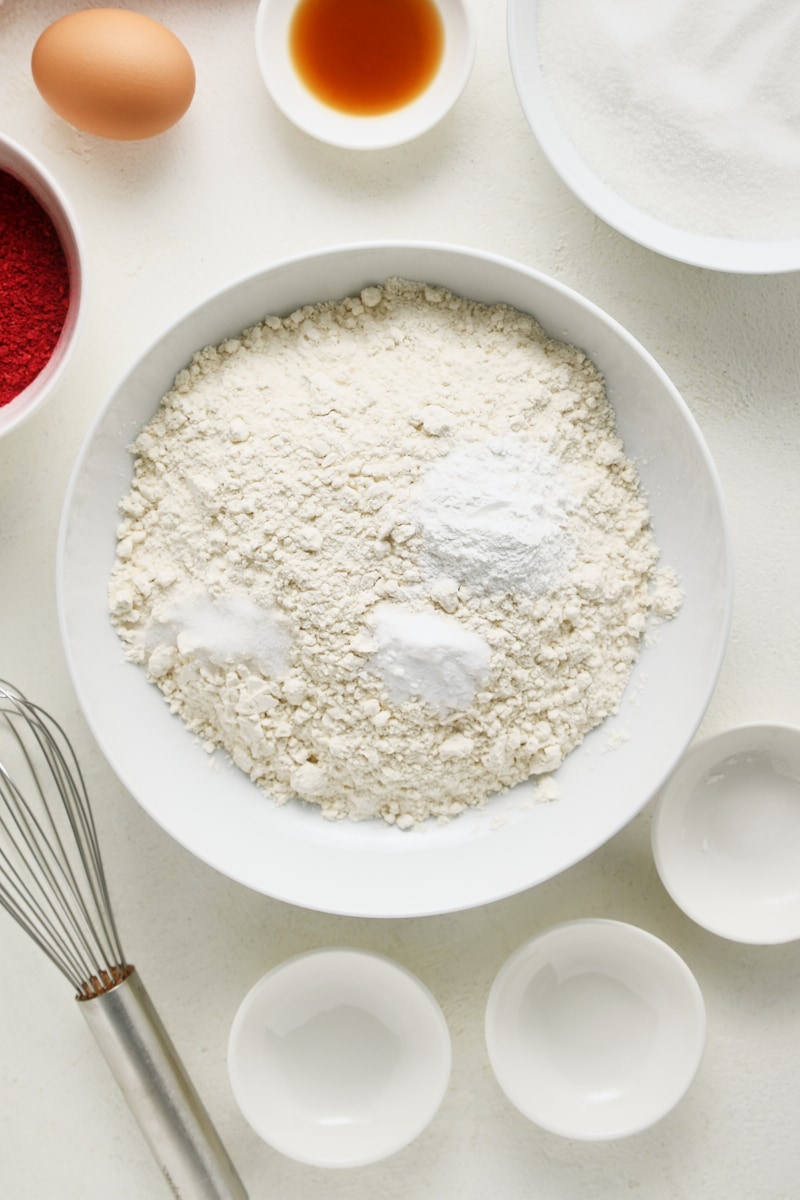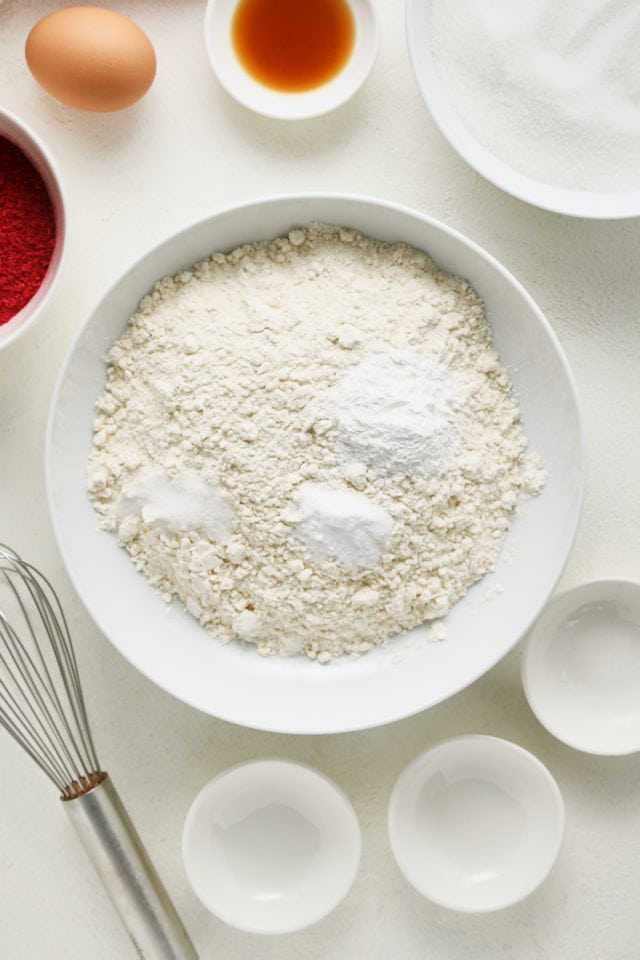 Mix the wet ingredients and raspberries. Beat the butter and cream cheese with an electric mixer on medium speed until light and fluffy. Next, add the sugar and ground raspberries, and mix well. Then, mix in the egg and vanilla.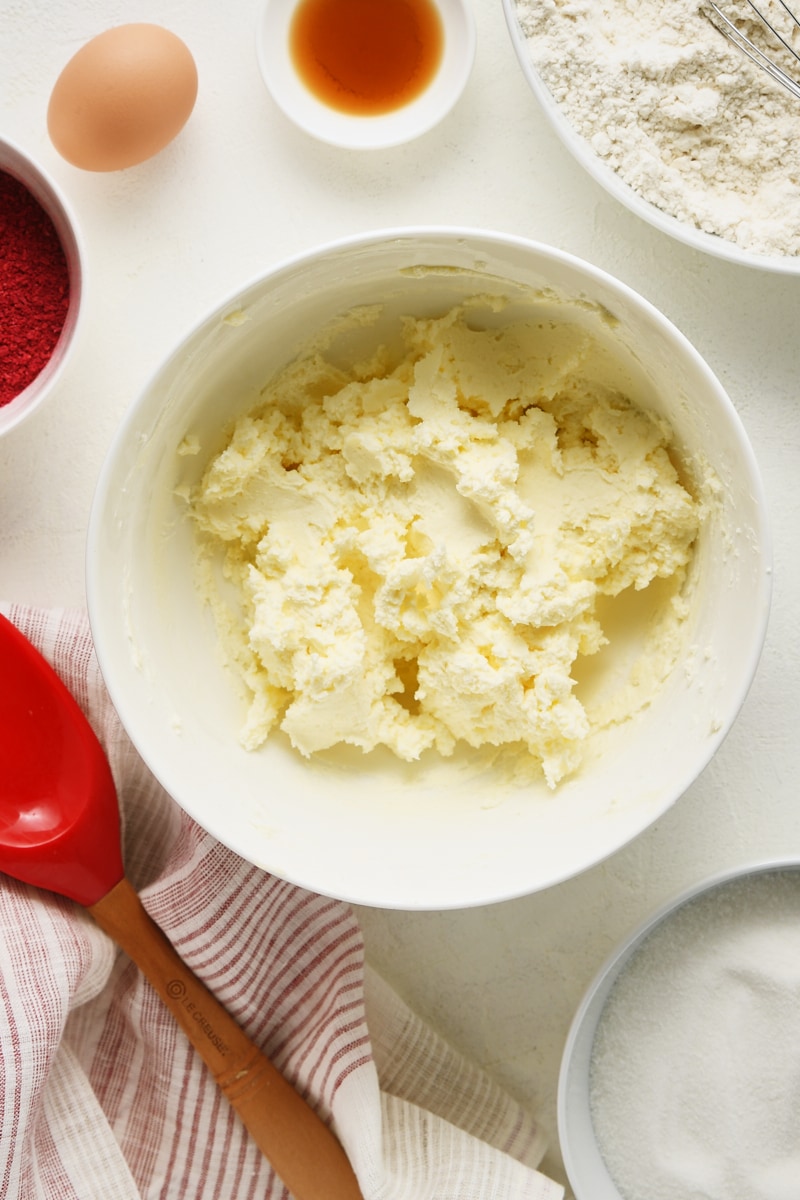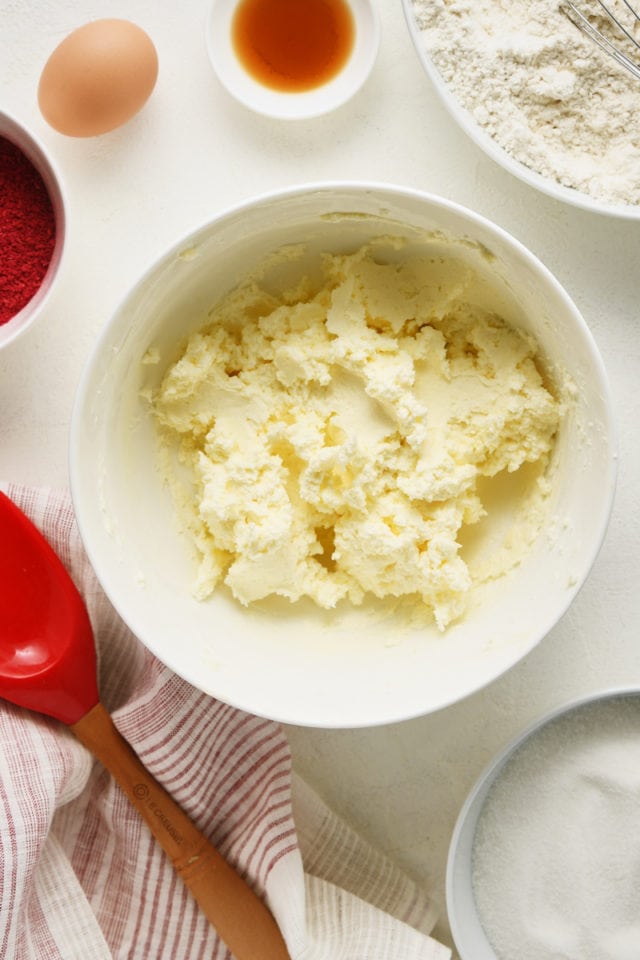 Add the dry ingredients to the wet ingredients. With the mixer on low speed, gradually add the flour mixture. Mix just until combined.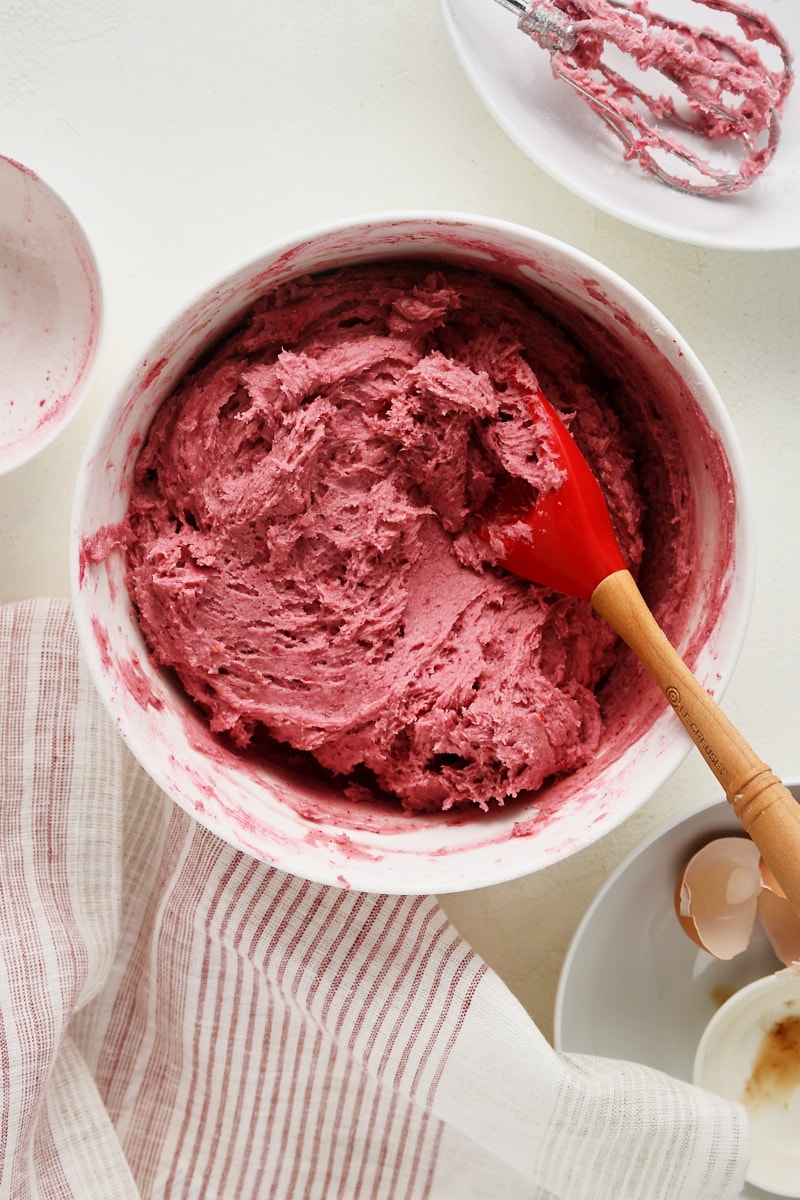 Chill the dough. Cover and refrigerate the dough for an hour.
Prepare for baking. Heat the oven to 350°F. Line baking sheets with parchment paper or silicone liners.
Portion and shape the dough. Scoop the dough by 2-tablespoon portions and roll into a ball between your hands. Roll each ball of dough in sanding sugar.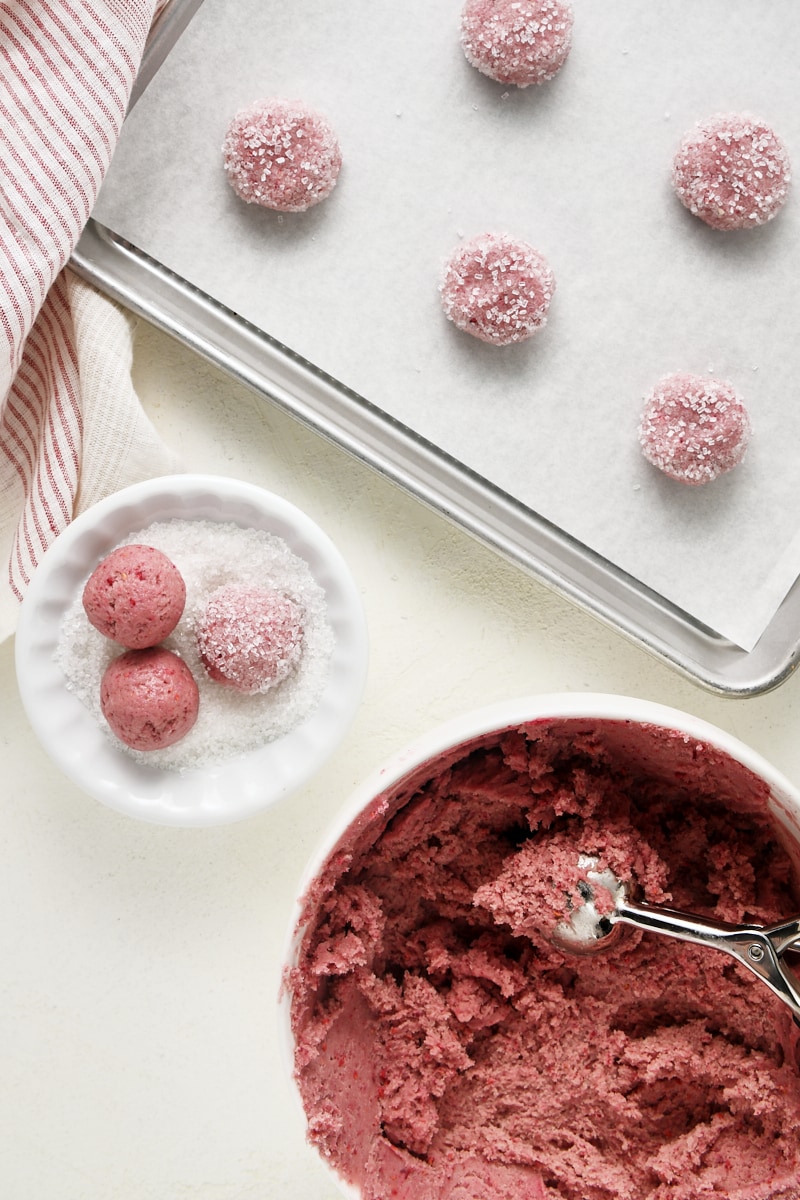 Bake. Place the cookies on the prepared pans, leaving about 2 inches between the cookies. Flatten the top of each cookie slightly. (Sprinkle a little more sugar on top if needed.) Bake 12 to 14 minutes, or until the edges are lightly browned and the tops seem set. Refrigerate the remaining dough between baking batches.
Cool the cookies. Place the pan on a wire rack and allow the cookies to cool for 5 minutes. Then transfer the cookies from the pan to a wire rack to cool completely.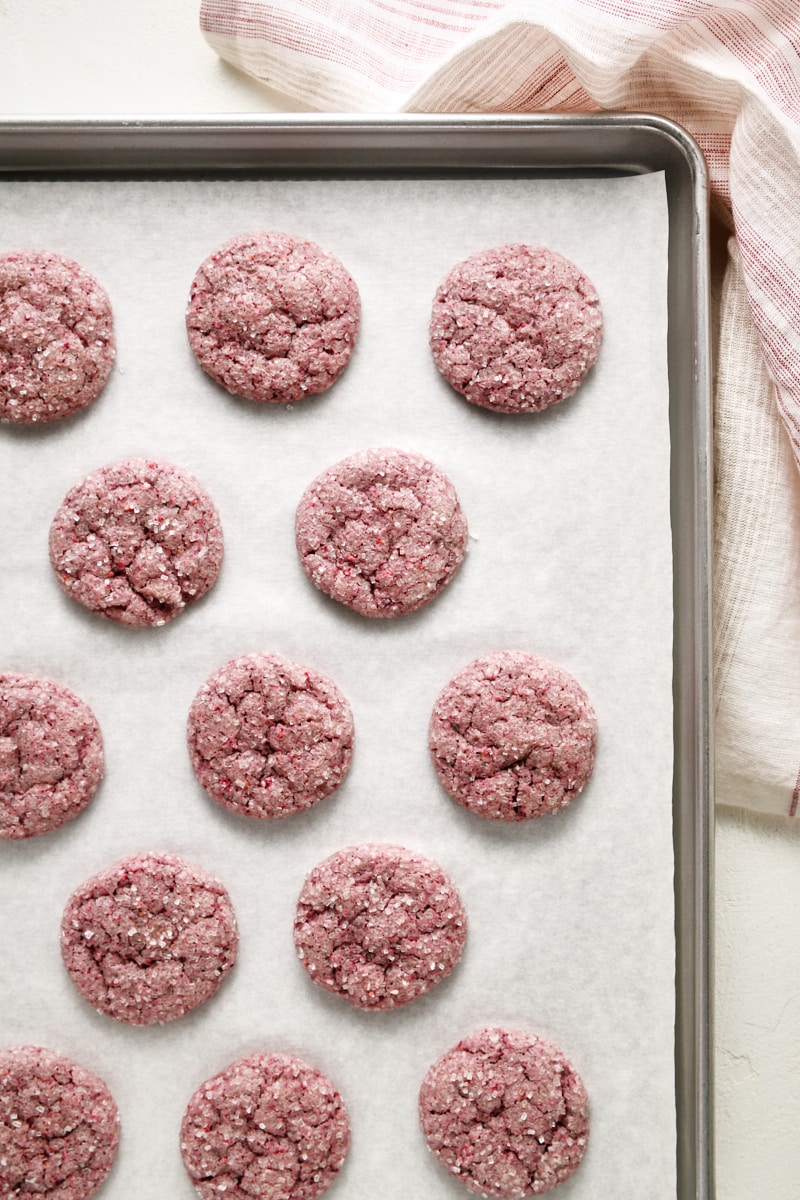 Tips for Success
Here are a few tips for making your Raspberry Sugar Cookies their best!
Freeze-dried versus dried. Don't confuse freeze-dried with dried fruits. Freeze-dried fruits have had moisture removed so that they're light, dry, and crispy.
Don't skip the chilling time. Refrigerating the dough will let the flavors meld more and help prevent too much spreading while baking.
Use light-colored baking sheets. Dark pans will over-bake the bottoms of the cookies and can cause more spreading. Also remember that if you're reusing a baking pan to let it cool completely before putting more cookie dough on it.
Checking for doneness. Because of their color, it can be a little difficult to tell when these cookies are done. Look for a bit of browning around the bottom edges. The centers should also appear set.
Scoop and roll. For nicely shaped cookies with a consistent size, first portion with a cookie scoop and then roll the dough into a ball between your hands.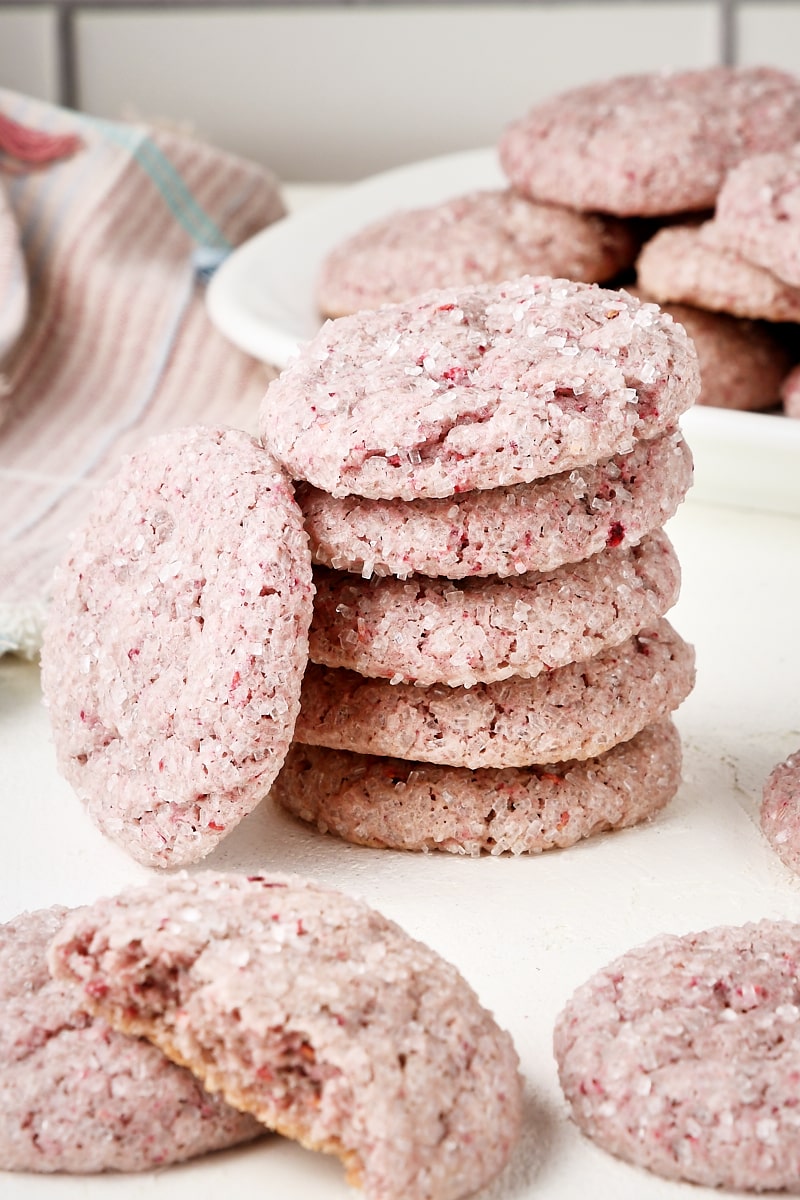 How to Store Leftovers
Place the cooled cookies in an airtight container. To keep them looking their best, place them between layers of waxed paper or parchment paper. They should keep at room temperature up to 5 days.
For a few more days of storage, place the container in the refrigerator. Be sure the container is airtight so that they cookies won't become dry.
How to Freeze These Cookies
Once the cookies are completely cooled, they can be placed in a freezer-safe bag or container. You may want to place them between layers of waxed paper or parchment paper to keep them looking their best. Thaw overnight in the refrigerator.
You can also freeze the unbaked cookies. Portion them as directed, and place the balls of dough on a lined rimmed baking sheet. Once they're frozen solid (about 2 hours), place them in a freezer bag or container. You can roll them in sugar before or after the initial freezing. The sugar may not hold up quite as well after a stint in the freezer, but you can bake them straight from frozen. Otherwise, you'll need to let the dough thaw at room temperature for 20 to 30 minutes before rolling in sugar so it will stick. Then, bake the cookies as directed.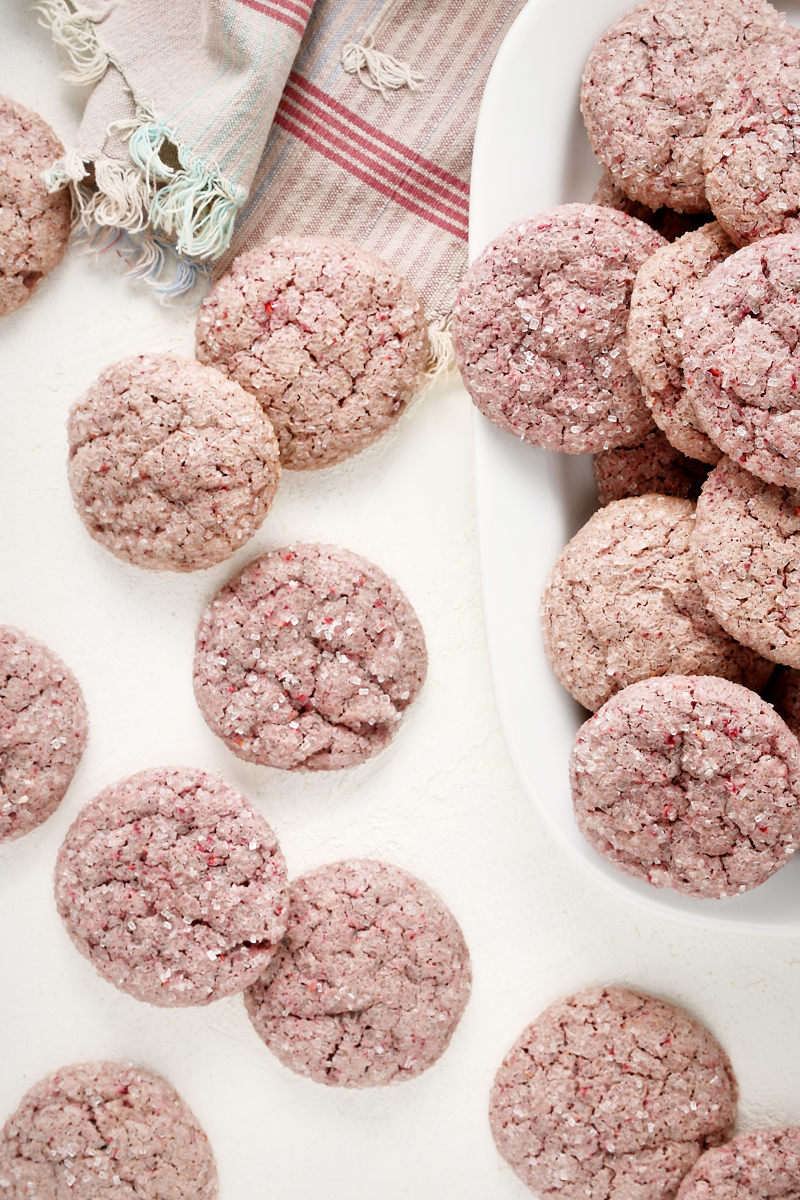 Video Tutorial: Raspberry Sugar Cookies