December 18, 2013
Coconut-Salted Caramel Thumbprint Cookies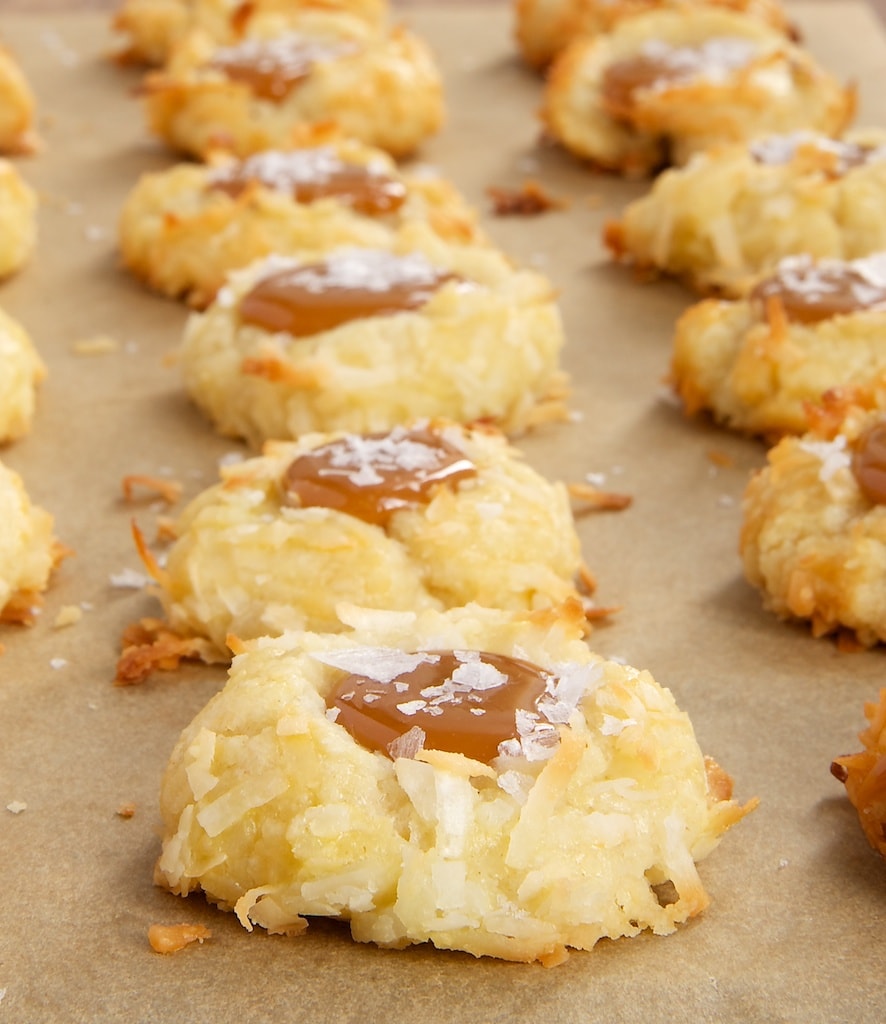 I guess I didn't stray from cookie baking for long. But, look at all that toasty coconut and salty caramel. How could I resist?
We all know that I bake a lot, but I've dialed it way up lately. It is the holiday season, after all. I decided to take advantage of the presence of plenty of baked goods variety around here to break out the coconut. I kinda figured Quinn wouldn't even notice.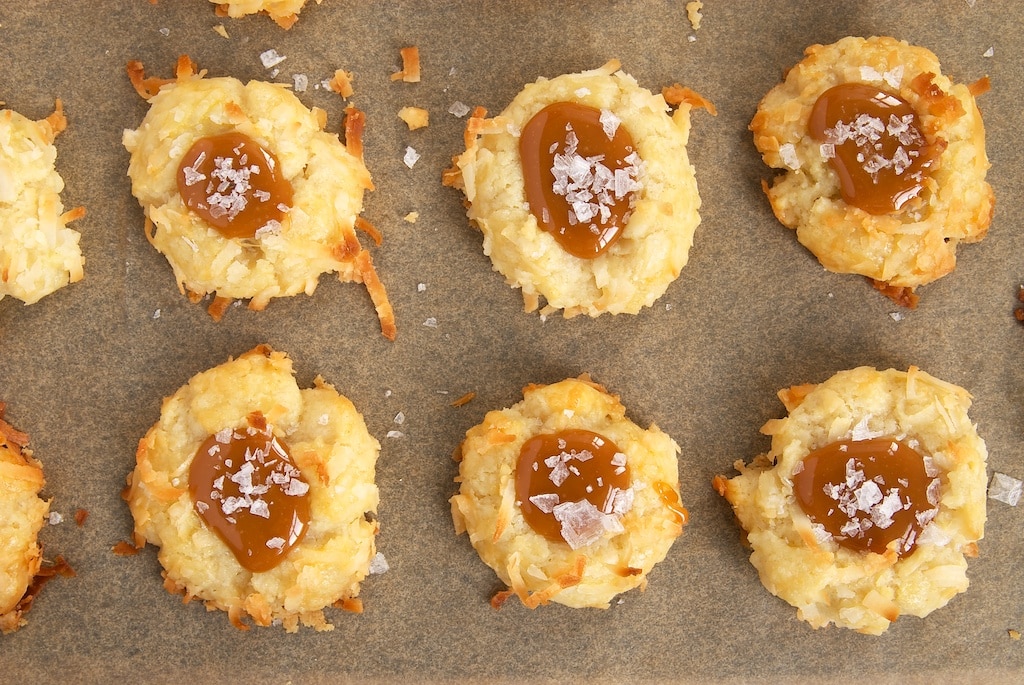 As much as I love coconut, I love toasted coconut even more. These little thumbprints are rolled in coconut, and that coconut gets all toasty in the oven.
Then, just add a simple caramel filling that's made with just soft caramels and cream. I have become a big fan of Werther's Original® Baking Caramels. I love the flavor, and they're so simple to unwrap. That last part may seem trivial, but it's pretty important when you need to unwrap 30 or so of them.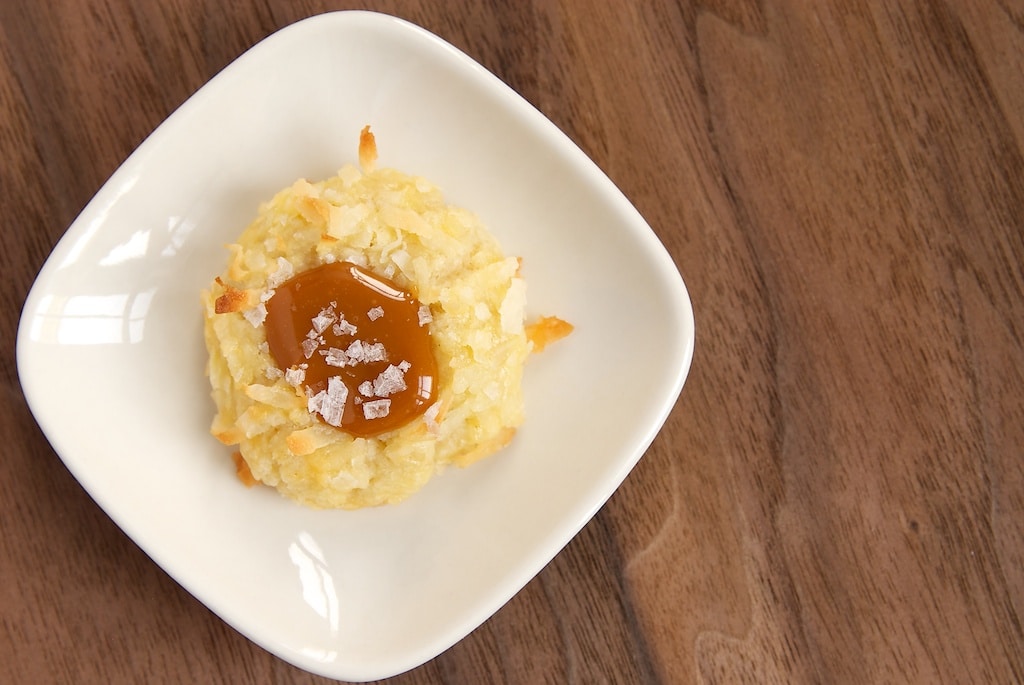 I saved myself a couple of these for myself and sent the rest off to Quinn's co-workers. From all reports, they didn't last very long. I think they now hold the record for fastest empty container.
For more caramel recipes and ideas, be sure to visit Werther's Caramel Shoppe.
Coconut-Salted Caramel Thumbprint Cookies
Yield: about 54 cookies
Prep Time:25 minutes
Cook Time:25 minutes
Coconut-Salted Caramel Thumbprint Cookies are sweet, salty, and delicious!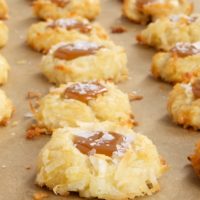 Ingredients:
3 & 1/2 cups all-purpose flour
1/2 teaspoon salt
2 large eggs, lightly beaten
12 ounces sweetened flaked coconut
1 & 1/2 cups unsalted butter, softened
1 cup granulated sugar
1 & 1/2 teaspoons vanilla extract
9 ounces Werther's Original® Baking Caramels (about 30 caramels)
1/4 cup heavy cream
sea salt, for garnish
Directions:
Preheat oven to 350°F. Line baking sheets with silicone liners or parchment paper.
Whisk together the flour and salt. Set aside.
Place the eggs in a bowl. Place the coconut in another bowl. Set aside.
Using an electric mixer on medium speed, beat the butter and sugar until light and fluffy. Mix in the vanilla.
Reduce mixer speed to low. Gradually add the flour mixture, mixing just until combined. Dough will be crumbly.
Using a tablespoonful of dough at a time, press the dough in your hands to form balls.* Roll each ball in beaten egg, and then roll in coconut. Place the balls on the prepared baking sheets. Use the handle of a wooden spoon to make an indentation in each cookie.
Bake the cookies for 10 minutes. Then, remove the pan from oven, and use the handle of a wooden spoon to make indentations again.
Bake the cookies 8 to 10 more minutes, or until cookies are golden brown. Cool the cookies on pans on wire racks.
Place the caramels and cream in a small saucepan. Cook over medium-low heat until mixture is smooth.
Spoon the caramel into cookie indentations. Sprinkle with sea salt. Allow the caramel to set before serving.
Notes:
*The dough is very crumbly. Squeeze it in your hand for a few seconds to get it to hold together. Then, you should be able to roll it into a ball.
Disclosure: Werther's provided me with product samples and compensation for this post. All opinions are my own.