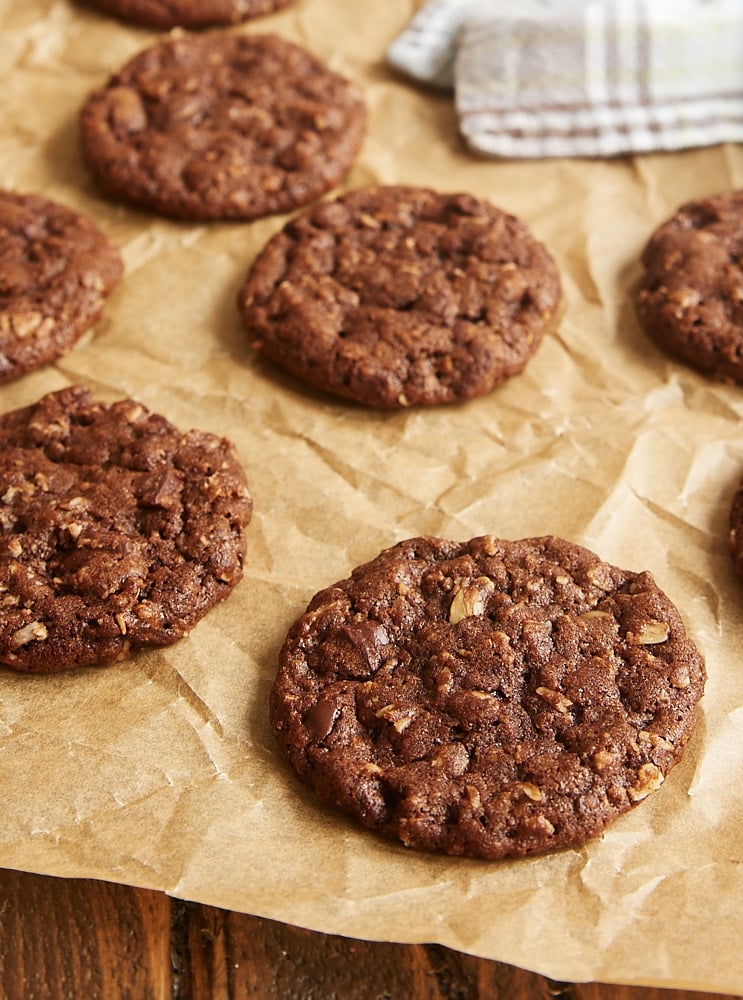 I've made a conscious effort to cut down on my cookbook collection, but sometimes there are new cookbooks that I just can't resist adding to my collection. The most recent example of one of those books is Dorie's Cookies. As much as I love baking cookies, it was just too good to resist!
Some time ago, I had the pleasure of meeting Dorie Greenspan, and we had a nice conversation about (what else?) cookies. I have a couple of her other cookbooks, too, but I have been especially excited about this cookies book. On my first perusal of the book, the recipe for Chocolate Oatmeal Biscoff Cookies jumped out at me as a must-bake.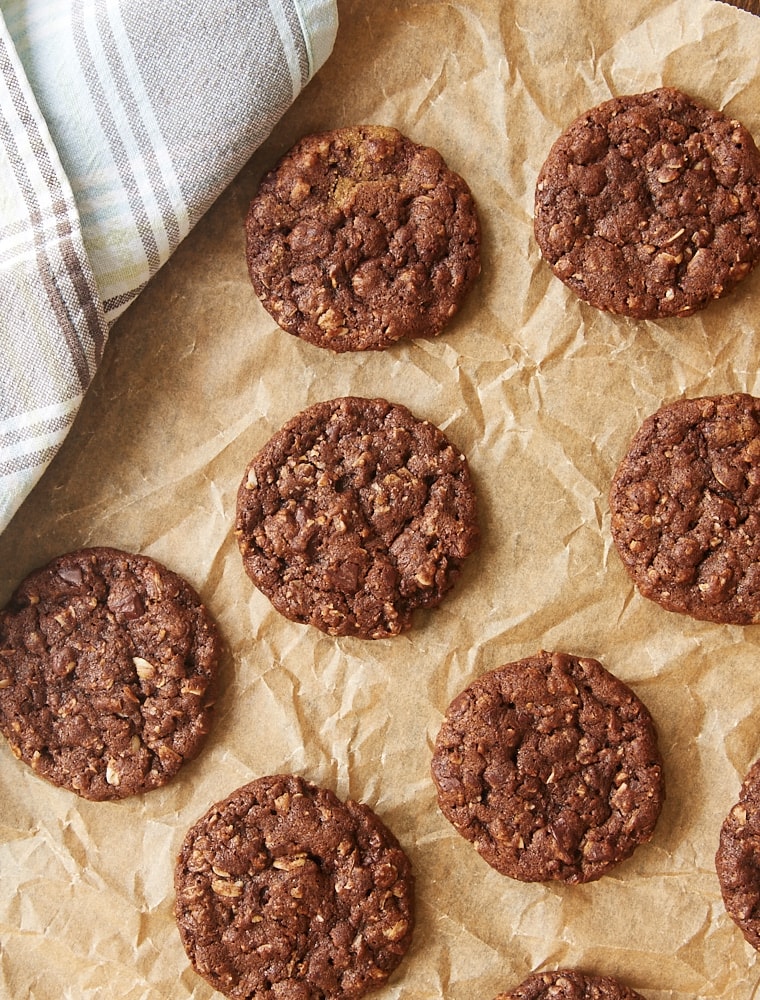 And I must say that I couldn't be more pleased with my first pick from the book. These cookies are fantastic! They combine chocolate with a bit of cookie butter for a wonderful spiced twist on oatmeal cookies. The spice isn't too bold, but rather it's just enough to let you know that these are something special.
Dorie also suggests in her recipe that you can substitute peanut butter or chocolate-hazelnut spread for the cookie butter. I've not tried either substitution, but I love having a couple of simple ways to tweak the recipe for a little different result.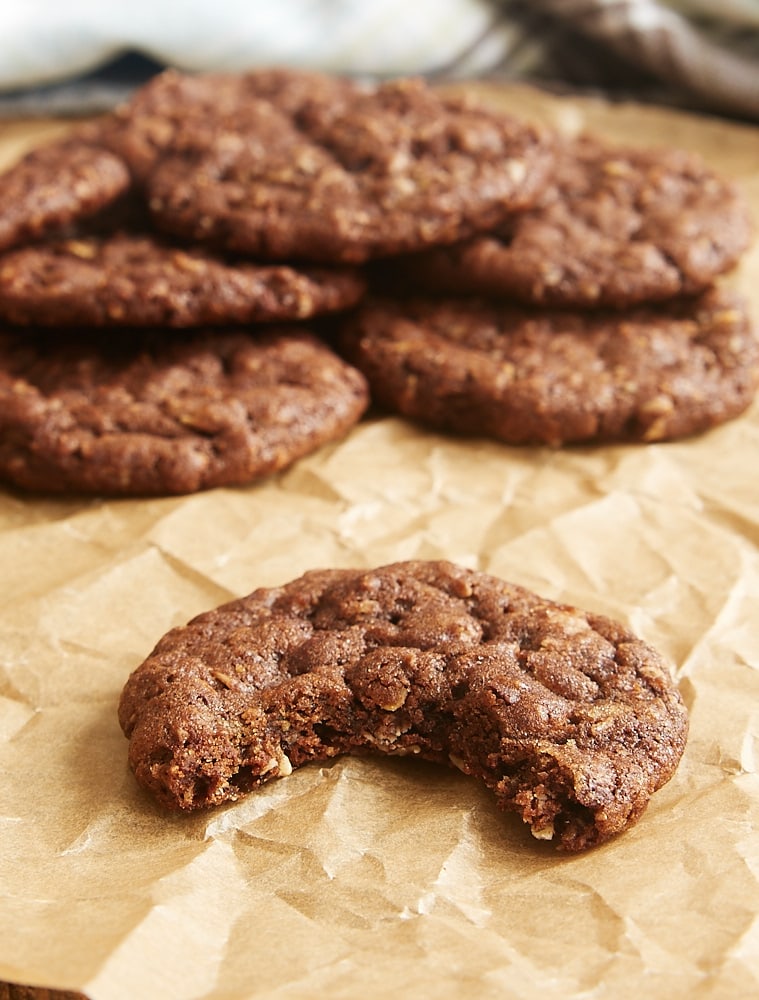 While the recipe title names Biscoff specifically, you can substitute any brand of cookie butter. I did use Lotus Biscoff spread for these cookies, but there are a few other brands available, like Trader Joe's and Roland. Look for cookie butter in your grocery store near the other spreads.
I didn't change anything about this recipe other than their size (see the note in the recipe) because I can't imagine anything I could do to make it better. And now I'm anxious to try more of the 300+ cookie recipes in this wonderful cookbook. If you love baking cookies, too, Dorie's Cookies is a perfect addition to your collection.
Find more cookie recipes in the Recipe Index.
This post contains affiliate links. If you make a purchase through one of the links, I'll receive a
small commission at no additional cost to you.
Yield: about 36 cookies
Prep Time: 20 minutes
Cook Time: 12 minutes per pan
Plenty of chocolate and a hint of spice make these Chocolate Oatmeal Biscoff Cookies irresistible!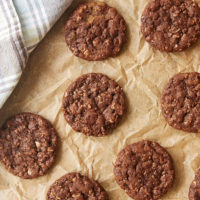 1 & 1/2 cups old-fashioned rolled oats
1/2 cup all-purpose flour
1/4 cup unsweetened cocoa powder
1/2 teaspoon baking soda
1/4 teaspoon salt
1/2 cup unsalted butter, softened
1/2 cup cookie butter
1/2 cup granulated sugar
1/2 cup firmly packed light brown sugar
1 large egg
1/2 cup chopped semisweet or bittersweet chocolate*
Directions:
Whisk together the oats, flour, cocoa powder, baking soda, and salt. Set aside.
Using an electric mixer on medium speed, beat the butter, cookie butter, sugar, and brown sugar until thoroughly combined and smooth. Add the egg, and mix for about 1 minute.
Turn off the mixer and add the oats mixture. Mix on low speed until there are a few streaks of the oats mixture still visible in the dough. Mix in the chocolate.
Cover the dough tightly, and refrigerate for at least 2 hours.
Preheat oven to 350°F. Line baking sheets with parchment paper or silicone liners.
Wrap the base of a flat-bottomed jar in plastic wrap. You'll use this to flatten the cookies before baking.
Use a tablespoon cookie scoop to scoop the dough.** Roll each portion into a ball, and place them on the prepared pans. Leave about 2 inches between the cookies. Flatten each cookie with the wrapped jar.
Bake 10 to 12 minutes, or until the cookies are firm around the edges with the centers still soft. Cool on the pans for 3 or 4 minutes. Then transfer the cookies to wire racks to cool and firm.
Notes:
*Chocolate chips will work, too, although the chopped chocolate is definitely my preference for these cookies.
**The original recipe references using a "small cookie scoop" (but not the specific size) or portioning by rounded teaspoonfuls. If you make them that size, expect about 50 cookies from the recipe.