These chewy Chocolate Oatmeal Biscoff Cookies have the perfect amount of spice and are so easy to make! Cookie butter and brown sugar give these cookies an irresistible caramel flavor.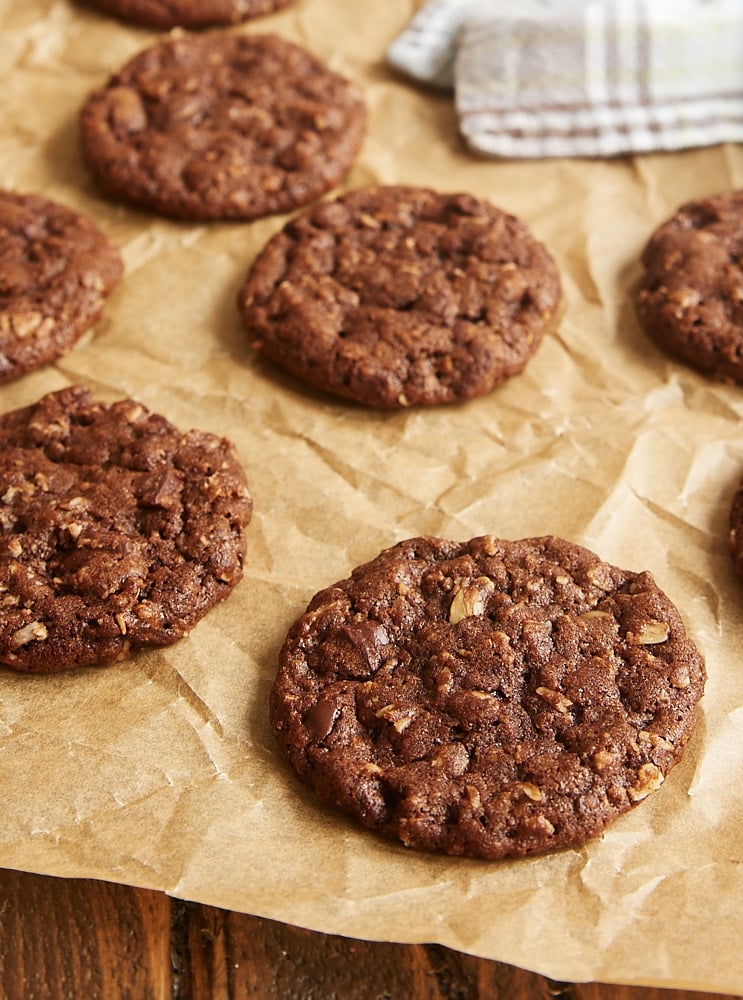 Chocolate Oatmeal Cookies with Cookie Butter
I've made a conscious effort to cut down on my cookbook collection, but sometimes there are new cookbooks that I just can't resist adding to my collection. The most recent example of one of those books is Dorie's Cookies. As much as I love baking cookies, it was just too good to resist!
Some time ago, I had the pleasure of meeting Dorie Greenspan, and we had a nice conversation about (what else?) cookies. I have a couple of her other cookbooks, too, but I have been especially excited about this cookies book. On my first perusal of the book, the recipe for Chocolate Oatmeal Biscoff Cookies jumped out at me as a must-bake.
And I must say that I couldn't be more pleased with my first pick from the book. These cookies are fantastic! They combine chocolate with a bit of cookie butter for a wonderful spiced twist on oatmeal cookies. The spice isn't too bold, but rather it's just enough to let you know that these are something special.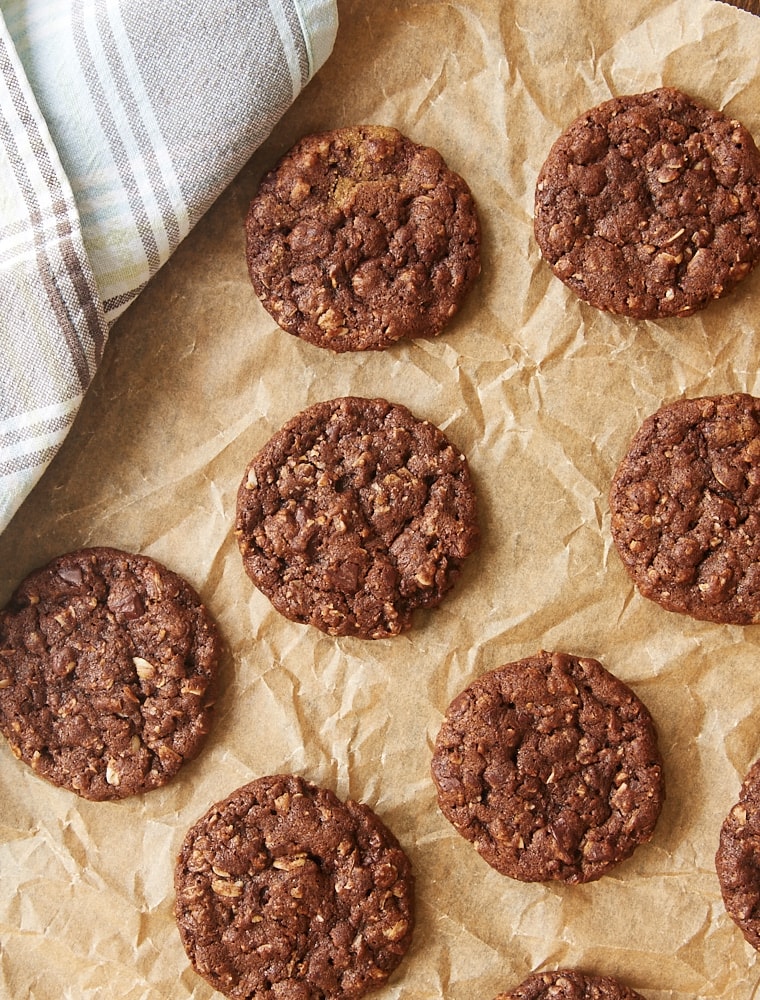 What is Biscoff Cookie Butter?
Biscoff cookie butter is a kind of spread made from speculoos cookies, which are sometimes called "biscoff" cookies in the United States and the United Kingdom. Cookie crumbs are combined with sugar, flour, and a fat such as butter or condensed milk until you have a spread that can be used on toast or in sandwiches. You use it the same way you would use peanut butter.
Lotus Biscoff Cookie Butter is the most well-known brand in the US. It is creamy and has a deep brown sugar, caramel, and spices flavor. While the recipe title names Biscoff specifically, you can substitute any brand of cookie butter. There are a few other brands available, like Trader Joe's and Roland. Look for cookie butter in your grocery store near the other spreads.
Variations
Dorie also suggests in her recipe for these Chocolate Oatmeal Biscoff Cookies that you can substitute peanut butter or chocolate-hazelnut spread for the cookie butter. I've not tried either substitution, but I love having a couple of simple ways to tweak the recipe for a little different result.
I didn't change anything about this recipe other than their size (see the note in the recipe) because I can't imagine anything I could do to make it better. And now I'm anxious to try more of the 300+ cookie recipes in this wonderful cookbook. If you love baking cookies, too, Dorie's Cookies is a perfect addition to your collection.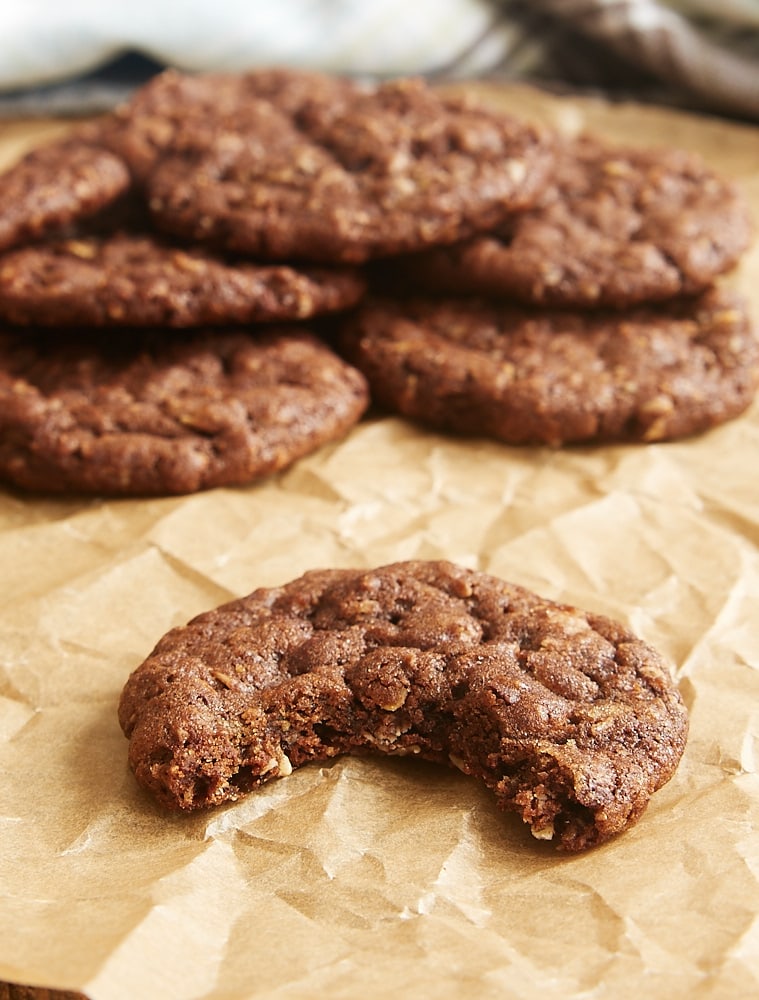 How to Store
Let your cookies come to room temperature, then store them in an airtight container on the counter for up to 4 days. If you want to extend their shelf life you can store them in an airtight container in the fridge for up to 7 days.
Can I Freeze These Cookies?
You sure can! Here's how:
Unbaked cookie dough: Freeze the cookie dough balls on a baking sheet lined with parchment paper. Once the dough has frozen solid, transfer to an airtight, freezer-safe container and store for up to 3 months. When you are ready to bake the cookies just proceed with the directions outlined below and add about 2 minutes to the baking time. (Learn more: How to Freeze Cookie Dough)
Baked cookies: Let your cookies cool completely, then wrap each cookie in plastic wrap and store them in an airtight, freezer-safe container for up to 3 months. Thaw overnight in the refrigerator or on the counter for a few hours when you're ready to eat them.
More Cookie Butter Baking Recipes