These Christmas breakfast treats offer some sweet ways to celebrate Christmas morning. I hope you'll find some new favorite breakfast ideas among these favorites!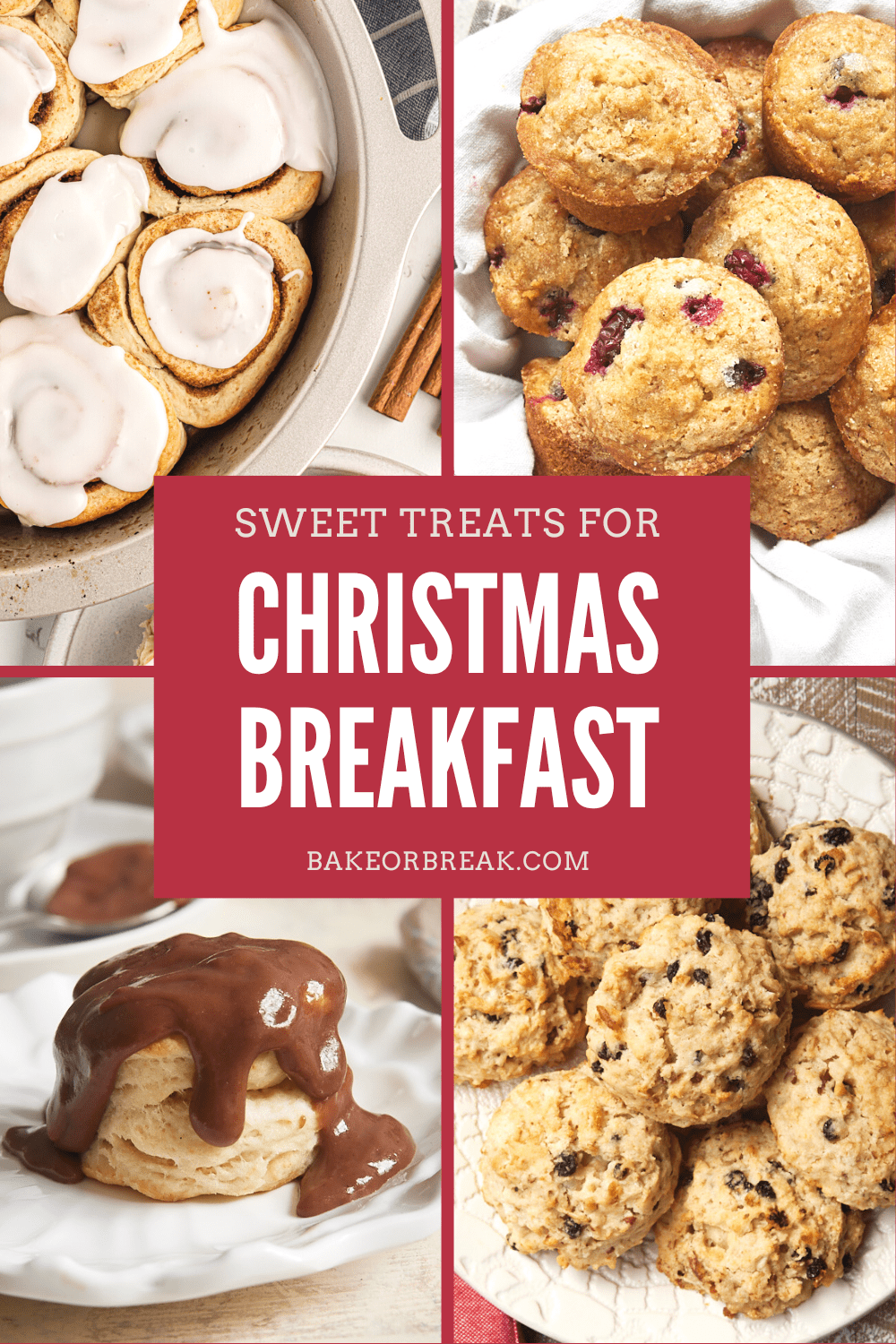 Sweet Christmas Breakfast Treats
Christmas morning is the perfect time for a special breakfast treat. If there's ever a time to eschew your usual bowl of oatmeal or other breakfast routine, this is it! Whether you opt for a make-ahead baked French toast or something as simple as a batch of muffins, it's a lovely tradition for a special day.
I'm so happy to share these sweet breakfast treats with you! These are some of my favorite recipes for the holiday season. With cinnamon rolls, muffins, biscuits, and even cake (!!!), there's sure to be something to tempt you.
Other Items to Keep On-Hand for Holiday Breakfasts and Brunches
If you're hosting a Christmas brunch or having overnight guests during the holidays, you'll need some basics, too. Be sure you've got plenty of juice, coffee, tea, or any other drink your guests might like.
In addition to serving a sweet treat on Christmas day, it's also nice to offer other foods like fresh fruit. Bananas, apples, berries, and melon are always welcome. A bit of yogurt is nice along with the fruit, with granola, or even on its own.
Take advantage of your local bakery and pick up some croissants and bagels for your guests, too. Don't forget the jam, butter, and cream cheese!
If you like to plan ahead, bake a bunch of different muffins and quick breads to stash in the freezer. Then just thaw them overnight to create a sweet buffet!
My recipes focus on baking, but don't forget about traditional breakfast classics like bacon and eggs, too! There are so many ways to make a perfect breakfast for the holidays!
Make It Special
Even if you're serving something as simple as cinnamon rolls or waffles, you can make it extra special. Get out that wedding china you never use, set the table with holiday linens, and gather everyone to share a meal together!
I hope you'll add something homemade to your Christmas breakfast this year. Do you have Christmas breakfast baking traditions? I'd love to hear about them in the comments below.
Happy baking and happy holidays!
Favorite Christmas Breakfast Ideas
These are my go-to recipes when I need a special breakfast treat. Whether you want a classic like cinnamon rolls or something a little different like chocolate gravy, I've got you covered with these breakfast baking recipes!