These brown butter sugar cookies are here to change up your cookie game! You won't believe how a handful of pantry ingredients are transformed into something truly special by adding brown butter and a sprinkle of flaky salt.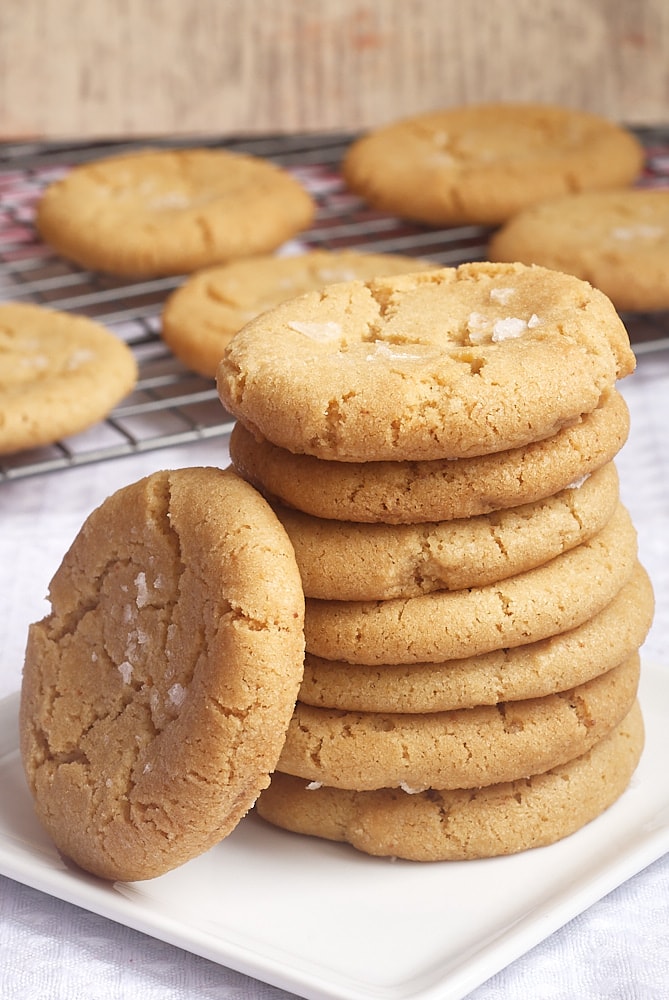 Easy Brown Butter Cookies
I don't often buy store-bought cookies. All the homemade stuff makes that unnecessary. After we moved, however, I stayed out of the kitchen until we could get settled into the new place. During those days, I discovered Brooklyn's own The Good Batch at a local market.
On impulse, I bought a package of their Brown Butter Salty cookies. These amazing cookies are a soft shortbread made with browned butter and topped with a pinch of salt. I was hooked immediately. So, I set out to make something similar.

I decided to go the sugar cookie route. I don't make sugar cookies very often. They've just never been at the top of my list when I get a cookie craving. But, these. These! These are way beyond sugar cookies.
First of all, they start out with browned butter, which is one of my favorite things. All that rich, nutty flavor takes an everyday sugar cookie and turns it into something truly special. Plus, these brown butter cookies have that wonderful crispy on the outside, chewy on the inside thing going for them.
With all the recipes I've shared over the course of my blogging career, it's difficult to make really big proclamations about a particular one. But, that's exactly what I'm doing with these. I'm always a fan of sweet and salty desserts, and these brown butter sugar cookies are quite possibly my new favorite realization of that.
Why You'll Love This Brown Butter Sugar Cookie Recipe
Here's what makes these brown butter sugar cookies a guaranteed winner.
Nutty brown butter. Need I say more? It's irresistible in Brown Butter Pear Crisp, Brown Butter Banana Bread, and Brown Butter Strawberry Muffins, and it's equally fantastic in these brown butter cookies.
Soft and chewy texture. If you're not a fan of crispy (or, let's be honest, hard) sugar cookies, then these are for you. They're lightly crisp on the edges, with a chewy interior—the best of both worlds.
Simple recipe. These cookies don't require any fancy ingredients or complicated steps. Just some basic baking staples and you're all set.
What You'll Need
Scroll down to the recipe card to find the ingredient quantities and recipe instructions.
What Is the Best Salt to Sprinkle on Cookies?
I like using a flaky sea salt like Maldon or fleur de sel to sprinkle on these cookies. The larger flakes add a nice crunch and concentrated flavor, but feel free to use whatever coarse salt you have on hand.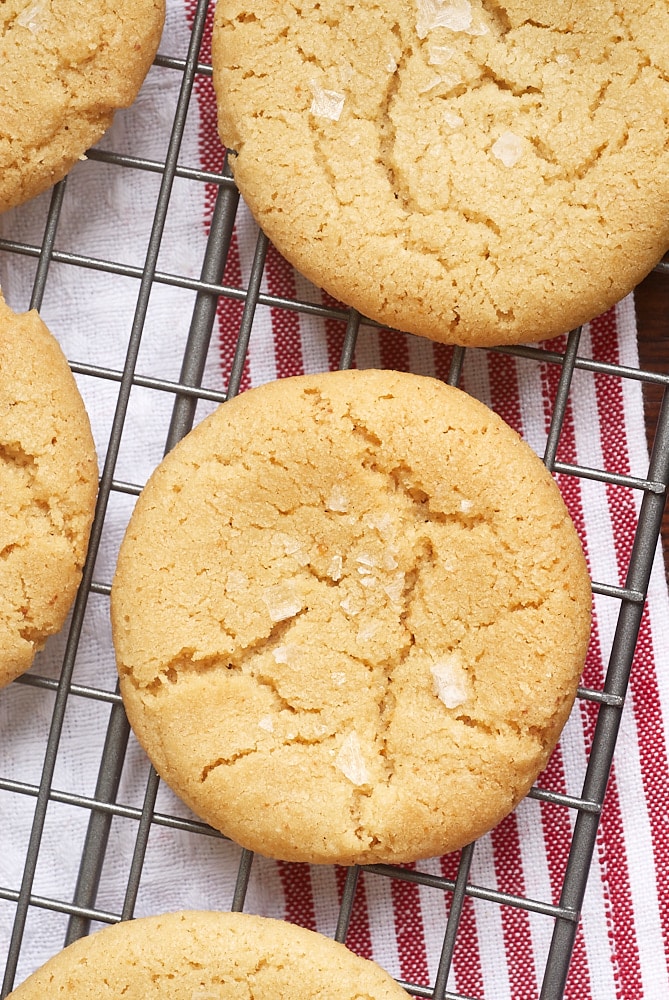 How to Make Brown Butter Sugar Cookies
I love this recipe because it's so easy and straightforward. Just keep an eye on the butter as it browns because it can burn fast!
Brown the butter. Melt the butter in a medium saucepan set over medium heat, stirring frequently. Once it begins to foam, continue to cook until brown specks appear at the bottom of the pan and the butter has a nutty aroma. Remove from the heat and transfer to a glass bowl; cool for 10 minutes.
Mix the dry ingredients. Whisk together the flour, baking soda, and salt in a mixing bowl.
Mix the wet ingredients. Use an electric mixer on medium speed to beat the cooled butter, brown sugar, and sugar until combined. Then, beat in the egg and vanilla.
Combine wet and dry ingredients. Reduce the mixer speed to low and slowly mix in the dry ingredients until combined.
Chill. Refrigerate the dough for 30 minutes.
Prepare. Preheat your oven to 350°F near the end of the chilling time. Line baking sheets with parchment paper or silicone liners.
Form the cookies. Scoop a tablespoon of dough and roll it into a ball. Set it on one of the pans and flatten it slightly. Repeat with the remaining dough, then sprinkle a bit of salt on top.
Bake. Place the pans in the oven and bake for 12 to 15 minutes, or until the edges of the cookies are browned and the centers are set.
Cool. Set the pans on wire racks to cool for 5 to 10 minutes. Then, transfer the cookies directly to the wire racks to finish cooling. (Learn more: Why Every Baker Needs Wire Cooling Racks)
Tips for Success
Read my baking tips for beginners, then follow these additional hints and pointers for perfect brown butter sugar cookies:
Don't skip the refrigeration. Chilling the dough allows the flavors to develop and also makes it easier to handle the dough. Even more importantly, it keeps the cookies from spreading on the pan since you're starting with melted butter.
Slightly under-bake for soft cookies. And, on the flip side, if you prefer your cookies a bit crispier, leave them in the oven for an extra minute or two.
Let the pans cool if you're reusing them. If you want or need to reuse the same pan to make all of your cookies, you will need to let it cool completely before adding more dough to it. This prevents your cookies from over-baking on the bottom and spreading on the pan.
Variations
These cookies are delicious as-is, and I don't recommend tinkering with the dough itself. That said, you can drizzle melted chocolate over these brown butter sugar cookies for an elegant touch, or dip the cookies in chocolate.
They also make a wonderful base for sandwich cookies, ice cream sandwiches (try them with butter pecan ice cream), or you can simply slather them with brown butter frosting and double-down on that glorious brown butter goodness.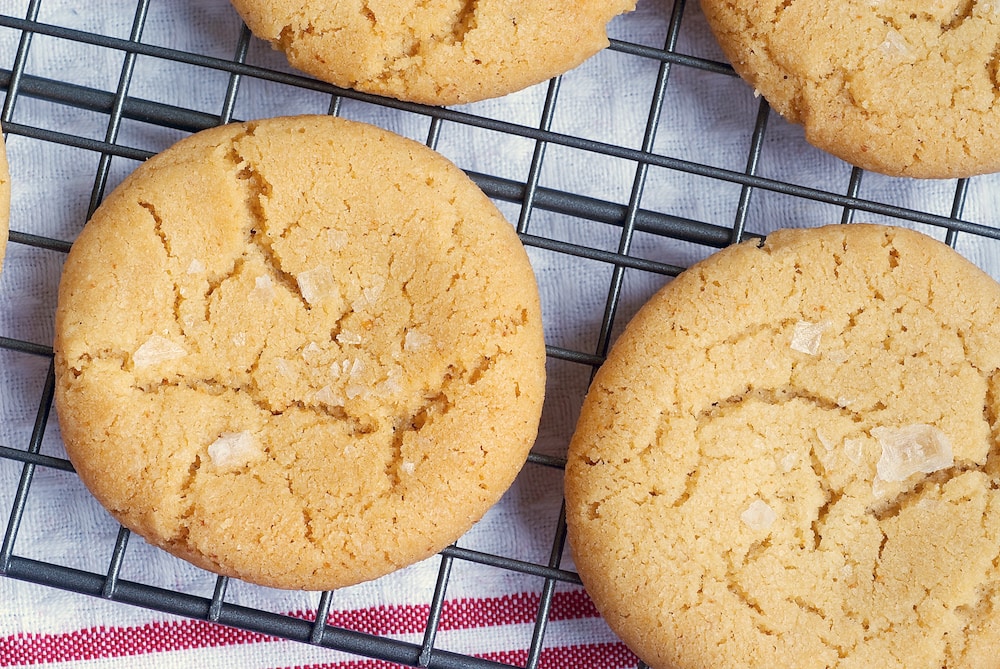 How to Store
Store brown butter sugar cookies in an airtight container at room temperature for up to 3 days.
Can I Freeze This Recipe?
I highly recommend making a double batch of these cookies and freezing some for later—you're going to want them on hand at all times! Freeze them in an airtight container or freezer bag for up to 3 months. To thaw, simply let them sit at room temperature for about 15 minutes before enjoying.
More Sugar Cookie Recipes