December 18, 2007
Linzer Cookies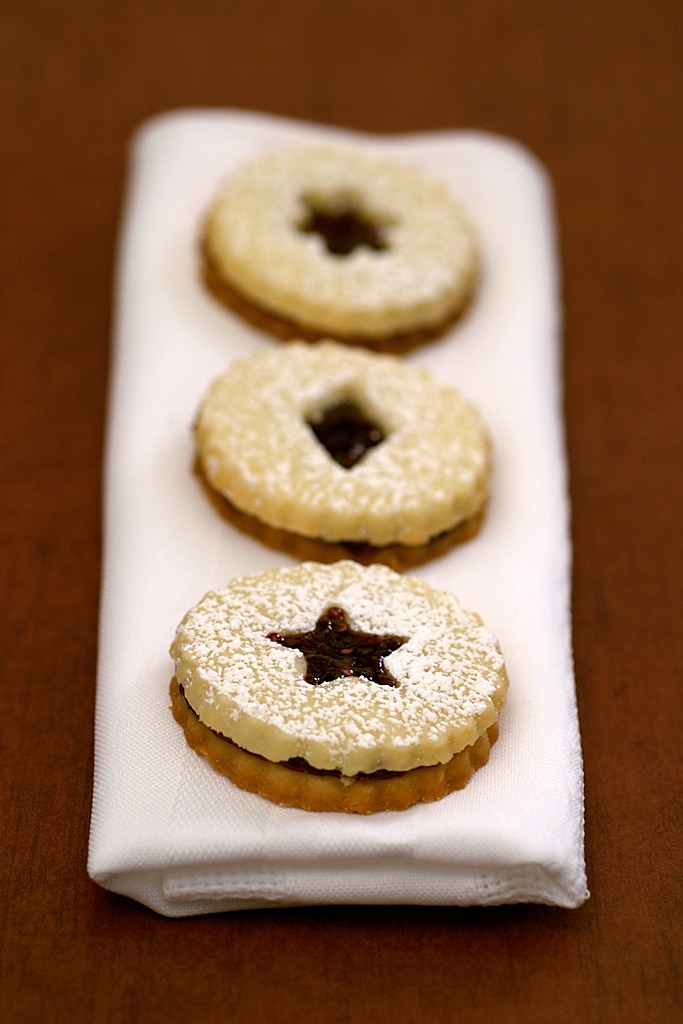 I not so recently bought a set of Linzer cookie cutters and, much like my madeleine pan, let them sit in a kitchen drawer untouched for far too long. Now, I have something else to cross off my list!

I took the easy approach to these and used the recipe that came with the cookie cutters. It is a very simple recipe with only a handful of ingredients. While it doesn't make that many cookies, it could easily be scaled to make more.
Upon further research, I found that these cookies are traditionally made with ground nuts in the dough. Given my love of nuts, I am a bit disappointed that I didn't go that route. Of course, that just gives me something to look forward to the next time I dig out those cookie cutters!

Missed any of BoB's holiday baking? Don't forget the Holiday Baking page!
Linzer Cookies
Yield: 10-12 sandwich cookies
Prep Time: 25 minutes
Cook Time: 12 minutes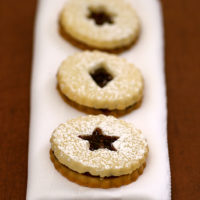 Ingredients:
1 cup unsalted butter, softened
1/2 cup confectioners' sugar
1 teaspoon orange extract*
2 cups sifted cake flour
raspberry or apricot jam**
confectioners' sugar for dusting, if desired
Directions:
Beat butter, sugar, and orange extract. Gradually add flour and mix well. Form dough into a rectangle. Wrap dough and chill at least 2 hours.
On baking sheet, roll out half of the dough 1/4-inch thick. Chill for 30 minutes.
Preheat oven to 350°. Cut out dough for the bottoms of the cookies. Bake for 10-12 minutes.
Roll out the other half of the dough on a baking sheet. Chill for 30 minutes.
Cut out dough for the tops of the cookies, using a Linzer cutter. Bake for 10-12 minutes.
When cookies have cooled, dust tops with confectioners' sugar. Spread about 2 teaspoons of jam on each cookie bottom. Place tops on top of jam.
Notes:
*Substitute lemon extract, vanilla extract, or most any flavoring.
**I like raspberry, but use whatever flavor you like!