December 9, 2007
Oatmeal Cranberry Cookies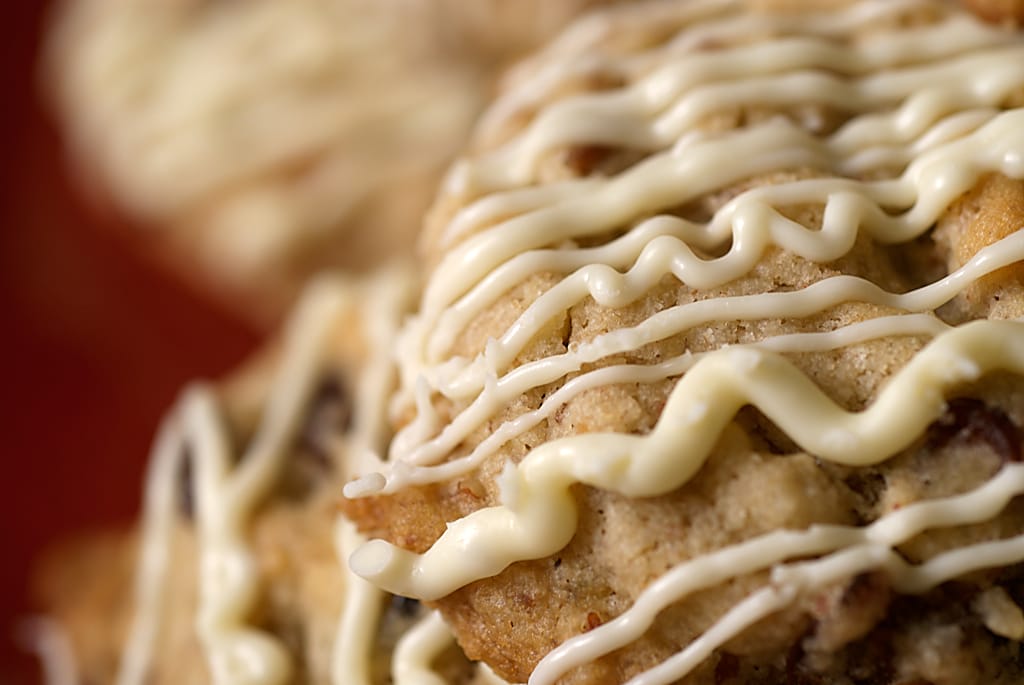 Cranberries have become synonymous with the holidays. So, it stands to reason that they should play a part in holiday baking. These cookies are a twist on an oatmeal-nut cookie. That cookie alone would be tasty, but the addition of dried cranberries gives them a little extra kick of flavor.

I found this recipe in the 2006 edition of Christmas with Southern Living. This series of books is one of my favorites, which makes sense because I love the holiday season. These books have everything about the holidays from recipes and menus to decorating ideas. They are published annually, conveniently right around my birthday. Quinn, with very little hinting on my part, is always kind enough to give me a copy. So, then I have from the end of August through the holidays to read and re-read (and re-read) them.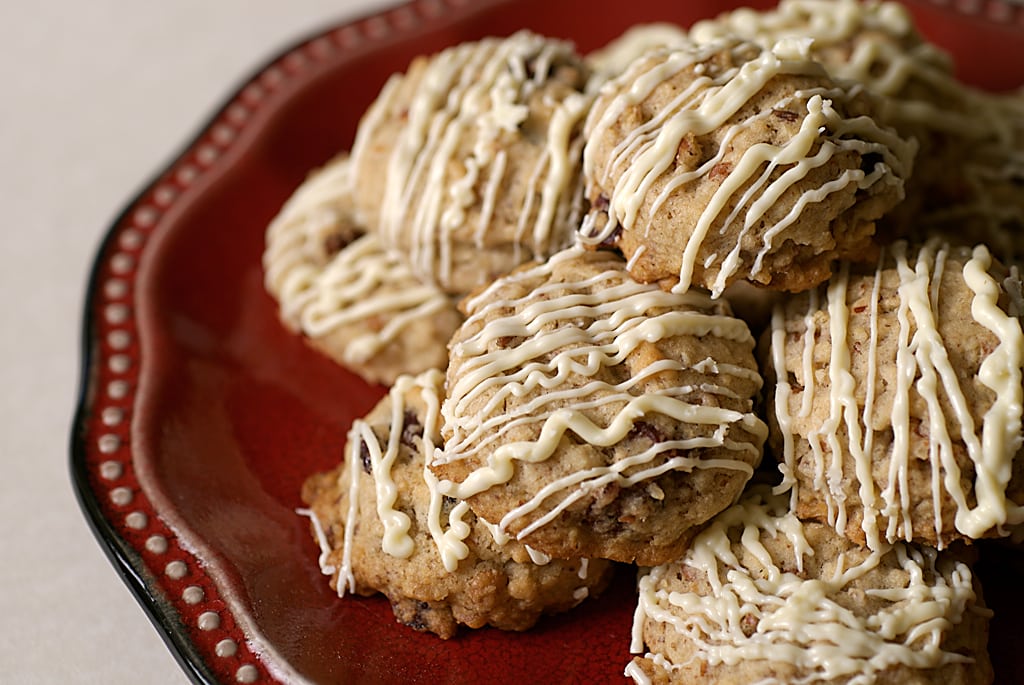 The original recipe suggests dipping half of each cookie in melted white chocolate mixed with shortening. To avoid using shortening and also to make them a bit more interesting, I drizzled melted white chocolate over them. Either way is perfectly fine. It's just a matter of preference. Of course, they're also delicious without any embellishment.
Oatmeal-Cranberry Cookies
Yield: about 48 cookies
Prep Time:20 minutes
Cook Time:10 minutes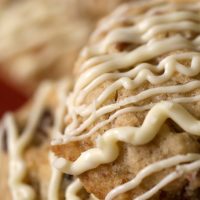 Ingredients:
1 cup unsalted butter, softened
1 cup firmly packed light brown sugar
1/2 cup granulated sugar
1 large egg
1 tablespoon vanilla extract
2 cups all-purpose flour
1 teaspoon baking soda
1/2 teaspoon baking powder
1/2 teaspoon salt
2 cups sweetened dried cranberries
1 & 1/2 cups coarsely chopped pecans, toasted
1 & 1/4 cups quick-cooking oats
8 ounces white chocolate baking squares or bars (optional)
Directions:
Preheat oven to 375°.
Beat butter until creamy. Gradually add sugars and mix well. Add egg and vanilla. Mix well.
Combine flour, baking soda, baking powder, and salt. Add gradually to butter mixture. Mix until blended. Stir in cranberries, pecans, and oats.
Drop dough by tablespoonfuls onto lined or lightly greased baking sheets. Place cookies about 2 inches apart. Bake for 8 to 10 minutes or until lightly browned.
Cool on baking sheets for 2 minutes. Then, transfer to wire racks to finish cooling.
Melt white chocolate and transfer to a zip-top bag. Cut the corner of the bag and use to drizzle white chocolate onto cookies.