Oatmeal Cranberry Cookies combine chewy oats, tart cranberries, and sweet white chocolate for an irresistible treat!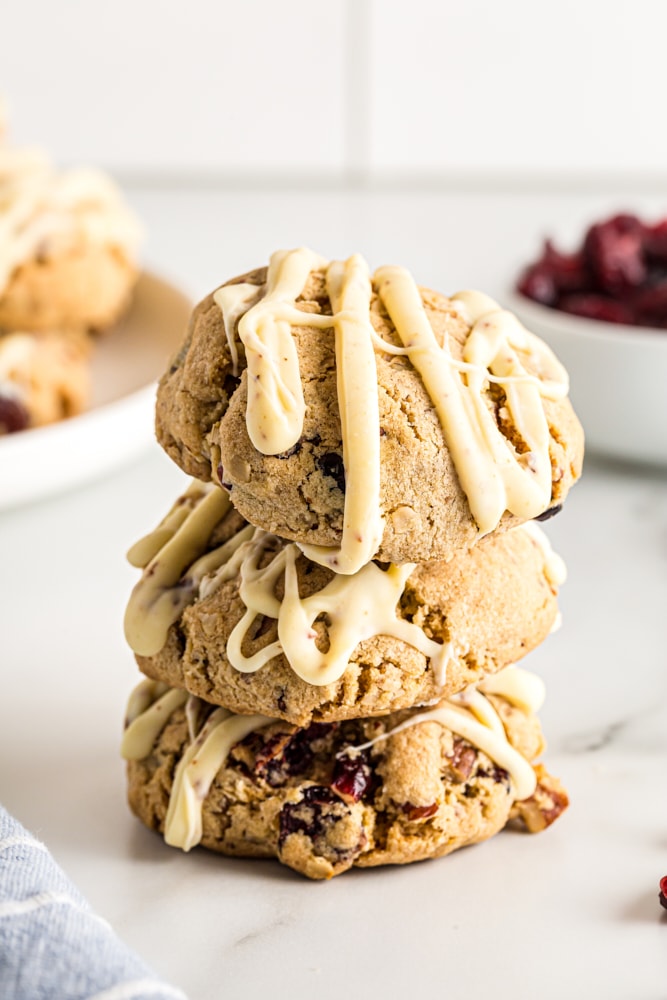 Oatmeal Cranberry Cookies
Cranberries have become synonymous with the holidays. So, it stands to reason that they should play a part in holiday baking. These cookies are a twist on a nutty oatmeal cookie. That cookie alone would be tasty, but the addition of dried cranberries gives these Oatmeal Cranberry Cookies a little extra kick of flavor.

These chewy, nutty, sweet, tart cookies are really just a pleasure to eat. I can attest that they are perfectly delicious just as they are, but adding those drizzles of white chocolate really make them something special. I honestly don't know if I have a true preference, but I'll happily take one of these cookies either way!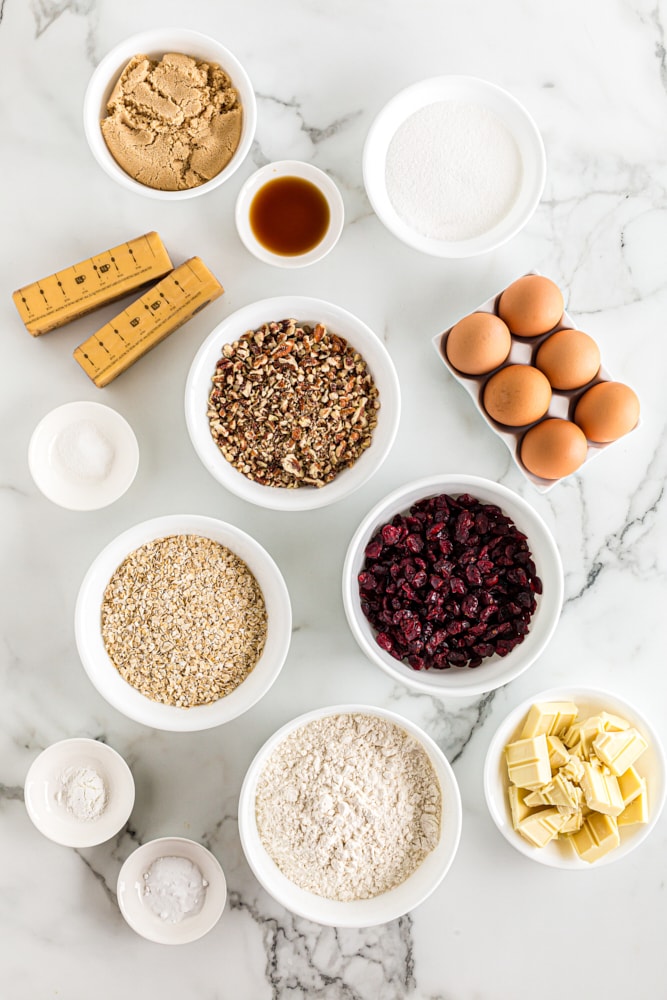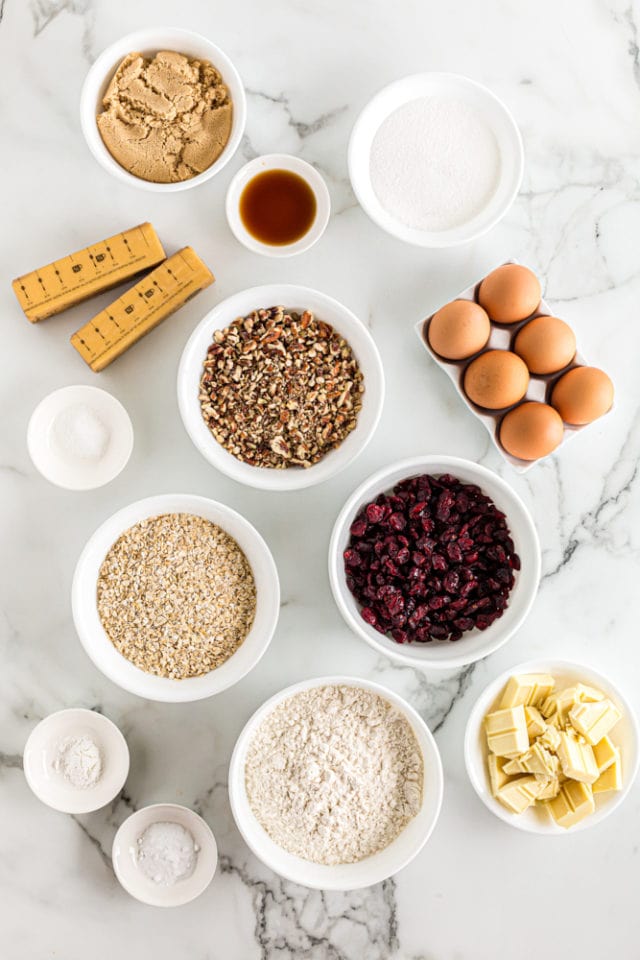 What You'll Need
Other than the basics, you'll just need the add-ins and white chocolate for these cookies!
All-purpose flour – For the best results, measure by weight. If you don't have a kitchen scale, then spoon and sweep.
Baking soda
Baking powder
Salt
Unsalted butter – Set out the butter about half an hour before baking to allow it to soften properly.
Brown sugar
Granulated sugar
Egg
Vanilla extract
Dried cranberries
Chopped nuts – I most often use pecans because they're my favorite for baking, but feel free to use another nut if you like. For a nut-free option, you can omit them entirely or add another add-in in their place.
Quick oats – The small size of quick oats gives you the flavor of the oats along with their flavor without having large pieces of oats in the cookies. If you want to use regular old-fashioned oats, be sure to substitute by volume.
White chocolate – From a flavor standpoint, I prefer white chocolate versus white bark or other white chocolate substitutes. Use whichever you prefer.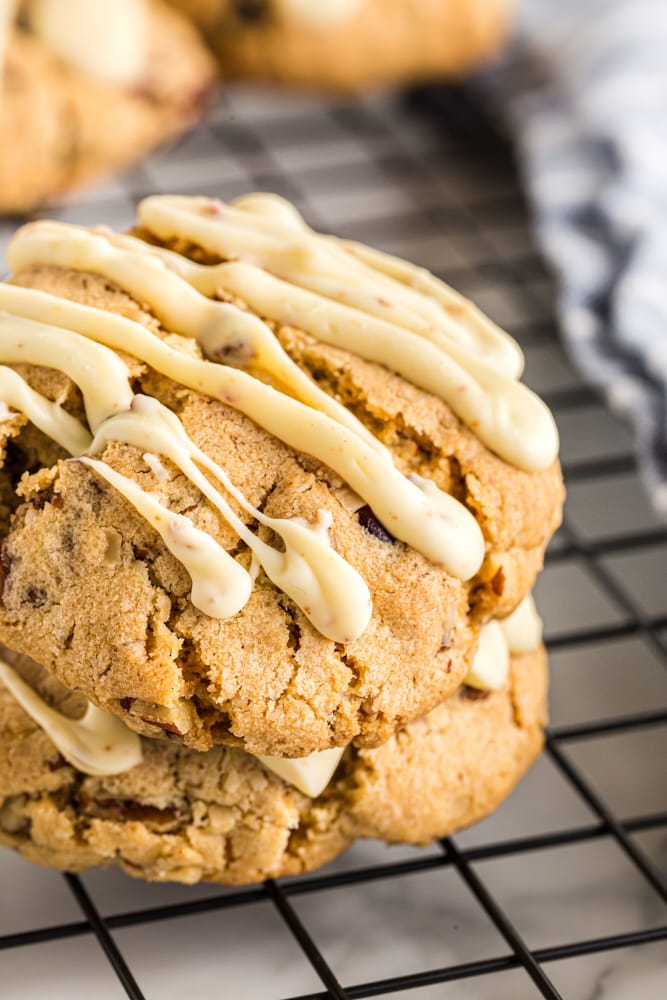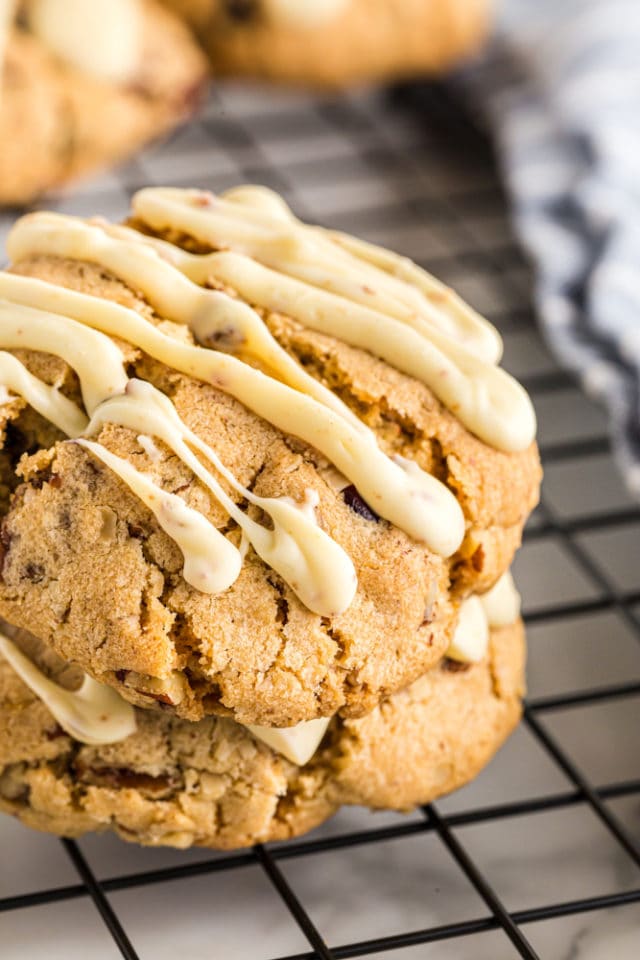 How to Make Oatmeal Cranberry Cookies
If you've baked your fair share of cookies, then this method won't hold any surprises for you. You'll need a hand mixer or stand mixer, a couple of mixing bowls, and some sheet pans. If you have a 1-tablespoon scoop, grab that, too!
Prepare for baking. Heat the oven to 375°F. Line baking sheets with parchment paper or silicone liners.
Combine the dry ingredients. Whisk together the flour, baking soda, baking powder, and salt.
Combine the wet ingredients. With an electric hand mixer or stand mixer, beat the butter until light and creamy. Gradually add the sugars, and mix until combined. Add the egg and vanilla, and mix well.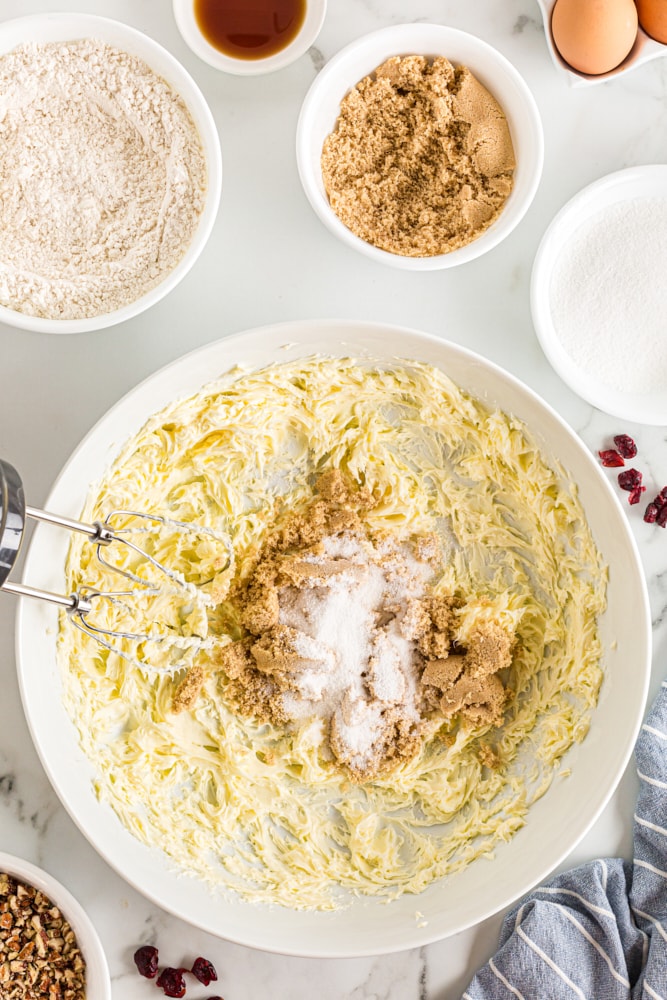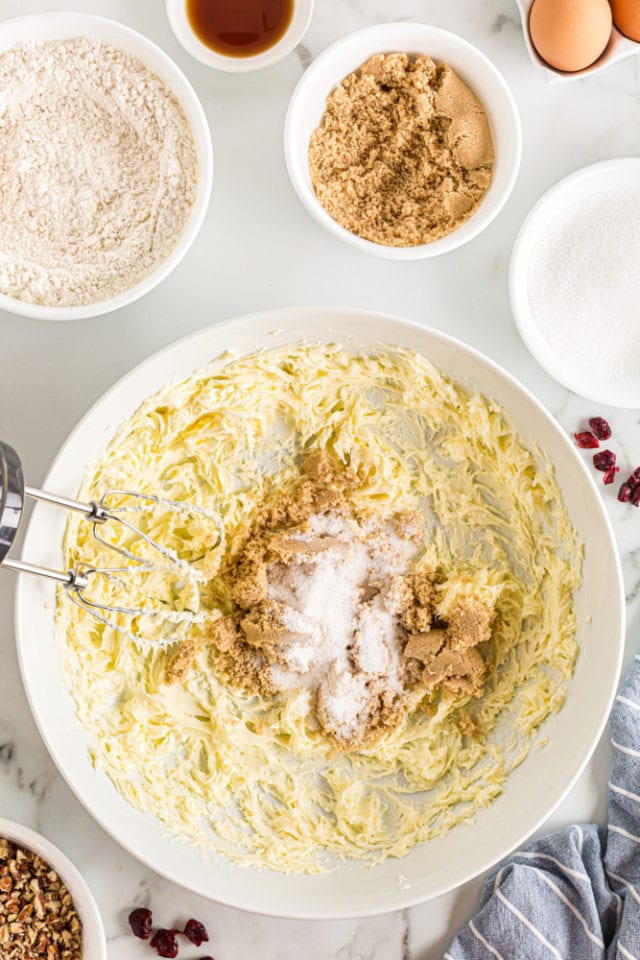 Add the dry ingredients to the wet ingredients. With the mixer speed on low, gradually add the flour mixture. Don't over-mix; mix just until combined or a few streaks of flour remain.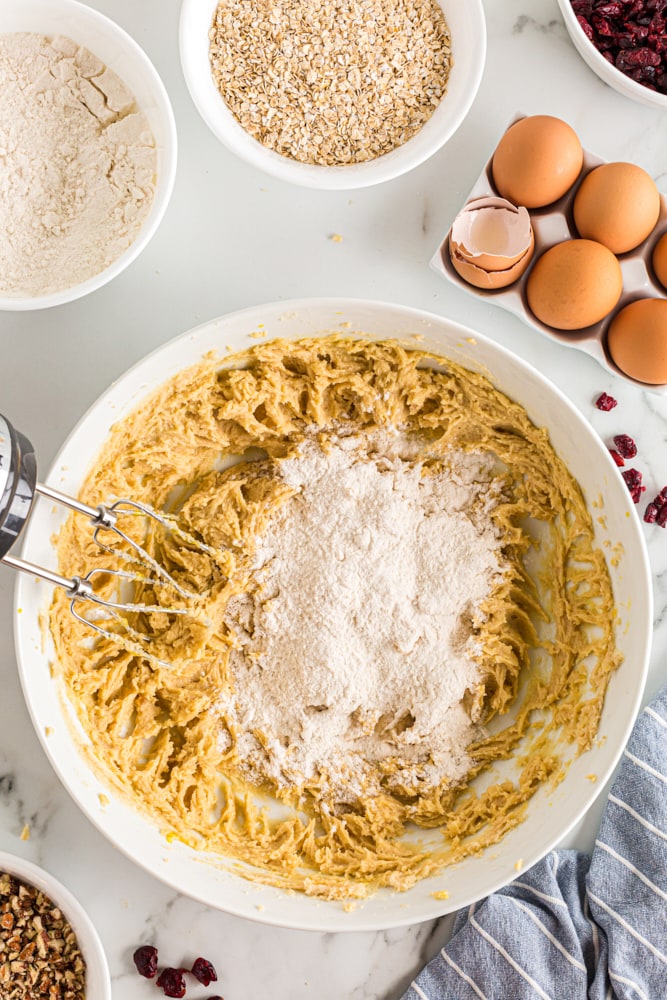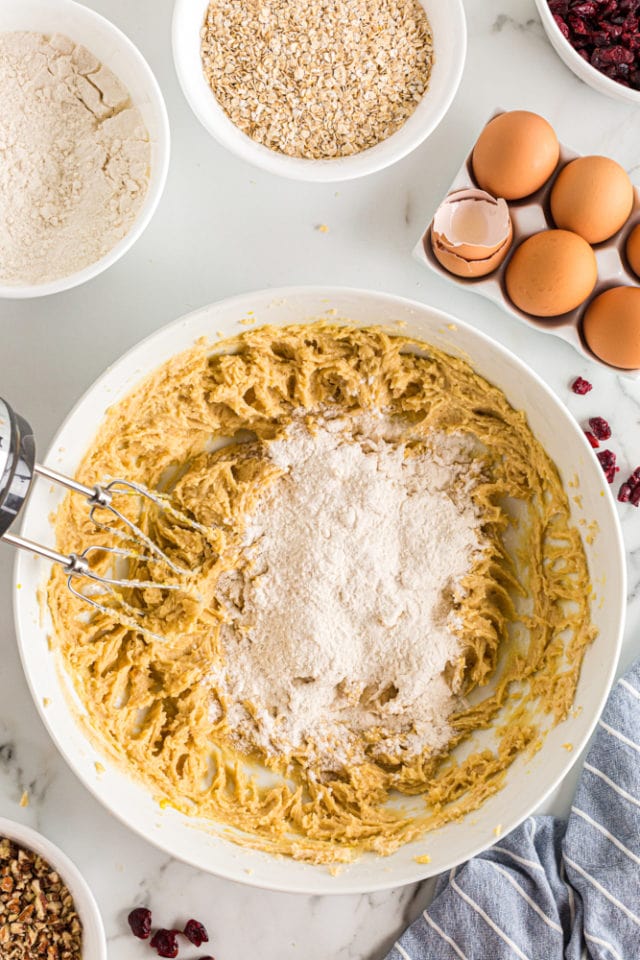 Mix in the add-ins. Stir the cranberries, pecans, and oats into the dough.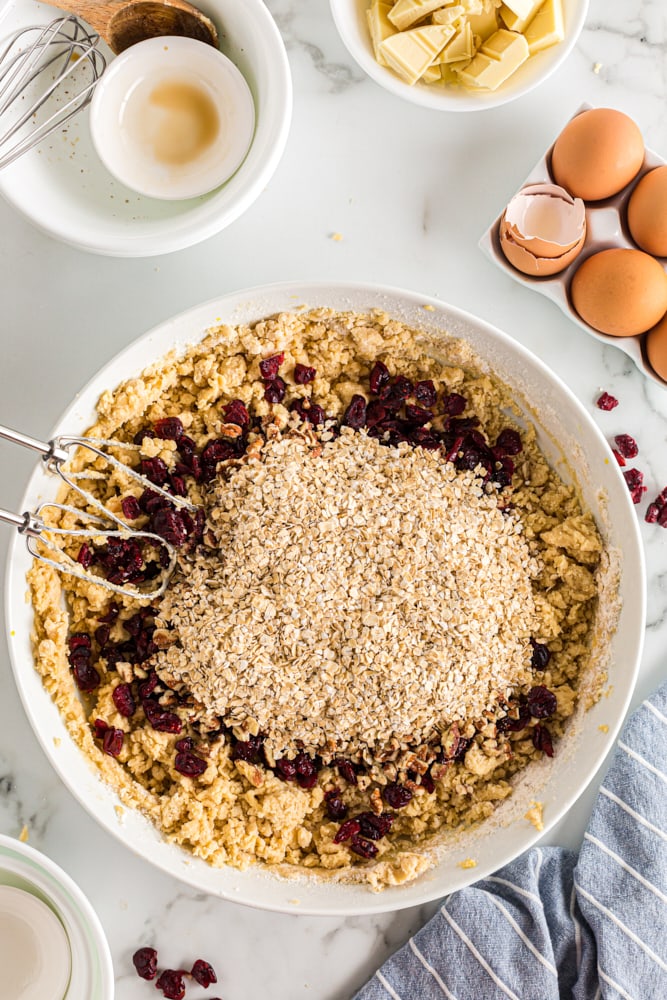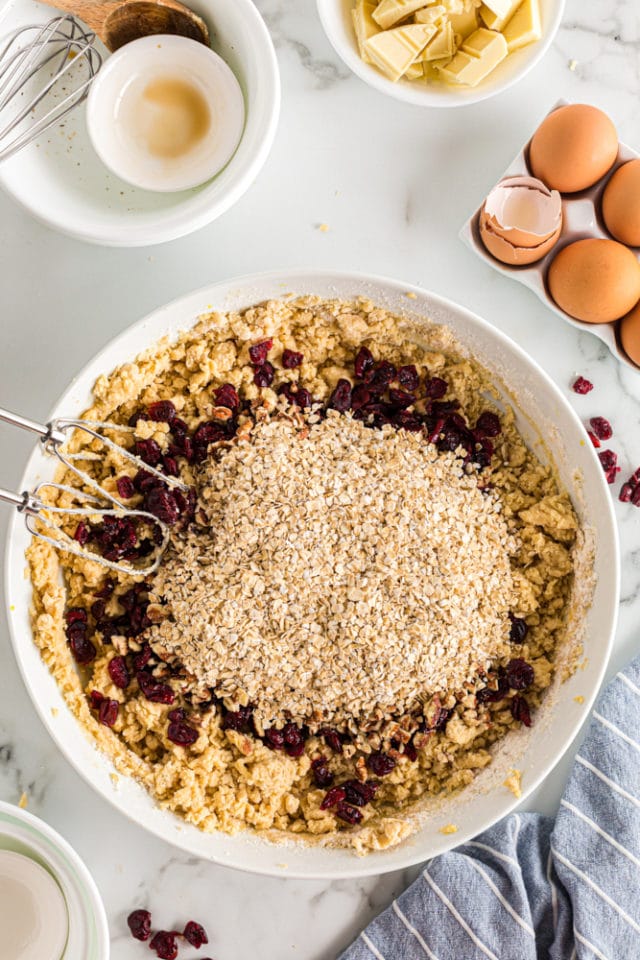 Portion the dough and bake. Drop the dough by tablespoonfuls onto the prepared pans, leaving about 2 inches between the cookies. I recommend using a 1-tablespoon cookie scoop to expedite portioining and to form equally sized cookies. Bake the cookies 8-10 minutes, or until they're lightly browned. I prefer to bake one pan at a time, but if you want to bake two at a time, be sure to rotate the pans halfway through baking.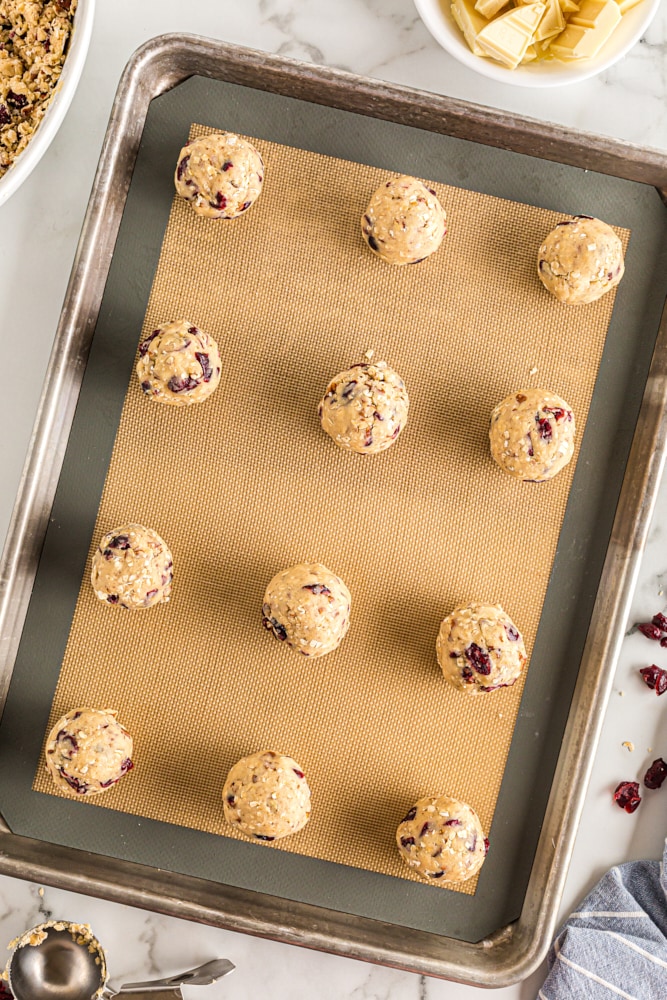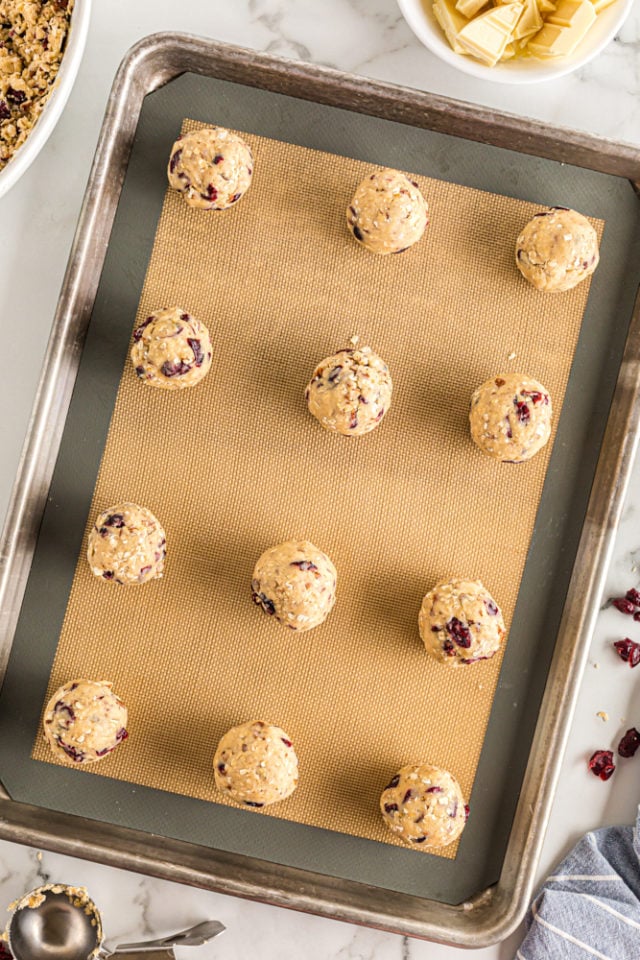 Cool the cookies. Place the pans on wire racks and allow the cookies to cool for a few minutes. Then transfer the cookies from the pan to a wire rack to cool completely.
Top with white chocolate. Melt the white chocolate either in a double boiler or in the microwave. Be sure to go slowly when melting so it will be smooth. Place the chocolate in a piping bag or in a zip-top bag with the corner snipped. Top each cookie with white chocolate. (Alternatively, dip each cookie partially in white chocolate.) Allow to set.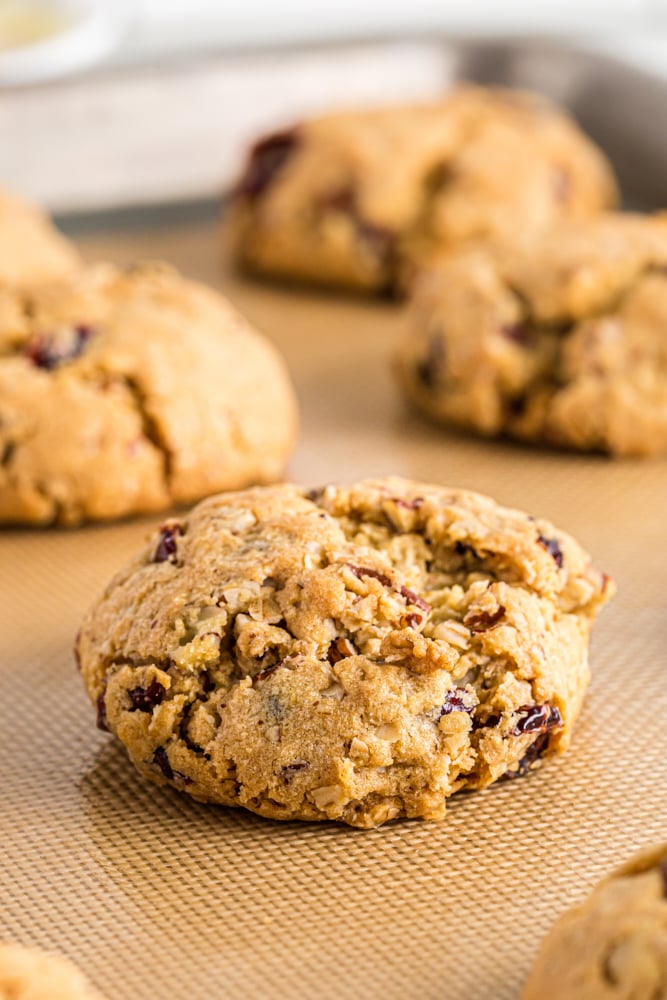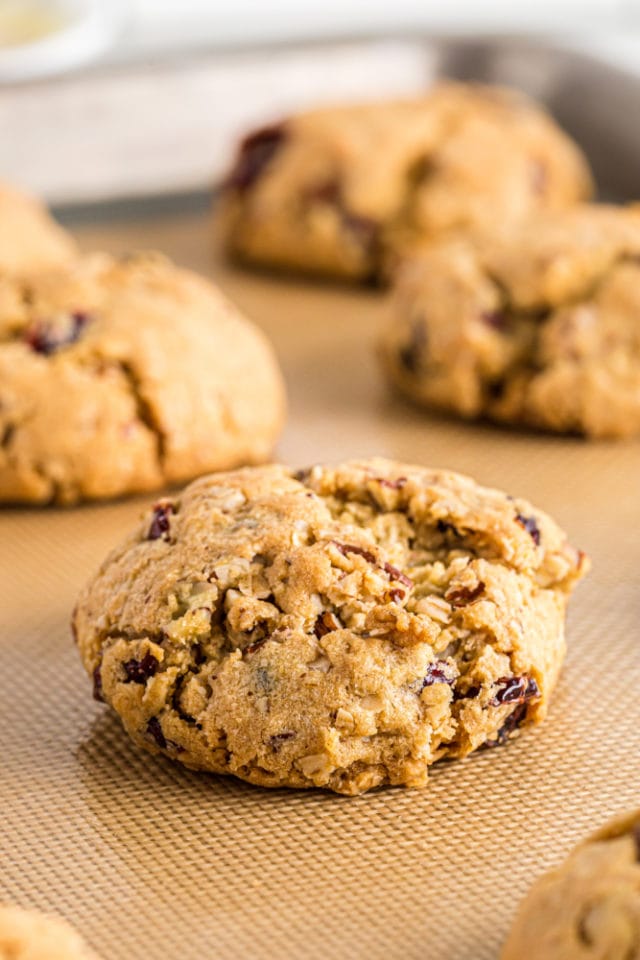 Tips for Success
Don't over-mix the dough. Too much mixing leads to tough cookies.
Take care melting the white chocolate. Chocolate can seize when melted too aggressively, and white chocolate is especially susceptible to that. I find that melting it in the microwave is the easiest and quickest method. Place the chocolate in a microwave-safe bowl. Heat at half-power in 30-second increments, stirring after each round. Repeat until the chocolate melts when stirred.
Toast the nuts. While this is optional, it will add wonderful flavor to your cookies. You can toast them in a skillet on the stovetop over medium heat or in the oven at 350°F.
Customize if you like! Substitute your favorite add-ins to make these to suit your tastes.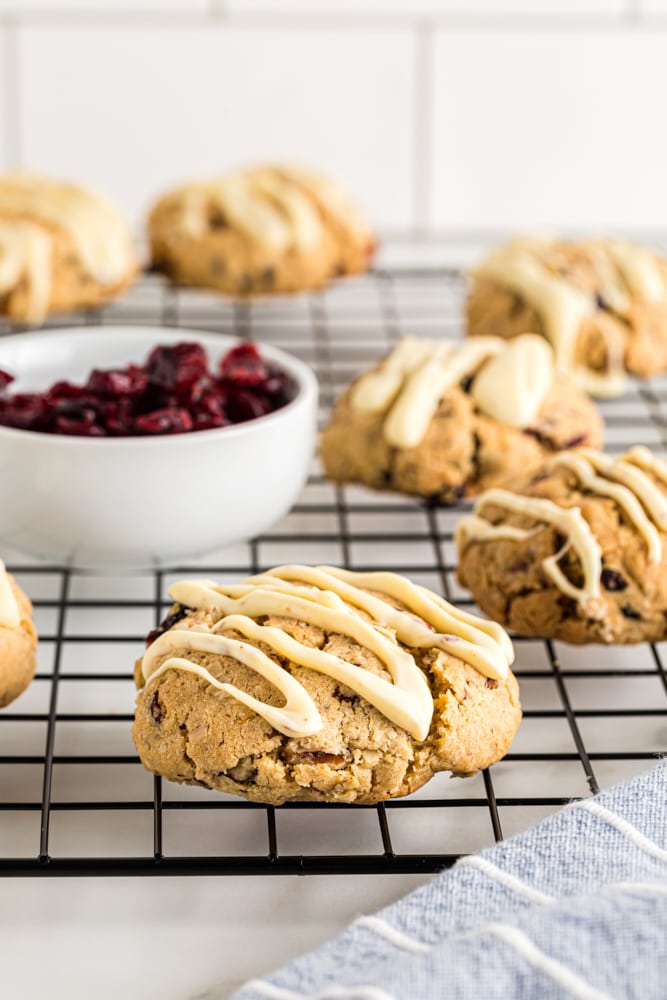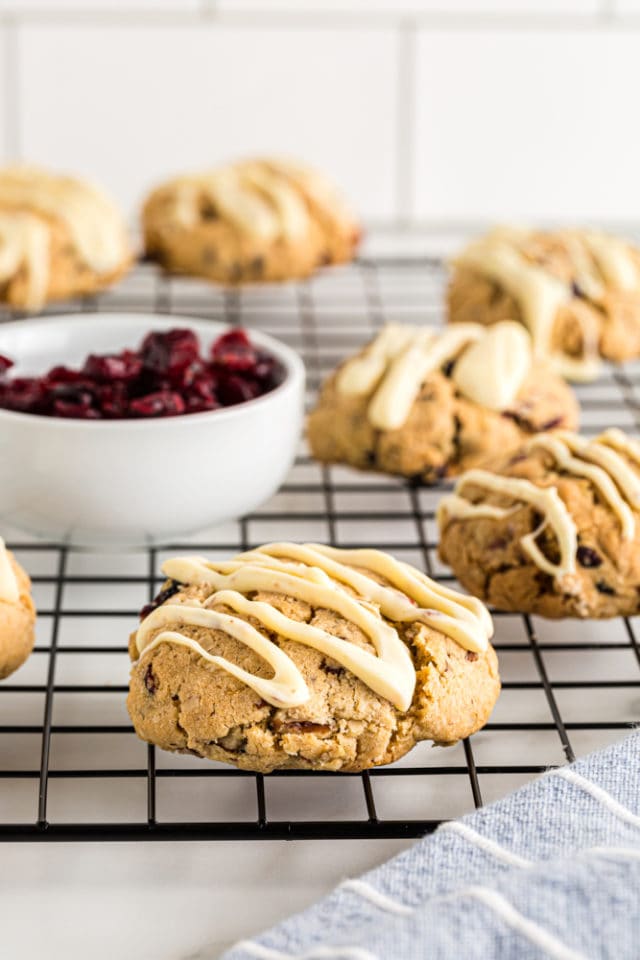 How to Store These Cookies
Place the cooled cookies in an airtight container. Store at room temperature up to 3 days. Be sure to keep them away from warm spots in the kitchen, like next to the oven or on top of the dishwasher. They can be refrigerated to extend their shelf-life a couple of days; just be sure the container is airtight so they don't dry out.
To keep the cookies looking their best, place waxed paper between layers of the cookies.
How to Freeze Oatmeal Cranberry Cookies
If you want to freeze the baked cookies, they'll be best frozen without the white chocolate glaze. The drizzled cookies may still taste fine after thawing, but the chocolate on top is likely to look a little worse for wear. Place the cookies in an airtight, freezer-safe container or bag. Properly stored, the cookies should keep in the freezer up to 3 months. Thaw overnight in the refrigerator or for an hour or so at room temperature.
To freeze the cookie dough, portion the cookies as directed in the recipe. Place the balls of dough on a baking sheet, and freeze just until solid (2-3 hours). Once frozen, transfer the cookies to an airtight, freezer-safe container or bag. They should keep up to 3 months. When you're ready to bake, place the cookies on a baking sheet and bake as directed in the recipe, adding a couple of minutes to the baking time.