Potato chip cookies are the ultimate salty and sweet treat. They're easy to make, and they're always a hit with family and friends. If you're looking for a new cookie recipe to try, this is the one for you!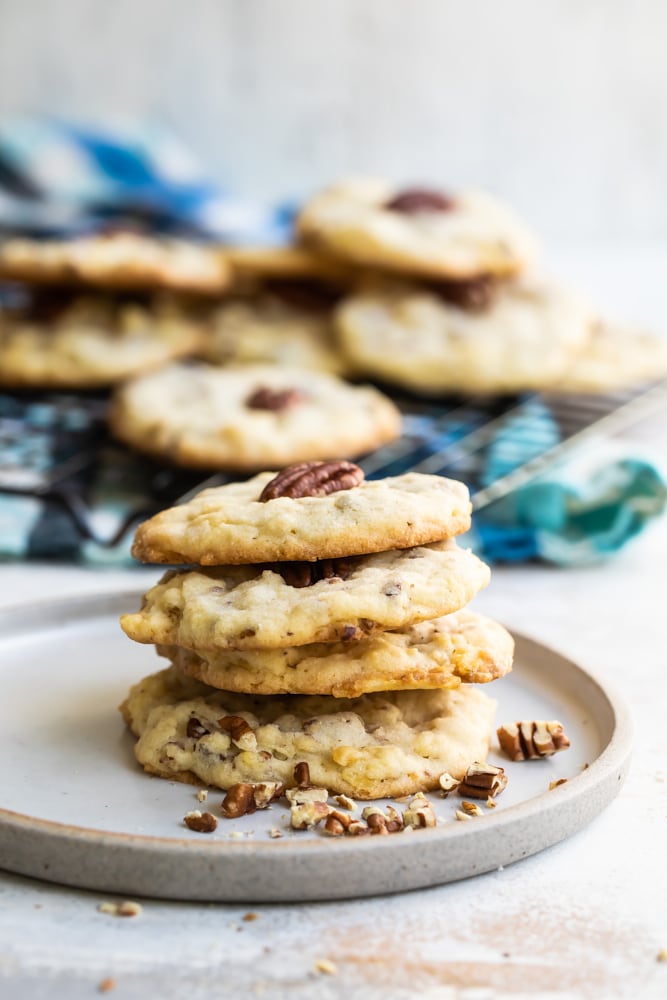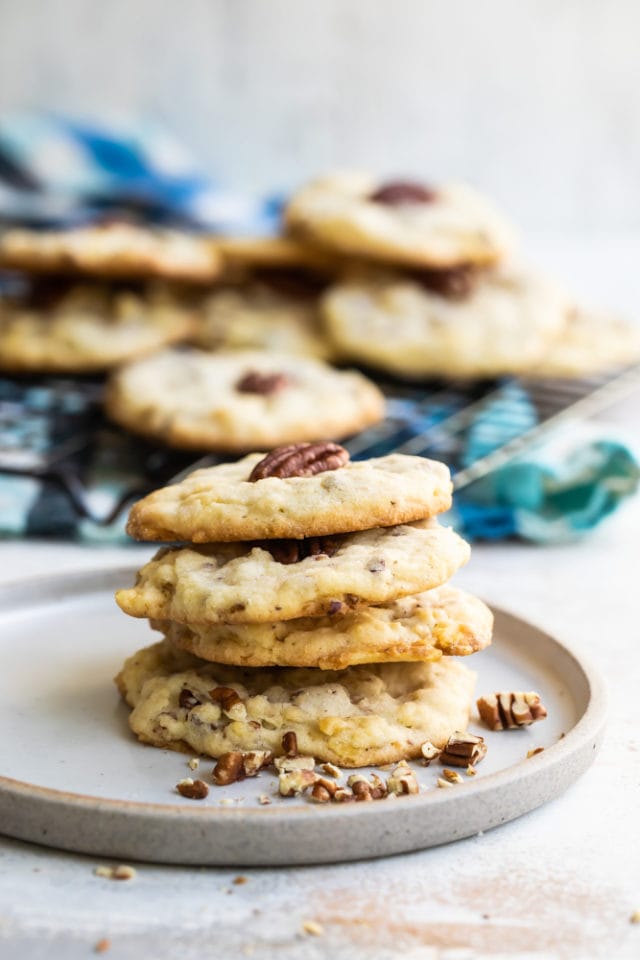 Potato Chip Cookies
The first time I ever tried Potato Chip Cookies, I knew I had to try making them myself. They perfectly meld sweet with salty and crunchy with buttery. Seriously, these are some really good cookies.
If you've never had Potato Chip Cookies, the idea may seem like an odd one. But I think you'll be surprised by just how well the combination of flavors and textures works.
These cookies also get some bonus points for being easy to make with ingredients you may already have in your kitchen. I don't always have potato chips on hand, but these are a wonderfully easy baking project when I do. The other ingredients are basic baking ingredients that you'll likely have if you bake with any regularity.
The rustic look of these Potato Chip Cookies is appealing as well. Thanks to the potato chips and nuts, they're a bit lumpy and bumpy. That pecan half on top of each cookie is not a must, but I do like the additional color and crunch they add.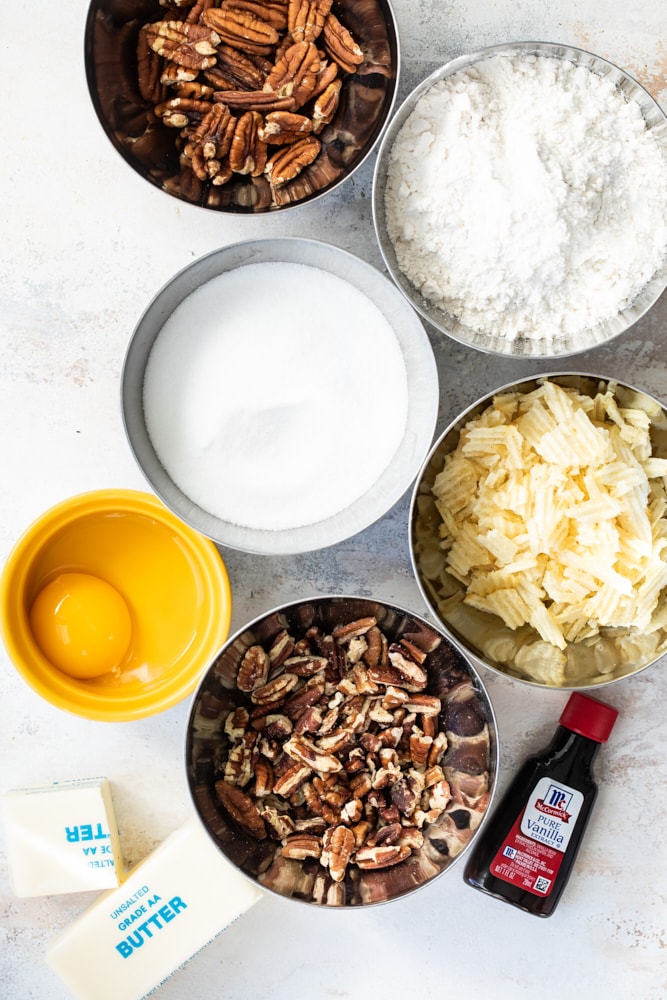 What You'll Need
Besides the basics, you will (of course!) need potato chips. See my note below about what kind of chips to use.
Unsalted butter – Set out the butter about half an hour before baking to allow it to soften.
Granulated sugar – In addition to the sugar in the cookies, set aside another 3 tablespoons of sugar in a shallow bowl for topping the cookies.
Egg yolk – Set out the egg along with the butter so it can come to room temperature. Remember that eggs separate more easily when they're cold, so do that step first.
Vanilla extract
All-purpose flour – Measure by weight or use the spoon and sweep method.
Potato chips – Crush these so they're in pieces, not a powder.
Pecans – You'll need chopped nuts for the dough as well as pecan halves for topping each cookie. Feel free to substitute another nut if you prefer.
What Kind of Potato Chips to Use
Choose a classic potato chip with no extra flavors. You can use plain, rippled, wavy… whatever you like! Kettle chips work well, too, and tend to maintain their crispiness more so than regular chips.
How to Make Potato Chip Cookies
You'll love how easy these sweet and salty cookies are to make! And there's no chill time!
Prepare for baking. Heat the oven to 375°F. Line baking sheets with parchment paper or silicone liners.
Mix the wet ingredients. With an electric mixer on medium speed, beat the butter, sugar, egg yolk, and vanilla until the mixture is fluffy and lightened in color.
Add the flour, potato chips, and chopped nuts. With the mixer on low speed, gradually add the flour. Stir in the potato chips and the chopped pecans.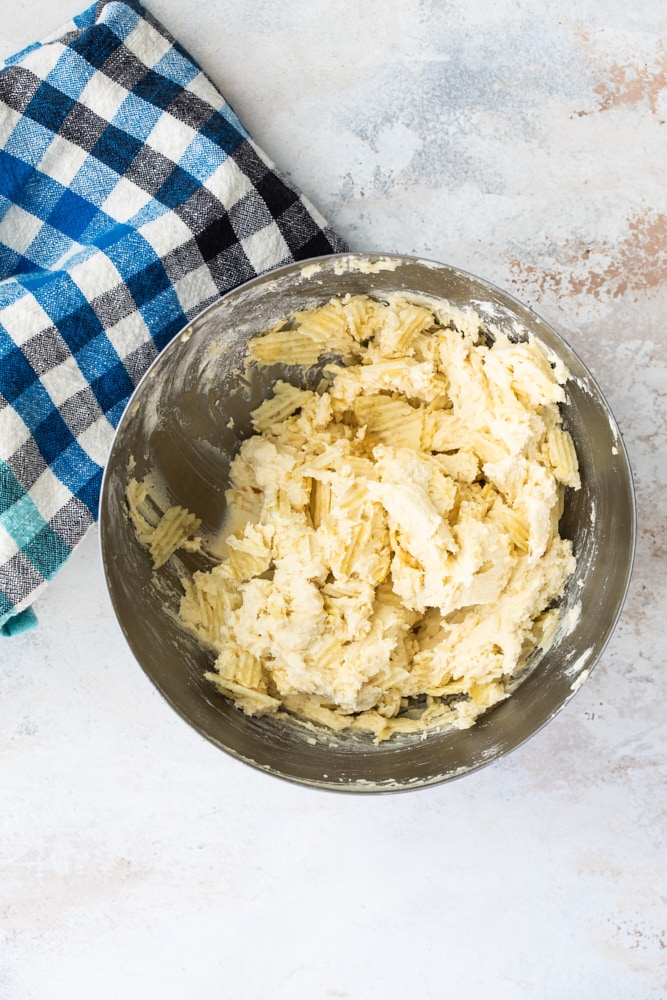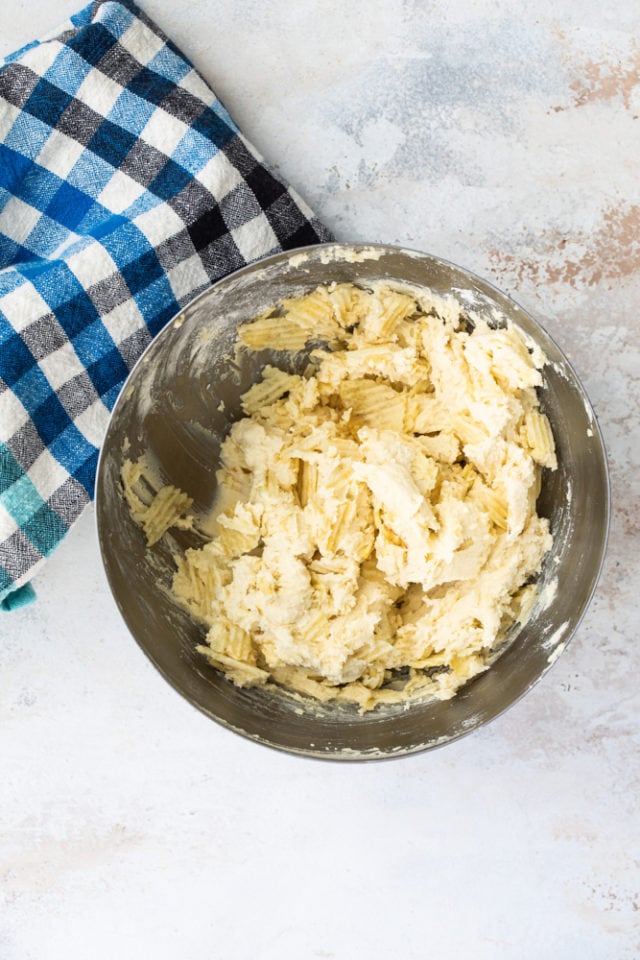 Portion and shape the cookies. Using about 2 tablespoons of dough at a time, roll the dough into balls and place 3 inches apart on the prepared pans. I like to use a scoop for portioning before rolling the dough.
Flatten the cookies. Dip a flat-bottomed glass coated in cooking spray into the small bowl of sugar you set aside earlier. Use the sugar-coated glass to flatten each cookie. Place a pecan half on top of each cookie.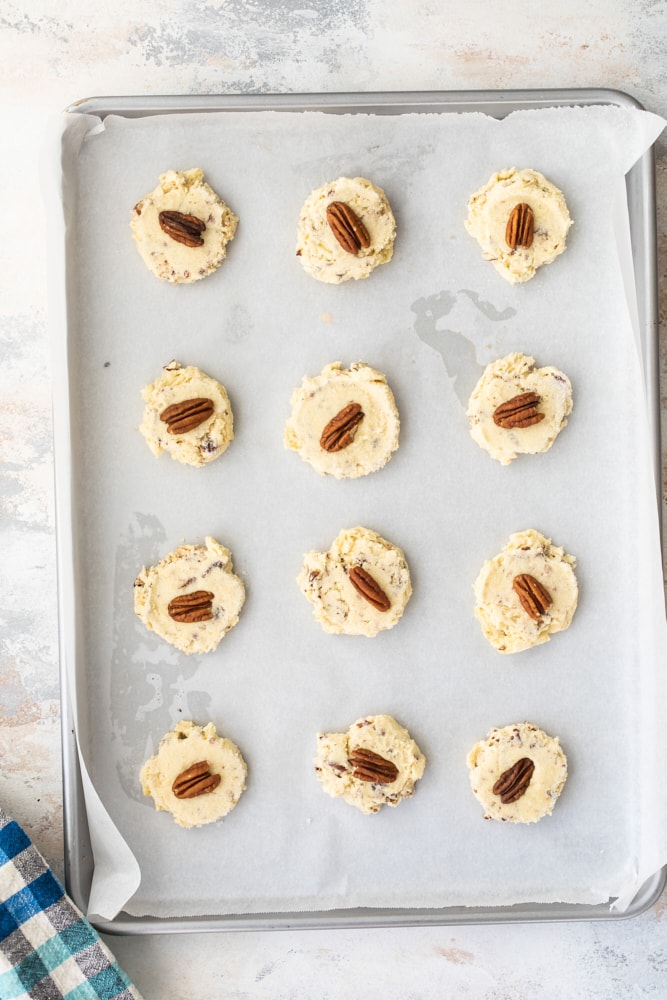 Bake. Place one pan of cookies at a time in the heated oven, and bake 8 to 10 minutes. When the cookies are done, they'll be golden brown.
Cool the cookies. Place the pans on a wire rack and allow the cookies to cool for 5 minutes. Then carefully transfer the cookies from the pan to a wire rack to cool completely.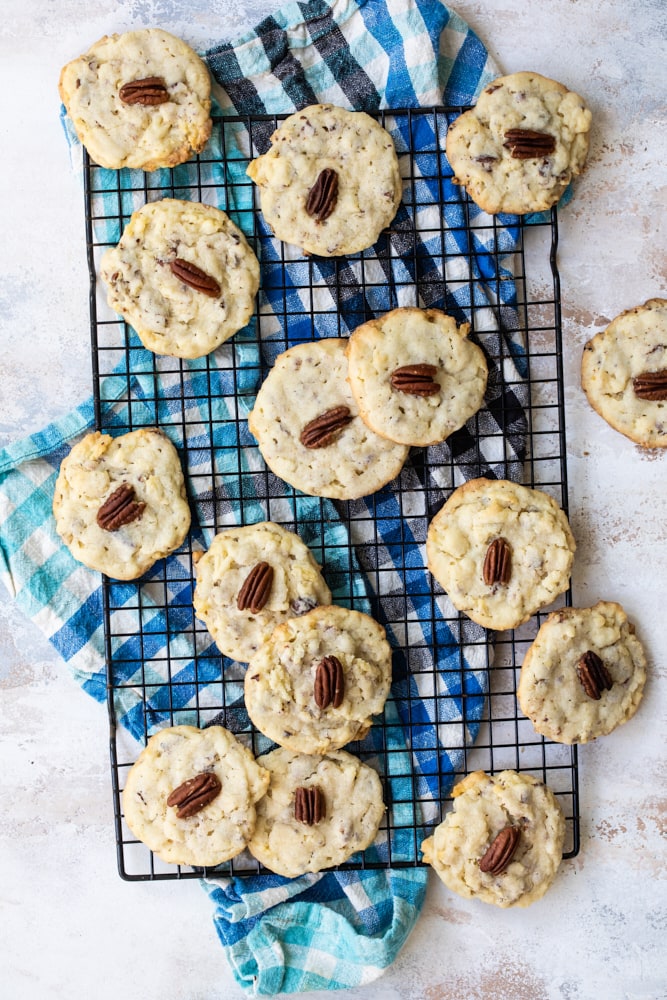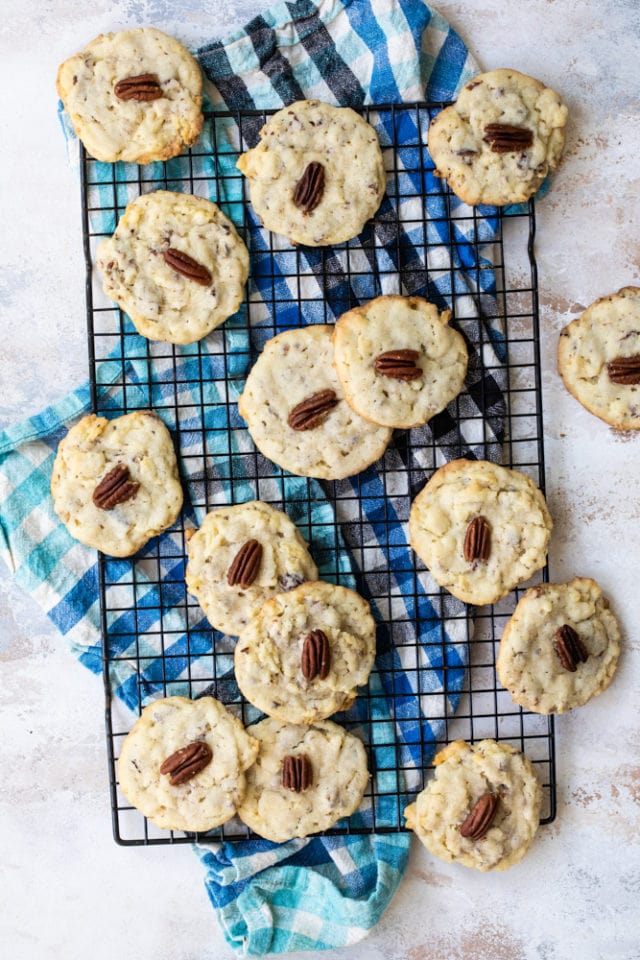 Tips for Success
Don't over-crush the potato chips. You want small pieces, not crumbs, so you can feel the crunch of them in the cookies.
Flatten the cookies. These cookies need a little help in spreading to get the shape you see here. Also, dipping a glass in sugar before flattening them adds a little extra sweetness and a bit of crunch to the cookies.
Don't crowd the cookies on the pan. While these cookies won't spread a large amount, they will spread some. So be sure to leave space between the cookies to allow some spreading room. Also, the cookies will bake more evenly if they aren't crowded on the pans.
Be careful with the cookies when transferring them to the rack to cool. Potato Chip Cookies can be a little delicate when it's time to transfer them to a rack. If you have a small cookie spatula, that will make transferring them easier.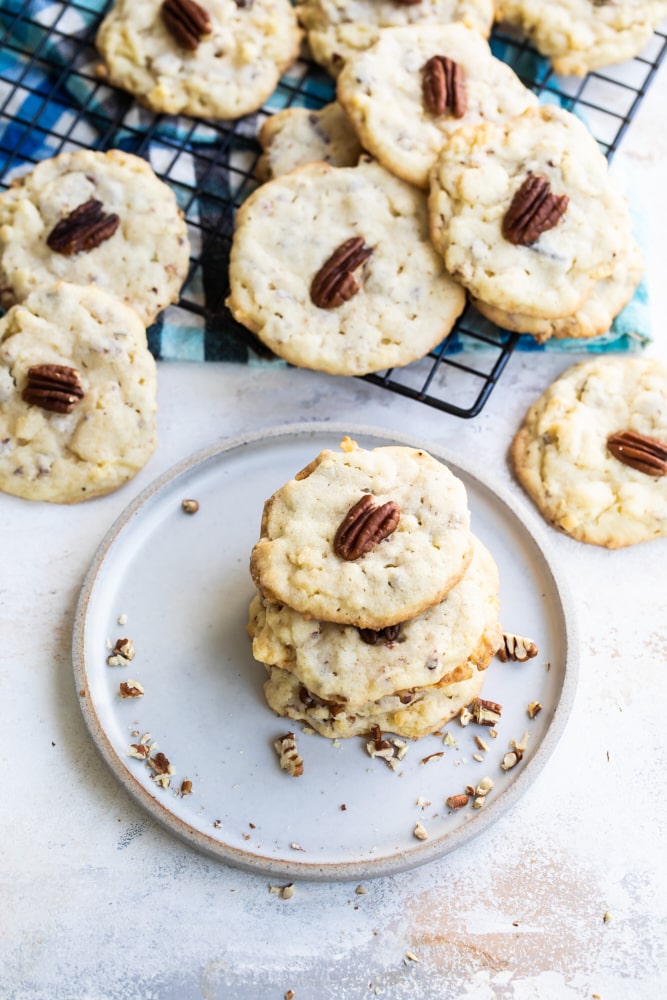 How to Store Leftovers
Once the cookies have cooled completely, place them in an airtight container. They should keep up to 4 days, although they'll be at their best within the first couple of days.
How to Freeze Potato Chip Cookies
To freeze the baked cookies, simply place the cooled cookies in a freezer-safe container or sealable bag. Store properly, they should keep in the freezer up to 3 months. Thaw overnight in the refrigerator and bring to room temperature before serving, or thaw for an hour or two on your countertop.
You can also freeze the unbaked cookie dough. Portion and shape as directed in the recipe, placing the cookies on a rimmed baking sheet. Freeze until solid (about 2 hours) and then transfer to a freezer-safe container or sealable bag. When you're ready to bake the cookies, place them on a baking sheet and bake as directed, adding an extra minute or two to the baking time.
More Sweet and Salty Cookies