Try these Almond Biscotti alongside your favorite warm beverage, be it coffee, tea, or hot chocolate. And if you love to share your baking with family and friends, a bundle of these makes a great gift!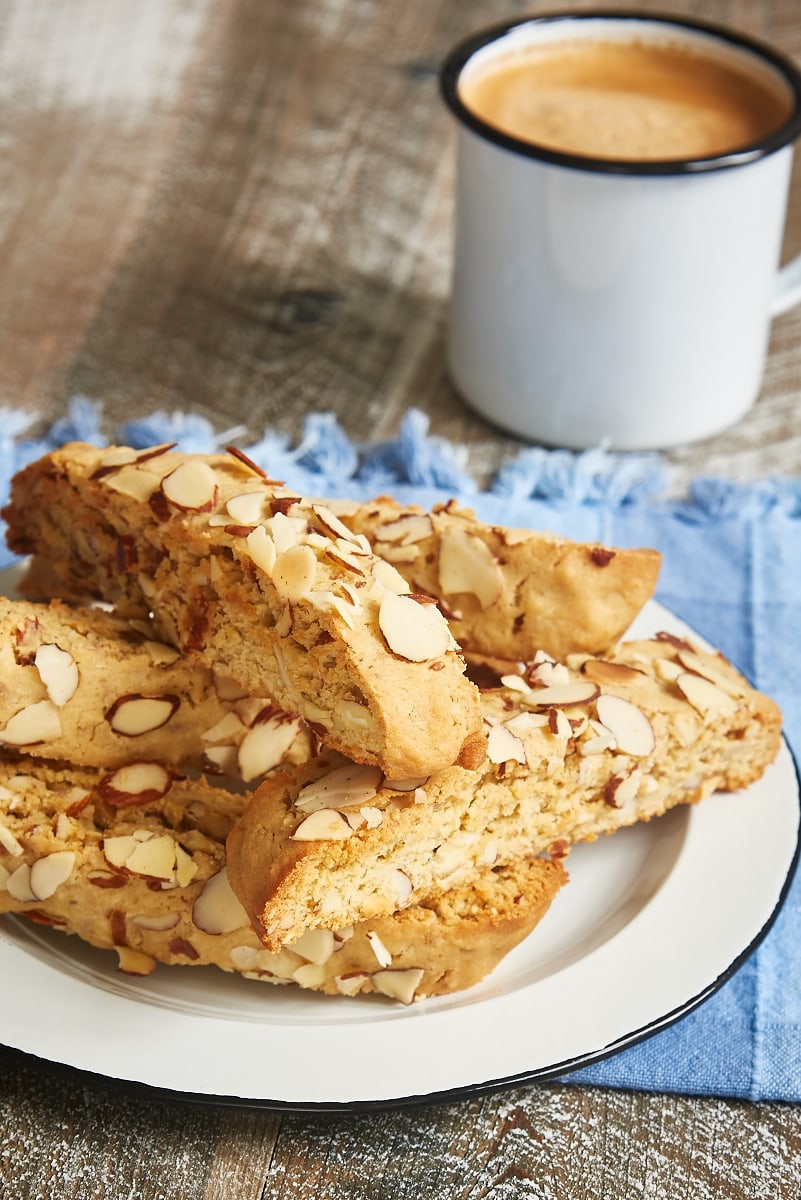 Easy Almond Biscotti
Biscotti is one of those things that looks much more difficult to make than it actually is. The last batch I made was for my cookbook, and I'll give you the same advice that I wrote about those. If you can make cookie dough, you can make biscotti.
They are, after all, cookies! They just look a bit different than traditional cookies. The gist is that you make a dough, bake it, slice it, and bake it some more. That's it. Sure, there's the extra step for baking them a second time, but you get to skip all the scooping that goes along with traditional cookies.
These particular biscotti feature the simple flavors of brown sugar and almonds. This recipe is yet another example of "less is more" baking. Their simplicity doesn't mean a lack of flavor. In fact, focusing on those two elements just lets you revel in their deliciousness.
What is Biscotti?
Biscotti are crisp, twice-baked cookies that originated in Italy in the Tuscan city of Prato. The word is derived from Latin and means twice cooked. Fun fact: Biscotti is plural, and biscotto is singular. However, most people just use the plural form when referring to a single cookie.
The two baking times are what makes these cookies unique. They're first baked as a solid rectangle of dough, and then they're sliced while still warm and baked again.
These crisp cookies are traditionally served alongside coffee or tea. Dunking the biscotti into a warm drink softens them a bit, as they're usually pretty far to the right on the crunchy meter.
These Almond Biscotti have the crunchiness dialed back a bit. They're plenty crunchy on the outside but softer on the inside. Dunking is still a great idea, but it's not required.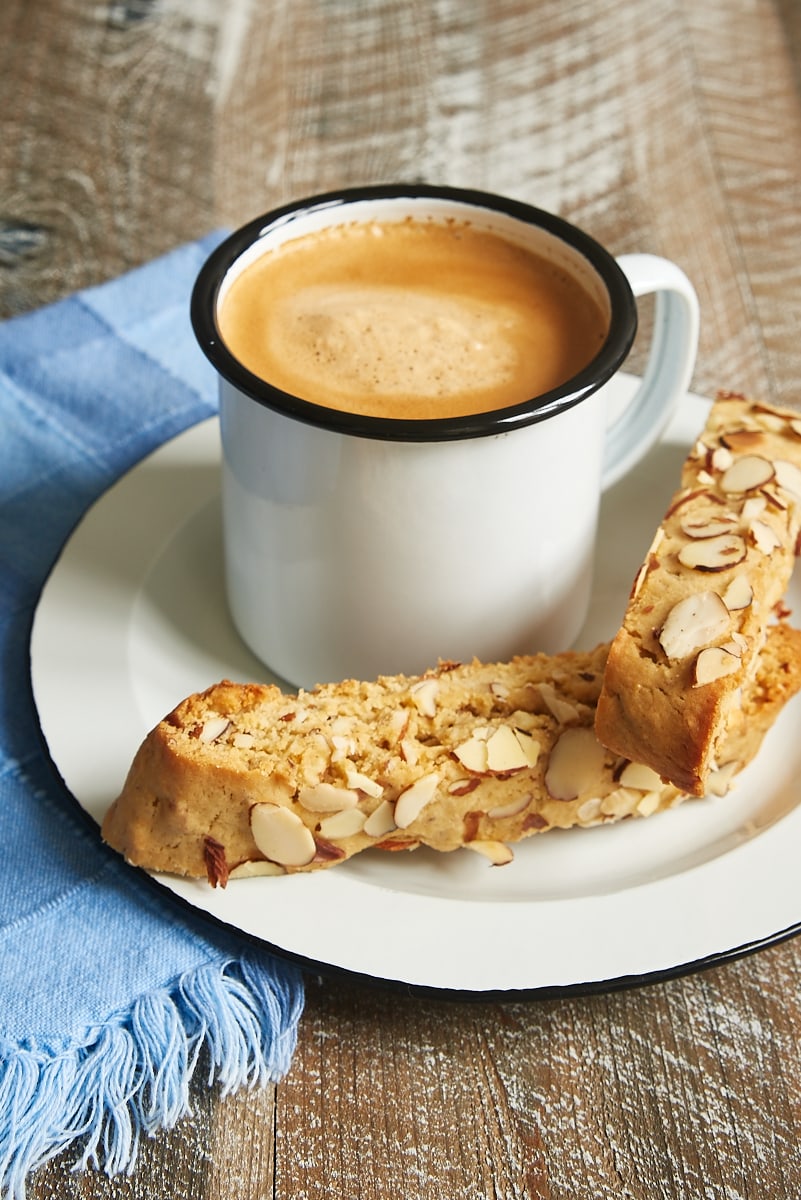 What You'll Need
See the recipe card at the bottom of the post for ingredient quantities and full instructions. Here are some notes about the ingredients you'll need to make this biscotti recipe.
All-purpose flour – As always, measure by weight for best results. If you don't yet have a digital kitchen scale, use the spoon and sweep method. Learn more: How to Measure Flour
Baking powder
Salt
Unsalted butter – Set the butter at room temperature and allow it to soften before mixing. Learn more: How to Soften Butter
Brown sugar – I prefer light brown sugar in this recipe, but you can use dark brown sugar if you prefer a bolder molasses flavor. Be sure to pack it firmly in the measuring cup or (even better) measure by weight.
Eggs – Set out the eggs along with the butter.
Vanilla extract
Almond extract – You can use all vanilla extract, but this bit of almond extract really adds wonderful flavor to the biscotti.
Almonds – You'll need both chopped almonds for the dough and sliced almonds for topping the cookies.
How to Make Almond Biscotti
This biscotti dough comes together quickly and easily. Then you're ready for its two stints in the oven!
Prepare for baking. Heat the oven to 350°F. Line a baking sheet or cookie sheet with parchment paper.
Combine the dry ingredients. Whisk together the flour, baking powder, and salt in a medium bowl.
Combine the wet ingredients. With an electric mixer on medium speed, beat the butter and brown sugar until the mixture is fluffy and lightened in color. Add the eggs one at a time, and mix well after adding each. Mix in the extracts.
Add the dry ingredients to the wet ingredients. With the mixer on low speed, gradually add the flour mixture. Mix just until combined or a few small streaks of flour remain. Stir in the chopped almonds.
Shape the dough. Place the dough on the prepared pan, and shape it into a rectangle about 3 & 1/2 inches wide and 3/4 inch tall. Dust your fingertips with flour to make handling the sticky dough easier. Sprinkle the top of the dough with sliced almonds.
Partially bake the biscotti. Place the pan in the heated oven, and bake for 25 minutes. Then place the pan on a wire rack to cool until it's still warm but cool enough to handle. This should take about 10 minutes.
Slice the biscotti. Use the lining to lift the partially baked dough onto a cutting board. Cut crosswise into 3/4-inch slices.
Finish baking. Line the baking pan with another sheet of parchment paper or a silicone liner. Place the biscotti on the pan with the cut side down. Bake for 18 to 22 minutes, or until the cookies are golden brown.
Cool. Place the pan on a wire rack to cool for 10 minutes. Then transfer the biscotti from the pan directly onto a wire rack to cool completely.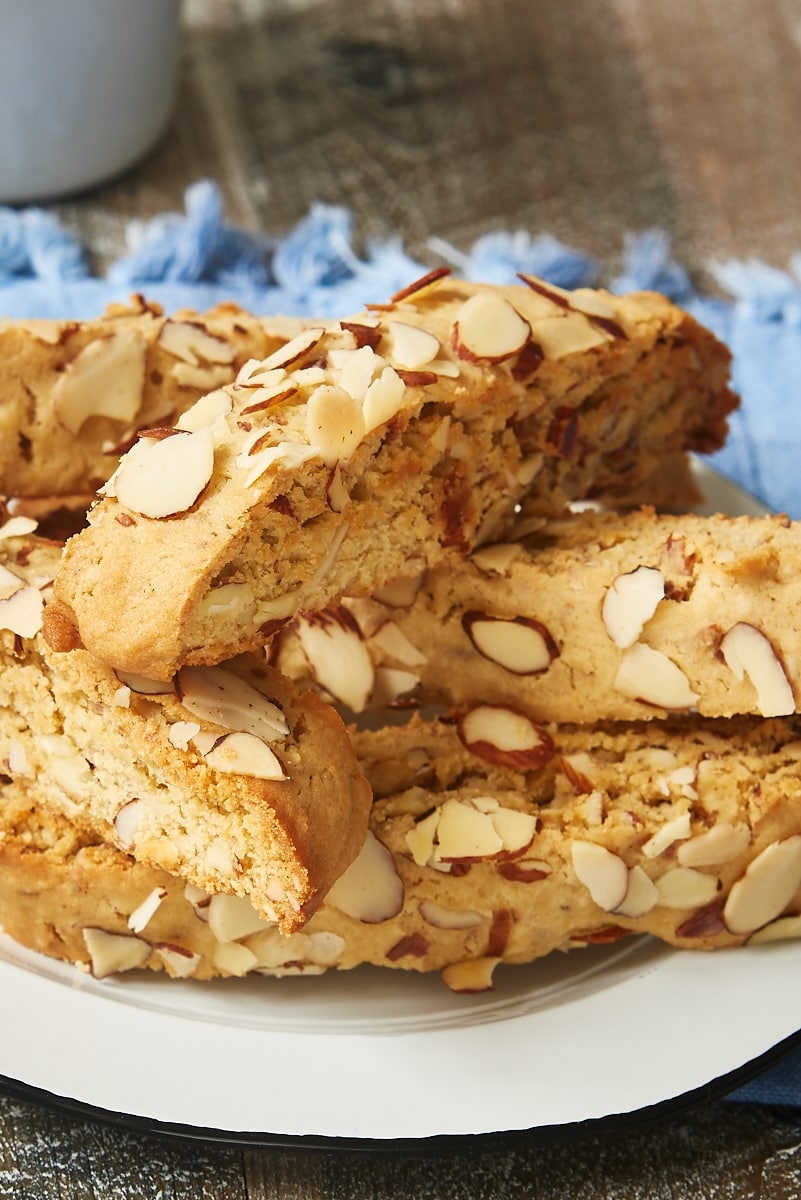 Tips for Success
Don't over-mix. Mix the dough just until it's combined to avoid tough cookies.
Use a ruler. One of my favorite kitchen tools is a simple wooden ruler. It works well when shaping the dough to help you get the right dimensions.
Grab a little extra flour. This dough is a bit sticky, so dust your hands with a bit of flour to help make shaping it easier.
Getting good slices. For the best results, slice the biscotti while it's still warm. If it's too cool, it will be difficult to cut. If it's too warm, it will crumble as you try to slice it. Use a serrated knife to make the cuts with a sawing motion. Cut straight down with your knife perpendicular so you get evenly shaped cookies. You can slice on the diagonal or just go straight across.
Use a wire rack. Letting the biscotti cool on a wire rack after they're done baking means that they'll cool evenly and retain their texture. Learn more: Why Every Baker Needs Wire Cooling Racks
How to Store Biscotti
After the cookies have cooled completely, place them in an airtight container lined with paper towels, and store at room temperature for 2 weeks or more. That lining will help keep them crisp. You can also place another layer of paper towels between layers of cookies to help prolong their shelf life.
How to Freeze Biscotti
Place the cooled cookies in an airtight, freezer-safe container or bag. Properly stored, the biscotti should keep in the freezer up to 3 months. Thaw for an hour or so at room temperature.
Video Tutorial: Almond Biscotti