Are your cookies less than perfect? Let's fix them with these baking tips for preventing common cookie problems!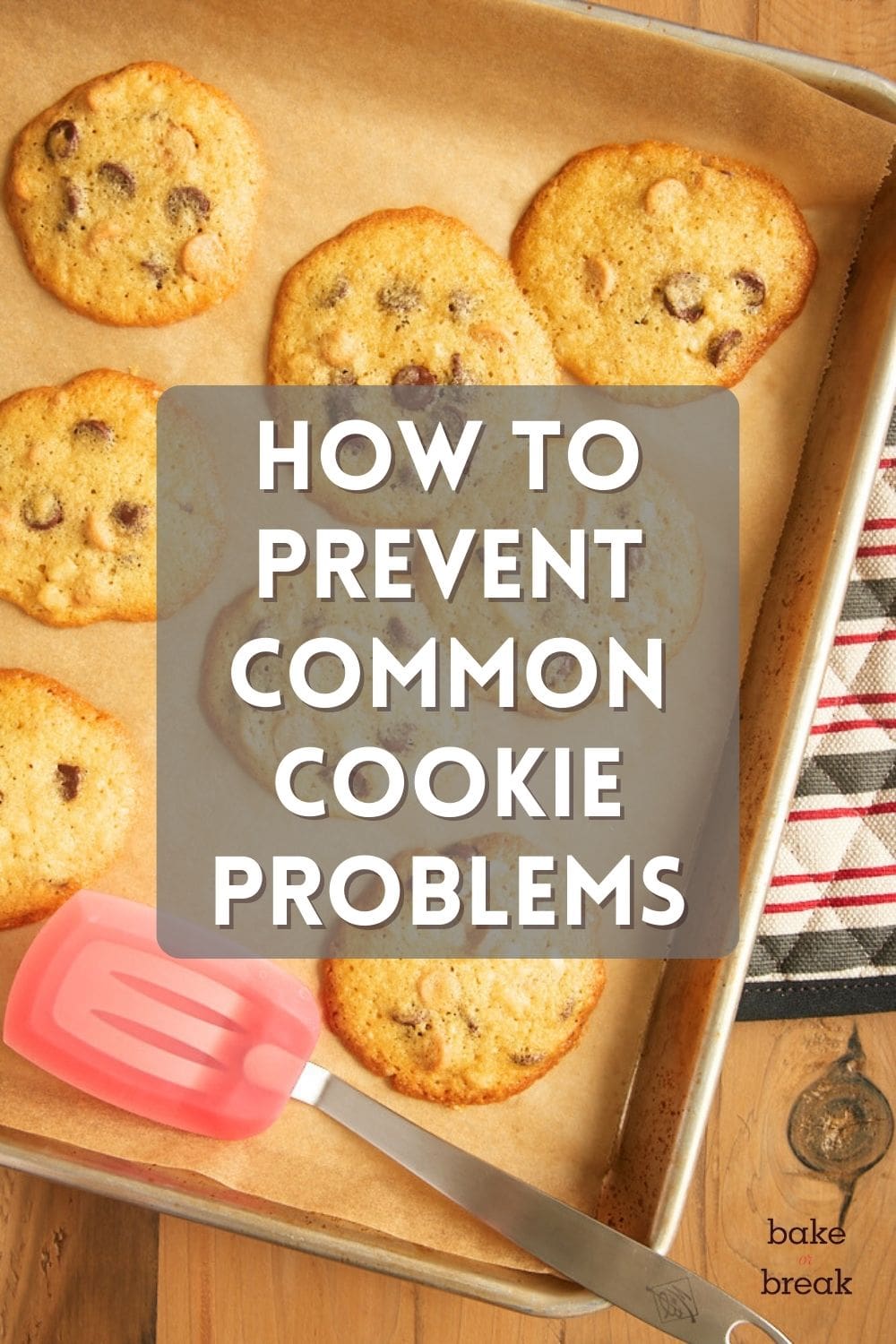 Cookie Troubleshooting Guide
We all love freshly baked homemade cookies, but sometimes things don't quite go as we envisioned them. There are a lot of little things that can go wrong to make your cookies less than perfect.
I've baked countless batches of cookies over the years, and I've encountered my fair share of subpar cookies. I'm here to help fix your cookie baking problems with some cookie baking tips for how to prevent the most common issues.
The Most Common Cookie Problems
In my experience of baking and discussing baking with many of you, these are the most common issues I've seen.
Uneven baking
Tough texture
Over-spreading
Sticking to the pan
Dry texture
Overly browned bottoms
Over-baked
Most of these can be fixed with something very simple. Even minor tweaks can result in marked improvements in your cookie baking!
As a general reminder, keep in mind that if you choose to alter a recipe in any way, you may create other issues with your cookies. For instance, if you use a different type of flour or substitute for a major ingredient like butter or eggs, you're likely to have very different results.
If you have any other issues not covered here, feel free to ask in the comments.
How to Prevent Common Cookie Problems
I've got simple fixes for most cookie problems. It can be something as simple as changing how you measure ingredients or checking your oven's temperature. Armed with your new cookie knowledge, you'll be ready to bake batch after batch of perfect cookies!
As a general rule to help make your cookies their best, be sure to get the basics right. Measure accurately, use good ingredients, read through the recipe completely before beginning, follow directions, be cautious with substitutions, and have fun!
And because we're all here for the cookies (right???), I've included links to some of BoB's most popular cookie recipes for a little baking inspiration. You'll find those at the bottom of this post. (And you can find many, many more cookie recipes in the recipe index!)
Why are my cookies unevenly browned?
If some of your cookies seem more brown than others, the dough may not have been portioned equally. Using the same amount of dough for each cookie means that they will bake in the same amount of time. If some are too small, they'll get too brown. If some are too big, then they'll not get brown enough.
For drop cookies (like chocolate chip and oatmeal), the best way to portion dough is to use a cookie scoop. Cookie scoops are spring-release scoops that are available in various sizes. I never bake drop cookies without a scoop. I've talked much more about them in A Baker's Guide to Cookie Scoops, which includes a handy chart for choosing the right size scoop.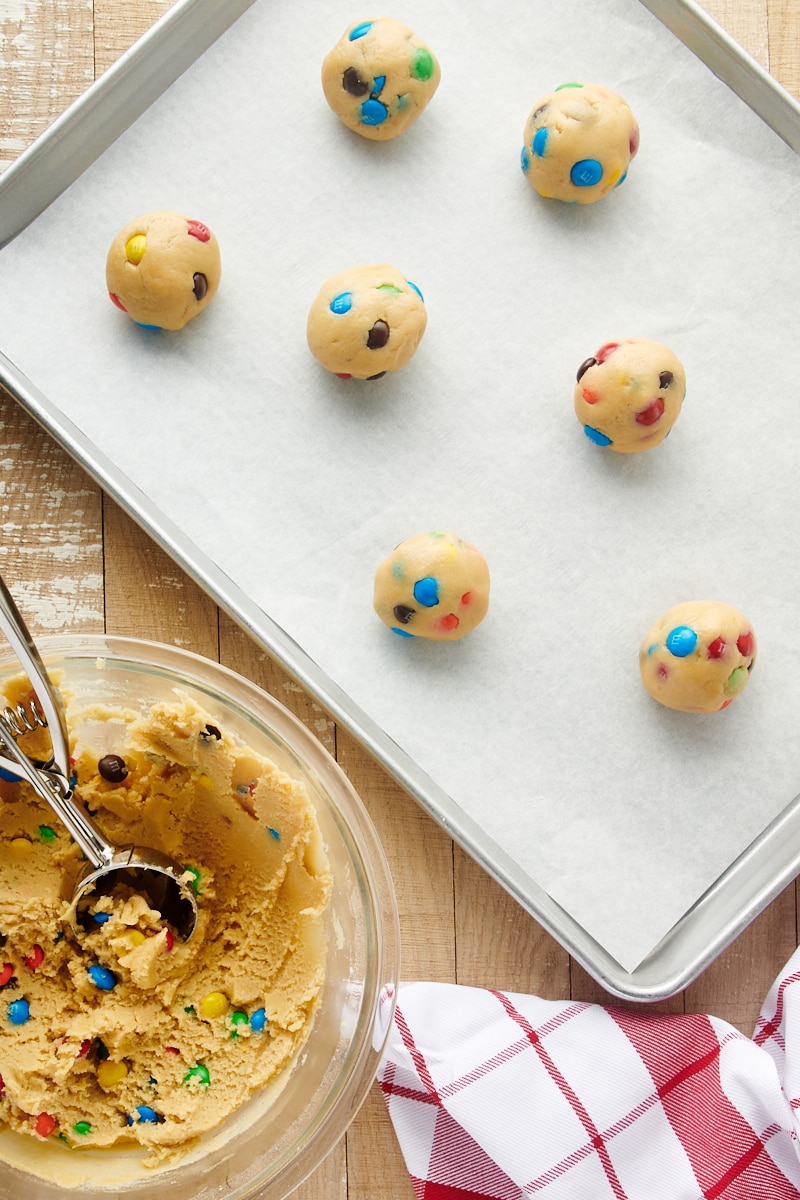 For slice and bake cookies, use a ruler or other guide to make sure the cookies are sliced to the same thickness. That may seem a bit fussy, but that extra step will reward you with beautiful, evenly baked cookies.
For cut-out cookies, make sure that the dough is rolled out to an even thickness. Again, a ruler is handy for this. There are also rolling pins with removable guides to gauge thickness as you roll the dough.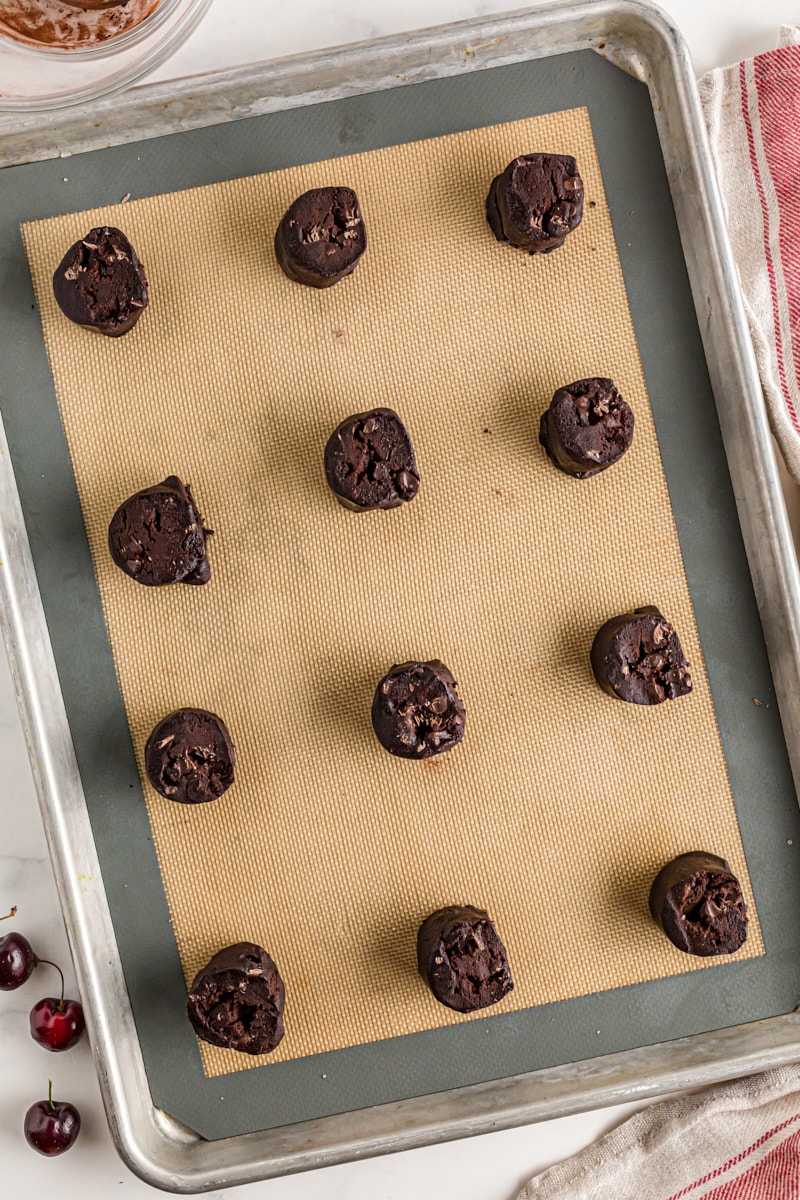 It's also possible that there's a hot or cold spot in your oven. You can test this by placing a single layer of bread slices on a sheet pan and baking at 350°F for a few minutes until the bread begins to toast. It will then be easy to tell if you have a hot or cold spot by any variance in the browning of the bread. (This also works with coconut, and you'll have some toasted coconut for a baking project when you're done!)
To try to counteract any hot or cold spots, you may need to rotate your pan about halfway through baking cookies for more even browning.
Why are my cookies tough?
The most common reason that cookies are tough is that the cookie dough was mixed too much. When flour is mixed into the dough, gluten begins to form. Gluten helps hold baked goods together, but too much gluten can lead to tough cookies.
When mixing the flour into the cookie dough, only mix the dough until no streaks of flour are visible. If adding nuts, chocolate chips, or another ingredient after the flour, you can even stop mixing the flour into the dough when there are a few streaks of flour visible in the dough. Then, add the other ingredients, and the flour will finish mixing into the dough as the other ingredients are stirred into the dough.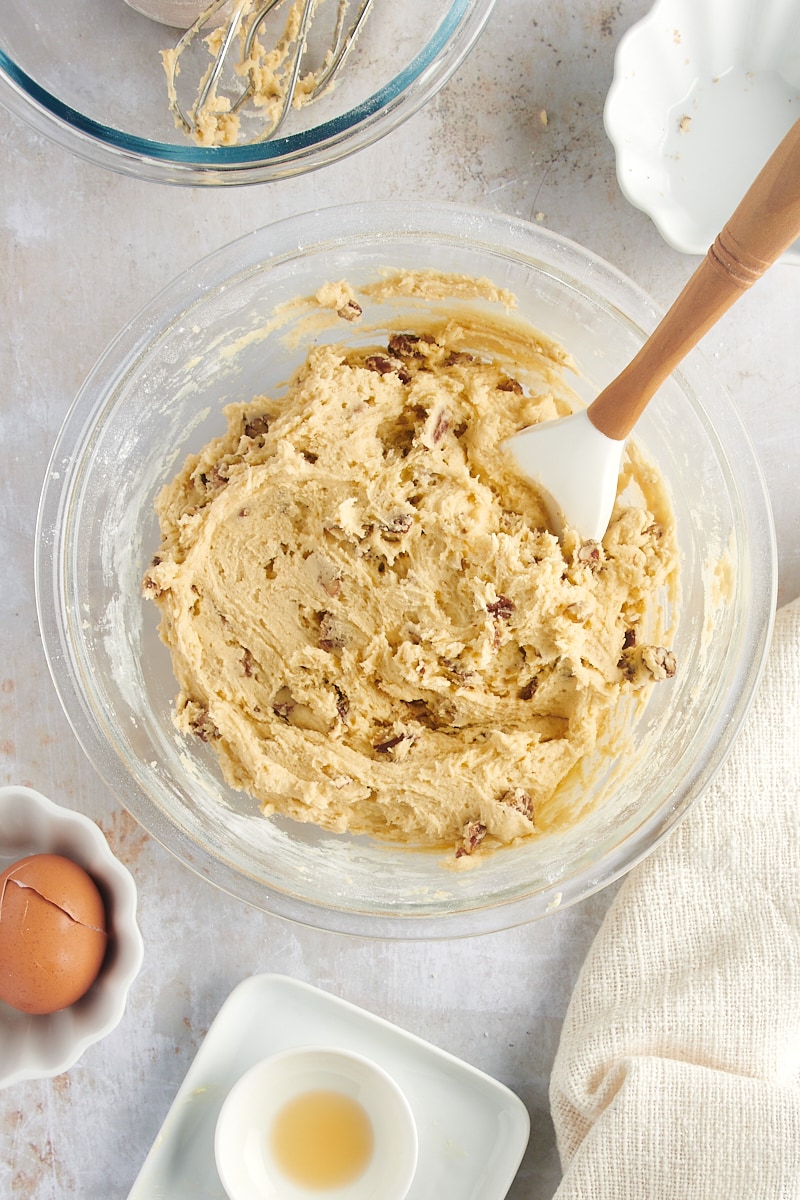 You can also let the dough rest before baking to let the gluten relax a bit. Many cookie recipes will direct you to chill the dough before baking for this reason and also for cutting down on how much your cookies spread.
Why do my cookies spread too much?
Many of the reasons that cookies spread too much are related to the temperature of the ingredients or the dough. The most likely problem is that the butter was too soft when it was beaten. Remember that butter starts to soften at about 68°F, so that's significantly below room temperature for most of us.
It's also possible that the dough may have become too warm before it was baked. In that case, simply place it in the refrigerator for about half an hour before baking.
Spreading can also be due to excessive greasing of the baking pans or placing cookie dough on warm pans. If it is necessary to reuse a baking pan while baking a batch of cookies, allow the pan to cool to room temperature before placing more dough on the pan.
For more about cookie spreading, see my post How to Keep Cookies from Spreading.
Why do my cookies stick to the pan?
Not greasing or lining baking pans can cause cookies to stick to the pans. Cookies can also stick if they are removed from the pans before they have cooled properly.
To prevent sticking, line the pans with parchment paper or silicone liners, or lightly grease the pan with butter or cooking spray. Keep in mind that excessive greasing can cause cookies to spread too much. You can read more about this in Unlined vs Lined Baking Sheets, but do know that I highly recommend lining pans versus greasing them.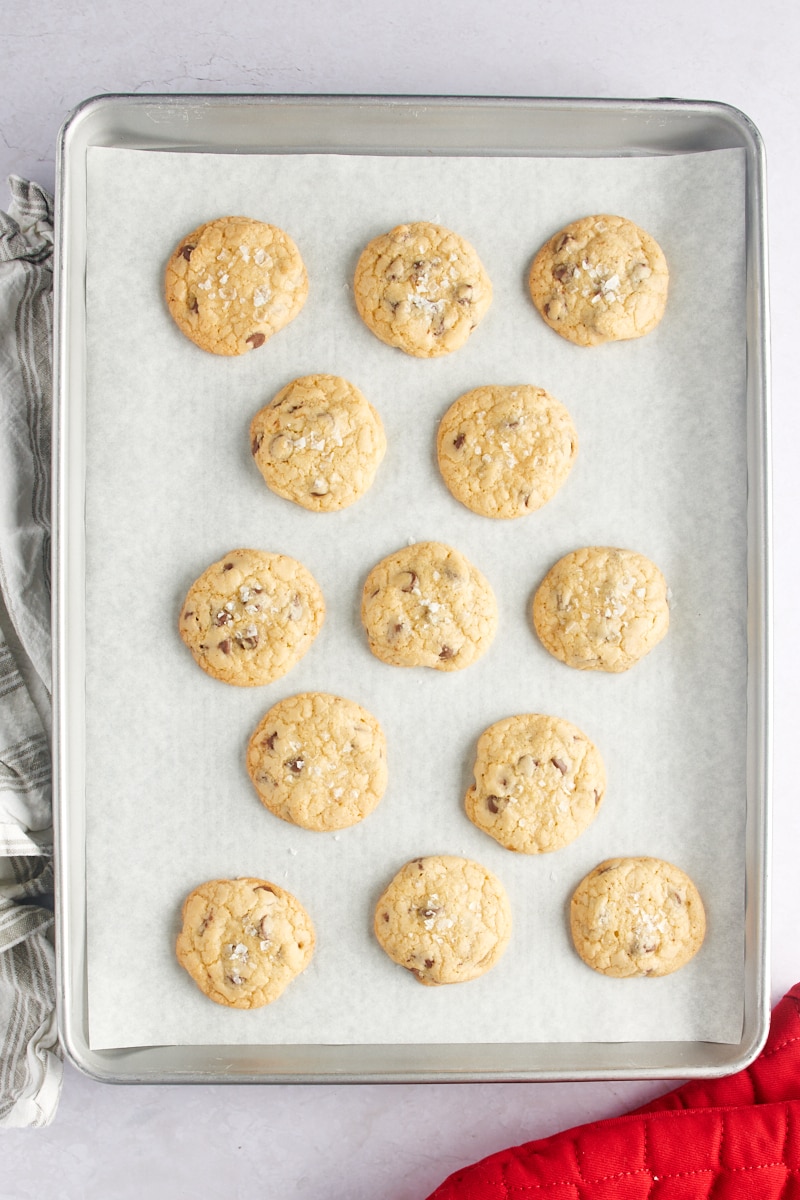 Be sure to place the pans of baked cookies on a wire rack to cool for a few minutes before removing them from the pan. This allows air to circulate around the pan to cool them more quickly and prevent too much carryover baking from the heat of the pan.
Why are my cookies dry?
The most common reason cookies are dry is too much flour. Over-measuring flour is a very common reason for most any baking recipe to fail. If you scoop your measuring cup down into the flour container to measure, then odds are you're using too much.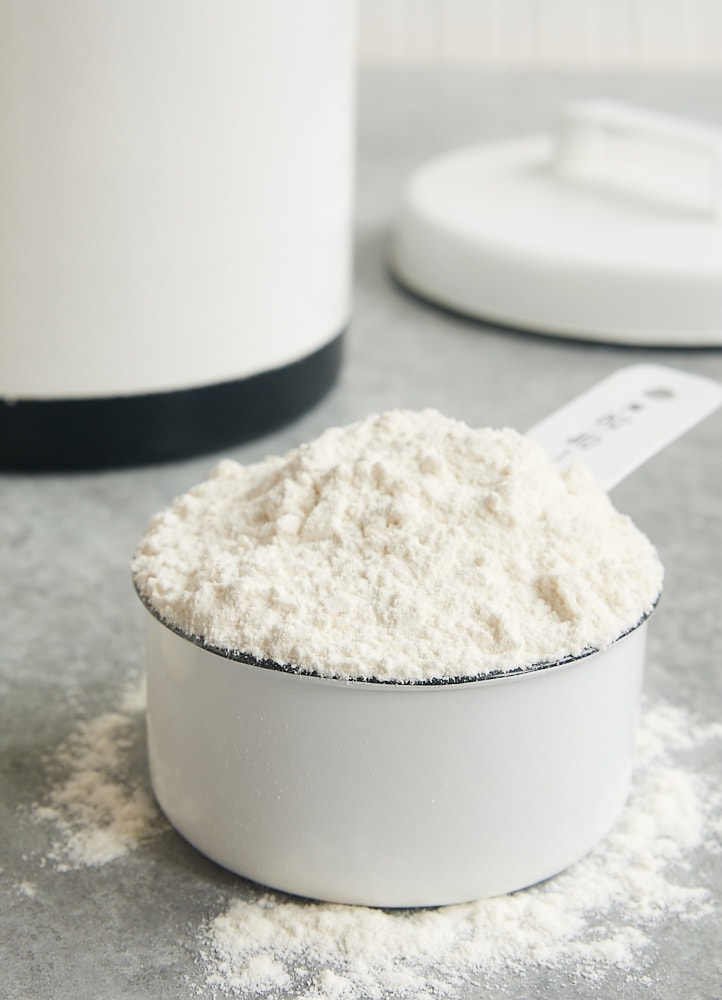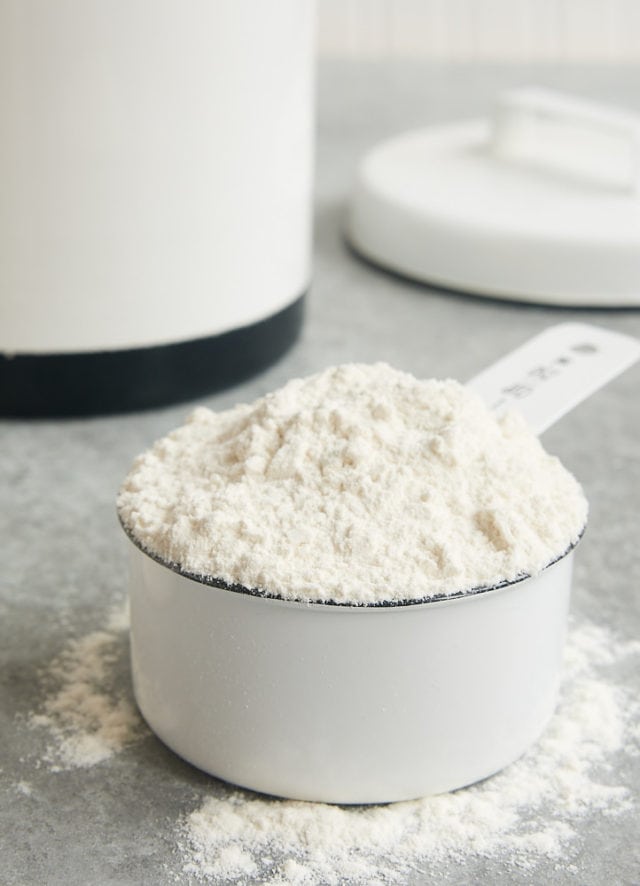 The best way to measure flour is by weight or the spoon and sweep method. It can make such a big difference. For my tips on how to measure flour properly, be sure to see How to Measure Flour.
Why are the bottoms of my cookies too brown?
If the cookies are baked perfectly except that the bottoms are overly brown, the most likely problem is the baking pan. A dark pan absorbs more heat and will bake the bottoms of the cookies faster. Use a metal pan with a dull finish for best results. (See How to Choose Baking Pans for more about the differences in pans.)
Also, be mindful of where your oven rack is during baking. As a general rule, you want to bake cookies in the top third of your oven. Some recipes may specify differently, but otherwise I assume that the top third is the best choice.
Why are my cookies overbaked?
If your cookies are consistently overbaked, that is very simply either due to temperature or time.
It's not uncommon for your oven's temperature reading to be inaccurate. An oven thermometer is an inexpensive tool that is invaluable to bakers. Place it inside the oven and compare its reading to your oven's temperature setting to determine if the oven's temperature is accurate. Then, adjust the temperature setting as needed to accommodate for any inaccuracy or get it professionally calibrated.
As for the time aspect, remember the saying that if something is done in the oven, it will be overdone out of the oven. Removing cookies from the oven doesn't magically stop baking them. The residual heat will continue to bake them for a few minutes.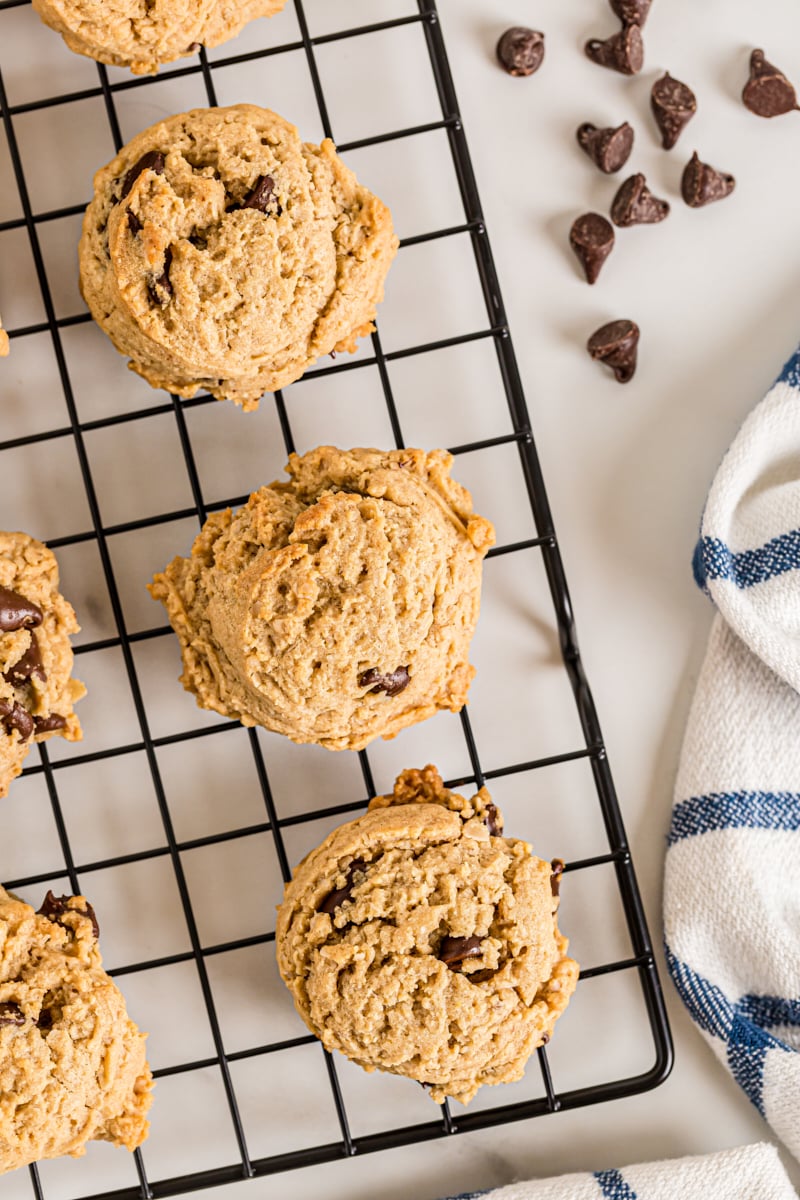 Follow the recipe's guidelines for when to remove the cookies from the oven. Most recipes will direct you to remove the cookies when they are lightly browned. After that, don't let them linger too long on the pans. Unless otherwise specified in the recipe, remove the cookies from the pan after about 5 minutes and transfer them to a wire rack to allow them to finish cooling away from the still-warm pan.
I hope these cookie baking tips help you solve your cookie problems. Most often, just a small adjustment is all you need to bake perfect batches of cookies.
May your worst cookie problem be that you're out of cookies! Happy baking!
My Most Popular Cookie Recipes
Bake or Break is a participant in the Amazon Services LLC Associates Program, an affiliate advertising program designed to provide a means for us to earn fees by linking to Amazon.com and affiliated sites.