If you love chocolate chip cookies with lots of chocolate, oats, and nuts, then these may very well be your favorite chocolate chip cookies, too!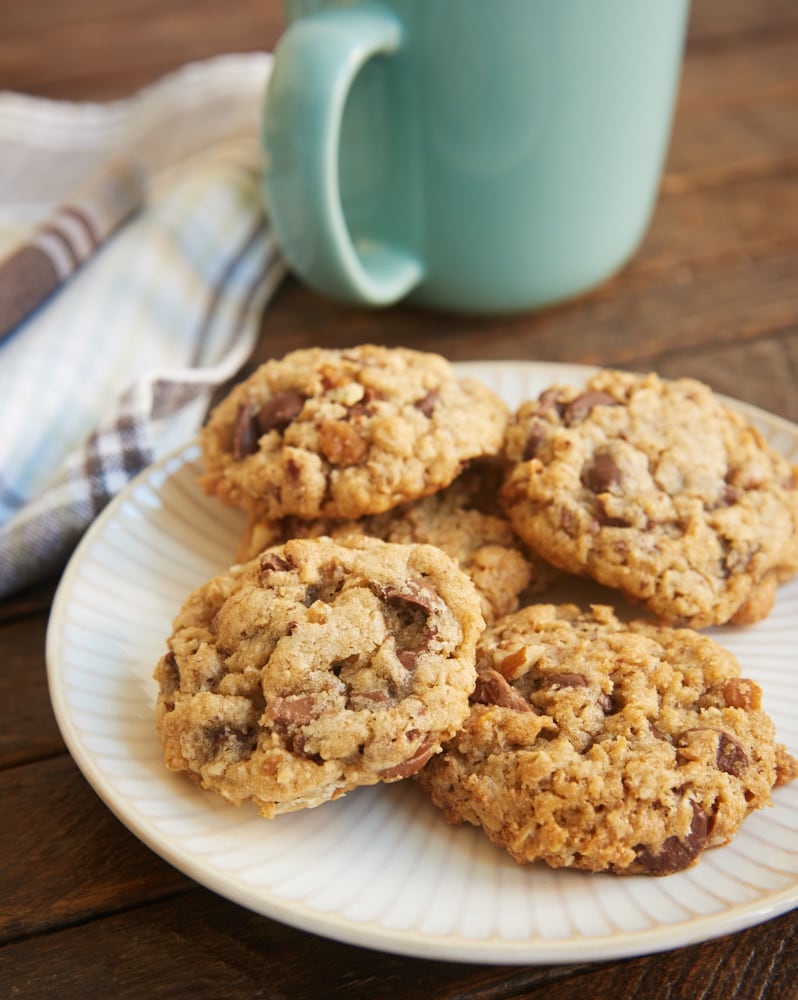 Favorite Chocolate Chip Cookies
Last month, BoB quietly celebrated two years of baking and blogging. I tried desperately to come up with some clever, unique way to mark that mini-achievement. Sadly, nothing seemed to come to mind. Then, I thought if BoB is all about baking, why not share with you one of my very favorite recipes?

This is my go-to recipe for chocolate chip cookies. If ever I need to make a good impression through baked goods, these are my ticket. I've yet to give them to anyone who didn't love them. Maybe they were all just being nice, but I don't think so.
I am calling these my favorite chocolate chip cookies with a bit of hesitation. Not that they aren't wonderful, because they truly are. But, I realize that not everyone will consider these the best chocolate chip cookie they've ever made. And, of course, there are many recipes out there still untried in my kitchen that I could potentially prefer to these. But, these have stood the test of time (well, at least for several years) and I still love them and get requests for them.
I adapted this recipe from one I found in a Southern Living cookbook several years ago. Their cookies were to be made into giant cookies, much like those from the famous Levain Bakery. I opt for less dough and smaller cookies.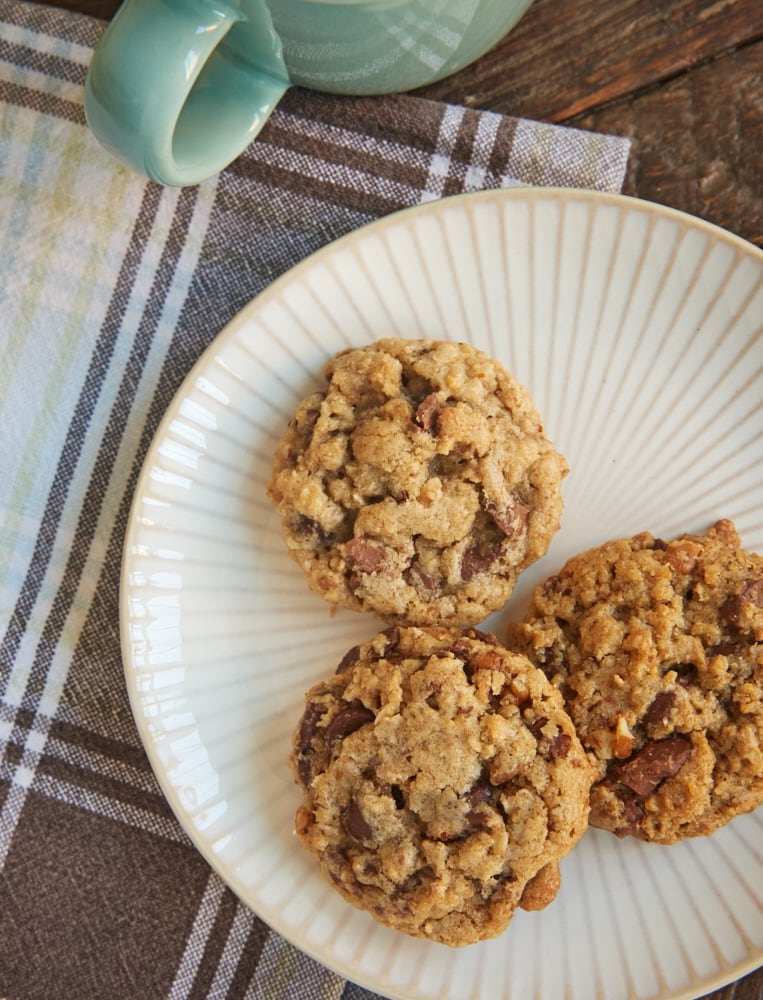 This recipe makes a really big batch of cookies. I usually make the whole batch so I have plenty to share. They mix best with a heavy duty stand mixer, but a good hand mixer will also do the job. If you aren't sure if your mixer will hold up to this volume of thick dough, I would recommend halving the recipe to make it a bit easier. You'll still end up with lots of cookies.
So, what makes these so good? I'm not sure I can pinpoint any one thing. It's just the whole package. I love that the oats are ground before mixing them in. They add a nice chewiness while not drawing too much attention to themselves. The two kinds of chocolate are just brilliant, and you know I'm going to tell you to use the very best you can find. And, of course, my beloved pecan just makes them even better.
As Bake or Break enters its third year, I thank all of you for reading and commenting. These first two years have been so wonderful and exciting and surprising, and I look forward to many more!
More Chocolate Chip Cookie Recipes
If you're always on the hunt for a new chocolate chip cookie recipe, try Cream Cheese Chocolate Chip Cookies, Mini Chocolate Chip Cookies, Brown Butter Salted Chocolate Chip Cookies, and Small Batch Chocolate Chip Cookies, too!
How to Store
After the cookies have cooled, place them in an airtight container and store at room temperature up to 3 days. They'll also keep in the freezer (in an freezer-safe container or bag) up to 3 months.
This cookie dough also freezes very well if you'd like freshly baked cookies on demand. Properly stored, the dough will keep in the freezer up to 3 months. Bake as directed, adding an extra minute or two to the baking time. Learn more: How to Freeze Cookie Dough