December 17, 2018
Almond Spice Cookies
These wonderful Almond Spice Cookies pack a lot of flavor into a tiny package. With almonds, spices, and a hint of orange, these cookies are wonderfully delicious!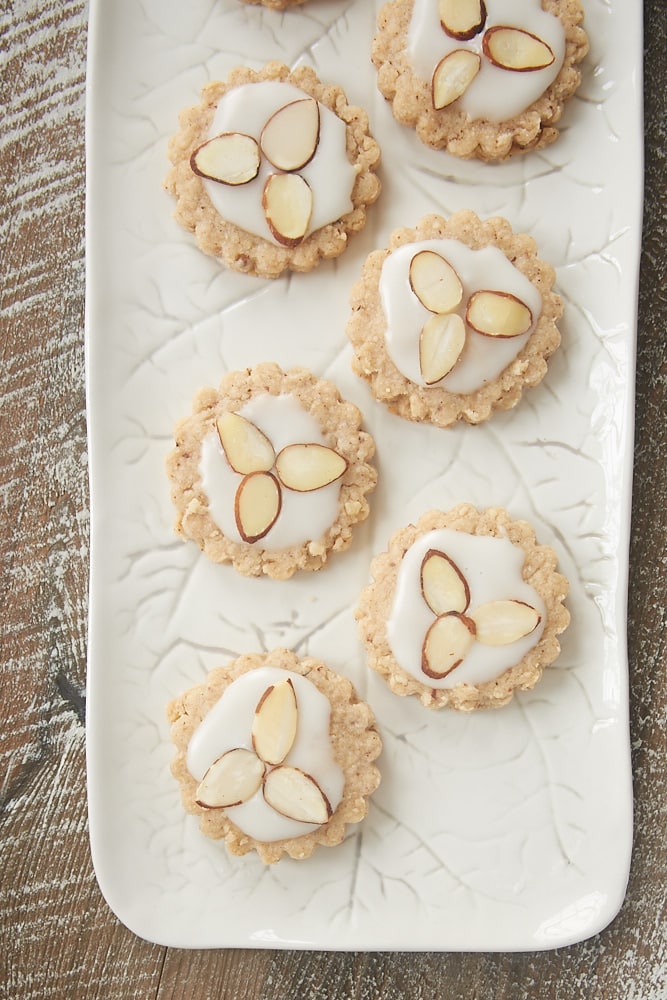 A quick browse through the cookies here at BoB, and you'll see that I'm far more likely to make drop cookies than the cutout variety. However, sometimes I get the urge to roll out cookie dough and make a batch of pretty cookies.
That brings us to these Almond Spice Cookies. They're made with a dough that's simple to mix and to roll. Plus, they're loaded with lots of spices and almonds, and topped with a simple glaze and a few sliced almonds to make them especially pretty.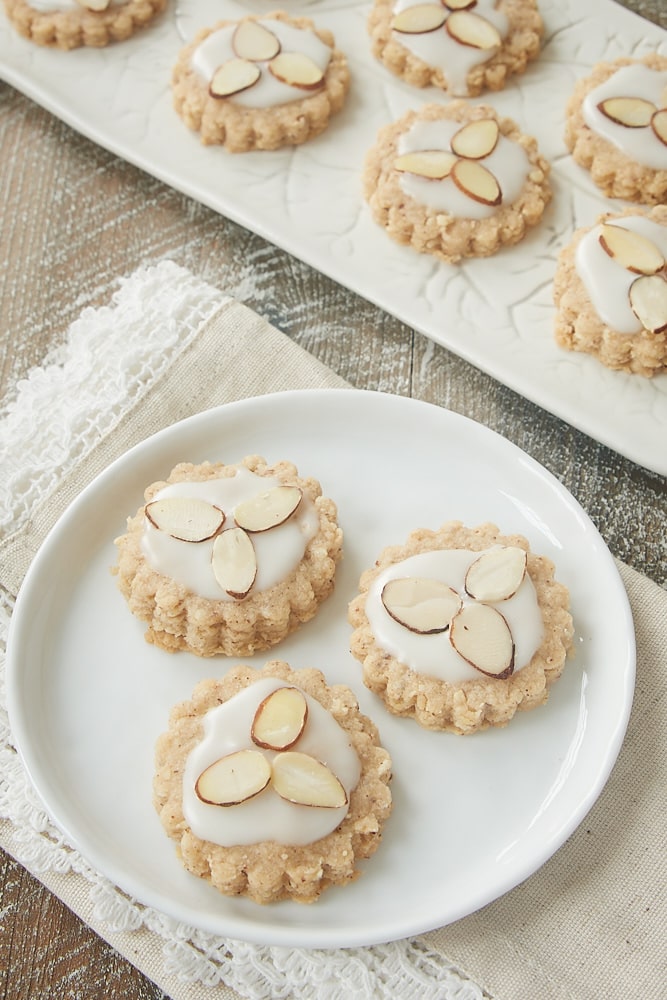 I stumbled upon this recipe in an old community cookbook that my mother gave me years ago. These interesting cookies caught my eye, and I just knew they'd be a fantastic addition to my holiday baking arsenal. I made just a few tweaks, and these beauties are now a permanent addition to my Christmas cookie baking list.
These cookies have such an interesting blend of spices. There's plenty of ginger and cinnamon, and that's always just fine with me. But there's also a little bit of cloves and pepper for a wonderful flavor kick. And added to all that great spice flavor is a bit of orange for a zing of citrus and a splash of brandy for some bold flavor. It all works together for a really lovely flavor that is perfectly suited for winter weather.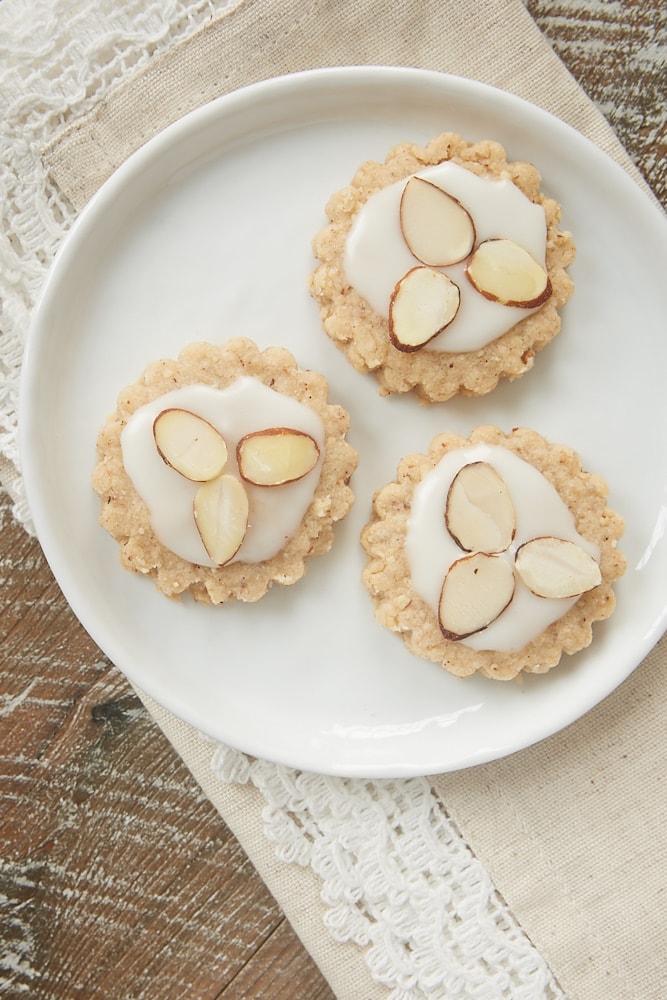 I know that I'll get questions about the corn syrup in these cookies, so let's talk about it a bit. I don't use it often, but the corn syrup in this recipe makes the dough a dream to mix, roll, and cut. I know some of you prefer not to use corn syrup or don't have access to it. I've tried substituting sugar dissolved in warm water to replace that volume in these cookies, and it's just not quite the same. That's not to say that you can't go that route if you don't want to use corn syrup. Just be warned that the dough will be fairly crumbly and tougher to roll and cut. (See my note in the recipe.)
I like to finish these cookies with a really simple glaze. You'll just need a small amount for each cookie (maybe 1/4 teaspoon), so don't be alarmed that you have a fairly small amount after it's mixed. They're perfectly lovely with just the glaze, but I like to add some sliced almonds on top for a little more interest and extra almond flavor.
These Almond Spice Cookies have been a big hit among my holiday baking. Their flavor and appearance are such a wonderful complement to the season. Try them if you love spice cookies but are looking for something just a little different.
Find more cookie recipes in the Recipe Index.
More Spice Cookie Recipes
Bake or Break is a participant in the Amazon Services LLC Associates Program, an affiliate advertising program designed to provide a means for us to earn fees by linking to Amazon.com and affiliated sites.
Almond Spice Cookies
Yield: about 24 cookies
Prep Time: 20 minutes
Cook Time: 10 minutes per pan
These little Almond Spice Cookies have big flavor with a warm blend of spices, a delicate almond flavor, and a hint of citrus and brandy.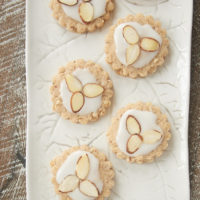 Ingredients:
For the cookies:
1 & 1/2 cups (180g) all-purpose flour
1/4 cup (50g) ground almonds*
1/2 teaspoon ground ginger
1/4 teaspoon ground cinnamon
1/8 teaspoon ground cloves
1/8 teaspoon ground white pepper
6 tablespoons (85g) unsalted butter, softened
1/4 cup (50g) granulated sugar
1/4 cup (60ml) light corn syrup**
1 & 1/2 teaspoons brandy
1/4 teaspoon orange extract
For the glaze:
1/2 cup (55g) confectioners' sugar, sifted
2 to 3 teaspoons milk
sliced almonds for garnish, optional
Directions:
To make the cookies:
Whisk together the flour, almonds, ginger, cinnamon, cloves, and pepper. Set aside.
Using an electric mixer on medium speed, beat the butter and sugar until light and fluffy. Add the corn syrup, brandy, and orange extract, and mix well.
Reduce the mixer speed to low. Gradually add the flour mixture, mixing just until combined.
Gather the dough into a ball. Wrap and chill for an hour or up to overnight.
Preheat oven to 350°F. Line baking sheets with parchment paper or silicone liners.
Place the chilled dough between two sheets of waxed paper. Roll to 1/4-inch thickness. (If the dough chilled overnight, you may need to let it sit at room temperature for 5-10 minutes to make it easier to roll.)
Use a 2-inch round cutter to cut out cookies. Gather and re-roll the dough as needed.
Place the cut cookies on the prepared pans. Bake, one sheet at a time, for 8 to 10 minutes, or until the edges are lightly browned.
Cool on the pans for 5 minutes. Then transfer the cookies to a wire rack to cool completely.
To make the glaze:
Stir together the confectioners' sugar and 2 teaspoons of milk. Add more milk, a small amount at a time, to attain the desired consistency. The glaze should be thick.
Spread the glaze on the cooled cookies. If desired, top with sliced almonds. Allow the glaze to set before serving.
Notes:
*Grind your own almonds, or use almond meal or almond flour.
**You can substitute 1/4 cup granulated sugar dissolved in enough hot water to make 1/4 cup of liquid. (That is in addition to the sugar already in the recipe.) BUT, the dough is far more likely to be crumbly, loose, and more difficult to handle. Golden syrup or agave nectar are likely reasonable substitutions, too, although I've not tried them specifically with this recipe.