For this month's cookie of the month, I feel like I'm cheating a little bit. Whoopie pies always make me think of cookies. They look and eat like a cookie, but they have a consistency similar to cake. To confuse the situation further, they're called pies. Go figure.
Regardless of the technicalities of their classification, I assure you they are delicious. These beauties consist of dark chocolate, cake-like cookies filled with a peppermint cream cheese frosting.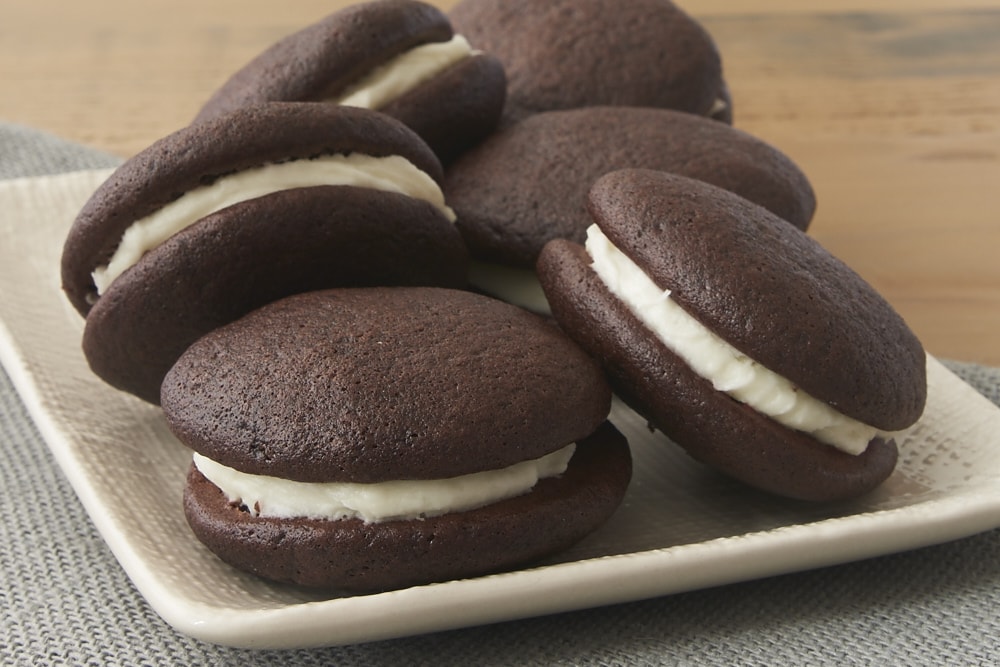 The recipe for these comes to us from One Girl Cookies, a lovely bakery with a very handy (and dangerous!) location in my neighborhood. They always have whoopie pies tempting me from their display case. Their usual chocolate whoopie pies have traditional cream cheese frosting, but this peppermint variety is a holiday favorite in their cookbook.
I normally hesitate to bake anything that requires piping batter or frosting. It's just not my favorite thing. And truth be told, I'm not very good at it. If you don't take away anything else from this, here's what I want you to know. Even with my mediocre piping skills, these little guys always turn out beautifully. They are very forgiving. Believe me, they don't go into the oven looking nearly as good as the finished product.
Through some sort of baking magic, these cookies turn from lumpy, misshapen blobs into beautiful cookies. Then just fill them with frosting, whether it be this peppermint frosting or your favorite variety. When you serve these to your friends, you'll be a baking rock star!
These cookies are my contribution to Cookie of the Month, a monthly group of cookie recipes from some of my blogging friends and me. This month's theme is mint. Be sure to visit these ladies' blogs to see their mint cookie creations!
Catch up with the previous Cookies of the Month with Cherry-White Chocolate Oatmeal Cookies and Fudgy Kahlua Brownie Cookies.
We are a participant in the Amazon Services LLC Associates Program, an affiliate advertising program designed to provide a means for us to earn fees by linking to Amazon.com and affiliated sites.