Chocolate Peanut Butter Swirl Cookies combine peanut butter cookies and chocolate cookies for a fun and delicious treat!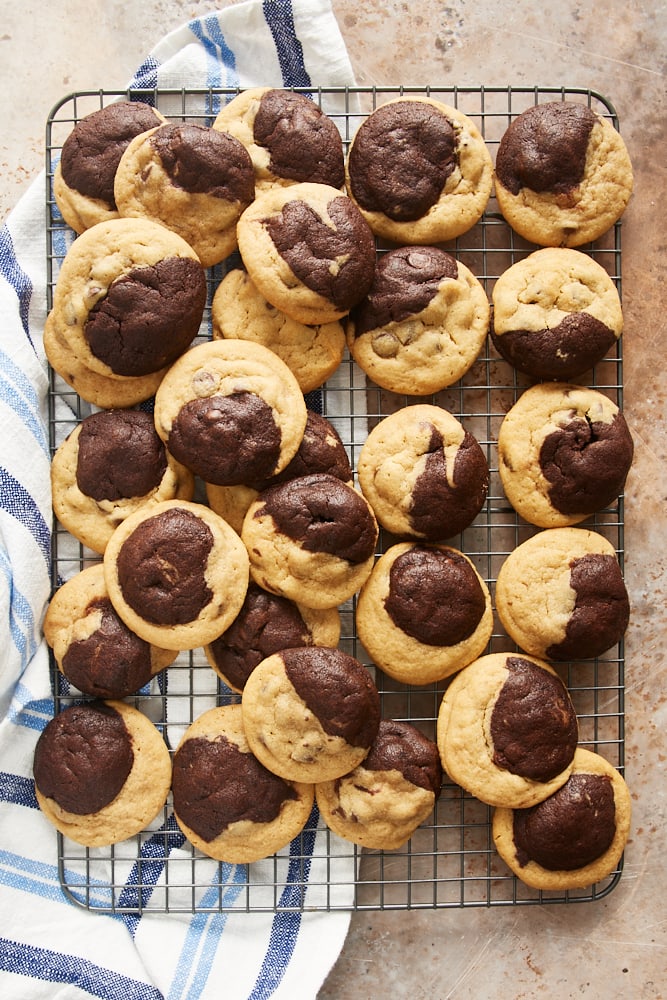 Chocolate Peanut Butter Swirl Cookies
You'll find plenty of chocolate and peanut butter treats here on BoB. It's one of my favorite flavor combinations, so that should come as no surprise.
These Chocolate Peanut Butter Swirl Cookies combine those flavors in a fun way to make some eye-catching and delicious cookies.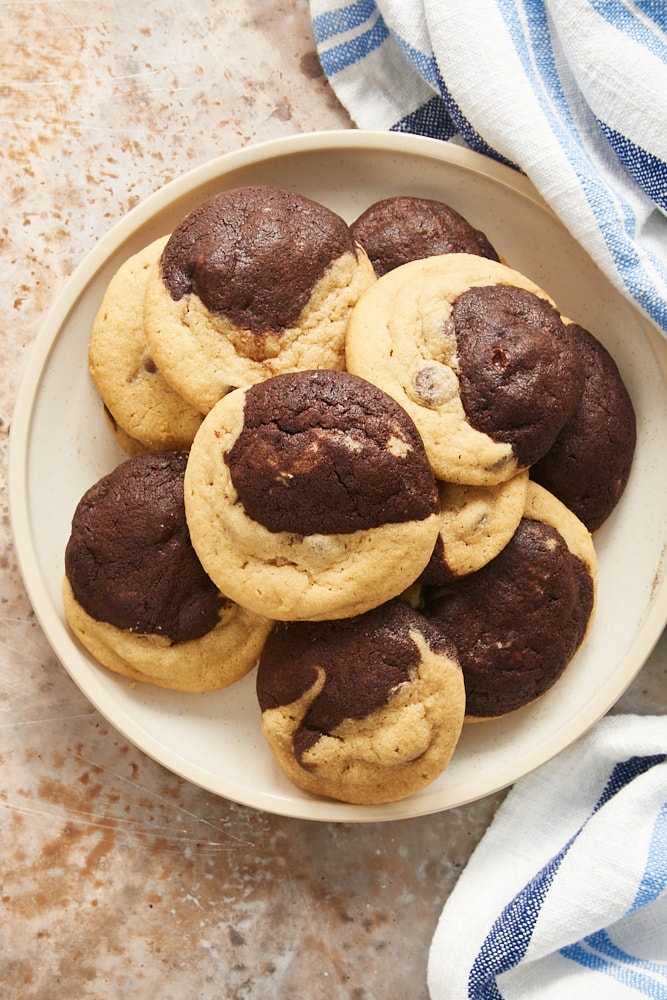 Before you think this is too complicated for an everyday baking project, let me assure you that they're actually quite easy to make. It all starts with one simple cookie dough. Once that's mixed, it's divided in half in order to transform one half into a chocolate cookie dough.
Then, the two doughs are portioned and smashed together to make a fun, swirly cookie that's the best of both chocolate and peanut butter worlds! Sure, it takes a few extra minutes than if you were just scooping dough directly onto a baking pan, but it's so worth it!
Craving more peanut butter cookies? Try 3-Ingredient Peanut Butter Cookies and Peanut Butter Lovers' Cookies next!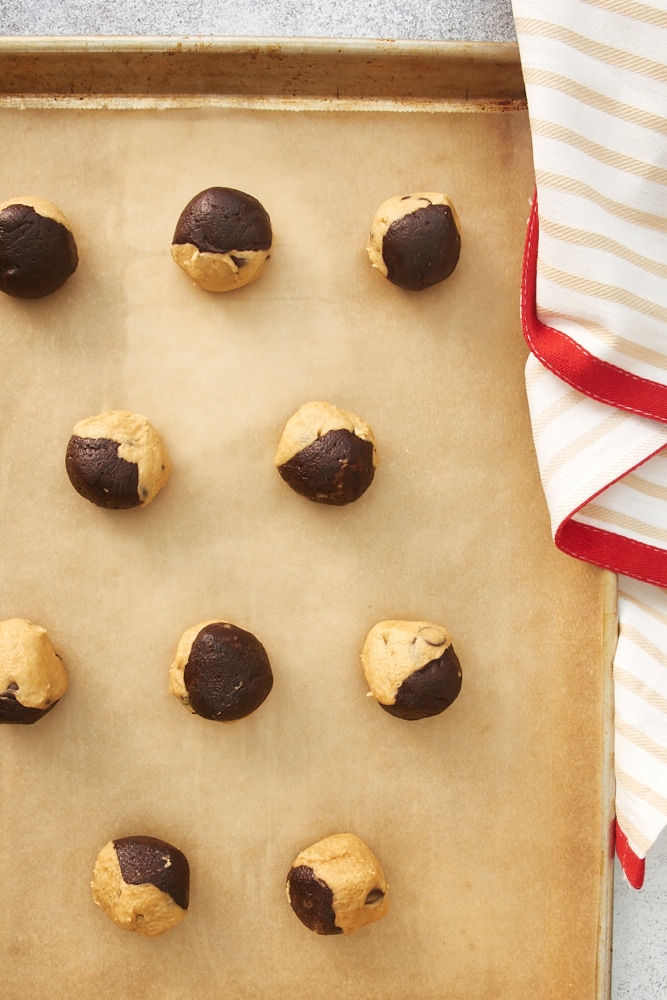 Tips for Success
Measure accurately. As always, measure by weight if you can. Otherwise, spoon and sweep.
Use natural peanut butters with caution. I bake almost exclusively with regular peanut butter because natural peanut butters give inconsistent and sometimes less than stellar results.
Chill the dough. It will be much easier to handle the dough after chilling. As you're forming the dough into balls, the heat from your hands will warm the dough as well. Starting with chilled dough will go a long way toward keeping these cookies from spreading too much.
Be precise when dividing the dough in half. While it's not vital that you are perfectly precise in dividing the dough, it will help ensure that you have equal amounts of each dough for each cookie. To be precise, you can weigh your mixing bowl when it's empty and then again when the dough is first mixed and ready to divide. Subtract the starting weight of your bowl from the weight of the bowl with the dough, and then divide that remainder in half to determine how much each dough should weigh. Remember that you'll be adding cocoa powder to one half, so you can make that half slightly lighter to accomodate for that volume if you like.
Have fun swirling! Make this as simple or as elaborate as you want. I use a 1-tablespoon scoop for each dough and then just press the flat sides together, give it a squeeze, and roll into a ball. If you want to do something more elaborate, then go for it!
Leave plenty of room between the cookies. These cookies will definitely spread, so be sure to leave 2-3 inches between them on the baking sheets so you don't get a uni-coookie.
Don't take the cookies off the pan too soon. These are super soft cookies, so be sure to let them cool or they may fall apart easily. Cooling them for a bit on the pan and then moving them to a wire rack will give you the best results.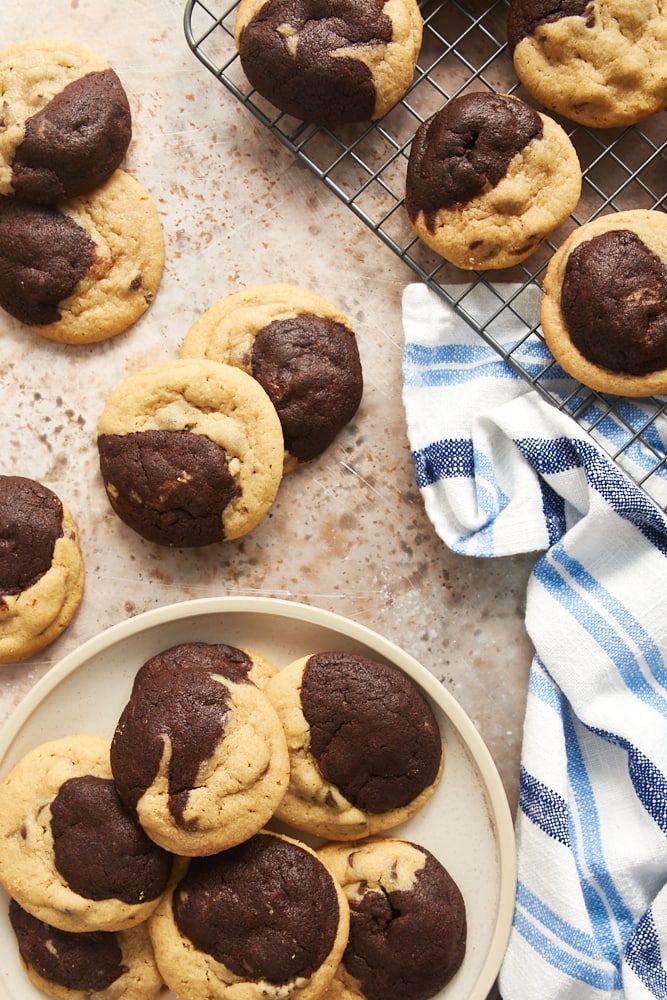 These wonderfully soft Chocolate Peanut Butter Swirl Cookies are just so darn good. They're the kind of cookie that has me going back to the container for just one. more. bite. If you're a fan of chocolate and peanut butter treats, I think you'll find it's love at first bite!
Find more cookie recipes in the Recipe Index.
Video Tutorial: Chocolate Peanut Butter Swirl Cookies
More Chocolate Peanut Butter Cookies