December 8, 2007
Zimtsterne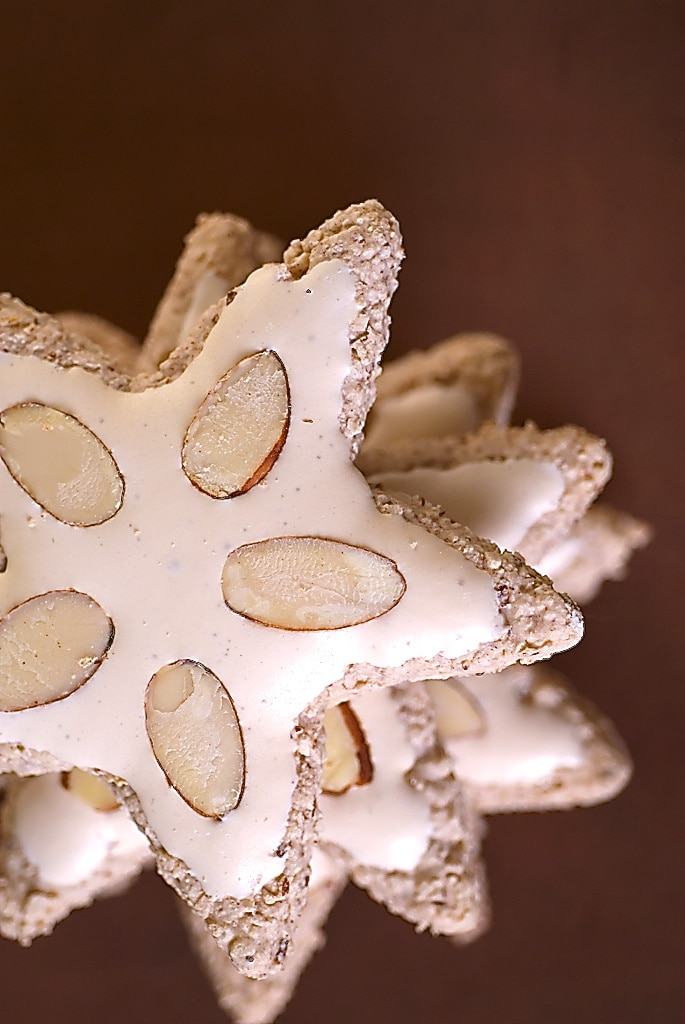 Quinn tends to be a bit more ambitious in my baking than I am. He thought these cookies would be a great addition to my holiday baking roster. I agreed that they looked and sounded delicious, but I wasn't sure about the painstaking efforts involved in making them. I came up with a compromise, though, that he help me bake them. He quickly agreed, being a fool for painstaking details like rolling out dough and icing cookies.

Also known as Cinnamon Star Cookies, Zimtsterne are a traditional German Christmas cookie. They are described as being somewhere between a macaroon and a meringue. They are somehow both a little bit crunchy and a little bit chewy. They immediately reminded me of a pecan meringue cookie my mother used to make.
We found that the dough was much easier to deal with after it had been in the freezer for about 20 minutes. That provided some stiffness that made cutting them easier and helped them stay together better.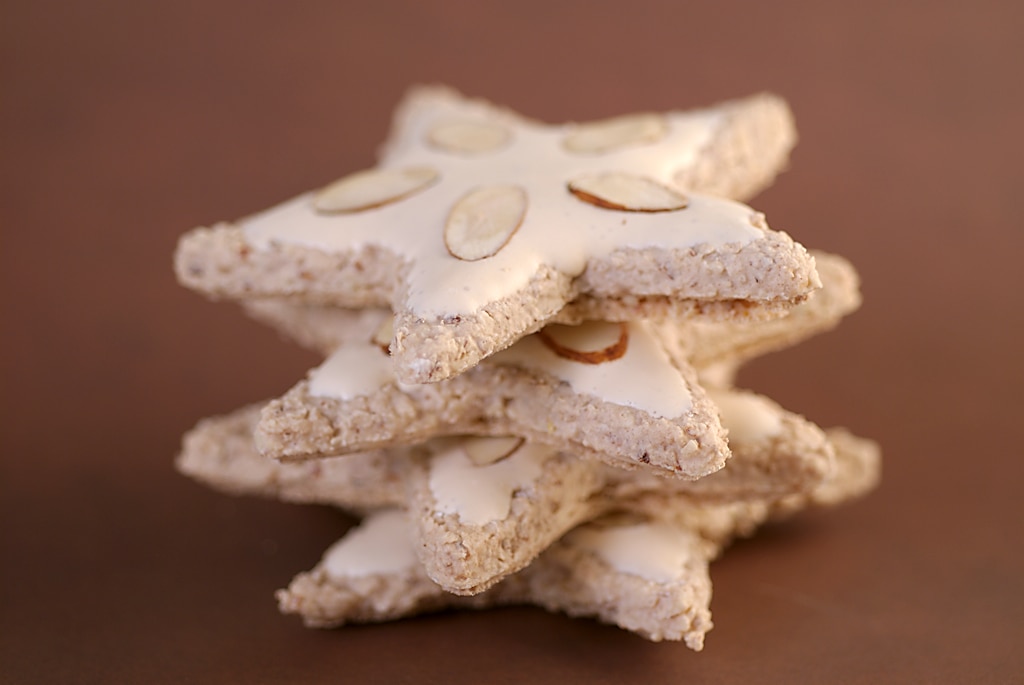 Even with such a short list of ingredients, these are not short on flavor. The combination of cinnamon and almonds is a definite winner. Despite all the almonds in these cookies, that almond flavor is not overpowering. They were, indeed, an excellent addition to my holiday baking lineup. Just be warned that these are definitely a labor of love. If you have the time and patience, however, they are certainly worth it.
Find more cookie recipes in the Recipe Index.
This post contains affiliate links. If you make a purchase through one of the links, I'll receive a
small commission at no additional cost to you.
Zimtsterne
Yield: about 24 cookies
Prep Time: 25 minutes
Cook Time: 30 minutes per pan
Zimtsterne are delicious cookies that exist somewhere between a macaron and a meringue.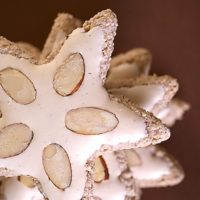 Ingredients:
2 & 1/4 cups confectioners' sugar, sifted
15 ounces sliced almonds (about 4 & 1/2 cups)
1 & 1/4 teaspoons ground cinnamon
3 large egg whites, at room temperature
2 teaspoons finely grated lemon zest
Directions:
Preheat oven to 250°F. Line baking sheets with silicone liners or parchment paper.
Place 1/2 cup of the confectioners' sugar, 10 ounces of the almonds (3 heaping cups), and the cinnamon in a food processor. Process until the nuts are finely ground.
Using an electric mixer on high speed, whip the egg whites until they hold soft peaks. Continue whipping and gradually add the remaining confectioners' sugar, mixing for about 2 more minutes. The whites should be thick, creamy, and somewhat stiff. Set aside 2/3 cup of the egg white mixture for tops of cookies.
Gently fold the ground almond mixture and lemon zest into the egg whites mixture. The dough will be stiff.
Lay a sheet of parchment paper or waxed paper on a clean, flat work surface. Place the dough on the paper. Flatten the dough and lightly dust with confectioners' sugar. Cover the dough with another sheet of paper.
Roll the dough between the  papers to a 1/4-inch thickness. Carefully flip the dough over. Gently peel off the top sheet of paper. Lay the paper back onto the dough and flip again. Peel the other sheet of paper so that the dough is not stuck to either sheet of paper.
Using a 3-inch star-shaped cookie cutter, cut out the cookies and place them about 2 inches apart on the prepared baking sheets. Gather and re-roll the dough as needed.
Use an offset spatula or small spoon to spread the remaining meringue mixture on top of each cookie. Do not let the meringue drip over the sides. Place the remaining almonds on top of meringue in whatever pattern you like.
Bake 30 minutes, or until the bottoms of the cookies are light golden brown and the meringue is set and crisp. Turn off the oven and open the oven door. Leave the cookies in the oven for 10 minutes to allow them to dry.
Notes:
The dough can be frozen between sheets of parchment or waxed paper for up to 2 weeks.
The cookies will keep for 10 days in an airtight container.