Deeply chocolatey and studded with chewy tart cherries, these Double Dark Chocolate Cherry Cookies are a decadent treat sure to please any chocolate lover!
Chewy Chocolate Cherry Cookies
Somehow raisins have become the default dried fruit for adding to cookies, which is a shame for those of us with an aversion to them. (Yes, I count myself among the ranks of raisin haters.) Personally, I much prefer the flavor of dried cherries—especially in these Double Dark Chocolate Cherry Cookies.
Sour cherries add a sweet-tart complement to the deep, dark, rich chocolate cookie base, creating a cookie that can only be described as decadent. In fact, they're so deep and dark that their color is almost black. That should get the attention of just about any dark chocolate lover.
This recipe comes from The Sweet Melissa Baking Book, which was also the inspiration for my Butterscotch Cashew Bar recipe. I had the chance to sample Sweet Melissa's talents in person when her patisserie was located in Brooklyn. The patisserie has since moved to New Jersey, but even though I'm no longer local, I'm glad I can still bake up a batch of these Double Dark Chocolate Cherry Cookies whenever the craving strikes.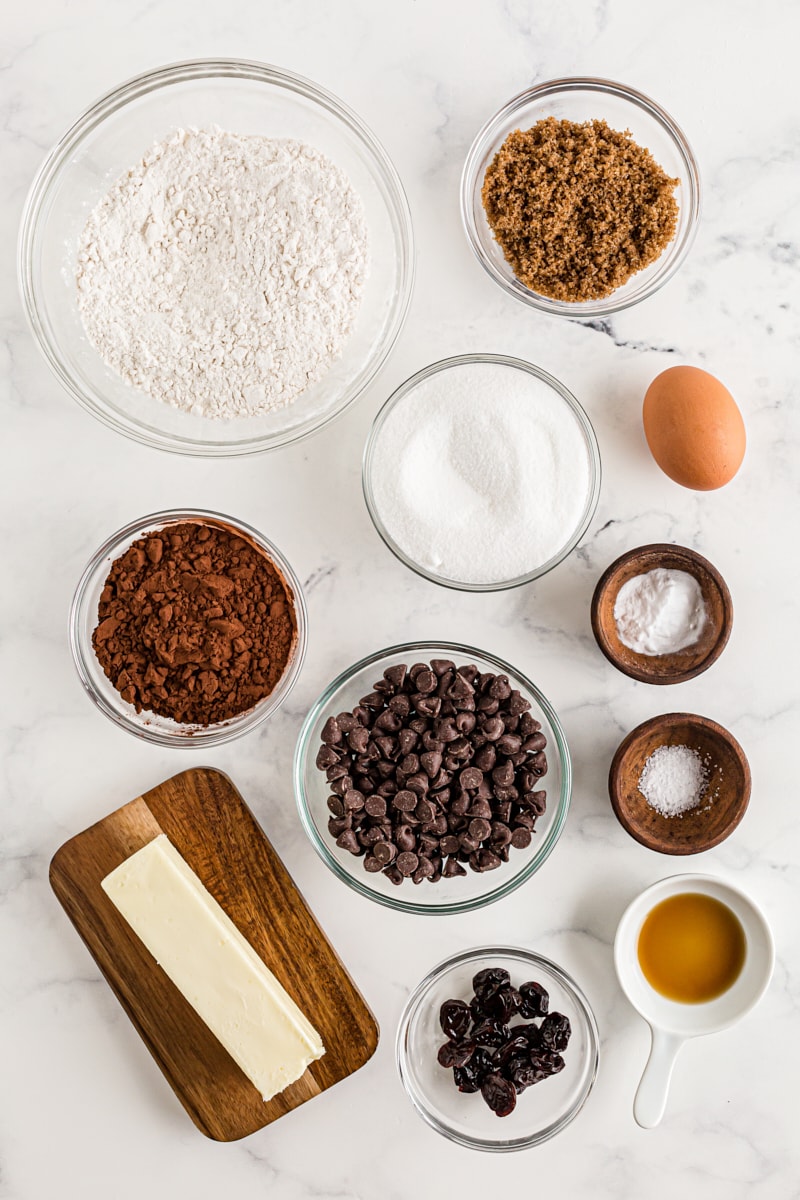 What You'll Need
Scroll down to the recipe card to find the ingredient quantities and recipe instructions.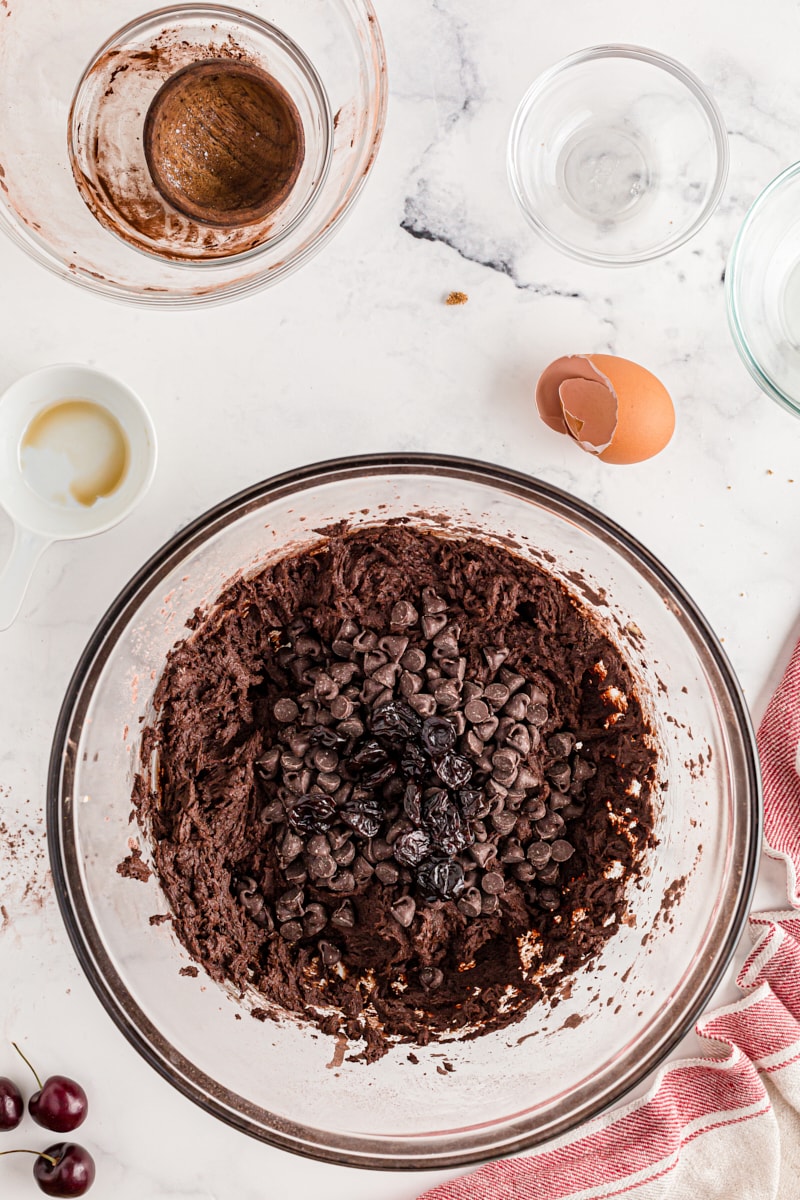 Can I substitute dark chocolate chips for semisweet chocolate chips?
Yes, you can substitute dark chocolate chips for semisweet chocolate chips in this recipe, as well as most others. Semisweet chocolate chips actually are dark chocolate; the chocolate chips labeled as dark chocolate typically have a higher percentage of cocoa solids and less sugar when compared with semisweet, though.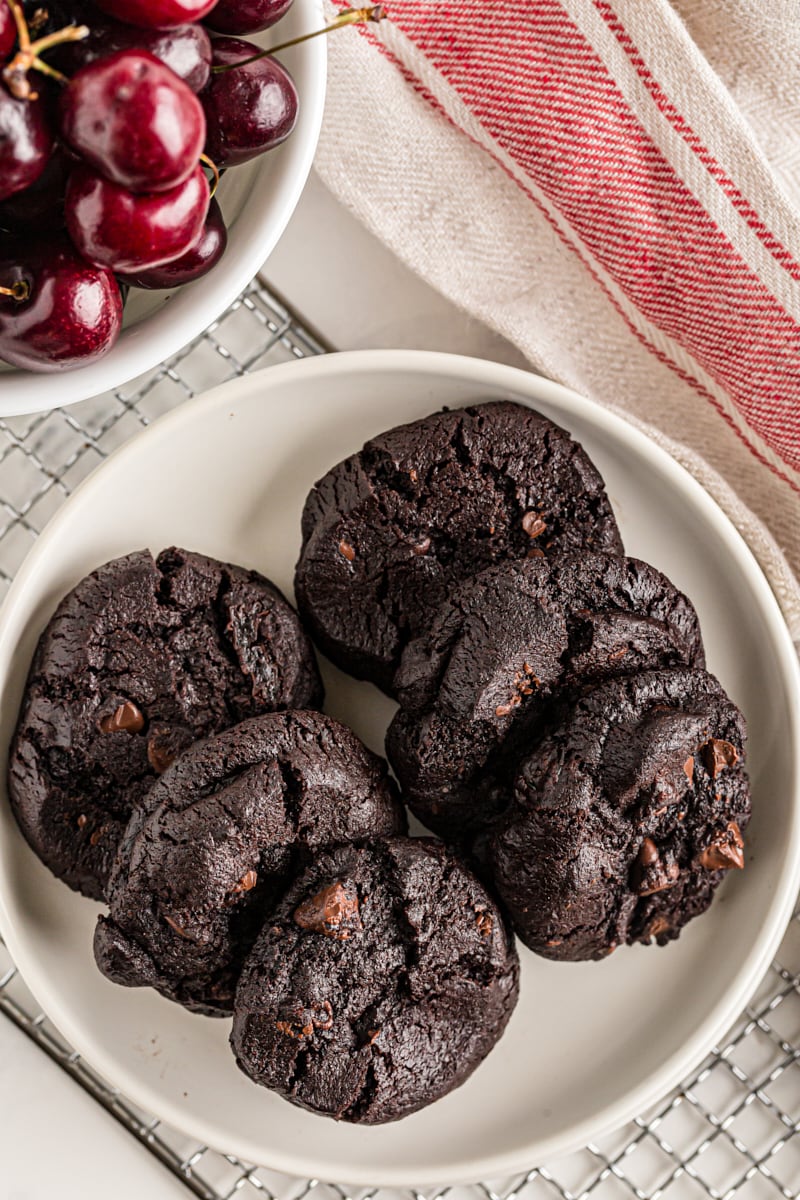 How to Make Double Dark Chocolate Cherry Cookies
These cookies are quite easy to make, but you'll need to factor in the chilling time when planning your baking. The dough needs to chill twice; once for a few hours, and then for an hour more.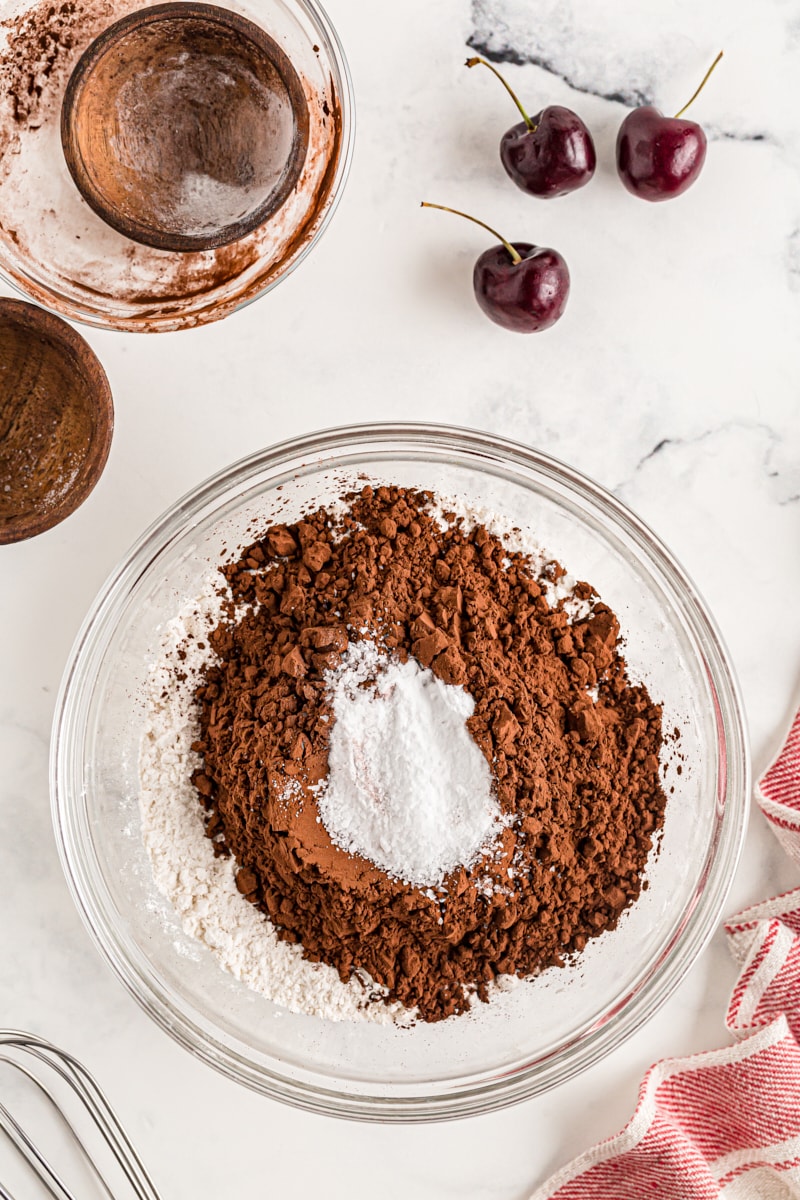 Mix the dry ingredients. Whisk the flour, cocoa powder, baking soda, and salt in a medium bowl.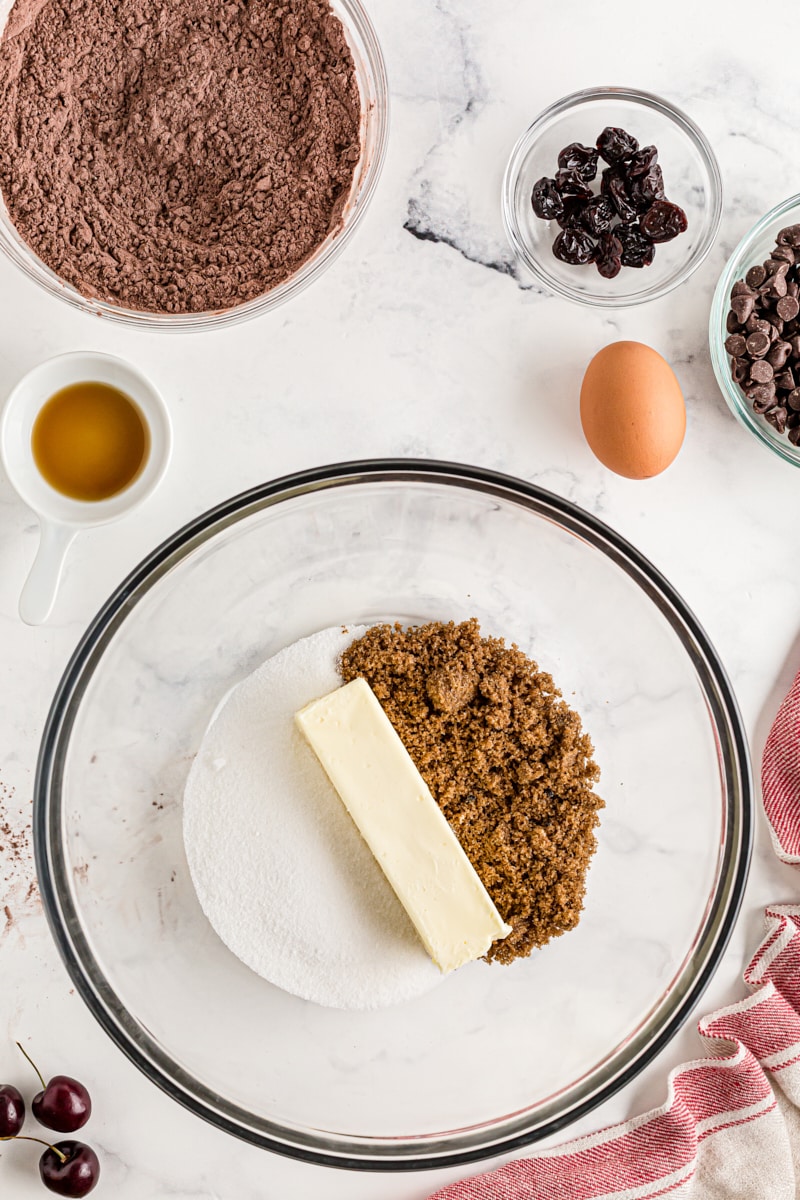 Mix the wet ingredients. Use an electric mixer to cream the butter, granulated sugar, and brown sugar in a large mixing bowl, beating for about 3 minutes or until the mixture is fluffy. Beat in the egg, followed by the vanilla.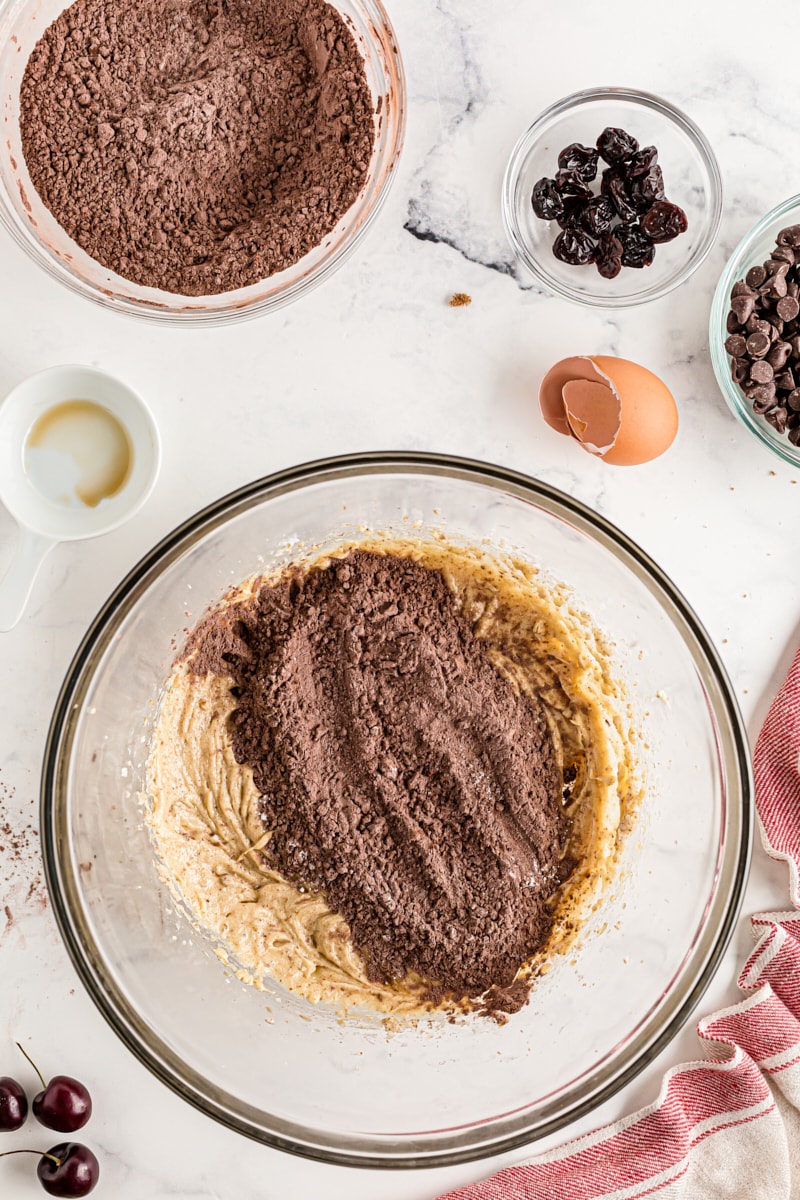 Finish the dough. Reduce the mixer speed to low. Add the flour mixture in three portions, mixing each until just incorporated. Fold in the chocolate chips and cherries.
Chill. Place the mixing bowl in the refrigerator and chill the dough for a few hours, or until it's firm.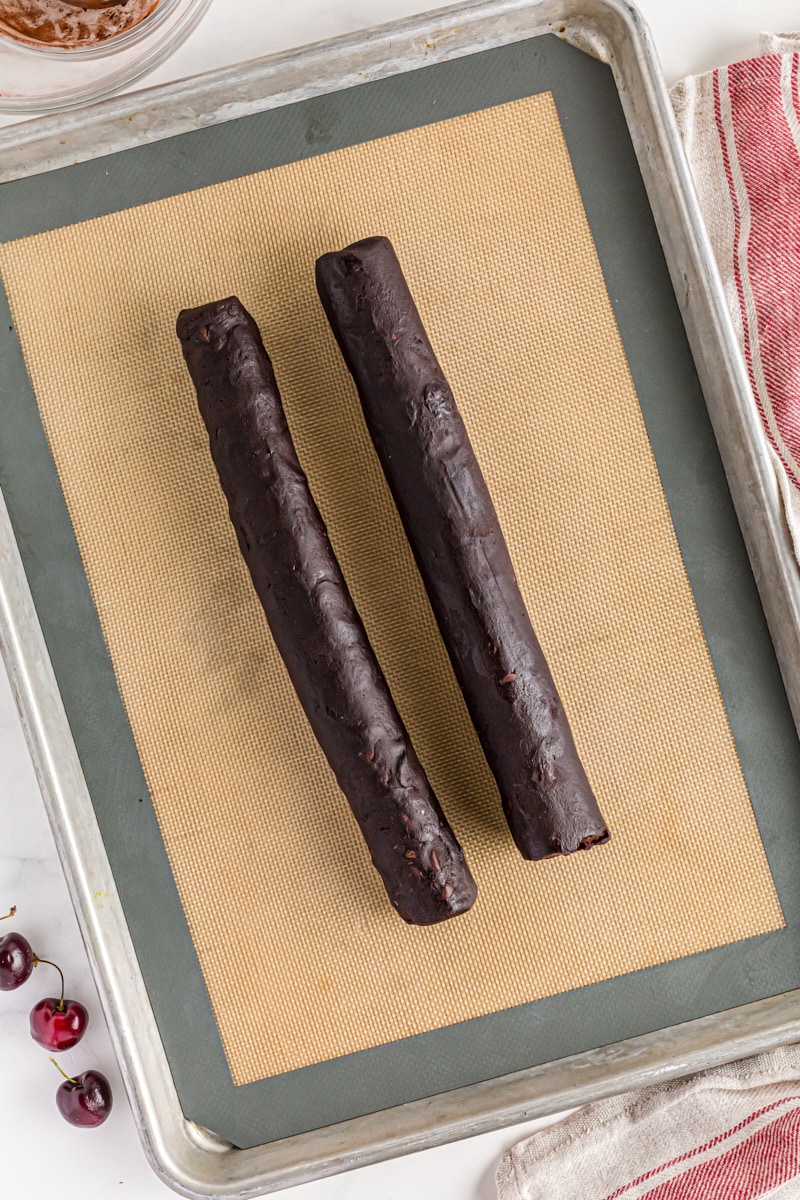 Form the dough into logs. Turn out the dough onto a clean work surface and divide it in half. Roll each half into logs about 12 inches long and 1 & 1/4 inches in diameter. Chill for another hour.
Prepare. Preheat your oven to 350°F and line baking sheets with parchment paper or silicone liners.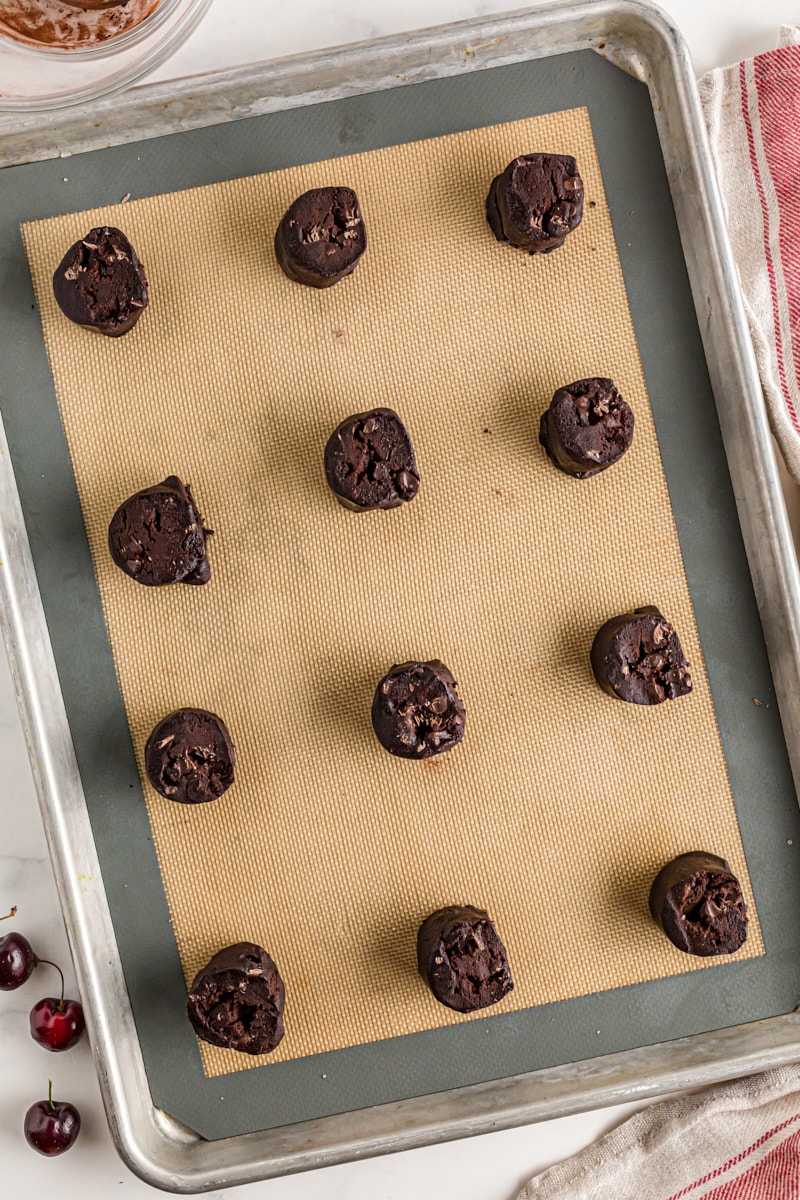 Cut the cookie dough. Cut the chilled dough into 1-inch-thick slices. Place the cookies 1 & 1/2 inches apart on the prepared baking sheets.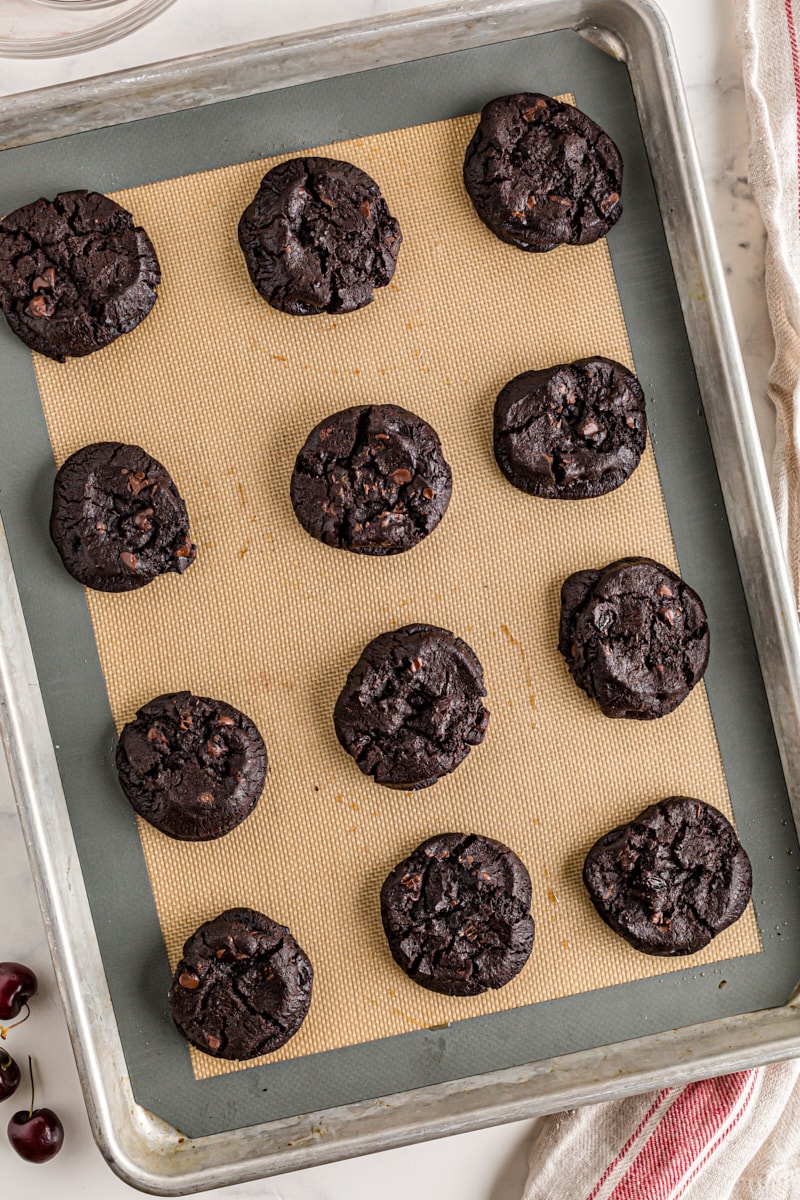 Bake the cookies. Bake one pan at a time for about 15 minutes, or until the cookies look just baked.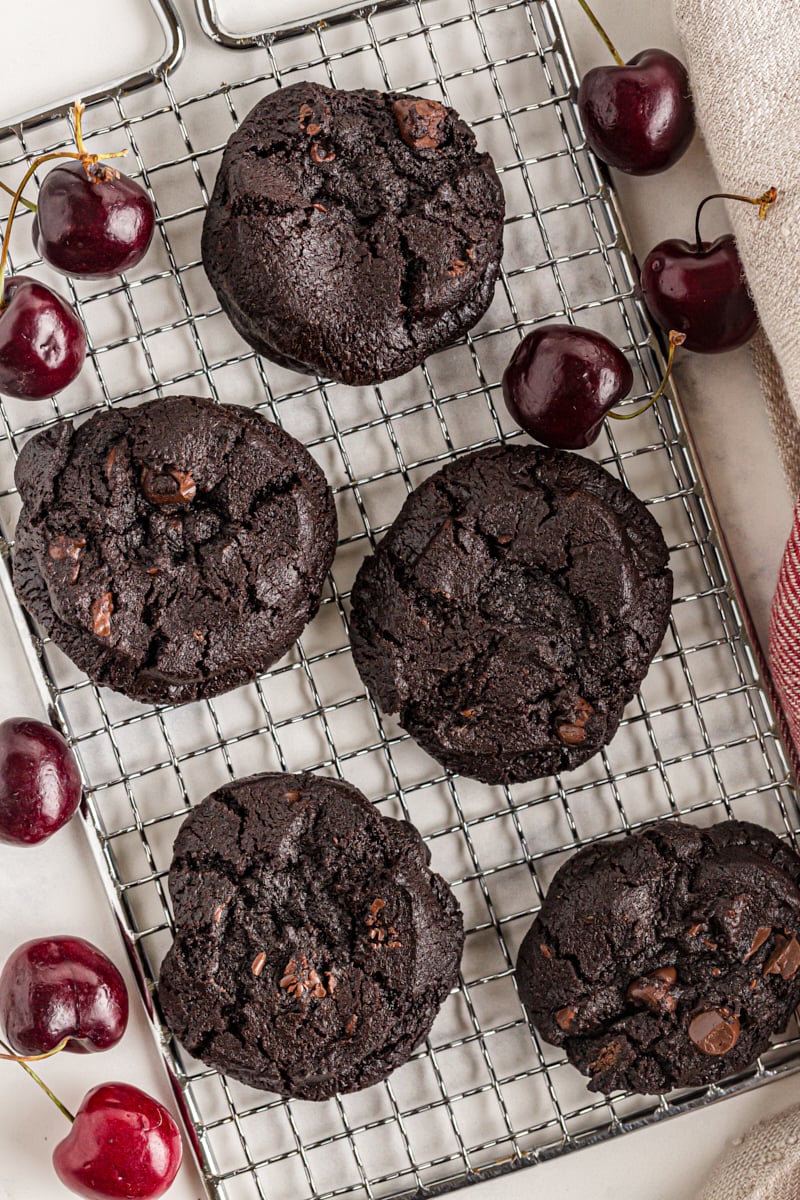 Cool. Set the pans on a wire rack to cool for 5 minutes. Then transfer the cookies from the pan directly to the wire rack to finish cooling. (Learn more: Why Every Baker Needs Wire Cooling Racks)
Variations to Try
The cherries aren't that prevalent in this recipe; if you'd like more, then definitely add more. Or, if you're not excited about them, leave them out all together or substitute another dried fruit like cranberries or chopped apricot.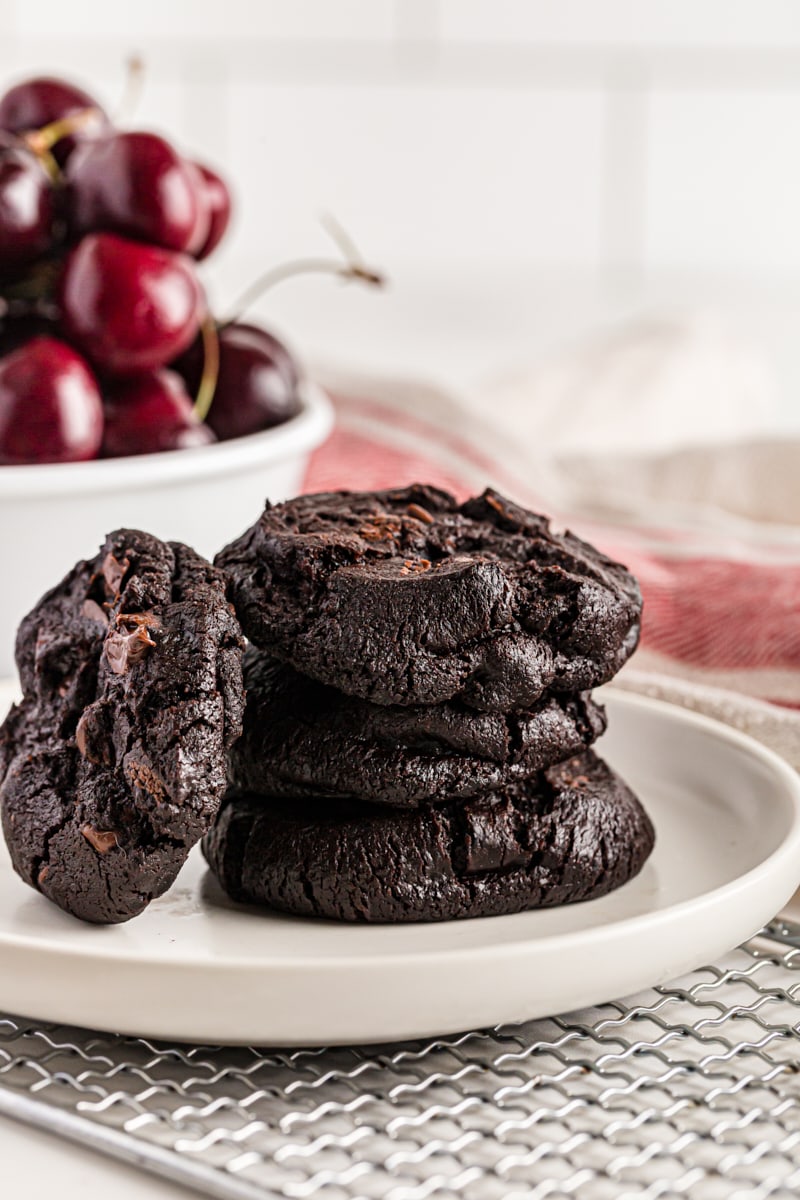 Tips for Success
These Double Dark Chocolate Cherry Cookies are fairy straightforward, but these tips will help you make sure they turn out perfect.
Don't skip the chilling. It's one of the most important steps to keeping cookies from spreading.
Turn the logs of dough as you cut them. This will help keep the bottom of the log from flattening. Simply rotate the log a quarter turn each time you make a cut.
Don't reuse the same baking sheet. Or, if you don't have enough baking sheets to use a new one for each batch, make sure the baking sheet cools between batches. This will also help prevent spreading, as well as burnt bottoms.
How to Store
Store Double Dark Chocolate Cherry Cookies in an airtight container at room temperature for 3 to 5 days.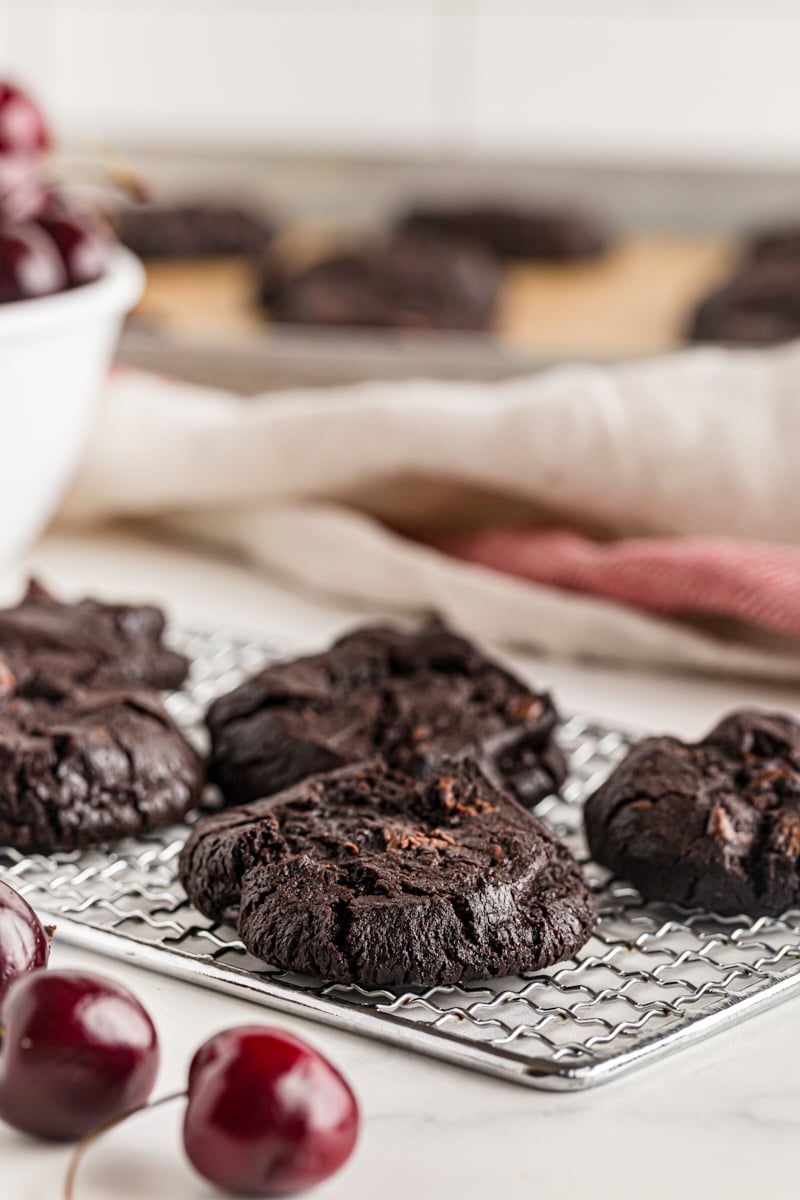 Can This Recipe Be Frozen?
You can freeze baked cookies for up to 3 months in an airtight container or freezer bag. Thaw them at room temperature, or warm them up in the microwave.
Alternatively, the unbaked dough can be frozen for a month if wrapped well in plastic wrap and aluminum foil. It can be frozen in a log or you can freeze the dough after slicing it so you can bake just a cookie or two to satisfying a craving. Simply add a few additional minutes to the original baking time.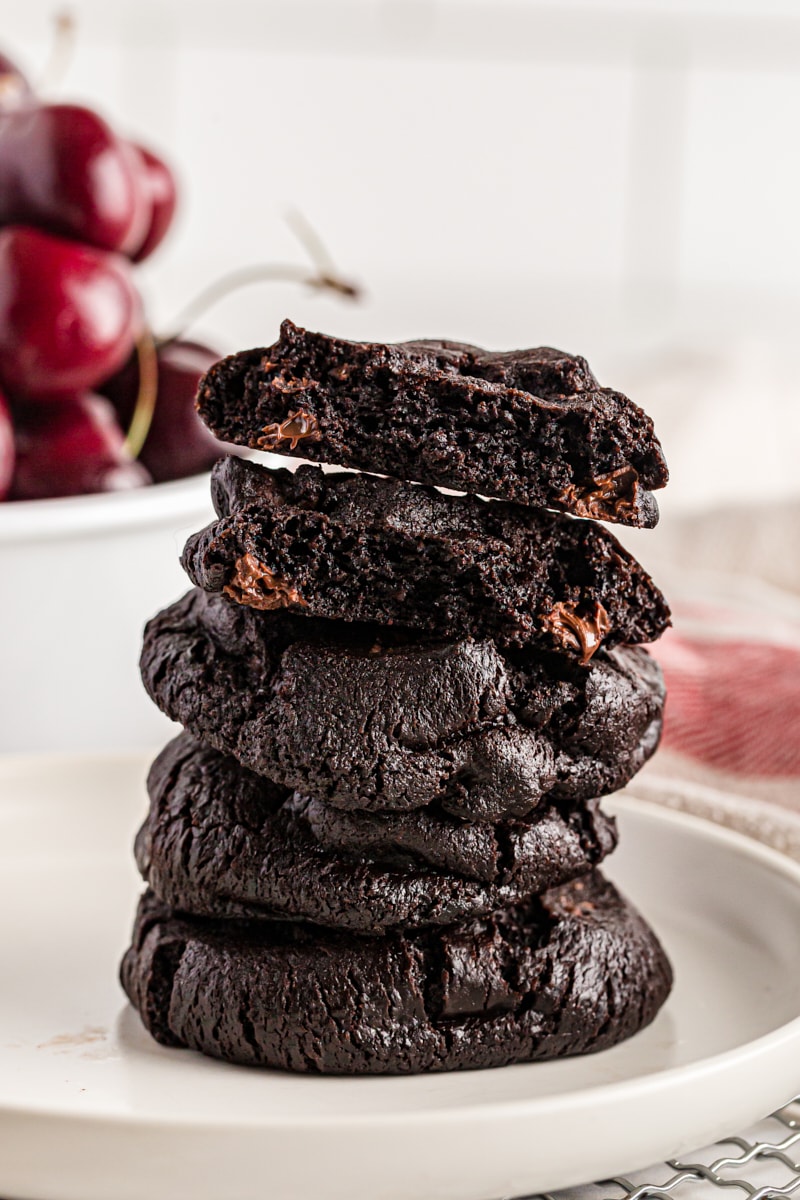 More Chocolate Cookie Recipes