May 26, 2008
Double Dark Chocolate Cherry Cookies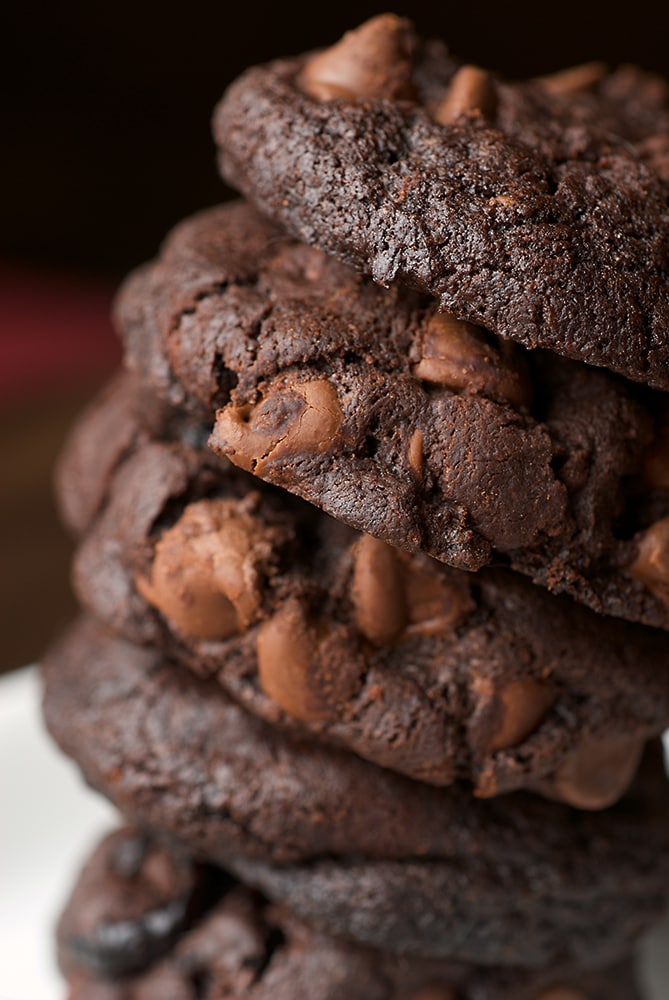 A couple of months ago, I received an advance copy of The Sweet Melissa Baking Book. I had great success with the first recipe I tried and marked several others that I wanted to make.

I recently opened the cookbook again and found these cookies just begging to be made. I've baked with dried cherries before, but not of the sour variety. Quinn is a big sour cherry fan. Knowing that, I had bought some dried sour cherries with the intentions of making something specifically for him. With his also loving chocolate, these were just the ticket.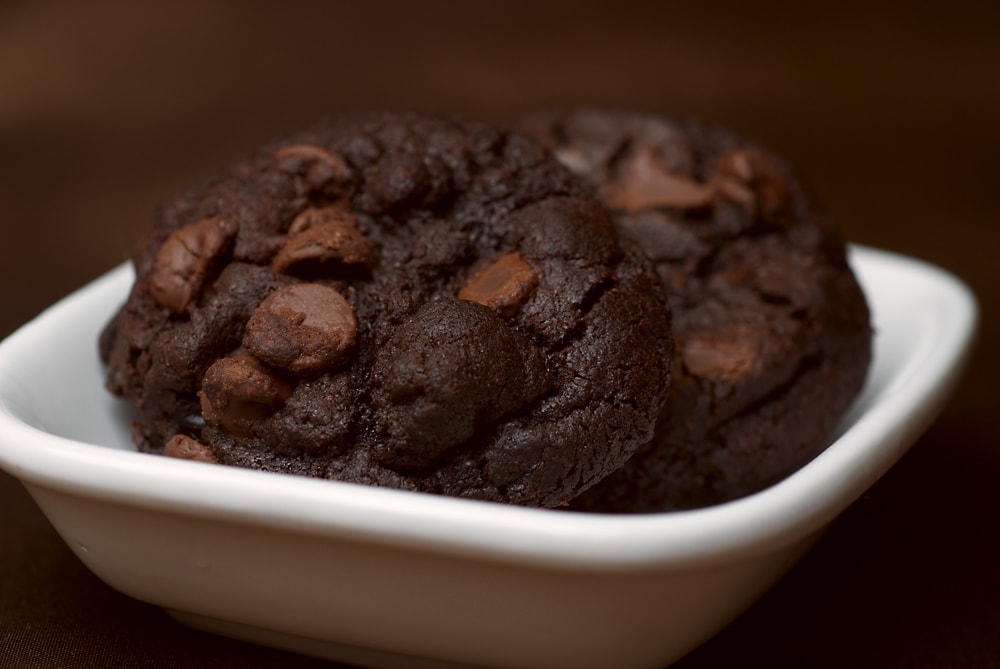 These cookies are among the darkest, richest chocolate cookies I've ever made. If you'll notice, they are a much darker color than the chocolate chips. In fact, their color is almost black. That should get the attention of just about any dark chocolate lover.
The cherries aren't that prevalent. If you like more, then definitely add more. Or, if you're not excited about them, leave them out all together or substitute another dried fruit. I do think that the cherries add an interesting sweet-and-sour flavor to the cookies that we really liked.
Dried sour cherries can usually be found in grocery stores next to the raisins and other dried fruits. As an alternative, they can also be found online at Nuts Online and Oh Nuts, among others.
Ever since I discovered Sweet Melissa's talents through this cookbook, I really wanted to visit Sweet Melissa Patisserie in New York. So, on our last trip to our favorite city, we stopped in for lunch in Brooklyn. What a great place! It was a beautiful, if somewhat rainy, day for sitting outside in the garden area. We both enjoyed our lunch, our surroundings, and of course the sweet treats we took with us to indulge in later that day.
Double Dark Chocolate Cherry Cookies
Yield: about 24 cookies
Prep Time:15 minutes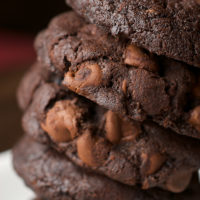 Ingredients:
1 cup all-purpose flour
3/4 cup Dutch-process cocoa powder*
1 teaspoon baking soda
1/4 teaspoon kosher salt
1/2 cup unsalted butter, softened
2/3 cup granulated sugar
1/4 cup firmly packed dark brown sugar
1 large egg
1/4 teaspoon vanilla extract
3/4 cup semisweet chocolate chips*
1/3 cup dried sour cherries
Directions:
Whisk together flour, cocoa powder, baking soda, and salt. Set aside.
Using an electric mixer, beat butter, granulated sugar, and brown sugar about 3 minutes or until fluffy. Add egg and mix well. Stir in vanilla. Reduce mixer speed to low and add flour mixture in three portions, mixing each just until incorporated. Stir in chocolate chips and cherries. Refrigerate dough for a few hours until firm.
Place the dough on a clean work surface and divide in half. Roll out into logs about 12 inches long. Refrigerate for about an hour. Dough can be frozen for a month if wrapped well in plastic wrap and aluminum foil.
Preheat oven to 350°. Line baking sheets. Cut dough into 1-inch slices. Place cookies 1 & 1/2 inches apart on baking sheets. Bake for about 15 minutes, or until cookies look just baked. Do not overbake.
Notes:
*Sweet Melissa's recipe specifically indicates using "best-quality" chocolate, in both the chocolate chips and cocoa powder.