December 12, 2016
Cranberry Pistachio Cookies
Cranberry Pistachio Cookies are sweet, tart, and crunchy. Serve them as they are or dip them in melted white chocolate for a boost of flavor.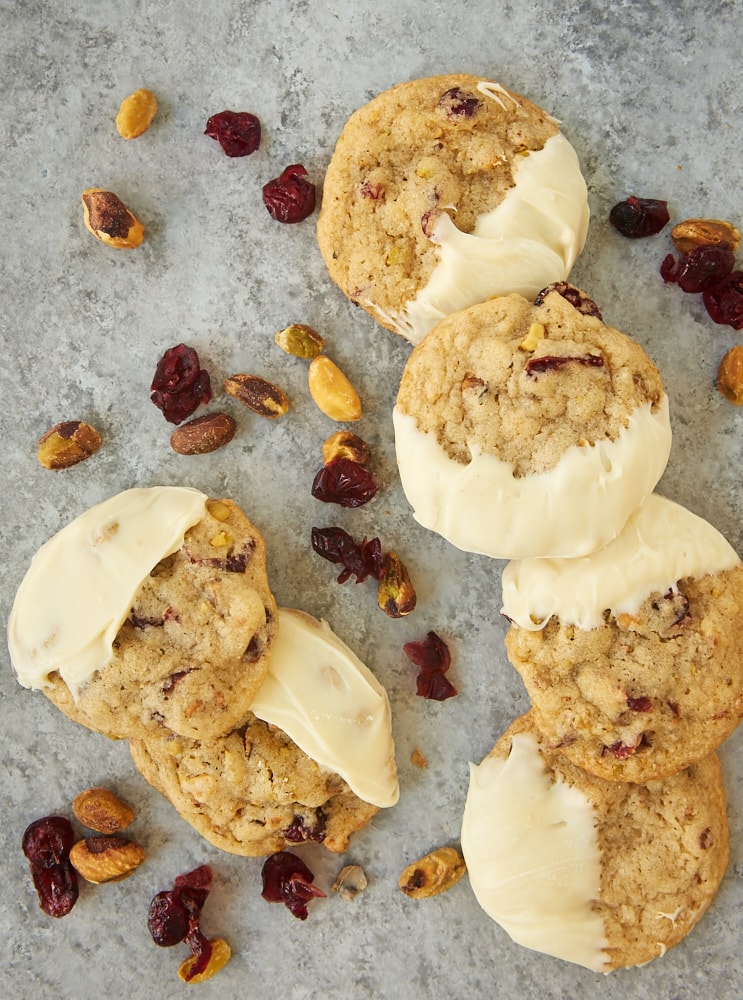 Cranberries and pistachios are wonderful any time of year, but I seem to get a craving for the combination during the holiday season. Maybe it's the flavor or maybe it's the red and green color scheme. In any case, I find them irresistible!
These cookies are fairly standard vanilla cookies, but with lots of cranberries and pistachios for some wonderful sweet, tart, nutty flavor. Add to that a bit of white chocolate, and you've got yourself one fantastic cookie!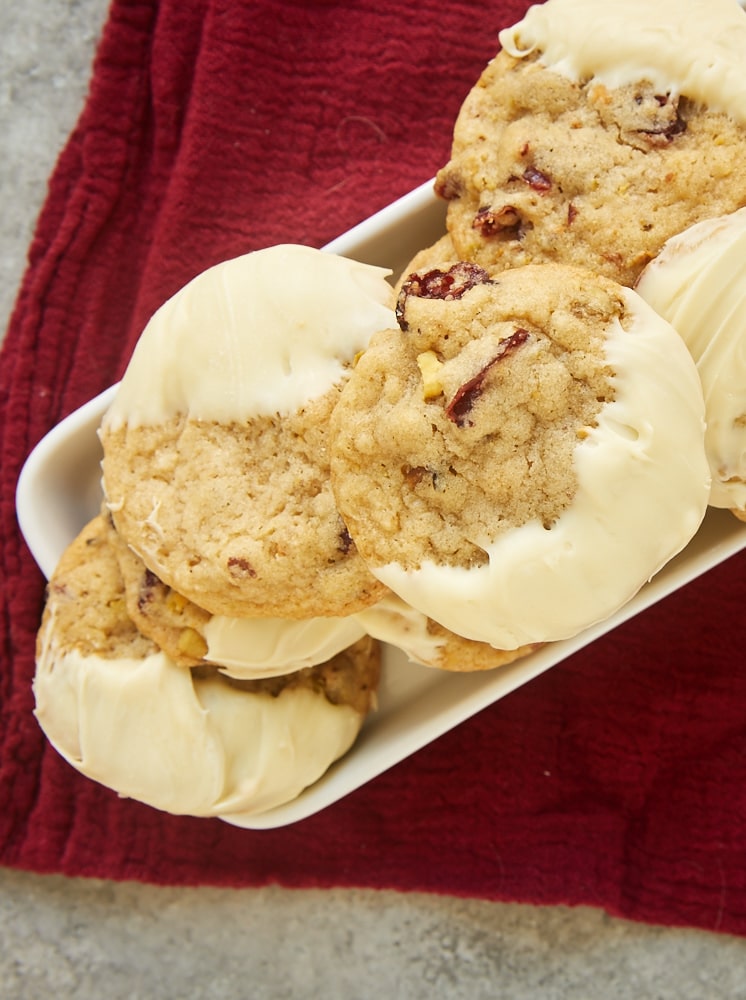 If you prefer to skip the chocolate-dipping step, I can attest that these cookies are very good without the white chocolate, although it does add a certain flair. I simply melt the white chocolate and dip the baked and cooled cookies about halfway into the chocolate. Then just set them on a wire rack or waxed paper to allow the chocolate to set. For a little different look, you can also put the melted white chocolate in a zip-top bag, cut the corner of the bag, and pipe the chocolate over the top of the cookies.
Keep in mind that this cookie dough will freeze well, too, if you need a little help getting ahead on your holiday baking. When I make these, I usually stash some in the freezer, too, for when I need some freshly baked cookies later in the season.
These cookies are a can't-miss addition to your holiday baking. They're always such a big hit that they're on my holiday baking list to stay! If you're looking for more Christmas cookie inspiration, be sure to see my collection of Best Holiday Cookies.
Find more cookie recipes in the Recipe Index.
More Pistachio Dessert Recipes
Cranberry Pistachio Cookies
Yield: about 36 cookies
Prep Time: 25 minutes
Cook Time: 12 minutes per pan
Cranberry Pistachio Cookies are jam-packed with plenty of sweet, tart cranberries and crunchy pistachios. The addition of white chocolate really puts them over the top!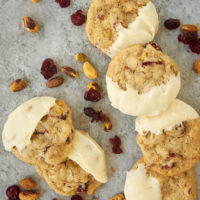 Ingredients:
1 & 1/2 cups (180g) all-purpose flour
1/2 teaspoon baking powder
1/2 teaspoon baking soda
1/4 teaspoon salt
1/2 cup (113g) unsalted butter, softened
1/2 cup (100g) granulated sugar
1/2 cup (100g) firmly packed light brown sugar
1 large egg
1 teaspoon vanilla extract
3/4 cup (53g) dried cranberries
3/4 cup (75g) chopped pistachios
8 ounces (227g) white chocolate*
Directions:
Preheat oven to 350°F. Line baking sheets with parchment paper or silicone liners.
Whisk together the flour, baking powder, baking soda, and salt. Set aside.
Using an electric mixer on medium speed, beat the butter, sugar, and brown sugar until light and fluffy. Add the egg and vanilla, and mix well.
Reduce mixer speed to low. Gradually add the flour mixture, mixing just until combined.
Stir in the cranberries and pistachios.
Drop the dough by tablespoonfuls onto the prepared pans, leaving about 2 inches between the cookies.
Bake 10 to 12 minutes, or until the cookies are lightly browned.
Cool on the pans for 10 minutes. Then transfer the cookies to wire racks to continue cooling.
Place the white chocolate in a microwave-safe bowl. Heat in the microwave at half-power in 30-second increments until the chocolate melts when stirred. Be sure to stir between heating and don't overheat it or it will seize and clump.
Dip each cooled cookie into the melted white chocolate. Place on a wire rack or a sheet of parchment or waxed paper to allow the chocolate to cool and set.
Notes:
*Please note that this is white chocolate, not white baking chips or white baking squares. White chocolate should list at least 20% cocoa butter in the ingredients. You'll have far more success melting white chocolate versus the others. And you'll probably enjoy the flavor more, too.