What better way to celebrate Thanksgiving than with pie? Find a new favorite among BoB's best Thanksgiving pies!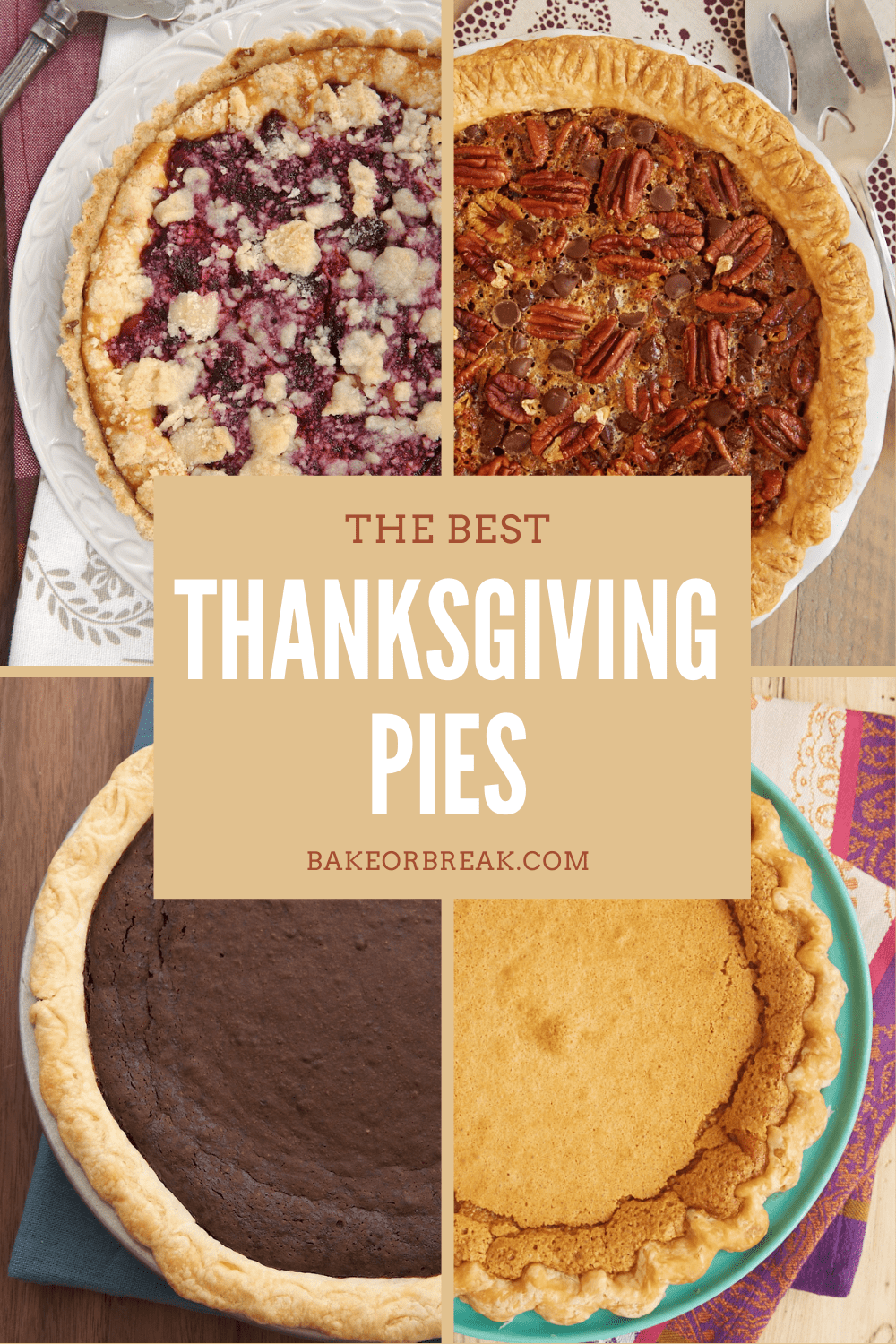 The BEST Thanksgiving Pies
To me, Thanksgiving is a pie holiday. I just love to see a beautiful display of pie deliciousness after the big meal. Of course, I can get behind a lot of other Thanksgiving desserts, too, but let's focus on pie for now.
I've gone through the archives and put together a collection of more than 40 pies, tarts, mini pies, and more pie-like desserts that are perfect for Thanksgiving.
We've got pecan pie, chess pie, apple pie, and plenty more great flavors like pears, cranberries, caramel, and chocolate. And if you get overloaded with pumpkin this time of year, you'll be happy to see that this collection is 100% pumpkin free!
I hope you'll find just the pie (or pies!) to make your Thanksgiving extra special and delicious!
How Many Pies Do I Need for Thanksgiving?
A good rule is that you need one standard pie for every four to six guests. That size pie is usually cut into 8 to 12 pieces. I tend to land somewhere in the middle with about 10 servings per pie.
Essentially, you want to provide 1 or 2 servings per person. Some guests are samplers and want a little bit of everything, while others may just want a small sliver after a Thanksgiving feast. If you host the same crowd every year, then you're likely familiar which end of that spectrum you should aim to hit. And don't forget the appeal of leftover pie!
Tips for Baking Pies for Thanksgiving
Each pie is different, but here are some general tips to help you make your pies their very best!
Read the recipe thoroughly. Make sure you know exactly what you'll need to do and how much time it will take.
Gather your ingredients before starting. Avoid the devastation of realizing you're short an ingredient by getting everything ready beforehand. If any prep work can be done to make the pie-making process easier, then do that, too.
Trying a new recipe? Ideally, I recommend making a new dessert sometime before the big day so that you can feel more comfortable making it for a special occasion. There are variations in ingredients, environment, and ovens that alter the outcome of a recipe.
Your pan matters. Metal, glass, and ceramic all conduct heat differently and will give you different results when baking a pie. For baked pies, I almost always recommend a light-colored metal pan. For more of my favorite pie tools, see my pie baking essentials at my Amazon Storefront!
Bake in advance. If any of your pies can be stored, get ahead of the game by making them before the big day. If you've got a lot of baking to do, consider if any of your pies will hold up well in the freezer so you can thaw them in time for Thanksgiving. If you can't make the entire pie ahead of time, you can always make the traditional pie dough you need and store in the refrigerator (2-3 days) or freezer (up to 3 months).
For traditional crust pies, I have lots of helpful tips for you with my All-Butter Pie Crust.
For cookie crusts, I've got that covered, too, with How to Make a Cookie Crumb Crust.
Don't forget the toppings! Ice cream, sweetened whipped cream, a flavored sauce, or any garnishes.
How to Store Pies
Take into consideration how your pies need to be stored before and after serving. If you have a pie that requires refrigeration, make sure you cover it as the recipe specifies. If your pie can sit at room temperature, then be sure to have the proper cover for it as well.
Custard pies, cream pies, pumpkin pie, and most any pies made with dairy products should be refrigerated. As a general rule, other pies will keep for at least a couple of days at room temperature, but see the specific recipe's recommendations for storage.
When it's time to clean up after your Thanksgiving meal, you may have guests who want to take some leftover pie home with them. Plan ahead to have containers that will hold a slice or two.
Bake or Break's Favorite Thanksgiving Pies
I hope these Thanksgiving pie recipes will inspire you to get baking this holiday season. Happy Thanksgiving!
Find even more pies in the Recipe Index.
Bake or Break is a participant in the Amazon Services LLC Associates Program, an affiliate advertising program designed to provide a means for us to earn fees by linking to Amazon.com and affiliated sites.