January 23, 2014
Chocolate Hazelnut Black-Bottom Pie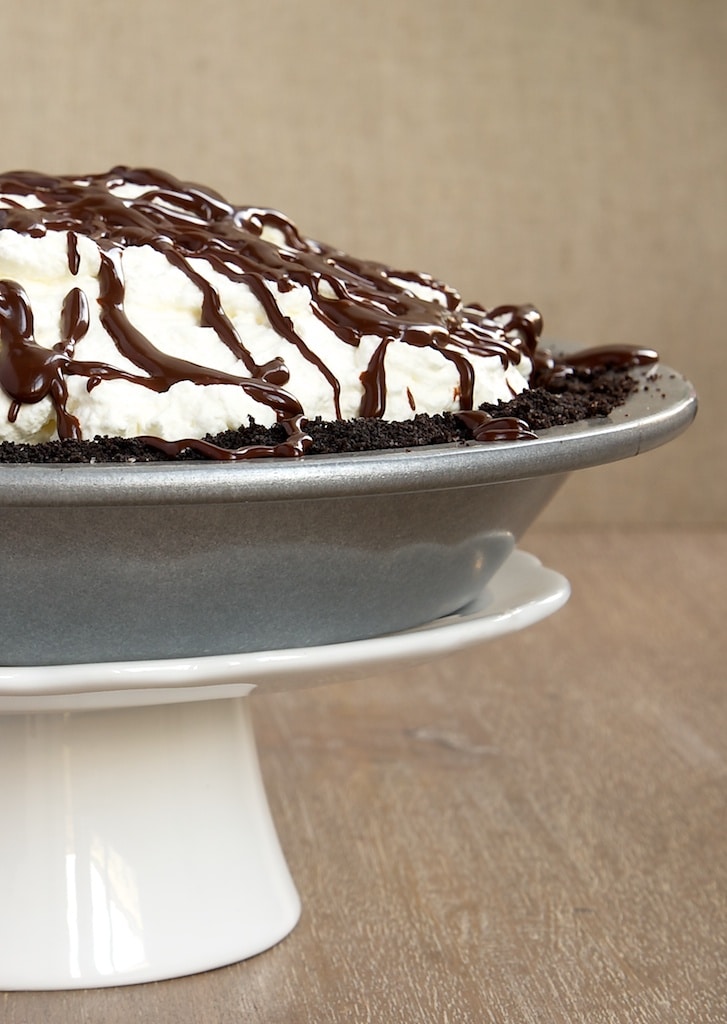 The best kind of desserts, in my opinion, are those that are simple to make but give you a fantastic result. Low effort, high yield. Who wouldn't love that? This pie is a great example of just that kind of dessert.
This thing is gorgeous. I love all those layers! There's plenty of chocolate, some hazelnuts, and a not insignificant amount of whipped cream. And, let's not forget even more chocolate for the top. It's tall, dark, and delicious.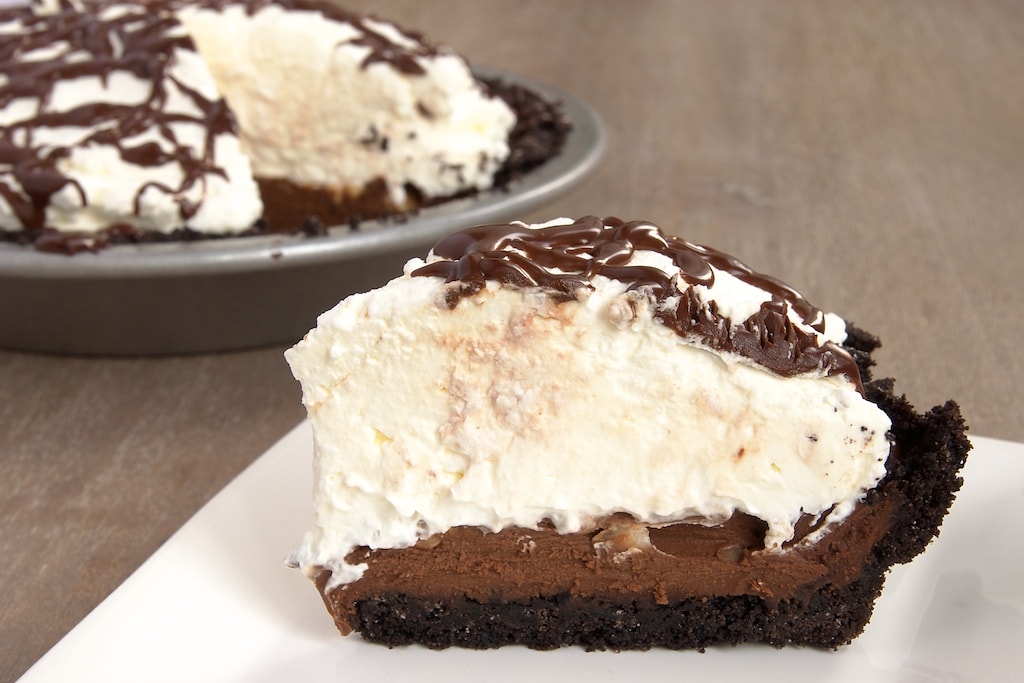 There are three components to this pie – the chocolate crust, a rich ganache, and a mountain of whipped cream. Each part will take mere minutes to make. There's some cooling time and chilling time in between, so just spread out the work through the day or even over a couple of days. I made the crust one day when I had a few spare minutes. Then, I made this quick ganache the next morning. When it was time to serve, I whipped the cream and drizzled the chocolate on top.
This pie is more rich than sweet. Despite the volume of whipped cream, it's all about the chocolate. You know what's coming now, so here it is. Use the very best chocolate you can. Pick one you enjoy eating on its own.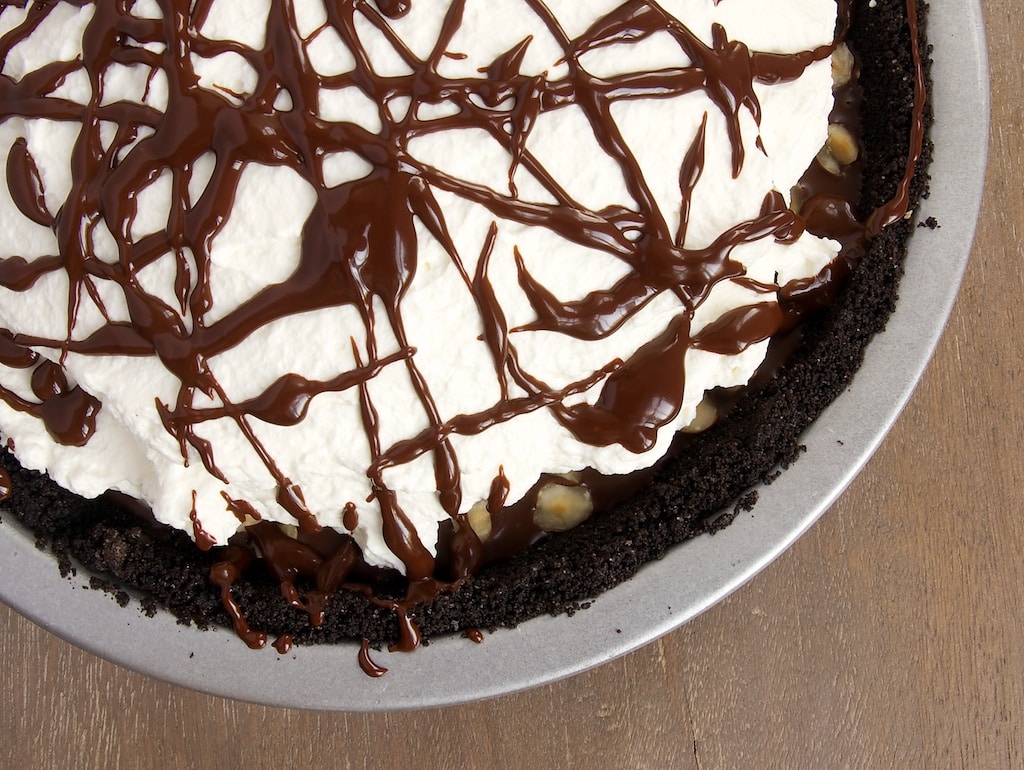 Quinn and I both felt that this pie had an air of sophistication about it. Perhaps it's the richness or maybe it's the presentation. No matter the reason, this is one dessert worthy of a special occasion. If you don't have a special occasion, make one up.
Chocolate Hazelnut Black-Bottom Pie
Yield: 8 to 10 servings
Prep Time:30 minutes
Cook Time:14 minutes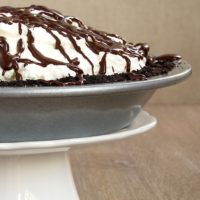 Ingredients:
For the crust:
6 ounces chocolate wafers (about 30 cookies)*
3 tablespoons sugar
1/4 teaspoon salt
5 tablespoons unsalted butter, melted
For the ganache filling:
1 & 1/4 cups heavy cream
8 ounces semisweet chocolate, roughly chopped
1 tablespoon hazelnut liqueur, such as Frangelico
1/2 cup toasted hazelnuts, coarsely chopped
For the whipped cream:
2 cups heavy cream
1/4 cup granulated sugar
Directions:
To make the crust:
Preheat oven to 350°.
Place cookies in the bowl of a food processor. Pulse until finely ground. Add sugar, salt, and butter. Pulse until combined.
Press crust mixture evenly into the bottom and up the sides of a 9-inch pie plate.
Bake 12 to 14 minutes, or until the crust is dry and set. Allow crust to cool completely.
To make the ganache filling:
Place cream in a microwave-safe bowl. Heat in microwave for 3 minutes, or until hot.
Add chocolate to cream and let stand for 5 to 10 minutes, or until melted. Whisk until smooth. Whisk in liqueur.
Reserve 1/4 cup of filling for garnish.
Pour remaining ganache into cooled crust. Sprinkle hazelnuts over the top of the ganache.
Cover and refrigerate 3 hours or up to 2 days.
To make the whipped cream:
Place cream in a large, cold mixing bowl. Using an electric mixer with a whisk attachment, beat at medium-high speed until the cream begins to thicken.
Sprinkle sugar over the cream. Continue beating until stiff peaks form.
Spread whipped cream over chilled pie.
Reheat ganache in microwave in 15-second increments until it's pourable. Stir well. Drizzle reserved ganache over the pie.
Notes:
*I used Nabisco Famous Chocolate Wafers.