December 26, 2011
Mississippi Mud Pie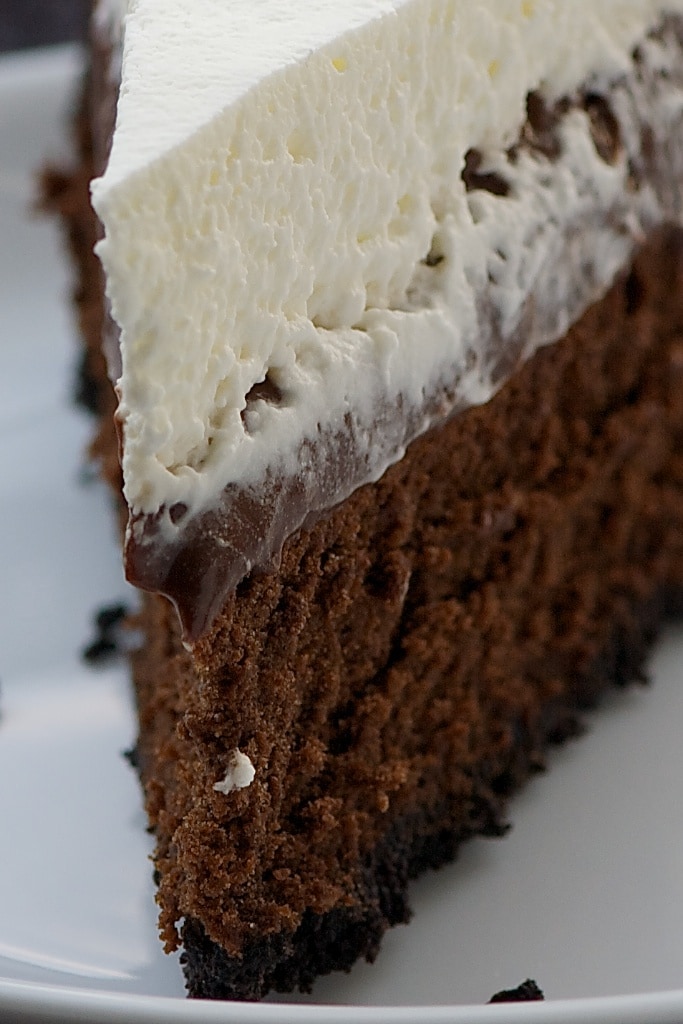 Take a look at that beauty. That is a prime example of what happens when I let Quinn pick out dessert. Now, take a look at the recipe. That is also what happens when I let Quinn pick dessert.
So, here's what we have. First, there's the amazing Oreo crust that is sufficiently thick to hold up all of this deliciousness. Next is a flourless chocolate cake with just the right amount of coffee flavor. To top that off, there's a chocolate pudding that would be an impressive dessert on its own. Then, just in case all that isn't enough, there's a lovely, thick layer of sweetened whipped cream on top.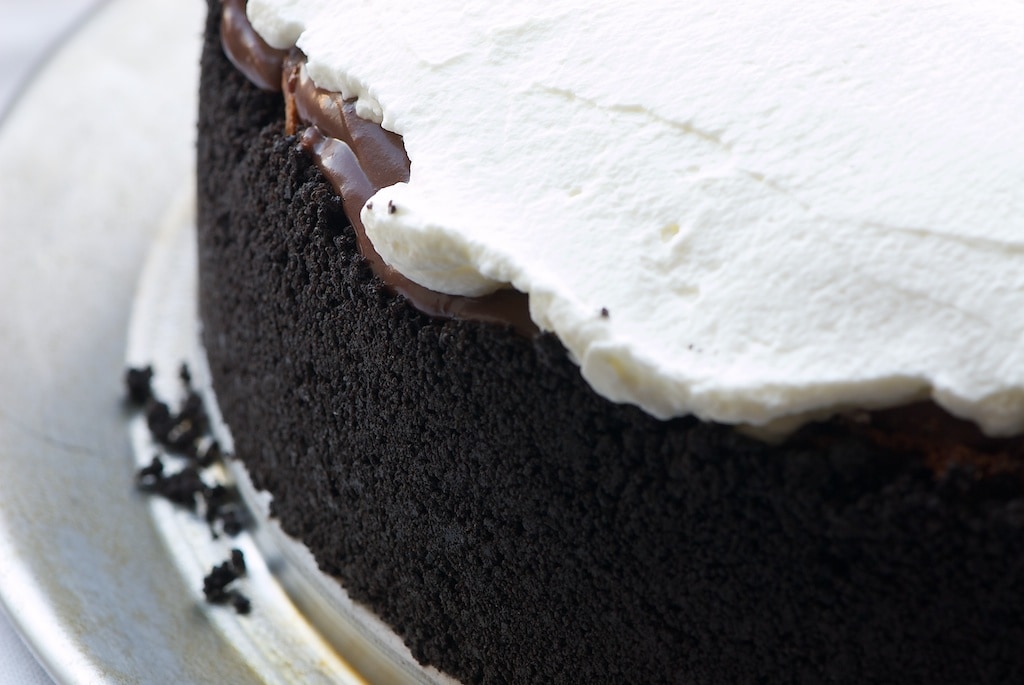 Before anyone gets discouraged, I should tell you that there is nothing difficult about making this dessert. It is certainly time-consuming and a labor of love. The crust and cake layer can easily be made a day in advance. That leaves the pudding layer and the whipped cream for the next day. That also leaves your sanity mostly intact.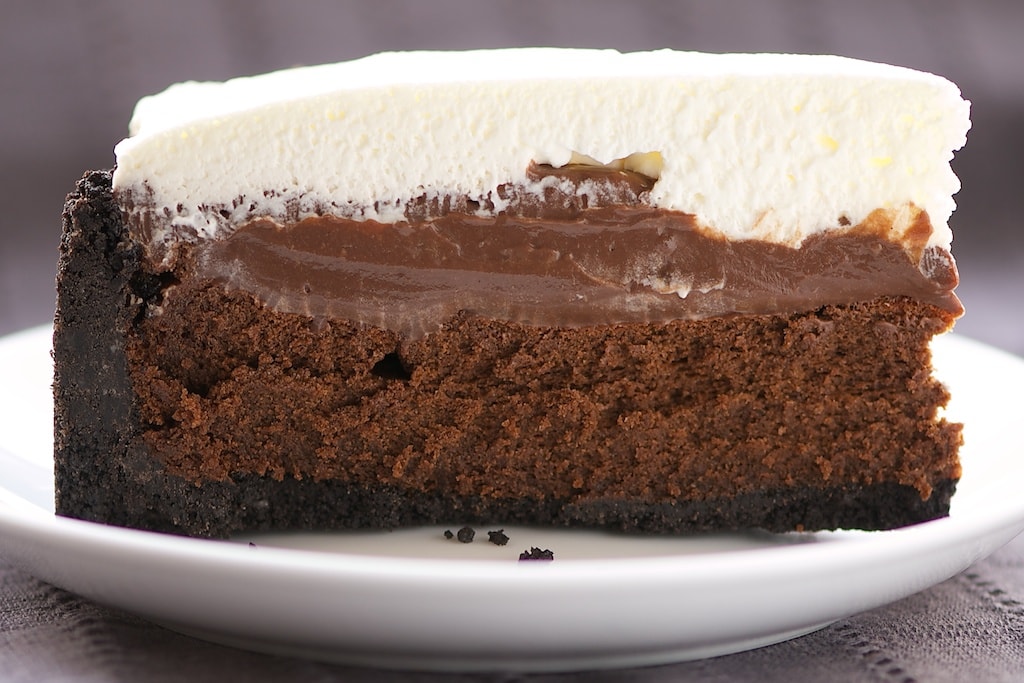 Of the labor-intensive desserts I've successfully made, there's only one other that comes to mind as being worth all the effort. It's probably no coincidence that it also comes to us from the guys at Baked and one of my favorite cookbooks, Baked Explorations.
Every minute spent making this cake/pie/pudding was definitely worth it. Bookmark this one for a special occasion. Make up an occasion if necessary. It's just that good.
Mississippi Mud Pie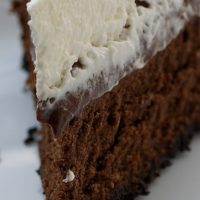 Ingredients:
For the crust:
16 ounces Oreos (about 35-40 cookies)

5 tablespoons unsalted butter, melted
For the cake:
4 tablespoons unsalted butter
6 ounces dark chocolate (60-70%), chopped
2 tablespoons + 1 teaspoon instant espresso powder
1/4 cup Kahlua (or strong coffee at room temperature)
1/4 teaspoon salt
1 tablespoon vanilla extract
6 large eggs, separated, at room temperature

1 cup granulated sugar, divided
For the chocolate pudding:
3/4 cup granulated sugar
1/2 cup dark unsweetened cocoa powder
1/4 cup corn starch
1/4 teaspoon salt
4 large egg yolks
2 & 1/2 cups milk
3 tablespoons unsalted butter
2 teaspoons vanilla extract

3 ounces dark chocolate (60-70%)
For the whipped cream:
1 & 1/4 cups heavy cream
2 tablespoons granulated sugar
Directions:
To make the crust:
Preheat oven to 300°. Lightly spray a 9-inch springform pan with nonstick cooking spray. Line pan with parchment. Spray parchment and sides of pan.
Place cookies in food processor and grind to a fine crumb. Transfer the crumbs (about 3 & 1/2 cups) to a small bowl. Pour melted butter over crumbs. Mix until combined.
Using the back of a spoon or your hands, press crumbs evenly into bottom and up sides of prepared pan. Place pan in freezer for about 10 minutes to let crust set.
Bake 10 minutes, or until crust is dry to the touch. Cool in pan on wire rack.
To make the cake:
Increase oven temperature to 350°.
Melt butter and chocolate in microwave or double boiler. Set aside to cool.
Whisk together espresso powder, Kahlua (or coffee), salt, and vanilla. Set aside.
Using a stand mixer with the whisk attachment, beat egg yolks with 1/2 cup sugar until mixture is light and almost doubled in volume (about 5 minutes). Add chocolate mixture and beat until just combined. Scrape down sides and mix on low speed for 5 seconds. Add Kahlua mixture and beat until just combined. Scrape down sides and mix on low speed for 5 seconds.
In a separate bowl, still using the stand mixer and a clean whisk attachment, beat egg whites until foamy. Gradually increase speed to high. Add remaining 1/2 cup sugar. Beat until soft peaks form.
Scoop about 1 cup of egg whites into chocolate mixture. Gently fold in egg whites for about 30 seconds. Add remaining egg whites and continue folding until they are almost combined. Do not overmix.
Pour batter onto cookie crust. Bake 38-42 minutes, until cake is set but jiggles slightly. Cool in pan on wire rack. As the cake cools, it will deflate in the center. Wrap cooled cake tightly and refrigerate for at least 3 hours or overnight.
To make the chocolate pudding:
Whisk together sugar, cocoa powder, corn starch, and salt in a medium saucepan. Add egg yolks and whisk until combined and resembles a thick paste. Slowly pour in milk while whisking constantly.
Place saucepan over medium heat. Bring to a boil, whisking constantly so it doesn't burn on the bottom of pan. Boil for 30 seconds. Transfer to a medium bowl.
Add butter, vanilla, and chocolate. Whisk until combined. Continue whisking for a few minutes to cool mixture slightly. Let pudding stand at room temperature for 15 minutes.
Press plastic wrap directly onto the surface of the pudding to prevent a skim from forming. Refrigerate for at least 3 hours.
Stir pudding to loosen it. Pour on top of cake, staying inside crust border. Using an offset spatula, spread pudding evenly.
Refrigerate cake for at least 30 minutes.
To make the whipped cream:
Pour cream into chilled metal bowl. Beat with a chilled whisk until soft peaks form, about 1 minute. Sprinkle sugar onto cream. Continue whisking vigorously until stiff peaks form.
Spread whipped cream all the way to the sides on top of pudding layer of cake. Unmold cake and serve immediately.