May 15, 2019
Coconut Chess Pie with Chocolate Crust
Coconut Chess Pie with Chocolate Crust takes classic Chess Pie and ramps up the flavor with sweet coconut and a chocolate pastry crust!
Chess Pie is perhaps my all-time favorite pie, so I often find myself thinking about making variations of it. My mother and grandmother both made Chess Pies, but theirs were usually of the traditional variety. But every once in a while, we'd have a coconut version that would put me squarely in dessert paradise.
That's what we have here with this Coconut Chess Pie. It doesn't vary too much from my grandmother's Chess Pie recipe. Just the simple addition of coconut adds lots of flavor to a wonderful pie.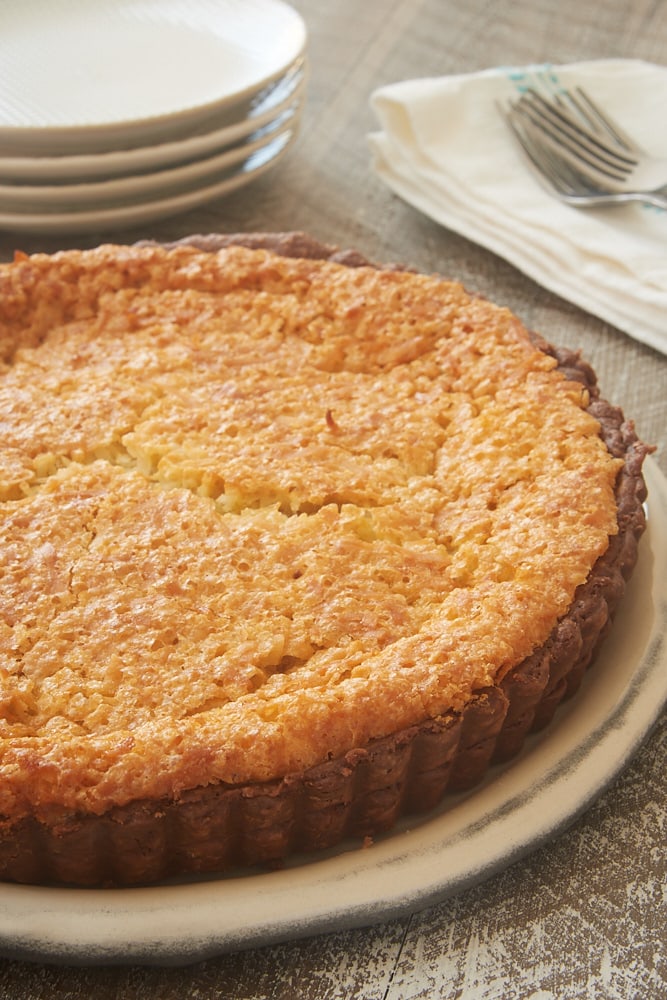 For something else a little different, this pie is baked in a chocolate pie crust that's made with cocoa powder. It adds just a hint of chocolate flavor to the pie without taking any of the spotlight away from that gooey coconut filling. You can also make this pie with a standard pie crust if you like. It's delicious either way!
One of the best things about Chess Pie is that it is so, so easy to make with ingredients you very well may have in your kitchen. All of those filling ingredients get mixed quickly and easily in one bowl. No mixer required! Just grab a big spoon and give it all a good stir.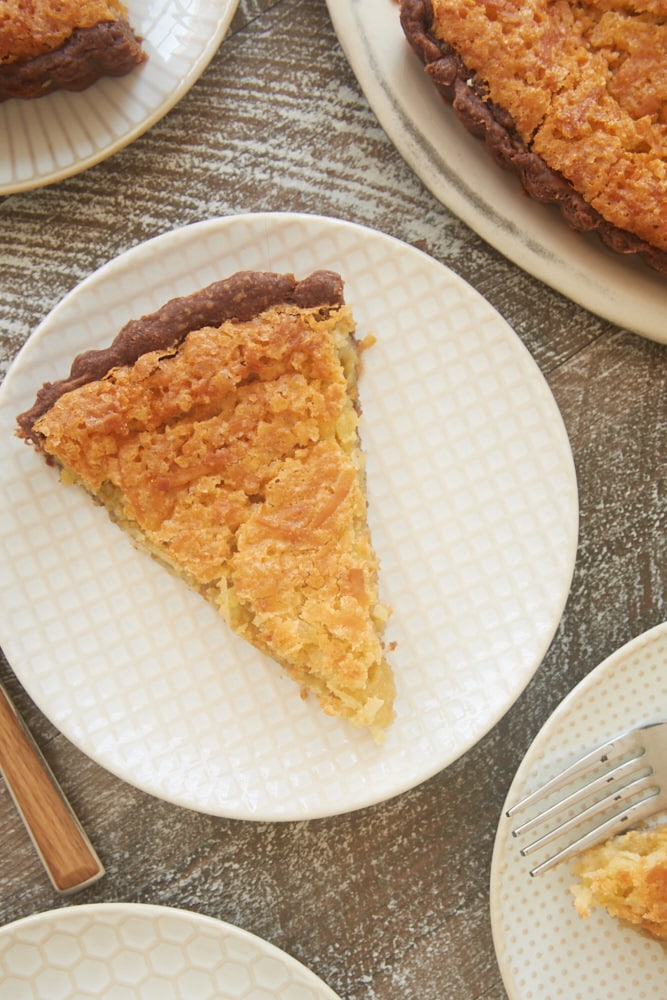 This pie can be made in a 9-inch pie or tart pan. I often opt for a tart pan because I like being able to remove the sides and show off that chocolate crust! Either way is fine. Just go with your preference.
I share the vast majority of the things I bake with my husband's co-workers, so I packed up this pie and sent it on its way. I usually get some good feedback from them, but this pie garnered praise like nothing else I've ever shared with them. I hope you'll give it a try and enjoy it every bit as much!
Find more pie recipes in the Recipe Index.
More Chess Pie Recipes
Coconut Chess Pie with Chocolate Crust
Yield: 8 to 10 servings
Prep Time: 40 minutes
Cook Time: 1 hour
Coconut and a chocolate crust off two simple twists on a classic dessert. And it's so, so good!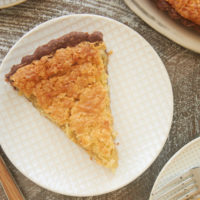 Ingredients:
For the crust:
1 & 1/8 cups (135g) all-purpose flour
2 tablespoons unsweetened cocoa powder
2 teaspoons granulated sugar
1/2 teaspoon salt
1/2 cup (113g) unsalted butter, cold and cut into 1/2-inch cubes
2 to 4 tablespoons water
For the filling:
1/2 cup (113g) unsalted butter, melted and slightly cooled
3 large eggs, lightly beaten
1 & 1/4 cups (250g) granulated sugar
1/2 cup (100g) firmly packed light brown sugar
1/4 cup milk
1 teaspoon vanilla extract
2 tablespoons cornmeal
1/4 teaspoon salt
1 cup (85g) sweetened shredded coconut
Directions:
To make the crust:
Whisk together the flour, cocoa powder, sugar, and salt in a large bowl. Add the butter and mix with a pastry blender or a fork until the mixture resembles coarse meal and the butter is the size of small peas.
Add 2 tablespoons of water and continue mixing. Add more water as needed, 1 tablespoon at a time, until a dough forms.
Wrap the dough tightly in plastic wrap. Refrigerate for at least 2 hours or up to overnight.
Remove the dough from the refrigerator. If necessary, let it sit at room temperature for 10 to 15 minutes until slightly softened but still cold.
Lightly flour a work surface. Roll out the dough into a circle about 1/8-inch thick.
Transfer the dough to a 9-inch pie plate or tart pan. Trim and crimp the edges as desired. Place the pie plate in the refrigerator while you make the filling.
To make the filling:
Preheat oven to 325°F.
Whisk together the butter, eggs, sugar, brown sugar, milk, vanilla, cornmeal, and salt until thoroughly combined. Stir in the coconut.
Transfer the filling mixture to the chilled pie crust. Place the pan on a lined, rimmed baking sheet to catch any potential spills.
Bake 55 to 60 minutes, or until the pie is golden brown and the filling is set. Cool completely before serving.