Coconut Chess Pie with Chocolate Crust takes classic Chess Pie and ramps up the flavor with sweet coconut and a chocolate pastry crust!
Coconut Chess Pie
Chess Pie is perhaps my all-time favorite pie, so I often find myself thinking about making variations of it. My mother and grandmother both made Chess Pies, but theirs were usually of the traditional variety. But every once in a while, we'd have a coconut version that would put me squarely in dessert paradise.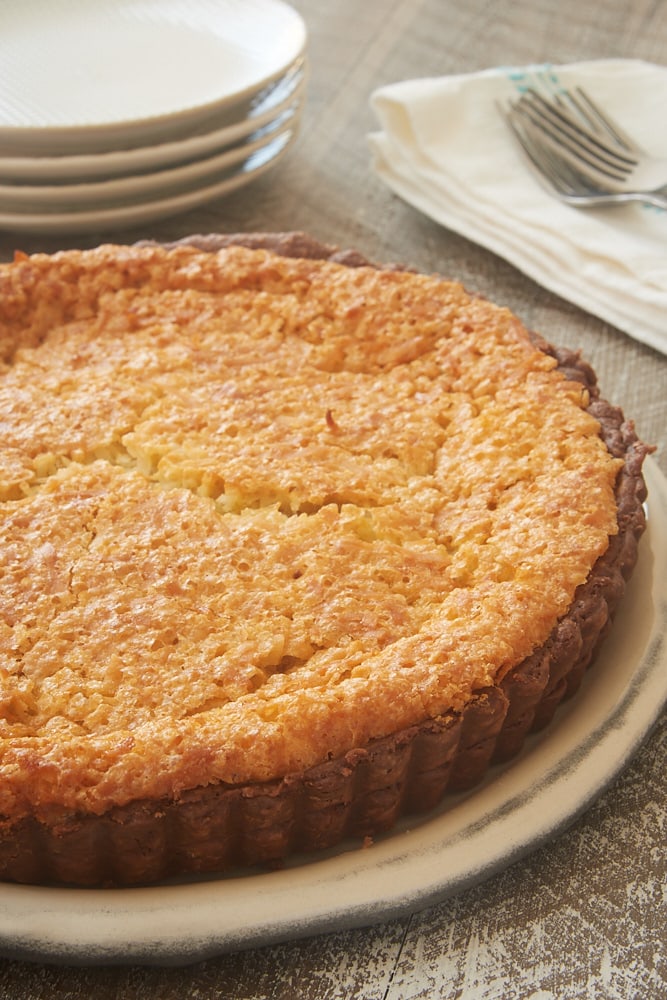 That's what we have here with this Coconut Chess Pie. It doesn't vary too much from my grandmother's Chess Pie recipe. Just the simple addition of coconut adds lots of flavor to a wonderful pie.
For something else a little different, this pie is baked in a chocolate pie crust that's made with cocoa powder. It adds just a hint of chocolate flavor to the pie without taking any of the spotlight away from that gooey coconut filling. You can also make this pie with a standard pie crust if you like. It's delicious either way!
One of the best things about Chess Pie is that it is so, so easy to make with ingredients you very well may have in your kitchen. All of those filling ingredients get mixed quickly and easily in one bowl. No mixer required! Just grab a big spoon and give it all a good stir.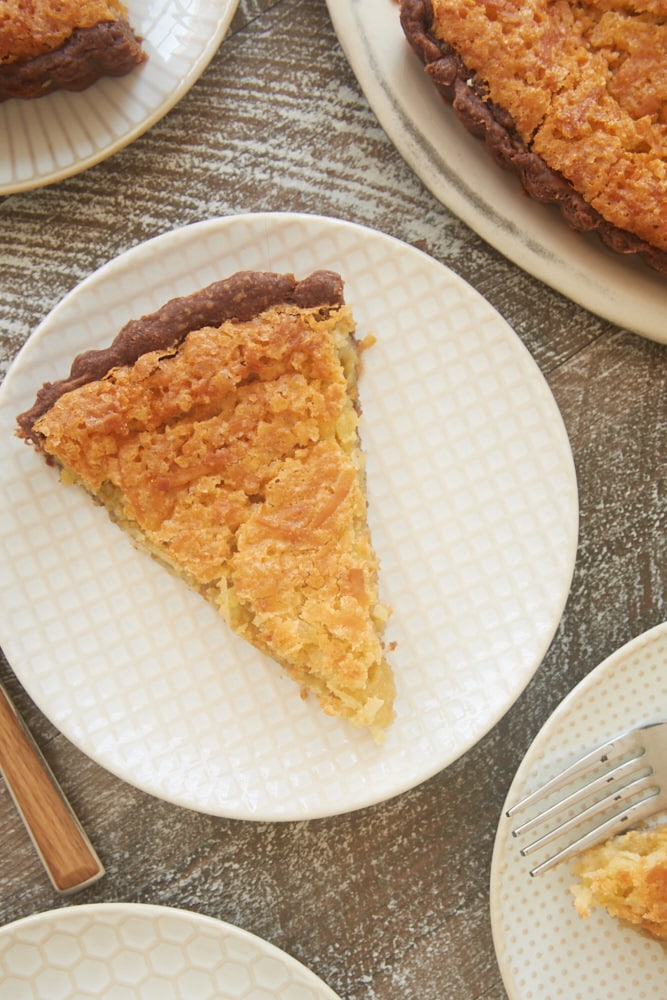 This pie can be made in a 9-inch pie or tart pan. I often opt for a tart pan because I like being able to remove the sides and show off that chocolate crust! Either way is fine. Just go with your preference.
I share the vast majority of the things I bake with my husband's co-workers, so I packed up this pie and sent it on its way. I usually get some good feedback from them, but this pie garnered praise like nothing else I've ever shared with them. I hope you'll give it a try and enjoy it every bit as much!
Find more pie recipes in the Recipe Index.
More Chess Pie Recipes