May 5, 2014
Black Bottom Oatmeal Pie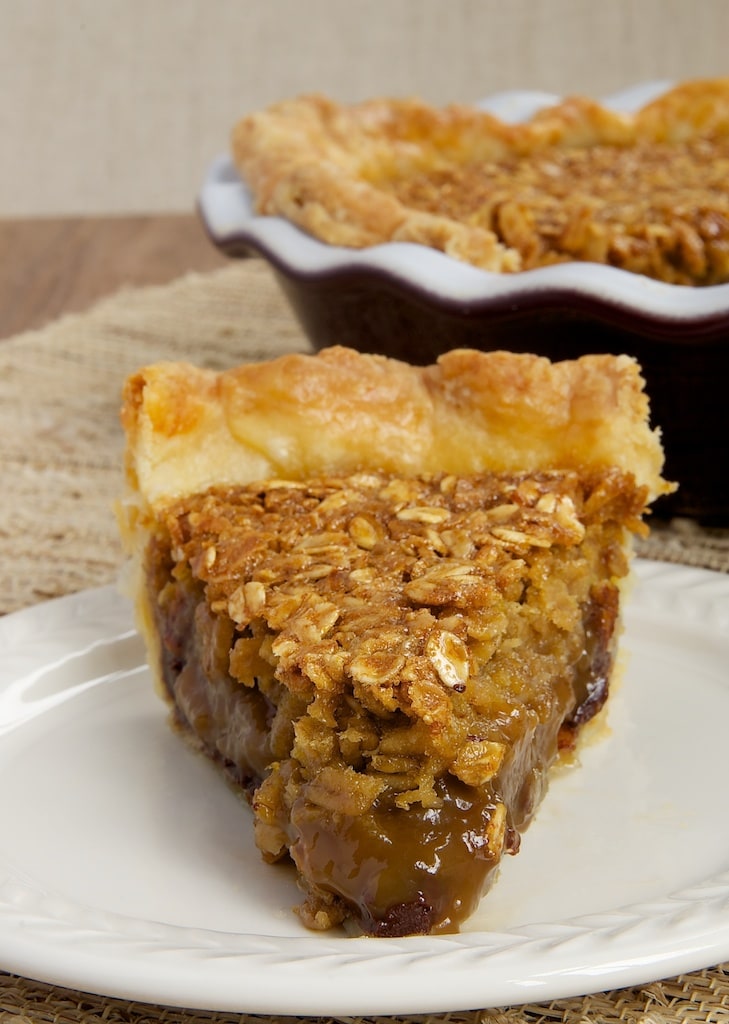 My love of pie goes way back, but my love of baking pies is more recent. Like a lot of people, I had a significant fear of making pie crust. Thankfully, a little time and determination alleviated my fears and now I get to enjoy homemade pie!
This particular pie falls squarely into the comfort food category. Its filling is gooey and sweet, much like pecan pie. But, instead of nuts, it's filled with plenty of toasted oats. And, all of that delicious filling sits on top of a layer of rich chocolate ganache. It is so, so good.


Last week, I was fortunate enough to attend Pie Party Potluck with lots of New York area food bloggers. It was organized by Jackie and Ken, and hosted at GE Monogram Design Center in Manahattan with additional sponsorship by OXO, Wusthof, DUB Pies, Kerrygold, Jarlsberg, Anolon, Snapware, Woolwich Dairy, and Harvard Common Press. Of course, there was pie. So much pie. I ate so much and still only got to try a small fraction of all the pies!
With our recent bout of chilly, rainy weather, I thought this pie would be a perfect dessert for the Pie Party. Of course, the day of the party, it was sunny and 70 degrees. Still, I was glad to see people digging into and enjoying the pie.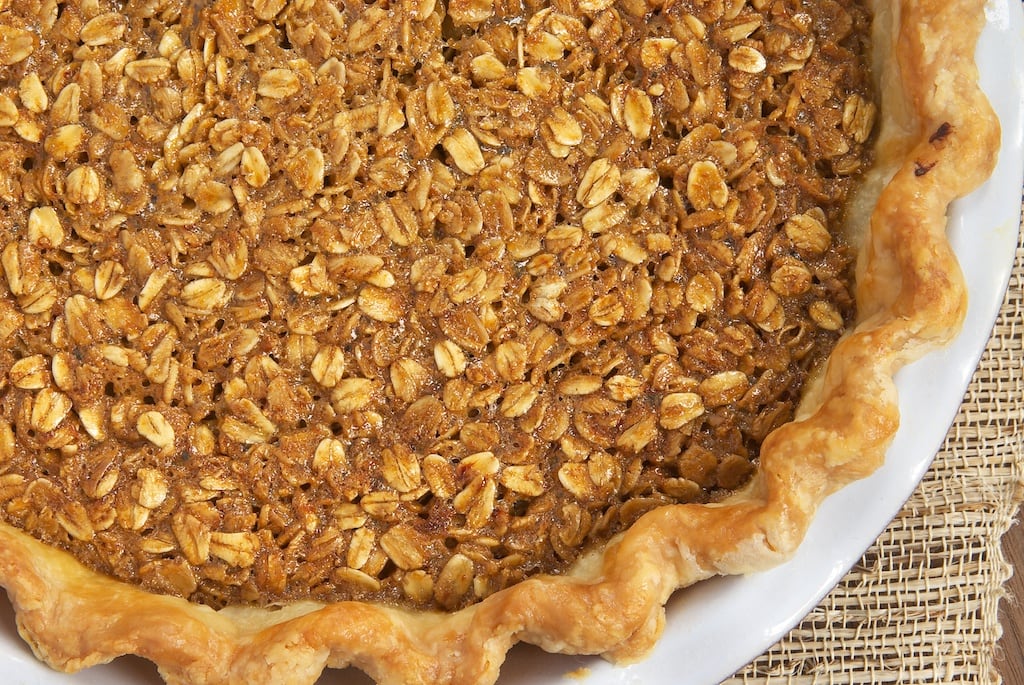 Regardless of the weather or time of year, this pie is not to be missed. It's perfectly lovely at room temperature, but if it's just a bit warm, it gets even more gooey and wonderful. I have a feeling this pie will be making more appearances on my table.
Black Bottom Oatmeal Pie
Yield: 8 to 10 servings
Prep Time:30 minutes
Cook Time:1 hour 20 minutes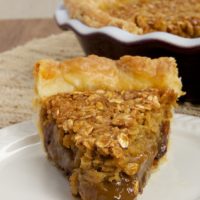 Ingredients:
For the crust:
1 & 1/4 cups all-purpose flour
1 teaspoon granulated sugar
1/2 teaspoon salt
1/2 cup cold unsalted butter, cut into 1/2-inch cubes
2 to 4 tablespoons cold water
For the filling:
1 & 1/2 cups rolled oats
1/4 cup heavy cream
4 ounces bittersweet chocolate, roughly chopped
3/4 cup packed light brown sugar
5 tablespoon unsalted butter, melted
1/2 teaspoon salt
1/4 teaspoon ground ginger
1 cup dark corn syrup
2 teaspoons cider vinegar
1 teaspoon vanilla extract
4 large eggs
Directions:
To make the crust:
Whisk together flour, sugar, and salt in a large bowl. Add butter and mix with a pastry blender or fork until the mixture resembles coarse meal and the butter is the size of small peas.
Add 1 tablespoon of water and continue mixing. Add more water as needed, 1 tablespoon at a time, until a dough forms.
Wrap the dough tightly in plastic wrap. Refrigerate for at least 2 hours.
Remove dough from refrigerator. If necessary, let it sit at room temperature for 10 to 15 minutes until slightly softened but still cold.
Preheat oven to 325°.
Lightly flour work surface. Roll out dough into a circle about 1/8-inch thick.
Transfer the dough to a lightly greased 9-inch pie plate. Trim any excess dough from the edges.
For a simple fluted edge, press the knuckle of one finger into the rim of the crust while holding two fingers about a half inch apart on either side of your knuckle. Repeat around the entire edge of the crust.
Line the crust with parchment paper so that the paper overhangs on all sides. Fill pan with pie weights (or dried beans).
Bake for 20 minutes. Then remove the lining and weights, and brush with an egg wash.* Bake for 3 more minutes.
Cool completely.
To make the filling:
Increase oven temperature to 350°.
Spread oats on a rimmed baking sheet lined with parchment paper. Bake 10 to 12 minutes, stirring occasionally, until toasted. Set aside to cool.
Place heavy cream in a heavy saucepan. Bring to a boil over medium heat.
Remove from heat and add the chopped chocolate. Allow to sit for 5 minutes.
Gently whisk until ganache is smooth. Transfer to pie shell and spread evenly.
Place pie in freezer while you make the rest of the filling.
Reduce oven temperature to 325°.
Place brown sugar, butter, salt, and ginger in a large bowl. Whisk to combine.
Add corn syrup, vinegar, and vanilla. Whisk until combined. Add eggs, one at a time, mixing well after each addition. Stir in oats.
Remove pie crust from freezer and place on a rimmed baking sheet. Pour filling into crust.
Bake 55 to 60 minutes or until the edges are set and puffed slightly, and the center is almost set.
Cool completely on a wire rack.
Serve warm or at room temperature.
Notes:
*For a simple egg wash, beat an egg yolk with about a tablespoon of milk or water. Use a pastry brush to apply to the crust.