My love of pie goes way back, but my love of baking pies is more recent. Like a lot of people, I had a significant fear of making pie crust. Thankfully, a little time and determination alleviated my fears and now I get to enjoy homemade pie!
This particular pie falls squarely into the comfort food category. Its filling is gooey and sweet, much like pecan pie. But, instead of nuts, it's filled with plenty of toasted oats. And, all of that delicious filling sits on top of a layer of rich chocolate ganache. It is so, so good.


Last week, I was fortunate enough to attend Pie Party Potluck with lots of New York area food bloggers. It was organized by Jackie and Ken, and hosted at GE Monogram Design Center in Manahattan with additional sponsorship by OXO, Wusthof, DUB Pies, Kerrygold, Jarlsberg, Anolon, Snapware, Woolwich Dairy, and Harvard Common Press. Of course, there was pie. So much pie. I ate so much and still only got to try a small fraction of all the pies!
With our recent bout of chilly, rainy weather, I thought this pie would be a perfect dessert for the Pie Party. Of course, the day of the party, it was sunny and 70 degrees. Still, I was glad to see people digging into and enjoying the pie.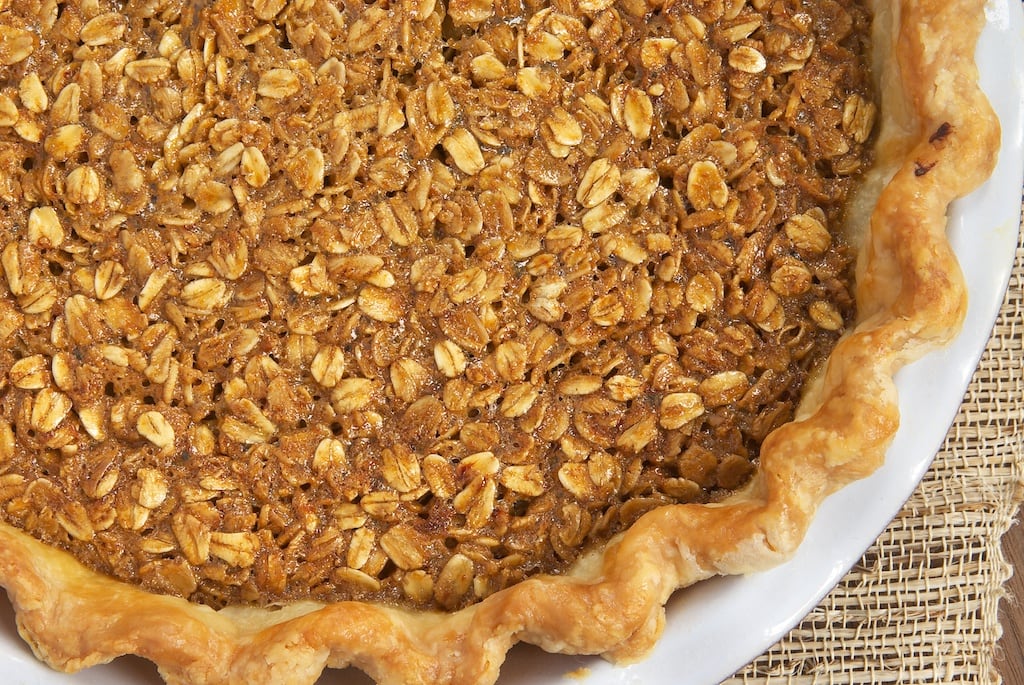 Regardless of the weather or time of year, this pie is not to be missed. It's perfectly lovely at room temperature, but if it's just a bit warm, it gets even more gooey and wonderful. I have a feeling this pie will be making more appearances on my table.