September 13, 2012
Apple Pie Bundles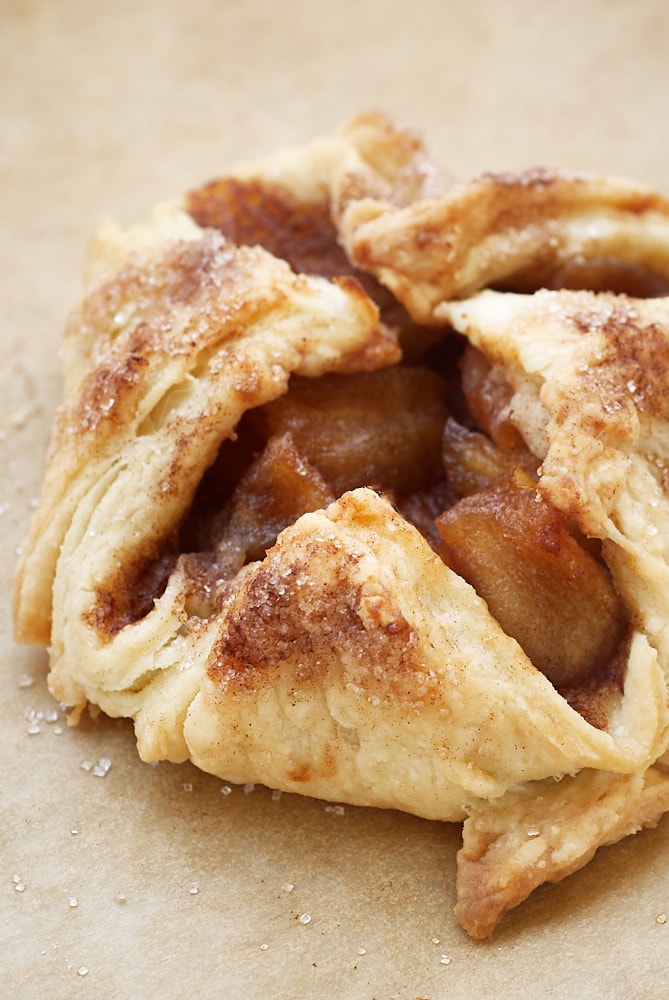 Who's ready for fall? I know you can't see me, but I'm waving my hand frantically. There's definitely that unmistakable feeling of fall in the air in New York City. I really couldn't be happier about that.
Few things say "fall baking" to me more than the combination of apples and cinnamon. Just the smell alone is enough to make me happy. With this recipe, apple-cinnamon goodness gets wrapped inside a tender, flaky crust. You need these in your life. Really.

First off, I have a baking confession. I have always been terrified of making pie crusts. It's a bit silly, but I was so sure of failure that I never really tried to learn. Well, my baking friends, I am here to proclaim that I am no longer afraid of pie crust!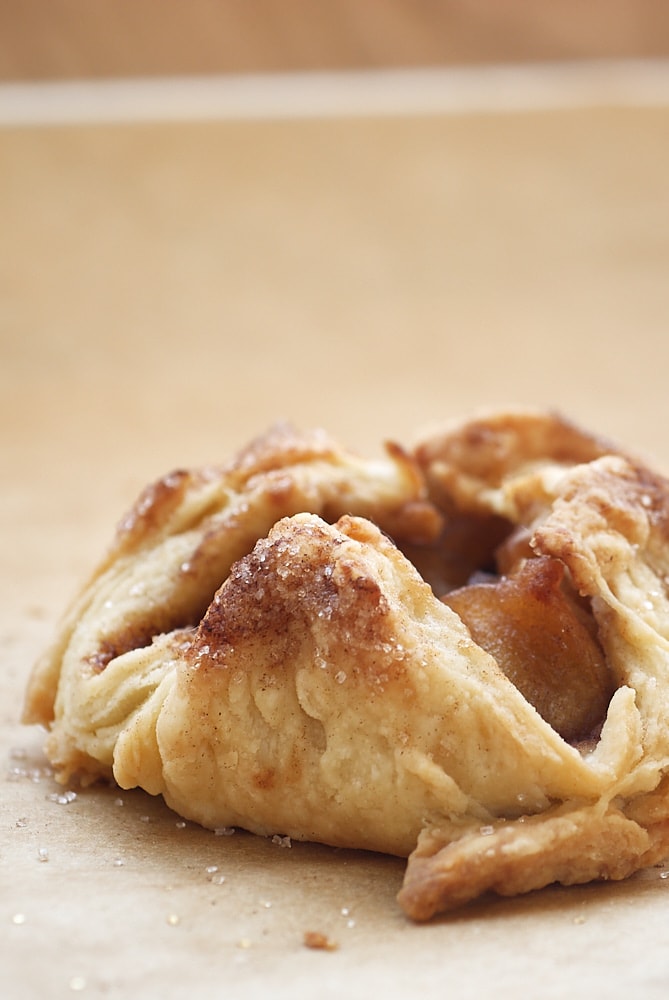 I read a lot of different methods and theories for making the perfect pie crust. I took what I liked from dozens of sources and just dove in and figured out how to make it work for me. If you're in the same Pie Crust Terror boat that I was, take heart because it IS doable!
If you're unsure about making pretty pie crusts, then these little pies are for you. I like to think of these as pies for people who don't bake pies. They don't have to be uniform and pretty. It's actually part of their appeal that they each have their own character!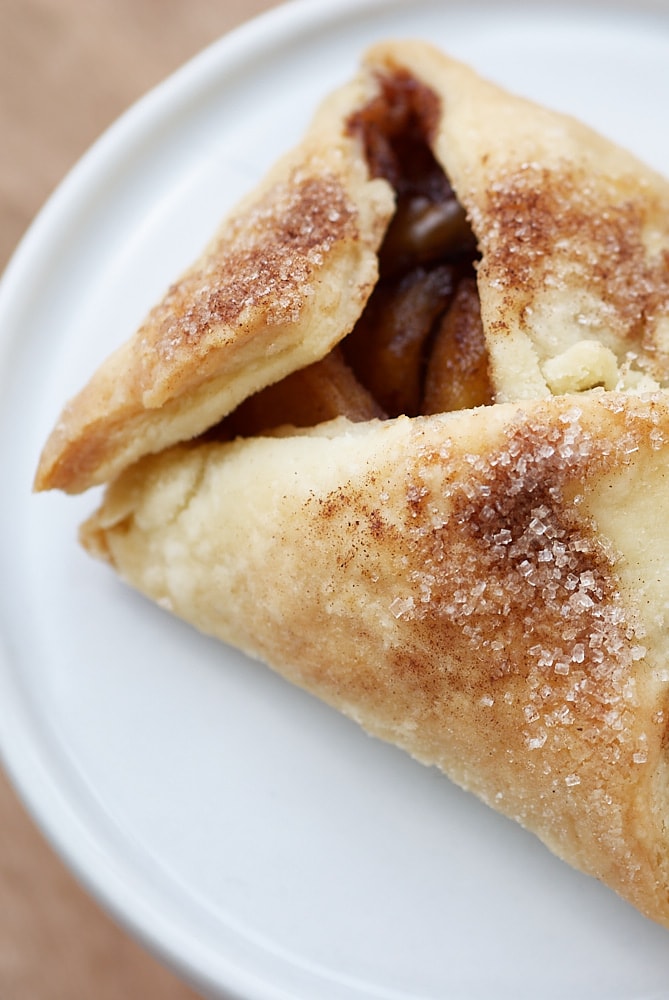 And, if you're still not convinced, I won't think less of you for using pre-made pie crust. I highly recommend either Trader Joe's or Immaculate Baking Co.
For more pie crust help, try my Pie Crust Tutorial!
Apple Pie Bundles
Yield: 10 individual pies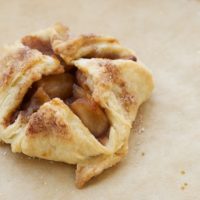 Ingredients:
For the pie crust:
2 & 1/2 cups all-purpose flour
2 teaspoons granulated sugar
1 teaspoon salt
1 cup cold unsalted butter, cut into 1/2-inch cubes
4-6 tablespoons cold water
For the filling:
2 medium tart apples, such as Pink Lady, Granny Smith, or Fuji (peeled or unpeeled)
2 tablespoons unsalted butter
1/4 cup granulated sugar
1 & 1/2 teaspoons ground cinnamon
For assembly:
2 tablespoons unsalted butter, melted
cinnamon-sugar*
Directions:
To make the pie crust:
Whisk together flour, sugar, and salt. Add cold butter and mix with a pastry blender or fork until mixture resembles coarse meal and the pieces of butter are pea-sized.
Add 1 tablespoon cold water and continue mixing. Continue adding water, 1 tablespoon at a time, and mix until dough holds together when you pinch it. (You may not need to use all of the water.)
Wrap dough tightly in plastic wrap and refrigerate for at least 2 hours.
To make the filling:
Preheat oven to 400°. Line 2 baking sheets with parchment paper.
Cut apples into small pieces (about 1/2-inch). Place chopped apples and butter in a large pan over medium heat. Cook for 3-4 minutes, stirring frequently. Add sugar and cinnamon, and continue cooking for another 3-4 minutes.
To assemble:
Remove chilled dough from refrigerator and place on a clean, well-floured surface. Roll out dough to about 1/4-inch thickness.
Using a sharp knife, cut dough into 4-inch squares. Assemble dough scraps and re-roll as needed.
Place dough squares on lined pans. Spoon 1 to 1 & 1/2 teaspoons apple mixture into center of each square. Fold corners of squares toward the center, overlapping corners slightly on top and pinching them together.
Brush the top of each square lightly with melted butter. Sprinkle with 1/8 -1/4 teaspoon cinnamon-sugar.
Bake, one pan at a time, 14-16 minutes, or until crust is golden. Cool slightly on pans on wire racks before serving.
Notes:
*If you want to make your own cinnamon-sugar, combine 1/2 cup sugar and 1-2 tablespoons cinnamon. Keep what you don't use in an airtight container for future use. For these little bundles, I like to combine sanding sugar with cinnamon to give them a little extra sparkle.