With a sweet, gooey filling and toasty pecans on top, these Mini Pecan Pies are packed with rich, nutty flavor that's sure to make them a big hit at your next holiday party. The flaky crust paired with the smooth filling and crunchy nuts bring the textures in these adorable little pies into perfect balance.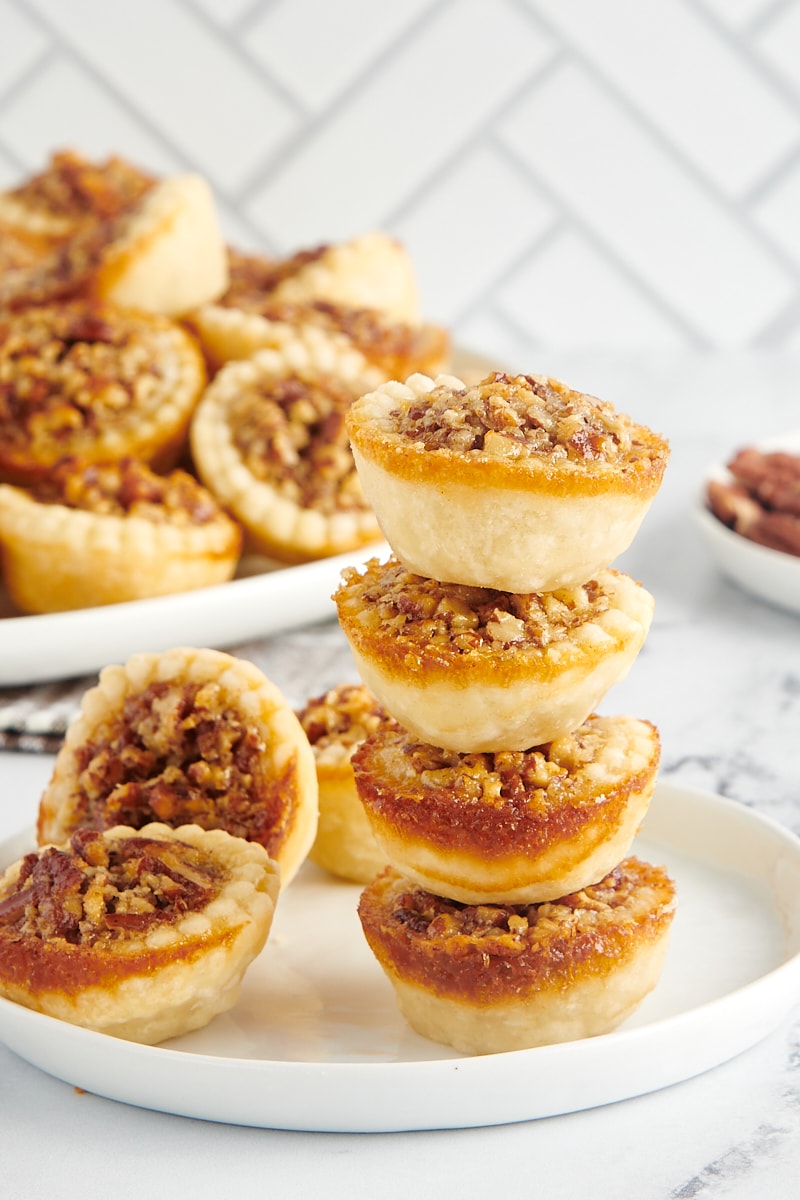 These Mini Pecan Pies Are Easy to Make in a Muffin Tin!
These mini pecan pies offer up a bite-sized version of the classic dessert. They make a great alternative when you want something a little more complex and impressive than cookies that everyone can still eat in a few bites. Plus, they're a lot neater than the larger pie they're modeled after.
These pastries come together much quicker than a full-sized classic pecan pie. You'll have a pile of sweet, gooey, crunchy, and flaky little delights in less than half an hour. They pack all the nutty caramelized flavor of a traditional pecan pie into a few tempting bites.
Growing up in the South, I often heard these little pies called Pecan Tassies. I've read that the name "tassie" originated from similar words in other languages (French, German, Scottish, etc.) that means little cup. Regardless of the name, I think you'll agree these little treats are delicious!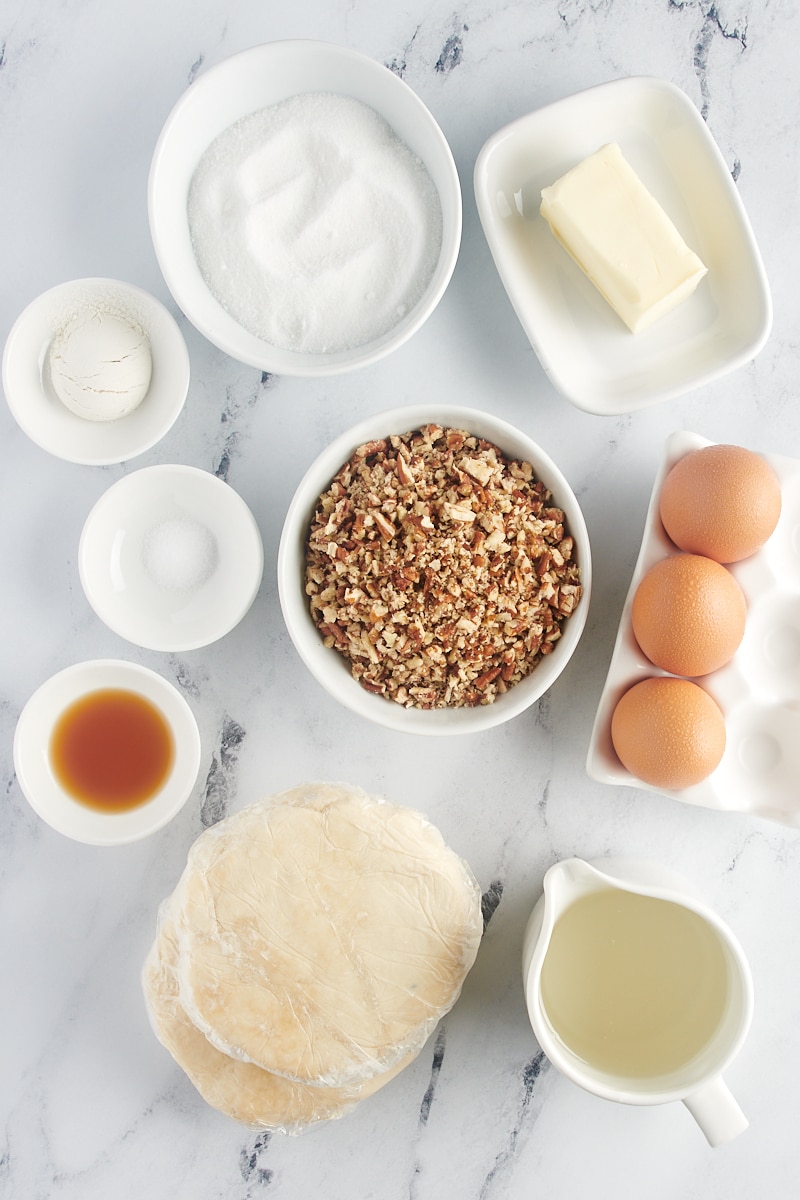 What You'll Need
A muffin tin and either homemade or store-bought pie crusts make this recipe a cinch. You'll find exact amounts for all the ingredients when you scroll down to the printable recipe card.
Pie crusts – I take full-sized pie crusts and form them into smaller crusts that fit in the cups of a muffin tin. You'll need enough for a 9-inch double crust pie. I use my all-butter pie crust.
Eggs – Beaten until the yolks and whites combine.
Granulated sugar
Corn syrup
Unsalted butter – Melted.
All-purpose flour
Pecans – Chopped into small pieces.
Vanilla extract
Salt
How to Make Mini Pecan Pies
With just 15 minutes of active prep, these pecan pie tarts come together in a flash. After that, all you have to do is pop them in the oven and sit back until it dings.
Prepare for baking. Preheat your oven to 350°F. Grease 48 mini muffin cups with cooking spray.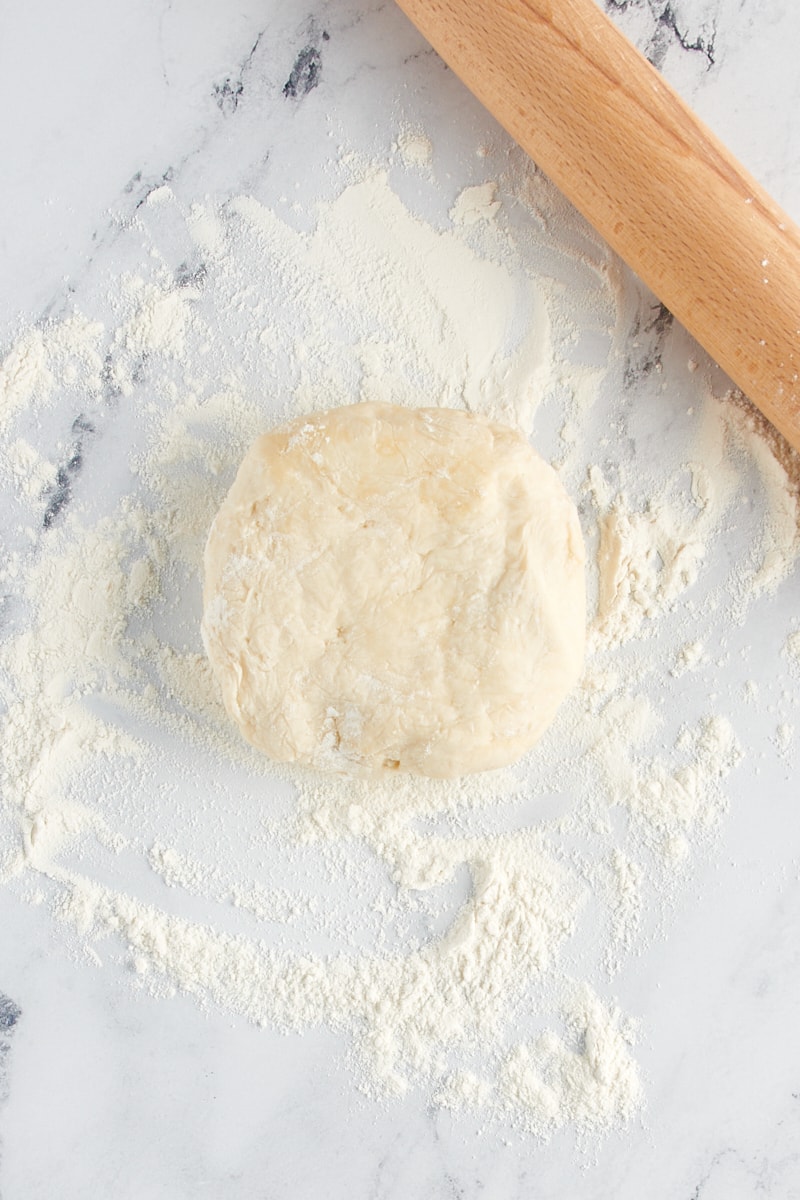 Make the mini crusts. Roll out the pie crusts and cut them into smaller portions to fit in mini muffin pans. (A 2 & 1/2-inch round cookie cutter works well.) Press them into the cups of the prepared pans.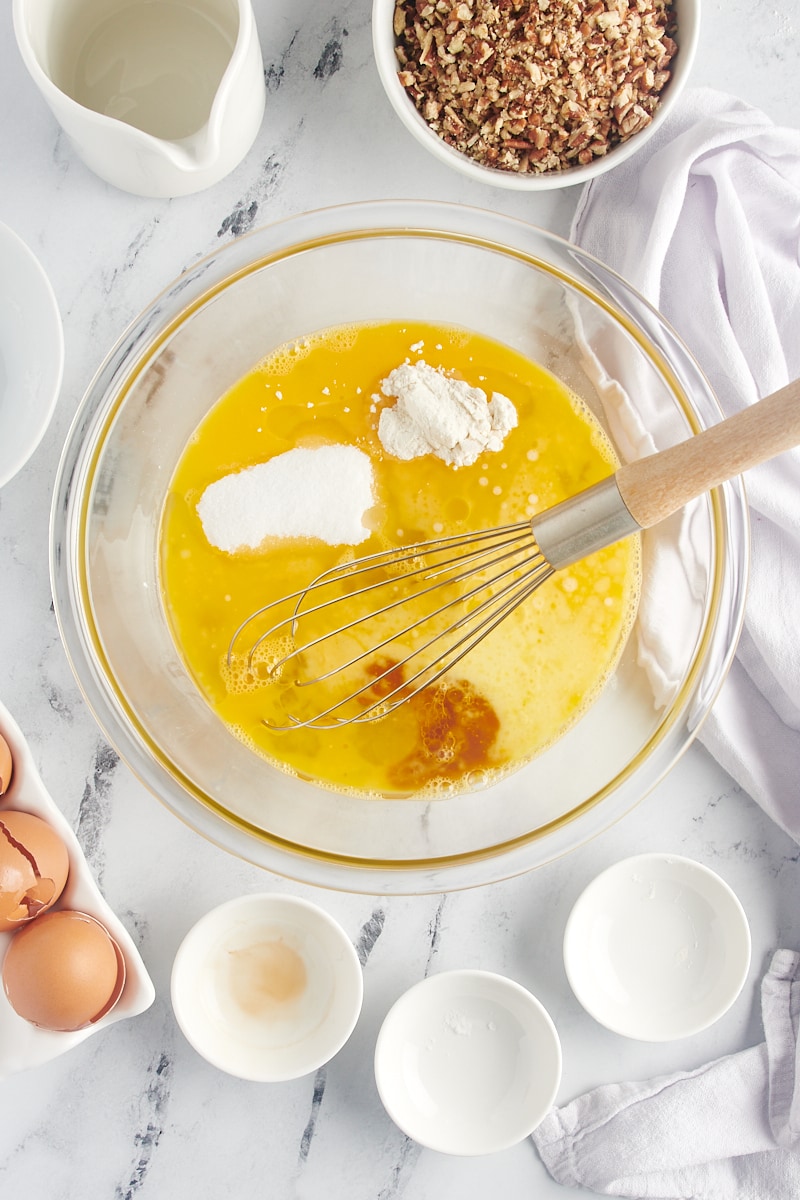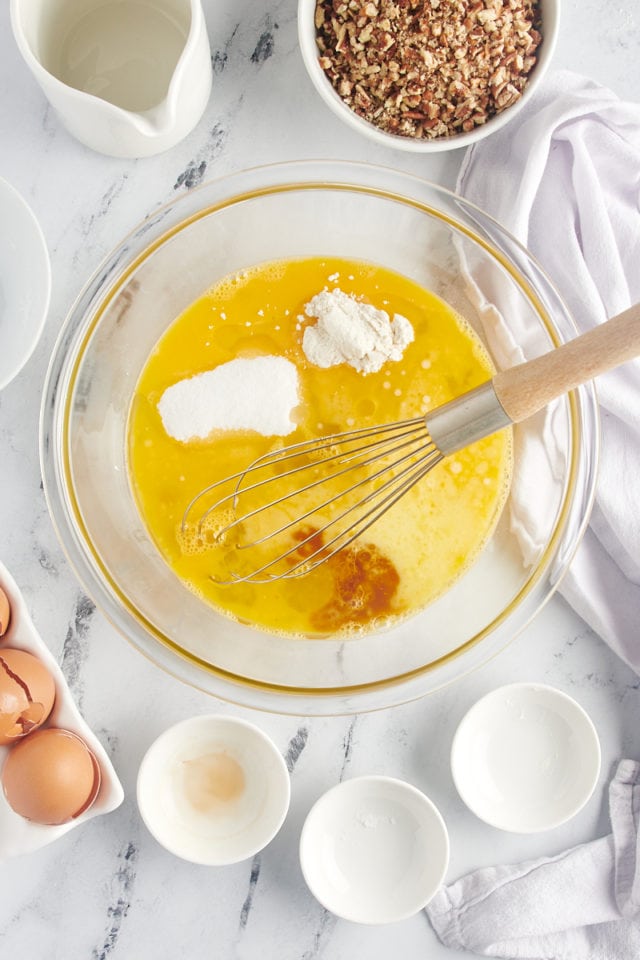 Make the filling. Mix together the whisked eggs, sugar, corn syrup, butter, and flour in a large bowl. Add the chopped pecans, vanilla, and salt to the mixture and continue to beat it until the filling combines.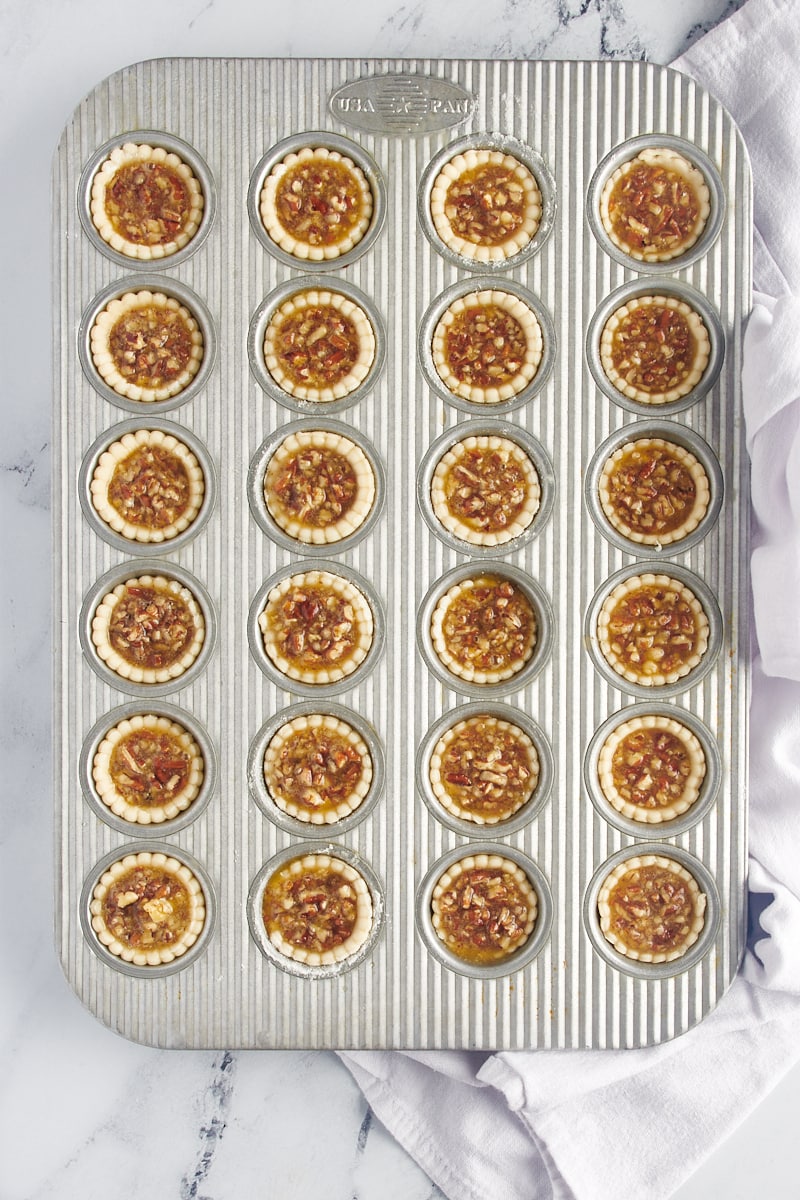 Fill, bake, and serve. Pour the pie filling into the unbaked pie crusts. Bake the mini pies for about 15 minutes, or until the centers have set. Let the pastries cool in the pans on a wire rack. Serve them at room temperature or still slightly warm.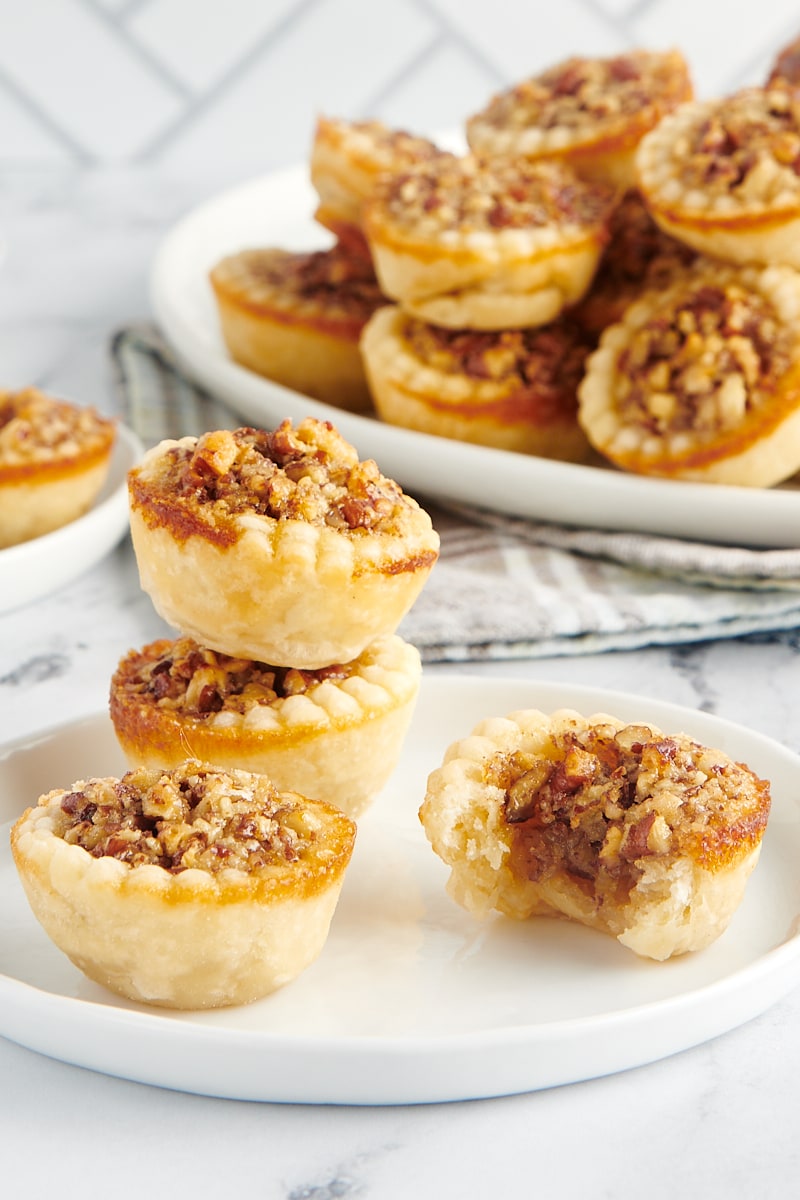 Tips for Success
This 4-step recipe is practically foolproof. Follow these quick tips to make sure everything goes off without a hitch.
Use the right cooking spray. When you grease the pan, you want to use a cooking spray that includes flour. This is the best way to prevent sticking.
Don't overfill the pies. The last thing you want is to lose some of that sweet, gooey filling when your mini pies overflow in the oven. Make sure you leave a little bit of space between the filling at the rim of the crusts. The spilled filling can also cement the pastries to the pan, making them hard to get out without destroying them.
Use a butter knife. If you do end up having trouble removing the pies, loosen them first with a butter knife. Once you've run the blade all the way around the outside, the pastries should come out easily.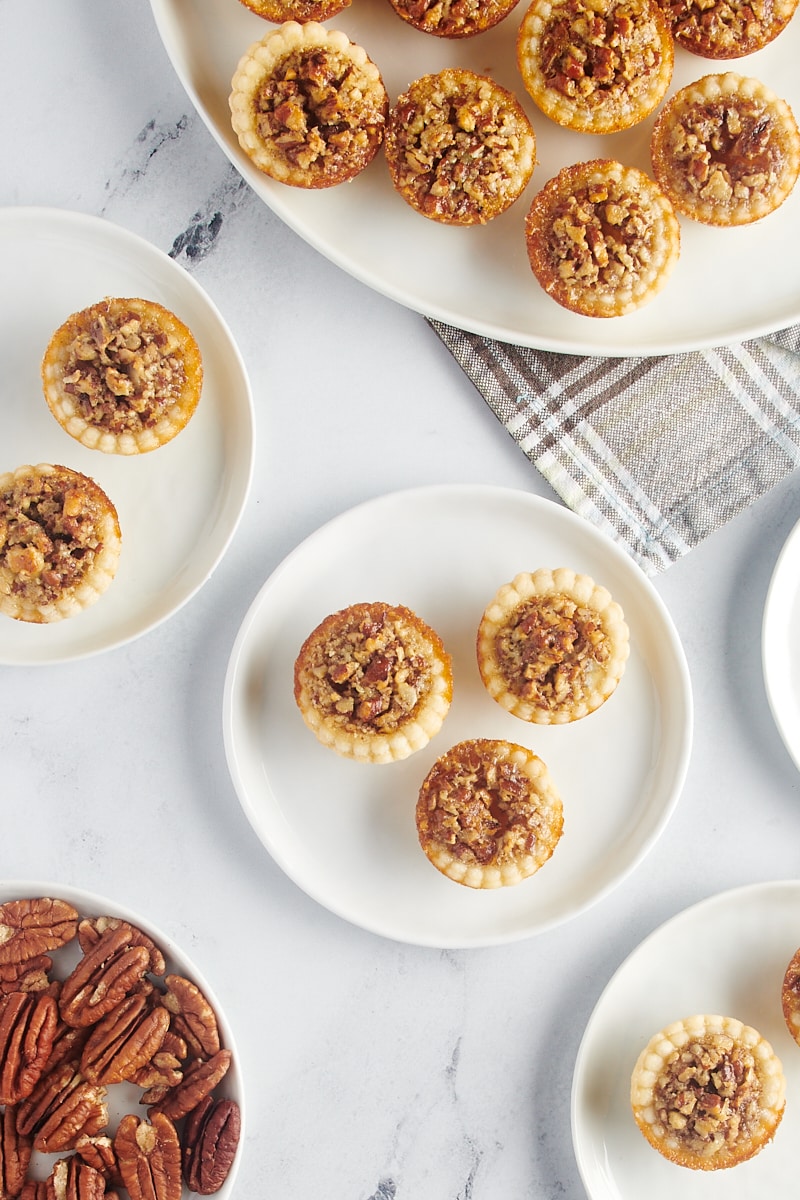 Serving Suggestions
These pecan pies taste divine with a dollop of fresh Homemade Whipped Cream on top. You can also serve some vanilla ice cream on the side and make them a la mode. If you plan to give them as gifts, I recommend making these pecan pies as just one kind in a larger assortment. Pair them with mini pumpkin pies and Caramel Apple Mini Pies to stick with the holiday theme.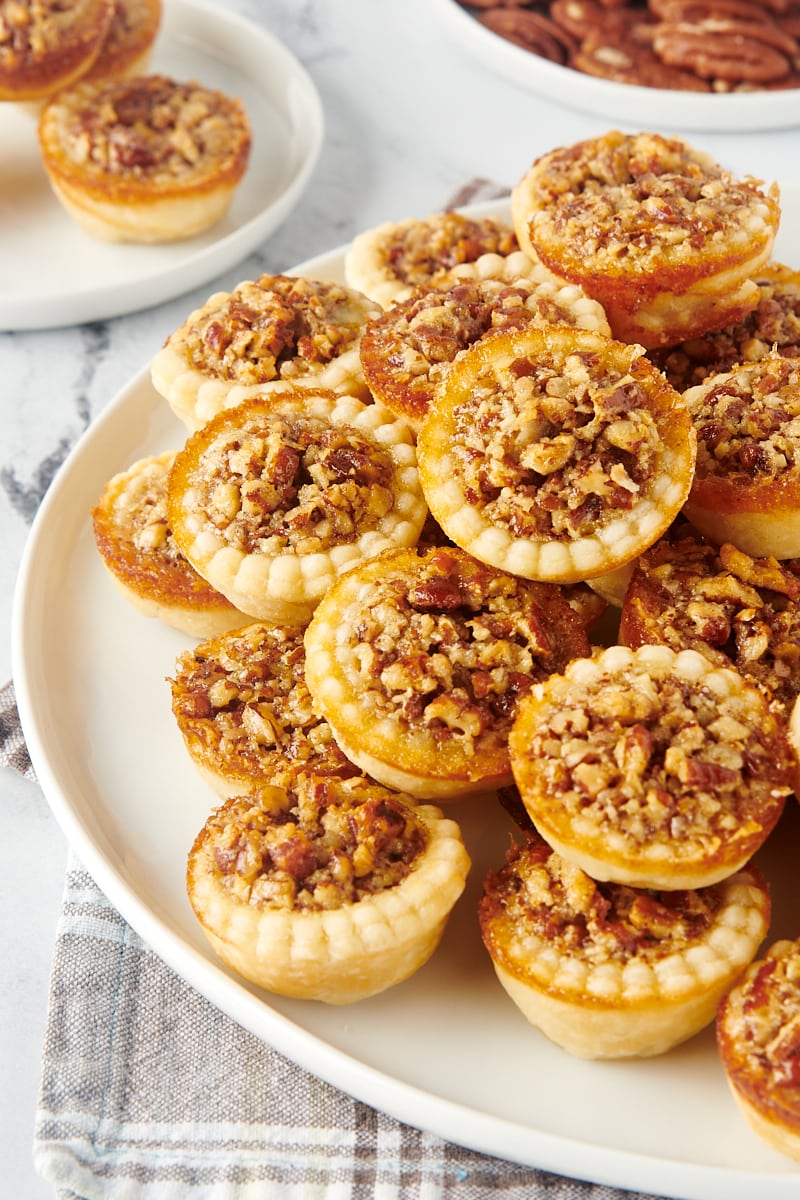 How to Store Extras
If you have leftovers, don't worry! These pecan mini pies stay good in the refrigerator for up to 3 days. Just place them in an airtight container and let them warm back up to room temperature before serving them.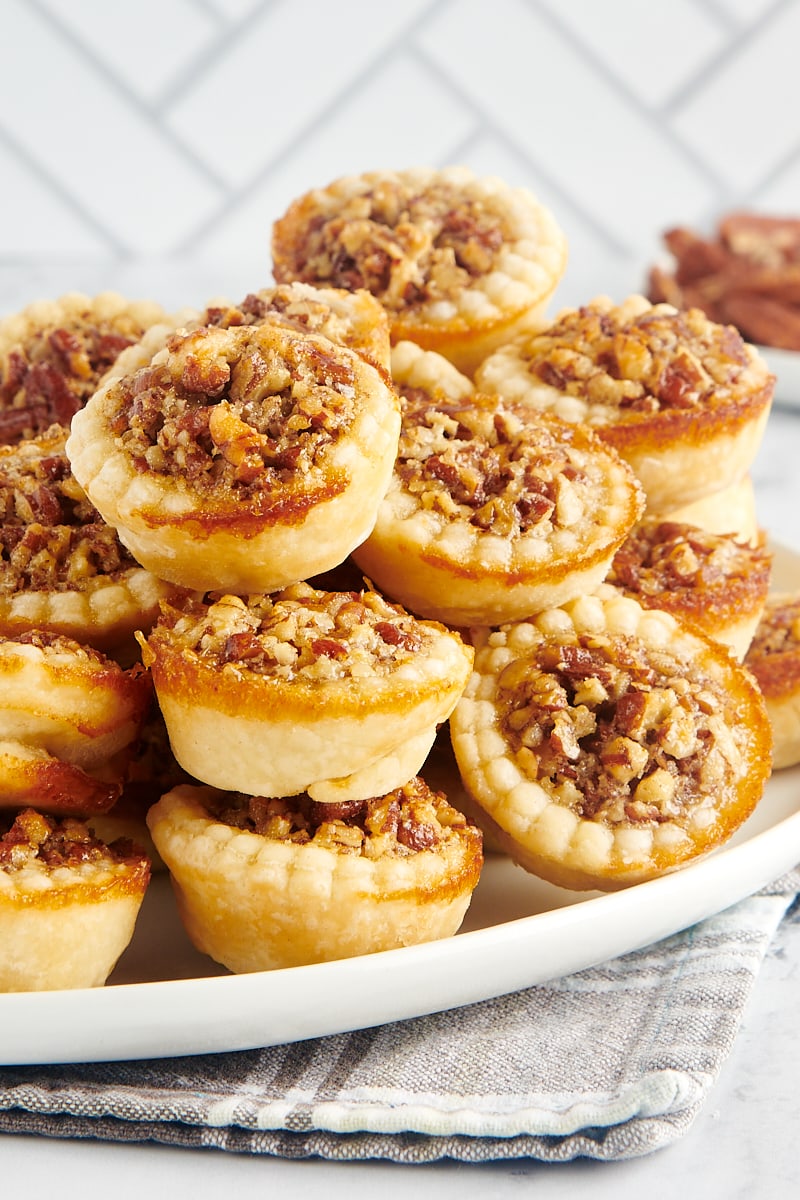 Do These Freeze Well?
These mini pies are an excellent make-ahead dessert. You can freeze them for up to a month in an airtight container or a double-lock freezer bag. Just make sure to freeze them in a single layer so they don't stick together. Thaw overnight in the refrigerator.
More Adorable Mini Pies to Try