December 23, 2012
Deep-Dish Pecan Pie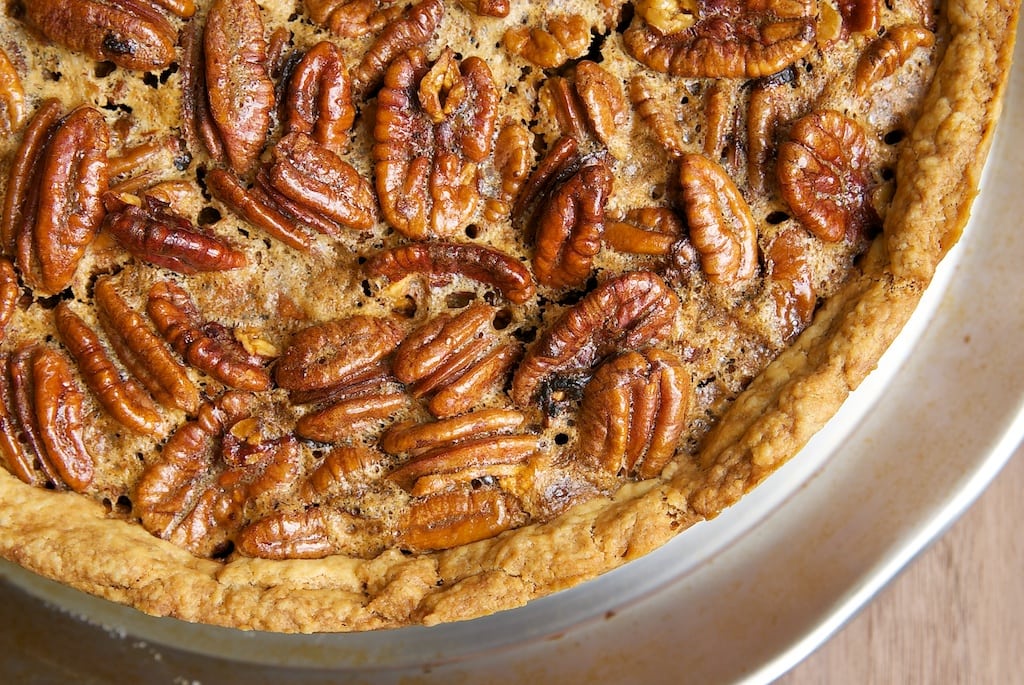 Long before I'd even considered starting this blog, I used to make this pie for the holidays when I wanted a break from traditional pecan pie.
While at its heart, this is more traditional than not, this pie has a couple of interesting things going for it. First of all, it has a buttery, cream cheese-y crust. Secondly, for those of you who love that gooey filling of pecan pies, there's more of it than usual in this beauty.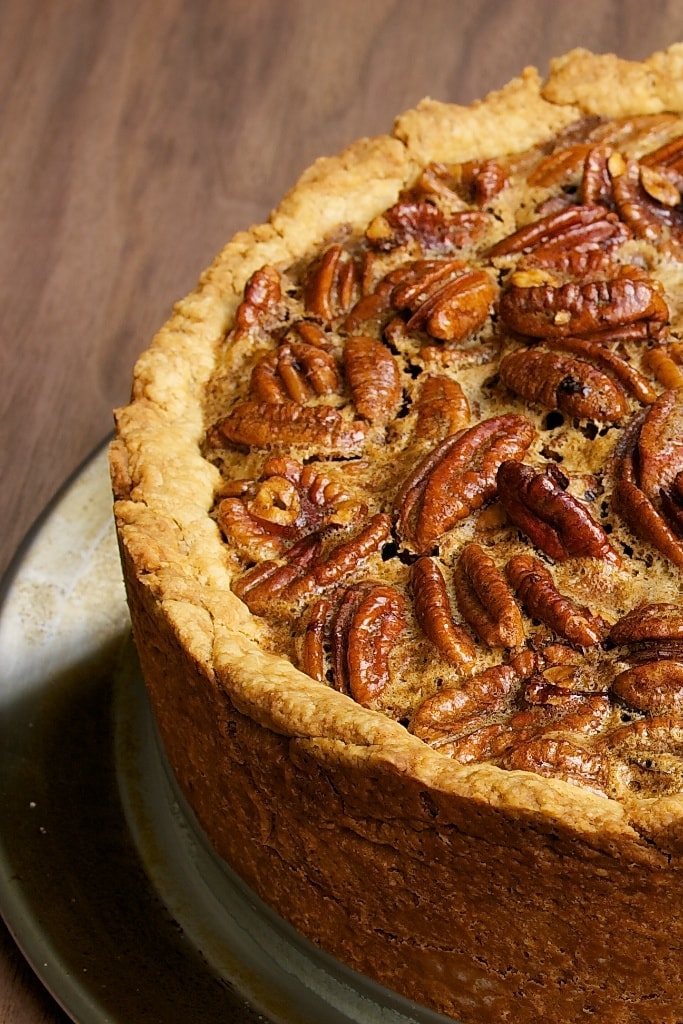 Despite its somewhat daunting appearance, this is actually a simple pie to make. The only potentially tricky part is the crust. It can be a bit difficult to transfer the dough into the pan. Also, be sure not to skip the step of wrapping the pan in foil. It will help prevent a big mess.
This beauty is an impressive addition to your holiday dessert offerings. Small slices work well and will make it go further than a regular 9-inch pie. And, I'm guessing you'll be asked to make this one again and again.
Find more pie recipes in the Recipe Index.
Deep-Dish Pecan Pie
Yield: 1 9-inch pie
Prep Time:30 minutes
Cook Time:2 hours 15 minutes
Deep Dish Pecan Pie is tall, beautiful, and delicious. It has more than the usual amount of gooey pecan pie pie filling inside a cream cheese crust.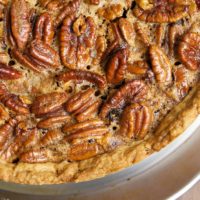 Ingredients:
For the crust:
1 cup unsalted butter, softened
6 ounces cream cheese, softened
2 cups all-purpose flour
1/4 cup sugar
For the filling:
16 ounces (2 cups) light corn syrup
1 & 1/2 cups firmly packed light brown sugar
1/3 cup unsalted butter, melted
4 large eggs, lightly beaten
4 egg yolks, lightly beaten
1 tablespoon vanilla extract
1 teaspoon salt
3 & 1/2 cups pecan halves
Directions:
To make the crust:
Wrap the outside of a 9-inch springform pan in aluminum foil.
Using an electric mixer on medium speed, beat the butter and cream cheese until light and fluffy. Gradually add the flour and sugar, and beat well.
Shape the dough into a flat disc. Cover and chill 15 minutes.
Roll the dough into a 13″ circle. Carefully transfer the dough to the prepared pan. Press the dough into the bottom and up the sides of pan. Cover and chill.
To make the filling:
Preheat oven to 375°F.
Whisk together the corn syrup, brown sugar, and melted butter. Add the eggs, egg yolks, vanilla, and salt, and stir well. Stir in the pecans. Pour the filling into the crust.
Bake for 15 minutes. Reduce oven temperature to 300°F. Bake 2 hours & 15 minutes or until set. If necessary, shield the pie with foil to prevent excess browning.
Cool completely on a wire rack. Cover and chill. Remove the sides of the springform pan before serving.
This post contains affiliate links. If you make a purchase through one of the links, I'll receive a
small commission at no additional cost to you.