November 25, 2014
Chocolate Mousse Tart with Glazed Nuts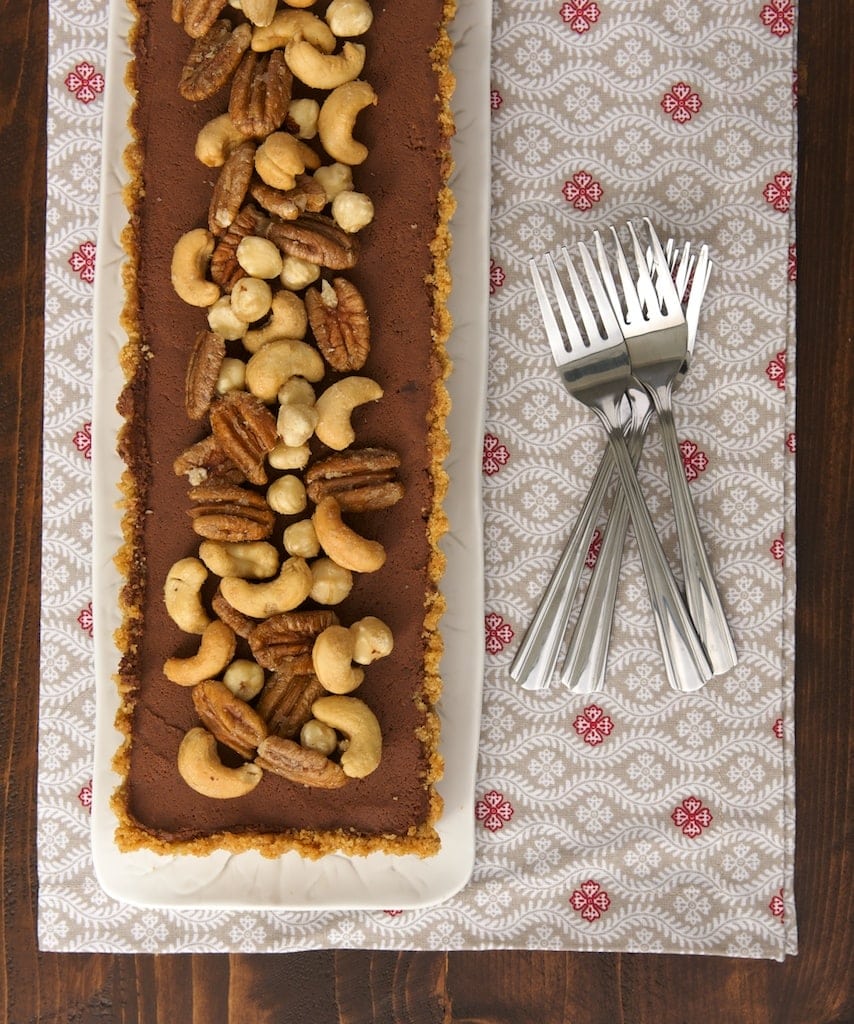 Okay, my baking friends. I have just one more dessert to share with you before Thanksgiving. There's always room for one more dessert on the table, right?
If you're looking at that beauty and thinking that you don't have time to make this before the big day, then I am so happy to tell you that you absolutely have time. This tart is really simple to make. And, it's a perfect candidate for making in advance, as it needs to chill for a bit.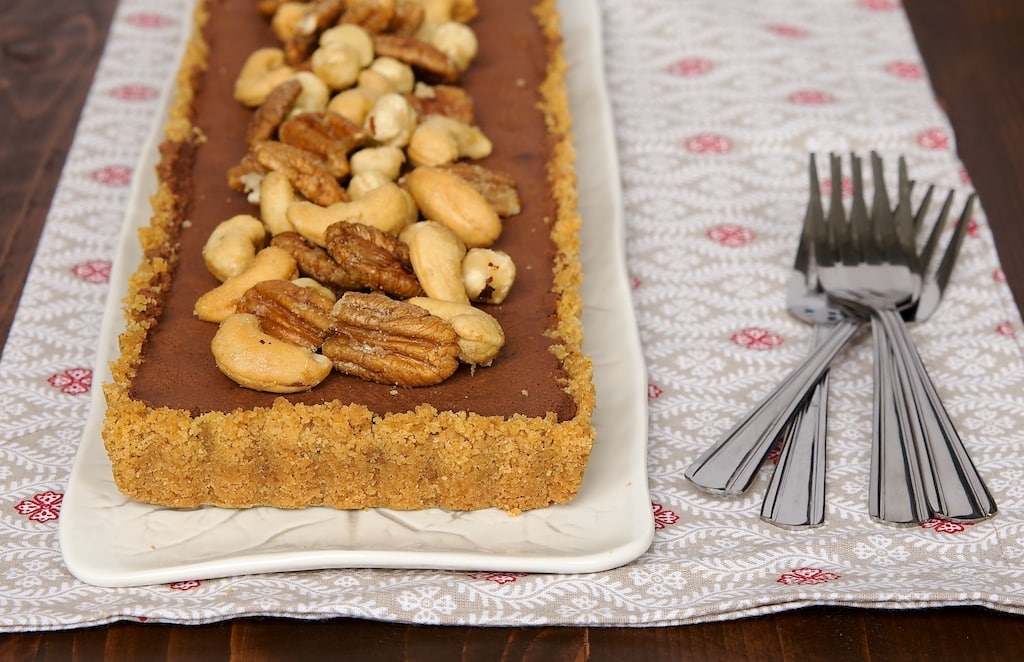 So, let's talk about some tart specifics.
It starts with a simple cookie crust. I have a weakness for vanilla wafers in a cookie crust, but you can certainly use graham crackers, chocolate wafers, or any other crisp cookie.
Next is an eggless chocolate mousse. With chocolate taking center stage, it is important to use really good chocolate here for the best flavor results. I used bittersweet chocolate, but semisweet will work fine and give you a little sweeter mousse.
The nut topping is just a quick batch of sweetened nuts. I used a mixture of nuts I had in my pantry – pecans, cashews, and hazelnuts. Use your favorite or a combination.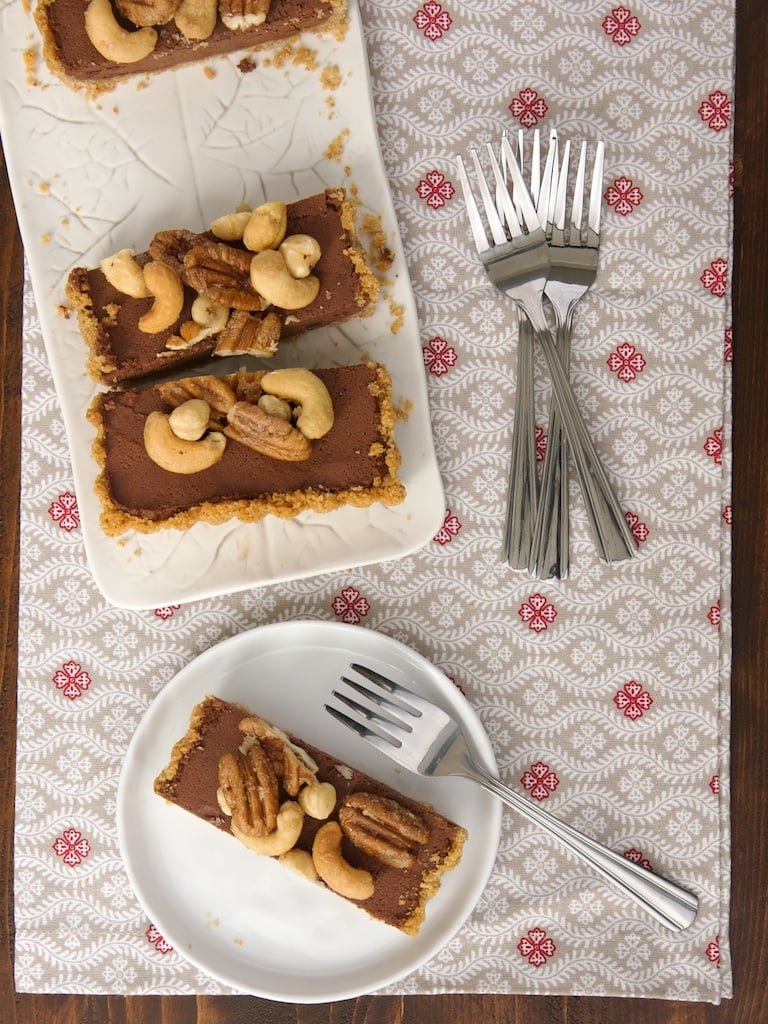 To me, this is the very definition of a high-yield dessert. It's simple to make. It looks elegant. It's delicious. That's a big, big win!
We have Quinn to thank for this dessert. It was pretty much entirely his idea. I have to say he did well. Maybe I should let him make the dessert decisions more often!
I hope you all have the happiest of Thanksgivings! I'm so thankful for each of you for making it possible for me to continue sharing my baking adventures with all of you!
Chocolate Mousse Tart with Glazed Nuts
Yield: 10 to 12 servings
Prep Time:30 minutes
Cook Time:25 minutes
Chocolate Mousse Tart with Glazed Nuts is a simple, elegant, and delicious dessert.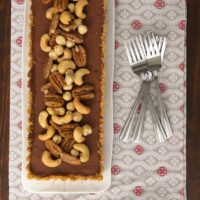 Ingredients:
For the topping:
3/4 cup (7 to 7.5 ounces) assorted unsalted nuts
1/2 tablespoon unsalted butter, melted
1/2 tablespoon light or dark brown sugar
pinch salt
For the crust:
5.5 ounces vanilla wafer crumbs
1/4 cup unsalted butter, melted
For the mousse:
6 ounces bittersweet chocolate
2 tablespoons confectioners' sugar, sifted
1 & 1/2 teaspoons vanilla extract
1 & 1/2 cups heavy cream
Directions:
To make the topping:
Preheat oven to 350°F. Line a baking sheet with parchment paper or aluminum foil.
Toss together the nuts, butter, brown sugar, and salt. Spread in a single layer on prepared pan.
Bake 10 minutes, or until the nuts are toasted. Set aside to cool.
To make the crust:
Lightly grease a 4″x 13″ tart pan with a removable bottom*.
Combine the cookie crumbs and butter. Press evenly into the bottom and up the sides of the prepared pan.
Bake 15 minutes. Set aside to cool.
To make the mousse:
Place the chocolate in a small saucepan. Melt over medium heat, stirring until smooth.
Remove from heat and stir in the confectioners' sugar and vanilla. Transfer to a large mixing bowl. Allow to sit for 5-10 minutes.
Using an electric mixer with a whisk attachment, whip the cream until soft peaks form.
Add about 1/4 of the whipped cream to the chocolate mixture. Stir until combined. Gently fold in the remaining whipped cream.
Spread the mousse evenly in cooled crust. Top with the cooled nuts.
Cover and refrigerate at least 2 hours before serving.
This post contains affiliate links.