August 13, 2014
Butterscotch Pudding Pie with Chocolate Chip Cookie Crust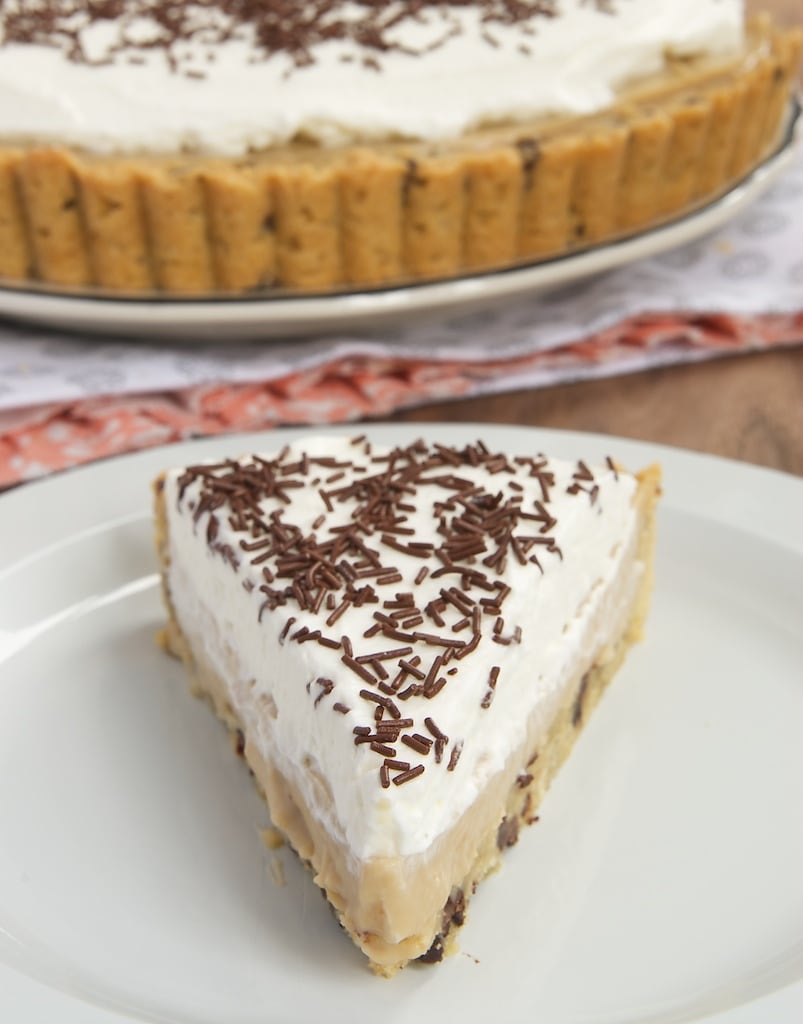 One of my (many, many) favorite things about living in NYC is the food. I've never experienced food the way I've had it here. If you've ever spent any time here, you'll likely agree. From the nicest restaurants, to the pizza, to the neighborhood spots, to the food trucks, there is certainly no lack of amazing food.
And part of that is all the amazing bakeries here. I have visited so many yet still have a pretty lengthy mental list of more to visit someday.
A while back, Quinn and I stopped for a treat at Sugar Sweet Sunshine. After much deliberation, I chose their Chocolate Chip Pudding. Now, this is no ordinary pudding. No, it's far more than that. It's a combination of crumbled chocolate chip cookies, whipped cream, and butterscotch pudding. And it's amazing.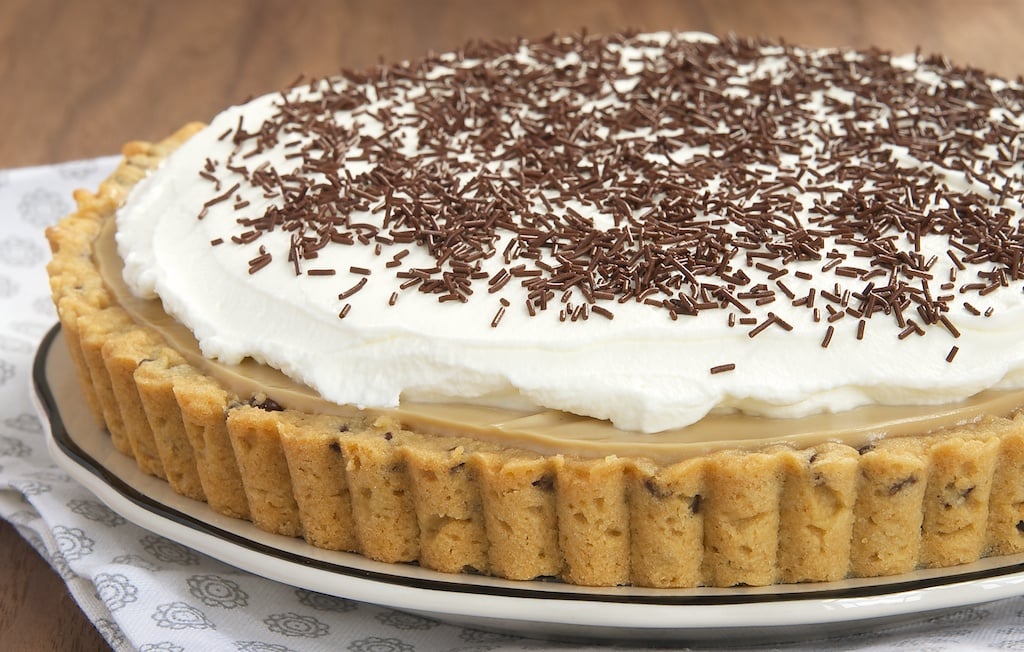 Ever since I had that fabulous pudding, I've not been able to stop thinking about it. I knew I wanted to recreate it somehow but wasn't exactly sure how I wanted to do it. Then, the idea of this pie grabbed hold of my brain, and I absolutely had to make it.
I started with a chocolate chip cookie crust. It's simply a variation of a chocolate chip cookie baked into a tart pan or pie pan. I am quite fond of my tart pan, as is evident on the pages of BoB. But, in my experience, this type of crust works better in a tart pan, although it will do okay in a pie pan. It just may a bit trickier to serve.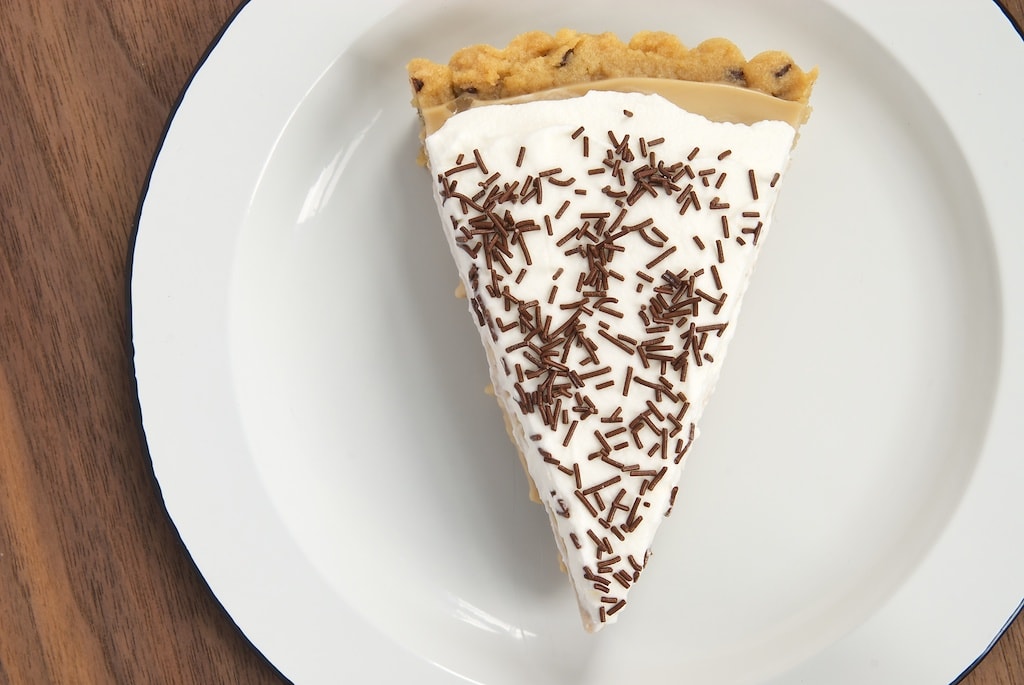 Next comes butterscotch pudding. I used the same pudding recipe I shared with you last week. Then, that's topped with sweetened whipped cream. And sprinkles, because this is the kind of dessert that practically demands sprinkles.
Once you put all of that together and let it chill for a bit, you will have the pleasure of experiencing what is now one of our all-time favorite desserts. It's so sweet and soft and creamy and full-on fantastic that you'll have a hard time getting your fill of it!
Butterscotch Pudding Pie with Chocolate Chip Cookie Crust
Yield: 8 to 10 servings
Prep Time:30 minutes
Cook Time:12 minutes
Butterscotch Pudding Pie is an amazingly delicious combination of a chocolate chip cookie crust, homemade butterscotch pudding, and sweetened whipped cream.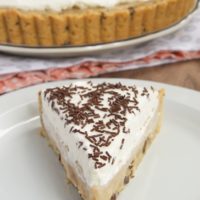 Ingredients:
For the crust:
1 & 3/4 cups all-purpose flour
1/2 teaspoon baking powder
1/2 teaspoon salt
3/4 cup packed light brown sugar
1/2 cup unsalted butter, softened
1 large egg
1 & 1/2 teaspoons vanilla extract
3/4 cup mini semisweet chocolate chips
For the filling:
1 recipe Butterscotch Pudding
1 recipe Sweetened Whipped Cream with or without vanilla extract*
chocolate sprinkles, for garnish
Directions:
To make the crust:
Grease a 9-inch tart pan with removable bottom.**
Whisk together the flour, baking powder, and salt. Set aside.
Using an electric mixer on medium speed, beat the brown sugar and butter until light and fluffy. Add the egg and vanilla, and mix well.
Reduce mixer speed to low. Gradually add the flour mixture, mixing just until combined. Stir in the chocolate chips.
Transfer the dough to prepared pan. Press evenly onto the bottom and up the sides of the pan.
Place the tart pan in refrigerator for about 30 minutes.
Preheat oven to 350°F.
Remove the crust from refrigerator. Use a fork to poke holes over the surface of the crust (just the bottom, not the sides).
Bake 10 to 12 minutes, or until lightly browned. Set aside to cool.
To make the filling:
Make the Butterscotch Pudding according to the directions. Instead of transferring the pudding to a bowl to cool, transfer it directly into the baked crust. Place plastic wrap over the pie, pressing it gently and directly onto the pudding.
Refrigerate for at least 2 hours.
Make the Sweetened Whipped Cream according to the directions. Spread onto the chilled pudding layer. Garnish with chocolate sprinkles.
Notes:
*While vanilla in whipped cream is just lovely, keep in mind that it will make your whipped cream a bit less white. There will still be plenty of vanilla in the crust and the pudding if you choose to omit it from the whipped cream. Clear vanilla extract exists, but it is an imitation vanilla.
**You can use a 9-inch pie pan, but I have found that a tart pan works better when it comes time to serve a pie with this kind of crust.
This post contains affiliate links.