October 1, 2015
Caramel Peanut Butter Brownie Pie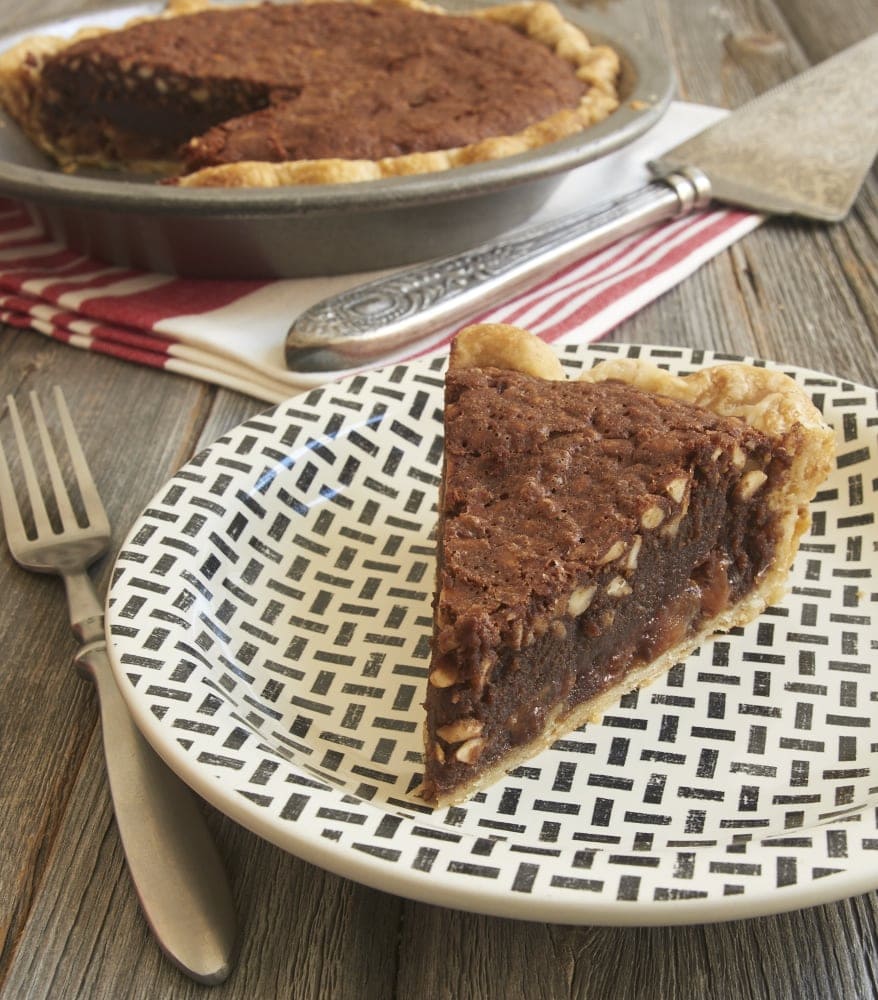 Just the title alone should have grabbed your attention. This pie has it all. Chocolate, caramel, and peanut butter are all here to ensure that there's plenty of flavor. And all that flavor is packed into a fudgy pie that is irresistible!
In the spirit of full disclosure, this is a bit of a lengthy recipe. Nothing is difficult about it, but there are several steps and a lot of measuring, mixing, cooling, and such. I am a big believer in homemade pie crusts, but I also remember how much I used to struggle with them. I'll not cast any stones if you opt to go with a pre-made pie crust.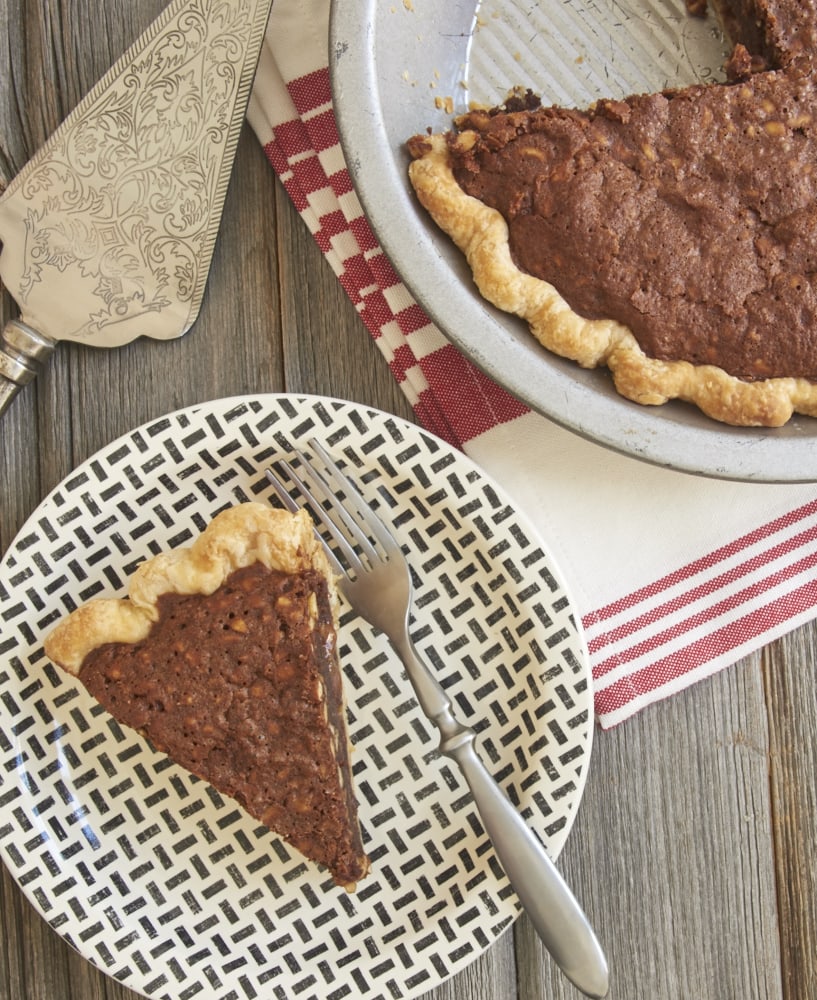 Whether you make your own crust or go with pre-made, you'll need to blind bake the crust once you get it rolled out and fit into the pie pan. I highly recommend chilling the crust for a bit before baking it. About 45 minutes in the refrigerator (or 15 minutes in the freezer if you're in a hurry) will help prevent the crust from shrinking and also help your decorative edges hold up better while it bakes. Then just line the crust with parchment paper and fill the bottom with pie weights or dried beans, and bake as directed.
The caramel layer is a bit of a shortcut, as it is made of soft caramels. If your local market has caramel bits, those will work well. If not, then normal soft caramels will work, too. You'll just need to cut them into smaller pieces. I find that cutting them into 8 pieces each makes them small enough to cover the bottom of the pie and melt easily into a gooey layer while the pie bakes.
You can serve this pie at room temperature or slightly warmed. Honestly, it's so good that you'll likely take a slice any way you can get it. But warm with ice cream is pretty tough to beat!
Find more pie recipes in the Recipe Index.
Caramel Peanut Butter Brownie Pie
Yield: 8 to 10 servings
Prep Time:40 minutes
Cook Time:1 hour 15 minutes
Caramel Peanut Butter Brownie Pie is fudgy, gooey, rich, nutty, and amazingly delicious!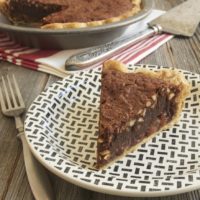 Ingredients:
For the crust:
1 & 1/4 cups all-purpose flour
1 teaspoon granulated sugar
1/2 teaspoon salt
1/2 cup cold unsalted butter, cut into 1/2-inch cubes
2 to 4 tablespoons cold water
For the filling:
15 soft caramels, cut into 8 pieces each (or about 1 cup caramel bits)
3 ounces bittersweet chocolate, roughly chopped
3 tablespoons unsalted butter
3 tablespoons creamy peanut butter
4 large eggs
1 cup firmly packed light brown sugar
1/4 cup all-purpose flour
2 tablespoons heavy cream
1 tablespoon coffee-flavored liqueur*
1 tablespoon vanilla extract
1/2 teaspoon salt
1 cup roasted peanuts, roughly chopped
Directions:
To make the crust:
Whisk together the flour, sugar, and salt in a large bowl. Add the butter and mix with a pastry blender or fork until the mixture resembles coarse meal and the butter is the size of small peas.
Add 1 tablespoon of water and continue mixing. Add more water as needed, 1 tablespoon at a time, until a dough forms.
Wrap the dough tightly in plastic wrap. Refrigerate for at least 2 hours.
Remove the dough from the refrigerator. If necessary, let it sit at room temperature for 10 to 15 minutes until slightly softened but still cold.
Lightly flour a work surface. Roll out the dough into a circle about 1/8-inch thick.
Transfer the dough to a 9-inch pie plate. Tuck under or trim any excess dough from the edges. Crimp edges as desired.
Refrigerate the crust for about 45 minutes (or freeze for 15 minutes).
Preheat oven to 450°F.
Line the pie crust with parchment paper. Fill the bottom of the pie with pie weights or dried beans. Bake for 8 minutes. Carefully remove the parchment paper and pie weights. Return the pie crust to the oven and bake until golden brown (about 6 to 8 minutes). Set the crust aside to cool.
To make the filling:
Reduce the oven temperature to 325°F.
Sprinkle the caramel pieces over the bottom of the partially baked crust.
Place the chocolate, butter, and peanut butter in a small saucepan. Cook over medium-low heat, stirring frequently, until the mixture is melted and smooth. Remove from the heat to cool.
In a large bowl, whisk the eggs, brown sugar, flour, cream, liqueur, vanilla, and salt. Add the cooled chocolate mixture, and mix just until combined. Stir in the peanuts.
Pour the chocolate mixture over the caramel in the pie crust.
Loosely wrap the edges of the pie with aluminum foil to prevent over-browning. Place the pie plate on a rimmed baking sheet lined with parchment paper to catch any spills.
Bake for 30 minutes. Carefully remove the foil, and continue baking 20 to 25 minutes, or until the center of the pie appears set. Cool the pie completely on a wire rack.
Notes:
*Feel free to substitute another liqueur or an additional tablespoon of cream.
Recipe slightly adapted from BHG.